Meerkats have stolen the hearts of many animal lovers—for being incredibly cooperative and ridiculously cute. If you have a meerkat lover in your family (or it's you who love meerkats), why not treat yourself with these crochet meerkat patterns that will make the cutest little desert dwellers you can have at home!
Meerkats don't make good pets, as it's so difficult to meet their complex needs in a captive environment. Luckily, you can still have your own curious little critter to keep you company! Browse through and crochet yourself a mob—it's legal!
7 Crochet Meerkat Patterns

1. Crochet Meerkat Amigurumi Pattern by Starbird Creations STL
Sprightly and charming, this amigurumi animal sits up on his haunches for a better view of his surroundings. It's his turn to help protect the colony by watching for possible danger and his lively, dark eyes won't miss a thing!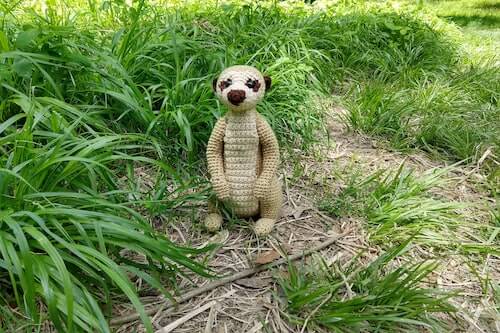 Get the Pattern by Starbird Creations STL here

2. Crochet Meerkat Pattern by Stuff The Body
This highly social meerkat is on the lookout for fun! This 10-inch meerkat stands on its hind legs. With distinctive black marks around its eyes, this sharp looking meerkat brings African adventure to playtime!

Finished with realistic facial features, these meerkat amigurumi animals will stand head and shoulders above the rest of your soft toy collection.
Get the Pattern by Stuff The Body here

3. Free Crochet Meerkat Pattern by Amigurumi Today
With its endearing features and cuddly nature, this meerkat is sure to capture hearts. Despite its small size, it fits perfectly in the palm of your hand, making it an ideal cuddly companion for little ones to hold, cuddle, and explore.
Get the Pattern here

4. Crochet Meerkat Applique Pattern by Fancy Applique
This happy meerkat is perfect for a blanket or decoration for a child's room. It looks very happy and is a playful applique to make. Make them in 'meerkat colors' or go wild with your color choices.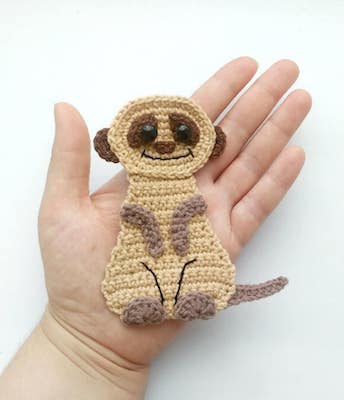 Get the Pattern by Fancy Applique here

5. Simeon, The Meerkat Crochet Pattern by Hello Yellow Yarn
Playful by nature and gorgeously cute at the same time, this Meerkat makes an ideal gift for any occasion, or just because you love Meerkats. Simeon measures approximately 20cm (8 inches) tall and comes with his own crocheted sweater!

The perfect partner for end-of-the-day comfort, Simeon is like his real-life counterparts who like to settle in for the night once the sun goes down, so if you're looking for a friend for cold winter nights, this adorable little guy is your man!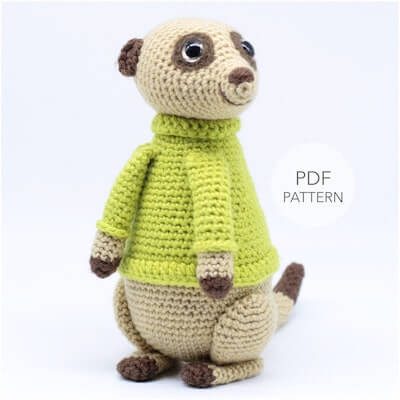 Get the Pattern by Hello Yellow Yarn here

6. Meerkat Timon Crochet Pattern by Angelina Taranina
Dark soulful eyes and an charming expression make this amigurumi meerkat an unforgettable gift for nature lovers. This adorable meerkat amigurumi looks like a loving friend for your children to have.

Looking delightfully curious about the world around him, this plush meerkat is standing upright, and features gray and cream coloring with the sweetest dark brown accents to complete the look.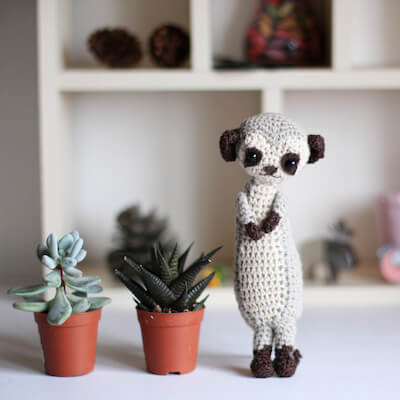 Get the Pattern here

7. Crochet Colorful Meerkat Pattern by Crochet Me Colourful
Make the most of your yarn scraps by creating these colorful meerkats created using African Flower motifs. It's an enjoyable project for any crochet enthusiast, resulting in a whimsical and eye-catching meerkat plush.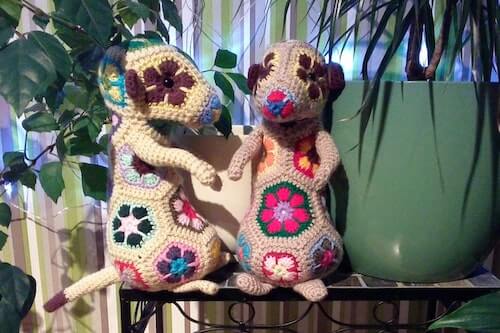 Get the Pattern by Crochet Me Colourful here
THESE CROCHET MEERKAT PATTERNS PROVIDE HOURS OF FUN AND THE CHANCE TO CREATE YOUR OWN ADORABLE MEERKAT FRIENDS!
Remember to share photos of your finished meerkats on our Facebook Page; we'd love to celebrate your handmade masterpieces with the community!
The fun doesn't stop here! Explore more animal crochet patterns we have on our site—your crochet adventures have just begun!
It's time to get a kick out of these charming creatures by making one (or all!) of these crochet meerkat patterns. Enjoy crocheting, friends!