Capybaras are the world's largest rodent and every animal's best friend. Create your copy pal with these crochet capybara patterns. Anyone with a knack for the unique and unusual is going to love these!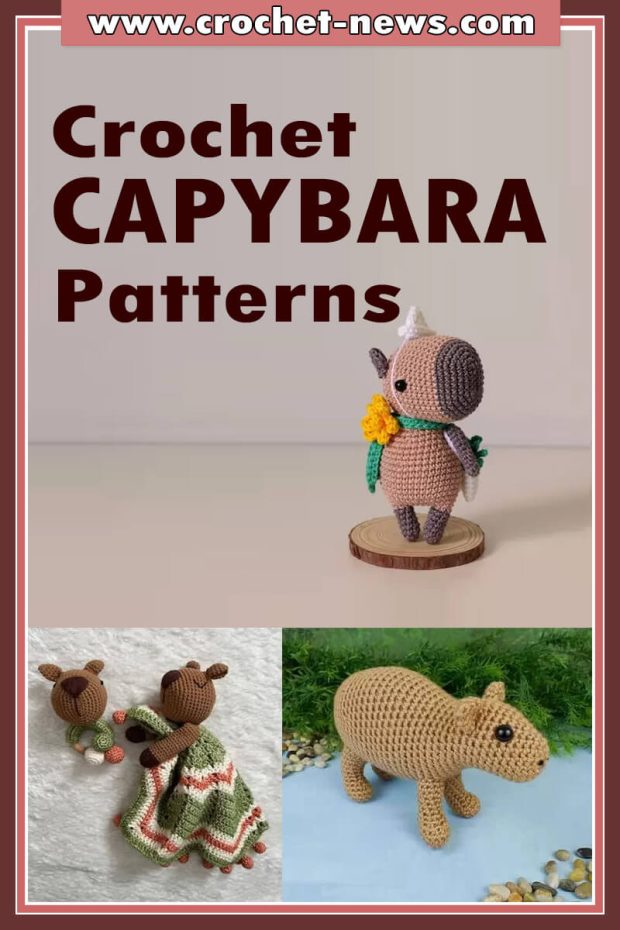 10 Crochet Capybara Patterns
Unless you've been living under a rock or your social media needs a serious overhaul, you've probably noticed the world's largest rodent hanging out with almost every animal on the planet.
Even though they are extremely friendly, we cannot keep one as a pet. So, for now, let's settle and go wild about these crochet capybaras!

1. Crochet Capybara Amigurumi Pattern by Planet June
This Capybara pattern is nice and chunky, at about 8″ (20cm) long. Despite the size, he's pretty quick to crochet: he's made in a single color; his head and body are crocheted as one piece, and capys don't have tails! He has magical shaping built in, and the perfect snooty Capybara nose.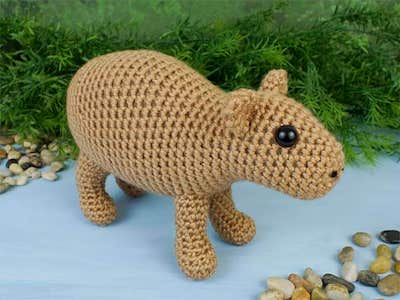 Get the Pattern by Planet June here

2. Capi, The Capybara Crochet Pattern by Jor Magia
All capybara lovers need Capi, the Capybara in their collection! He has the cutest little nose and webbed feet. With a length of 25 cm, it's easy to carry Capi around and take on adventures, wherever you go.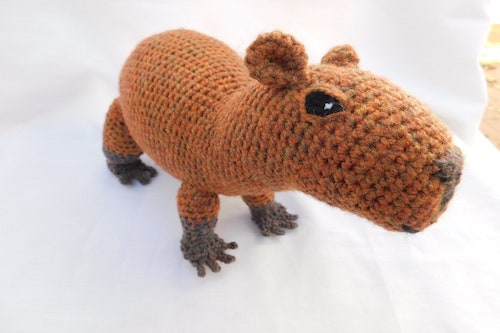 Get the Pattern by Jor Magia here

3. Crochet Capybara Plush Pattern by Faina Cute Toys
Having a hard time choosing a plushie for your little darling? Made with chunky yarn, this little guy is sure to be a hit! The length of this capybara is 19 cm (7.5") and the height is 13 cm (5") using the recommended materials.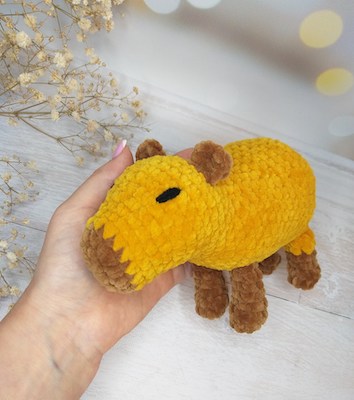 Get the Pattern by Faina Cute Toys here

4. Carlos, The Capybara Comforter And Rattle Crochet Pattern by Yarnbelle Creations
Carlos ,the Capybara Comforter is a crochet lovey that is ideal for teaching new babies to snuggle while also providing comfort and sweet dreams. The rattle is ideal for both entertaining babies and providing something for their small hands to grasp. This duo will make a great gift for the special little ones in your life. Or why not gift it as a baby shower present?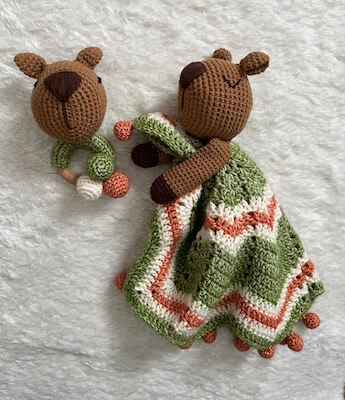 Get the Pattern by Yarnbelle Creations here

5. Crochet Capybara Pattern by Sweet Oddity Art
I'll admit, I have a kid, but I would cuddle with this plush capybara in to time! Measuring a convenient 15 inches tall in a seated position, this capybara is almost as playful and as social as the real deal.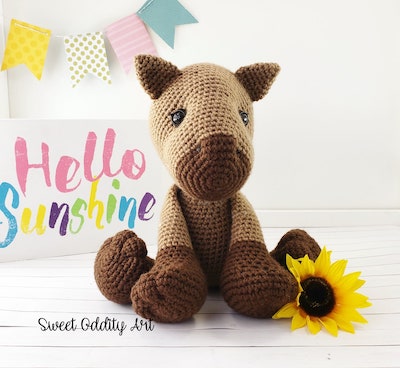 Get the Pattern by Sweet Oddity Art here

6. Bruna, The Capybara Crochet Pattern by Maria Handmade Design
Isn't Bruna, the Capybara the cutest one on this lit? With her bag full of her favorite grass sprouts, scarf in Brazilian national flag colors, and a charming paper boat hat on her head, I couldn't agree more! With the size of 6″ tall, I like to think of her as my bag guardian!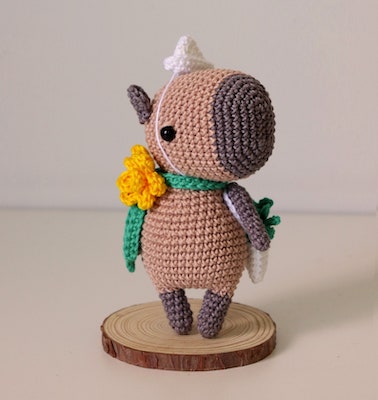 Get the Pattern by Maria Handmade Design here

7. Amigurumi Crochet Capybara Pattern by Mevv San
You don't have to travel to your local zoo or take an excursion to South America to see a capybara. Now, you can bring one home with this adorable Amigurumi Crochet Capybara. This pattern creates a plush approximately 15 cm (5.9 inches) tall and 17 cm (6.7 inches) long.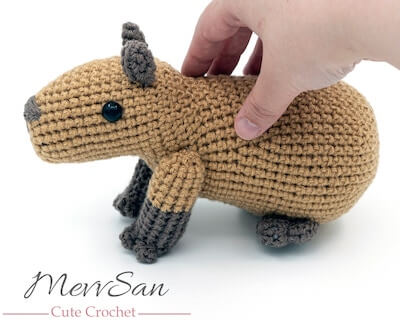 Get the Pattern by Mevv San here

8. Amigurumi Crochet Capybara by Crafted By Alicia
These adorable capybaras are the perfect companion for any animal lover. Whether you're a fan of these charming rodents or just love cute and cuddly toys, these amigurumi plushies are sure to be a hit. It's the perfect gift for any occasion, or a great addition to your own collection of stuffed animals.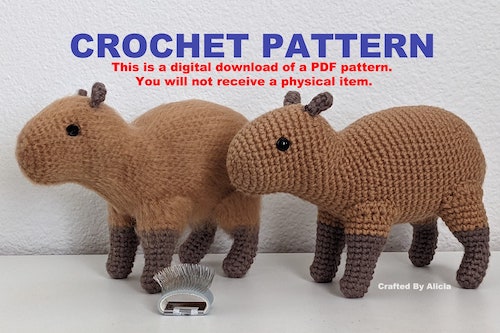 Get the Pattern by Crafted By Alicia here

9. Crochet Tapestry Capybara Pattern by Lion Jess
Capybaras are taking over the crochet community. Now, it is time for them to appear on your walls! Wouldn't your little one be thrilled to have her or his rom decorated with a capybara wall hanging? Discuss the colors together!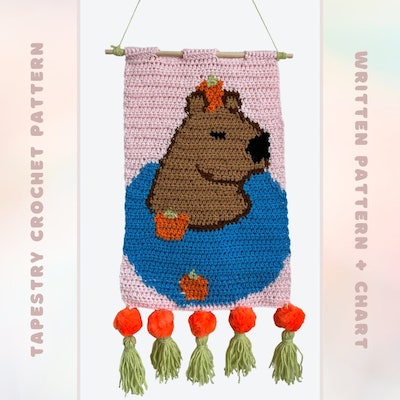 Get the Pattern by Lion Jess here

10. Crochet Cute Capybara Pattern by Ami Ama Crochet
While the real animal can get quite large, this amigurumi one is the perfect size for cuddling. Bring this cherished Capybara stuffed animal to your humble abode for numerous adventures that bring out the imagination in all.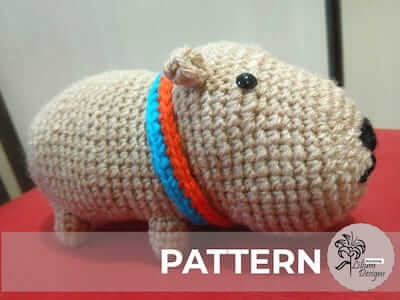 Get the Pattern by Ami Ama Crochet here
LET'S APPRECIATE THESE UNBOTHERED RODENTS BY WHIPPING UP SOME OF THESE CROCHET CAPYBARA PATTERNS!
With the amazing biodiversity on our planet, it's time we started celebrating and crocheting some of life's more unusual creatures. Check out these patterns below for more inspirations:
Fellow crocheters, let's get a kick out of these charming creatures by making one (or all!) of these crochet capybara patterns!