Organized crochet hooks are a beautiful thing – it's so easy to find just the one you want. Here are 10 nifty Crochet Hook Case Patterns to keep your hooks sorted and easy to retrieve.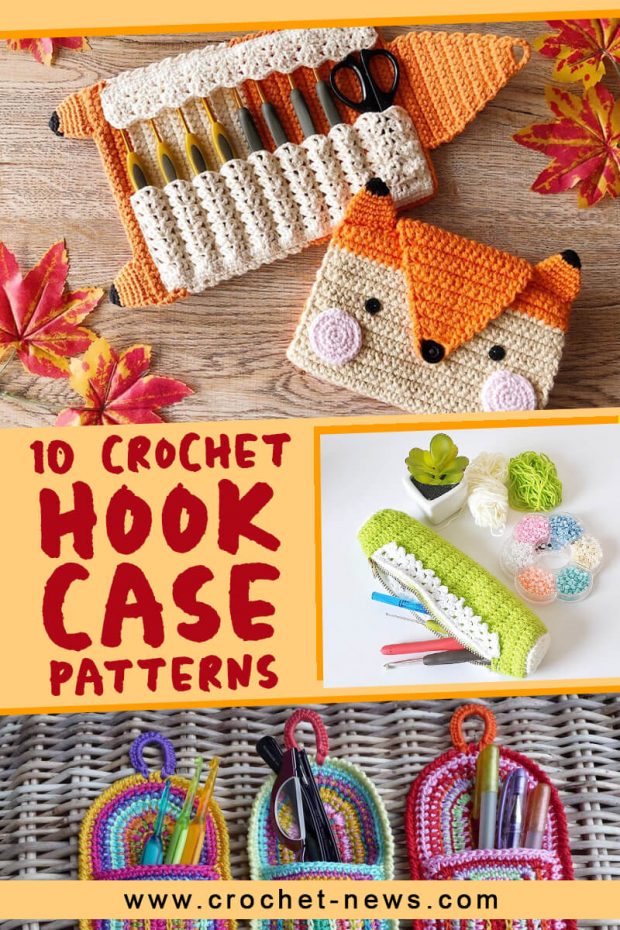 Who wants to waste time digging around a jumbled mess trying to find the right hook you need? Whip up these handy little crochet hook cases and they'll always be at your fingertips.

You may find it useful to have a few smaller ones to organize different brands or one big one to hold them all, whatever works best for you!

1. Fox Crochet Hook Case Pattern by Little Hand Crochet
Keep your hooks tidy with this gorgeous crochet hook case! This Fox Crochet Hook Case is a delightful hook case crochet pattern, that is the perfect housing for all your hooks.
It's simple easy to follow the pattern that everyone can make!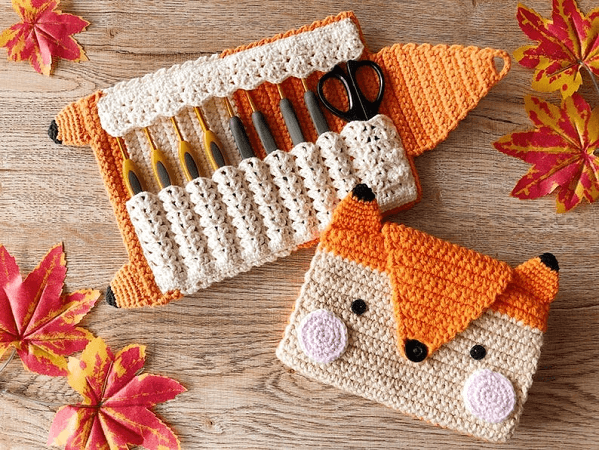 Get the Pattern by Little Hand Crochet here
2. Crochet Hook Case Pattern by ATERG Crochet
The colors are combined so gorgeously and artistic in this Crochet Hook Case Pattern. This handy hook case crochet is made with basic crochet stitches and lots of cheery colors. Don't you just love the detail?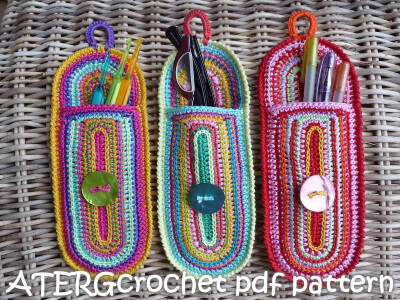 Get the Pattern by ATERG Crochet here

3. The Case For Crochet Hooks Crochet Pattern by Yarnspirations
Make traveling with your projects easy thanks to this free crochet hook case pattern to carry your hooks.

This smart crochet hook case features pockets to keep each hook handy, organized, and scratch-free!

Show off your personality in any shade of yarn, or have fun making one to surprise a fellow crocheter! It's a thoughtful gift and a useful pattern to share with friends.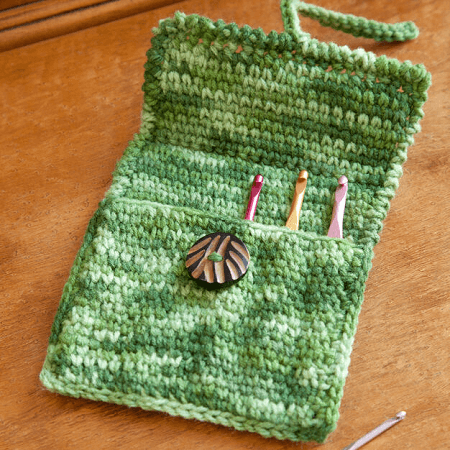 Get this free crochet hook case pattern here

4. Scalloped Free Crochet Hook Case Pattern by My Merry Messy Life
Here is a crochet hook case with pretty scallops and a unique design to keep your hooks. It has fun stitching and a cute little tie to keep it totally adjustable. There are 14 spaces for hooks.

This Scalloped Free Crochet Hook Case Pattern may be a little challenging at first. There are front post and back post stitches next to each other. After you get the hang of it you should be fine!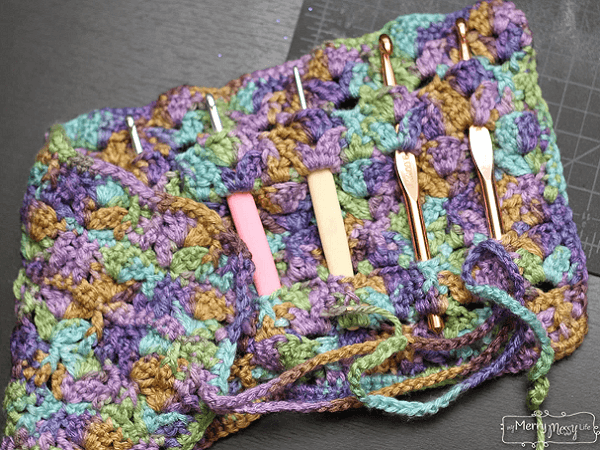 Get the Pattern here

5. Sloth Hook Case Crochet Pattern by The Loopy Lamb
This Sloth Hook Case is a quick and easy free crochet hook case pattern. It can be used as a hook case, a clutch, pencil case, or a makeup bag.

If you're ambitious you can line this with cute and fun fabric. Or you can go ahead and skip the lining and just stitch the zipper directly to the pouch.
Check more Crochet Sloth Patterns here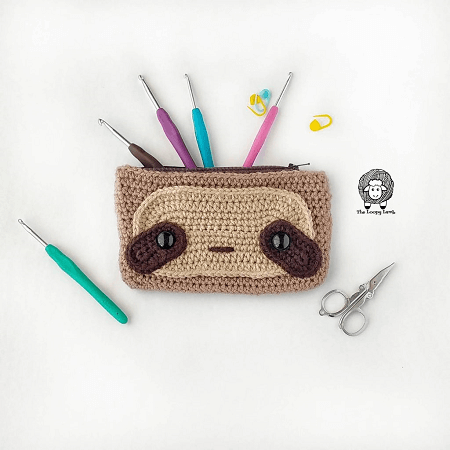 Get the Pattern here

6. Hook Case Crochet Pattern by Loopingly Made
Crochet this colorful and handy on-the-go case for your crochet hooks or stationeries like pencils, crayons, and erasers.

This crochet hook case pattern is simple to follow, you only need to know two basic stitches- single and double crochet to make this case.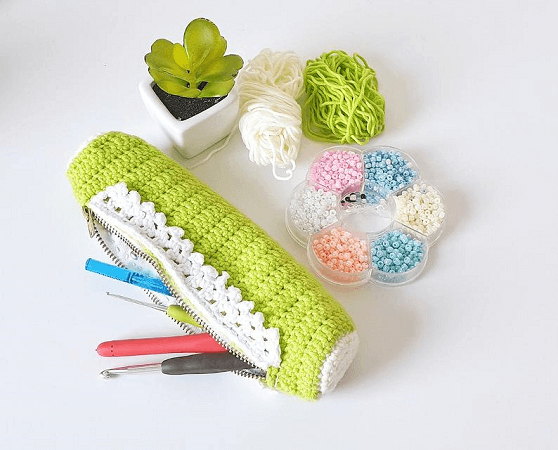 Get the Pattern by Loopingly Made here

7. Cascading Crochet Hook Case Pattern by Crystalized Design
Show off your love of crochet with this uniquely designed crochet hook case! The compact design allows for perfect on-the-go capabilities.

This Cascading Crochet Hook Case can hold up to 12 hooks and with the stretch Boutique Unforgettable yarn has, this case will hold most clays handled hooks.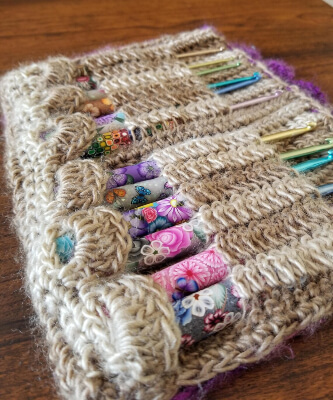 Get the Pattern by Crystalized Design here

8. Crochet Hook Case Pattern by Oh Milly
This Crochet Hook Case is bright and is big enough to keep all your crochet hooks in order. Using cotton yarn in 10 different colors, you could create a piece measuring approximately 23 x 18 cm with diamond shape patterns.

If you have fallen in love with spike stitch, this project will be a good chance to play around with it!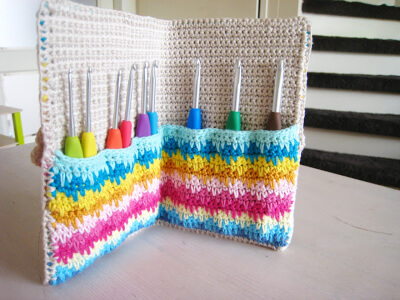 Get the Pattern here

9. Around The Square Hook Case Crochet Pattern by Ravin Sekai Designs
Who needs a case? A hook case crochet, a knitting needle case, a case for their makeup brushes? This Around the Square Hook Case is perfect for you!

It's so easy, if you can make and join granny squares, then you're good to go. This hook case crochet is very simple to make and is actually quite adjustable.

Plus, if you're not in love with this particular granny square motif, you can always try a different type as long as each square is about 3.25".

You can use pretty much any medium weight 4 yarn that you have laying around. This project is a wonderful one to use up scrap yarn on!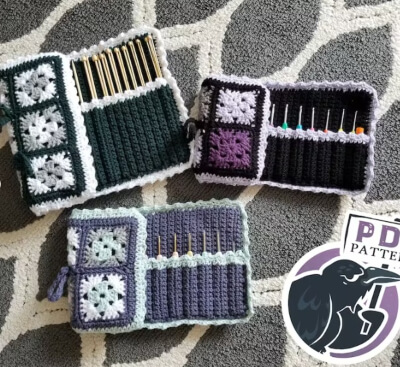 Get the Pattern by Ravin Sekai Designs here

10. Everything Hook Case Crochet Pattern by Kathy's Kozies
This Everything Hook Case can be used in almost everything – make this crochet hook case for your hooks, for your phone, or your sunglasses! Making it a very hand and versatile little case.
This hook case crochet pattern can be customized in so many ways. Drawstring, flap, one button or two, striped or solid. So weather you are a beginner or someone who likes to get a little fancy, there is a version for you!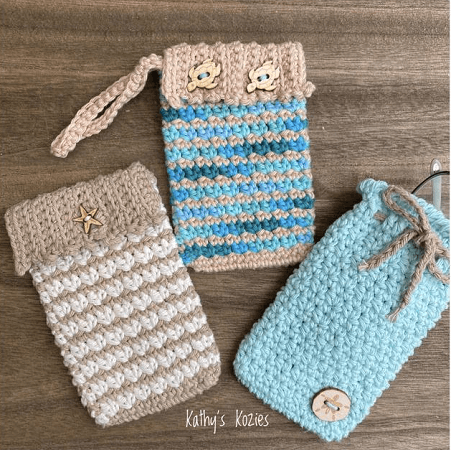 Get the Pattern by Kathy's Kozies here
These crochet hook case patterns will keep your hooks safe and handy
If you create your own, you'll have an opportunity to practice your stitches and use up some oddments of yarn at the same time.
When you're done, be sure to share your crocheted hook cases on our Facebook Page.

Trying to get organized? You might also like to see our collection of Glass Case Patterns, Square Crochet Baskets, and Owl Crochet Baskets.
Get your new crochet set and pick your favorite crochet hook case patterns and start crocheting!