Have you seen the colourful sets of crochet stitch markers at your local craft store? If you are new to the art of crochet, you may be wondering what they are for. Do you need them? Should you buy them now or wait? Crochet stitch markers are cheap and simple tools you should have.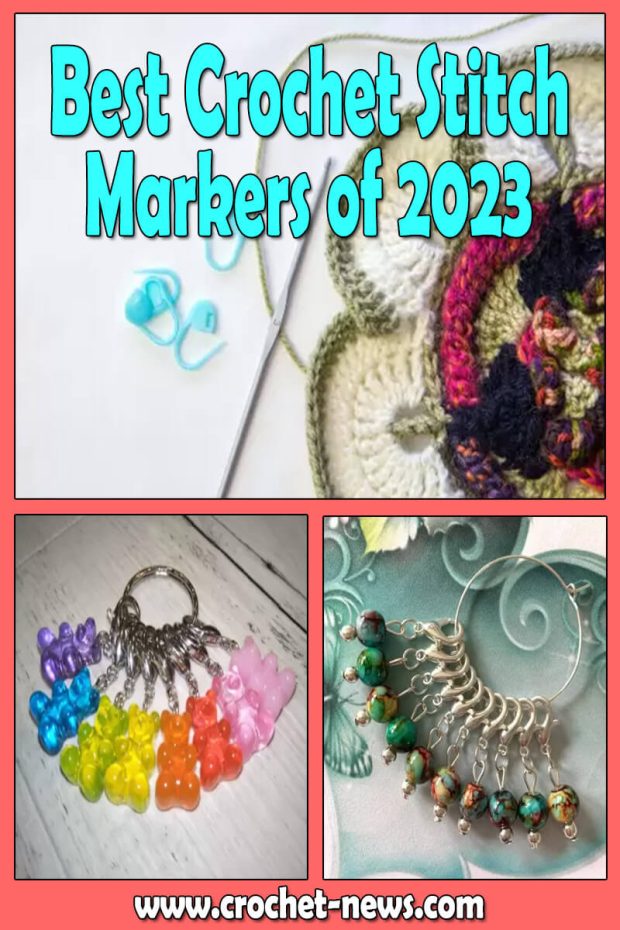 If you do not know what crochet stitch markers to buy, continue reading below. I have gathered all the information you need and included a list of my favourite crochet stitch markers.
What are Crochet Stitch Markers?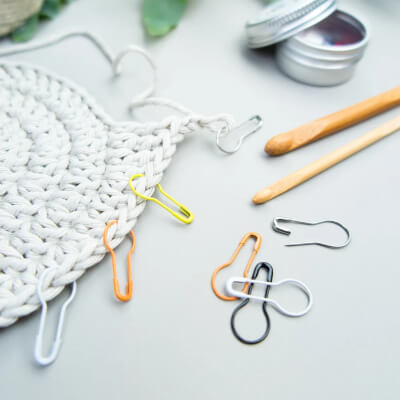 Crochet stitch markers are tools I cannot live without. If you have been crocheting for a while, you know it can be difficult to keep track of stitches. Crochet stitch markers mark the stitches, saving you time and aggravation. There are 2 types of crochet markers, they are:
Locking crochet stitch markers are the most common and practical type of stitch markers. They resemble safety pins or lobster clasps. Instead of being long like a regular pin, they are short and rounded.
Locking crochet markers are easy to use. They simply clip onto a stitch you need to keep track of. When you no longer need it, take it off. Since this type of crochet marker clips shut, you do not have to worry about it falling off.
Split Ring Stitch Markers
Split ring crochet stitch markers are designed to be quick and easy to use. When you need to make a stitch, simply grab one and slide it in.
Split ring crochet markers have an open, spiral loop design. One end has a pointed tip, and the other is rounded. Split ring markers are a good choice for those that have a hard time unlocking locking markers. Since split ring markers do not lock, they can fall off.
Why Do You Need Crochet Stitch Markers?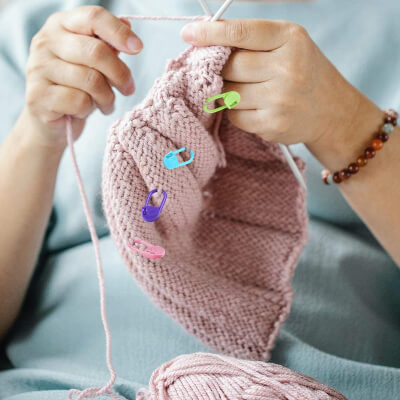 Crochet is a rewarding and enjoyable hobby. But it can be stressful when you lose track of stitches. When you use crochet stitch markers, you do not have to worry about losing track anymore.
Below are just a few reasons why you need to use crochet markers:
If you have ever crocheted in the round, you know it can be impossible to find the beginning of your row. Instead of trying to remember exactly where the round begins, mark your first stitch with a crochet marker.
You can use crochet stitch markers to differentiate between the front loops and back loops on your project.
If you made a mistake in the row you are working on, simply remove the stitches back to the markers and start again.
If you need to keep track of pattern changes, mark the areas using your crochet markers.
Instead of recounting the rows over and over, mark the rows. You can mark them every five rows or 10. Whatever is easy for you. Marking your rows can save you a lot of time.
Facts about Crochet Stitch Markers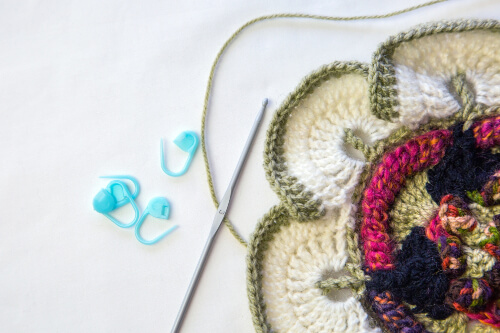 Crochet stitch markers are such simple and easy-to-use tools. I do not know how crocheters survived before they were developed.
If you are looking to buy your first stitch markers, here are some facts you should know.
Crochet markers are available in a wide variety of shapes, colours, and sizes.
Plastic crochet markers are the most cost-effective.
Metal crochet markers are stronger and more reliable than plastic markers.
You can differentiate between different areas of a project with coloured crochet markers.
You will generally need more than one crochet marker per project. So, it is a good idea to invest in a set.
Handmade crochet markers make unique gifts.
7 of the Best Crochet Stitch Markers of 2023
1. HARLEQUIN Stitch Markers for Crocheting & Knitting
These crochet markers look like jewellery. Not only are the markers easy to use, but they are also beautiful. Each marker is handmade using Harlequin marble effect glass beads. You can order them in sets of 6, 10, 15, or 20.
Choose from either lobster clasps or leverback clasps. If you want to use them for knitting, they are available with 6 mm rings and or 8 mm rings.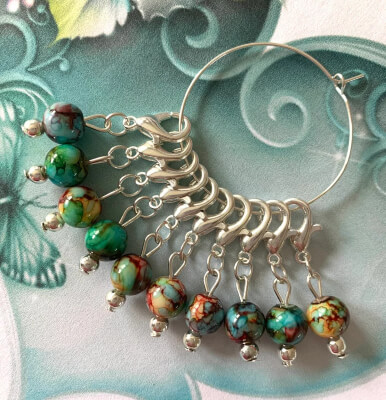 2. Removable Crochet Stitch Markers
If you are looking for metal markers, these split ring markers are a great choice. The beautiful markers are handmade from copper wire with an antique brass finish. Each marker measures about ¾ inches (2 cm) tall x ½ inch (1.27 cm) wide. The crochet markers come in a set of five. You can order them with or without a tin.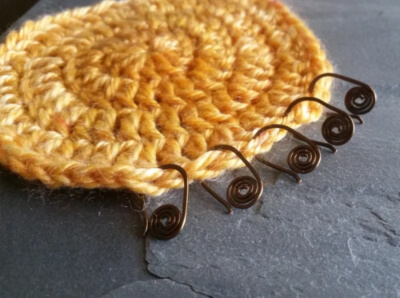 3. 20 Stitch Markers in Lalylala Tin Box
Bulb shaped locking crochet stitch markers are very easy to use. This set includes 20 thin markers in a rainbow of colours. The markers have safety buckles that keep them locked. So, they will not fall off easily. The markers come in a screw cap tin box. If you are not a fan of rainbow colours, you can also get black and white, rose gold, gold, or silver.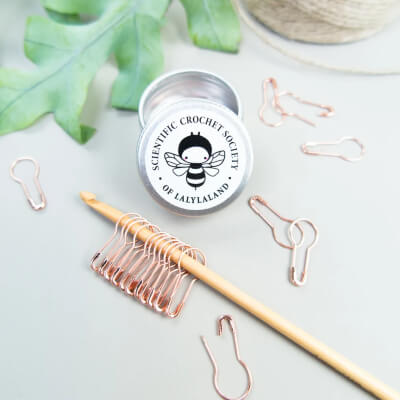 4. Stitch Markers Rainbow 8 Gummy Bears Key-rings
How cute are these gummy bear markers? I love them. The set of 8 includes purple, blue, green, yellow, orange, red, pink, and opaque pink bears. The handmade crochet markers are lightweight, so they will not pull on the yarn.
Not only can you use these gummy bears as crochet markers, but they can also be used as zipper pulls, keychains, charms, and more.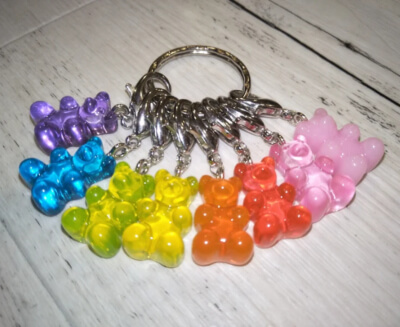 5. Sea Breeze Stitch Markers
Here is a set of gorgeous navy blue and white frosted bead crochet markers. They are perfect for adding a little bit of bling to your crochet projects. The markers are available in sets of 6, 10, 15, or 20. You can order them with either lobster clasps or leverback clasps.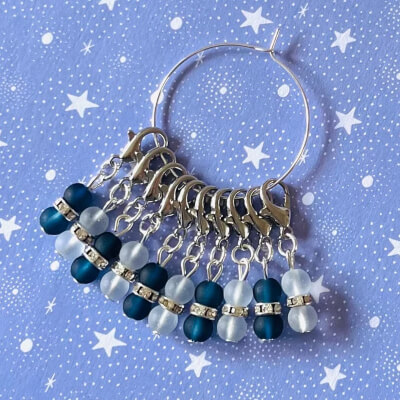 6. LUNARM 300 Pcs Plastic Locking Stitch Needle Clip Counter
Sturdy, flexible, and lightweight, these locking crochet markers will last you for years. This set includes 300 pieces in an assortment of 15 different colours. You cannot beat the price of this set. And it comes with a convenient, clear storage case.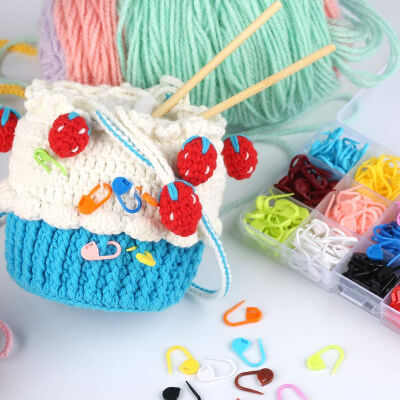 7. BLMHTWO 200 Pieces Stitch Markers for Crocheting with Storage Box
Included in this set are 200 high quality plastic crochet markers. There are 4 colours and 2 sizes. The large markers measure about .82 inches (2.1 cm) and the small .62 inches (1.6 cm). The markers come in a small plastic storage box.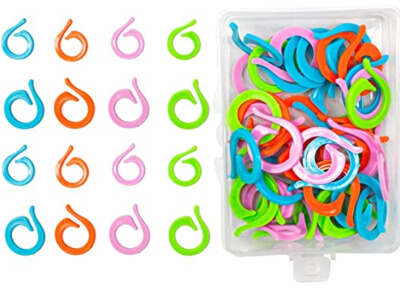 DO NOT START YOUR NEXT CROCHET PROJECT UNTIL YOU HAVE A SET OF CROCHET STITCH MARKERS.
Are you learning how to crochet? Or have been crocheting for years? It does not matter how seasoned a crocheter you are; you need crochet stitch markers. Crochet stitch markers remove a lot of aggravation, and they make crocheting easier.
Here's more crochet tools and supplies to make crocheting easier:
Crochet stitch markers are an absolute must for every crocheter.