Many people enjoy crocheting. It is a fun crafting hobby that can be used to make everything from slippers, blankets, and pillows to cuddly stuffed animals. If you are looking for a crochet set for yourself or as a gift, do not waste your money on subpar crafting supplies. Instead, invest in a best crochet set that can be enjoyed for years to come.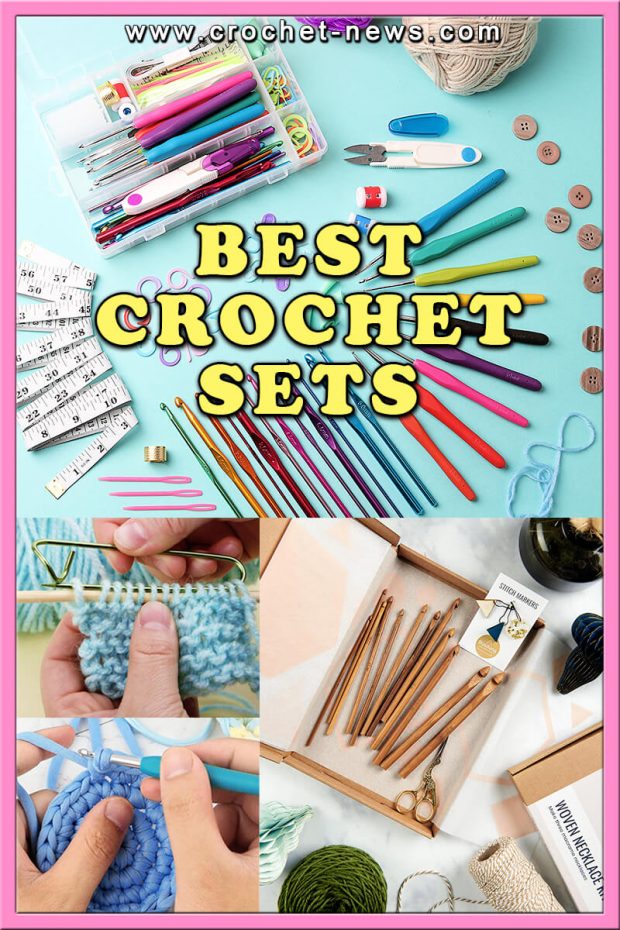 10 Best Crochet Sets of 2023
Below are 10 of the best crochet sets. These sets are ideal for beginners and experts alike.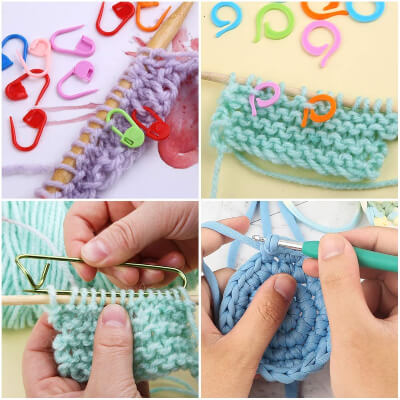 1. 96 Pack Crochet Hook Set with Storage Case and Crochet Needle Accessories
This crochet hook set would be perfect for someone new to crochet as well as experienced crafters. It contains 9 rubber handle hooks, 10 aluminium crochet hooks, 16 lace iron crochet hooks, other necessary crochet accessories, and a multi-function storage bag.
The 9 colourful rubber handle crochet hooks come in sizes 2 mm, 3 mm, 3.5 mm, 4 mm, 4.5 mm, 5 mm, 5.5 mm, 6 mm, and 7 mm. The 16 lace iron crochet hooks are suitable for lace crafts such as shawls, skirts, coasters, and decorations.
The colourful aluminium crochet hooks are suitable for wool crochet projects such as bags, blankets, baby shoes, pillowcases, etc.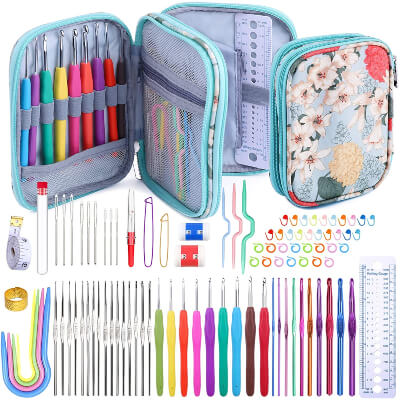 2. BeCraftee Crochet Needle Set
These comfortable crochet hooks make it possible to crochet for long periods of time without fatigue. The hooks feature soft, rubber grips which help to relieve discomfort. They have been designed to prevent slipping or snagging.
This kit is perfect for adults and kids. Each hook is colour-coded and has printed letters and numbers on the handle. They have tapered tips to make creating stitches easy. The set includes 12 hook sizes ranging from B/1 (2 mm) to L/11 (8 mm).
3. WooCrafts Large-Eye Blunt Needles Yarn Knitting Plus Crochet Hook Set with Case
This crochet set is a bargain. The kit included 9 large-eye yarn needles alone, 9 ergonomic grip crochet hooks, stitch markers, and a crochet hook case.
There is a lifetime replacement guarantee for the crochet hooks and the large-eye blunt steel yarn needles. You cannot go wrong with this affordable crochet set.
4. Crochet Hook Set from EngravingForYou
These handmade crochet hooks would make the perfect gift. They are made from bamboo and can be personalised for your giftee.
There are 4 hook sizes to choose from, or you can order the complete set. Each crochet hook is a different colour to make them easily distinguishable.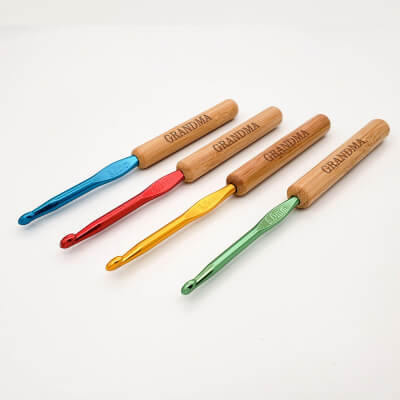 Find this Kit from EngravingForYou HERE
5. Beginner Crochet Set from Stitchingmesoftly
This crochet tool kit is ideal for beginners and professionals. The hooks are handmade from bamboo. They come wrapped in tissue and packaged in a kraft box. This makes them perfect for gifting.
The kit contains a full set of crochet hooks in sizes 3 mm, 3.5 mm, 4 mm, 4.5 mm, 5 mm, 5.5 mm, 6 mm, 6.5 mm, 7 mm, 8 mm, 9 mm, and 10 mm.
Along with the hooks, you will receive 1 set of laser cut stitch markers and 1 pair of 3.5 inch brass embossed stork embroidery scissors.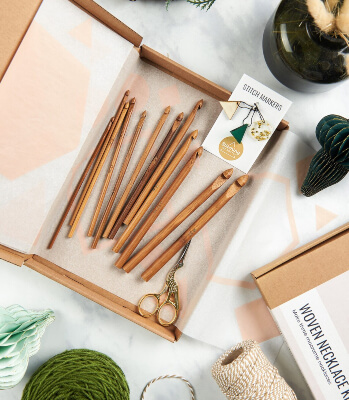 Find this Kit from Stitchingmesoftly HERE
6. Easy-To-Do Crochet Set
The Easy-to-do crochet set is ideal for children learning the fundamentals of crocheting. The kit includes 2 crochet hooks, 1 plastic needle, and seven 7 colours of yarn.
There is a 14-page instruction book. It is recommended for ages 8 years and up. There is enough yarn to make 3 coasters, a handbag, a placemat, or a belt.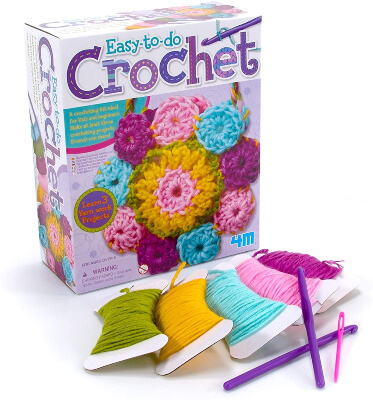 7. CraftBud 73 Piece Crochet Kit with Crochet Hook Set
Here is a starter crochet set. It includes 15 spools of yarn, 21 crochet hooks, needle point protectors, stitch holders, a tape measure, sewing needles, row counters, a thimble, safety pins, scissors, a canvas tote bag, and a supplies organiser.
This is a great beginner crochet set for a new crocheter that is brand new to the craft.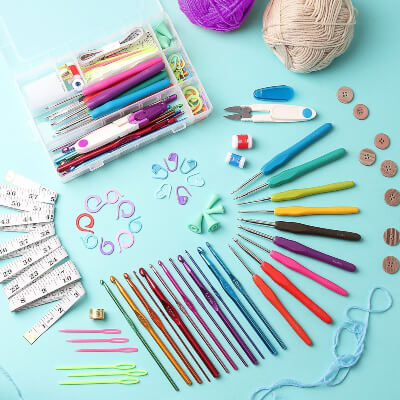 8. 63 Piece Crochet Kit with Yarn Set
Here is another large and impressive crochet set. It includes 24 acrylic crochet yarn balls, 9 crochet hooks ranging from 2 mm to 6 mm, 6 plastic weaving needles in two sizes, 10 locking stitch markers, 1 thread cutter, 1 tape measurer, 2 aluminium stitch holders, 3 cable stitch holders, 1 knitting gauge, 3 storage bags, 2 knitting accessories, and an eBook.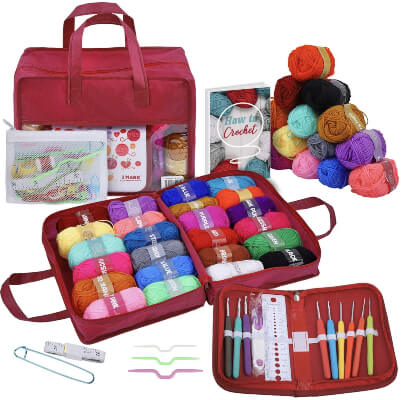 Find this Crochet Set on Amazon HERE
9. JubileeYarn 6″ Bamboo Crochet Hook Set from BambooMN
This crochet set is made from environmentally friendly, sustainable harvested bamboo. Each hook has uniformly shaped points and a smooth finish. The sizes are laser engraved on the shaft.
Included are 11 crochet hooks. Each one is 6 inches (15.24 cm) long. You will get a 3 mm (US 3), 3.5 mm (US 4), 4 mm (US 6), 4.5 mm (US 7), 5 mm (US 8), 5.5 mm (US 9), 6 mm (US 10), 6.5 mm (US 10.5), 8 mm (US 11), 9 mm (US 13), and 10 mm (US 15).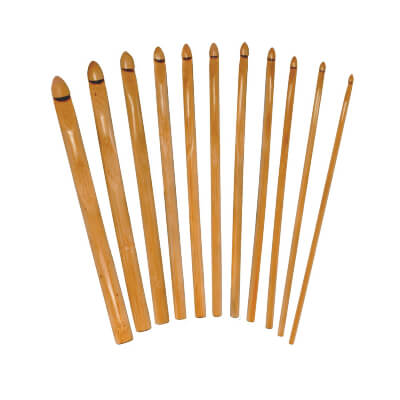 Find the Crochet Hook Set from BambooMN HERE
10. Beginner Crochet Set from Knit Picks
In this kit, you get everything you need to get started. It is the perfect kit for beginners. The kit includes a Knit Picks bright crochet hook set, locking stitch markers, a retractable tape measure, steeking scissors, bent tip tapestry needles, and 2 full-sized balls of Brava Worsted in Dove Heather.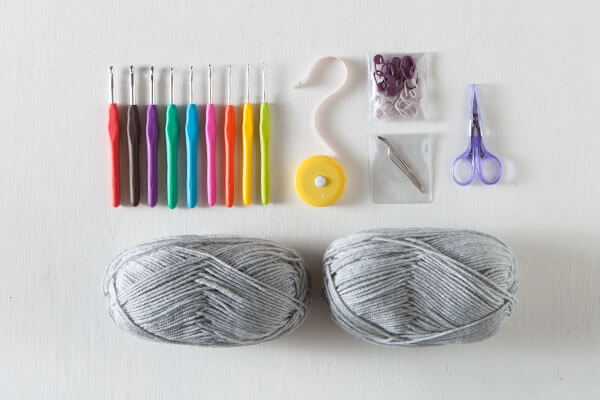 Find this Set from Knit Picks HERE
If you want to get started on your very first project, choose one of these crochet sets.
If you are a newbie, you might want to check out some of these crochet kits for beginners.
A person can never have too many crochet hooks. Different projects require different hooks. And if you start a new project before finishing your current project, you will want to leave the hook with the project.
Another reason to have a wide variety of hooks is different types of yarn work better with different types of hooks.
Are you always finding yourself looking for new crochet hooks? You are not the only one. If you are looking to add to your stash or want to get a gift for a friend, invest in a high-quality crochet set.