If you are a crochet enthusiast, you know the importance of having the right tools for the job. This includes a good pair of crochet scissors.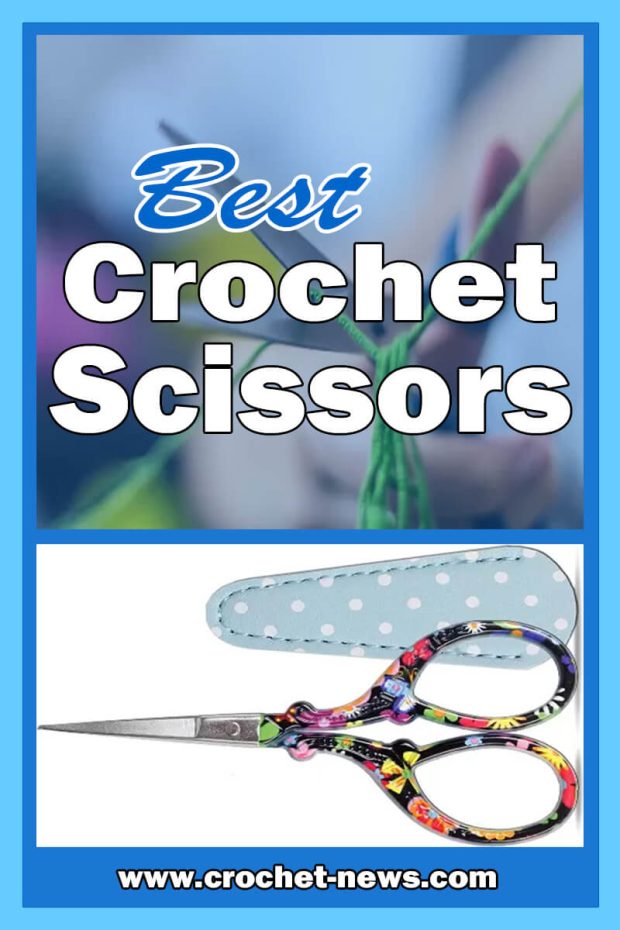 These scissors are designed to cut your yarn and thread with ease and precision. In this article, I will explore the different types of crochet scissors available and their features.
What are Crochet Scissors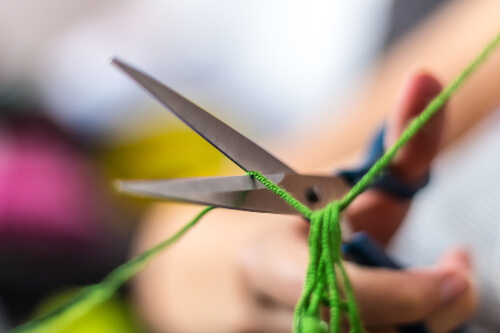 Crochet scissors are scissors designed for cutting yarn and thread. They feature short, sharp blades and pointed tips, allowing for clean and accurate cuts. Crochet scissors come in a variety of sizes, styles, and materials.
How to Choose the Best Scissors for Crochet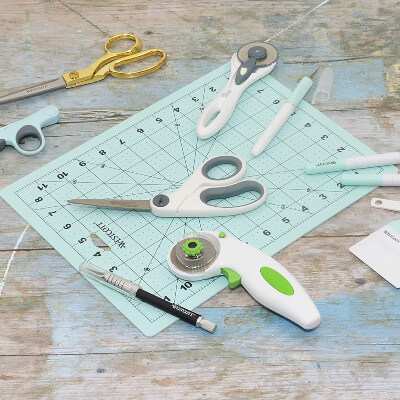 Choosing the best scissors may not have been something you thought about before you started crocheting. However, having a good pair of crochet scissors is very important.
Even though you can use almost any pair of scissors to cut yarn and thread, most crocheters prefer using embroidery scissors.
Here are some tips to help you select the best scissors for crochet:
Scissors come in a variety of sizes, ranging from small embroidery scissors to large dressmaker shears. Small scissors are easier to carry around and store. Small scissors are ideal for most crochet projects. If you use jumbo yarn, you may want to invest in a larger pair of scissors too.
The pointed tip is essential for precision cutting. It can come in handy when working with tight stitches or intricate patterns.
Using a pair of scissors can hurt your fingers. Look for a pair of scissors with a comfortable, ergonomic handle.
Your scissors will get used a lot. Choose a pair of scissors that are made from durable materials that can withstand frequent use.
The tips of your scissors can get easily damaged. Consider purchasing a pair that comes with a protective cover.
Ultimately, the best scissors for crochet are those that feel comfortable in your hand and allow you to make clean, precise cuts. Take the time to explore different options and choose a pair that meets your unique needs and preferences.
5 of the Best Crochet Scissors of 2023
1. SINGER 00558 5-1/2-Inch ProSeries Heavy Duty Scissors with Power Notch
These small scissors are designed specifically for crafting enthusiasts who require precision cuts. They feature rubberised comfort grip handles that make the scissors comfortable to use. Each scissor blade has been individually inspected and hand-tested to ensure optimal quality and performance.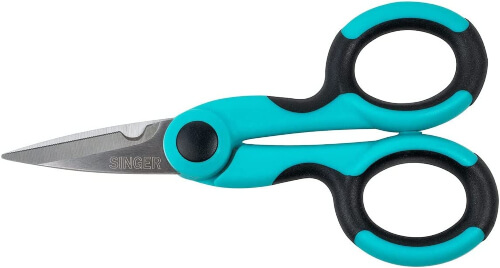 2. Fiskars 154110-1001 Non-stick Titanium Softgrip Detail Crochet Scissors
Perfect for a wide range of crafts, these scissors can cut tight patterns and make quick snips. Featuring titanium-enhanced stainless steel blades, these scissors make clean cuts and remain sharp even after heavy use. The double-loop handle is designed for both right- and left-handed users.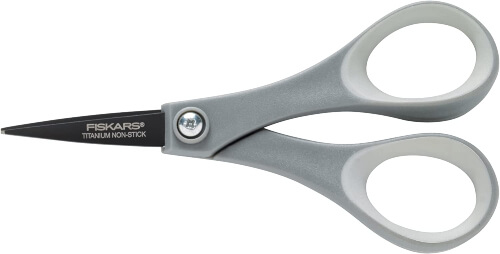 3. Hisuper Scissors for Crochet with Leather Scissors Cover
These scissors are made of durable stainless steel. They come with a cute blue polka-dot faux leather sleeve that provides protection for the scissors. The scissors are not for heavy yarn. Choose from 8 different colours.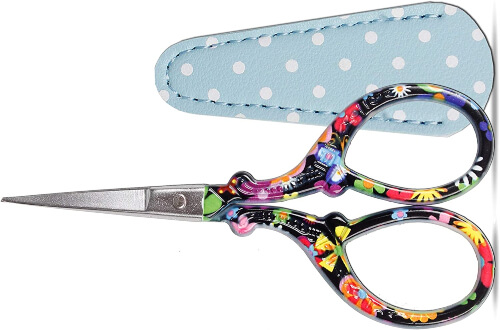 4. BIHRTC Embroidery Scissors Sharp Tip Stainless Steel
This set includes 1 pair of scissors and a leather cover. The scissors are made of high-quality stainless steel, ensuring they are sharp, durable, and rust-resistant. The leather cover helps to ensure that the blades remain sharp while preventing accidents.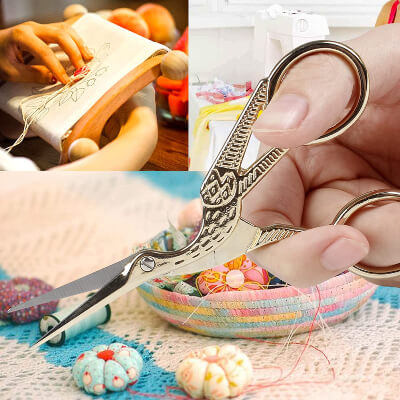 5. Westcott 16376 Titanium Micro-Tip Crafting Scissors
These sharp titanium scissors are ideal for most crochet projects. They feature corrosion-resistant blades and soft handles for comfortable use. Their high-performance patented titanium-bonded blades are 3 times harder than steel, ensuring long-lasting performance.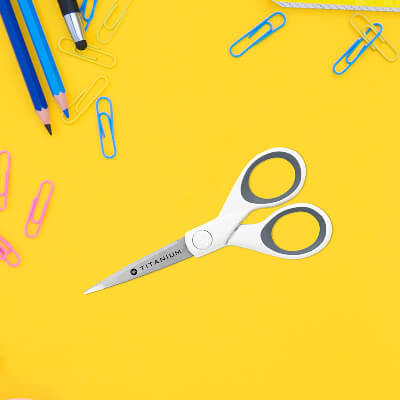 Crochet Scissors Frequently Asked Questions
Do I need special scissors for crochet?
Crochet can be done with regular household scissors. However, having a pair of scissors specifically for crochet can be helpful. Scissors for crochet are often sharper than regular scissors, are more precise, and have pointed tips.
Are embroidery scissors used in crochet?
Most crocheters prefer using embroidery scissors for crochet. They are smaller and easier to store. They are also sharper and have finer tips, making it easier to cut yarn without causing any damage.
Can I use regular scissors for crochet?
Regular scissors can be used for crochet, but they are not the best option. Regular scissors can cause fraying and uneven cuts. It is recommended to use specialised scissors for a more precise and efficient cut. Therefore, serious crocheters should invest in a good pair of scissors.
How do I clean and maintain my crochet scissors?
To clean and maintain your crochet scissors, wipe them down after every use with a soft cloth. This will remove any dirt and debris.
You also want to store your scissors in a dry, safe place to prevent rust and damage. If your scissors come with a protective cover, make sure to replace it before storing the scissors away.
How do I safely store my crochet scissors?
When it comes to storing your scissors, safety should be your top priority. You want to keep them in a dedicated storage case or pouch to prevent them from getting lost or damaged.
Keep the blades clean and dry to prevent rust. It is also important to keep them out of reach of children or pets to prevent accidents.
Having a good pair of crochet scissors is crucial for any crocheter.
Having the right tools for the job can greatly impact the success of your projects. Choosing the best scissors for crochet is a personal decision.
Share with us which pair of scissors you choose on our Facebook Page. For more crochet tool reviews, check out these Crochet Blocking Tools, Crochet Stitch Markers and Tapestry Needles.
Whether you opt for small embroidery scissors or larger scissors, make sure they are durable and comfortable to use. With a quality pair of crochet scissors, you will be able to make clean, precise cuts.