This garden of crochet flower patterns can be used for all sorts of crochet projects: to create centerpieces for special occasions, for brooches or other clothing embellishments, as appliques to other crochet projects, as home decors, and more!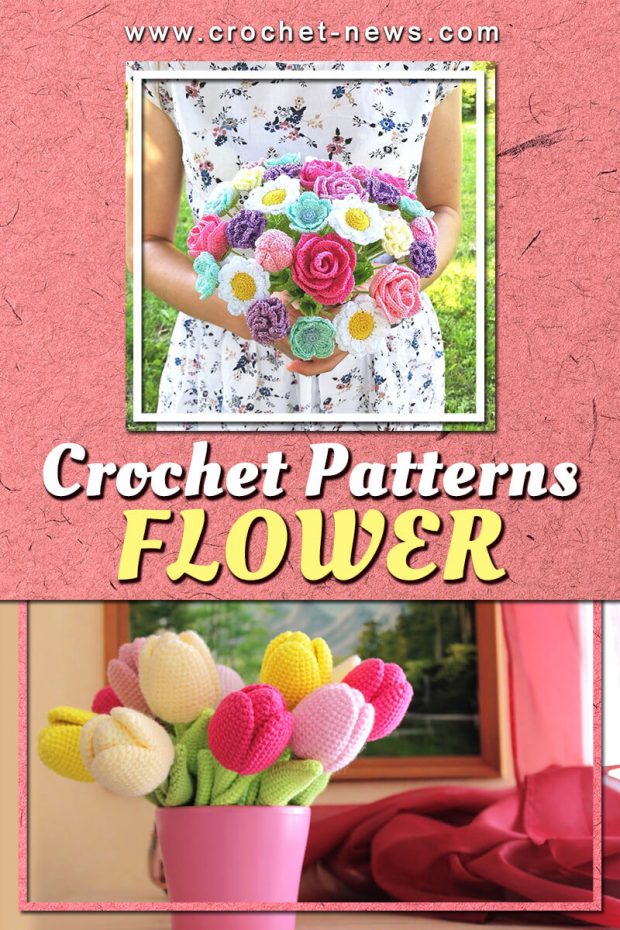 Who says you need to tend a garden in order to enjoy the sight of beautiful, blossomed flowers? With all these flowers above, you can enjoy a wonderful variety of flowers all year long, and guess what? you don't even have to water them!

1. Crochet Flower Pattern by Happy Creations By Vita
You can use this crochet flower for headband, scrapbooking works, for brooch or sewing works. This flower can also be a beautiful charm for a happy planner, bag or keys.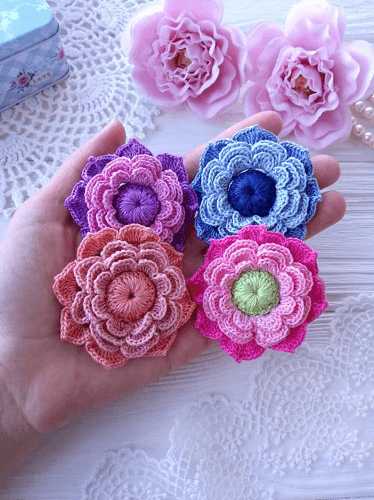 Get the Pattern by Happy Creations By Vita here

2. Amigurumi Potted Crochet Flower Pattern by Autumn Leaflet
For those of you with no green thumb, this Amigurumi Potted Crochet Flower Pattern will always be there to brighten up your day.

Brighten up a room by crocheting this cute potted flower! The best part of all is that you don't have to water it.

You can even embroider a face on it to give it a personality. This potted flower would make an excellent gift to a child or an adult.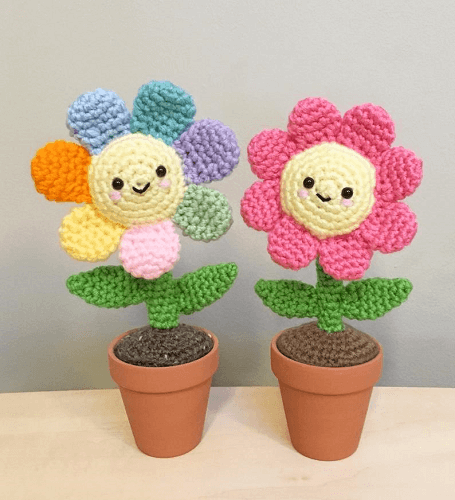 Get the Pattern by Autumn Leaflet here

3. Never Ending Wildflower Crochet Flower Pattern by Yarn And Chai
What makes this flower "never-ending" is how it is built. What that means is that rather than getting taller and bulkier, the flower stays the same height, and just gets wider.

You could keep adding rounds of petals and increases to make it the size of a football field, and it would still only be less than an inch tall, making it great as an addition to things like blankets and throw pillows.

It's not 1-dimensional like your typical appliqué; it has depth and interest, without the bulk.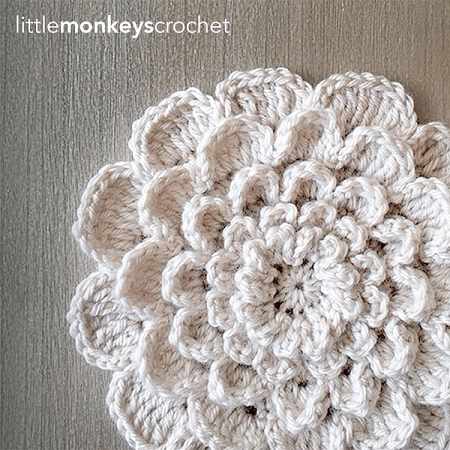 Get the Pattern here

4. Forever Easy Crochet Flower Pattern by Red Heart
Crochet a clever flower and use it almost anywhere – on a lapel, on a hat, in your hair, to wrap a gift, glued to pushpins on a bulletin board, or glued to a magnet for holding messages on the refrigerator. There are many possibilities!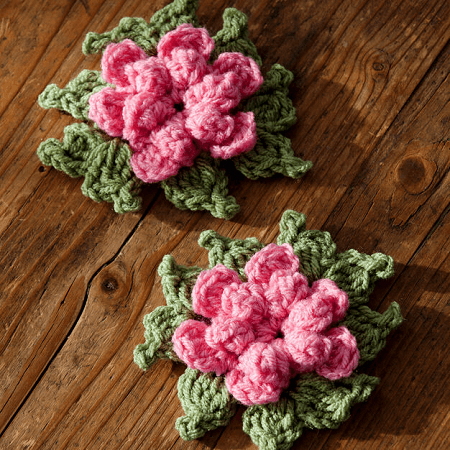 Get the Pattern here

5. Irish Crochet Flower Pattern by Fox Stitch Design
You will not find a more realistic flower pattern anywhere. When you use natural looking colors, this Irish Flower looks real at first glance! They make lovely appliques & brooches or attach a wire stem and make a bouquet of Spring flowers.

Each color uses a continuous thread (there won't be million ends to deal with!) and it's made as one piece, no assembly required when you are done crocheting!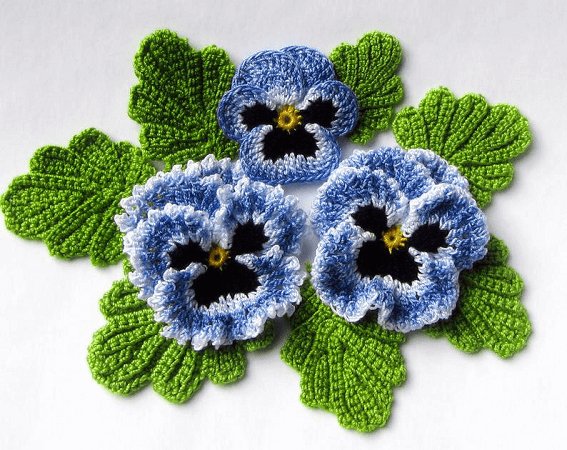 Get the Pattern by Fox Stitch Design here

6. Crochet Small Flower Pattern by Happy Patty Crochet
These adorable Crochet Small Flowers are perfect applique for anything from an earring and necklace, to a hairclip, bag or a hat. Crocheting several of this blossoms, would allow you to make a beautiful brooch or a stunning mini bouquet.

These delicate crochet small flowers are small in size but are as eye-catching as many larger flowers (or more). Try them in pastel colors for beautiful outdoor table decoration.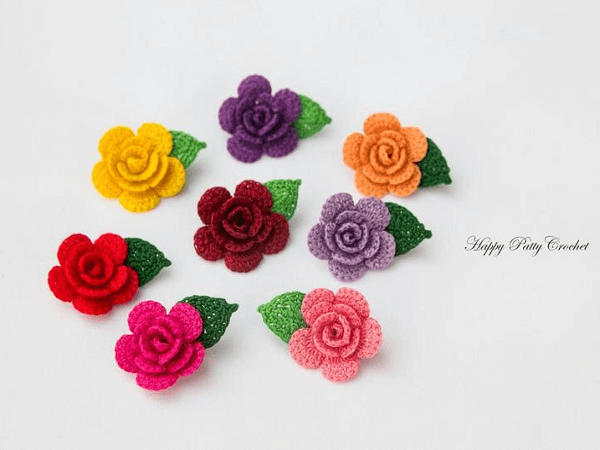 Get the Pattern by Happy Patty Crochet here

7. Cream Rose Bouquet Crochet Flower Pattern by Yarnspirations
Flowers brighten up any space, so craft together a dozen roses in the colors that inspire your world. Display your Cream Rose bouquet as a cheerful centerpiece, window accent, or any other creative use you dream-up.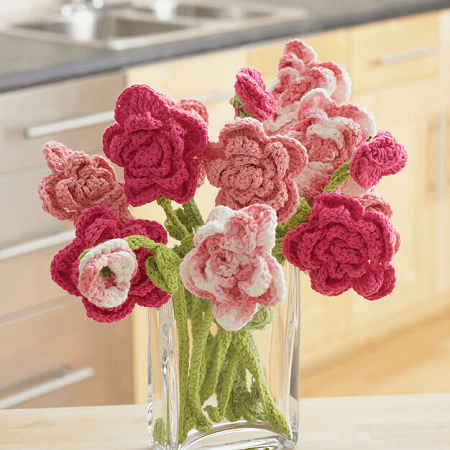 Get the Pattern here

8. Simple Origami Rose Crochet Pattern by Naztazia
This Simple Origami Rose Flower is a nice crochet project for beginner to advanced crocheters. It is made with double crochet stitches then rolled into shape.
Because it's quick and easy, you only need small amounts of yarn for this project and i t's a great way to use up scraps of yarn!
Get the Pattern here

9. Colorful Crochet Flower Pattern by The Hat And I
April showers bring crochet flowers! A colorful addition for hats, scarves, blankets, bags, or any project that needs a little something extra.
The pattern includes directions for the following: large 3-layered flower, large tropical flower, medium 2-layered flower, rose, small flower, single leaf, and double leaf.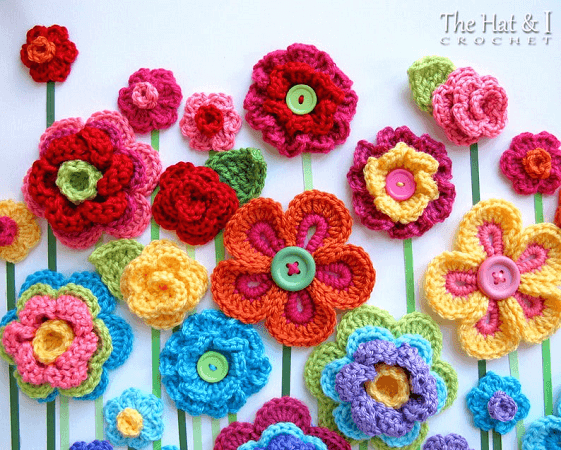 Get the Pattern by The Hat And I here

10. Crochet Flower Pot Amigurumi Pattern by Sewrella
This plushy Crochet Flower Pot Amigurumi is a perfect gift for Mother's Day, birthdays, or anniversaries. You can change their colors to bright red and white to mimic poinsettias, too!

This is an intermediate level crochet pattern, and the techniques you will need to know are single crochet, increase, decrease, half double crochet, double crochet, magic ring, chain stitch, and slip stitch.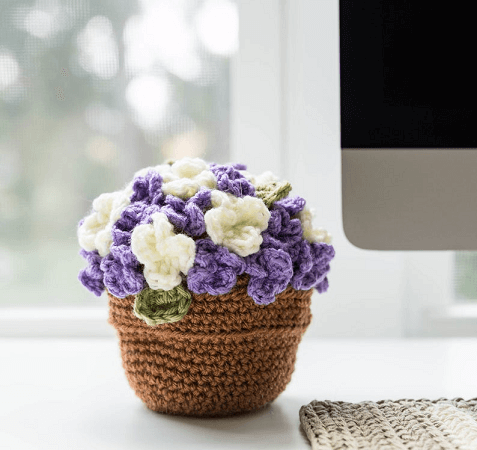 Get the Pattern by Sewrella here

11. Easy Crochet Flower Pattern by Annie Design Crochet
These pretty Easy Crochet Flowers only take minutes to make and are perfect for adding as embellishments to your projects. You can add a pin to the back of the flower to make a brooch, or add one to a child's hat.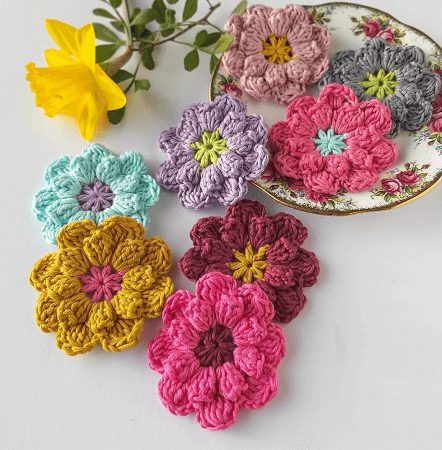 Get the Pattern here

12. Iceland Poppy Crochet Small Flower Pattern by Picot Pals
This Iceland Poppy Crochet Small Flower Pattern uses a combination of worsted and DK weight yarns. You can use almost any fiber type to create these poppies.
Cotton yarns produce a more stiff petal. Wool creates a fuzziness that makes the stamen of the flower look a bit more realistic.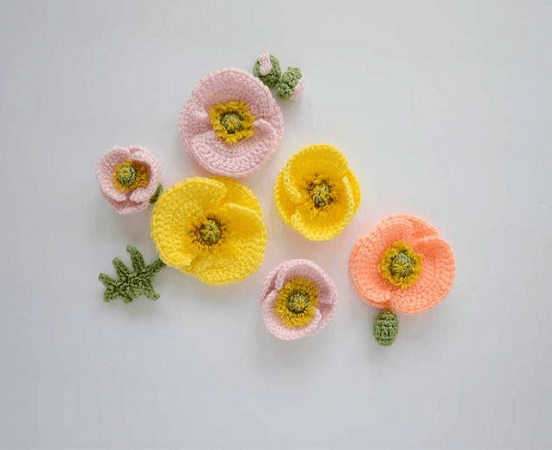 Get the Pattern by Picot Pals here

13. Lavender Crochet Flower Pattern Pippa Patterns Crochet
This lovely Lavender Crochet Flower Pattern looks very lifelike. Using the recommended yarn and following the tutorial your finished product will be: flower Head approximately 2.5"(6cm) and the arrangement approximately 10"(6cm) in a plant pot size 4.5″(12cm).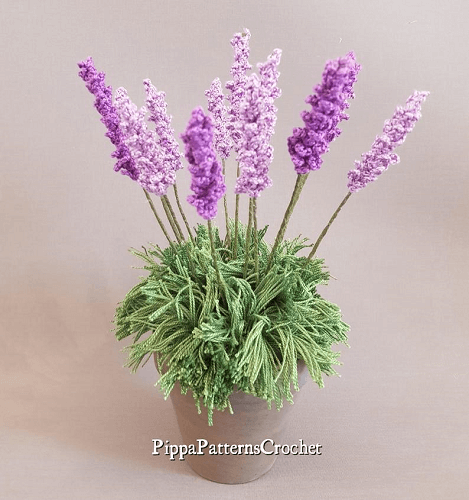 Get the Pattern by Pippa Patterns Crochet here

14. Crochet Flower Blanket Pattern by Felted Button
This Crochet Flower Blanket is perfect for who likes a cheerful and creative project. Each little flower is bursting with colors!

It is thick and warm yet breathes. And the back of the flowers looks as beautiful as the front!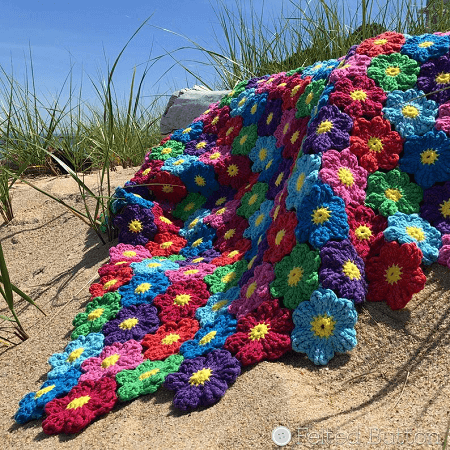 Get the Pattern by Felted Button here

15. Puff Flower Free Crochet Patterns by Bella Coco Crochet
These little Puff Flowers are a labor of love but they look totally stunning. You can choose to join them together to make a larger project such as a scarf or a blanket or you could use them individually to add to something like a crochet hairband.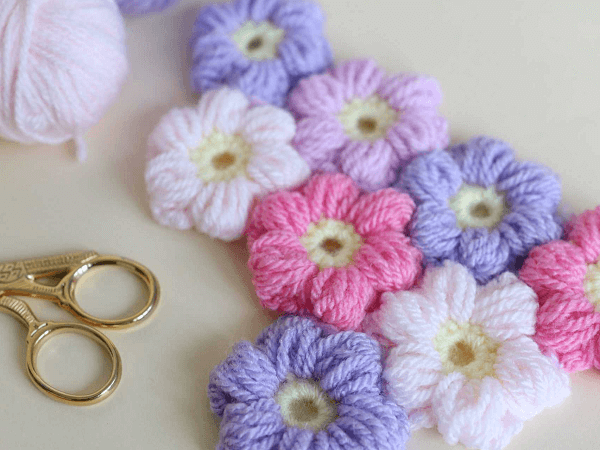 Get the Pattern here

16. Tulip Crochet Flower Pattern by My Cro Wonders
Tulips are gorgeous spring flowers, but they have a limited season so why not crochet some to display all year round?

This Tulip Crochet Flower Pattern is the perfect love flower to make a bouquet with. It can be worked up in just about any color with your own hands in just a brief amount of your time.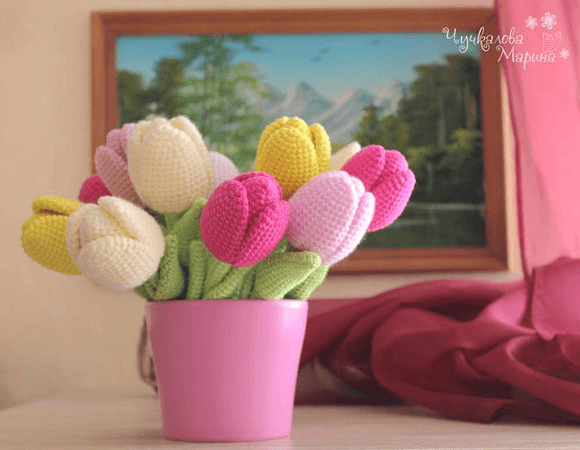 Get the Pattern by My Cro Wonders here

17. Daisy Easy Crochet Pattern by Daisy Cottage Designs
This Daisy Easy Crochet Pattern is very simple – they might take three minutes to whip up. This little flower is a great beginner crochet pattern, too!

Since this is a very basic crochet flower pattern, you can change up the colors and yarn weight and use it for a lot of different projects.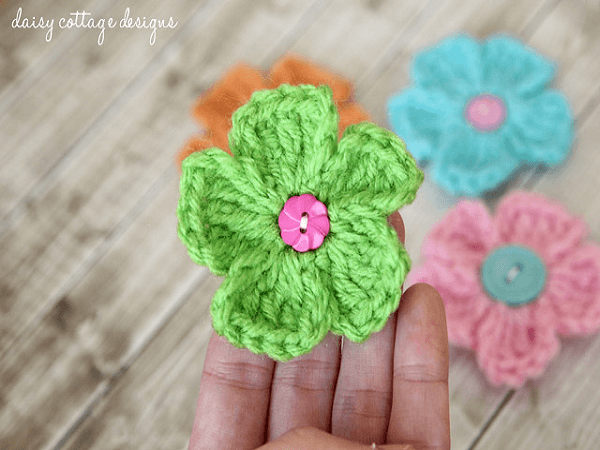 Get the Pattern here

18. Crochet Lily Flower Pattern by Fox Stitch Design
This beautiful Crochet Lily Flower Pattern features petals having a unique texture and which are surprisingly easy to form into a graceful shape without wire or stiffener. Options are also included for different petal widths.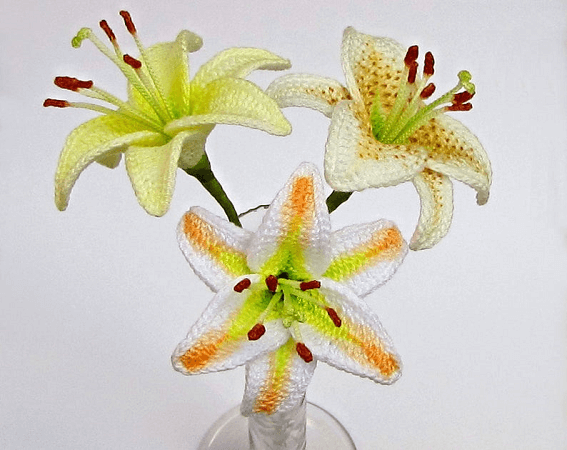 Get the Pattern by Fox Stitch Design here

19. Cherry Blossom Free Crochet Flower Patterns by Make And Do Crew
Celebrate Spring with this Cherry Blossom Free Crochet Flower Patterns. Each flower takes only a few minutes to crochet and can be used for decor, garland, or an accent on another piece.

This cherry blossom crochet flower pattern is a perfect lightweight project that won't make you sweat up a storm while you're working on it.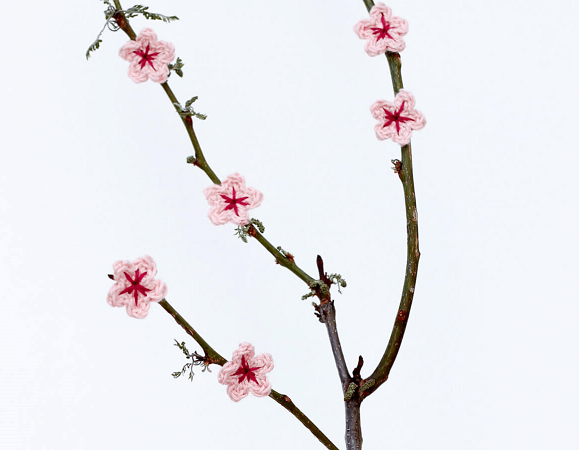 Get the Pattern here

20. Sunflower Crochet Flower Pattern by Happy Patty Crochet
This Crochet Sunflower, inspired by the award-winning Soraya variety, a short petal, lush wonder, is a true beauty and quite the explosion of happiness!

They are a perfect gift for someone special and will make any lonely corner bright as the sun.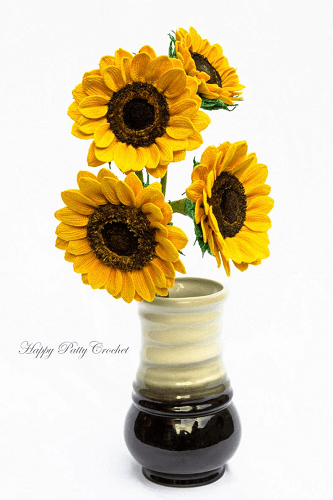 Get the Pattern by Happy Patty Crochet here

21. Flower Headband Crochet Pattern by Of Mars
This Flower Headband Crochet Pattern features a wide headband and a layered, detailed flower adorned with a button.

The headband portion is made using a super bulky yarn, so it's thick, warm, and works up super quickly! The flower is made using worsted weight yarn, so it's a bit more detailed.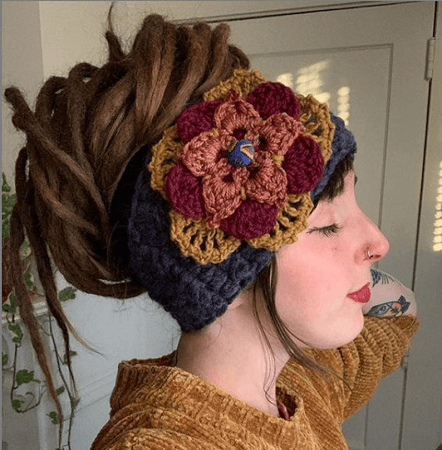 Get the Pattern by Of Mars here

22. Easy Crochet Flower Pattern by Hello Yellow Yarn
This Easy Crochet Flower is very easy to make. It is made with an 8 ply yarn and a 4mm hook but of course, you can use whichever yarn and hook size you prefer.

This crochet small flower is worked in a spiral and begins with a magic ring. The flower only has 2 rounds – 1 round with single crochet stitches and the other round have half double crochets and double crochets worked into the single crochet stitches to make the petals.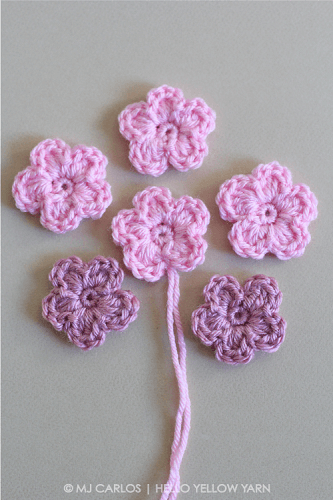 Get the Pattern here

23. 5 Petal Free Crochet Flower Pattern by 1 Dog Woof
Looking for a simple project? This is a free crochet flower pattern for a 5-petal Crochet Flower that would look great as a fun accessory!

These little crochet small flower are quick and easy to make and can brighten up any outfit. Or group them together for some springtime cheer!
Here are more quick crochet projects you can make in very little time.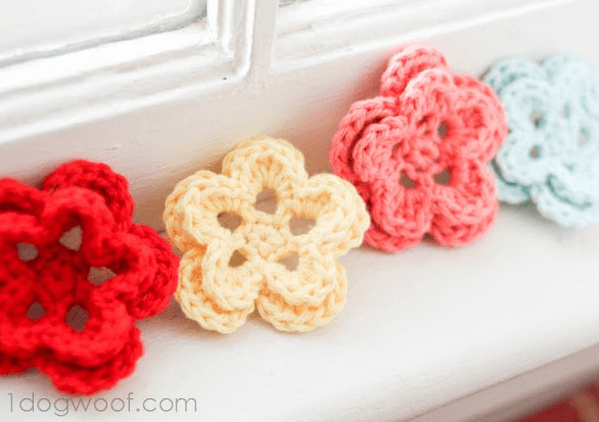 Get the Pattern here

24. Crochet Dahlia Flower Pattern by Pippa Patterns Crochet
Relax your mind, heart, and soul as you create this 4 1/2 inch bloom that will conveniently brighten your day and your home.

Perhaps, you might want to lighten up someone else's day! Either way, you'll certainly enjoy the magical process of creating this bold and exciting beauty. The outcome is thrilling!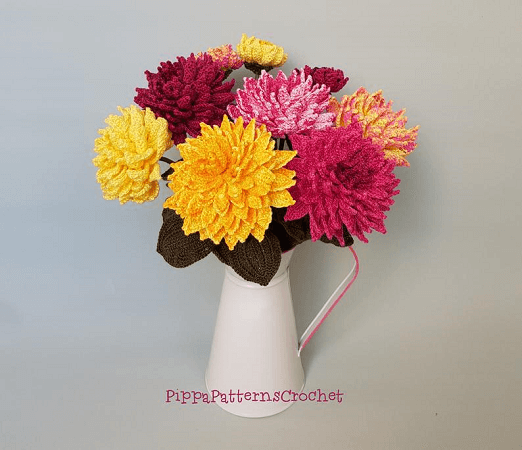 Get the Pattern by Pippa Patterns Crochet here

25. Crochet Flower Bouquet Pattern by Happy Creations By Vita
Spring has sprung with a fresh bouquet of crochet flowers including a rose, carnation, tulip, and daisy!
Why settle for making one crochet flower when you can craft a whole bouquet? This project makes the perfect gift for birthdays, anniversaries, Mother's Day, and more. Of course, you can also craft one for yourself!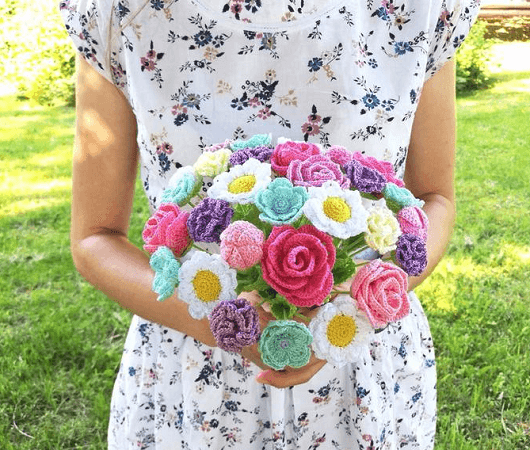 Get the Pattern by Happy Creations By Vita here

26. Fancy Flower Scrubber Crochet Pattern by Red Heart
Practice simple shaping and color changes to complete a Fancy Flower Scrubber that combines utility with beauty.

Select fun shades of yarn and make a whole bunch of crochet scrubbers as gifts! This fun project washes easily by machine and air dries quickly for everyday use.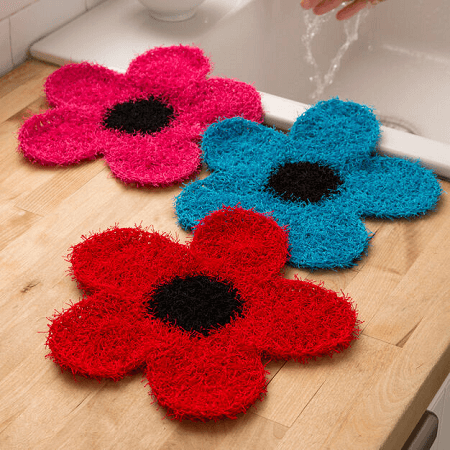 Get the Pattern here

27. Rainbow Amigurumi Easy Crochet Flower Pattern by Kandjdolls
This Rainbow Amigurumi Easy Crochet Flower will brighten your home and will give you a good mood. They are easy to make and great for on your windowsill. All flowers are made with the same pattern.

They are made in the colors of the rainbow but you could make them in any colors you choose.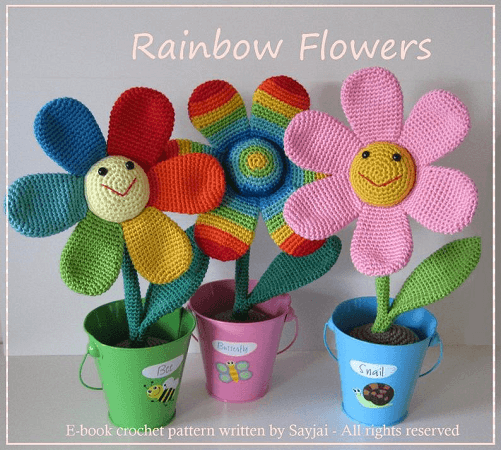 Get the Pattern by Kandjdolls here

28. Flower Gal Free Crochet Flower Patterns by Tiny Curl
This crochet flower is personified! Use amigurumi techniques to make a Flower Gal Doll. You will also get a free crochet pattern for the bee to accompany this pretty flower girl.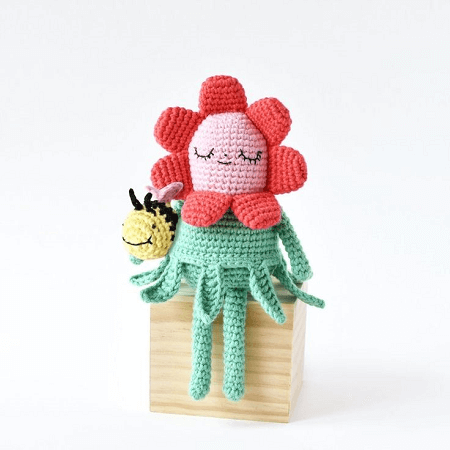 Get the Pattern here

29. Granny Square Free Crochet Flower Pattern by Winding Road Crochet
This Granny Square Free Crochet Flower Pattern is a beautiful motif that's perfect for spring!
It's an all-time adorable pattern that you can use for coasters in any room in your house, or even that you can combine together to make a granny square blanket.
Whatever you decide to do with these crochet flower granny squares is sure to be floral and delightful!

Looking for more? Check out these Crochet Square Patterns!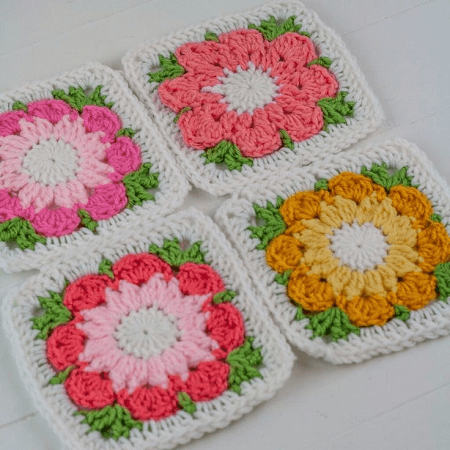 Get the Pattern here

30. Mini Crochet Poinsettia Pattern by Happy Patty Crochet
These crochet small flowers are ideal as appliqués, with a flat back, you can easily attach any clip or clasp. They are guaranteed to enjoy any flat surface and will surely fit any accessory.
Almost anytime you shrink something cute, it gets even cuter, which is certainly true of these mini poinsettias!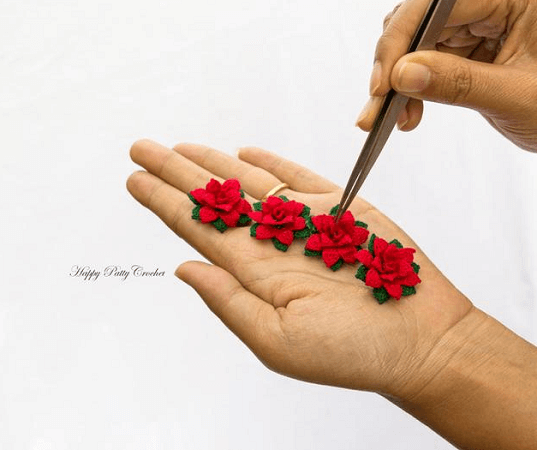 Get the Pattern by Happy Patty Crochet here

31. Little Crochet Deco Roses Pattern by Mama In A Stitch
These roses are really cute and little as they measure less than 2 inches wide, and 3/4 inches tall.

They are small and fairly flat which makes them nice to add to small items. I'm picturing hairpieces, clutches, and pins, but the possibilities are endless. They are made and finished in only two short rows, so they are a breeze to whip up.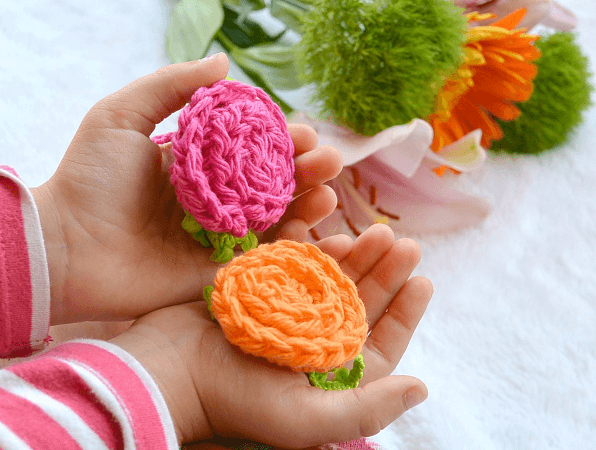 Get the Pattern here

32. Gerbera Crochet Flowers Pattern by Annie Design Crochet
These Gerbera Crochet Flowers can be used to make pretty hair clips, and the pattern is beginner friendly!

Once you have made one flower, you will soon be creating dozens in your favourite colours. Perfect for wedding favors, party packs, decorating wrapped gifts, or adding to your crochet blankets.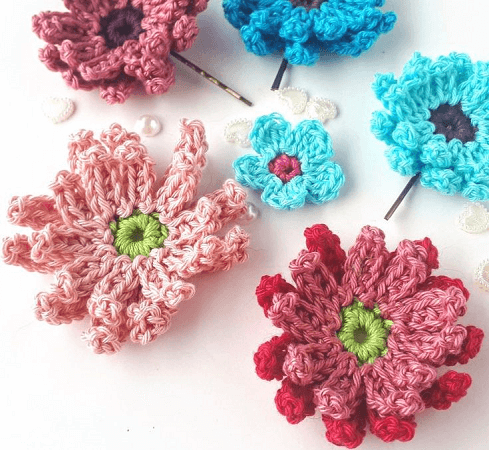 Get the Pattern here
Crochet Flower Patterns Frequently Asked Questions
How to crochet flowers?
Easy crochet flower patterns are typically worked in rounds and begin in the center. You might start with a chain or a magic circle, then add stitches and chains (or whatever the pattern specifies) to make the individual petals.
Some patterns require you to stitch each petal separately and then sew them together to form the flower, while others require you to construct it in another way, but they are all fairly simple.
Can beginners crochet flowers?
Yes, even a novice can crochet flowers. Most small crochet flower patterns can be completed in an hour or less, allowing beginners to make a large number of them while honing their skills.
How long does it take to crochet a flower?
Each crochet flower will only take you a few minutes to make. You can make a flower in as little as 10 minutes, depending on your skill level and the number of petals. Most crochet flowers only require a few stitches, so even if a technique is new to you, you should be able to finish it quickly.
What's the best yarn for crochet flower patterns?
Flowers can be crocheted with a variety of yarns. Crochet flowers are also great for using up small amounts of scrap yarn in your stash because they are such small projects. They can be crocheted with acrylic yarn, cotton yarn, or a wool blend yarn. If you're not sure which yarn to use, consult the pattern for the designer's suggestions.
What can you use crocheted flowers for?
The most common use for crochet flowers is as an embellishment. Crochet flowers can add a touch of spring or a pop of color to hats, scarves, purses, garments, and more.
Which of these crochet flower patterns do you fancy trying today?
Crochet a rose, a tulip, a sunflower, one with lots of petals, or a bouquet. It's hard to choose when they're all so pretty!

Inspire others by sharing your works on our Facebook Page. We'd love to know what everyone's making! And also, be sure to check all our other crochet flower patterns that are waiting to be made!
Crochet flower patterns:
So make like you're in a field and pick your favorite crochet flower patterns!