Turn that glittering metal wire into gorgeous and show-stopping jewelry with these wire crochet earrings. Making wire crochet jewelry can be such a fun and creative hobby! Start by following these ideas to get some hands-on experience under your belt.

We all love to splurge on jewelry once in a while! But why buy jewelry when you can easily make it yourself—and for a lot less? No, it won't pass for pricey jewels, but it sure is cool.

Whether you want to make your own jewelry, or you're looking for wire crochet ideas, these earrings are fun DIY projects. You can keep them for yourself or give them away as gifts! All you need for these wire crochet earrings are a few tools and materials. If you want to start making more wire jewelry, wire cutters and pliers will become your two best friends!
10 Wire Crochet Earrings Patterns

1. Circle Wire Earrings Crochet Pattern by Crochet Spot Patterns
This Circle Wire Earrings Crochet Pattern is the ideal pattern for your very first wire design! The pattern is a simple circle that is worked in two rounds. While the design is simple, the challenging part is getting the hang of crocheting with wire.
All of the stitches are made in the same manner as if you were crocheting using regular yarn or thread. However, the stiffness of the wire will work your hands. The large crochet hook will make it easier to crochet with the wire and create a lacy look.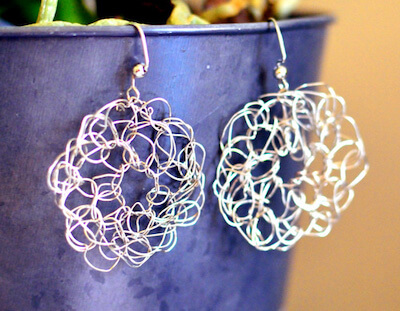 Get the Pattern here

2. Anabelle Crochet Earrings Pattern by The Loopy Lamb
These Anabelle Crochet Earrings are a quick and easy project that will liven up any outfit, whether you're looking for a last-minute crochet gift, preparing for markets, or just need a pretty pair of earrings.
Because these earrings are constructed with wire, there is no need to block or stiffen them like typical crochet earrings made of yarn or thread.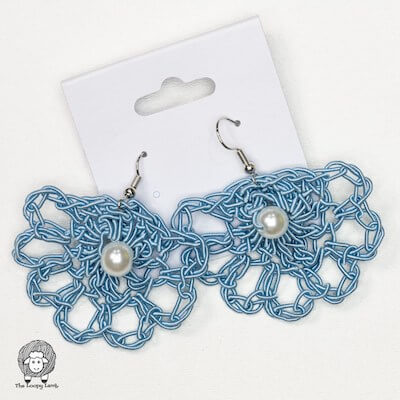 Get the Pattern here

3. Beaded Crochet Wire Earrings Pattern by The Purple Poncho
Crochet these hoop earrings with wire and beads for a wedding or a casual outfit. They're quick and fun to make using basic crochet stitches. Make a pair in any size hoop with any color of beads that you like.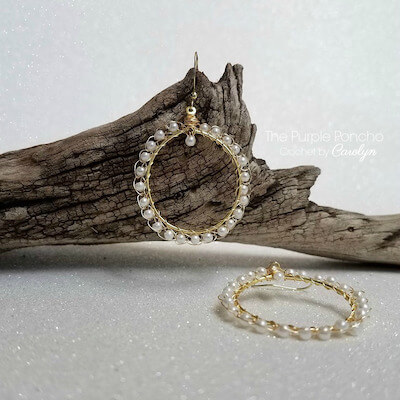 Get the Pattern here

4. Wire Crochet Granny Square Earrings Pattern by Crochet Kitten
You have probably seen granny squares incorporated into a range of projects such as clothing and blankets, but small ones as earrings crocheted with wire is such a beautiful idea!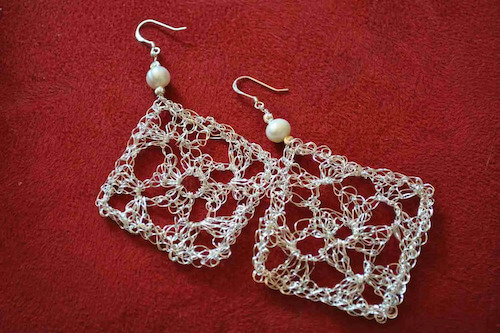 Get the Pattern here

5. Wire Crochet Calla Lily Earrings Pattern by Yoola
Here's a tutorial that will teach you how to DIY these Calla Lily Earrings in the invisible spool knitting technique. These earrings are an impressive design, with wonderful shapes and curves, it take the invisible spool knitting into a whole new level.

6. Wire Crochet Flower Earrings Pattern by Mya's Creations
Bring spring and summer to your wardrobe by whipping up your own wire flower earrings! These versatile jewelries are great as either a pair of earrings or a pendant on a necklace.
Get the Pattern by Mya's Creations here

7. Wire Crochet Drop Earrings Pattern by Yoola
These golden drop earrings are bright, dangling, eye-catching, one-of-a-kind, and captivating. When worn, the earrings are extremely light and swing delicately as you move.

The fresh water pearl hanging at the bottom of the droplets gives the earrings an elegant touch. For those of you looking for a last minute original gift this could be perfect.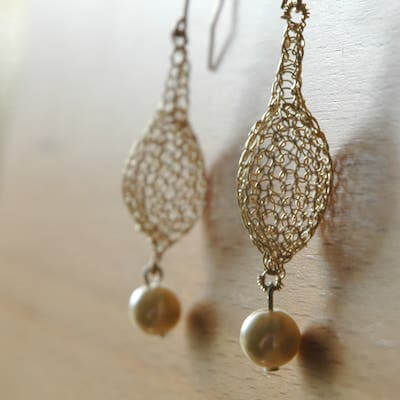 8. Crochet Wire Medallion Earrings Pattern by Petals To Picots
These beautiful, easy to make earrings are great for crocheters who are new to working with wire or beads. You can make them in a snap!
Get the Pattern here
9. Angel Wings Wire Crochet Earrings Pattern by Yoola
Flaunt your stylish personality with this stunning pair of Angel Wing Wire Earrings crocheted in Yoola's invisible spool knitting technique.

Whether you gift these chic earrings to a loved one or wear yourself, these are truly a one-of-a-kind addition to any jewelry addition, for an elegant touch of glamour.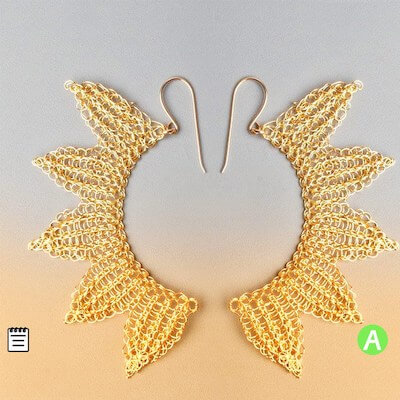 10. Wire Crochet Hoop Earrings Pattern by Yoola
Made of a delicate string of crocheted wire wrapping the hoop, these earrings gently dangle and catch everyone's eyes. This tutorial is marked advanced because the level of difficulty, nevertheless no previous knowledge is required.
TAKE YOUR CROCHET JEWELRY DESIGNS TO THE NEXT LEVEL WITH THESE WIRE CROCHET EARRINGS.
To upgrade your style this year, take a look at all of our collection of crochet jewelry projects that you can customize or use as gift ideas for your loved ones.
Have you made wire earrings before? Or any other DIY jewelry? Let us know what you like to make! And be sure to share your creations with us on Facebook Page.
What are you waiting for? Get started on creating your own masterpiece with these wire crochet earrings today! You may even end up creating your own designs and patterns one day!