Brooches are a great fashion accessory reminiscent of classic style but also distinctly modern. However, brooches can be expensive. Cut down on the cost by making your own. Here are crochet brooch patterns to get you started. Whether you're a fan of hearts, floral arrangements, adorable animals, or anything else between – we've got it all here.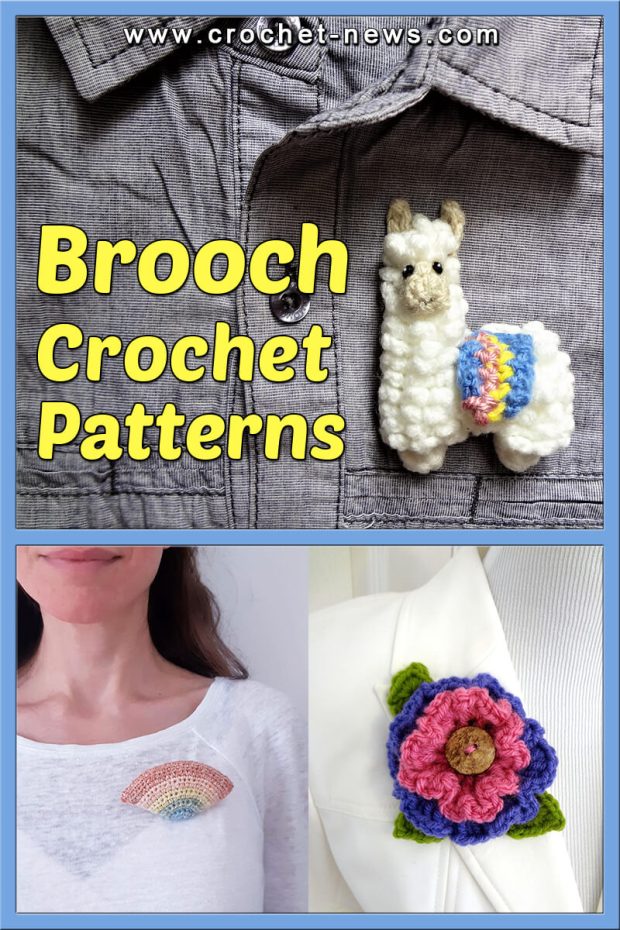 They can add glitz and glamour to a simple outfit. And, as a handmade gift, they can bring a smile to anyone's face. Brooches are making a grand comeback this season and the message is clear: these aren't your grandmother's pins!

1. Bunny And Bear Brooches Crochet Pattern by Elisa's Crochet
Do you wanna make a special gift for your little girl, or just wanna share your love for all crochet things? This project may be just right for you! Turn a boring jacket or backpack into something fun by adding these two adorable bunny and bear brooches!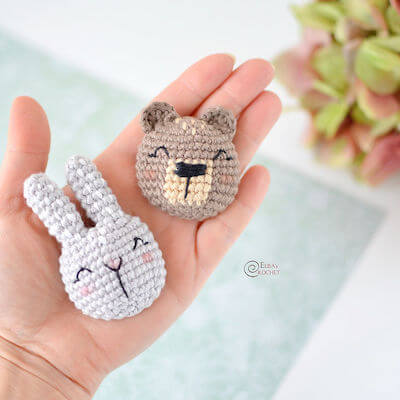 Get the Pattern by Elisa's Crochet here

2. Crochet Peacock Brooch Pattern by Vendulka M
You will love the way this crochet and beaded brooch captures the beauty and bold colors of a peacock. This delicate and sophisticated brooch will be a perfect gift for women and a great embellishment for a day or evening outfit.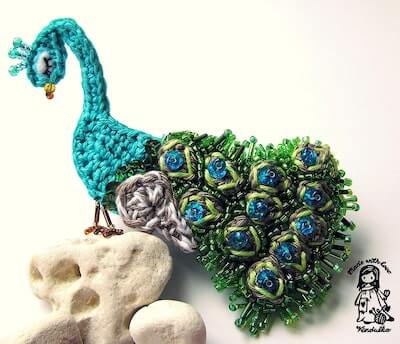 Get the Pattern by Vendulka M here

3. Crochet Llama Brooch Pattern by Hello Stitches XO
Here is a crochet brooch pattern for a cute llama, which is an amigurumi pattern but two-dimensional. The llama is worked in continuous rounds, working the fur stitch in the front side alone. This leaves the back side of the llama flat making it an ideal pattern to be used as an applique, brooch or pin.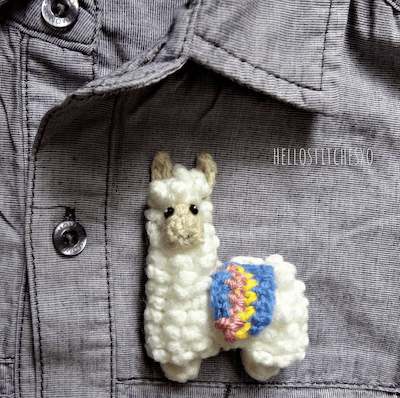 Get the Pattern here

4. Layered Ruffle Flower Crochet Brooch Pattern by Fiber Flux
This beautiful blossom adds a little springy cheer anywhere you place it. Put a pin on the back and wear it as a brooch (as shown) or sew it to a purse or garment.

Crocheted quickly in two layers and sewn together, the color possibilities are endless. Top it off with a special button and add some optional leaves if you like.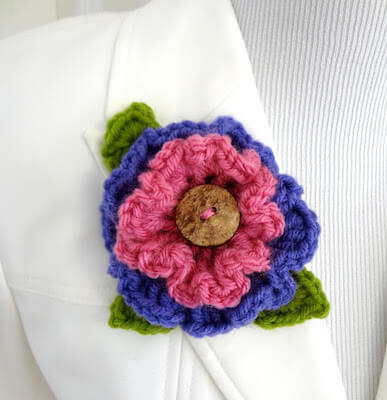 Get the Pattern here

5. Crochet Fruity Brooches Pattern by Emi Creations By Chloe
Brighten up your outfits this summer with these Fruity Brooches. This simple pattern includes watermelon, lemon, and kiwi brooches, which look amazing with every outfit. Why not also try making an orange slice or grapes too? You'll soon have a whole fruity cocktail to choose from.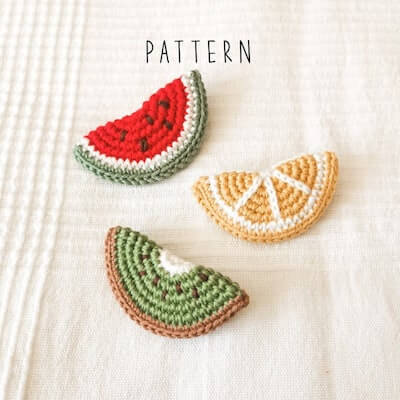 Get the Pattern by Emi Creations By Chloe here

6. Crochet Unicorn Brooch Pattern by Amalou Designs
Crochet this lovely unicorn brooch so she can settle on your clothes and decorate your everyday image.
If you or your baby wear it, you are sure to become the center of attention and you will be proud to say that you did it yourself. The pattern works up really fast – perfect for last minute delightful gift!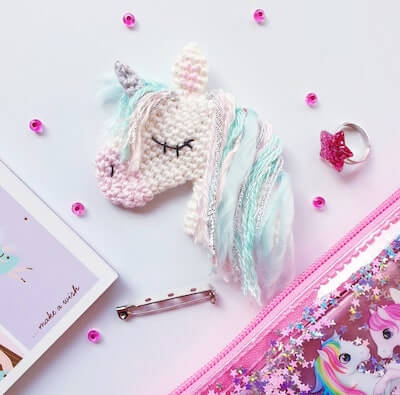 Get the Pattern by Amalou Designs here

7. Crochet Rainbow Brooch Pattern by Unique Yarns Co
A cheerful little rainbow that you can always carry with you! Quick to whip up, this amigurumi rainbow can be used as a brooch, hair clip, or to embellish other craft projects! The pattern is worked flat, crocheting two identical panels and sewing them together while stuffing a little filling inside!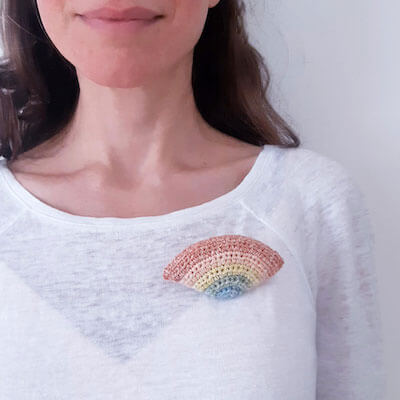 Get the Pattern here

8. Crochet Skull Brooch Pattern by Nella Gold's Crocheting
Crochet a skull brooch or applique and pin it onto a t-shirt. It's a spooky, groovy idea for the Halloween season or for Day of the Dead events!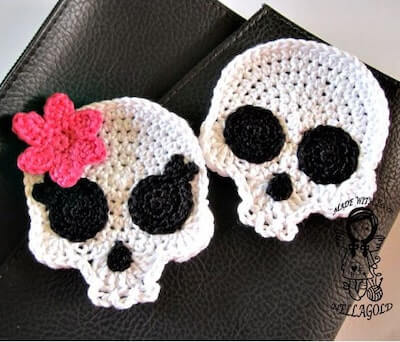 Get the Pattern by Nella Gold's Crocheting here

9. Crochet Pretzel Brooch Pattern by Twinkie Chan
This Pretzel Brooch is great for crochet beginners as well as lovers of whimsical fashion. All you need is a little bit of yarn and some mini pompoms! The pattern is worked in about 25 yards of worsted weight yarn and an H hook. A great stash-buster if you have a lot of brown yarn!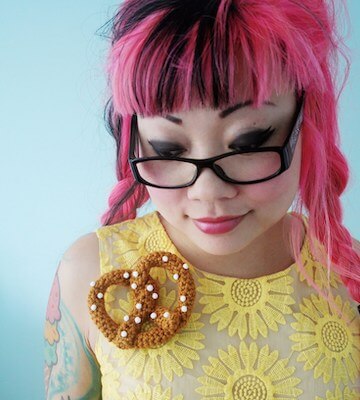 Get the Pattern by Twinkie Chan here

10. Funky Scrumbled Crochet Brooch Pattern by Tamsyng
These Funky Scrumbled Crochet Brooches start as a basic circle, then using surface crochet and lots of different yarns they build up into colourful textured mini works of art.Ready to embellish with beads and buttons.

These are perfect for in between other projects when you just want to start something and finish it in one go. It is also great for using up little scraps of yarn. Strips of fabric can also be crocheted in.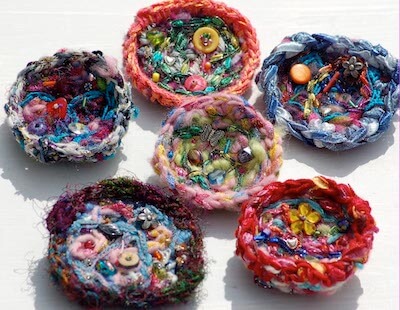 Get the Pattern here

11. Crochet Dragon Brooch Pattern by Crochet Envy
Ready to train your dragon? Please meet Isabella. This tender and beautiful brooch will brighten up any outfit. You would become a true Mother of the Dragons and even make Daenerys envious. The body, horns and wings have a wire frame inside, the pattern give a detailed instruction on how to do it.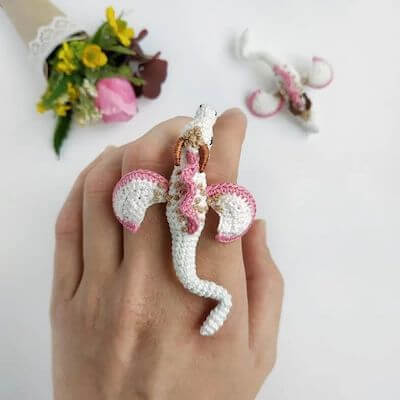 Get the Pattern here

12. Flower Pin Brooch Crochet Pattern by Yay Crochet Patterns
The soft magenta and olive yarn mixed with the pretty spring green trim and antique gold button all give this Flower Pin such an elegant look!

This crochet pattern consists of a 2-layered flower embellished with a ruffle and spring green trim. Instructions for adding a brooch pin to the crochet flower are included as well.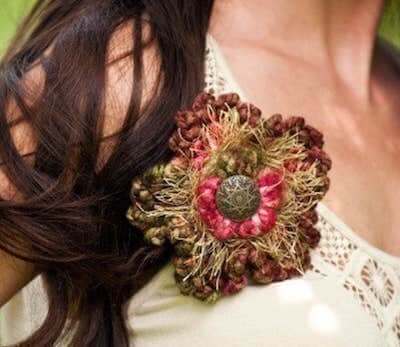 Get the Pattern by Yay Crochet Patterns here

13. Crochet Old Fashioned Brooch Pattern by Jayda In Stitches
This brooch design is perfect to whip up and customize to go with your historical outfits of many eras. Make the oval background quickly and personalize it with your favorite notions.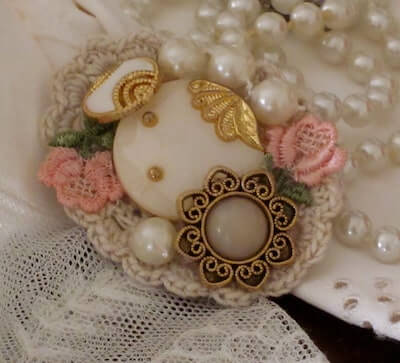 Get the Pattern by Jayda In Stitches here

14. Sleeping Fox Brooch Crochet Pattern by Liliya Sharipova
Fall is the time for cozy sweaters, hot tea and bright foxes. Such crochet brooch is sure to brighten up your mood even on a cheerless day.
This sleeping fox brooch is a perfect accessory for any coat, jacket or even bag. Easy to make with full instructions and photos to guide you through. They can be made up in a few hours and would make the ideal last minute gift!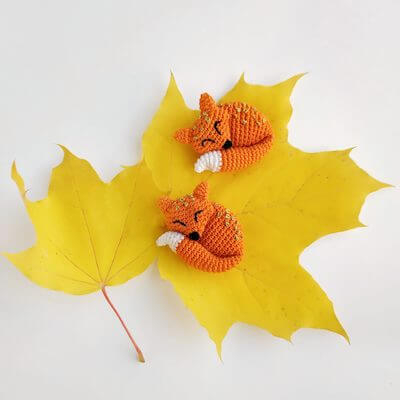 Get the Pattern here

15. Crochet Doll Brooch Pattern by Crochet Toys Basket
Miniature doll brooches are unique and cute accessory, which can accompany any outfit to wear all year round. These girls can be quickly and easily made and it will not take much time.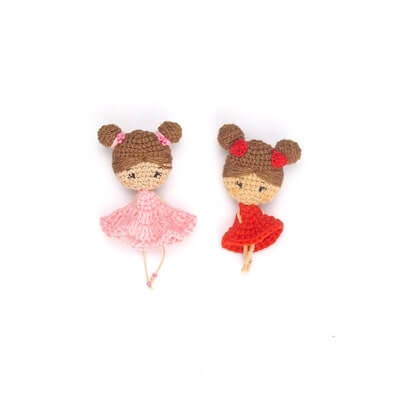 Get the Pattern by Crochet Toys Basket here

16. Overlay Flower Brooch Crochet Pattern by Lilla Bjorn Crochet
This flower is designed to mainly serve as a brooch, but it can be used in many more ways. You can use it to decorate clothes, hats, pillows, bags and even curtains!

The project is very quick and easy. All you need is scraps of yarn and crochet hook. The pattern uses some basics of overlay crochet so it also gives an excellent opportunity to try this technique for free.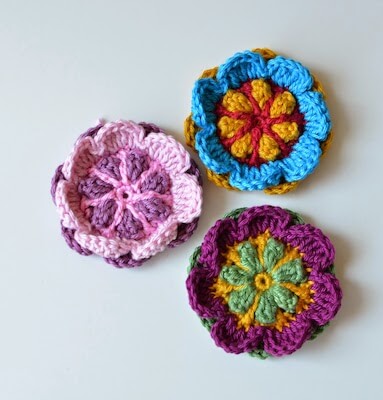 Get the Pattern here

17. Crochet Heart Brooch Pattern by Crochet For You Store
These tiny crochet hearts make a big impact, especially when attached onto your jacket or jeans in lively colors! They're a creative way to embellish garments and bags, as well. Or, why not give them as an expression of your friendship? This is a fun pattern that's great to work on with friends.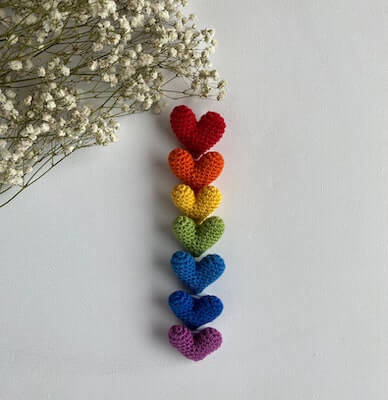 Get the Pattern by Crochet For You Store here
SO, WHICH OF THESE CROCHET BROOCH PATTERNS COMPLEMENTS YOUR STYLE THE MOST?
Share your crochet adventures with us and other makers by posting pictures of your makes to our Facebook Page. And if you liked these patterns, why not take a look at these ones too!
The once stale and overlooked accessory has become cool again. So, get on the bandwagon of this trend right away anf make these crochet brooch patterns today!