Buttons! They play such an important role in our projects but it can get really hard to find the right match every time. How about we learn to crochet our own or jazz them up with crochet to use on all kinds of different projects? All we need is a little bit of yarn, a hook, and these crochet button patterns below!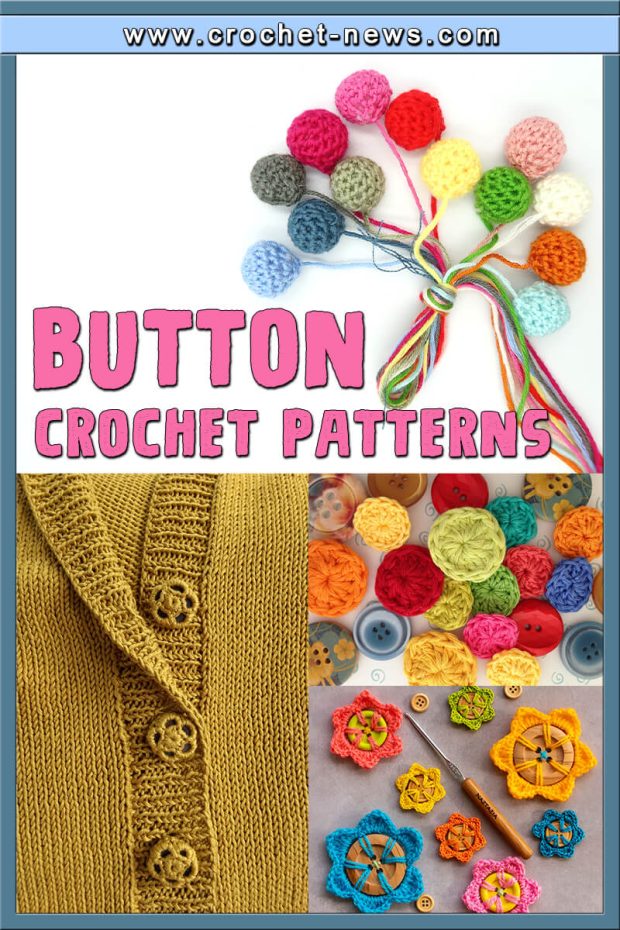 Although purchased buttons look great, sometimes you might want to add a button that matches the entire crocheted project. And that's were crocheted buttons come in. They are not only sturdy little buttons for holding things together, but they can also be used to add more style.

There's no shortage of options available when it comes to the concept of designing and creating your very own buttons!

1. Craft Crochet Button Pattern by Knitting With Chopsticks
These cute crochet buttons are really easy to make, work up in a couple of minutes and you get all the flexibility to choose your colors. Plus, it's a great scrap yarn project to use up these tiny little leftovers of yarn (you only need 3m for one crocheted button).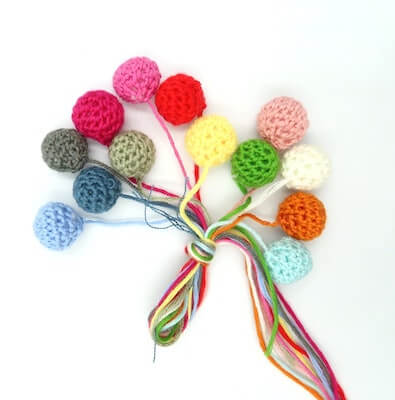 Get the Pattern by Knitting With Chopsticks here

2. Crochet Buttons by Knitter Knotter
These crochet buttons only uses single crochet stitches and can be made with any yarn with an appropriate hook! The best part is that you can customize them – pick the perfect color – based on the project.

These buttons are sturdy enough to be sewn on cardigans as closures, or on slippers. They can also be used as embellishments on cushions, mug cozies, hats and bags. The possibilities are endless!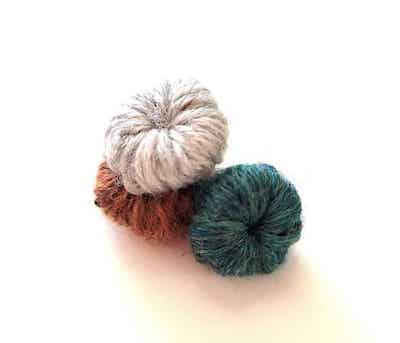 Get the Pattern here

3. Crochet Button Pattern by Craftsy
This tutorial shows you a quick method of making small and simple cotton buttons. Making them is a lot of fun and use only tiny lengths of yarn.
Once you've learned how, you can work them in many different yarns, create various sizes and add embellishments to really exercise your creativity.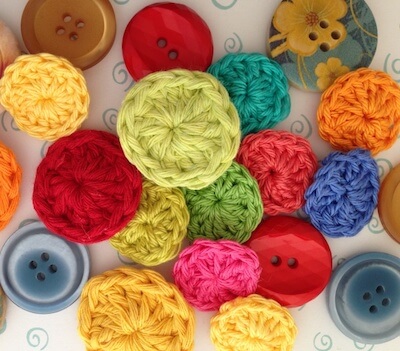 Get the Pattern here

4. Lacy Crochet Buttons Pattern by Rebekah Fox
It is always fun to look through your button stash but sometimes you just cannot find enough look-alikes. That's why this crochet pattern is so helpful! Follow this pattern to make a crocheted covering to cover your different buttons and have the ability to use up your stash.

The designer uses size 20 thread and a small steel crochet hook, but you can use any weight of thread to make your buttons.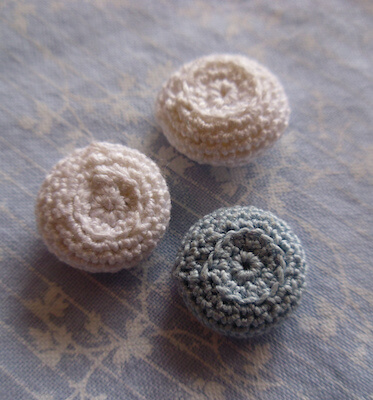 Get the Pattern here

5. Crochet Berry Button Pattern by Crochet With Sumi
Crochet this Berry Button and use them in a number of your crochet projects. It would be easy enough for anyone familiar with work in single and half double crochet stitches to complete this project.
Get the Pattern by Crochet With Sumi here

6. Crochet Buttons Pattern by Ashton 11
These crochet buttons are very easy to make, and would look very cute on a child's sweater. Even cuter would be to make them in a variety of colors as shown. This design trick would certainly add color and eye-appeal to a plain garment!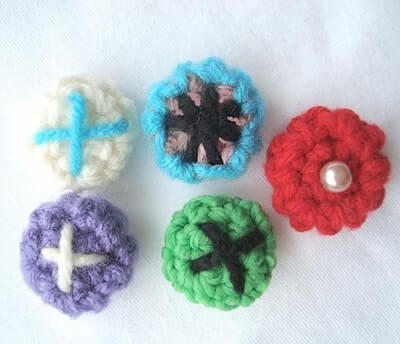 Get the Pattern by Ashton 11 here

7. Easy Crochet Buttons Pattern by Crafts Tuts Plus
In this tutorial, you'll be making some cute and easy crochet buttons. The pattern uses US terms and stitches include double crochet (dc), chain (ch), and a magic ring. You can think of endless variations to embellish your crochet buttons, like using citrus colors to create a fruity look!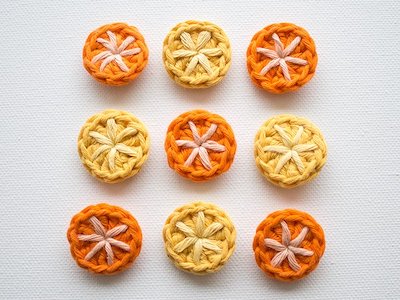 Get the Pattern here

8. Crochet Button Flower Pattern by Naztazia
These Crochet Button Flowers is quick, simple, and easy to make for a hat, scarf, shawl, bag, and more. These flower are a cute embellishment.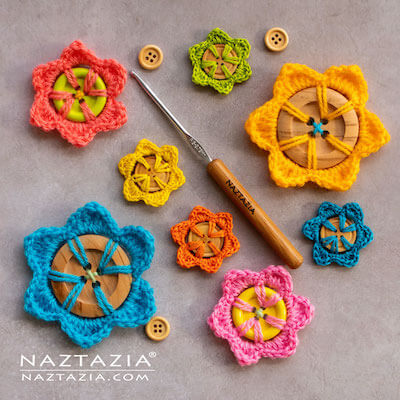 Get the Pattern here

9. Free Crochet Buttons Pattern by Vickie Howell
Here's a great, stash-busting project that's perfect for the warmer weather when you don't want to be weight down by lots of wool. Follow the video tutorial included, then nab the free patterns for both bobble and circle versions.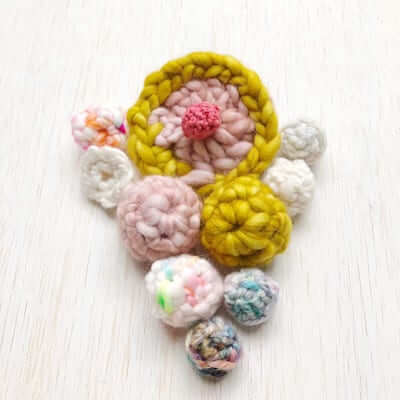 Get the Pattern here

10. How To Crochet A Button by New Stitch A Day
This video crochet tutorial will help you learn how to crochet a button. This pattern creates a small round button that can be made larger or smaller by the size of yarn and crochet hook you use.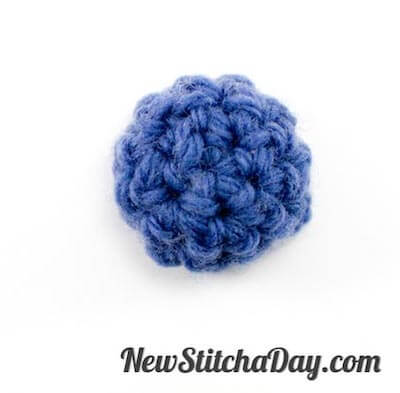 Get the Pattern here

11. Easy Crochet Buttons Pattern by Fiber Flux
Looking for a bit of a different buttony look? These crochet buttons are a super simple way to make a button out of yarn. So if you're in a pinch, you can easily whip one up!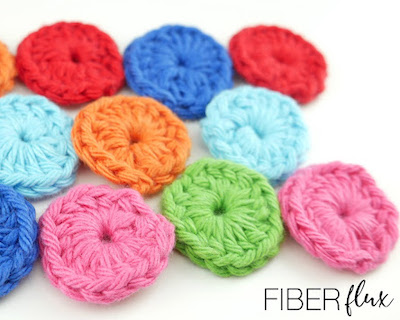 Get the Pattern here

12. Crochet Flower Button Covers Pattern by Yarnstarved Creations
This pattern creates a lacy flower cover for a plain existing button. You can use the same yarn as your garment or choose a contrasting one. Because the button itself peaks through the lace of the cover, choose a color button that compliments your garment as well.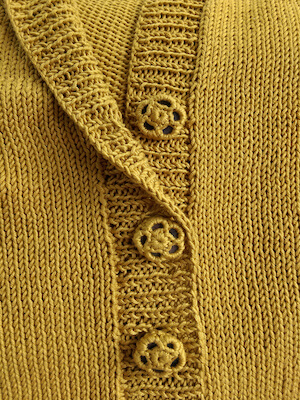 Get the Pattern here

13. Free Crochet Buttons Pattern by Raam Crochet
These crochet buttons are very easy to make. One button contains four different size circles that you make separately and sew together with a needle. Any beginner can make it even though it looks more complicated than it actually is.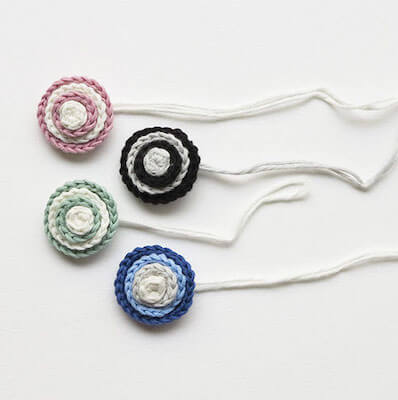 Get the Pattern here

14. How To Make Crochet Buttons by Crochet Beja
Ever need a button but cannot find any that match your sweater, jeans, or bags? Here's another fast and easy way to crochet on buttons.

The stitching styles you need to know to make your crochet button are the chain stitch, the slip stitch, the double crochet stitch, and possibly the single crochet stitch if you plan to embellish and further adorn your button.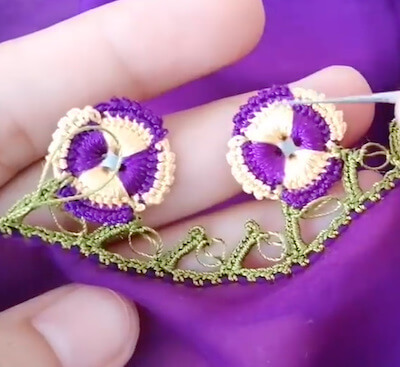 Get the Pattern here

15. Crochet Bone Ring Button Pattern by Crochet N Crafts
This button is crocheted around a bone ring, and has an open center. Use it in curtain ties, clutches and bags or even on coats.

This pattern is given for a button that's one inch across. You could use the same method and crochet around any size bone ring for bigger or smaller buttons. You basically work enough stitches into the ring to fill it up and then slip stitch around for the second round.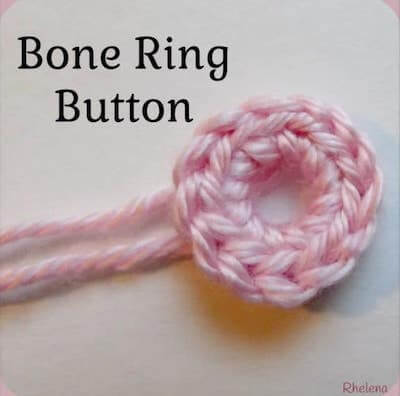 Get the Pattern here

16. Crochet Beaded Cord Button Pattern by Colette Smith
Crochet Beaded Buttons are a quick and easy hand project that add a special bling to a garment or accessory. And, they are fun to make!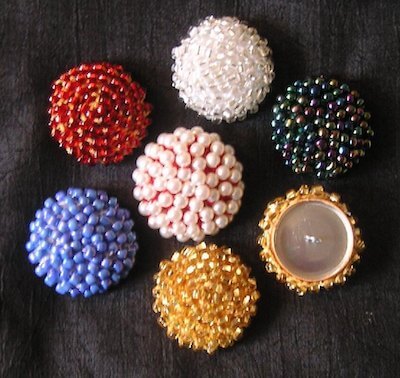 Get the Pattern by Colette Smith here

17. Free Crochet Buttons Pattern by My Hobby Is Crochet
Crochet buttons are fun and easy projects that you can make from scraps of yarn. Here are more cute variety of crocheted buttons you can make. Bring new life to your clothes and bags with this crochet button pattern.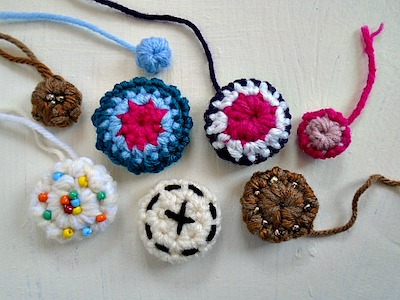 Get the Pattern here
FOR ANYONE WHO ENJOYS FINDING THE FUN IN THE EVERYDAY, THIS LIST OF CROCHET BUTTON PATTERNS IS A TREASURE TROVE OF INSPIRATION.
Whatever patterns you choose, crocheting these buttons will be one of the simplest projects you have taken and definitely one of the most fun as well. So, share your creations on our Facebook Page and let us know your thoughts! Looking for more quick-makes? Check out these Quick Crochet Projects.
No doubt, these crochet button patterns are easy and ensures that no buttonhole need go unadorned again!