Crocheted bags are having a moment. You'll see them hanging off the arms of fashionistas in the clubs, magazines, and on runways everywhere. Make your own with these modern crochet bag patterns. Crochet a chic clutch, everyday tote, or a summer-ready beach bag, and let the compliments roll in.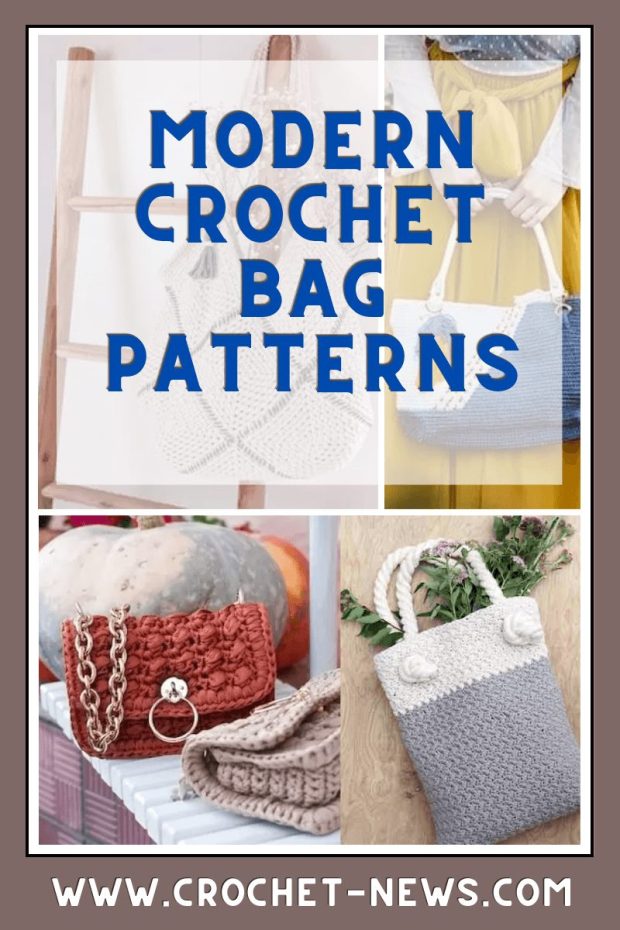 Crochet bags and purses are so trendy right now! The stores are full of them, but if you crochet, you can create a unique and modern bag just for you. The fun thing about these modern crochet bag patterns are that the end product is nothing like the old crochet bags that grandma made. Bless grandma's heart, but her bags looked a bit old-fashioned!


25 Modern Crochet Bag Patterns
Below, you'll find statement-making, beautifully constructed modern crochet bag patterns in vibrant hues with unique designs and silhouettes.

1. Modern Crochet Bag Pattern by Winding Road Crochet
If you can crochet a rectangle, then you can make this tote. This bag uses creative sewing techniques to turn a simple rectangle into a modern-style crochet bag.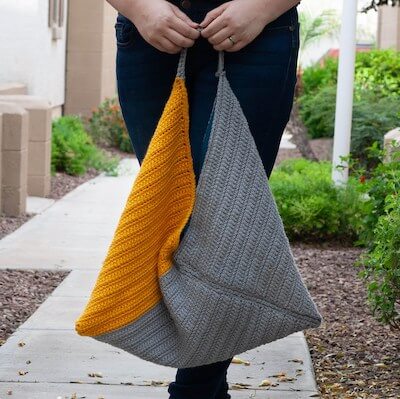 Get the Pattern here

2. Crochet Clutch Pattern by I Love Create Store
Are you a fan of handmade high quality accessories made by yourself? Ever thought of having a trendy crochet bag? If both are yes, you are lucky to find this pattern and video tutorial for this wonderful bag! Even if you are a beginner, you will cope with it for sure.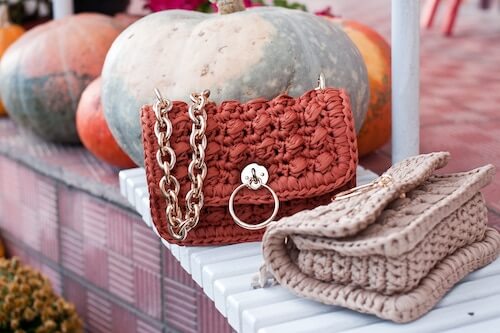 Get the Pattern by I Love Create Store here

3. Crochet Crossbody Belt Bag Pattern by Hobbii
Are you as crazy about belt bags as I am? Then I have the perfect pattern right here! With this pattern for the crocheted belt bag, you can join the fashion trend and at the same time put your own mark on it.

You can hook it up using single or double stranded yarn to create different sized bags, and this pattern looks fantastic when finished off with a leather (or faux leather) strap and some nice lining inside!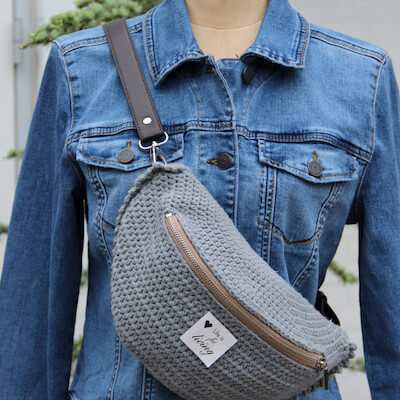 Get the Pattern here

4. Granny Square Knot Bag Crochet Pattern by The Crochet Village
A beautiful traditional granny squares bag in a Japanese knot style. This bag is unique, stylish and can be made with any of your favorite worsted yarn, preferably cotton. This easy crochet purse pattern is the perfect project for an advanced beginner.

The body of this bag is made by joining two panels and the panels are made by joining granny squares motifs. This bag is nicely finished with two dense handles using the same stitch used in the body to keep the flow of the pattern.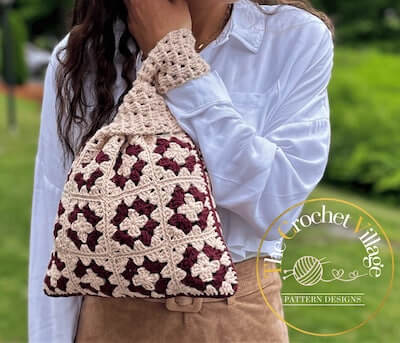 Get the Pattern by The Crochet Village here

5. Rosette Drawstring Bag Crochet Pattern by All About Ami
Crochet this modern day Regency-inspired drawstring bag using the lovely shell stitch! This elegant and romantic bag is quick to work up and can be worn cross body. Make one for yourself and your little ones so you can match!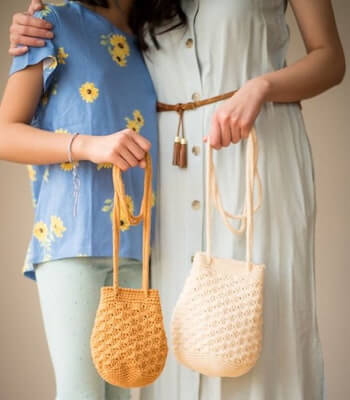 Get the Pattern by All About Ami here

6. Lulu Basket Bag Crochet Pattern by Two Of Wands Shop
Sport this high-fashion mini purse on your next night on the town! Perfect for holiday soirees and cocktail hours, this Lulu Basket Bag is a quick and easy project with a big impact.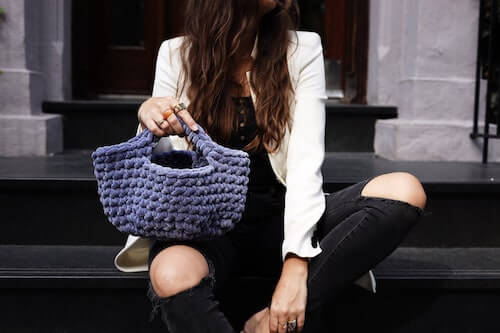 Get the Pattern by Two Of Wands Shop here

7. Modern Crochet Tote Bag Pattern by Jewels And Jones
Thirteen squares come together to form a modern tote bag that is perfect for all seasons. This easy and fun crochet granny square bag is a beginner-friendly pattern that is made using basic crochet stitches. It's a sturdy stylish bag that fits a variety of things!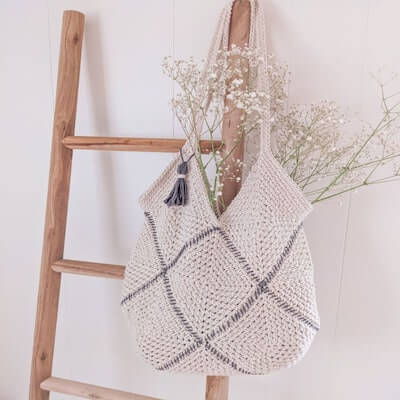 Get the Pattern by Jewels And Jones here

8. Modern Free Crochet Bag Pattern by Make & Do Crew
Requiring only single and double crochet and a very simple construction, this free crochet bag pattern is perfect for beginners. Neutral colors and a beautiful texture combine to form the perfect modern tote.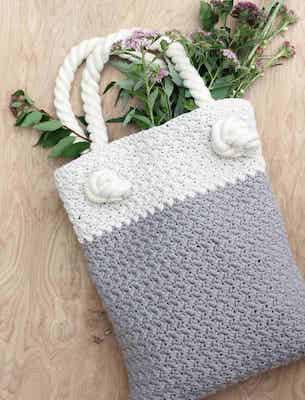 Get the Pattern here

9. Modern Boho Handbag Crochet Pattern by E'Claire Makery
This adorable crochet fringe bag is a great crochet bag pattern for beginners, and looks great with any outfit. You can make it in a wide range of colors, and still get the fun crochet boho purse that is so popular.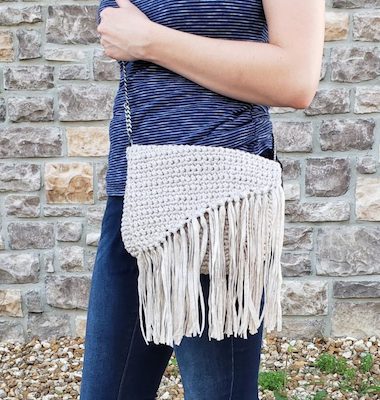 Get the Pattern here

10. Modern Wedge Project Bag Crochet Pattern by Blue Star Crochet
This super stylish and Modern Wedge Crochet Project Bag is easy to make and a perfect pattern for a beginner! It creates a lovely crochet project bag for those who crochet on the go.

This project bag featured a leather wrist handle which you can use to hang the bag on your wrist while you crochet on the go. There is also an opening on the side which you can use to thread your working yarn through or earphone cable, etc.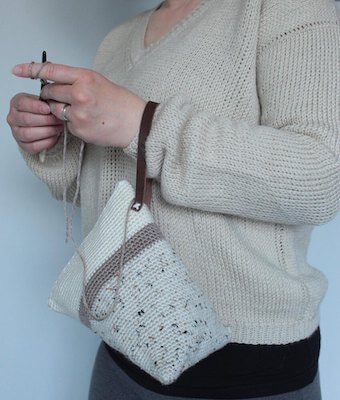 Get the Pattern by Blue Star Crochet here

11. Crochet Auden Bag Pattern by Lakeside Loops
This minimalist and spacious bucket bag is the perfect addition to your Summer wardrobe. Whether you're carrying beach day essentials, market treasures, or your next crochet work-in-progress, this chic and simple bowl tote has the perfect roomy interior. Lightweight and easy to work up this classic and casual piece is a must make!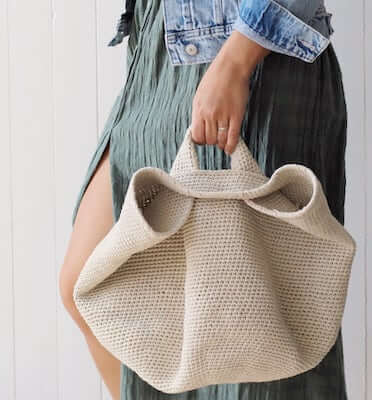 Get the Pattern by Lakeside Loops here

12. Crochet Luna Belt Bag Pattern by Life Is Cozy
Whether enjoying a summer night out in the city, vacationing at the seaside, or just running errands, this raffia bag can become your new favorite summer accessory. It's stylish and trendy, and at the same time practical and multi-functional.

The bag is of a comfortable size and has enough room for a phone, wallet, and other small necessities. You can wear it with your favorite belt as a chick version of a fanny pack, as a clutch, or add a handle and transform it into a small crossbody.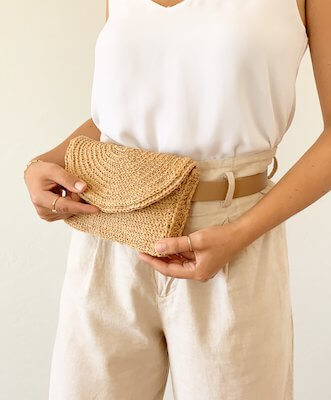 Get the Pattern here

13. Herringbone Crochet Backpack Pattern by Han Jan Crochet
This Herringbone Backpack is simplicity itself. This textured crochet backpack pattern is modern, easy and stylish. Made from just two matching rectangles seamed together, the real magic happens when you attach the straps and clasp to transform it into a stunning and useful accessory!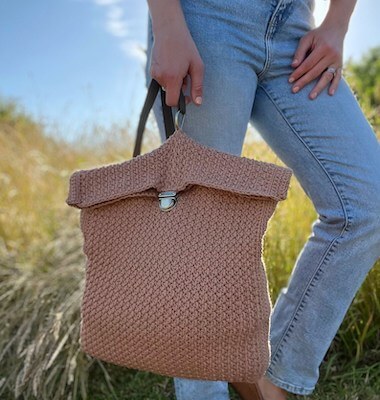 Get the Pattern by Han Jan Crochet here

14. Juniper Festival Bum Bag Crochet Pattern by Casey C Crochet
Say hello to your new favorite bag! This funky, classic crochet bag is quick and easy to make and perfect for all your summer plans. This bag requires aran/worsted weight yarn, a 5.5mm hook and a tapestry needle to sew your squares together.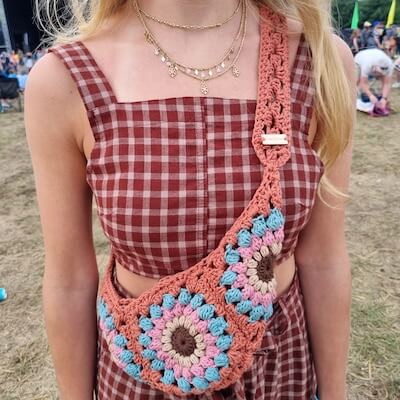 Get the Pattern by Casey C Crochet here

15. Modern Crochet Oversized Tote Bag Pattern by The Cozy Knot Crochet
Here's an oversized and modern tote design that can serve many many purposes—farmers market, craft tote, carry-on/travel, diaper bag, purse, beach bag, and more. The bobble stitch details give this tote a modern and slightly decorative appearance.

The optional pocket is perfect for easy access cell phone storage. Choose to keep the tote unlined, or add a liner and pockets to your personal preference.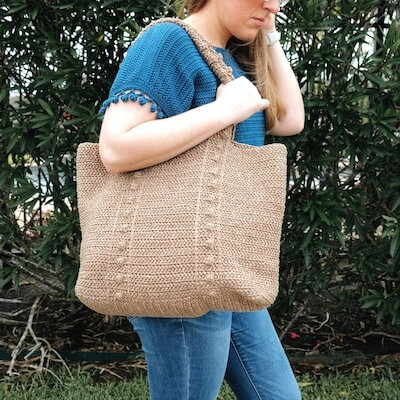 Get the Pattern by The Cozy Knot Crochet here

16. Scallop Crochet Bucket Bag Pattern by For The Frills
This Scallop Bucket Bag is a wonderful summer accessory that's fun, modern with boho chic vibes. Single crochets are worked in the round to form a strong base and sides so you can rest assured that all of your belongings are safe and sound inside the bag.

The top of the bag features mesh details finished with a cute scallop hem and the chunky tassels add a touch of whimsical fun!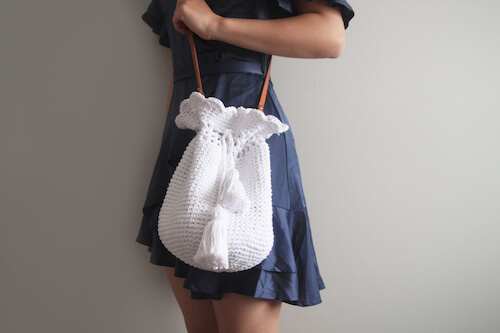 Get the Pattern here

17. Modern Crochet Backpack Pattern by The Easy Design
A high-fashion look, trendy backpack straps and a classic crochet design — this elegant modern crochet bag pattern has it al! This backpack is a perfect size because it's big enough to hold all your essentials and a few extra things, and it's super trendy with the chain backpack straps that can be worn in a variety of ways.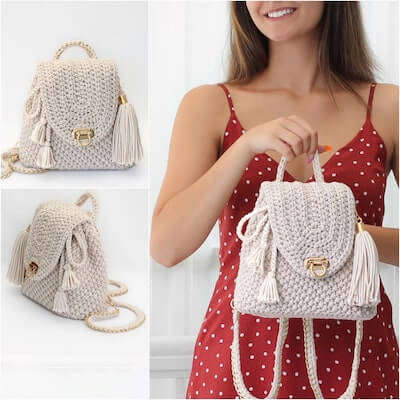 Get the Pattern by The Easy Design here

18. Capri Circle Modern Bag Crochet Pattern by Two Of Wands
Circle bags have been popping up everywhere for the past few seasons, and I don't think they are going anywhere any time soon! The classic shape is sophisticated and fun and adds a nice statement to any outfit.

This Capri Circle Bag Crochet Pattern is so simple to put together, you will want to whip them up in every shade of the rainbow! It can also easily be adjusted for smaller, larger, or deeper bags (this one is about 2.5″ deep).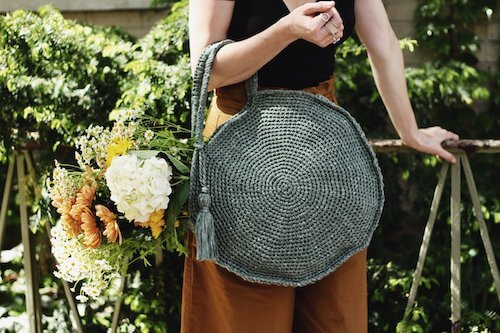 Get the Pattern here

19. Nettleton Crochet Bag Pattern by Briana K Designs
I love the modern and simplistic color pops on this fun Nettleton Crochet Bag! An added bonus video is also linked in the pattern to create the Macrame Feather Keychain shown on bag.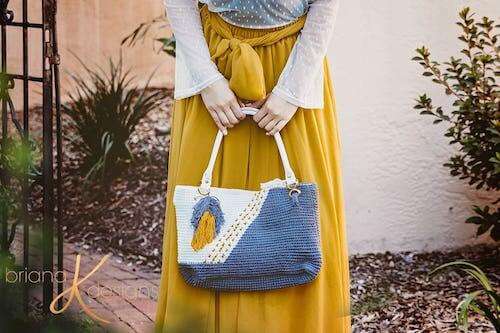 Get the Pattern here

20. Crochet Beach Bag With Giant Shell Stitch by Craft Passion
I love this beautiful bag not only for its cute patterns but, more importantly, its size and dimensions. This free crochet tote bag pattern makes a sturdy oversized bag that has a round base of about 15.5″ in diameter and a body (including the shoulder straps) of roughly 25″ tall. It is the perfect size for all your beach trip essentials and more.

Though it is presented as a beach bag, it is actually great to use as a market bag for your weekly trip to the farmers market. It will definitely hold all the fresh produce in place, preventing bruises on fruits and veggies. Be it functional for everyday use and/or aesthetically pleasing, it sure is a perfect modern crochet bag pattern to crochet.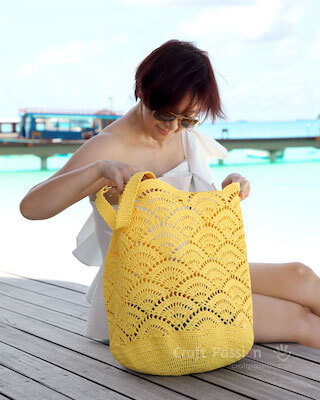 Get the Pattern here

21. Rica Crochet Clutch Pattern by Whistle And Ivy
Needing to scrap-bust your stash? Mix and match those odds and ends into a stunning summer-ready colorful crochet clutch with this easy pattern that even beginners can try. This modern colorful clutch not only radiates color and joy, it solved the issue of those darn baby balls of scrap yarn we all can't let go of!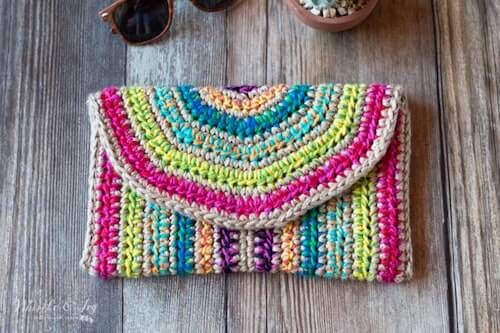 Get the Pattern by Whistle And Ivy here

22. Not Your Granny Crochet Bag Pattern by Passionate Crafter
Made with clasic granny stitch that by adding a few stripes will turn into entirely different and modern bag. For this bag, you can use worsted/aran weight yarn. The pattern is very easy to follow and beginner-friendly.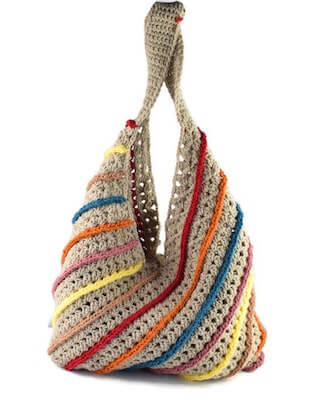 Get the Pattern by Passionate Crafter here

23. Wavy Psychedelic Tote Bag Crochet Pattern by Crochet By Rach
This pattern yields a fun Wavy Psychedelic Tote Bag. Mixing the yarn colors and seeing your bag pop results is so relaxing! I must say, this bag is so cute and a definite must-have for your summer activities.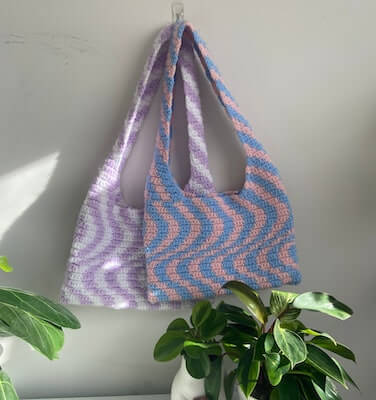 Get the Pattern by Crochet By Rach here

24. Crochet Honeycomb Trellis Modern Tote Bag Pattern by Crochet For You
I think this Crochet Honeycomb Trellis Modern Tote Bag includes every details of the boho summery vibes, ruffia bamboo color, and modern hollow mesh texture with round wooden handles.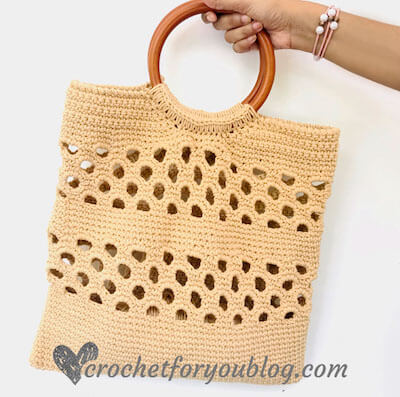 Get the Pattern here

25. Modern Grid Market Tote Crochet Pattern by Interweave
This essential summer bag is sturdy and stylish to boot! Crocheted in the round, the Modern Grid Market Tote delights in the upper edging and finishing details. The raffia yarn keeps things functional and natural.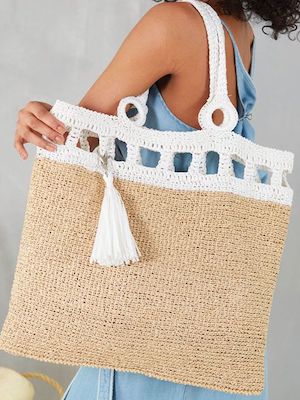 Get the Pattern here
Modern Crochet Bag Patterns Frequently Asked Questions
What yarn is best for crochet bags?
The most durable crochet bags are made with durable yarn or even alternative fibers such as hemp or nylon. Consider cotton yarn or even synthetic yarn options if you want fibers that won't stretch even if they get wet in the rain. While lightweight yarns can be used to make a durable crochet bag, most people prefer to work with worsted weight, bulky, or even super bulky yarn when making bags.
What is the best crochet stitch for bag?
If you don't want to learn how to line your bag, work with tight, dense crochet stitches. You don't want an openwork lacy design on your dbag. You don't want any visible holes in your crochet fabric because that's where items can slip out if a bag isn't crocheted correctly.
Use a simple stitch like single crochet or a more textured stitch like bobbles. Crochet tightly, and consider using a hook size that is slightly smaller than recommended.
Do crochet bags need to be lined?
Adding a fabric lining to your crochet bag strengthens it and improves its appearance. Because of the fabric lining, your valuables will not fall through the stitches and no one will be able to see what you're carrying in your bag.
What fabric to use for bag lining?
It's best to go with a lining that's the same weight as your bag. For example, if your bag is delicate and light, choose a lining that's also light. Lightweight silk or cotton are both suitable options. If your bag is heavier, choose a lining that is more durable. Linings can pull on your bag, causing it to stretch and sometimes rip, if the bag and lining weights are not a good match.
THERE'S NOTHING LIKE MAKING A BAG YOUR OWN BY CRAFTING IT YOURSELF, AND THESE MODERN CROCHET BAG PATTERNS ARE THE PERFECT ONES TO START WITH!
If you make modern crochet bag patterns, we would love to see your versions. Stop over to the Crafting News Facebook Page and share a photo!
On a crochet roll and not ready to stop? Here are more collection of patterns for crochet bags + purses:
Grab your stash and your hooks and start crocheting the bag of your dreams with these modern crochet bag patterns!