As the cold season approaches, we're transitioning from jacket weather to heavy-duty winter wear. I think a cowl is an essential piece of winter gear for the dashing gentleman, and I love them even more when they're handmade. So, here's a collection of mens cowl crochet patterns perfect for the modern man in your life!
A cowl is a great alternative to a standard mens crochet scarf pattern, and it's incredibly practical for a guy who doesn't want a long scarf in his way. Crocheting for men can be difficult. It doesn't have to be that way with these mens crochet cowl patterns!
12 Mens Cowl Crochet Patterns

1. Crochet Plaid Mens Cowl Pattern by Winding Road Crochet
Plaid just seems to be the best pattern when you are looking for something rustic, cozy, and stylish for the men in your life. This Plaid Men's Cowl adds a nice pop of color to an outfit without being too bulky. You will love that this piece can be worn three ways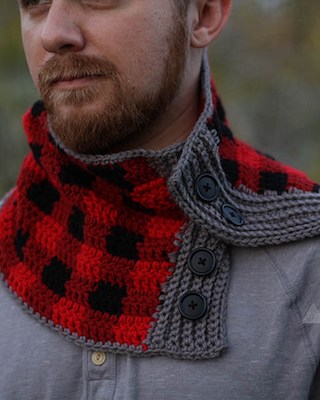 Get the Pattern by Winding Road Crochet here

2. Mens Crochet Convertible Cowl Pattern by Little John's Yarn
Here's a free mens crochet pattern that I think is genius! This 4-in-1 pattern can be made worn as a beanie (thanks to a clever drawstring), mask, cowl or headband (perfect for men with long hair), and features some fab popcorn stitches to give you an extra bit of texture!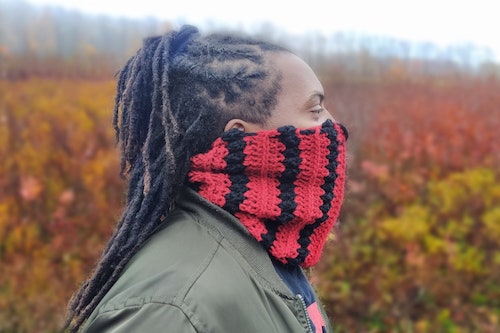 Get the Pattern here

3. Free Mens Crochet Cowl Pattern by Anne Egan
This is a fab free men's crochet scarf pattern that even crochet beginners can make with ease! The cowl design means he won't have any long ends getting in his way (great for if he's mucking about in the garden or workshop), and the simple two-tone stripes in monochrome colors means it'll match with every outfit!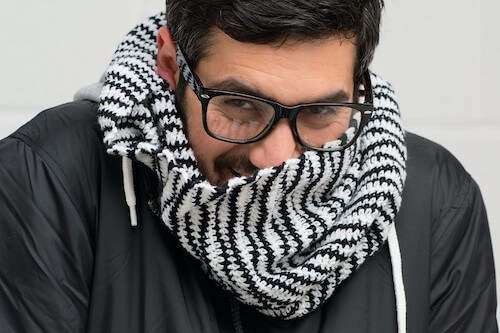 Get the Pattern here

4. Mens Tunisian Crochet Cowl Pattern by Kickin Crochet
This fun men's cowl uses three different yarn colors to create a deceptively easy colorwork scarf. It's great for men and women alike, with no complicated stitch patterns to worry about. You can grab your yarn and escape into zen-like crochet bliss!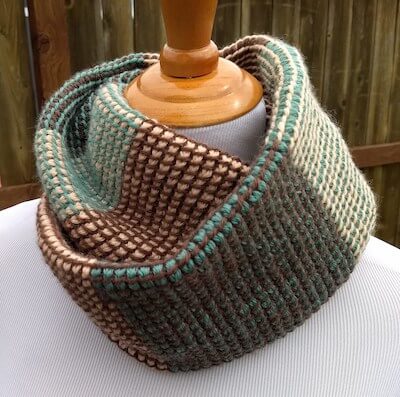 Get the Pattern by Kickin Crochet here

5. Greystoke Mens Cowl Crochet Pattern by Dennis M
From dark to light, in beautiful gradations of the same color, this Greystoke Cowl is just perfect for him! It's not always easy to find a crochet pattern for a men's cowl but I think this one really ticks all the boxes.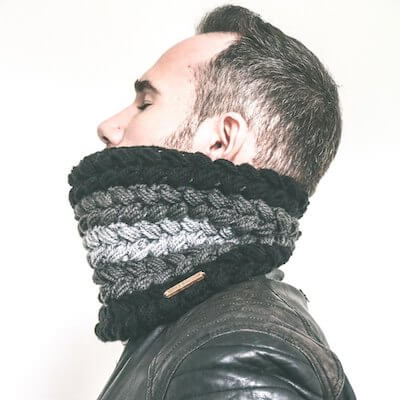 Get the Pattern by Dennis M here

6. Textured Chunky Cowl Crochet Pattern by Angela Plunkett
There's nothing cozier than a soft, chunky crochet cowl when the fall season hits and the cold weather starts! It's got all the benefits of a scarf, but you don't have to worry about it slipping or falling off. This chunky cowl only uses one skein of bulky or chunky yarn, and would make a wonderful last-minute gift for all the men on your list!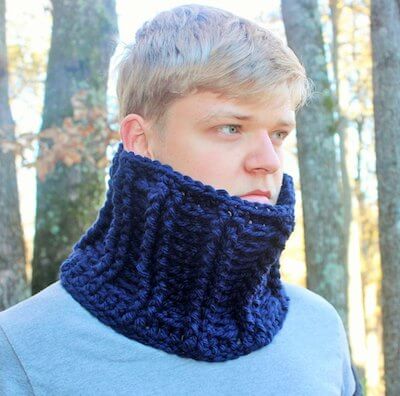 Get the Pattern by Angela Plunkett here

7. Mens Ribbed Crochet Cowl Pattern by Christa Co Design
This Men's Ribbed Crochet Cowl is warm, cozy, and simple to wear. When defying the cold, this classic piece crocheted in two tone neutrals is quick to pair with anything. The classic lines bring this squishy cowl up to keep your face and neck warm.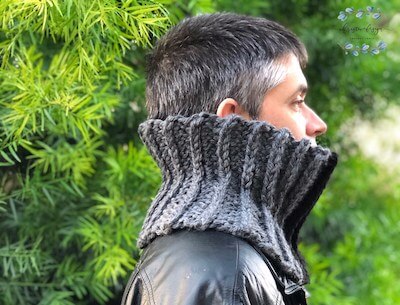 Get the Pattern here

8. Easy Crochet Mens Cowl Pattern by Pretty Darn Adorable
With its classic and chunky styling, this cowl is going to be loved by the guys! This crochet cowl is made from super bulky yarn and a large hook working only in single crochet. This piece l is great for a new crocheter.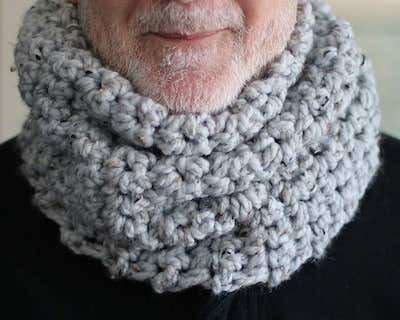 Get the Pattern here

9. Mens Herringbone Crochet Cowl Pattern by Two Of Wands Shop
This Men's Herringbone Crochet Cowl might be one of the most versatile pieces you ever make. It can easily be adjusted for whatever length or width you desire. The result is a wonderfully cozy neck warmer that's perfect for keeping the chill off your man's neck in the colder months.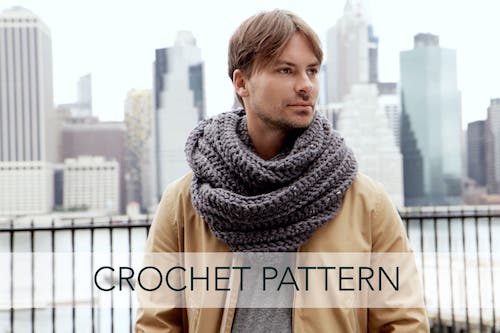 Get the Pattern by Two Of Wands Shop here

10. Kevin's Cowl Crochet Pattern by Haak Maar Raak
Cozy into this warm and colorful Kevin's Cowl this winter. Created with puffy V-stitch, this essential men's accessory will fly off your hook. It os also perfect for quick gifts.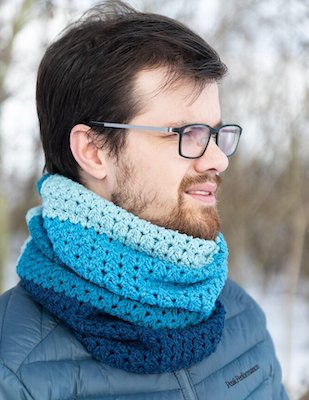 Get the Pattern by Haak Maar Raak here

11. Mens Cowl Crochet Pattern by Mamachee
When the cold nips we all want to be nice and warm. So, here is the solution; the men's cowl crochet pattern. Time to create a beautiful cowl for your man to let him know that you love him.
It would sure make a sweet, heartfelt gift for him this Valentine's Day. Try sowing in his name to add a personal touch, and he will love you like the world was ending.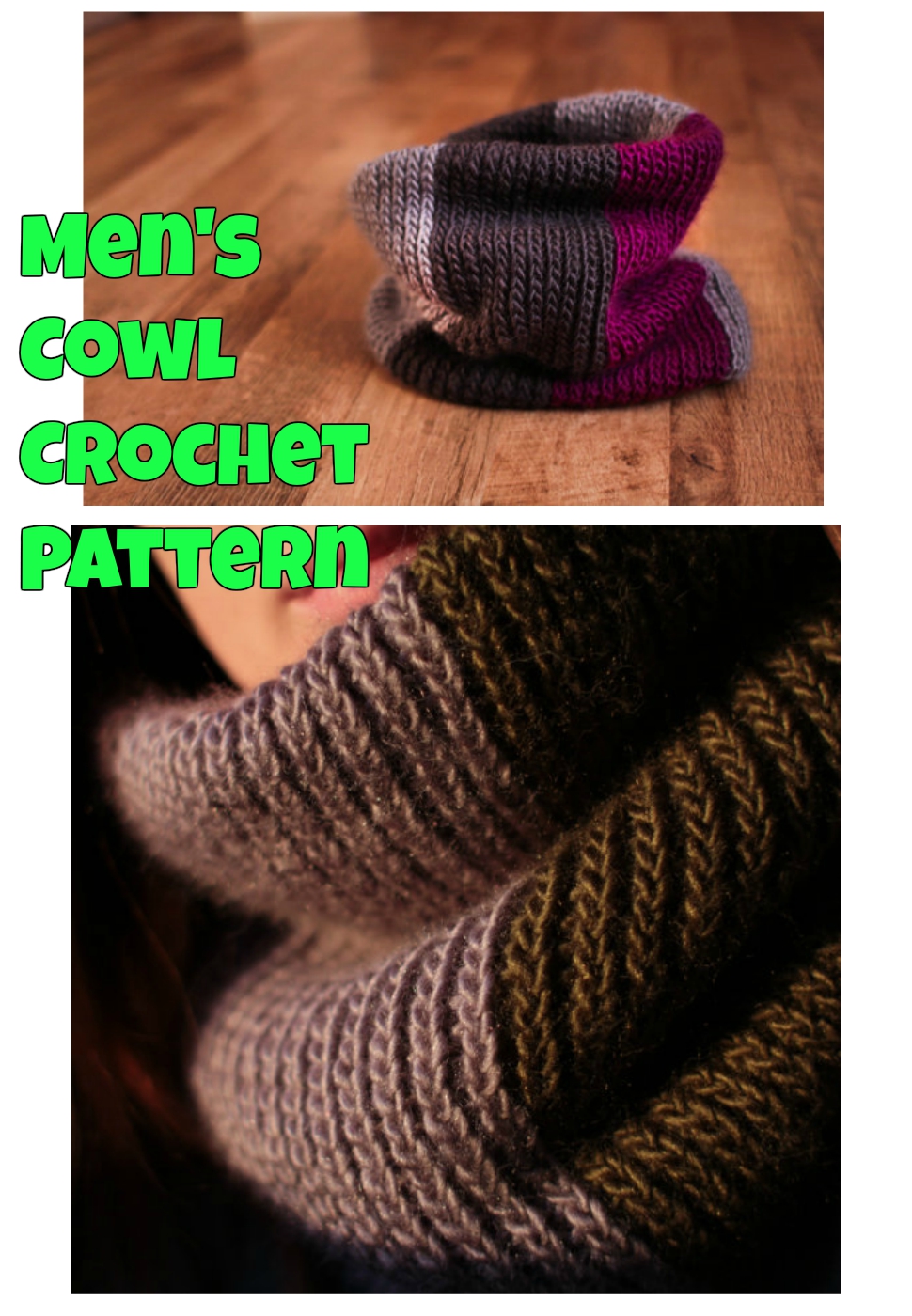 Materials For The Men's Cowl
So what materials do you need to create these stunning cowls?
– Size H Crochet Hook
– Worsted weight yarn in any color
With very minimal materials required there is entirely no reason preventing you from trying the men's cowl crochet pattern? Although the title mainly suggests that it is meant for men, it is actually unisex, and the pattern is available in different sizes.
– Toddler
– Child
– Teen/Woman
– Men
So you can make one for even yourself. You deserve a little pampering now and then or even better you can create matching cowls for both you and your man to wear on those walks at night.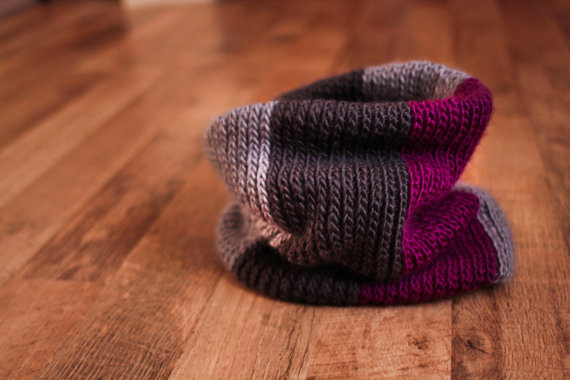 The Men's Cowl Crochet Pattern Makes A Great Gift
This crochet cowl pattern will enable you to make the perfect gift for anyone that you love. The only shortcoming is that babies can't wear them. I know what you are thinking, but it is unsafe for a baby. And yes, maybe I thought about it too.
But, on the upside the various designs you can come up with this pattern are numerous, especially if you like playing with some color. The men's cowl crochet pattern allows you to create whatever you can imagine. You can incorporate any other patterns into the cowl. You can add tiny amigurumi animals and give it as a present to a child.
The men's cowl also fits together with any cold weather outfit. Your man is bound to look strapping with it, just remember to sow in the name just so the other girls know who he belongs to.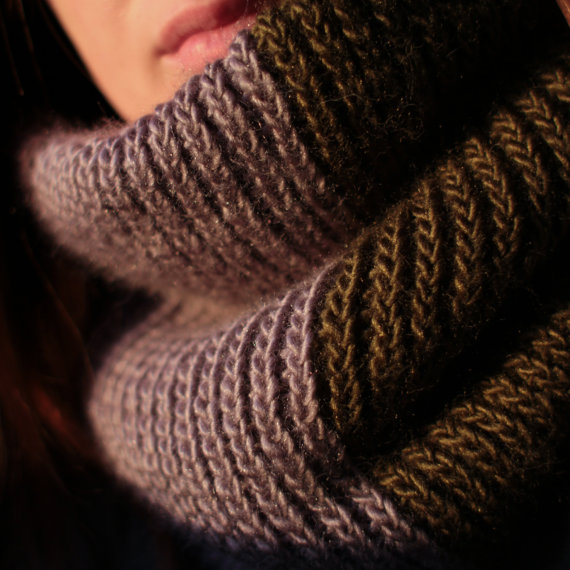 Grab The Men's Cowl Crochet Pattern
The secret to using the men's cowl crochet pattern is to let your imagination run free. Don't limit your mind to what usual cowls look like. Go all out and put your own spin into the process to make unique pieces that everyone will fall in love with. Do not be afraid to experiment because life is too short to stick in between the margins.
So to conclude, the men's cowl crochet pattern will give you a field day. Not only will it serve a utility purpose but it is aesthetically stunning in any winters outfit.
You can make your man wear it to keep out the cold or just throw it on him to finish off his winter's outfit. Trust me it's not just the ice that will be melting. So go get the pattern and crochet away because it's the perfect way to say I love you.
Get The Crochet Men's Cowl Pattern Here
If liked this pattern, check out more men's crochet patterns and the Men's Crochet Loafers

12. Free Men's Crochet Bubble Wrap Cowl Pattern by Make My Day Creative
This bubble wrap pattern crochet cowl (by Make My Day Creative) is very easy and quick too thanks to the chunky yarn and 10mm hook. You can easily adjust the size by adding/subtracting an even number of stitches. It works in rows as well as rounds too. So get hold of some chunky yarn and get crocheting! This chunky design is ideal for a guy.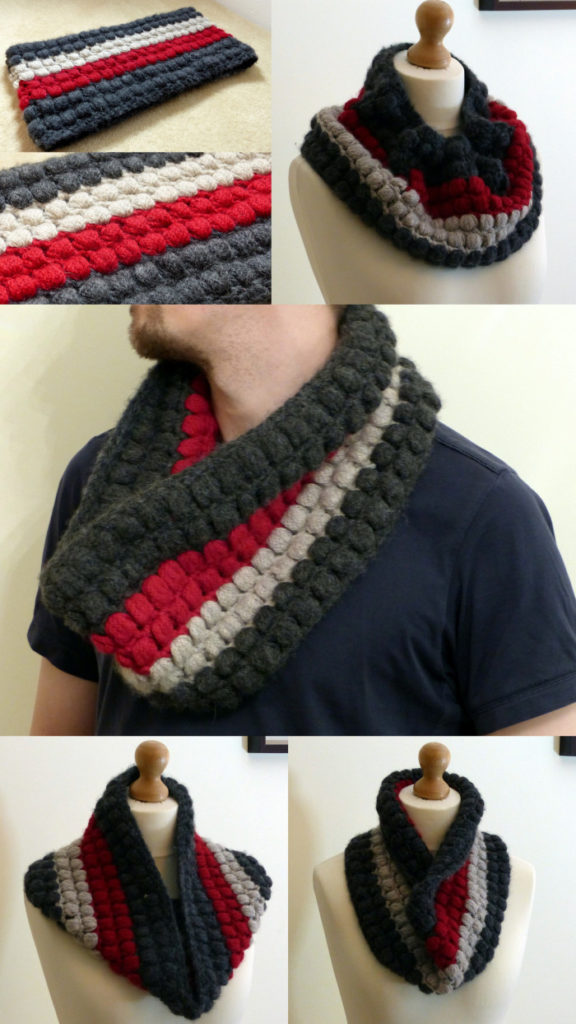 You can download the full pattern to your computer and add this to your crochet to-do list. Scroll down for pdf patterns! (US and UK notation)
Materials:
260m/200g super chunky yarn – this example used Debbie Bliss Paloma:
130m/100g grey ("Charcoal")
65m/50g red ("Ruby")
65m/50g beige ("Pebble")
Size 10mm hook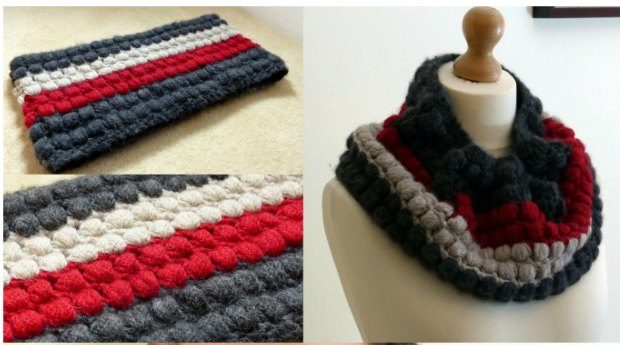 Download the free Bubble Wrap Cowl Pattern (US)
Download the free Bubble Wrap Cowl Pattern (UK)
KEEP THE MEN IN YOUR LIFE WARM AND COZY WITH THESE MENS COWL CROCHET PATTERNS.
Remember to share your makes with us on our Facebook Page. We'd love to see creations!
Whether you're hooking up father's day crochet gifts or just fancy making something for the man in your life, here are more crochet patterns for men to love!
Style up the fellas in your world with these mens cowl crochet patterns. And why not crochet one for yourself while you are at it, too!