At a loss for what to make the man in your life? These 30 crochet pattern for men will give you a go-to gift for dads, sons, brothers, and boyfriends from now on. You'll never agonize over Father's Day, birthdays, or Christmas gifts again!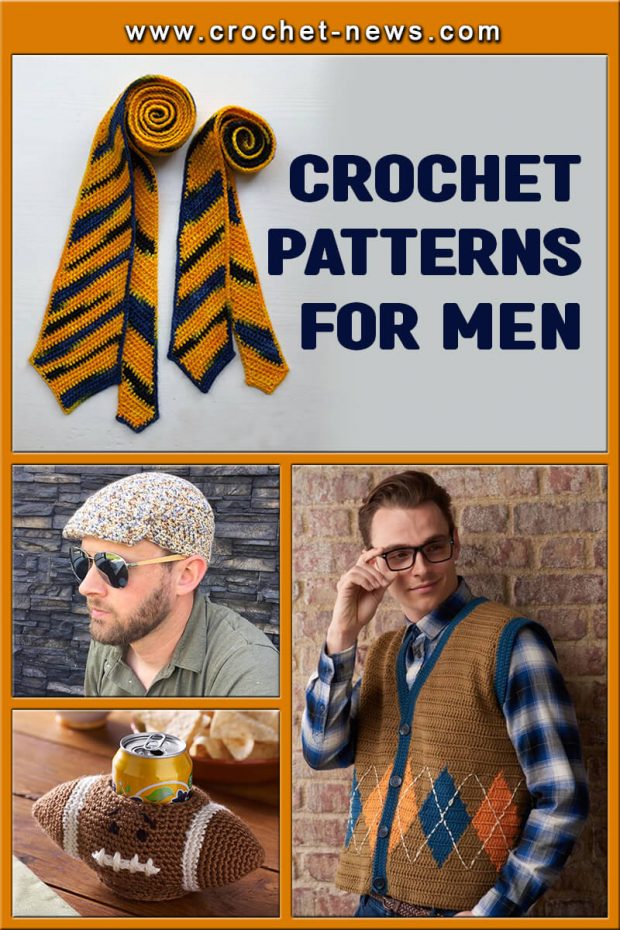 30 Crochet Ideas For Men
These crochet ideas for men include hats, cowls, sweaters, scarves, and even a pair of gloves!
You'll be sure to find one in our crochet pattern for men collection to suit the style of the crochet-worthy man who will use it!
1. Wulf Men's Pullover Crochet Pattern by A Crocheted Simplicity
This Wulf Men's Pullover is a classic piece that can be worn for years to come. Pair it with dress slacks for a dressier look, or pair it with jeans for a more casual vibe.

This sweater uses simple construction methods and there is very little seaming. Who doesn't love an almost seamless garment? Do you have a tall guy in your life? No worries! There are instructions included to easily lengthen the torso and the sleeves!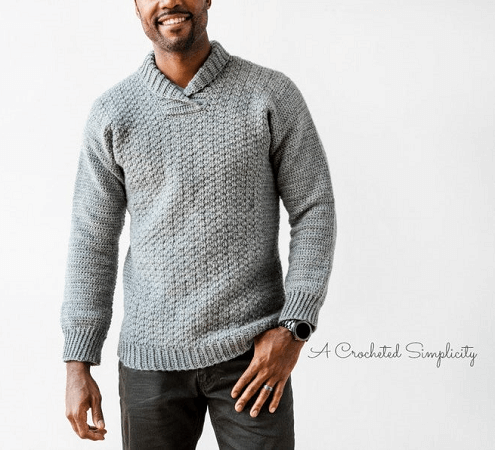 Get the Pattern by A Crocheted Simplicity here

2. Men's Crochet Hat Pattern by Kerry Jayne Designs
This Men's Crochet Hat Pattern is a very modern hat pattern! A clever mix of two contrasting yarn colors, and a bumpy stitch pattern, creates a stunning effect!

A great way to use up your yarn scraps, mix two different tones to create your own colorway, then double up with the same color for a sharp and contrasting edging!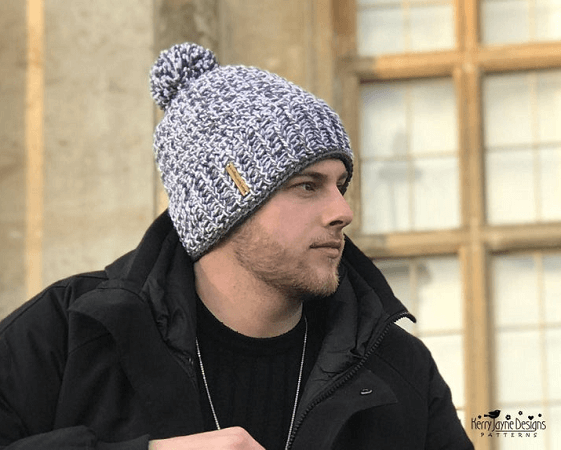 Get the Pattern by Kerry Jayne Designs here

3. Guy's Reversible Throw Crochet Pattern by Red Heart
We've chosen what are considered to be masculine colors for this reversible graphic throw – but, of course, you don't need to be a male to use it or you can change it up and crochet it in colors to complement your room setting!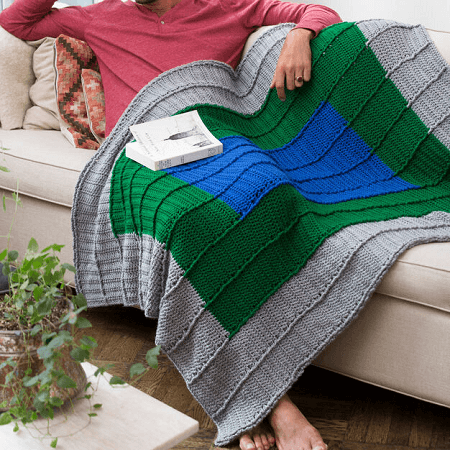 Get the Pattern here

4. Basic Bulky Men's Mittens Crochet Pattern by Left In Knots
This fast and Basic Bulky Men's Mittens Crochet Pattern is perfect for any man in your life! This beginner-friendly pattern works up quickly using bulky acrylic yarn, and it is also easily adjustable in size.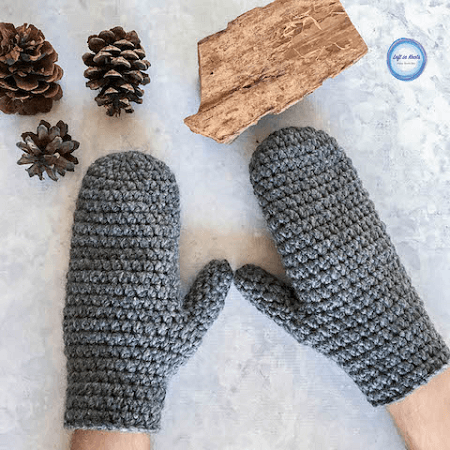 Get the Pattern here

5. Men Slippers Crochet Pattern by Crochet Milie
Here's an easy crochet slippers pattern to warm up your man's chilly feet. They are made in Super Bulky weight yarn so you can whip up a pair in no time!
These chunky slippers come right up to the ankle, to keep those feet extra warm and toasty – and to make sure they stay on! The pattern includes men sizes 7-14. So be sure to make a pair for that lucky guy!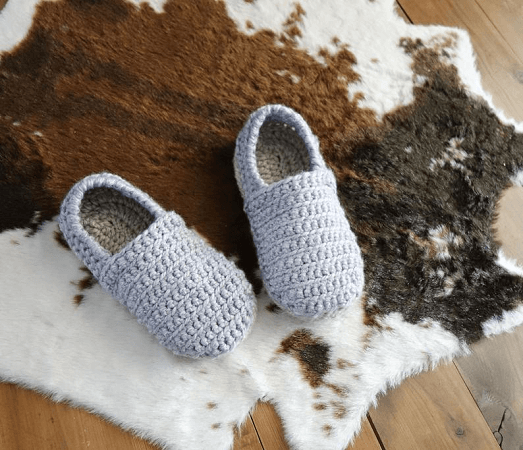 Get the Pattern by Crochet Milie here

6. Free Men's Scarf Crochet Pattern by The Spruce Crafts
Want to crochet a classic winter scarf for a special guy? This free crochet pattern resembles a knit rib but knitted it is not. Of course, this scarf isn't only for men. It makes an excellent gift for anyone!

From beginner to advanced beginner level, the project is suitable for crocheters who are comfortable with chain stitch, single crochet, and slip stitch.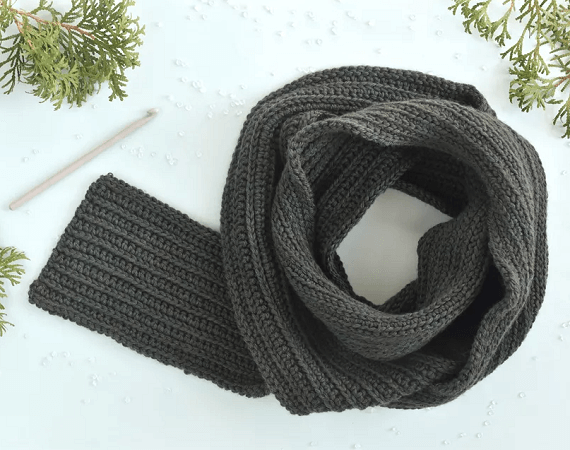 Get the Pattern here

7. Crochet Beer Sock Pattern by Glenn Artistry Crochet
This crochet pattern is adjustable to fit small or large calves. These pair look unique, comfy, and is a great way to express your love for beer.

Plus, it also comes with a handle to make it look like the real thing. But of course, a non-alcoholic drinker can wear these too!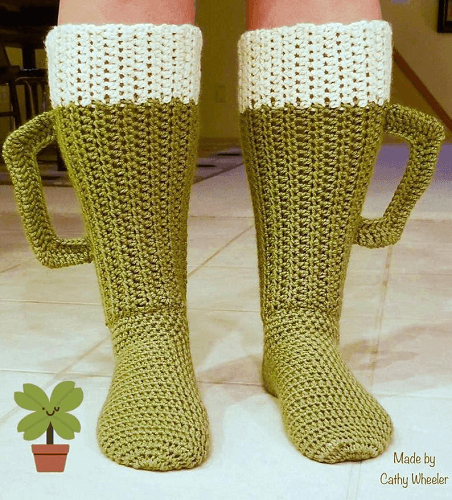 Get the Pattern by Glenn Artistry Crochet here

8. Alton Free Crochet Men's Ear Warmer Pattern by Stitching Together
Enjoy this ear warmer free crochet pattern for men perfect for making a gift your guy will actually wear. This easy men's crochet ear warmer is made by working in continuous rounds to crochet a long tube. The tube is then joined and you're left with a double-thick ear warmer.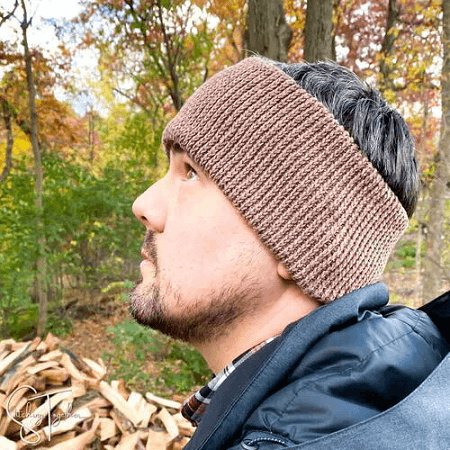 Get the Pattern here

9. Modern Men's Crochet Slippers Free Pattern by Make And Do Crew
Outfit your dad, husband, brother, or boyfriend in a pair of Modern Men's Crochet Slippers with leather soles for the perfect quick crochet project gift! These crochet slippers are worked flat then seamed and spiffed up with some simple embroidery.

You only need to know how to single crochet to make these puppies! They're really speedy to make, so if you start now, you can outfit every single gentleman you know with new crochet slippers by the end of the year!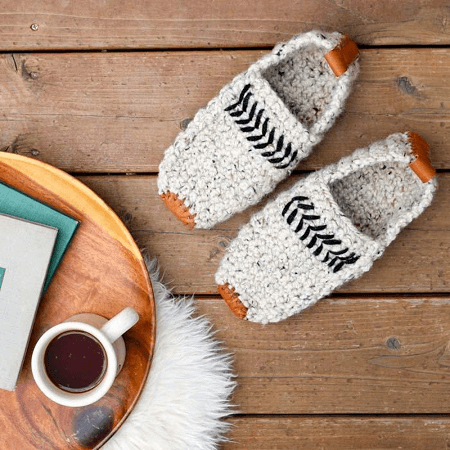 Get the Pattern here

10. Men's Sleeveless Mesh Top Crochet Pattern by Seyhall Crochet Design
This crochet pattern is for a classic sleeveless round neck men's top. The design features a mesh pattern with a wide border around the hem.

The instructions include lots of detail to ensure complex shaping is made easy. The pattern includes details for making the five different sizes, small, medium, large, extra-large, and XXL, and is color-coded to help follow a particular size.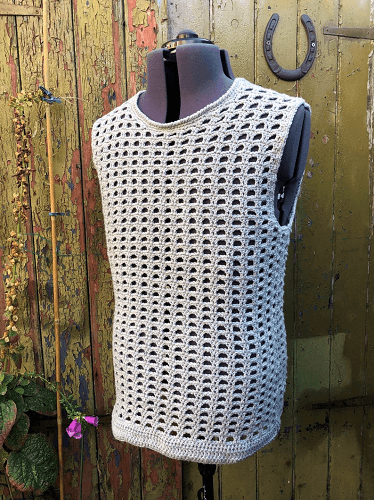 Get the Pattern by Seyhall Crochet Design here

11. Diagonal Stripe Necktie Crochet Pattern by Suvi's Crochet
Colorful ties will certainly make a wonderful gift for special men in your life. It's an easy pattern that also gives you plenty of room for creativity. The pattern looks particulary nice with striped sock yarn or gradient yarn to show off the diagonal stitches.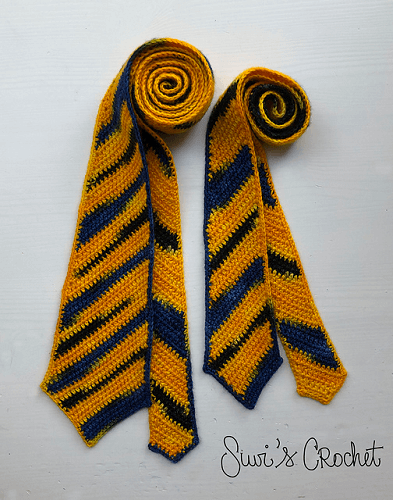 Get the Pattern here

12. Crochet Man Socks Pattern by Holland Designs
Show your man some love by stitching him a pair of these warm, cozy crocheted socks! They work up quickly using bulky weight yarn (or 2 strands of DK weight yarn held together) and crochet hook size I (5.50 mm). You may use a single color, 2 colors as shown.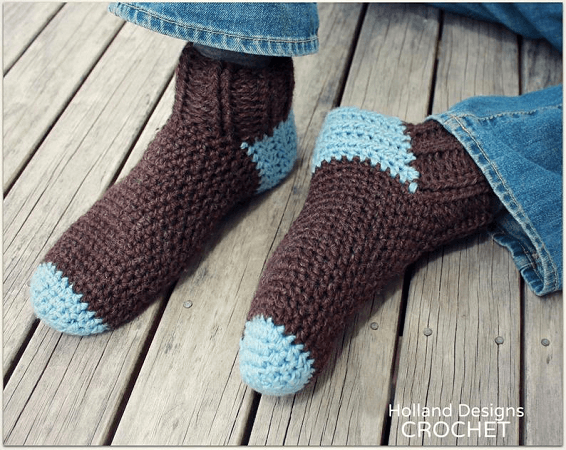 Get the Pattern by Holland Designs here

13. Crochet Pattern For Adult Men's Slippers by Yarnutopia
We all love a comfortable pair of house slippers. The guys in our lives are no exception. With Father's Day right around the corner, why not make Dad a pair of these fantastic Adult Men's Slippers.

Perfect for putting your feet up and relaxing around the house. Add a leather or vinyl non-skid bottom to make them more versatile and avoid slipping. These chunky slippers are squishy soft and would be perfect for anyone!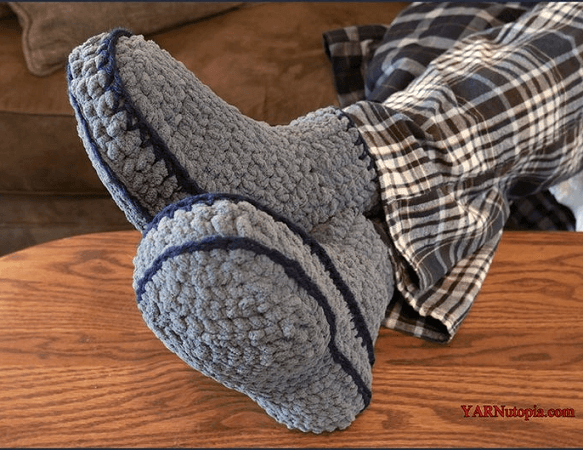 Get the Pattern by Yarnutopia here

14. Crochet Mustache Slipper Socks For Men Pattern by Repeat Crafter Me
This Crochet Mustache Slippers Socks Pattern is worked toe-up and is a fun project for the man in your life and a great one to whip up for Father's Day! These socks are made with Caron Simply Soft which has a smooth and comfy texture and a good gender-neutral color.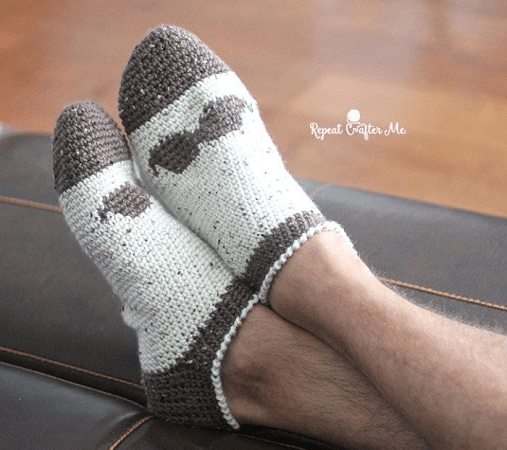 Get the Pattern here

15. Men's Vintage Golf Hat Crochet Pattern by Red Heart
Stitch a classic looking hat that he can wear on the golf course or while driving his convertible! Please any discriminating gent with this retro crochet golf hat in any shade he loves.

It's easy to show your love with a hat that fits his personality and sense of style. It's a distinctive gift that will always make him think of you!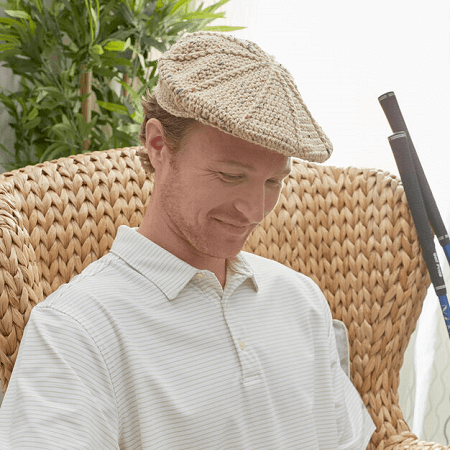 Get the Pattern here

16. Men's Fedora Hat Crochet Pattern by Meadowvale Studio
A stylish fedora will definitely be a perfect accessory for a modern gentleman. The stitches make it a sturdy structure nd a black stripe is a perfect finishing touch.

The pattern has instructions for sizes Newborn, Baby, Toddler, Boys, Teen, Men's Medium, Men's Large, Men's X Large, Men's XXL.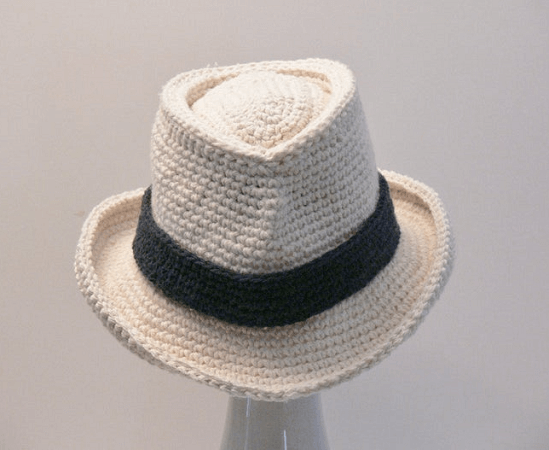 Get the Pattern by Meadowvale Studio here

17. Men's Crochet Scarf Pattern by Darling Jadore
Classic all-over ribbing drapes effortlessly, making this Wildwood Scarf the perfect cozy accessory for any outdoorsman. The understated vertical ribbing on the body of the scarf flows down to meet a more structured ribbing at the two ends, making this a must-have scarf that pairs with any outfit.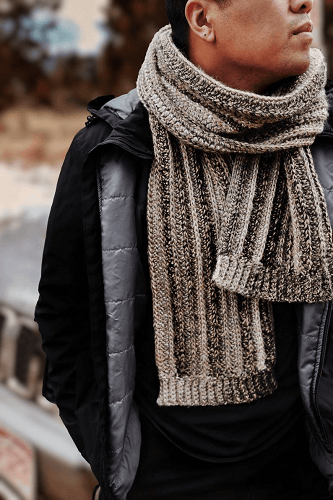 Get the Pattern by Darling Jadore here

18. Men's Fingerless Gloves Crochet Pattern by Jessica A. Chong
Of course, not all crochet gifts for en are intended for winter, so there are also some great patterns available in lightweight yarns. Try this Aran weight crochet pattern for Men's Fingerless Gloves.

Ribbed details for both design and fit are created using post stitches and a simple color change appeals to the eye.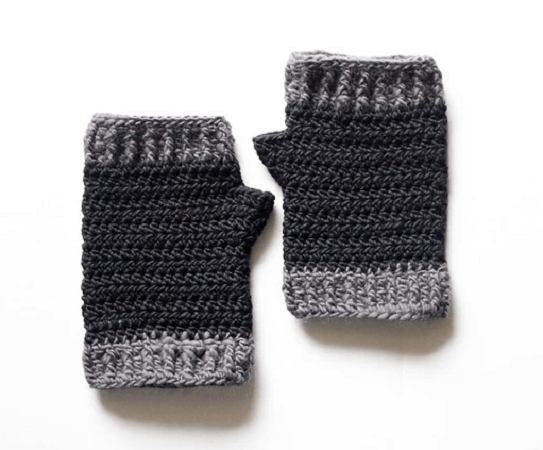 Get the Pattern here

19. Men's Classic Beanie Crochet Pattern by Rich Textures Crochet
This Men's Classic Beanie looks like it is knit, but it's crochet! This crochet pattern includes two variations – with a brim and without. The finished size is approximately 8 x 9 inches laid flat, 20-21 inch circumference when stretched.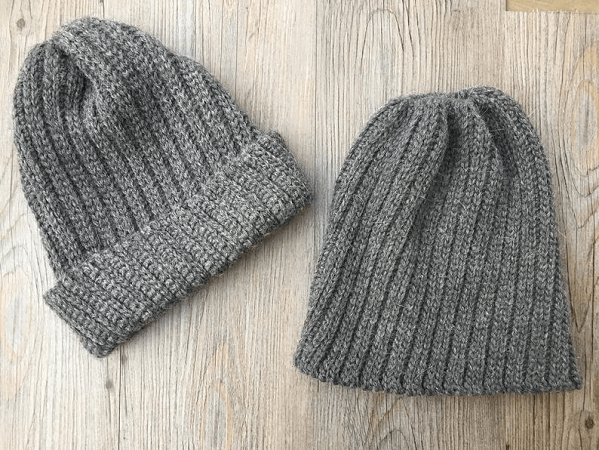 Get the Pattern by Rich Textures Crochet here

20. Huntsman Sweater Crochet Pattern by Natasha Robarge
Create this unique crocheted sweater pattern using tapestry crochet colorwork. Fall in love with the layering piece that makes it fit-able for any guy in your life! Its loose fit makes it a fantastic layering piece!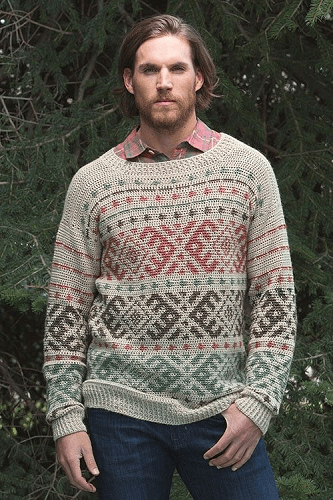 Get the Pattern here

21. Bow Ties For The Guys Crochet Pattern by Red Heart
Crochet a bow tie for men or boys who enjoy making a fashion statement. Worn with a suit or just a button-down collar shirt, this bow tie has a sophisticated look. This pattern is given in two sizes: for men and for boys.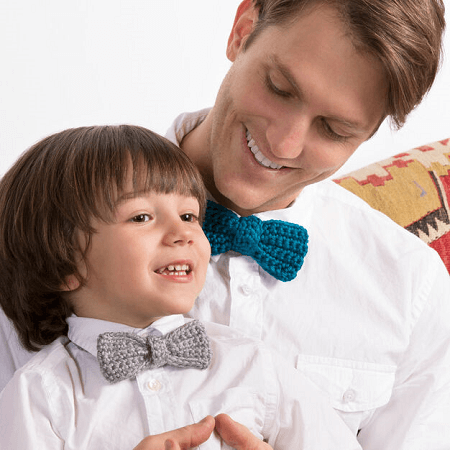 Get the Pattern here

22. Dude Blanket Free Crochet Pattern by Two Brothers Blankets
This Dude Crochet Blanket is simple, durable, and not too frilly, just like most guys like things. This is one of those projects that is mindless and easy to work on when watching TV or chatting with friends. You and the special "dude" in your life will love it!

This crochet blanket is great for guys and girls alike! Don't let the name fool you! It can be made in any color combination you like or make it solid!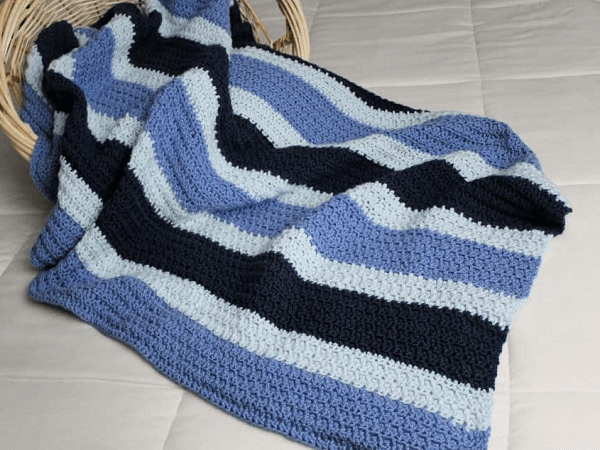 Get the Pattern here

23. Men's Golf Cap Crochet Pattern by Shabby Sheep Apparel
This hat was designed as the perfect crochet piece for the man in your life! The unique design has modern, edges but the golf cap has a definite vintage feel. The pattern includes three men's sizes!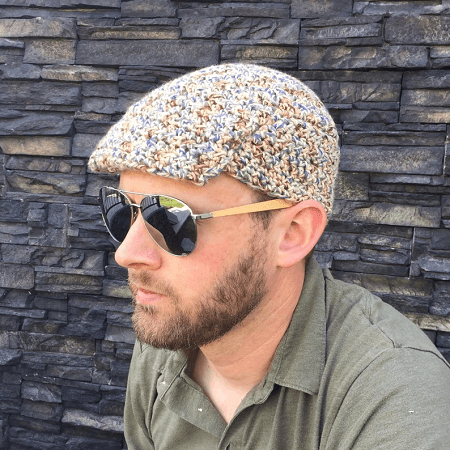 Get the Pattern by Shabby Sheep Apparel here

24. Free Mens Crochet Waistcoat Pattern by Gathered
Give your chap a dapper crochet makeover with this Free Mens Crochet Waistcoat Pattern! Whether you're making it as a gift for fathers day, or just want to jazz up your fella's wardrobe, this piece is bound to be a hit.

Stay traditional with muted hues, or change things up with brights for snazzier chaps. No golfing skills necessary.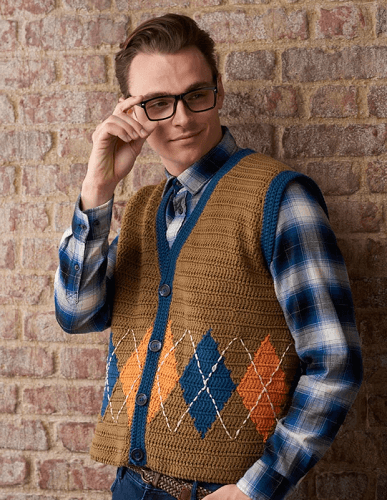 Get the Pattern here

25. Plaid Men's Cowl Crochet Pattern by Winding Road Crochet
Plaid just seems to be the best pattern when you are looking for something rustic, cozy, and stylish. This Plaid Men's Cowl adds a nice pop of color to an outfit without being too bulky. Plus it can be styled in so many different ways.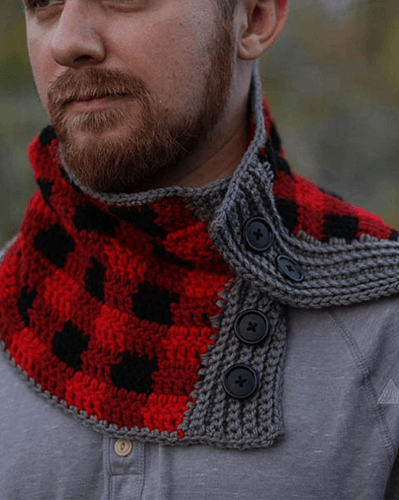 Get the Pattern by Winding Road Crochet here

26. Argyle For Dad Wreath Crochet Pattern by Red Heart
Honor a special Dad with a crochet wreath on your front door, or perhaps in his office window. The faux argyle is simply made by wrapping yarn around the crocheted diamond shapes. Then necktie and collar are added for the perfect June wreath!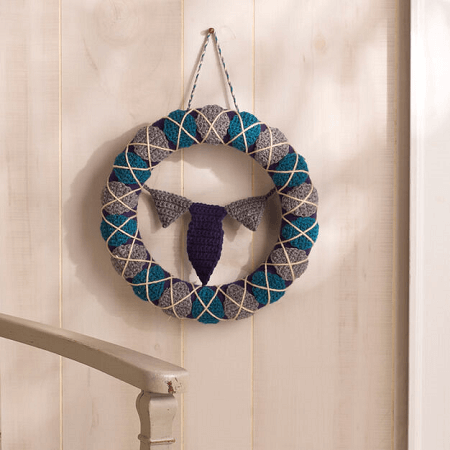 Get the Pattern here

27. Crochet Granny Stripe Shorts For Men Pattern by Repeat Crafter Me
These shorts are constructed from two granny stripe squares. Very simple and just a funny little 4th of July wardrobe accessory!

You can actually make these smaller if you'd like! Adjust the length starting chain and reduce the amount of rows you crochet. It helps if you take a pair of shorts you (or the person you are making them for) typically wear as a way to measure while you crochet.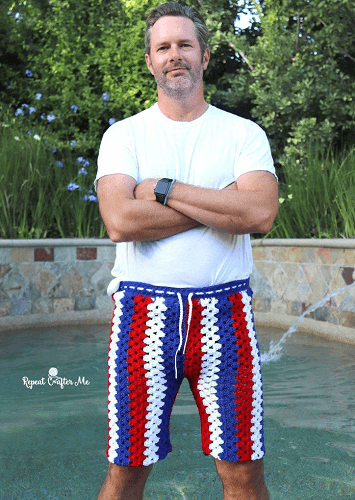 Get the Pattern here

28. Men's Plaid Vest Crochet Pattern by A Crocheted Simplicity
This eye-catching plaid vest is fit for a day in the woods. The checkered patterning is created by working two colors in one row and working over the nonworking color.
There are no floats or pesky yarn ends with this color-changing method. The pattern is written in a wide range of sizes so it can be worn by men and women.

Check these Crochet Men's Vest Patterns for more.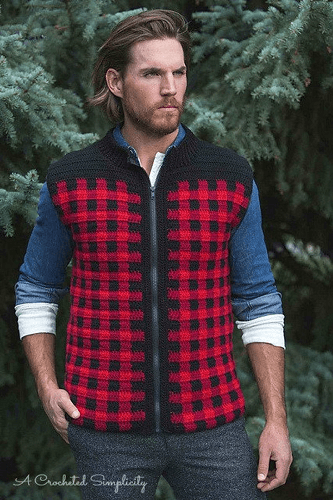 Get the Pattern by A Crocheted Simplicity here

29. Crochet Tools For Father's Day Pattern by She Knows
It doesn't get any cuter than a homemade toolset that has been crocheted by hand. A dad who loves to tinker and fix is going to get a kick out of this detailed but surprisingly easy DIY toolset, complete with a screwdriver, a hammer, and pliers.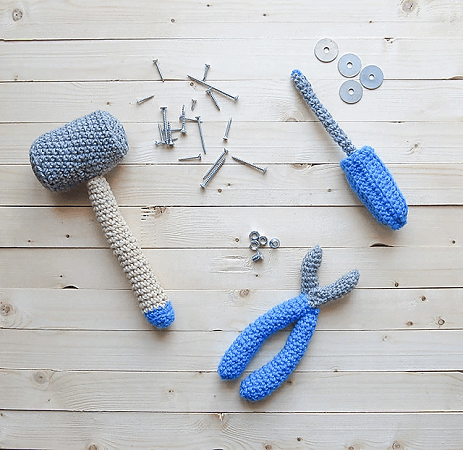 Get the Pattern here

30. Football Can Cozy Crochet Pattern by Yarnspirations
Enjoy a soda (or other libation) served in this stylish cozy while you watch the game! This Football Can Cozy has loads of personality, making it perfect for giving to enthusiastic football fans. Why not crochet a cozy or two while watching the game?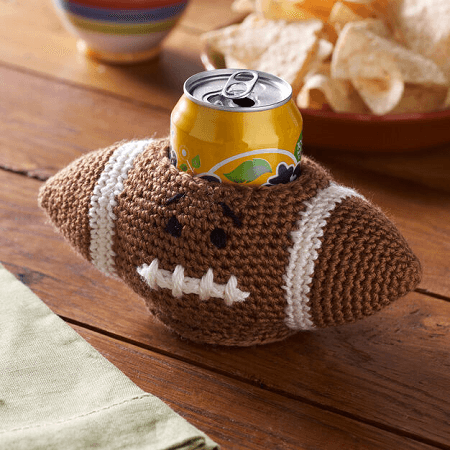 Get the Pattern here
Pick some manly yarn, grab a hook and crochet one of these crochet pattern for men for that special guy!
Show us your crochet projects for men creations and post the pictures on our Facebook Page. Whether for a husband, boyfriend, father, or son, they will surely appreciate what you made for them!

If you need more ideas about what to crochet for that special guy in your life, check our Crochet mens hat patterns, Crochet Loafers For Men Patterns, Comfy Mens Crochet Slippers Pattern, crochet shorts and Men's Crochet Sweater Patterns for every special man in your life.
Happy crocheting with these 30 crochet pattern for men and make the sweetest gift for that guy in your life!