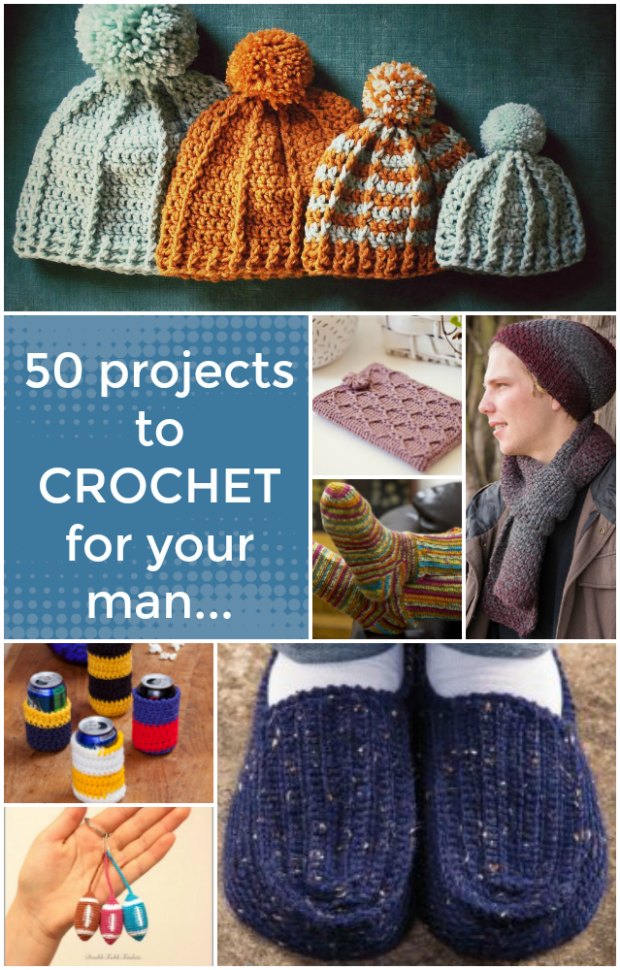 Crochet Pattern For Men
Crochet pattern for men to suit even the most difficult guys. We all love to share our craft with others by making things for them.  But guys can be difficult.  They mean well sometimes, but it can be hard to find patterns for things men will actually wear or use.  So we got our men involved, showed them a whole bunch of patterns and narrowed it down thanks to their vote to things they would be happy to receive.
Even better, all 50 projects have FREE patterns.  There are the usual array of hats and scarves of course, but also a few other accessories that got top marks from the men.  Not everyone loves the crochet look for garments, but if you are lucky and has a man who does, then the sweater, tie and vest patterns get the thumbs up.  If your guy loves Star Wars, then you can even crochet him an Imperial Walker!
There are also some manly accessories such as tech covers that get the up-vote from our guys too, and of course, a can or drink cosy in team colors for match day.  The Spiderman blanket gets top marks for cosy nights in front of the TV.  Check out all of these free crochet patterns for men and they'll soon be as hooked on your crochet as you are!
FREE Crochet Pattern For Men
Clicking an image will take you to the source of the free crochet pattern in a new tab.