With crochet men's vest patterns ranging from simple classics to those sporting rich texture, you'll be sure to find one in our pattern collection to suit the style of the crochet-worthy man who will wear it.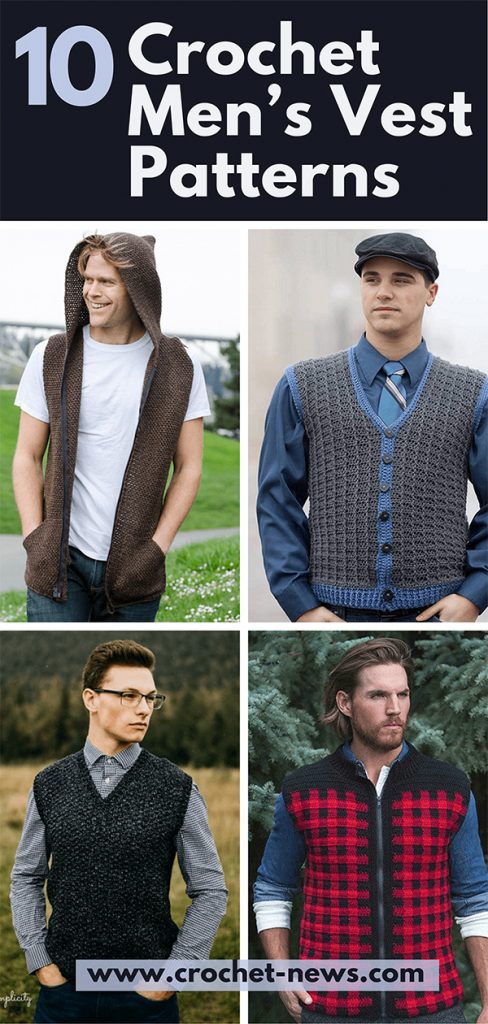 When an outfit needs just one special finishing touch, a vest can add interest and balance. Browse through the patterns below and discover which style suits the taste of all the men in your life!

1. Crochet Man Vest Pattern by Yarnutopia
This semi-formal fashion piece for men can be paired with a shirt and tie or worn over a plain jersey shirt. A versatile piece that would be perfect for the man in your life.

A collection of stitches provide rich texture and great elements of design in this two-toned sweater vest.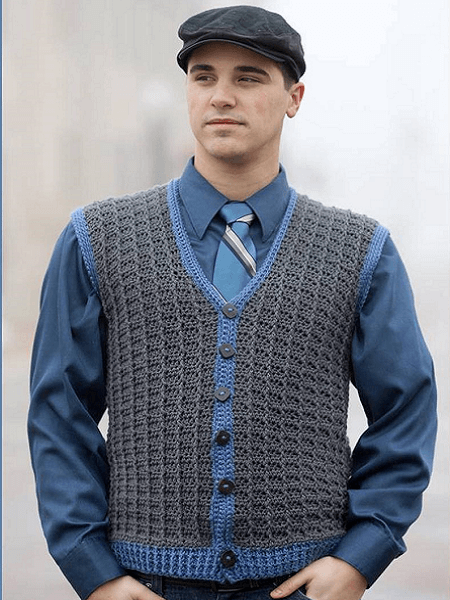 Get the Pattern here

2. Cable Men's Vest Crochet Pattern by Even Howard
This project is not for the faint of heart, or the beginner crocheter as you should have mastered all questions of crocheting in the round, joining rows, crochet stitch anatomy, and your own visualization techniques in order to succeed.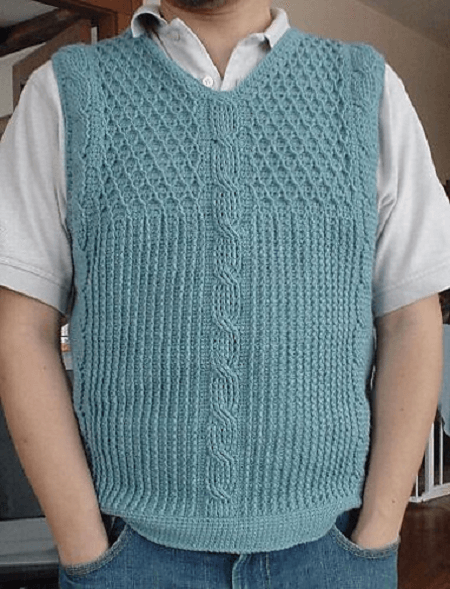 Get the Pattern here

3. Men's Plaid Zipper Vest Crochet Pattern by A Crocheted Simplicity
This eye-catching plaid vest is fit for a day in the woods. The checkered patterning is created by working two colors in one row and working over the nonworking color.

There are no floats or pesky yarn ends with this color-changing method. The pattern is written in a wide range of sizes so it can be worn by men and women.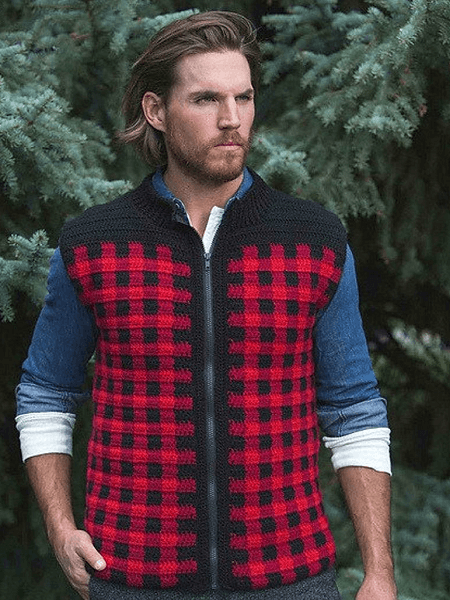 Get the Pattern by A Crocheted Simplicity here

4. Swish Men's Vest Crochet Pattern by Crochet Kim
This lightly-textured vest will be a perfectly matched with short sleeves in the Fall and Spring or long sleeves in the Winter months. With its generous size range of mens Small through 3X, you will want to make one for all the men in your life.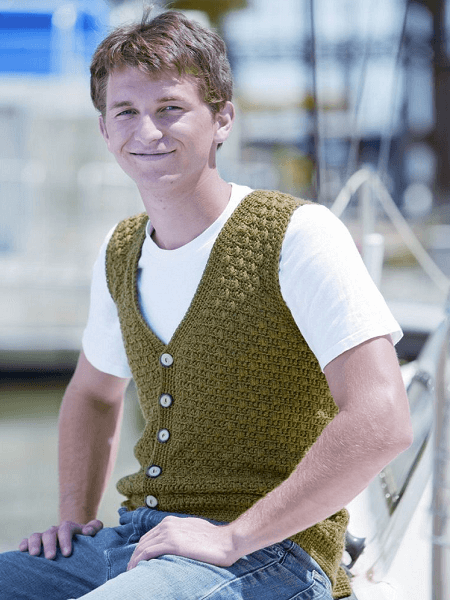 Get the Pattern here

5. Men's Vest Crochet Pattern by Holland Designs
This stylish vest is perfect for any guy's dressy wardrobe. Worked side to side in vertical rows, this vest doesn't appear to be crocheted, but uses only basic crochet stitches.

This vest is made to measure according to the standard size chart provided in the pattern. Includes sizes newborn to mens XXL.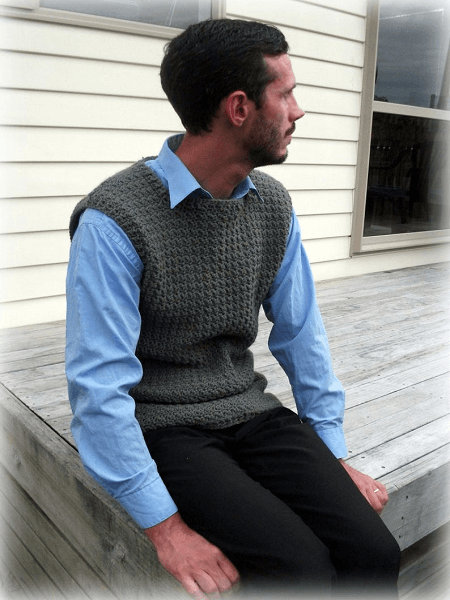 Get the Pattern by Holland Designs here

6. Crochet Tunisian Vest For Men Pattern by Kathleen Power Johnson
Work two colors of tweedy yarn on alternate rows and you get a distinguished fabric that's ideal for a classic man's vest. In this instance, the color-work pattern is limited to the fronts, while the back is worked in simple Tunisian crochet in a solid color.

Another fabulous design for the man of your life!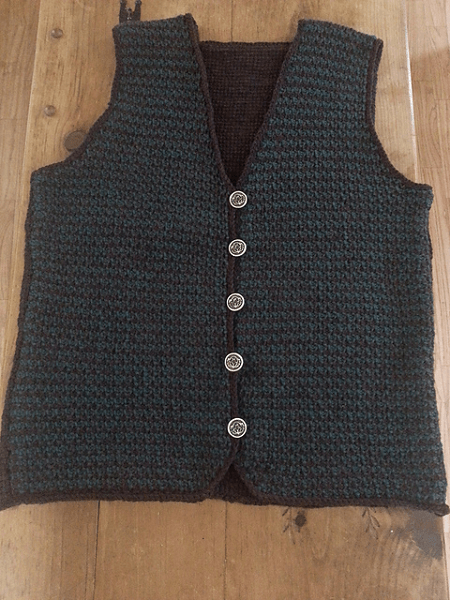 Get the Pattern here

7. Mens Sweater Vest Crochet Pattern by A Crocheted Simplicity
Designed to be a classic piece, this men's sweater vest is a garment that will be worn for years to come. Pair it with dress slacks for a dressier look, or pair it with jeans for a more casual everyday vibe. The style is timeless and perfect for all occasions!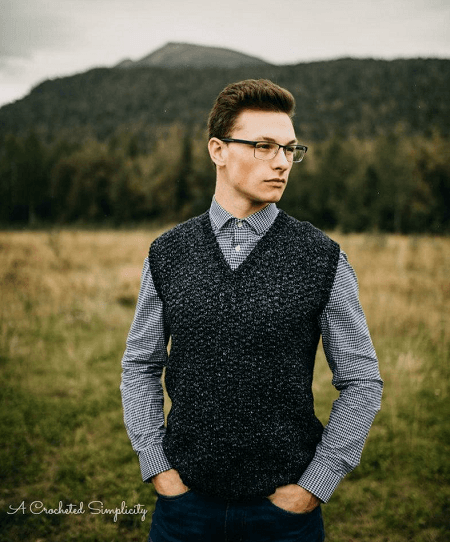 Get the Pattern by A Crocheted Simplicity here

8. Crochet Toddler Boy Vest Pattern by Traverse Bay Crochet
This simple crochet vest is quick to work up for your favorite little tot! The vest works from the bottom up and in the round for the body. Then the front is worked in 2 small parts and then the back and sewn together at the seams.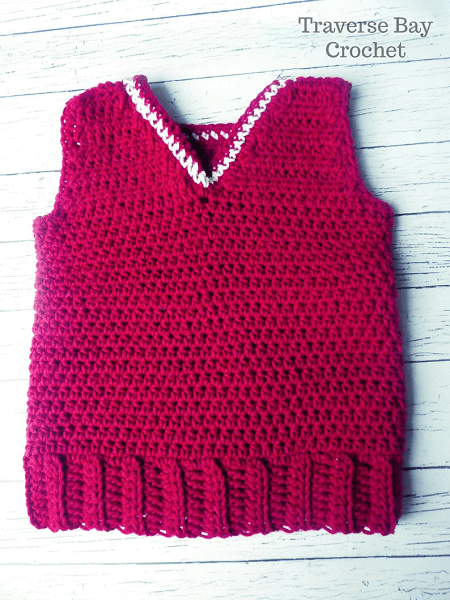 Get the Pattern by Traverse Bay Crochet here

9. Men's Hooded Vest Crochet Pattern by Shibaguyz Designz
Designed for comfort as well as style, this Men's Hooded Vest promises to be an item that will be worn often by even the pickiest guy.

Comfortable and stylish to wear, this mens crochet vest will help keep the chill off while looking polished. It will dress up the simplest t-shirt and jeans into a casual and sophisticated look.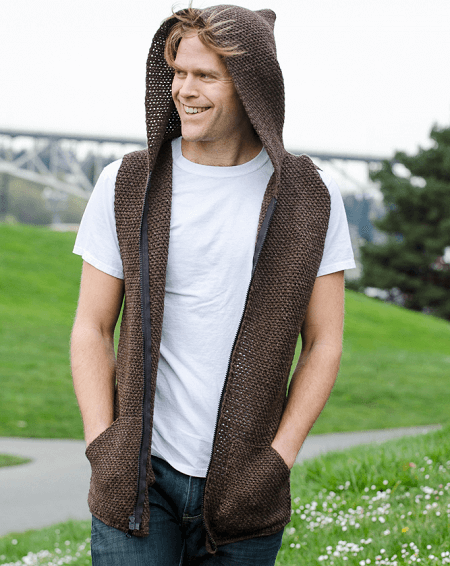 Get the Pattern here

10. Crochet Men's Vest Jacket Pattern by Interunet
This button up sleeveless crochet vest jacket is suitable for many occasions and will complement your outfit and style. The crochet item is shown in small size, but it can be easily adjusted to fit any body shape and measurements.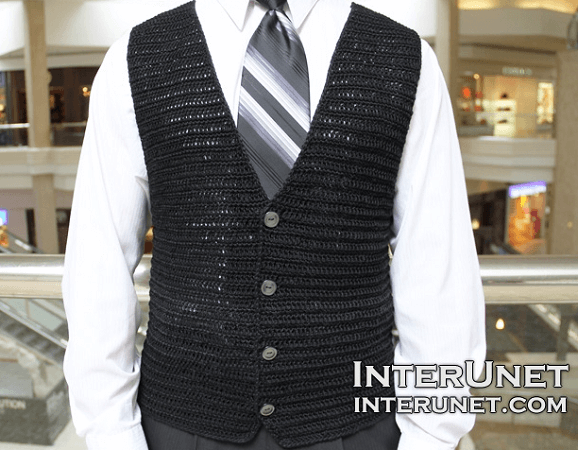 Get the Pattern here
Crochet Men's Vest Patterns Frequently Asked Questions
Is it easy to crochet a vest?
Crocheting a simple vest can be done with only beginner to intermediate level skills. but the project itself can be somewhat time-consuming. You'll also need to adjust the pattern based on the bust size of the intended wearer.
How long does it take to knit a men's vest?
A vest can take up to 25 hours to crochet depending on your skill level and the exact methods used in the pattern. V-neck vests frequently require some collar shaping, which can take a little longer than other vest styles with rounded necklines.
What's the best yarn for crochet men's vest?
Acrylic, wool, and cotton yarn are the most popular choices for crochet vests. These three types of yarn will make for the best quality vest you can ask for, and it will last you for years.
Are crochet vests fashionable for men?
If your guy don't own a crochet vest, now's the time to make one! It instantly elevates their outfit and turns their everyday fit into something more mature.
Now create the perfect layering piece for his wardrobe!
Show us your creations and post the pictures on our Facebook Page. Whether for a husband, boyfriend, father, or son, they will surely appreciate the vest you made for them!
If you need more ideas about what to crochet for that special guy in your life, click here. You can make sweaters, slippers, hats and more! He'll love you for it!

Check out 30+ Women's Crochet Vest Patterns Here
Check out 15+ Toddler's Crochet Vest Patterns Here
Check out 10 Free Bohemian Vest Crochet Patterns Here
Pick some manly yarn, perhaps the colors of his favorite sports team, grab a hook and crochet a handmade gift with these Crochet Men's Vest Patterns!