Vests are versatile garments for baby and children, and easy projects for crocheters. Here are toddler crochet vest patterns for you to cast on right now!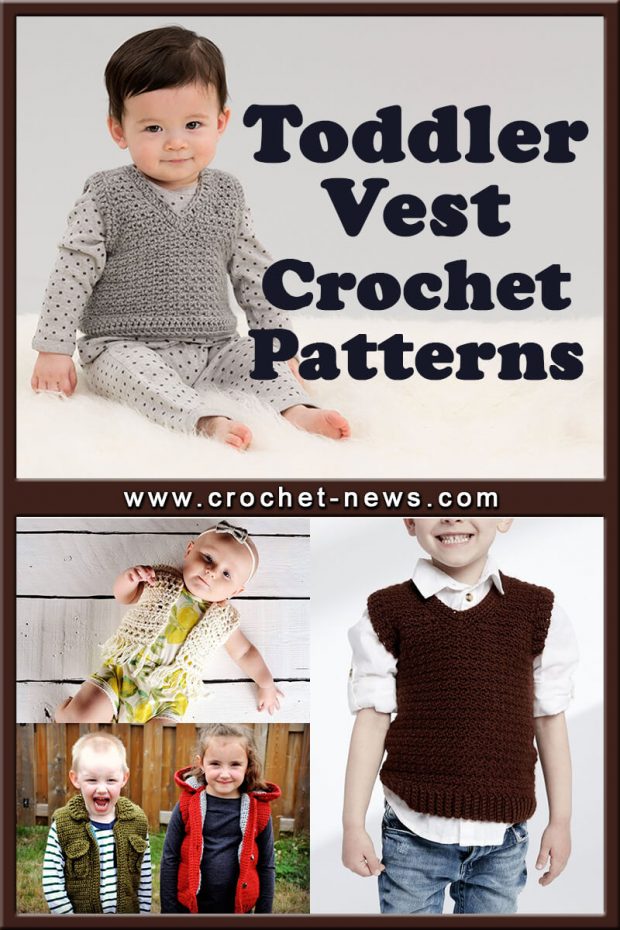 As an extra layer, vests won't hinder little arms and legs, and warms without overheating. And many can be worn as sleeveless tops in warmer weather. Check out these patterns and create the perfect layering piece for your child's wardrobe.

1. Rustic Rainbow Boho Vest Crochet Pattern by Knot Mama Made
Let your little one's boho soul shine through with this Rustic Rainbow Boho Vest! Lightweight and soft, this vest can be paired with denim shorts and a t shirt or worn at the beach. Color combos are endless and you can create one for every outfit!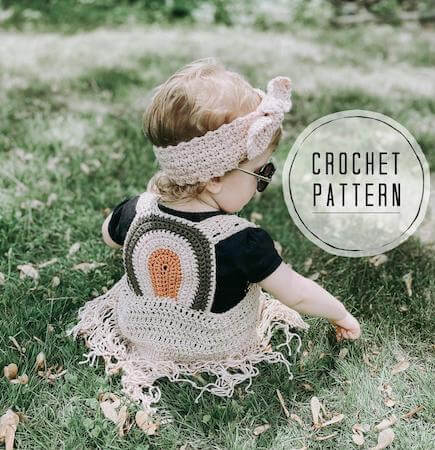 Get the Pattern by Knot Mama Made here

2. Unisex Charlie Vest Crochet Pattern by The Moule Hole
Gender neutral with an amazing fit, this Charlie Vest is a must for your handmade wardrobe. It is constructed in two flat pieces and then sewn together. The ribbing is stitched to the bottom, sleeves and collar once the the two pieces are attached.

Each size has a slightly different bobble motif and the pattern includes a stitch diagram for each size. This piece could easily be made without the bobbles if you would like a plain vest. If you decide to do this, replace all bobble stitches with half double crochet stitches.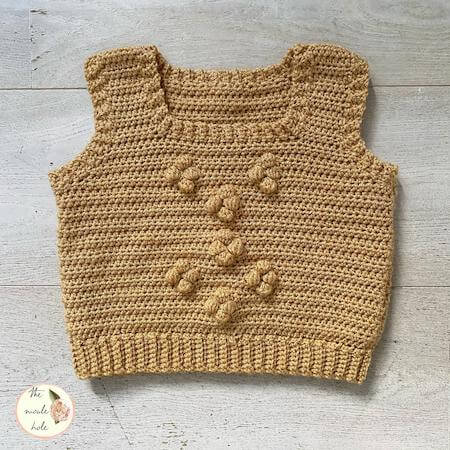 Get the Pattern by The Moule Hole here

3. Crochet Baby V-neck Vest Pattern by Red Heart
Baby can never have enough cozy neutrals that wear with almost anything in the closet. This easy crochet vest is so dapper in light grey but feel free to go more vibrant with so many shades at your fingertips.
It's a classic style with a retro vibe that makes any child look adorably handsome. Keep it handy as a quick, extra layer of warmth.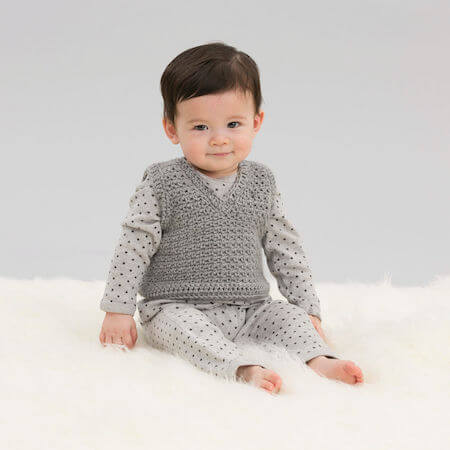 4. Simple Boy Toddler Crochet Vest Pattern by Traverse Bay Crochet
This simple crochet vest is quick to work up for your favorite little tot! The vest works from the bottom up and in the round for the body. Then the front is worked in 2 small parts and then the back and sewn together at the seams.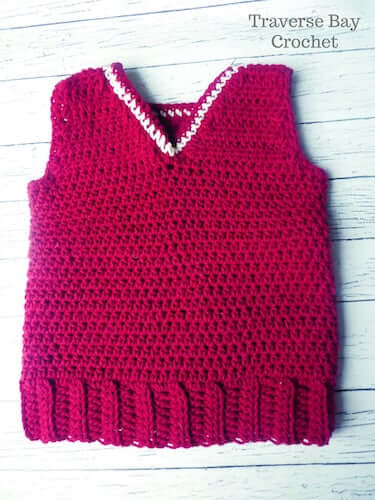 Get the Pattern by Traverse Bay Crochet here

5. Little Granny Toddler Vest Crochet Pattern by Shara Lambeth Designs
This Little Granny Vest is a versatile, simple pattern that is quick & easy to make. The style is suitable for both girls and boys and the all-in-one, top-down constructions means there is no seaming or sewing up to finish the garment.

The pattern uses very little yarn, making it an excellent stash buster & perfect for a last minute gift. The simple design is great for experimenting with stripes or hand-dyed yarns and works beautifully made in either wool or cotton yarn.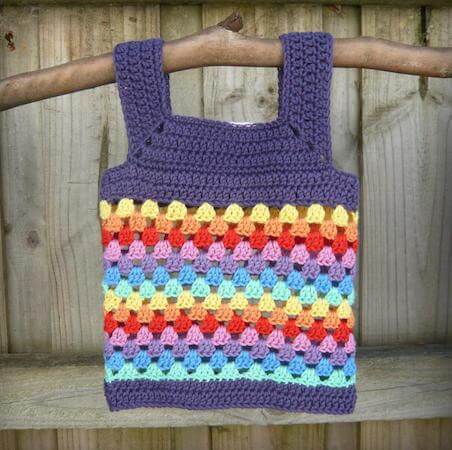 Get the Pattern by Shara Lambeth Designs here

6. Crochet Toddler Vest Pattern by The Pattern Paradise
This one was designed with boys in mind as so many complain there are not many crochet patterns for boys, however, it works equally well for the girls! The stitch lends itself to a neat textured look that is perfect in both solids or multi colored stripes.

The vest has a relaxed fit with minimal shaping and an interesting band around all the edges. The pattern includes a wide range of sizes (3 months to kids size 10) so you can make one for the siblings too!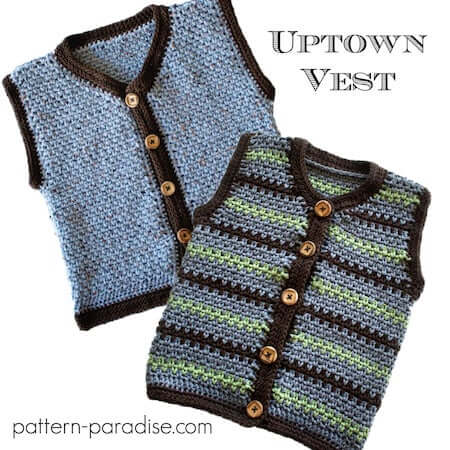 Get the Pattern here

7. Kids Boho Vest Crochet Pattern by Sweet Everly B
A cute and airy crochet vest that will look adorable on your little one. The vest is crocheted in one piece with a small amount of seaming at the end. There are detailed photos to help you make this boho style vest. Add some trendy tassels and you'll be ready to dress up your girl in her summer best.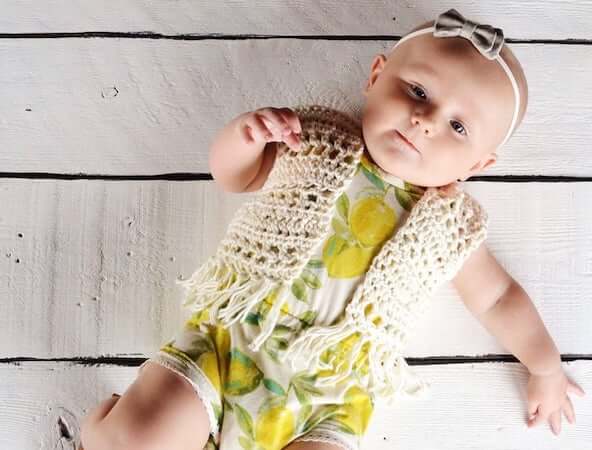 Get the Pattern by Sweet Everly B here

8. Wild Thing Vest Crochet Pattern by Jaded Crafts Creations
The Wild Thing Vest – Cropped or Full Length. Which is your favorite? This trendy fur vest is worked in one piece from side to side. The construction is simple and requires minimal seaming – just a few stitches to join the shoulders.

It's so versatile! Dress it up fancy, or dress it down casual. And it works up lighting fast, so your little one will be ready for fall in a flash!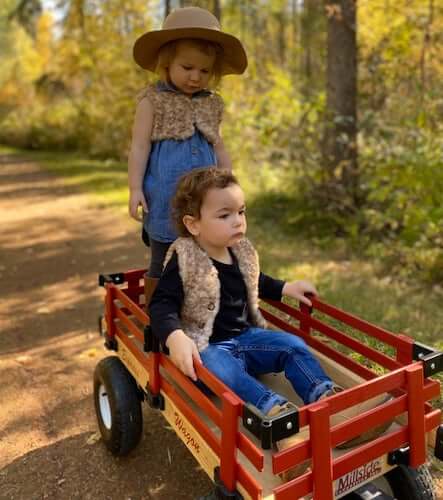 Get the Pattern by Jaded Crafts Creations here

9. Banana Split Baby Vest Crochet Pattern by Lion Brand
This Banana Split Baby Vest is not only an adorable baby crochet pattern, but the best part is that it only uses one skein of yarn. The ice cream colored vest brings a little bounce into your babies' day if they don't have enough already!

Button the pastel stripes together so this cute crochet baby vest doesn't fall off of your little one while they run all around and have fun inside or out. This would be a great addition to an Easter outfit or just the right touch of color for any spring day.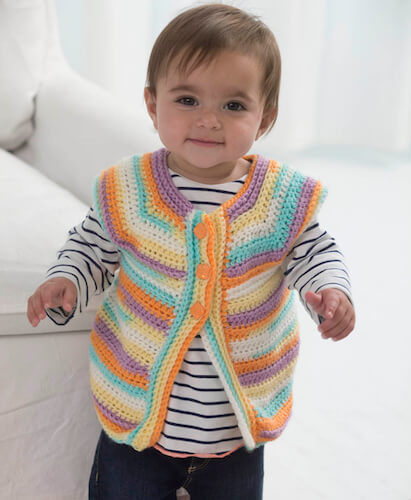 Get the Pattern here

10. Butterfly Mandala Girls Crochet Vest Pattern by A Crocheted Simplicity
Little girls and butterflies, both flutter around carefree. This Butterfly Mandala Vest is designed to match your girl's free spirit. The edges are pretty and flowy. Because of the flowy design, this vest will fit a range of sizes. You will love these fun details!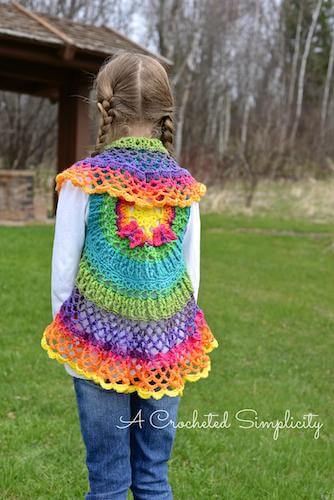 Get the Pattern by A Crocheted Simplicity here

11. Free Crochet Patterns for Toddlers by Yarnspirations
How sweet will your little guy look in this charming vest? Inspire your creativity by using the beautiful shades. It's a great way to quickly prepare him for a last minute function, so add this versatile piece to his wardrobe.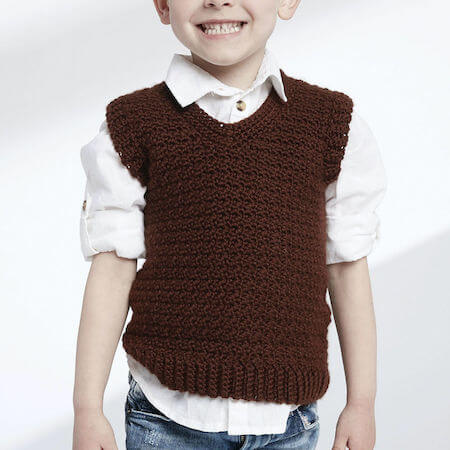 12. Sweet Pea Woven Vest Crochet Pattern by Angela Plunkett
This cute vest will make a great gift for a sweet boy or girl! Change out the color and stripe pattern to make your own unique color design. This child vest pattern's sizes are 6, 12, 18, 24 months – adjustable for custom measurements. The vest can be made in any length/size you desire.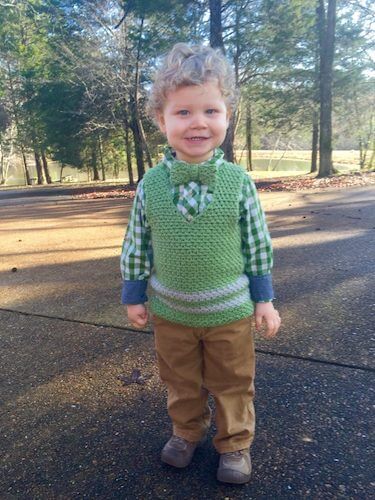 Get the Pattern by Angela Plunkett here

13. Clementine Shrug Vest Crochet Pattern by Naturally Nora Crochet
This shawl collar shrug vest is unique, charming, and fresh for spring. It features a striking, textural sunflower motif across the back. It's seamless construction makes it surprisingly easy to work up, with instructions for special stitches included in the pattern.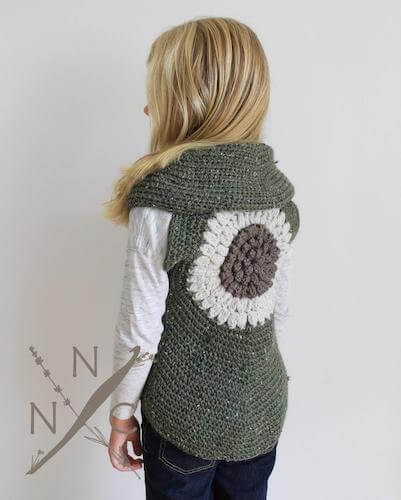 Get the Pattern by Naturally Nora Crochet here

14. Kid's Plaid Zipper Front Vest Crochet Pattern by A Crocheted Simplicity
This Kid's Plaid Vest looks great on boys and girls! This double layered, zipper front vest uses basic stitches and a very simple construction. If you've never added a zipper to a crochet project before, don't fret – it's super simple and there's a photo tutorial included to help!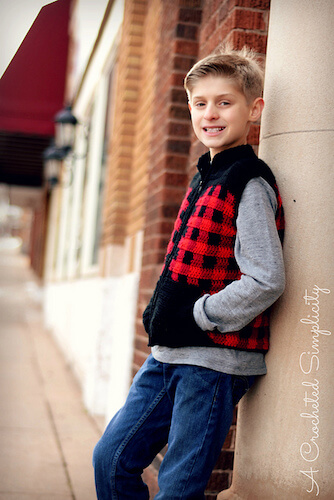 Get the Pattern here

15. Child Hooded Vest Crochet Pattern by Crochet It Creations
This Hooded Vest Crochet Pattern comes in 5 child sizes, from toddler to teen. It is a beginner-friendly pattern using basic crochet stitches. The pattern is worked using an I 5.5mm crochet hook and medium 4 weight yarn. Be sure to check gauge as yarn and tension can alter your size.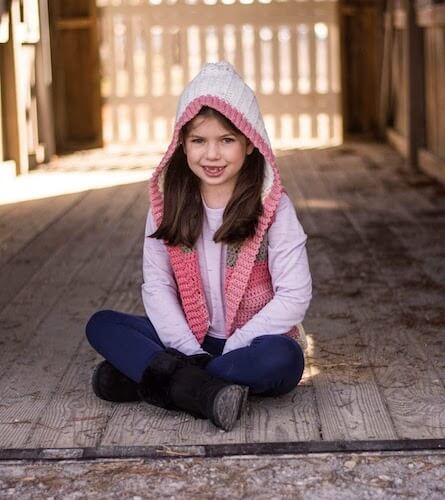 Get the Pattern here

16. Back to School Boy Toddler Crochet Vest Pattern by By Sincerely Pam
If your son is tired of receiving a big box of toys on his birthdays, then maybe it's time to change what's in the box this year. Why not try a Back to School Boy Toddler Crochet Vest Pattern instead? It's a warm and cozy vest that your son would surely love and brag about to his playmates.
Pamela Stark designed this vest pattern. She specifically made this design for her son, Marek, to express how much she loves and appreciates him. What an inspiring backstory! So now, let's dig in and know more about this crochet pattern that will take the usual, boring vest to the next level!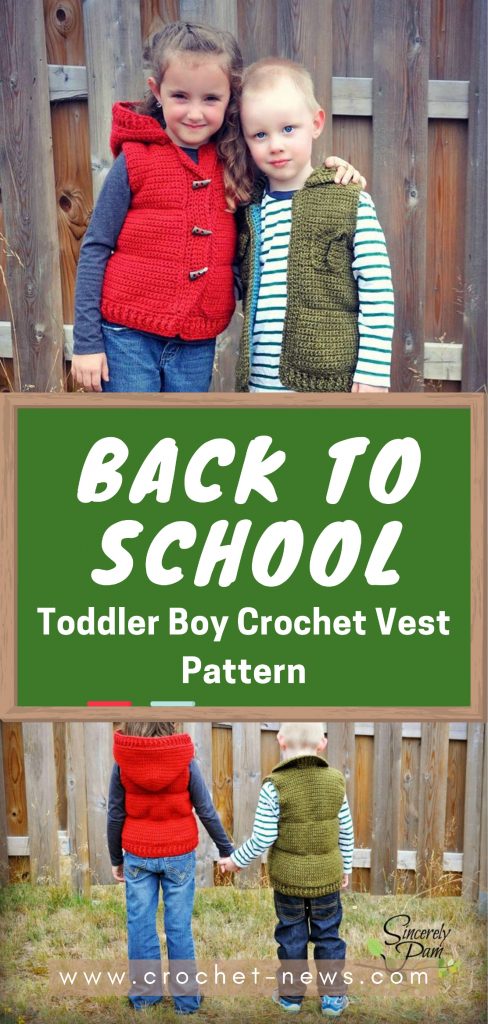 ABOUT THE BACK TO SCHOOL BOY CROCHET VEST
Pamela Stark made it a point to let accomplished pattern testers and designers to test her design to make sure that it's 100% free from any errors. Talk about doing the extra mile for her pattern! It makes buyers confident that they would not have any trouble following the pattern's instructions and would enable them to stitch a wonderful gift for their sons.

With the pattern's intermediate level, together with its tested pattern, the creator made sure that everyone can make their own vests and express their love. You surely wouldn't find it too difficult to make a crochet vest for your son.

Another great fact about Pamela's pattern is it was actually her entry to the Design Wars Back to School Challenge 2014 and was voted as "#1 Favorite Design"! What more can prove its quality?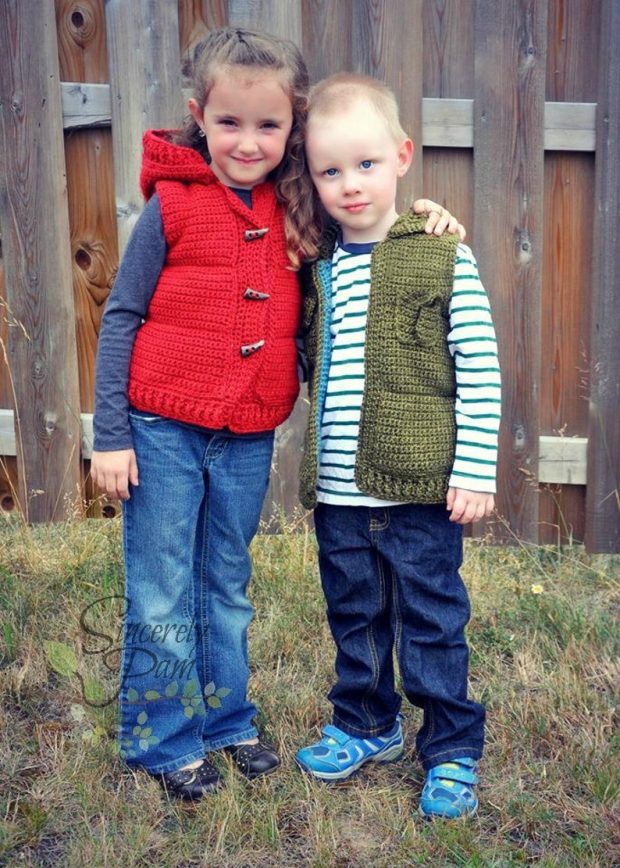 MATERIALS FOR THE BOY TODDLER CROCHET VEST PATTERN
YARN – ww
HOOK – 6 mm J and 3.75mm F
TOGGLE BUTTONS – 4 pieces

PATTERN YARDAGE APPROXIMATION
An approximate of 1000-1750 yards of ww yarn is needed. Specific yarn used by Pamela for this project was Lion Brand Heartland which has 251 yards or 5 ounces per skein. A more specific yardage per sizes are found below:
Size 2-4: 2 skeins for each color (A and B)
Size 6-8: 2 skeins for each color (A and B). If you're making the hood too, add another skein of Color A
Size 10-12: 3 skeins for each color (A and B)
Size 14-16: 4 skeins of Color A, and 3 skeins of Color B

APPEARANCE AND SIZES OF THE BACK TO SCHOOL PATTERN
This pattern creates a crochet vest that has 2 layers of crochet, and a collar or hood. Crocheters also has the option to put pockets in any part of the vest they will deem necessary.

Currently, this pattern only has sizes 2-16 for children. More sizes will be coming in the next months. Watch out for the additional size patterns! Soon, baby and adults will get to enjoy these stunning vests, too!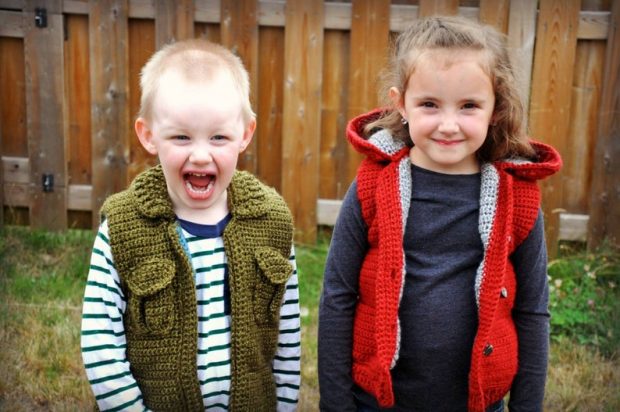 THE TODDLER BOY CROCHET VEST AS A GIFT
Visiting the malls or browsing on online shops are the norm today. The same goes when it comes to choosing our gifts for our loved ones. This makes the process kind of impersonal. You choose, you buy, you wrap, and you give, that's it!
Sometimes, you don't even have to wrap the gift because the shop personnel already stands by to do it for you. Maybe it's time to make your gift a little more 'personal' this year…

With this wonderful vest pattern, you'll bring your gift-giving to a whole new level by making your next gift all by yourself! It will be a labor of love for your loved ones which they truly deserve.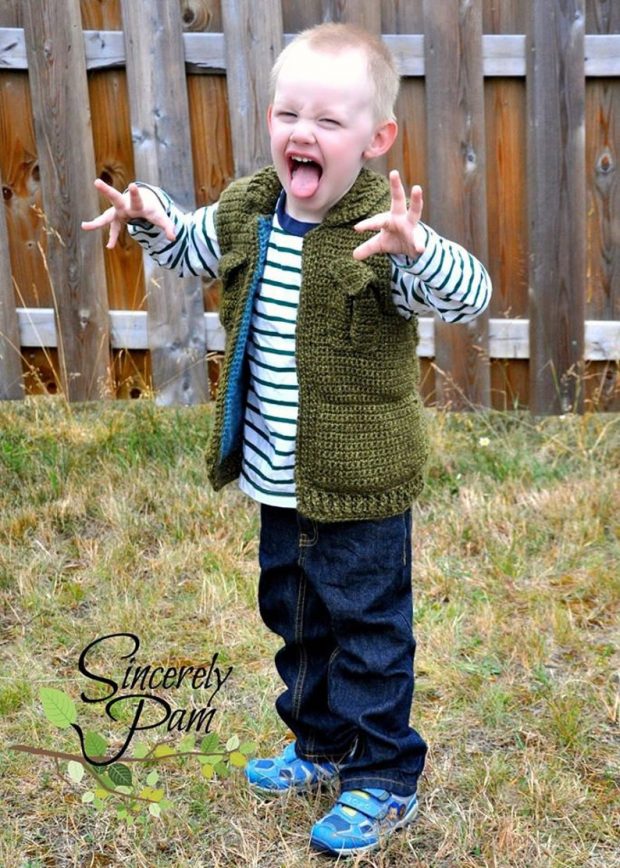 It would also be a 'gift' for yourself as you get to sharpen your skills in crochet making that will enable you to make more sophisticated patterns in the future. You didn't expect that stitching can this be great, do you?
With this, there are no more reasons why shouldn't start making a Back to School Toddler Boy Crochet Vest Pattern today!
WITH ALL THESE ADORABLE TODDLER CROCHET VEST PATTERNS, DON'T YOU WANT TO MAKE THEM ALL?
Do please share your finished pieces with us over on our Facebook Page if you make some, bonus points if a baby/toddler is in it! Check out more patterns below:
These are sure to excite you to make something beautiful for your kids! Happy hooking with these toddler crochet vest patterns!