Want an addition to your boho chic wardrobe? Here are free bohemian vest crochet patterns that every bohemian wardrobe needs. Loved by free spirits and gypsy souls, boho fashion is relaxed, feminine, eclectic, and carefree. These bohemian wardrobe essentials are pieces you'll love to wear that you can transition from season to season.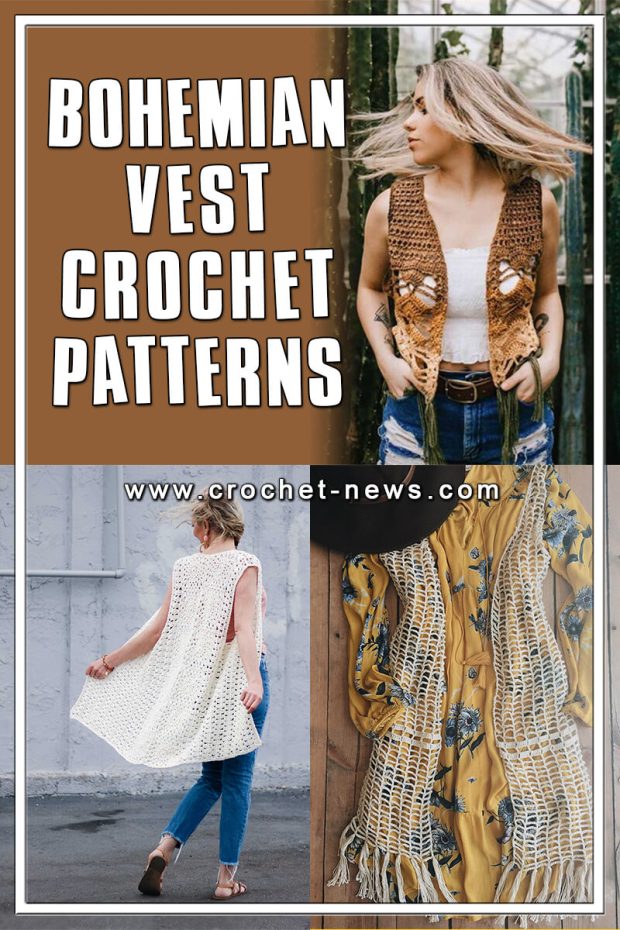 Usually made in neutral colors and fringes, these vests make great beachwear cover-ups or just a light accessory to throw on over a t-shirt and shorts. Browse through this list of great crochet patterns for you to get in on the trend!

1. Granny Square Bohemian Vest Crochet Pattern by Make & Do Crew
Sunburst squares team up with a modern, airy take on the traditional granny stitch in this seamless crochet vest. Add some effortless bohemian flair to just about any outfit with this four season statement piece.

You'll begin by crocheting quick and satisfying squares, connect them using a continuous join technique and then crochet the main body of the vest.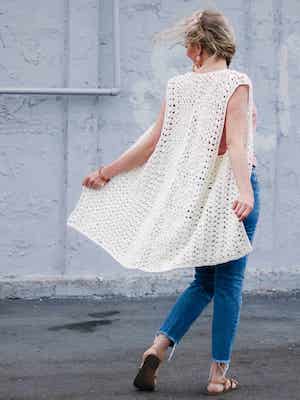 Get the Pattern here

2. Whispering Birch Bohemian Vest Crochet Pattern Free by Hopeful Honey
Get lost in nature this summer, and discover your inner free spirit with this whimsical Whispering Birch Bohemian Vest. From the delicate trellis design to the light weight fringe blowing carelessly in the afternoon breeze, this dreamy vest will add a touch of modern elegance to any summer outfit.

With a variety of textures on display, it pairs perfectly with a feminine sundress or distressed denim shorts and a loose tee.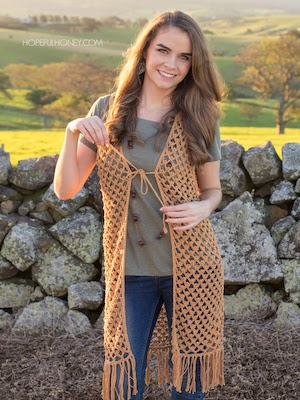 Get the Pattern here

3. Girl's Free Crochet Bohemian Vest Pattern by Hooked On Homemade Happiness
Feast your eyes on this adorable boho-chic piece! It's just too cute for words. I don't know what little girls wouldn't look absolutely perfect in this to stay Coachella ready at all times! This boho vest is cute, fun, sparkly and fringe-y!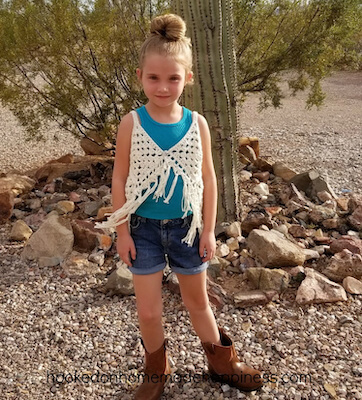 Get the Pattern here

4. Ombre Boho Vest Crochet Pattern by Croyden Crochet
This Ombre Boho Vest is a fun and colorful crochet vest that looks flattering on anyone. This is crocheted using an ombre yarn. The pattern is written for size medium but can easily be adjusted for other sizes. Contrasting color can be used for trim but is optional.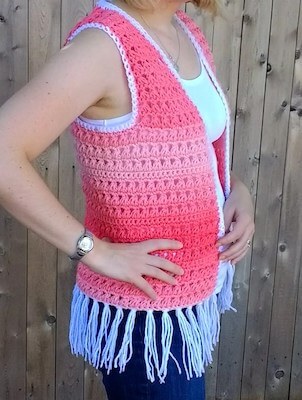 Get the Pattern here

5. Lynn Fringe Free Bohemian Vest Crochet Pattern by TL Yarn Crafts
Hold onto the last glorious days of summer while wearing this Lynn Fringe Vest. A simple but addictive stitch pattern and playful fringe make this a project you'll zoom through. Made with minimal seaming and funky fringe accents, this is a great piece for transitioning through seasons.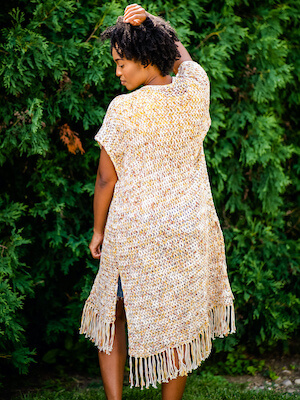 Get the Pattern here

6. Boho Vest Triangle Trio Crochet Pattern by Nana's Crafty Home
Featuring a simple beginner friendly pattern, this Boho Vest Triangle Trio is made from 3 identical triangles sewn together! The triangles create a very unique look. And combine the triangles with alternating stripes of color work which create a very flattering silhouette. This vest will be one of your favorite wearables!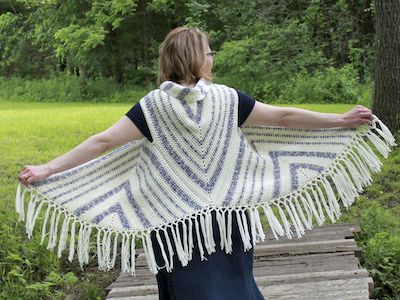 Get the Pattern here

7. Quinn Cardi Vest Crochet Pattern by Cactus And Lace Designs
Here's Quinn Cardi Vest, a light and versatile vest that will pair perfectly with all your favorite outfits. It is made up of simple double crochet and crossed treble crochet stitches, which adds to the overall unique boho beauty of this design.

From the beach, to a night out on the town, to your everyday wear, this Vest is truly something that you need in your wardrobe.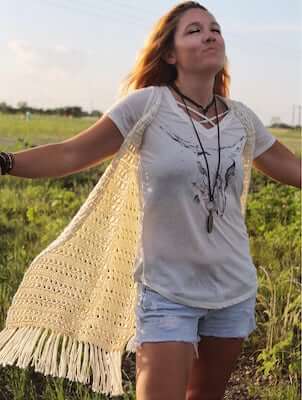 Get the Pattern here

8. Boho Crochet Vest Free Pattern by Make & Do Crew
This Leigh Boho Vest is the perfect addition to any wardrobe. This versatile piece is an intermittent lace crochet pattern that uses simple chains and double crochets to make a beautiful intricate lace that you are sure to love.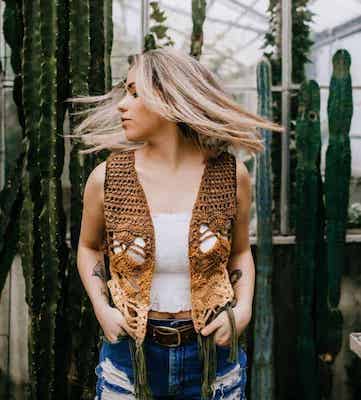 Get the Pattern here

9. Daydreamer Vest Crochet Pattern by Megmade With Love
Here's another easy-going, airy vest that seriously looks great paired with any outfit. It features two stripes on the bottom for added detail and is basically only made up of chains and double crochet.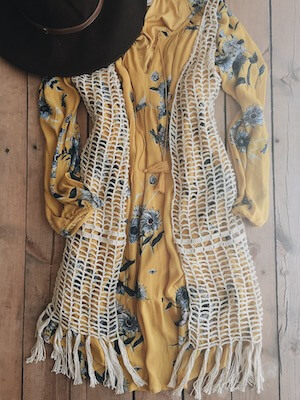 Get the Pattern here
IF YOU ARE LOOKING FORWARD TO STARTING A BOHEMIAN WARDROBE, THIS COLLECTION OF FREE BOHEMIAN VEST CROCHET PATTERNS IS A GREAT KICK-OFF POINT.
When you finish making some, be sure to leave a comment and let us know your favorites, and your ways to style these pieces! Also remember to share your crocheted pieces on our Facebook Page. We always love seeing your creations!

For more crochet pieces to show off your free spirit vibe, check out these Boho Crochet Top Patterns, Stunning Crochet Boho Shawl Pattern for Your Friends, and Crochet Bandana Patterns.
Wouldn't it be great if you had a simple, easy cheat sheet to help you nail bohemian style in a flash? Have fun making these free bohemian vest crochet patterns!