With crochet mens vest patterns ranging from simple classics to those sporting rich texture, you'll be sure to find one in our pattern collection to suit the style of the crochet-worthy man who will wear it.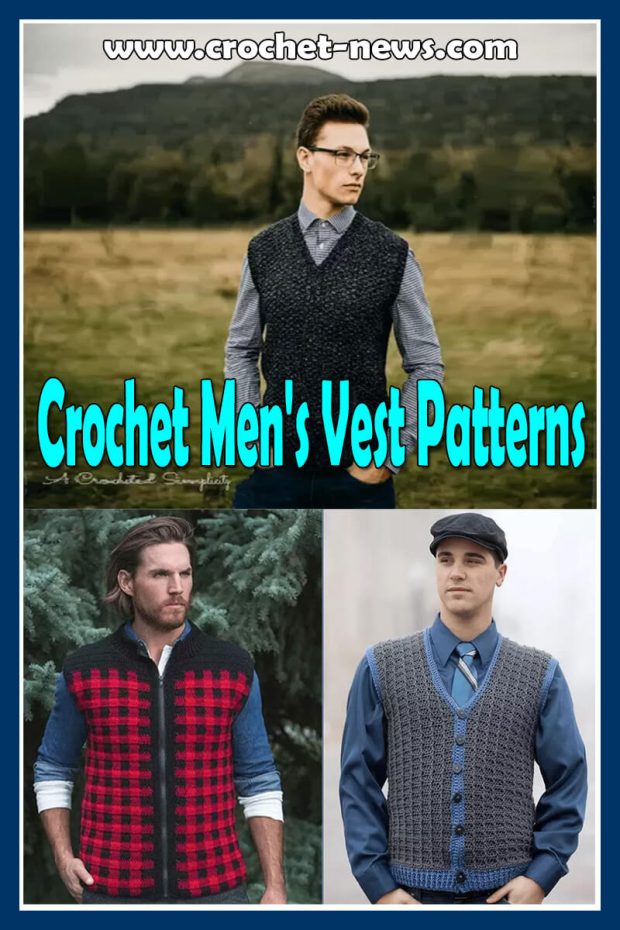 When an outfit needs just one special finishing touch, a vest can add interest and balance. Browse through the patterns below and discover which style suits the taste of all the men in your life!

1. Crochet Mens Vest Pattern by Yarnutopia
This semi-formal men's fashion item can be worn with a shirt and tie or over a plain jersey shirt. A versatile piece that is ideal for the man in your life. A collection of stitches provide rich texture and great elements of design in this two-toned sweater vest.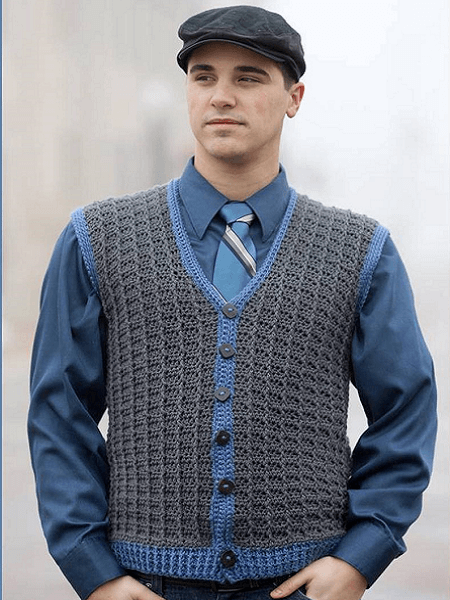 Get the Pattern here

2. Cable Mens Vest Crochet Pattern by Even Howard
This project is not for the faint of heart or the inexperienced crocheter; in order to succeed, you must have mastered all aspects of crocheting in the round, joining rows, crochet stitch anatomy, and your own visualization techniques.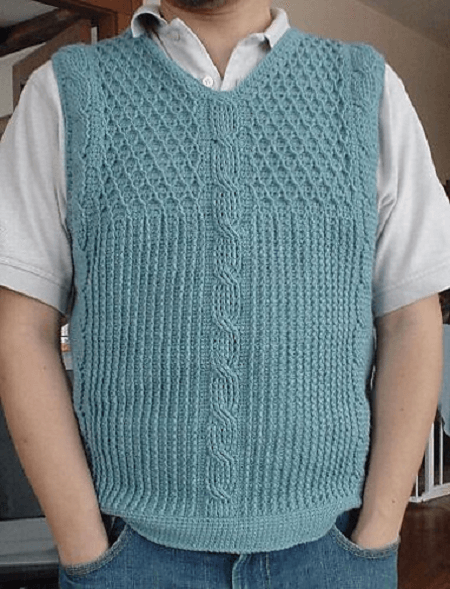 Get the Pattern here

3. Men's Plaid Zipper Vest Crochet Pattern by A Crocheted Simplicity
This striking plaid vest is ideal for a day in the woods. Working two colors in one row and working over the nonworking color results in the checkered patterning.

With this color-changing technique, there are no floats or pesky yarn ends. This crochet mens vest pattern is written in a variety of sizes, allowing it to be worn by both men and women.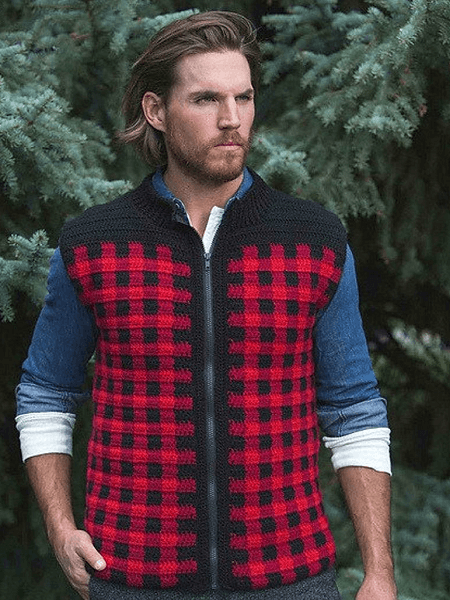 Get the Pattern by A Crocheted Simplicity here

4. Swish Men's Vest Crochet Pattern by Crochet Kim
This lightly textured vest will look great with short sleeves in the fall and spring and long sleeves in the winter. You'll want to make one for every man in your life with its generous size range of mens Small through 3X.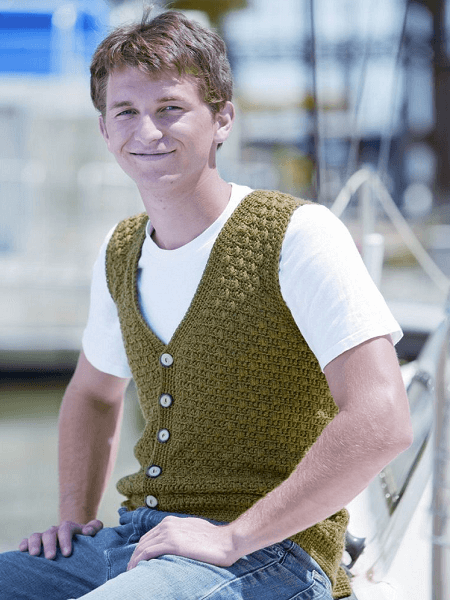 Get the Pattern here

5. Mens Vest Crochet Pattern by Holland Designs
This fashionable vest is ideal for any man's formal wardrobe. This vest, worked side by side in vertical rows, does not appear to be crocheted but uses only basic crochet stitches.

This vest is made to measure according to the standard size chart provided in the pattern. Includes sizes newborn to mens XXL.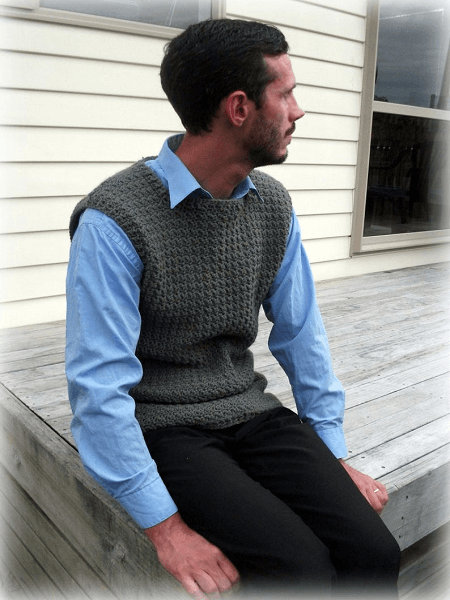 Get the Pattern by Holland Designs here

6. Crochet Tunisian Vest For Men Pattern by Kathleen Power Johnson
Work two colors of tweedy yarn on alternate rows to create a distinguished fabric suitable for a traditional man's vest. The color-work pattern is limited to the fronts in this case, while the back is worked in simple Tunisian crochet in a solid color. Another fabulous design for the man of your life!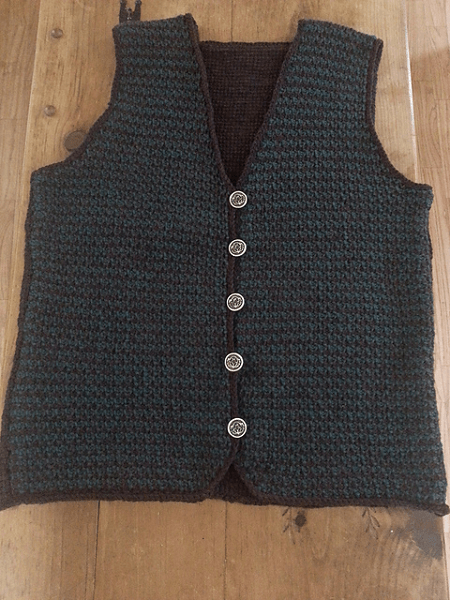 Get the Pattern here

7. Mens Sweater Vest Crochet Pattern by A Crocheted Simplicity
This Men's Sweater Vest is designed to be a timeless piece that will be worn for years to come. Pair it with dress slacks for a more formal look, or with jeans for a more casual everyday look. The look is timeless and appropriate for any occasion!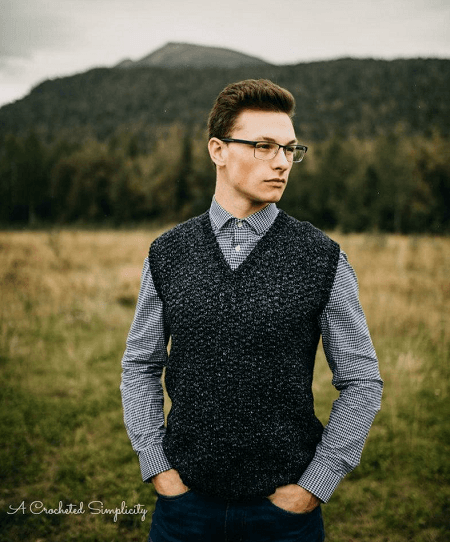 Get the Pattern by A Crocheted Simplicity here

8. Crochet Toddler Boy Vest Pattern by Traverse Bay Crochet
This quick crochet vest is perfect for your favorite little lad! The vest is designed to be worn from the bottom up and in the round. The front is then worked in two small sections, followed by the back and sewn together at the seams.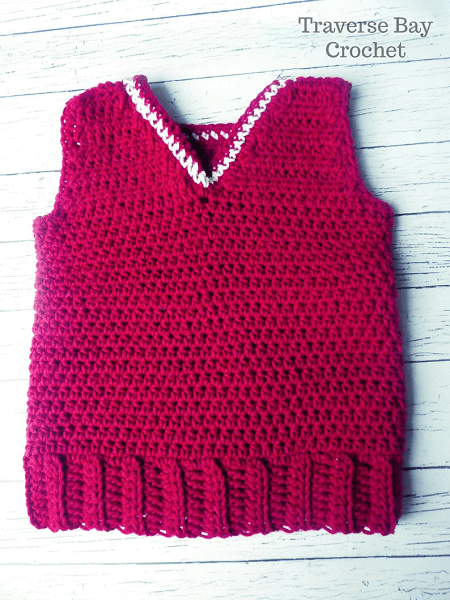 Get the Pattern by Traverse Bay Crochet here

9. Men's Hooded Vest Crochet Pattern by Shibaguyz Designz
This Men's Hooded Vest is designed for comfort as well as style, and it promises to be an item that even the pickiest guy will wear frequently.

This mens crochet vest is both comfortable and fashionable, and it will keep you warm while looking sharp. It can transform a simple t-shirt and jeans into a casual yet sophisticated look.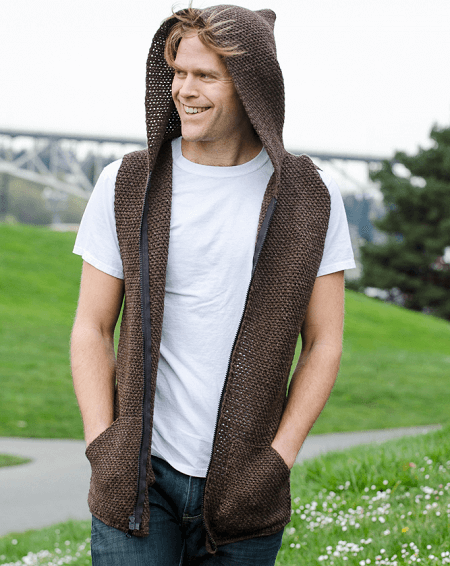 Get the Pattern here

10. Crochet Men's Vest Jacket Pattern by Interunet
This button-up sleeveless crochet vest jacket is appropriate for a variety of occasions and will complement your look and style. The crochet item is depicted in a small size, but it is easily adjustable to fit any body shape and measurements.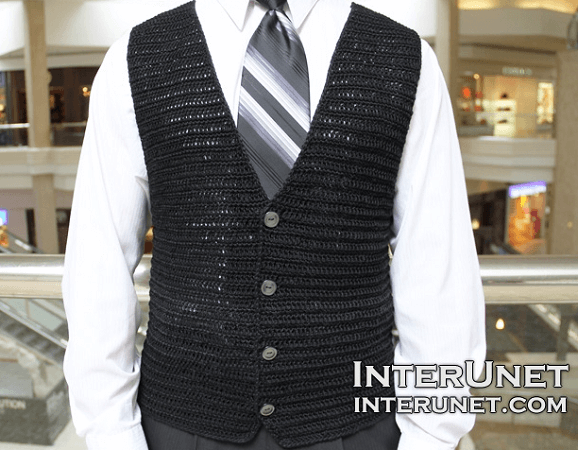 Get the Pattern here

11. Crochet Alfonso Men's Sweater Vest Pattern by Christa Co Design
Alfonso is a cozy winter vest for him. This men's crochet sweater vest pattern features a v-neck design, ribbed hem and a classic fit for comfort. You'll have him feeling warm and looking polished!

For everyday wear, layer this sweater vest over a long sleeve t-shirt. When it comes to dressing up, the v-neck is deep enough to be worn over a collared shirt.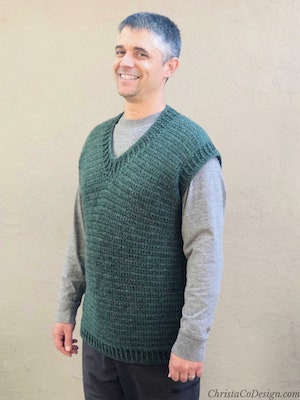 Get the Pattern by Christa Co Design here

12. Free Men's Crochet Waistcoat Pattern by Gathered
With this free mens crochet waistcoat pattern, you can give your man a dapper new look! Give the man in your life a vintage-inspired sweater vest with an ingenious argyle pattern.

This free crochet waistcoat pattern is sure to be a hit, whether you're making it as a gift for Father's Day or just want to jazz up your fella's wardrobe. Stay traditional with muted colors, or experiment with brights for snazzier chaps.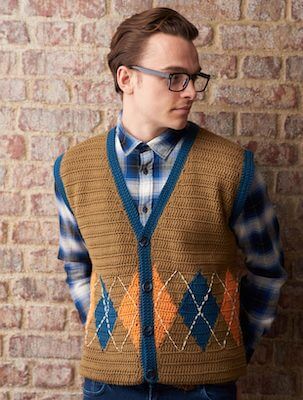 Get the Pattern here

13. Nicholas Sweater Vest Crochet Pattern by Sunflower Cottage Crochet
This is a perfectly and lightly textured men's vest with a little V neck for comfort! The neck and armholes have a lightly ribbed edging and the bottom is also ribbed. Worked in two panels then sewn together, this is an adventurous beginner's pattern!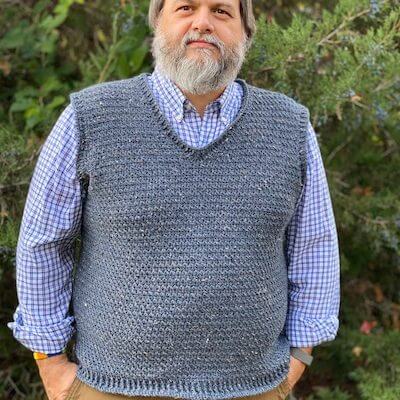 Get the Pattern here

14. Men's Crochet Sweater Vest Pattern by Two Brothers Blankets
The texture of this Sylas Sweater Vest is amazing, and it looks so dapper and handsome on the guys! This pattern is made up of two panels that are sewn together. At the end, trim is applied.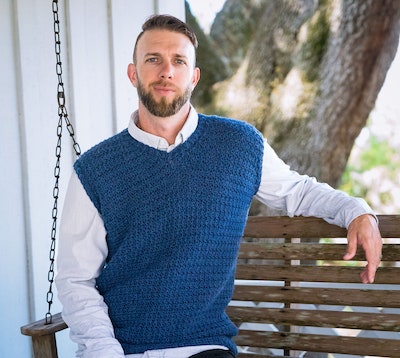 Get the Pattern by Two Brothers Blankets here

15. Crochet V-Neck Sweater Vest Pattern by Yarnspirations
This simple, elegant vest will add dimension to your classic button-up shirt. This pattern is available in sizes ranging from children to adults, so why not make a stylish vest for anyone? Consider this as a thoughtful gift for those who enjoy layering on the fashion.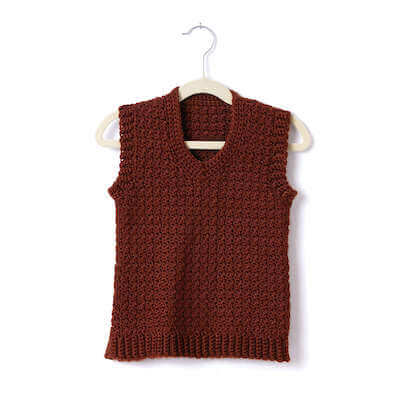 Get the Pattern here

16. Crochet Sweater Vest Pattern by Bago Day Crochet
This handsomely styled crochet sweater vest is perfect to please any man on your gift list — including yourself! It's a ready-to-wear layer that's easy to customize in your recipient's favorite color, too.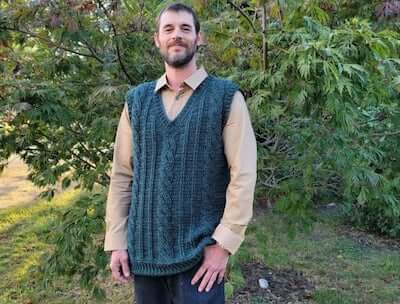 Get the Pattern by Bago Day Crochet here

17. Crochet Men's Textured Vest Pattern by The Crafting Needles
Here's an elegant, beautifully textured vest/sleeveless sweater for men! Refined enough to wear layered under a blazer or can be casual with jeans. It's a handsome original that's a welcome layer, whether worn at the golf course or at the office.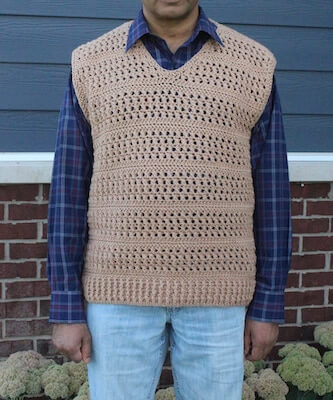 Get the Pattern by The Crafting Needles here

18. Crochet Men's Sweater Vest Pattern by Crochet Crosia Home
It's never easy to decide on the perfect gift for dad, especially since he's the best dad ever. Luckily, you can make him this handmade vest to show your affection, in his favorite color. This piece is made with crochet alpine stitch which makes it a warmly textured garment for the men in your life.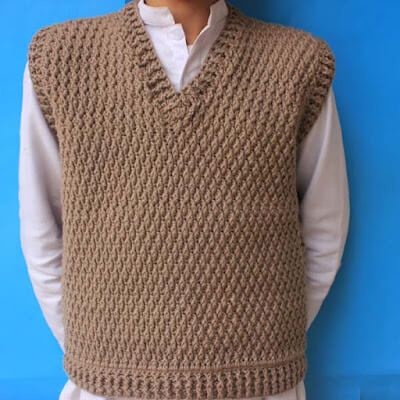 Get the Pattern here

19. Crochet Basketweave Vest Pattern by Peter F
This vest is made of woven post-stitch fabric and has a classic silhouette for men. It looks great under a sport coat or on its own with jeans and a bow tie.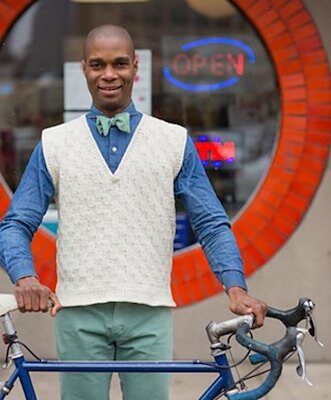 Get the Pattern by Peter F here

20. Tangled Up In Plaid Vest Crochet Pattern by Lauren Willis
You'll be able to whip up your new vest in no time thanks to the simple stitch repeat used to create the classic plaid look, easy armhole shaping, and fuss-free construction.
With two deep, customizable pockets, cute button down flaps, simple edging, and the option to add a zip or buttons to the front of your vest, yours will truly be unique!
Get the Pattern by Lauren Willis here
Crochet Men's Vest Patterns Frequently Asked Questions
Is it easy to crochet a vest?
Crocheting a simple vest can be done with only beginner to intermediate level skills. but the project itself can be somewhat time-consuming. You'll also need to adjust the pattern based on the bust size of the intended wearer.
How long does it take to knit a men's vest?
A vest can take up to 25 hours to crochet depending on your skill level and the exact methods used in the pattern. V-neck vests frequently require some collar shaping, which can take a little longer than other vest styles with rounded necklines.
What's the best yarn for crochet men's vest?
Acrylic, wool, and cotton yarn are the most popular choices for crochet vests. These three types of yarn will make for the best quality vest you can ask for, and it will last you for years.
Are crochet vests fashionable for men?
If your guy don't own a crochet vest, now's the time to make one! It instantly elevates their outfit and turns their everyday fit into something more mature.
Now create the perfect layering piece for his wardrobe with these crochet mens vest patterns!
Show us your creations and post the pictures on our Facebook Page. Whether for a husband, boyfriend, father, or son, they will surely appreciate the vest you made for them!
If you need more ideas about what to crochet for that special guy in your life, click here. You can make crochet shorts, sweaters, slippers, hats, and more! He'll love you for it! Also, don't miss our collection of more crochet patterns listed below:
Pick some manly yarn, perhaps the colors of his favorite sports team, grab a hook and crochet a handmade gift with these Crochet Mens Vest Patterns!