If you're ever stuck for what to make for the men in your life, you can't go wrong with a scarf! I've got a rather handsome range of crochet men scarf patterns from simple textured stitch scarves to cables and colorwork!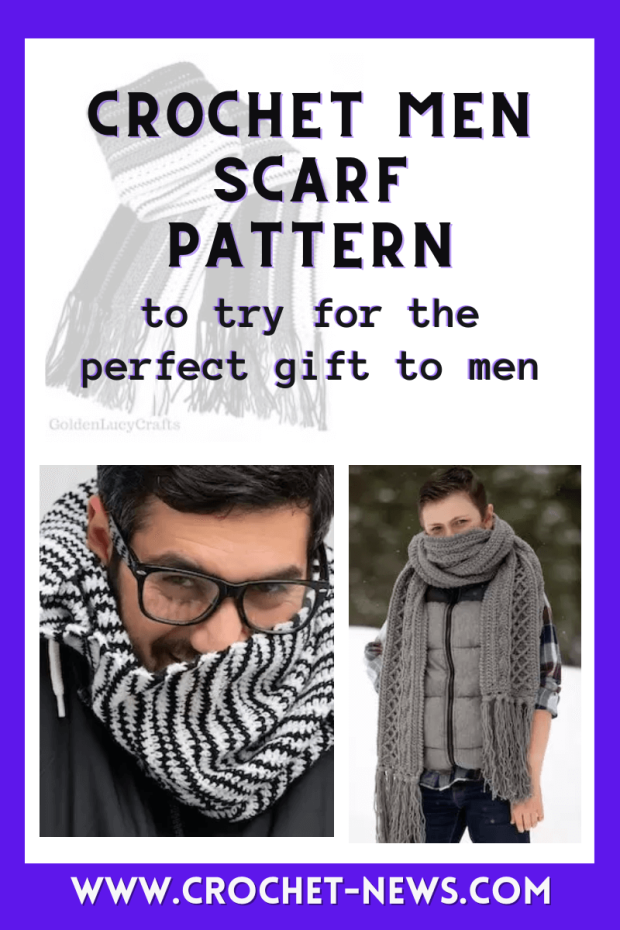 Men's fashion is often a little more subdued than women's fashion, and winter wear is no exception. If you want to make a scarf for the man in your life, consider his personal sense of style and his favorite colors when starting your crochet project. Perhaps the best thing about these patterns is that you can enjoy them, as well! Several of these patterns are gender-neutral, so both of you and your man can wear and share!
25 Crochet Scarf Patterns for Men

1. Mens Crochet Scarf Pattern by Remington Lane Crochet
Are you looking for the perfect gift to crochet for men this winter? This beautifully textured men's crochet scarf pattern is modern and stylish. Think of how warm and cozy your man will be with this long textured scarf around his neck. It has the perfect drape and blocks of color for a masculine style.

It even has a beautifully ribbed edging that adds a finished look that is just enough style for him. This men's scarf is worked lengthwise, using beginner stitches and bobbins or spools of yarn for each color section.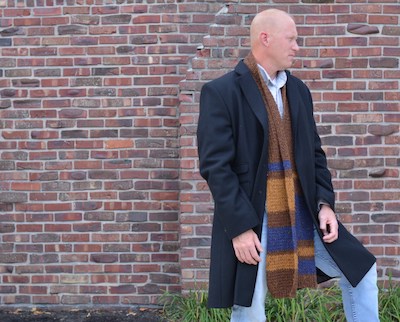 Get the Pattern by Remington Lane Crochet here

2. Textured Crochet Mens Scarf Pattern by Kirsten Holloway Design
This crochet super scarf is sure to keep you, your spouse or even your older kids and teens warm whatever the weather throws at you this winter! Because it is just over 9 feet long, you can wrap this crochet super scarf with some modifications included in the pattern.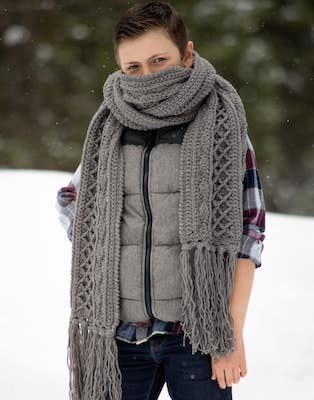 Get the Pattern by Kirsten Holloway Design here

3. Bay Street Men Scarf Crochet Pattern by Anaid Designs
If you're looking to make a scarf for the man in your life or just want to crochet a scarf, I think you'll like this pattern.

It's a fairly simple pattern that uses an easy 2-row repeat and a bulky weight yarn. It's also full of texture and super cozy! It's the perfect scarf to keep you warm on cold days. It's an oversized scarf that resembles a knitted look, but it's completely made out of single crochets and chain spaces.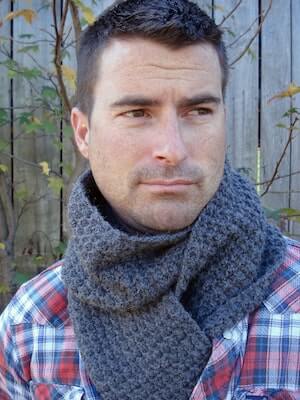 Get the Pattern by Anaid Designs here

4. Free Mens Scarf Crochet Pattern by Gathered
This cool stripy free crochet cowl pattern designed is the perfect winter warmer for fellas! A cowl is a great option for an alternative take on a standard mens crochet scarf pattern, and incredibly practical for a guy that doesn't want a long scarf getting in the way.

Hooked up in stylish monochrome colors, it'll also make a great winter gift for men of all ages — but there's not reason that you couldn't hook up this free crochet cowl patten in bright colors too!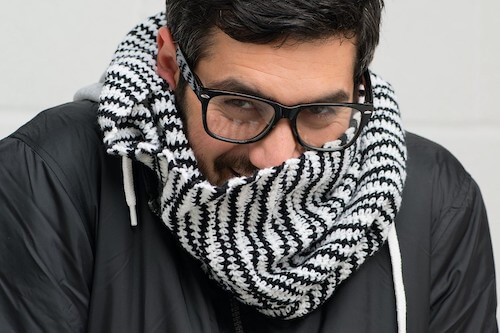 Get the Pattern here

5. Crochet Alpine Men Scarf Pattern by Desert Blossom Crafts
Meet the Alpine Scarf, a fun men's scarf crochet pattern! Using brooding, foresty colors and a detailed textured stitch, this is a scarf the man in your life will be proud to wear over and over again. It is made with worsted weight yarn, making it perfect for a cold, snowy day.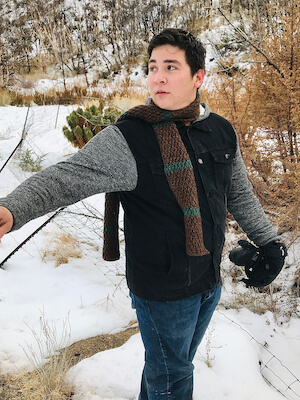 Get the Pattern here

6. Men's Camp Crochet Scarf Pattern by Darling Jadore
Classic all-over ribbing with outdoorsy camo coloring makes this Men's Camo Scarf the perfect cozy scarf for any nature-lover. A unique crochet ribbing looks knitted, and provides the perfect amount of squishy warmth and texture for a stunning yet subdued accessory.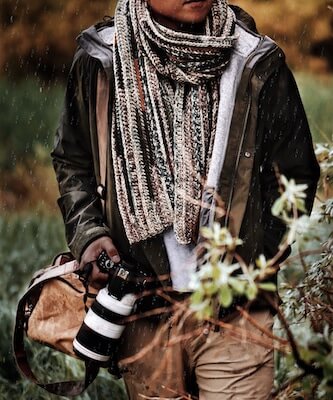 Get the Pattern by Darling Jadore here

7. Crochet Men's Fringe Scarf Pattern by Two Of Wands Shop
The vibrant colorwork and textures of traditional Peruvian textiles served as the inspiration behind this fringed scarf. While the multi-colored fabric gives it personality, the simplicity of the stitch and pattern makes it modern and understated enough for both men and women alike.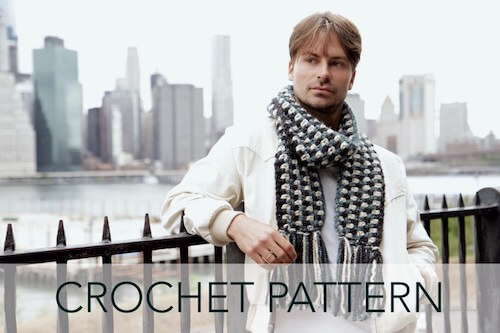 Get the Pattern by Two Of Wands Shop here

8. Crochet Men's Reversible Scarf Pattern by Heart Hook Home
This Crochet Men's Reversible Scarf Pattern makes a scarf with such great depth and dimension. The fabric is super squishy and the way these stitches are worked means that this scarf is completely reversible. A great feature for something that will not always lay flat.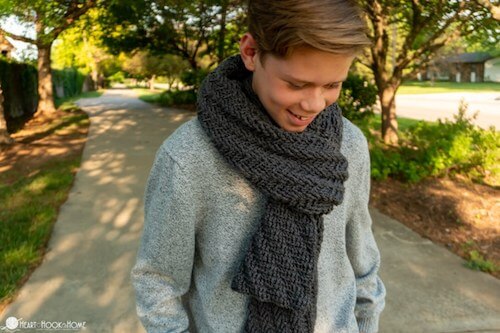 Get the Pattern by Heart Hook Home here

9. Aran Honeycomb Scarf Crochet Pattern by Bonnie Bay Crochet
This highly textured Aran Honeycomb scarf is an excellent choice for men. It features a unique style of crocheting the honeycomb cable bordered by the basketweave, and trimmed on both ends with double post ribbing.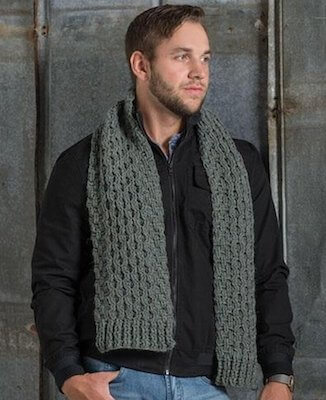 Get the Pattern by Bonnie Bay Crochet here

10. Free Crochet Bridgeport Scarf Pattern by Stitches N Scraps
Make the classic, striking, and uncomplicated Bridgeport Scarf in all his favorite colors! Keep it neutral for a business casual look, go bold with brights, or show support for his favorite team. Lighter weight yarn makes it perfect for autumn weather, while a simple hdc variation adds subtle texture and fabulous drape.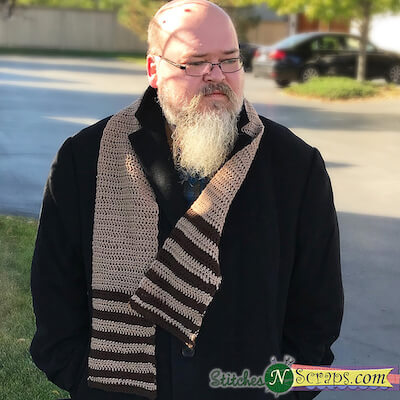 Get the Pattern here

11. Crochet Cross-Stitch Scarf Pattern by Red Heart
This cozy scarf is perfect for a guy in the colors shown, or can be crocheted in brighter shades for a more feminine look! The unique stitch pattern is fun to crochet and has the added plus of being reversible.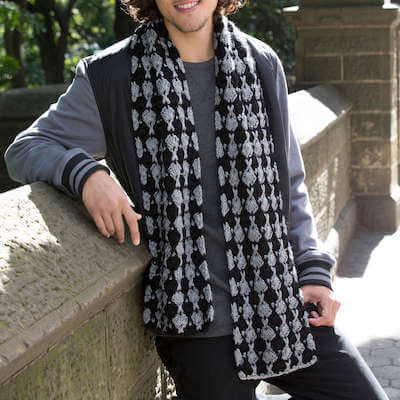 Get the Pattern here

12. Tunisian Crochet Men Scarf Pattern by Raffamusa Designs
This simple and easy Tunisian Crochet Men Scarf is the right Tunisian crochet project to make something special for the man in your family or friend, and get started at Tunisian crochet!

This scarf is also the perfect project to use up those half skeins and all the scarps that are sitting around in your craft room.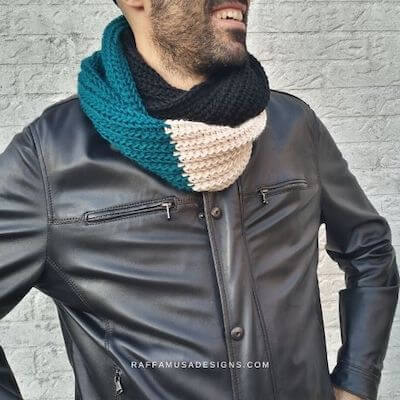 Get the Pattern here

13. Eternal Cable Crochet Mens Scarf Pattern by Be A Crafter
Here's another warm and fashionable neck warmer for gentlemen. This Eternal Cable Scarf is designed with solid cable stitches, silver accented dark color wool blended worsted weight yarn to create a sturdy and Posh look. This mannish crochet scarf would be a great gift for any occasion.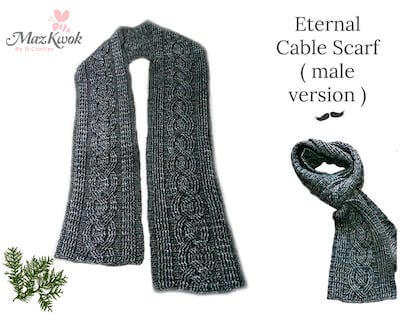 Get the Pattern by Be A Crafter here

14. Crochet Men's Monochromatic Scarf Pattern by Golden Lucy Crafts
This mens scarf crochet pattern is for an attractive crochet men's scarf with a beautiful texture. The scarf is made in classic black, grey, and white color combinations and there are only three different stitches used!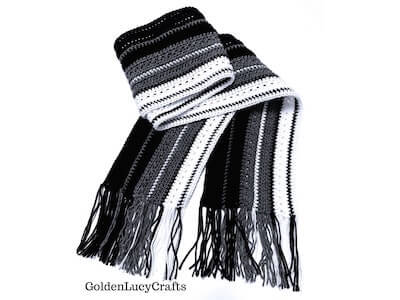 Get the Pattern by Golden Lucy Crafts here

15. Crochet Plaid Scarf Pattern by Yarnspirations
Stylishly sophisticated, this Crochet Plaid Scarf is sure to keep you warm and cozy. Worked in crochet moss stitch, and using intarsia techniques for crisp color changes, this classic pattern comes to life when you add the surface slip stitch details.

This handsome scarf is made to last and will look suave season after season. Finished with a playful fringe, it's an irresistible gift for someone special!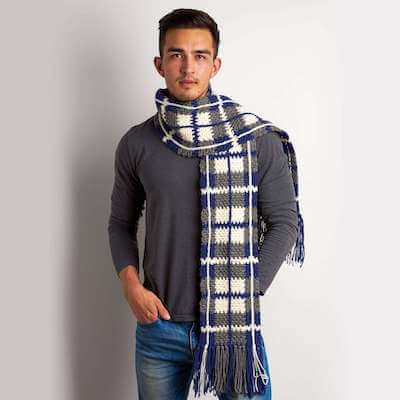 Get the Pattern here

16. Men's Crochet Bandana Ribbed Scarf Pattern by Blue Star Crochet
Here's a super easy men's crochet bandana scarf that uses textured stitches creating ribbed effect. It is worked in bandana style creating V shaped scarf that sits nicely at the chest.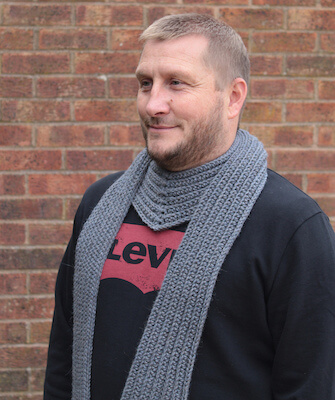 Get the Pattern here

17. Crochet Blooming Moss Scarf Pattern by Christina Hadderingh
Take a look at this stunning creation! The popcorn and front point stitches of this Blooming Moss Scarf stand out beautifully on the background of, you guessed it, moss stitch! And you don't need to worry about the border — you crochet it as you go!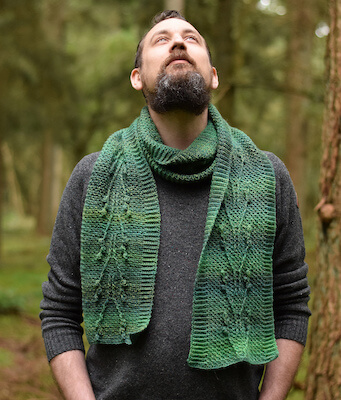 Get the Pattern here

18. Crochet Samantha's Hope Scarf Pattern by Sunflower Cottage Crochet
Do you find it difficult to find a great scarf pattern for him? This unisex Samantha's Hope Scarf Pattern was designed specifically with 'him' in mind.

Made with #5 weight yarn and 5.5mm hook, this one works up quickly and is lovely and warm. With just a little bit of texture down the sides of this one, there is nothing for him not to love. You could also add fringe if you wish.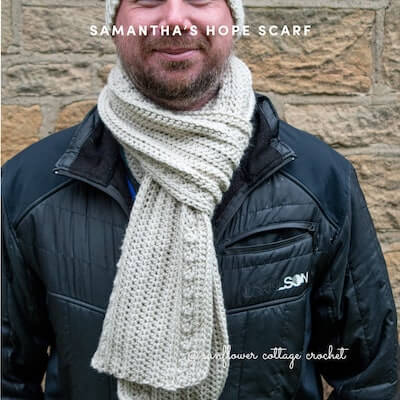 Get the Pattern by Sunflower Cottage Crochet here

19. Crochet Wanderlust Scarf Pattern by Kirsten Holloway Design
Stay extra warm and cozy on any adventures you have this fall and winter, with this Wanderlust Scarf! This pattern is full of texture and easy stitches which makes it a quick project to work on, and the best thing is that this style works for men or women!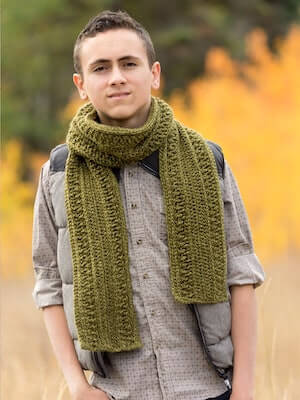 Get the Pattern by Kirsten Holloway Design here

20. Textured Crochet Scarf Pattern by Christa Co Design
The beauty of stripes and crochet texture come together in this Verso Scarf, a free textured crochet scarf pattern with men in mind. Any level crocheter can crochet this simple scarf pattern.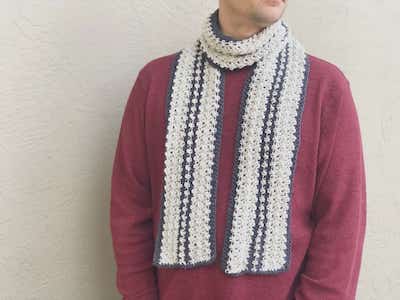 Get the Pattern here

21. Wanderer's Crochet Hooded Scarf Pattern by Winding Road Crochet
This Wanderer's Crochet Hooded Scarf is perfect for men and women. This buttoned scarf can be worn long or like an infinity scarf and is so comfortable. This asymmetrical scarf is easy to get on and off and can be styled in many different ways.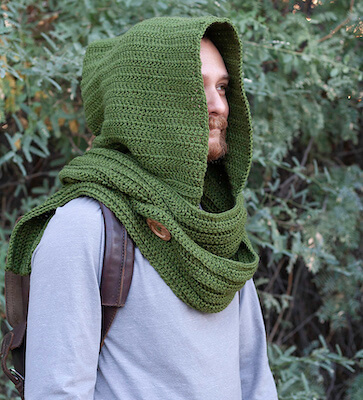 Get the Pattern here

22. Mens Crochet Scarf Pattern by Knot Yourself Out
As a crocheter, you were likely drawn to it because of the seemingly complex diamond design and the use of multiple colors. You recognize that these effects are not easy to achieve in crochet — especially all together in one project — but this scarf is actually quite easy to make.

It utilizes a simple technique called Reversible Image Crochet. This technique eliminates the carrying of multiple strands of yarn. It also gives you clear images that are identical (in opposing colors) on both sides of your work! That's right, this scarf is completely reversible!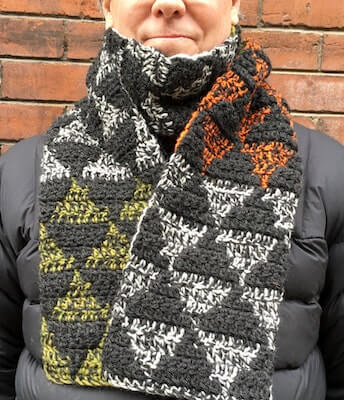 Get the Pattern by Knot Yourself Out here

23. Crochet Men's Ribbed Scarf Pattern by Yay Crochet Patterns
Give your man the gift of warmth all season long! This long, thick Men's Ribbed Scarf is so soft and cozy, and it's so easy to make! This original crochet pattern is perfect for beginners, as only basic stitches are used to get this cool look.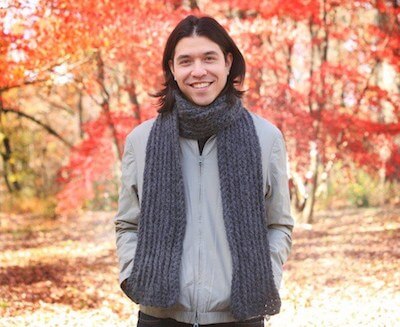 Get the Pattern by Yay Crochet Patterns here

24. Crochet Frosty Ridge Scarf Pattern by Knitter Knotter
This scarf is made up of a simple lace pattern that makes a beautifully textured and breathable fabric, Since it is made up of bulky weight yarn, it works up quickly too. This is a really fun pattern and can be easily made while relaxing or watching Netflix.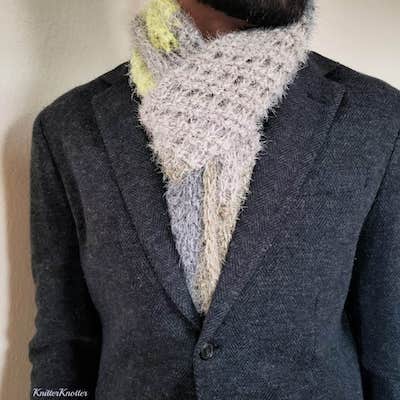 Get the Pattern here

25. Classic Mens Scarf Crochet Pattern by Yarnutopia
This Classic Men's Scarf is a no frills, no lace crochet scarf pattern that's perfect for guys. A variety of structured stitches are used throughout, like the waffle stitch, half double crochet ribbed stitches and some easy crochet ripple stitches.

These varied stitches effortlessly blend together to create a cozy and stylish scarf that your man will love to wear. This scarf is long enough to be worn in a variety of ways and would look great in any color combination.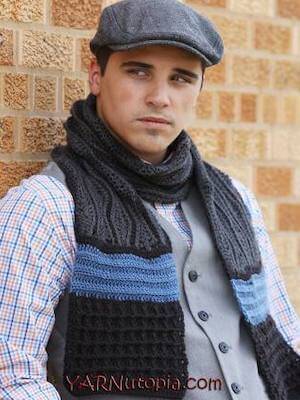 Get the Pattern here
Crochet Men Scarf Patterns Frequently Asked Questions
Do men wear crocheted scarves?
If you're wondering if men even wear crocheted scarves, the answer is yes! It's all about the right choice of color and design. And that's the best part of making the scarf yourself—you can choose the color and style to match the man's personality.
What size is a men's crochet scarf?
A crochet scarf pattern is typically 65 inches long. This explains the difference between men and women. A women's crochet scarf should be between 54 and 65 inches long. A man's scarf should be about 70 inches long.
How wide should a crochet men scarf be?
A width of 6-8 inches is a good starting point, but you can adjust this based on personal preference or the specific yarn and hook size you're using.
What crochet stitches are suitable for men's scarves?
When it comes to crocheting scarves for men, basic stitches can certainly get the job done. However, I'd like to highlight some of my favorite stitches that give a more masculine look to a men's scarf:
Lemon Peel Stitch
Alpine Stitch
What kind of yarn is best for men scarf?
There are numerous excellent yarn options for men's scarves. Acrylic, wool (especially blends), and other soft natural fibers can be used. Scarves can also benefit from color-changing and variegated yarns.
What weight of yarn is best for men scarf?
Worsted weight yarn is the best for scarves, but DK and bulky yarns are also popular. Worsted is thick enough to keep him warm without sacrificing stitch definition.
IF YOU'RE SEARCHING FOR THE PERFECT GIFT FOR YOUR MAN, CONSIDER MAKING SOME OF THESE CROCHET MEN SCARF PATTERNS.
Show us your creations and post the pictures on our Facebook Page. Whether for a husband, boyfriend, father, or son, they will surely appreciate what you made for them!
Whether you're hooking up father's day crochet gifts or just fancy making something for the man in your life, here are more crochet patterns to make just for him:
Pick some manly yarn, perhaps the colors of his favorite sports team, grab a hook and crochet a handmade gift with these crochet men scarf patterns!