We know not everyone's a fan of Christmas, but we also know the perfect crochet patterns that you can make for those people – these Grinch crochet patterns! These are fun projects that all Christmas grinches will appreciate!
Everyone loves the Grinch, right? The odious Christmas beast turned lovable rogue has won us all over in the many film adaptations, and now it's time to celebrate this big green creature! Move over Santa, I love all things The Grinch this time! From Grinch dolls to Grinch hats to Grinch decorations to Grinch accessories, we have them all here!
15 Grinch Crochet Patterns

1. Grinch Christmas Crochet Pattern by Creative Mamavyaz
You're a mean one Mr. Grinch! Bring home Christmas's most infamous character with this adorable crochet take on Dr. Seuss classic! Dressed in his Santa outfit, this 19cm tall Grinch is ready to put his mischievous plans into motion!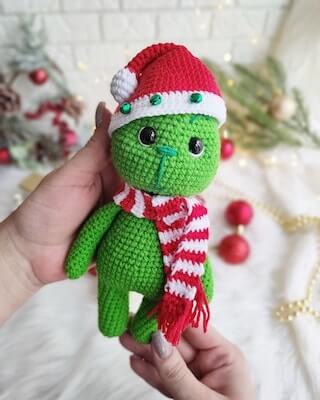 Get the Pattern by Creative Mamavyaz here

2. Crochet Grinch Inspired Christmas Ornament Pattern by Sewrella
This easy beginner-friendly Grinch inspired Christmas ornament is so simple to make! It consists of simple stitches and is so much fun for the holiday season – great for adding to a tree or decorating a present!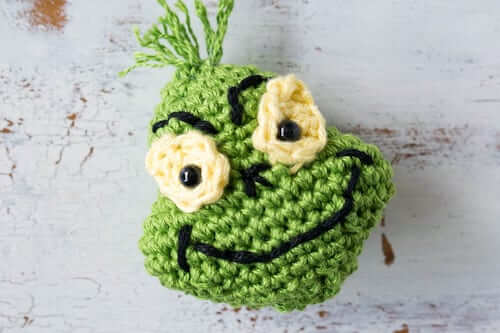 Get the Pattern here

3. Grinch Hand Crochet Pattern by Kv Kreativsache
Make things a little whimsical by giving your tree a Dr Seuss inspired twist with this Grinch Hands Crochet Pattern. This fabulously designed decoration will make it look like the Grinch is up to his no-good ways and is stealing the ornaments from your lively tree.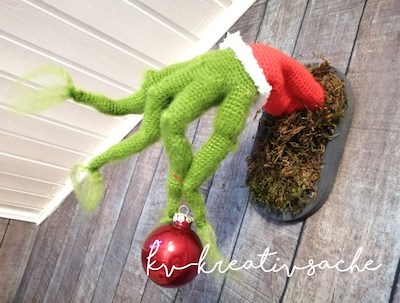 Get the Pattern by Kv Kreativsache here

4. The Christmas Thief Pillow Crochet Pattern Southern Gals Crochet
This would make a great Grinch Christmas decoration to toss on a couch, chair, or bed. When finished, the pillow will measure approximately 16.5 inches x 16.5 inches.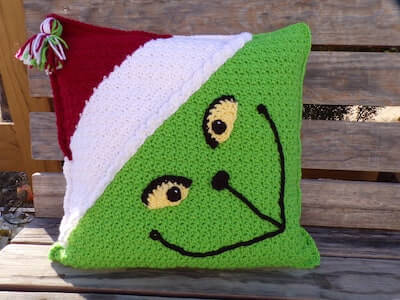 Get the Pattern by Southern Gals Crochet here

5. The Grinch Free Crochet Pattern by Spin A Yarn Crochet
The Green and Mean is here but this time he is certainly not in the mood for ruining Christmas! This amigurumi Grinch has an adorable smile and eyes that seem quite friendly. His arms are open wide, ready for a hug!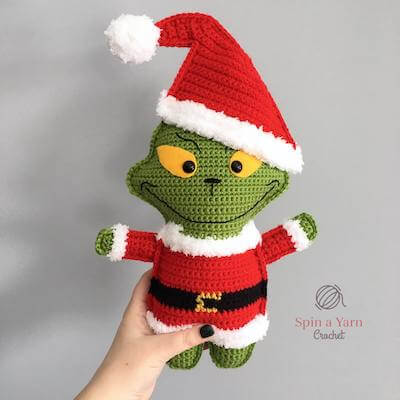 Get the Pattern here

6. Grinch Inspired Apron Crochet Pattern by Repeat Crafter Me
Release your inner grinch with this fun and festive crochet apron. It's perfect to wear when preparing Christmas dinner!
Get the Pattern here

7. Grinch Hat Crochet Pattern by Ava Girl Patterns
Show your not-so-Christmas spirit with this Grinch Hat! The pattern includes sizes from newborn all the way up to adult, so everyone in the family can steal the show at any holiday party.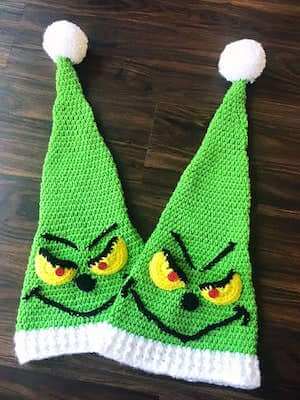 Get the Pattern by Ava Girl Patterns here

8. Grinch And Max Crochet Pattern by Southern Gals Crochet
Bring home the Grinch and Max, a mischievous pair ready to fill your holidays with Grinchmas cheer! Share in the fun or Dr. Seuss's famous Christmas tale with a fluffy Grinch wearing a scarf, holding his pal Max close beside him.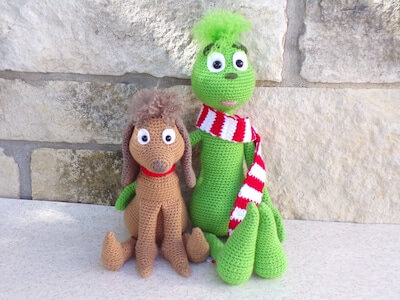 Get the Pattern by Southern Gals Crochet here

9. Merry Grinchmas Grapghan Crochet Pattern by Aimee Hardy
Crochet a Christmas family heirloom featuring the King of Sinful Sots himself, the Grinch. Using a typical corner to corner crochet stitches and candy cane border, you'll crochet a blanket that will become a part of your family Christmas traditions for years to come.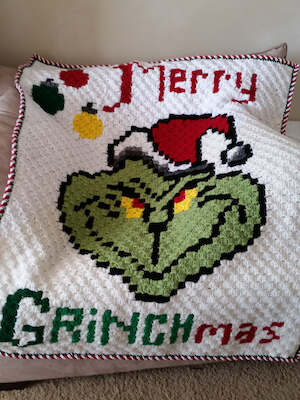 Get the Pattern here

10. Grinch Door Wreath Crochet Pattern by Love To Be In Stitches
Greet your guests and neighbors this holiday season with this fun decoration on your front door! Hang this Grinch Wreath on a wall, above a mantel, or give it as a Christmas gift to someone special.
More festive crochet Christmas wreath patterns here!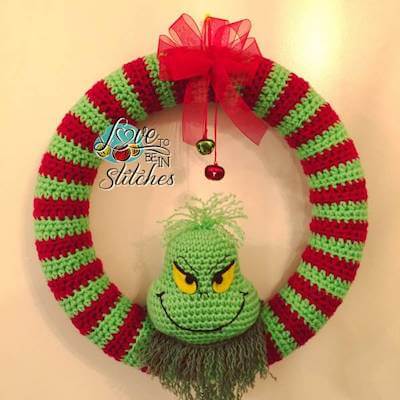 Get the Pattern here

11. Mini Grinch Crochet Pattern by Little Crochet Farm
Here's a cute little friend that can fit in the palm of your hand, so you can take him wherever you go! This Mini Grinch Amigurumi will be your new best pal, all holiday season one. This makes a great stocking stuffer!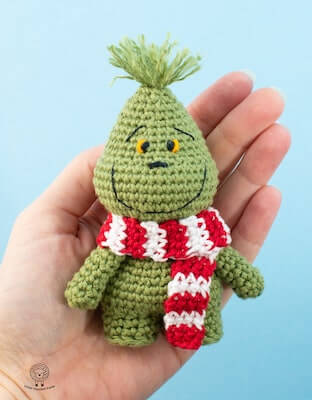 Get the Pattern by Little Crochet Farm here

12. Grinch Wine Bottle Bag Crochet Pattern by Kaufwolle
Do you enjoy giving bottles of wine as gifts during the holidays? Don't shove them in a gift bag or slap a bow on them. Instead, surprise your gift with not just a bottle of wine, but with this smiling Grinch Wine Bottle Bag, too!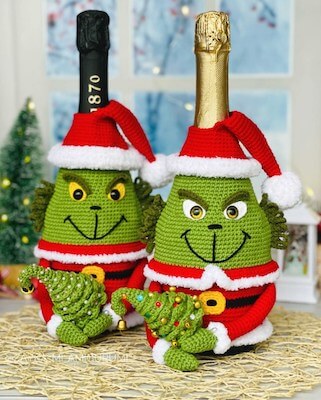 Get the Pattern by Kaufwolle here

13. Grinch Inspired Dog Sweater Crochet Pattern by Creeks End Inc
Your dog is sure to steal the spotlight this Christmas with this adorable Grinch-inspired Dog Sweater. Cute, comfy, and sassy, this sweater for dogs will be a crowd pleaser.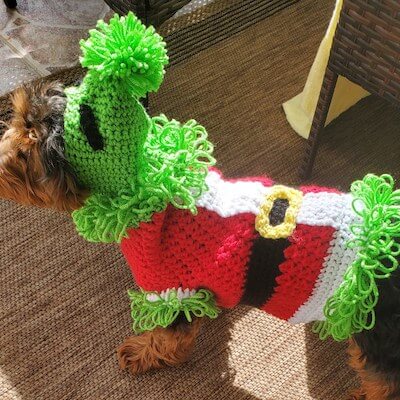 Get the Pattern by Creeks End Inc here

14. C2C Crochet Christmas Grinch Pattern by Pretty Things By Katja
Get into the festive spirit with this free C2C Crochet Christmas Grinch Pattern! This design will fill your holiday season with warmth and joy.

Whether you're new to C2C or a seasoned pro, this pattern is sure to delight as you create a cozy blanket adorned with whimsical Christmas character.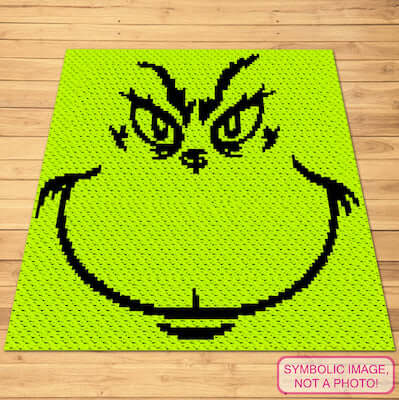 Get the Pattern here

15. C2C Crochet Grinch Scarf Pattern by Gifts And Crafts Galore
Looking for the perfect accessory for the little Grinch in your life? This Grinch Christmas Scarf will be a fantastic gift for them! Sure to catch attention during all holiday activities!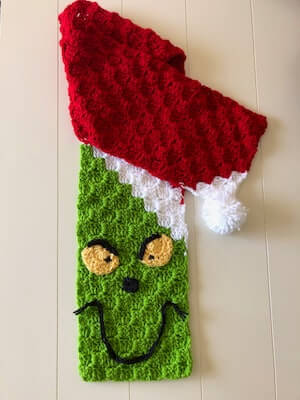 Get the Pattern by Gifts And Crafts Galore here
GET READY FOR CHRISTMAS BY WORKING ON SOME OF THESE GRINCH CROCHET PATTERNS.
We'd love to see your finished projects if you make any of these fun Grinch patterns. Snap a picture and share it with us on our Facebook Page. While the Grinch is certainly not central to our Christmas celebrations, he's still a fun addition!
Want more inspiration for your Christmas holiday preparation? Find your next crochet projects below!
Are you ready for the holidays? If not, these Grinch crochet patterns should get you into the holiday spirit!