There are so many reasons to love crocheting shawls. Take your pick from these free crochet shawl patterns below, then cast on your new favorite accessory!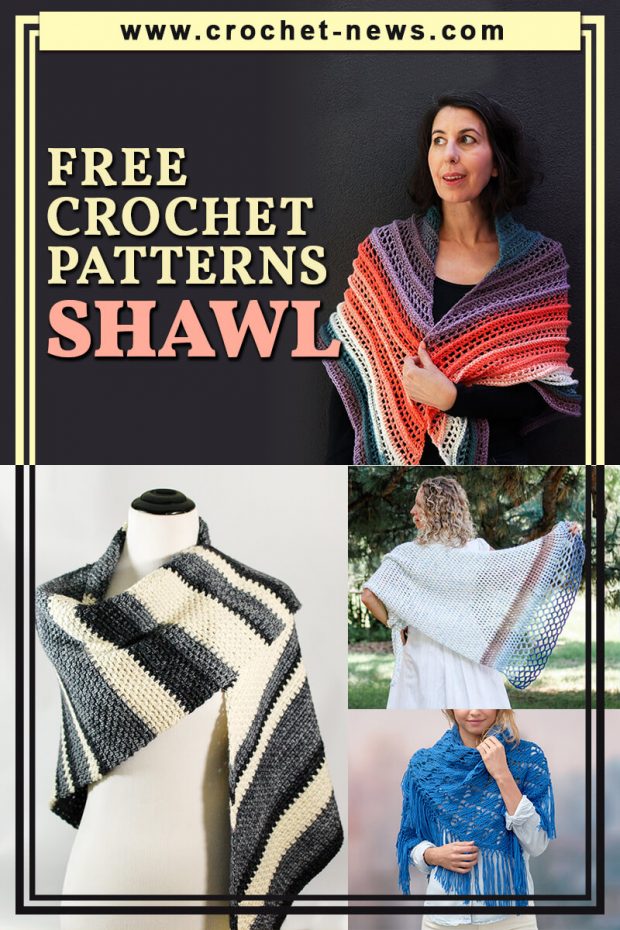 You should always have a beautiful shawl close at hand. A true fashion multi-talker, they can be worn so many different ways and instantly add some spark to even the simplest of outfits.

And of course, they feel so nice and soft, which you'll appreciate all the more on those chilly fall and winter days when you need something nice to snuggle up with. Find your favorite style and get ready to cast on!

1. Crochet Boho Shawl Pattern by Red Heart
This breezy crochet shawl's openwork design makes it an ideal layer all year. Stitch in whatever color inspires you, or skip the guesswork and start with the vibrant version shown. The long swaying fringe adds a carefree boho touch to this relaxed look.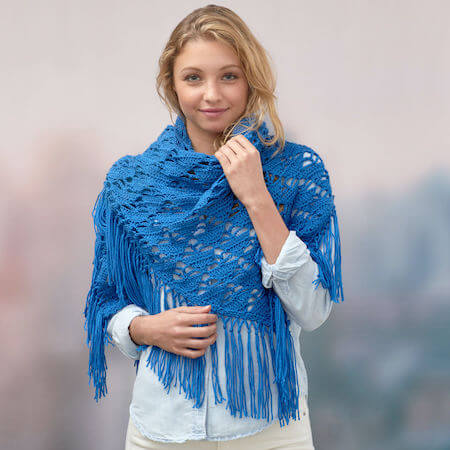 2. Free Crochet Shawl Pattern by Marly Bird
This shawl is a lot of fun, easy to make, and addictive! To make this fantastic triangle shawl, it begins at the center top and increases are worked at the beginning, middle, and end.

Using a long color changing yarn and changing colors every two rows keeps the crocheter excited to see how the colors will look in the finished piece!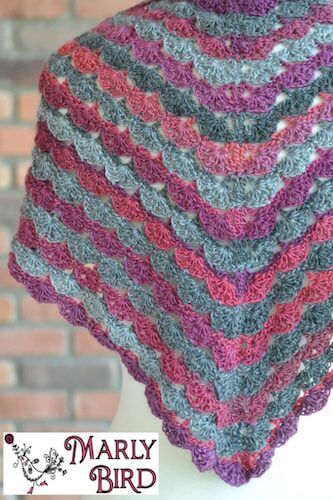 Get the Pattern here

3. Easy Crochet Wrap Pattern by For The Frills
This wrap is the perfect shawl for any season! The mesh arches give the wrap an open airy look while the optional scalloped border adds a romantic and feminine feel.

This lacy, scalloped wrap adds a simple sort of sophistication to your outfit. Chains and double crochets make up 99% of this easy wrap (with single crochets making up the last 1%) and the pattern follows a four row repeat so you can extend it to any length you want!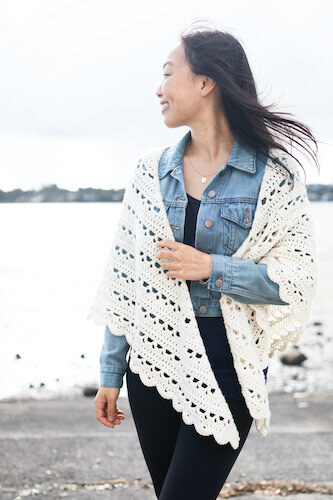 Get the Pattern here

4. Novella Shawl Crochet Pattern by Morale Fiber
This Novella Shawl is an easy crochet pattern designed to showcase the unique texture of linked double crochet. This thick, interwoven crochet stitch calls to mind the cozy look of loom weaving while the dramatic point and slight ruffle create a tailored look that flatters.

Crochet just the shawl or choose to top it off with a deep hood and fur trim for a really special piece to show off on all your woodland wanderings!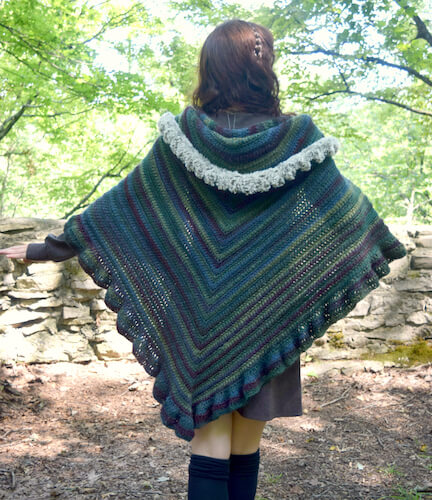 Get the Pattern here

5. Easy Pocket Shawl Free Crochet Pattern by Winding Road Crochet
Here's an easy pattern for beginners that includes pockets! What a wonderful idea! Adjust the pattern by increasing or decreasing the starting chain until it's the length of your wingspan.
This shawl has a stunning stitch combination that you will love. It is easy to crochet – only uses single crochet and chains.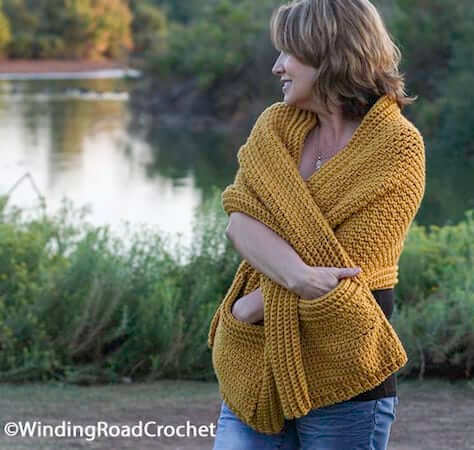 Get the Pattern here

6. Pine Gap Pocket Shawl Crochet Pattern by Stitching Together
This gorgeous crochet pocket shawl will be your favorite make of the season. With modern granny squares, cozy ribbing, and oversized pockets, this shawl will keep you warm and comfortable all through the colder months.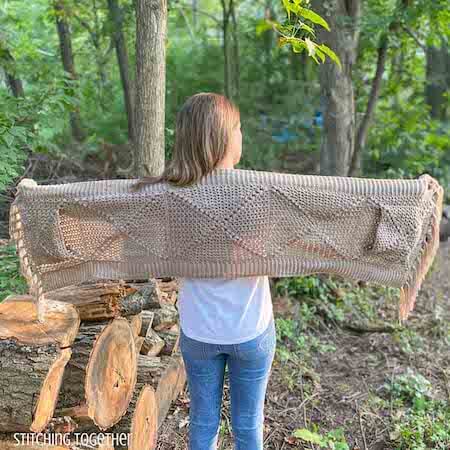 Get the Pattern here

7. Free Lace Shawl Crochet Pattern by Sara Huntington
All eyes will be on you when you show off this crochet scarf. This sculptural design is made in stages — lots of circles are made first, then they're connected to make the eye shapes, before being attached together with a lacy join to create a triangle shawl design.

The different pieces and assembly make for an epic project that you'll be super-proud of once you've completed it, and although it looks complicated it actually only uses simple stitches!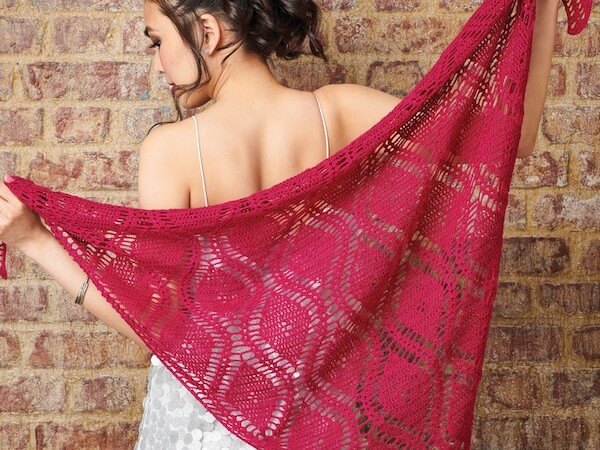 Get the Pattern here

8. Sunset Peaks Crochet Shawl Pattern by My Poppet Makes
This pattern looks a little complicated, but it's easy to make. The pattern is named after the raised ridges, making the textured "peaks" highlight the color changes. Just a couple of basic stitching, and you will be ready with Sunset Peaks Crochet Shawl.

You can choose to make this shawl to any size you prefer as it's worked from the center out. The pattern repeats every 4th row and is worked flat (back and forth).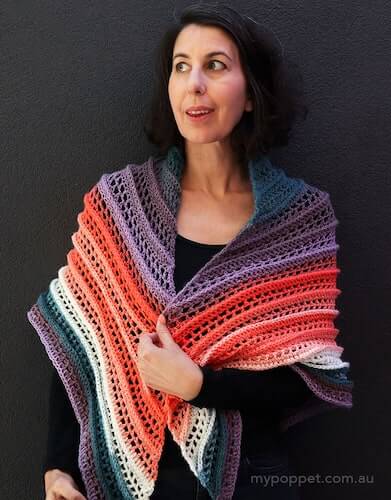 Get the Pattern here

9. Free Sampler Shawl Crochet Pattern by Furls Crochet
This Sampler Shawl is sure to be a great project for any crocheter, new or seasoned! This crochet project is full of different stitches and combinations that won't let you get bored but will still give you the opportunity to mindlessly stitch away. Finished off with some fringe that really makes a statement, get ready to get compliments every time you wear this piece!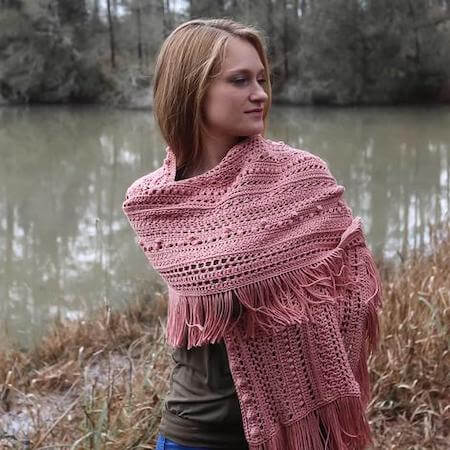 10. Crochet Bridal Shawl Pattern by Yarnspirations
On this lovely spring and summer shawl, flower motifs are worked in assembled rounds using the "join-as-you-go" technique. Crochet your project in the pristine color shown, or if you want a juicier effect, choose a brighter shade. It's light and elegant, and it's appropriate for any special occasion.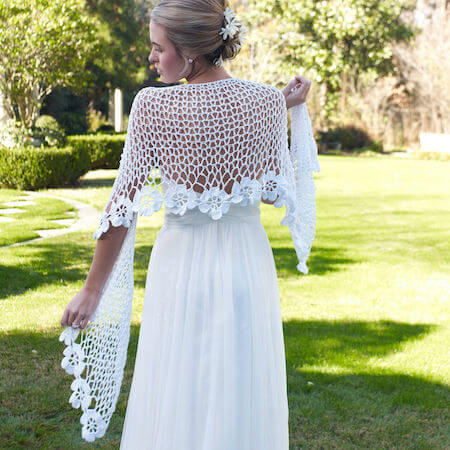 Get the Pattern here

11. Rising Tide Asymmetrical Crochet Triangle Shawl Free Pattern by Make And Do Crew
This Rising Tide Asymmetrical Triangle Shawl Is an elegant crochet shawl pattern perfect for both summer and winter. Wear it to your next formal event, or dress it up with boots and jeans. The pattern works up fast and can be customized for a larger garment that can be worn as a scarf.

This sophisticated asymmetrical design looks great on its own or with a simple necklace and earrings. Pair it with a tank top, or wear it over your evening gown. This pattern has endless possibilities!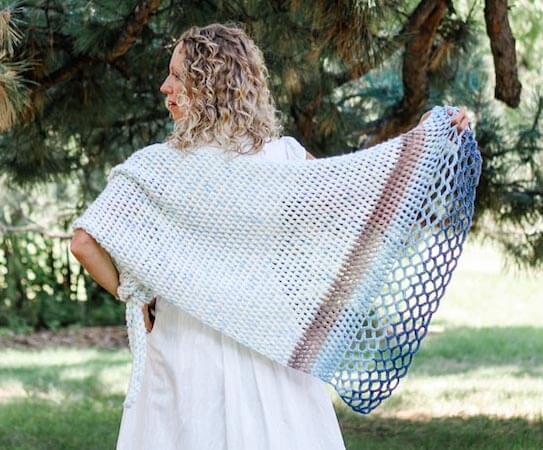 Get the Pattern here

12. Double Crochet All The Way Shawl Pattern by Wilmade
As the name already indicates, this beginner-friendly shawl pattern is made with double crochet stitches. It's an easy crochet project without too much thinking and counting and is perfect to work on while traveling or watching Netflix. This quick and easy crochet shawl pattern looks great as is, or add some fringe or tassels to take it to the next level.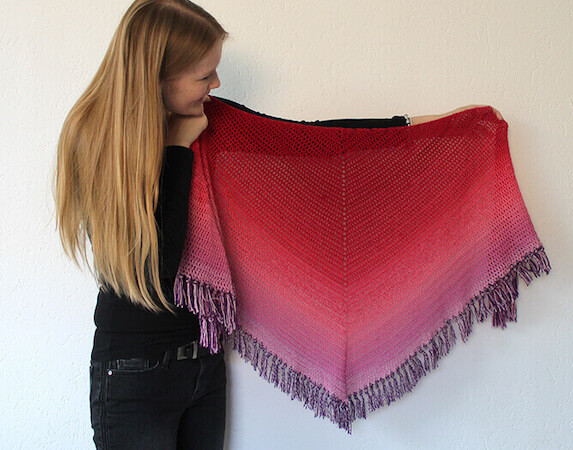 Get the Pattern here

13. Goldenrod Shawl Free Crochet Pattern by My Crochetory
Goldenrod is a lightweight spring/summer shawl, made from the bottom up with beautiful diagonal lace sections throughout. Increases are placed along the edges forming a wide triangular shape. The easy construction and basic stitches make The Goldenrod Shawl suitable as a first lace project.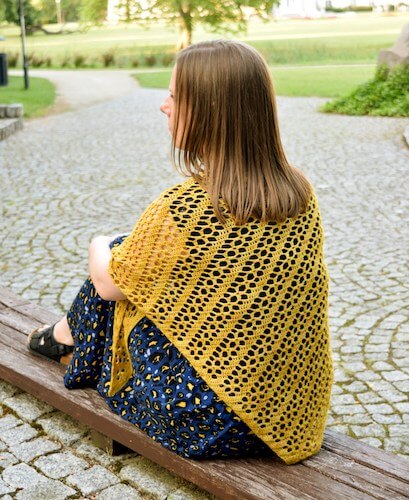 Get the Pattern here

14. Summer Shawl Crochet Pattern by Mama In A Stitch
This light and airy wrapped is crocheted with worsted weight, cotton blend yarn! The drape is lovely and it's perfect to use on cool summer nights, but will also take you right into fall.

The pattern includes basic crochet stitches and there are links to tutorials to help you with the tassels and the various stitch patterns. This can be used as a shawl or even as a wrap when you're hitting the beach in your swim suit!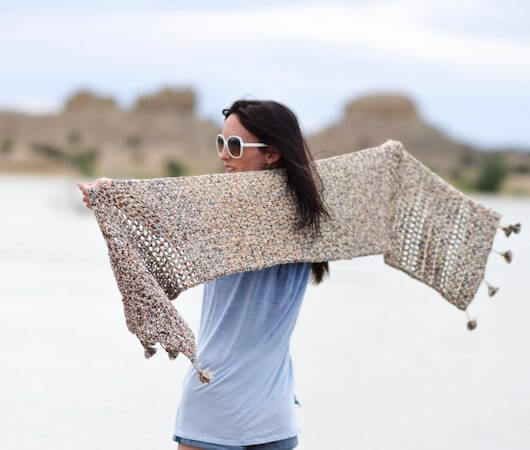 Get the Pattern here

15. Crochet Spread Your Wings Shawl Pattern by Yarnspirations
Spread your arms out and let this majestic Crochet Spread Your Wings Shawl make you be the centre of attention. There is two different panels that are making up this shawl. It's worked like rounds that are not going all the way around but turning to create the fabulous colour structure.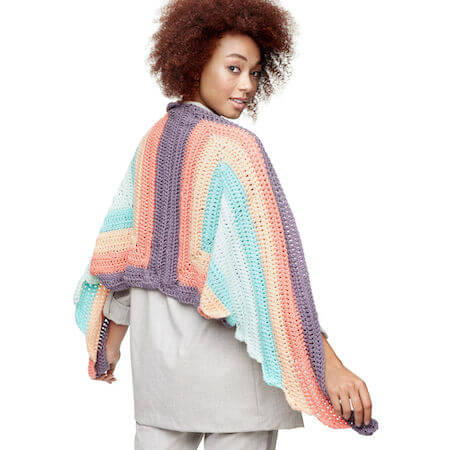 16. Crest Of Wave Crochet Shawl Pattern by Yarnspirations
Here's a fun project that incorporates chains, half double crochet, and treble crochet back post stitching. Make it exactly as shown, or imagine another trio of colors to complete an eye-catching original for yourself or a friend.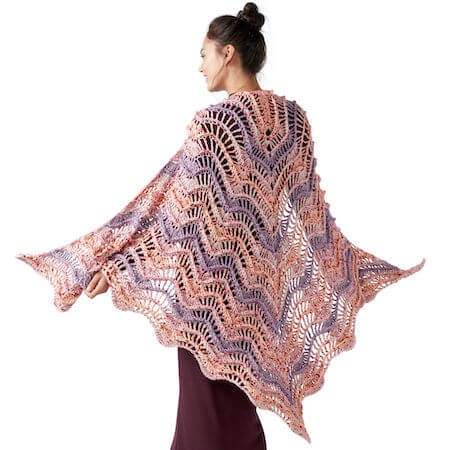 Get the Pattern here

17. Catalina Wrap Free Crochet Pattern by Two Of Wands
Add a touch of romance to your wardrobe with this Catalina Wrap. Simple lace stitches and bobbles come together to make this easy level design look like a stunning masterpiece. Wear it over the shoulders like a shawl or wrap it with the point in front like a scarf – either way it will accent your look with elegance.

This is an easy level crochet pattern and the techniques involved include single crochet, double crochet, front post double crochet, bobbles, chaining and skipping stitches, working into chain spaces, and the magic loop.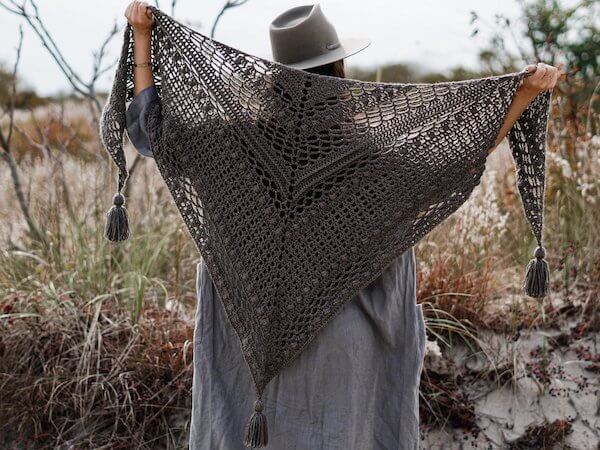 Get the Pattern here

18. Free Crochet Shawl Granny Pattern by Easy Crochet
Are you looking for a simple crochet shawl pattern? If so, you'll adore this pattern this simple shawl featuring the granny stitch. It works up quickly, looks lovely, and keeps you warm. This shawl is simple to make, has a simple stitch repeat, and works up with few ends to weave in, giving you more time to make more patterns!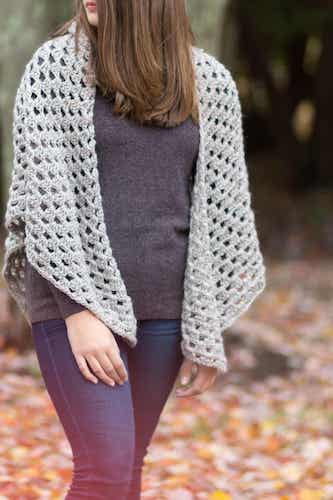 Get the Pattern here

19. Warlock Triangle Shawl Crochet Pattern by Passionate Crafter
This Warlock Triangle Shawl will make you feel warm and cozy in winter cold days. It's perfect for Autumn as well because the pattern includes small holes to keep it airy. All you need is 2 balls of Lionbrand mandala yarn or any other cake yarn and a 4.5mm crochet hook. This design is soft to the touch and looks nice for draping around your shoulders or neck.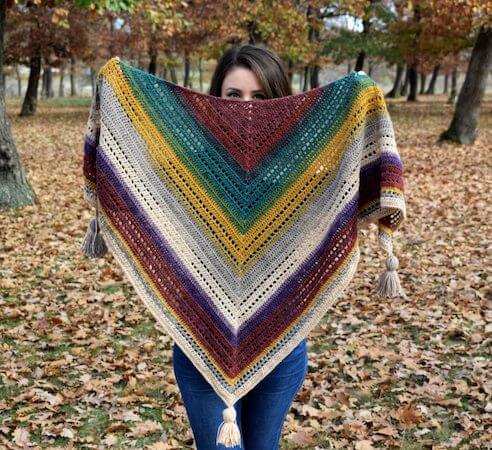 Get the Pattern here

20. One Skein Crochet Shawl Pattern by Annie Design Crochet
Here's One Skein Crochet Shawl Pattern made with only one skein of fingering weight yarn. When you are finished, only 2 ends to weave in!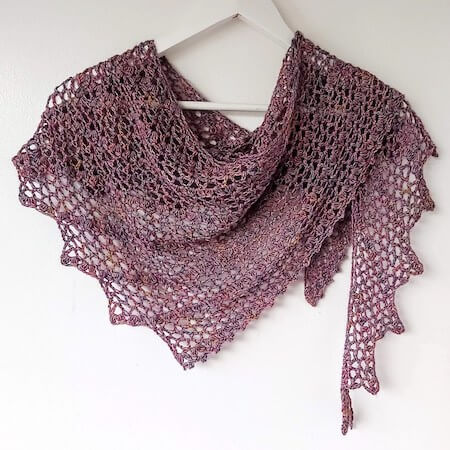 Get the Pattern here

21. Pineapple Lace Crochet Shawl Pattern by Red Heart
This lovely crochet shawl with a lacy pineapple design takes a modern twist on a popular pattern. I love how the self-striping yarn reveals gentle tones that bring out the pattern perfectly.

You'll use crochet, single crochet, chain, and other techniques to make this stunning shawl. It is made in a neutral color for a touch of sophistication, but you are welcome to customize it with a more vibrant color.

22. Crochet Beginner Fade Shawl Free Pattern by Sewrella
This Crochet Beginner Fade Shawl is a softly striped, simply made triangle scarf + wrap that was made for summer nights. It's ideal for sitting around the campfire with a s'more in hand, or for layering over simple basics for a warm day of shopping.

This pattern was created with the beginner in mind, and it consists of simple double crochets and skipped stitches to create a beautiful drape and a mindless bingewatch-friendly pattern.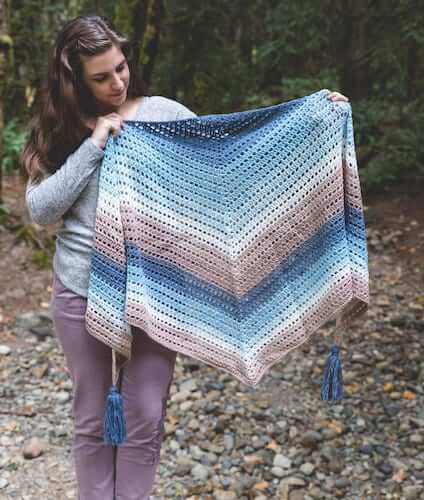 Get the Pattern here

23. Wine Country Triangle Shawl Crochet Pattern by Simply Collectible Crochet
This Wine Country Triangle Shawl is a versatile shawl that can be worn in a multitude of ways, from a traditional wrap style to the more modern triangle scarf style. Perhaps the best part of this lovely pattern is the fact that it's ridiculously quick and easy to make up. It's the perfect crochet pattern for any level of crocheter.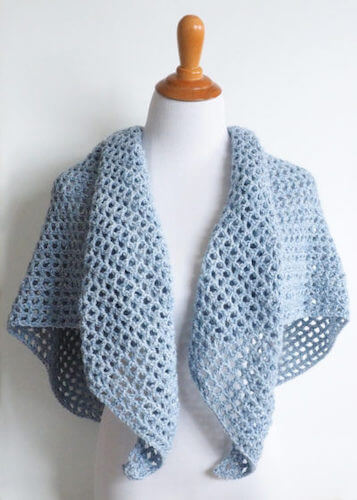 Get the Pattern here


24. Vela Flower Shawl Free Crochet Pattern by Wilmade
This Vela Flower Shawl makes use of several flower stitches and an absolutely gorgeous transition from a marine grey to a soft rose color at the neck line. The finished shawl is a very wearable shoulder wrap with a highly developed texture that will beautifully highlight any garment you accessorize with it. What a wonderful project and inspiration!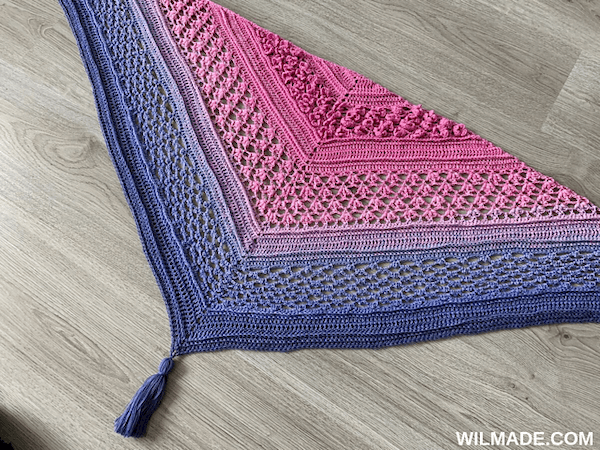 Get the Pattern here

25. Royal Granny Shawl Free Crochet Pattern by Nicki's Homemade Crafts
This Royal Granny Shawl had alot of cute little shell accents thrown in and it really pulls the shawl together nicely. Who would have guessed that such incredibly simple combinations of granny stitches and crossover stitches could result in one of the most beautiful and elegant accessories to complement your favorite outfit?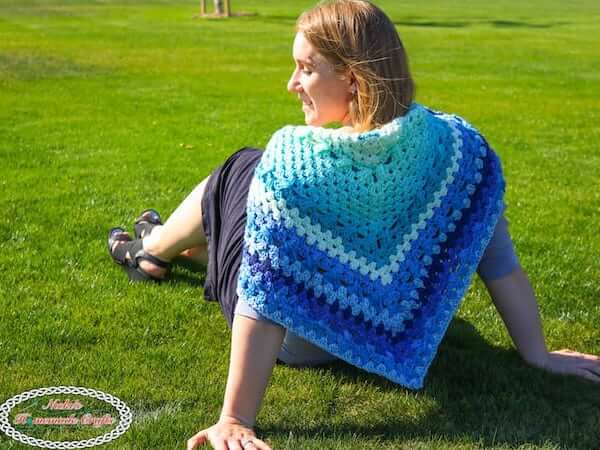 Get the Pattern here

26. Seafoam Crochet Lace Shawl Pattern by Bella Coco Crochet
This Seafoam Crochet Lace Shawl is a wonderful mix of lace and geometry. You will adore the lace panels that are inspired by the marble lattice designs of one of the world's most beautiful wonders, the Taj Mahal.
The lattice patterns are intricate yet so simple. Worried the pattern may be too complex? Don't be. The lace pattern is easy to master, uses basic stitches and works in repetitions.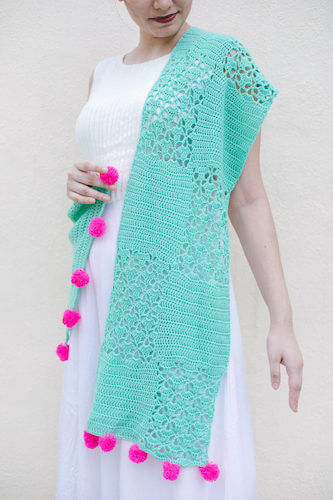 27. Lake Sunset Shawl Free Crochet Pattern by Crochetpedia
This Lake Sunset Shawl is big enough to cover your arms while admiring a sunset at the beach, especially at the end of the summer or in the early fall. In the meantime, it is a perfect starting project for beginners.

This shawl is a no-brainer. After several rows, you will be making it automatically, without any help from the pattern. It definitely speeds up the time spent on making it, but still – 1,000 meters cake is not so quick to eat up!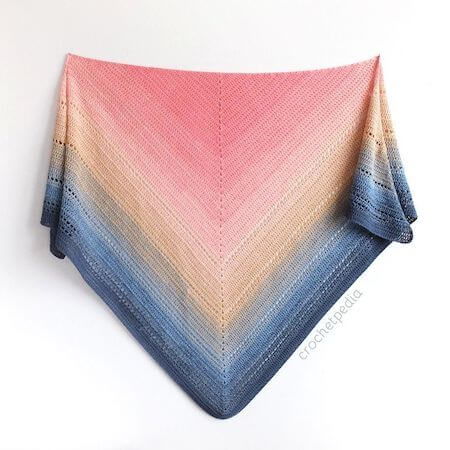 Get the Pattern here

28. Nobody's Perfect Shawl Crochet Pattern by Potter & Bloom
This Nobody's Perfect Shawl is crochet's response to the random walk theory. What the author suggests is that you take skeins or balls of yarn scraps, odds and ends of approximately the same size, put them in a basket and draw them at random to make this wild and crazy shawl. This is a great project for those amongst us who enjoy dressing in the hippy-trippy style!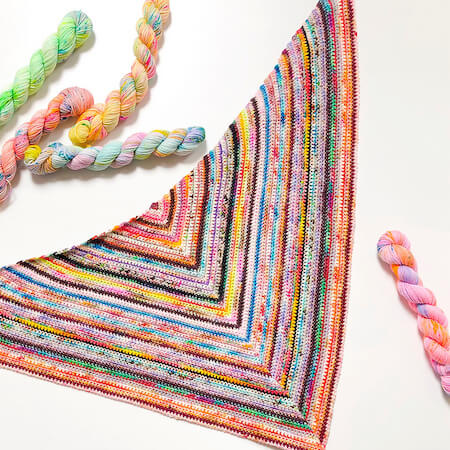 Get the Pattern here
So many beautiful free crochet shawl patterns to choose from! What will you pick?
A stunning lace crochet shawl or something chunkier? Whatever designs you decided to make, we are sure they turned out great! So don't be afraid to show us some of your works by posting them on our Facebook Page!

If you loved these free shawl crochet patterns, you'll definitely love this free virus shawl and prayer shawl patterns. And a few more crochet shawls and scarves patterns that are most loved by crocheters. You should try them out too! We also have Shawl Pin Ideas for keeping your shawl in place

For now. let's get hooking with these beautiful free crochet shawl patterns to get our outfit ready this season!