Welcome to a new collection of DIY ideas in which we are going to show you 32 Crochet Throw Blanket Patterns to make a decor statement and cuddle up!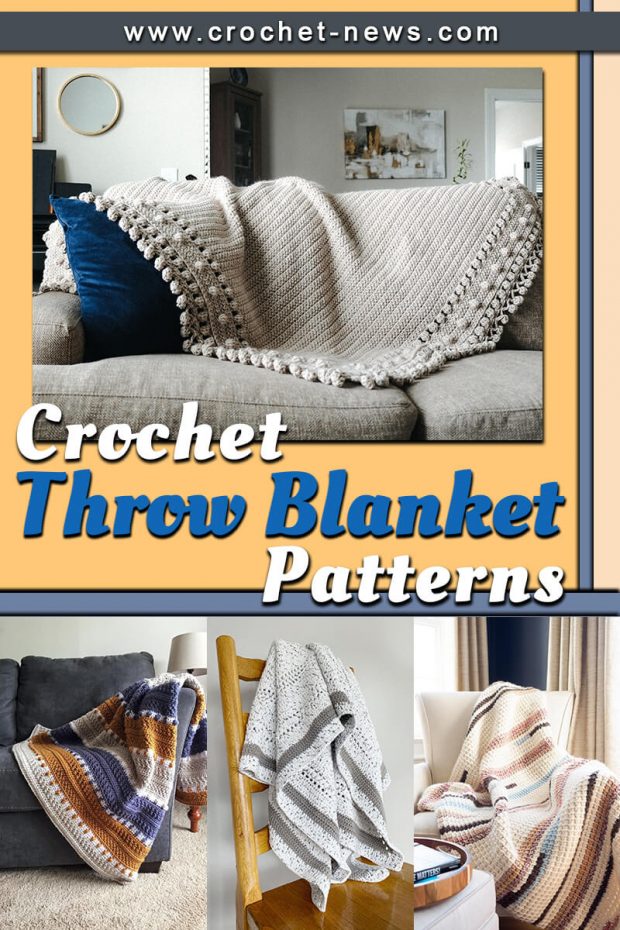 Having a throw blanket isn't just a way to cozy up on cold days, it's a way to add an accent to your home decor too. And as trendy items, throw blankets can cost a pretty penny.

These crochet throw blankets below are so much better than anything you can buy in the stores, at least within a normal price range. So instead of splurging on one, why not make it yourself?

1. For The Love Of Texture Crochet Throw Pattern by This Pixie Creates
Crochet this cozy For the Love of Texture Crochet Throw Blanket to snuggle up in on cold days! This crochet throw blanket is designed to be an heirloom piece that will be loved (and used) for years to come.

If you're looking for a fun, textured blanket to hold your interest as you crochet, this is the perfect project for you. It is made using the single crochet, half double crochet, and puff stitch to create tons of texture.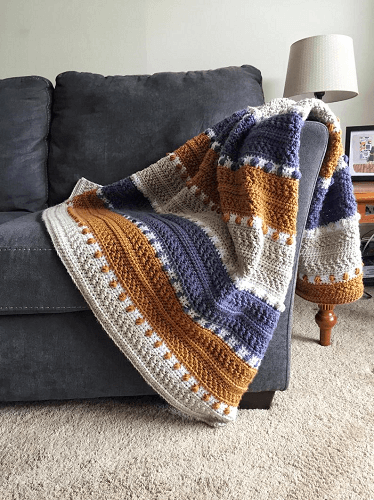 Get the Pattern by This Pixie Creates here

2. Diamond Luxe Crochet Throw Blanket Pattern by Chalia's Craft
This Diamond Luxe Crochet Throw Blanket is gorgeous and large enough for 2. Add this lovely piece to your home for a boho vibe!

The crochet throw pattern includes a chart in case you'd like to incorporate multiple colors. You must be experienced with working with crochet charts if you intend to change colors.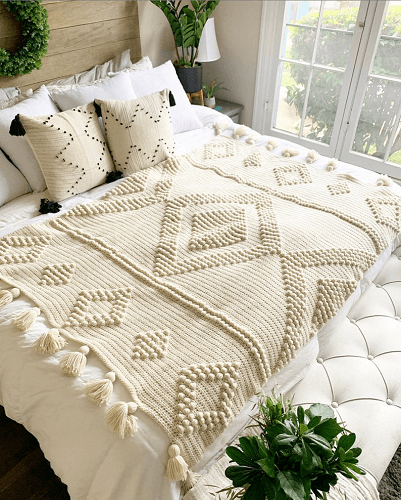 Get the Pattern by Chalia's Craft here

3. Crochet Throw Pattern by Yarnspirations
Beginners, check out this basic crochet throw that's begging to be cuddled! Finish it in a snap using a thick chunky yarn in the neutral shown, or choose a more dynamic color that adds energy to your space. Make more than one of this cozy layer that everyone loves!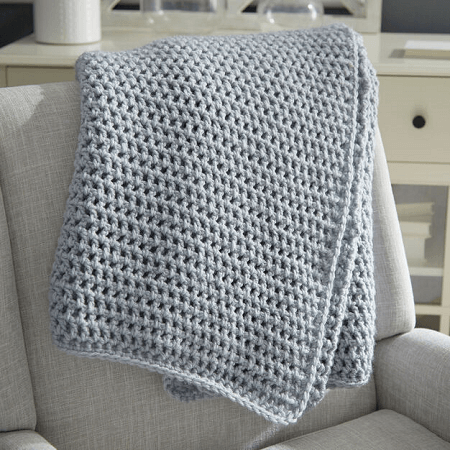 4. Crochet Iris Throw Blanket Pattern by Highland Hickory Designs
Whether you need a baby blanket, wheelchair afghan, throw blanket, lap blanket, or a blanket for any size bed, this Crochet Iris Throw Blanket Pattern can be customized to suit your needs simply by adjusting your foundation chain.

This beautiful lacy throw blanket is created by alternating a row of shell stitches with a row of puff stitches.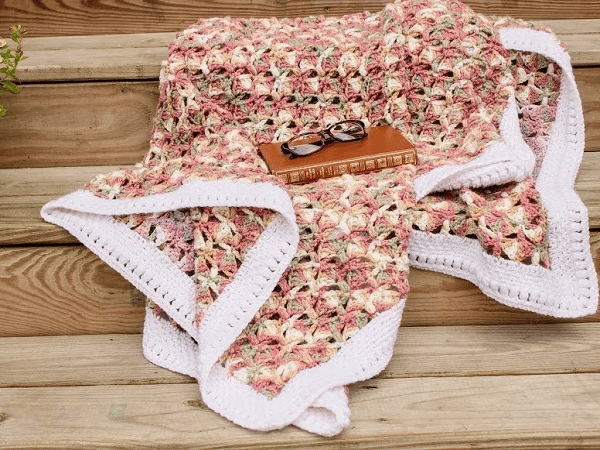 Get the Pattern here

5. Kenscoff Throw Crochet Pattern by De Brosse NYC
This Kenscoff Throw is all about texture. The right side features a cascading herringbone, while the wrong side hosts a geometric rib. The striking contrast between the two makes for a multifaceted piece.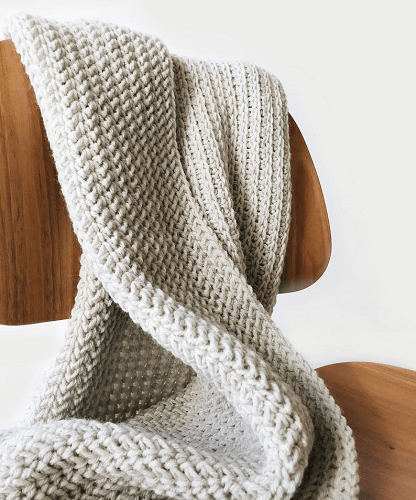 Get the Pattern by De Brosse NYC here

6. Surfer Girl Throw Crochet Pattern by Red Heart
Remember carefree days by the shore as you crochet this soft ripple Surfer Girl Throw. Red Heart With Love Stripes effortlessly adds color that enhances the effect of the lovely peaks and valleys in the stitch pattern.

It's a calming design that adds texture to your décor. Plus, you'll appreciate not having a lot of ends to weave in when you're done.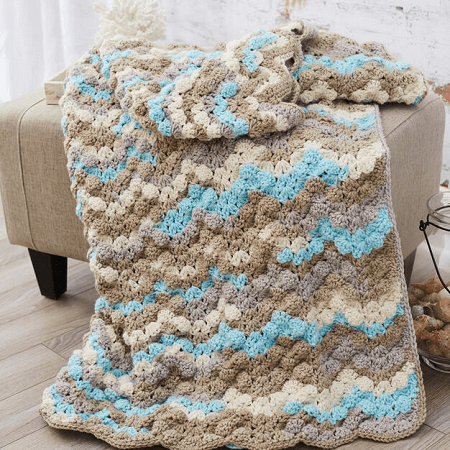 7. Beginner Crochet Throw Pattern by Made With A Twist
This beautiful, textured blanket is a great, quick, and easy crochet pattern for the beginner or advanced crocheter alike.

Whether you're wanting to make a throw, a lapghan, or a larger afghan, this blanket is quick to work up with a large hook and mega bulky yarn.
Are you more of a lapghan fan? Check out more lapghan crochet patterns here.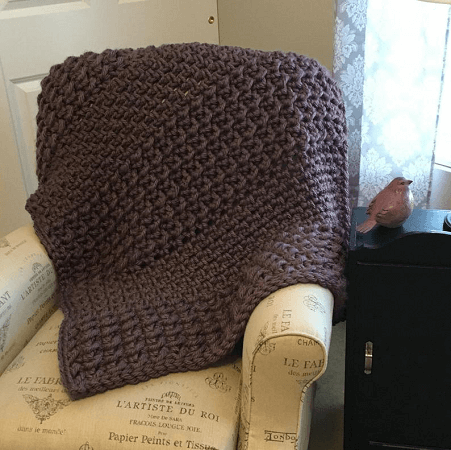 Get the Pattern by Made With A Twist here

8. Crochet Throw Blanket Pattern by Traveling Hook Designs
This Crochet Throw Blanket Pattern puts a simple rustic spin on plaid. The design is versatile fitting into your modern farmhouse, cabin, or transitional style home.

With only 2 colors, it's easy to coordinate with your existing decor! The design is geometric and simple, which is perfect for a crochet beginner.

Using bulky yarn, this chunky blanket works up quickly and the result is a thick and warm piece that will keep you cozy through fall and winter!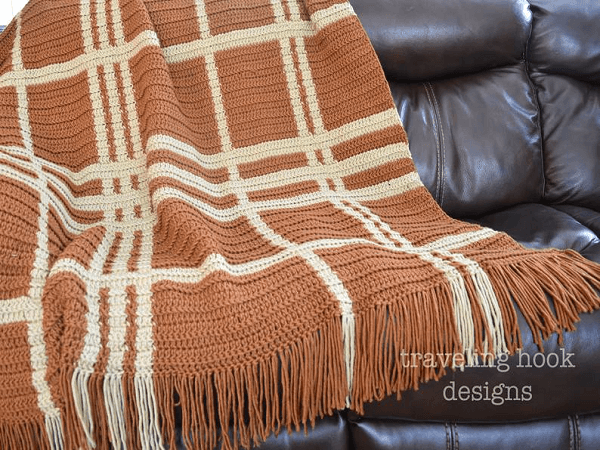 Get the Pattern by Traveling Hook Designs here

9. Free Crochet Throw Pattern by Life And Yarn
This Free Crochet Throw Pattern is a great beginner friendly crochet pattern if you have a ton of the same weight yarn that you don't have a project for.

Just keep adding colors and rounds using simple crochet stitches. What else is fun about this simple crochet pattern is you can keep going until it becomes the size you want.
Perfect as an easy crochet baby blanket or a king size throw!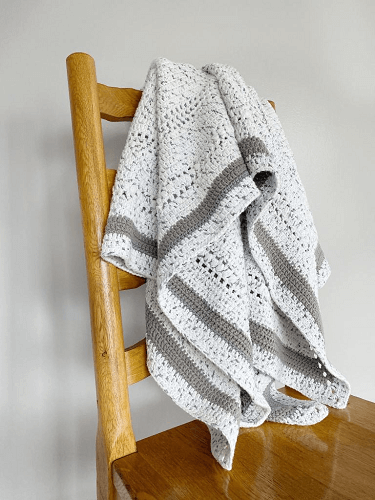 Get the Pattern here

10. Boho Chevron Throw Blanket Crochet Pattern by The Hat And I
The self-striping yarn gives this Boho Chevron Throw Blanket an explosion of color and is absolutely fun and relaxing to make.

This lovely crochet throw blanket is vibrant in color and sure to please any generation. The pattern is fantastic and a great way to incorporate your leftovers!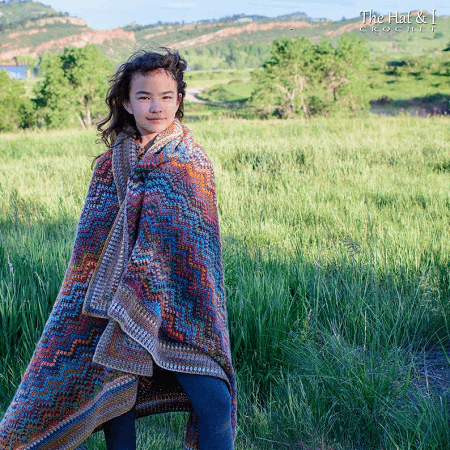 Get the Pattern by The Hat And I here

11. Jane Crochet Throw Pattern by Rescued Paw Designs
This Jane Throw Blanket is a simple crochet throw pattern that uses basic stitches (how to chain and single crochet) in a way that creates a beautiful-looking texture!

Once you learn how to crochet this blanket you will realize it is the perfect crochet sofa throw to cozy up with on a chilly evening.

Make this blanket smaller and use it as a crochet baby blanket too! You can easily crochet this beautiful crochet throw blanket in just a few days.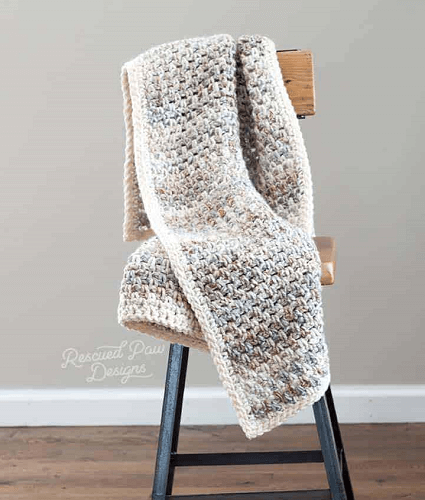 Get the Pattern here

12. Toasted Marshmallow Throw Crochet Pattern by Em's Fiber Arts
This Toasted Marshmallow Throw Crochet Pattern uses half double crochet in the back loop to create a super stretchy ribbed fabric.

This makes the blanket lightweight and easy to wrap up in. The stretch factor combined with the fuzzy yarn means you'll never want to put it away!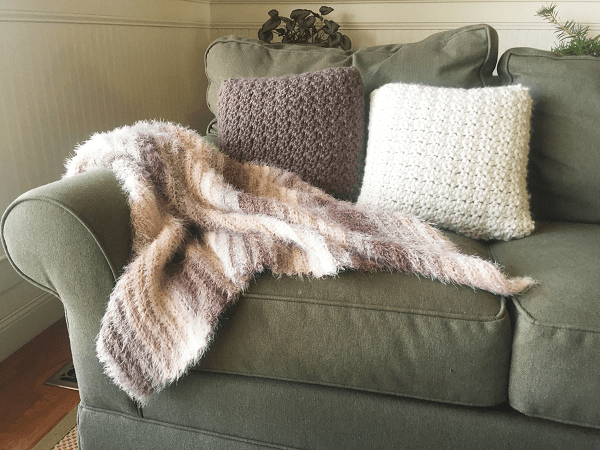 Get the Pattern here

13. Quad Color Throw Crochet Pattern by Jess Coppom
Nurture your inner design minimalist! Thanks to chunky yarn, simple stitches, and zero seamings, this Quad Color Throw Crochet Pattern works up quite quickly and adds a graphic, modern touch to any living room or nursery.

Whether you're interested in making a crochet square baby blanket or a larger size for your couch or bed, this pattern is super easy to customize.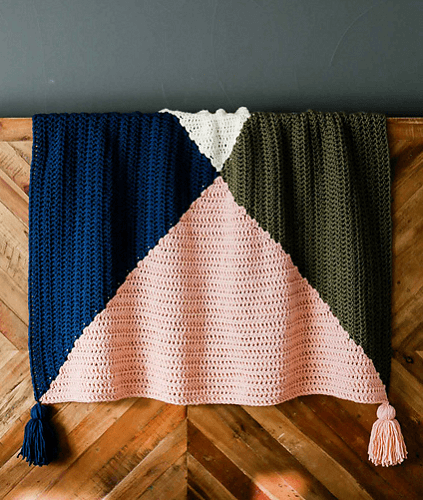 Get the Pattern by Jess Coppom here

14. Crochet Bloom Afghan Throw Pattern by Sewrella
This Crochet Bloom Afghan Throw Pattern is so stunning! It is perfect for spring with a sampler style pattern that keeps things interesting.

You could also make your throw blanket alternating between two of the motifs and create a sort of block-y stripe or leave out motifs you don't want in your own blanket.

Get creative with your color palette and applique/cross stitch to make a boy's dinosaur blanket or a college grad blanket as a gift!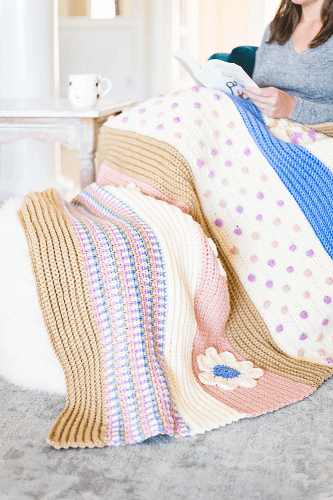 Get the Pattern here
Also see our Afghan Southwestern Throw Blanket and Tree of Life Afghan Throw Blanket

15. Chunky Basketweave Throw Blanket Crochet Pattern by Hooked Homemade Happy
Need to cozy up with something snuggly? This Chunky Basketweave Throw Blanket works up surprisingly quick and you'll be warm and toasty in no time!

This throw blanket pattern combines everything you love in a good crochet project – lots of gorgeous texture, a high squish-factor, and a new skill that's easy to master – the basketweave stitch.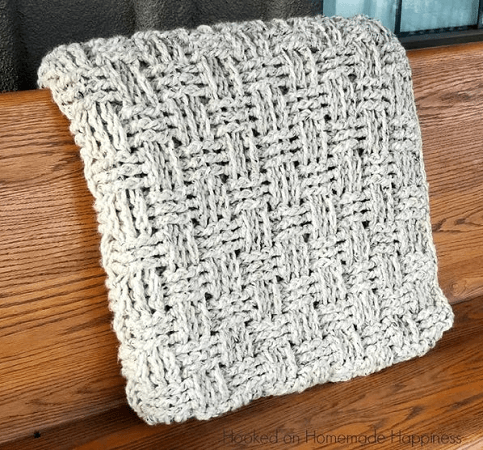 Get the Pattern by Hooked Homemade Happy here

16. Crochet Winter Jasmine Throw Pattern by Arrow And Archer Co
This Winter Jasmine Throw is a cozy, soft, and thick blanket that will have you wishing winter would last all year.

Hand crocheted with 100% super bulky Peruvian Highland wool, this pattern works up into a luxuriously soft blanket with incredible texture.

This pattern is for a 32″ x 36″ throw. This is the perfect size for a baby gift that will last through the toddler years or a lap throw for an adult.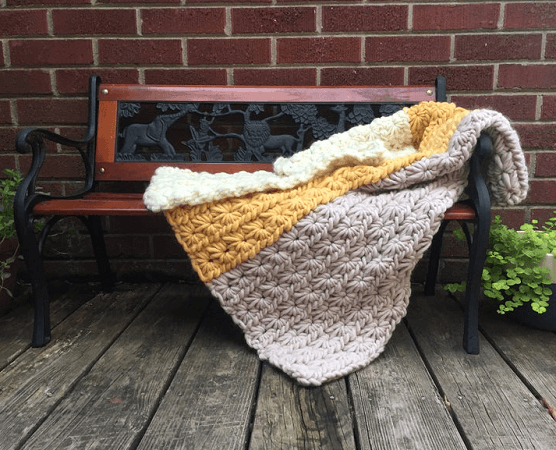 Get the Pattern by Arrow And Archer Co here

17. Crochet Diamond Bobble Throw by Paws And Wool
With only two types of stitches, this Crochet Diamond Bobble Throw is a pretty simple throw to whip up once you get the hang of the pattern and counting in each row.

The pattern is really versatile and has notes for changing the size of the throw with the starting chain formula, so really you can use any yarn and hook size combo you prefer and simply adjust your starting chain length to suit your desired size.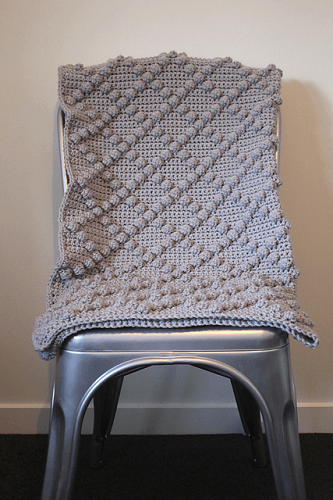 Get the Pattern here
18. Boomerang Throw Crochet Pattern by Red Heart
Brighten your room's mood with a crochet throw blanket that really pops with color! This crocheted beauty is made of boomerang shapes and then triangle motifs fill in the spaces.

Of course if you are going for a more peaceful mood, choose softer hues for your throw.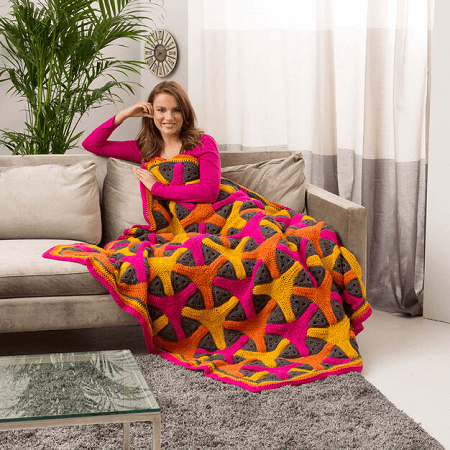 19. Super Bulky Herringbone Throw Crochet Pattern by MJs Off The Hook Designs
Bundle up and stay cozy in this Super Bulky Herringbone Throw. The herringbone stitch adds texture and modern lines to this cozy throw,

This blanket is worked holding together 2 strands of super bulky yarn for an extra thick blanket. The small size makes a great throw for a couch, chair, or twin size bed and the large size is perfect a king-size bed (covers the foot of bed).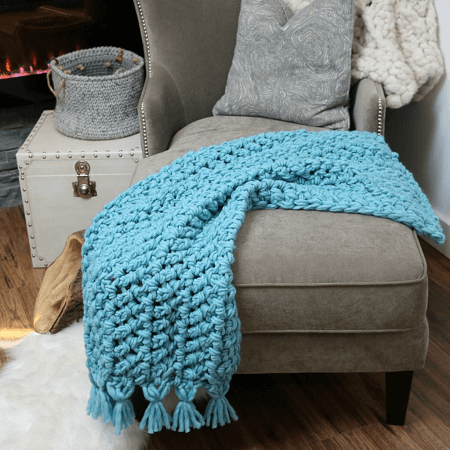 Get the Pattern here

20. All That Chic Throw Crochet Pattern by Red Heart
Watch this vibrant All That Chic Throw brings instant energy to any room. Combine all the colors you love to craft an interesting blanket that reflects your spirit.

Or, begin with the colorful version shown for a cheerful vibe. Motifs are joined as you go on this throw, so you don't have to arrange and sew them all together at the end.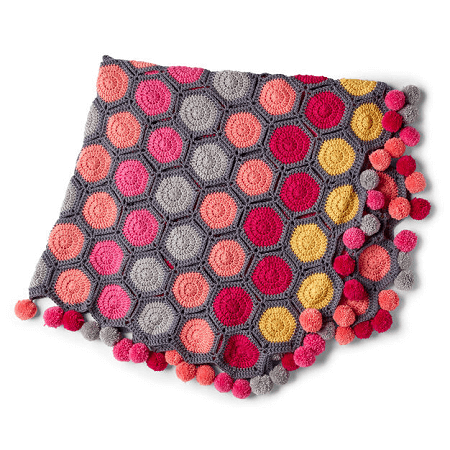 Get the Pattern here

21. Crochet Modbob Throw Pattern by The Cozy Knot Crochet
This Crochet Modbob Throw is a simple but modern mid-sized throw that is sure to be a favorite cozy and decorative home accessory.

The bulky yarn and simple center stitching make this throw a pretty quick make and is perfect for your own home or as a housewarming, wedding, birthday, or Mother's Day gift.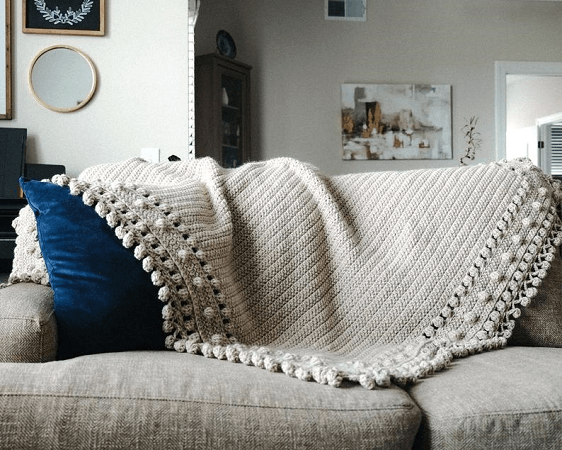 Get the Pattern by The Cozy Knot Crochet here

22. Tree Tops Throw Blanket Crochet Pattern by Red Sparrow Crochet
Bold, geometric and so cool with its Scandi-style vibe, this Tree Tops Throw Blanket would look gorgeous anywhere in your home! Your finished throw will measure approximately 107 x 152cm (42 x 60in).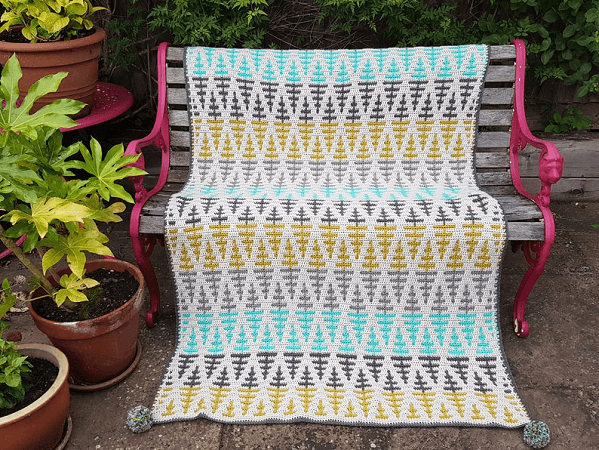 Get the Pattern by Red Sparrow Crochet here

23. Crochet Striped Moss Stitch Throw Pattern by Daisy Farm Crafts
This Crochet Striped Moss Stitch Throw Pattern is so soft and fun to work with. You will love that it makes the stitches and the dotted line effect even more pronounced.

This throw blanket would look cool with lots of different colors subbed in for the gray and might make a great wedding or graduation gift!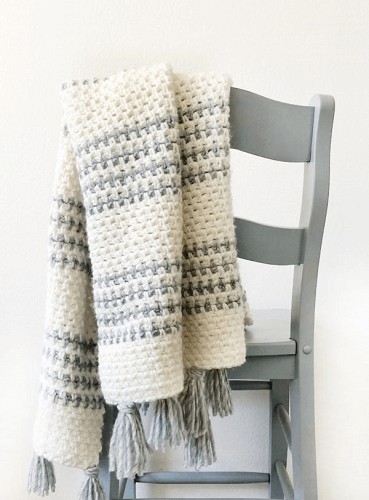 Get the Pattern here

24. Fireworks Throw Crochet Pattern by The Blue Elephants
This Fireworks Throw is a great big blanket to cozy up under and watch a movie (or fireworks). It's thick and soft, made with high-quality acrylic yarn so it's easy to wash, and the stitch pattern is so pretty!

The pattern is easily memorizable and there are only two colors used to make this stitch pattern. A great housewarming gift or Christmas present!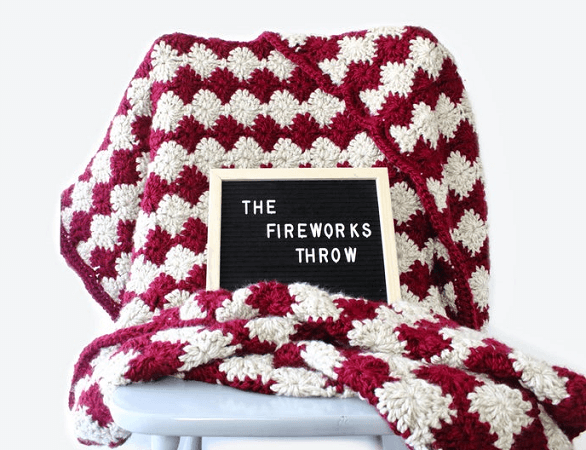 Get the Pattern here

25. Eleanor Throw Blanket Crochet Pattern by Darling Be Brave
This Eleanor Throw Blanket is made up of a gorgeous lace stitch and has a lovely hint of retro and modern all mixed into one.

Not only is this an absolute dream to snuggle up with on chilly days, but this blanket is also the perfect cozy touch to add to any room, draped across a sofa, arm chair, or the foot of your bed.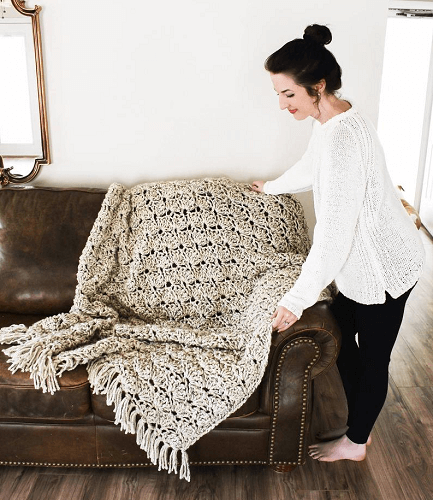 Get the Pattern by Darling Be Brave here

26. Monstera Throw Blanket Crochet Pattern by Make And Do Crew
Whether you crochet this tropical blanket for a baby's nursery or your living room, the iconic monstera leaves will lend a fresh, modern vibe. The size is just right to snuggle under, drape over the couch or have story time on the floor.

And because this pattern is worked in only two colors, it's a perfect project for less experienced C2C(corner to corner) crocheters.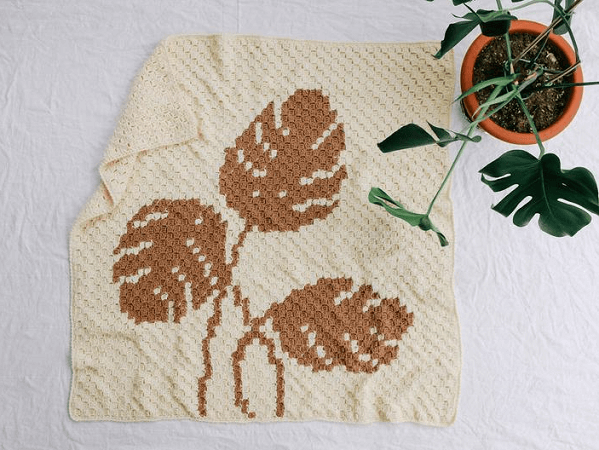 Get the Pattern by Make And Do Crew here

27. Merry And Bright Crochet Throw Pattern by The Unraveled Mitten
This Merry and Bright Crochet Throw Pattern uses a modern chevron stitch to create a cozy addition to your handmade holiday decor for Christmas this year.

This festive throw uses a double strand of worsted weight yarn and is easy to customize the size, yarn weight, and hook, keep in mind though, this will change your gauge and yarn yardage.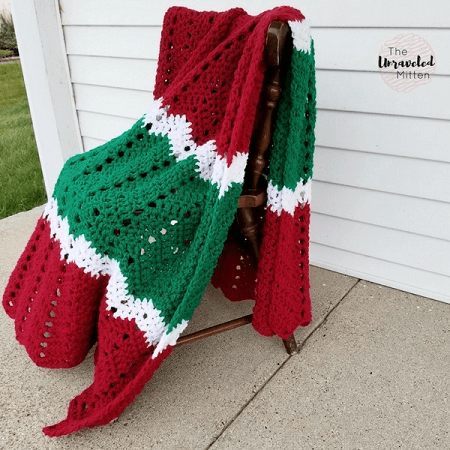 Get the Pattern here

28. Tunisian Crochet Throw Pattern by 1 Dog Woof
This throw is a Tunisian crochet blanket made solely from the Tunisian Simple Stitch, which creates a dense, gridlike texture, reminiscent of woven blankets.

Featuring colors inspired by a desert sunset, this large blanket will be the one your whole family fights for on movie nights!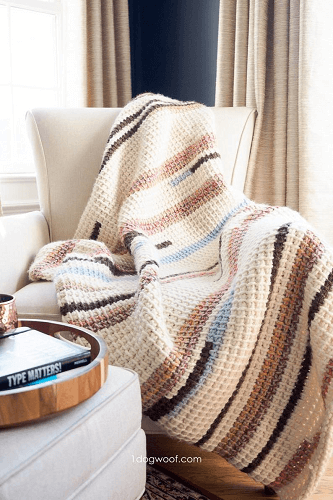 Get the Pattern by 1 Dog Woof here

29. Vintage Lola Crochet Ripple Throw Pattern by Mama In A Stitch
There's so much you'll like about this Vintage Lola Crochet Ripple Throw. It's warm, chunky, and completely reversible. It's also easy to make as it is worked with a simple one-row repeat!

Featuring chunky yarn, this blanket exudes vintage vibes and a cozy feel with feminine yet bold stitches.

The understated ripples echo back to antique throws, but the modern striping and chunky stitches speak to today's modern look. The stitch pattern is simple and works up quickly with a large hook!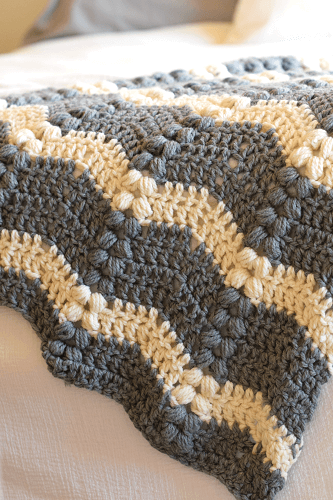 Get the Pattern here

30. Double Cable Crochet Throw Blanket Pattern by Mid Knits
This 45" x 60" (approx.) super chunky Double Cable Throw Blanket is crocheted using 4 strands of acrylic yarn to create a modern over-sized blanket or rug. With lots of pictures and instructions included with the pattern, this is an easy to follow how-to.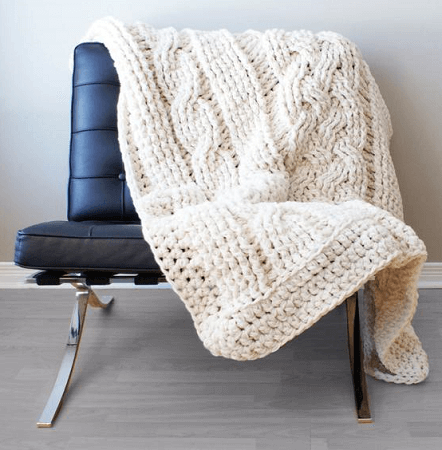 Get the Pattern by Mid Knits here

31. Circular Throw Crochet Pattern by Holland Designs
This Circular Throw is a gorgeous textured marvel! Worked in rounds and measuring approximately 54" wide, it is the perfect throw size and looks beautiful draped over a chair or couch.

If worked in a lighter weight yarn, this would also make a beautiful baby blanket for a sweet little girl.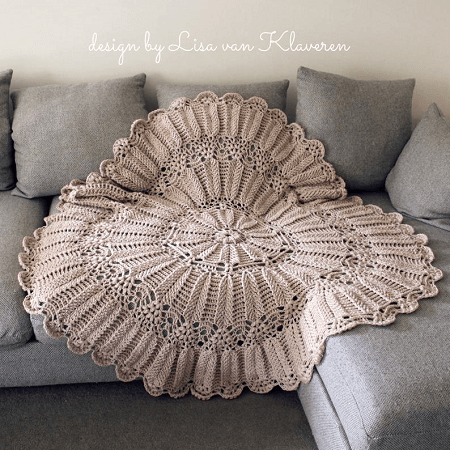 Get the Pattern by Holland Designs here
32. Free Crochet Throw Blanket Pattern by Daisy Cottage Designs
Fun crochet blanket patterns are my favorite thing to crochet. This is a very bright and fun crochet blanket pattern. The bright colors and the white accent make this blanket pop.
Can you imagine on a cold or wintery day, snuggle up under this blanket with some cocoa and a favorite film. Maybe even with a fire in the hearth. That would certainly bring a bit of brightness to your day.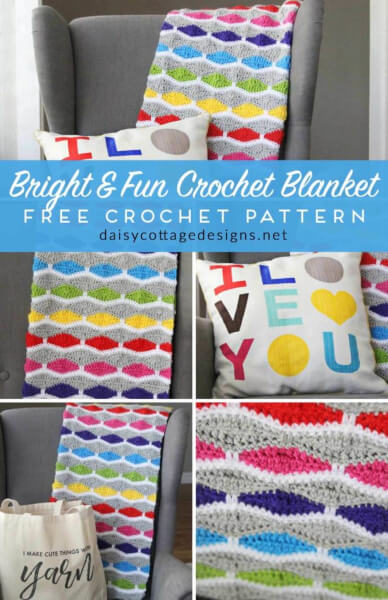 Get the Pattern here.
Make one(or all!) of these gorgeous crochet throw blanket patterns for wrapping up on the couch or a cozy gift.
We love to see your finished projects! Post some pictures on our Facebook Page and show off your stitches. When you're done, climb under the coziest throw in the history of time and start plotting your next crochet project!

Are you kinda digging this blanket thing? We've got a lot more for you to make! Check out our Crochet Waffle Stitch Blanket Patterns, Gorgeous Mosaic Crochet Patterns, Fire Blanket Crochet Patterns and even these fun Crochet Dinosaur Blanket Patterns

So don't waste a single minute more and head straight into your favorite crochet throw blanket pattern!