In crocheting, there are multiple ways to create intricate designs and one of those is through mosaic crochet. However, a lot of crocheters get easily intimidated because of the intricate designs you can make using this technique.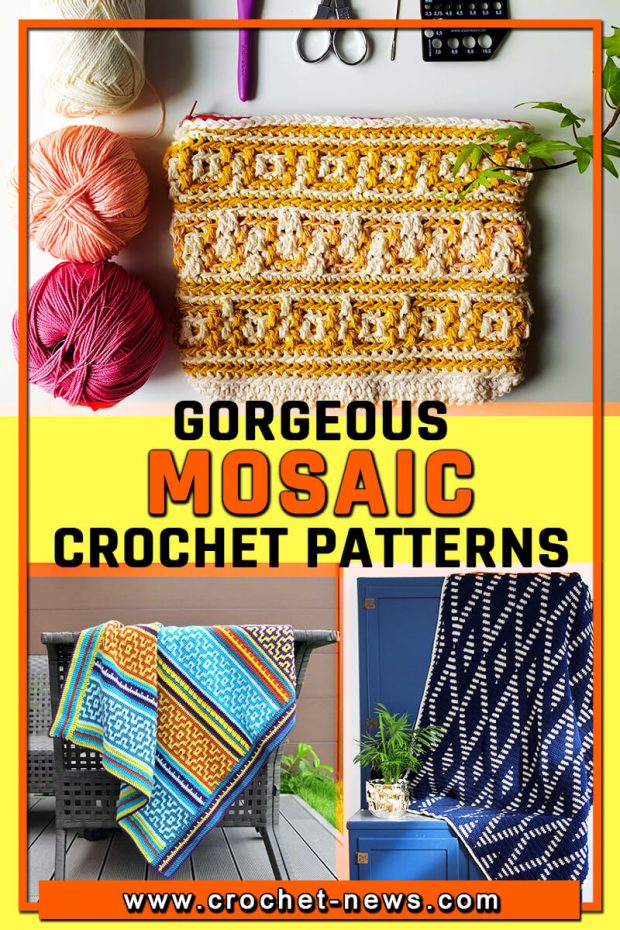 To hopefully entice more crocheters to give mosaic crochet a try, we listed a few crochet projects that we're sure even the most determined beginners can easily make! Although some of the projects on this list are intended for intermediate crocheters, each project has complete step-by-step instructions and some are even accompanied by photos to guide them throughout the whole process.
So if you're looking for some mosaic crochet patterns, why not give these ones a try?
1. Mo-mo Project Bag Mosaic Crochet Pattern by Nomad Stitches
We are starting the list with this Free Mo-mo Project Bag mosaic crochet pattern by Nomad Stitches. Aside from the detailed instruction on how to make this bag, they also included a mosaic crochet tutorial that you can easily follow!
Even though it is worked in rounds, you can easily adjust its size by repeating the sections of this bag. To make this bag, you will need two yarn colors, a hook, and zippers that you can sew onto the bag.
2. Nya Mosaic Crochet Pattern Blanket By LillaBjornCrochet 
If you're up for a color-filled mosaic crochet project, you'll enjoy working on this 122 cm x 152 cm Nya Mosaic Blanket. In creating this colorful blanket, you can use 7 colors of the Scheepjes Colour Crafter yarn or any DK yarns.
This pattern has detailed written instructions accompanied by photos that you can use as a guide while making the blanket. If you prefer charts over written instructions, this pattern also comes with a chart.
3. Thassos Crochet Blanket Pattern By My Crochetory
If too many colors do not suit your style, you'll probably love this two-color combination mosaic crochet blanket by MyCrochetory. This pattern comes with a step by step photo tutorial and a mosaic chart that you can follow as you work on the blanket.
Although it might look a little complicated, as long as you know the basics, you can surely complete this mosaic crochet pattern. You can even make it in any size you want.
These are the yarns recommended by the designer are Gazzal Baby Cotton Yarn in White and in Black. You can also customize your blanket and use other colors if you want.
4. Diamond Heart Mosaic Crochet Throw Pattern By RedSparrowCrochet
Beginners will surely love this stylish geometric throw made using the mosaic crochet technique. This 8-page pattern has easy step-by-step instructions written in UK terms that even beginners can understand.
To complete the 40.5 by 61 inches throw, you will need Scheepjes Colour Crafter Yarn or any DK yarn that is readily available. Aside from the yarn, you will also need a 5.5mm hook.
5. One Step Beyond Blanket Crochet Pattern By Martin Up North
Not a lot of patterns are made available in different languages, but this blanket crochet pattern is available in English, Dutch, and German. Made using the mosaic crochet technique, you can easily make unique looking patterns and lovely textures in this lovely blanket.
If you're up for a nautical feel, you can use the recommended Scheepjes Cahlista in Old Lace, Saffron, and Midnight yarns to make this gorgeous-looking blanket. However, you can also customize your blanket and use other color combinations.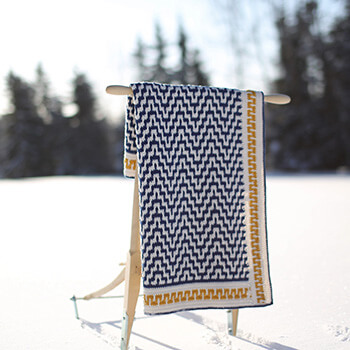 Get this pattern here
6. Amaya Mosaic Crochet Shawl Pattern By LillaBjornCrochet
Don't you just love the geometric designs and the lovely drape of this mosaic crochet shawl? It may look a little complicated but it's actually composed of simple mosaic panels and open parts created just by using simple stitches.
Although targeted towards the more experienced crocheters, challenge-seeking beginners can surely figure out how to make this gorgeous shawl. With the help of the detailed instructions and photo-tutorial included in this pattern, any patient crocheter can definitely create their own mosaic crochet shawl.
To start working on this crochet pattern, you will need Colour Crafter Scheepejs Yarn (DK), River Washed/Stone Washed by Scheepjes (DK/Sport) Yarn, and a 4.5mm crochet hook.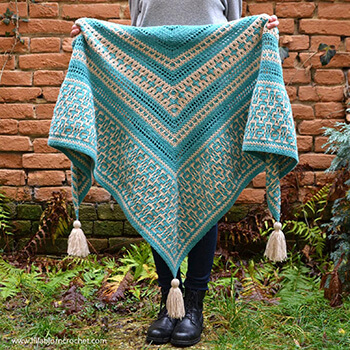 Get the Amaya Mosaic Crochet Shawl Pattern By LillaBjornCrochet Here
7. Creepy Crochet Halloween Pattern By SixelHome 
Looking for more Halloween decoration? We highly recommend making this Creepy Crochet Halloween pack! It has three different mosaic crochet charts that you can turn into a pillow or a table runner.
The Gothic Skulls and Jack Pumpkin patterns come with instructions on how to make a pillow. The Chevron & Skulls on the other hand has instructions on how to make a table runner or a placemat.
If you're feeling creative, you can also use the chart to make other garments like scarves, blankets, etc. however, because you will have to use some special stitches for this project, this crochet pattern is classified as an advanced or intermediate pattern.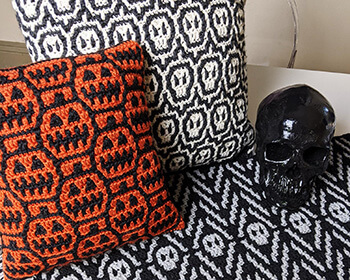 Get the Creepy Crochet Halloween Pattern By SixelHome Here
8. Timi Mosaic Crochet Blanket Pattern By DadasPlace 
Next on the list is this geometric blanket that gives a modern vibe. This mosaic crochet blanket pattern written in US terms makes a stunning blanket perfect for modern rooms.
To achieve the 33 x 45 inches expected size, you have to use (yarn), or Catona yarn. A 3mm hook is needed for the blocks of stitch pattern, for the mosaic panels, you will need a 3.5mm hook. You can also adjust the size to whichever you prefer by adding or deducting repeats.
This detailed pattern includes a guide on how to make the mosaic double crochet, how to make the tassel, and a row by row mosaic panel picture tutorial.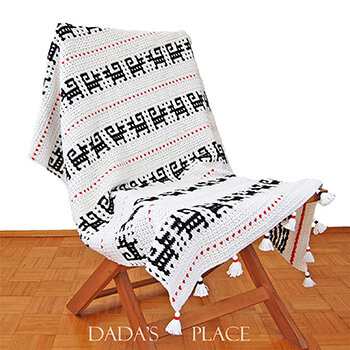 Get this Timi Mosaic Crochet Blanket Pattern By DadasPlace Here
9. Cocoon Cardigan Mosaic Crochet Pattern By My Crochetory
Aside from blankets, the mosaic crochet technique also looks great on cardigans. A great example is this oversized Cocoon Cardigan that works great on tops and dresses.
in this intermediate pattern, you will make two crochet rectangles and sew them together to create an armhole. You can easily make this pattern in no time, and it's available in four sizes.
By using the Drops Puna yarn, you will be able to create a soft, comfy, and warm shrug perfect for the cold weather. You can even add ribbing on the edges to make it look more stylish.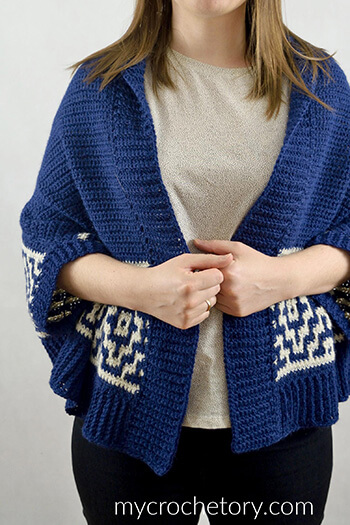 Get this Cocoon Cardigan Mosaic Crochet Pattern By My Crochetory Here
10. Chic Modern Mosaic Blocks Throw Pattern By Marly Bird
Intermediate crocheters will surely enjoy working on this chic and modern blanket throw made using the mosaic crochet technique. However, if you are still a beginner but you have enough patience to work on an intricate design, you can surely pull this off because the stitches are quite easy to make.
Using the Red Heart Chic Sheep Yarn Marly Bird in Platinum and Lace, you can make a 54.25" x 64.75" throw using this pattern. You will also need a 5.5mm hook and tapestry needle to complete this project.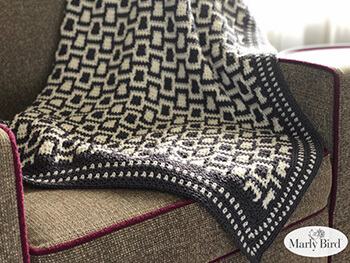 Get this pattern here
11. Mosaic Crochet Pillow Pattern By My Crochetory
There are various things you can make using a mosaic crochet pattern, including this lovely crochet pillow. Its complex design looks stunning and will work with any other home decor as long as you use a similar color palette.
The front of this pillow is worked in rounds using the mosaic crochet technique. The back part, on the other hand, is worked in a single color, and buttons are added to secure the pillow inside.
Aside from the Scheepjes Stone Washed yarn or any sport weight yarn, you will also need a 3.5mm hook and 4 buttons to complete this mosaic crochet pattern. Choosing two contrasting colors for the yarn will help make the design pop out more.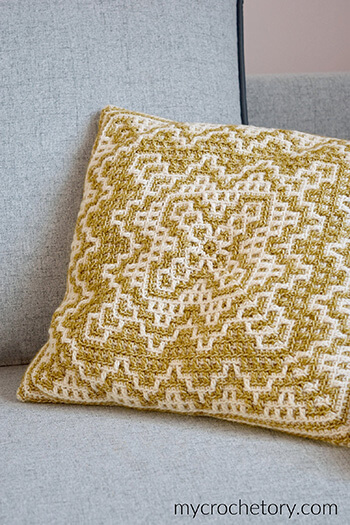 Get the Mosaic Crochet Pillow Pattern By My Crochetory Here
12. Butterfly Mosaic Crochet Pillow Pattern By By Katerina 
Wouldn't it be great if you can create gorgeous designs while working on only one color in each row? That's exactly what you can achieve in this butterfly mosaic crochet pillow pattern using the mosaic crochet technique!
to create this lovely pillow cover, you will work on 4 individual mosaic squares that will be joined together to create the front side. You will make Another big square with rows of single crochet in alternating color, this will serve as the backside.
Assembling the whole project is quite easy, using a yarn needle, you will join three sides of the front and backside then you can add the zipper. Other than the yarn needle and the zipper, you will also need a 4 mm hook and two Concept Cotton Merino By Katia yarns in different colors (Mint Green Black and Pastel Green).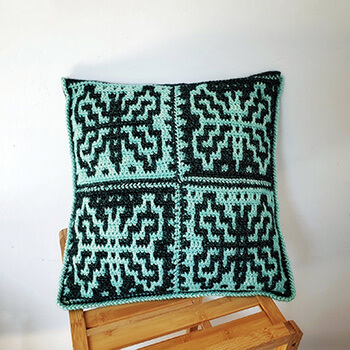 Get this Butterfly Mosaic Crochet Pillow Pattern By By Katerina Here
13. Caron Woven Mosaic Crochet Blanket Pattern By Yarnspirations
Working on an intimidating piece like this woven mosaic crochet blanket can be overwhelming. But to make it a whole lot easier to make, this mosaic crochet pattern is actually separated into four sections that you can work on every week.
Aside from the detailed instructions accompanied by pictures, there are also instructions on how to read charts in this pattern. Also included in the pattern are the exact colors of the Caron One Pound and Caron Jumbo yarns that the designer used.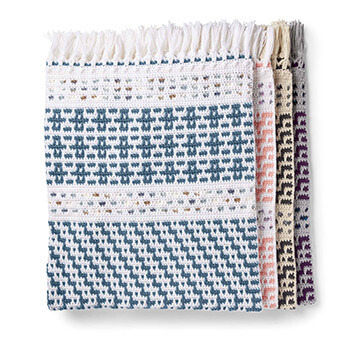 Get this pattern here
14. Mykonos Crochet Tote Pattern By AlyseCrochet 
Take everyone's favorite travel destination with you by working on this greek-inspired summer tote! This stylish bag not only looks stunning with its mosaic crochet design, but it is also sturdy enough to hold a a lot of weight.
Measuring 14.5 x 16 inches, this tote bag has a 25 inch long braided macrame cord for its handle. You'll easily understand how to make the bag and the handle with the step-by-step instructions included in the pattern.
To complete this mosaic crochet project you will need the following materials: 300 yards and 200 yards of heavy worsted weight yarn in two colors: Paintbox Yarns Cotton Aran in Champagne White (Color A) and Royal Blue (Color B), Macrame cord for handles, 4.5mm crochet hook.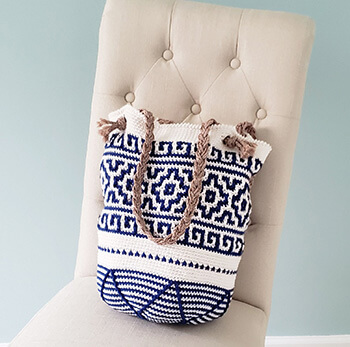 Get the Mykonos Mosaic Crochet Tote Pattern By AlyseCrochet Here
15. Nya Infinity Crochet Blanket By Lillabjorncrochet
Enjoy the warmth and the gorgeous design of this easily adjustable blanket made using mosaic crochet. Because only the simplest stitches are used in this pattern, advanced beginners can definitely complete this blanket.
The pattern gives you all the details you and even includes pictures that will guide you throughout the process. It comes in two versions: a complete version with all the pictures, and a printer-friendly version with the complete instructions sans the pictures.
Working on this project requires two contrasting Scheepjes Whirl yarn colors and a 3.5 mm hook.
Get the Nya Infinity Mosaic Crochet Blanket By Lillabjorncrochet Here
Are you excited to try the Mosaic Crochet Technique?
Level up your crochet skills by trying a new technique! We really hope all these gorgeous mosaic crochet patterns enticed you to try this simple yet intricate technique.
Don't forget to share your final output if you decided to work on one or more of these patterns! Feel free to share a picture of your work by sharing it on our Facebook Page.
If you're looking for other throw blankets patterns to make, we have a whole article dedicated to that.
Now that you know how to make mosaic crochet, what other stitches do you want to learn?