If you crochet, you know how fun it can be. But you have probably never thought about making crochet pants. But why? Do they seem like they will be a lot of work? Or maybe, you are afraid they will not fit. Now it is time to get out of your comfort zone because crochet pants are easy to make, and most patterns are made to measure for the perfect fit.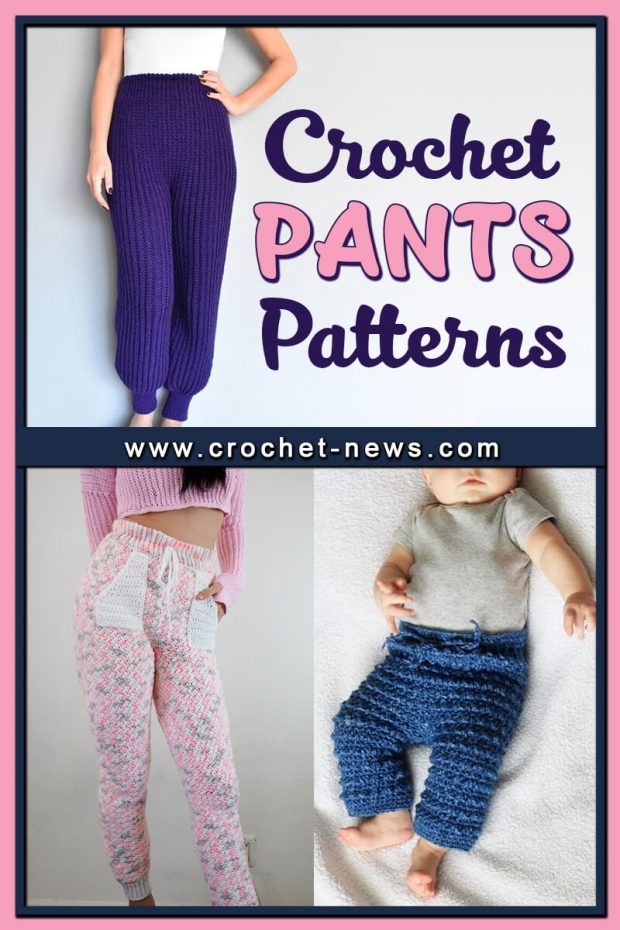 Just when you think we're officially out of fresh fashion trends, life gives you – crochet pants. Crocheting a pair of pants is simple but time intensive. Anyone is capable of completing one so make several pairs of crochet pants for yourself, gifts, or selling online or at craft shows. They come in all shapes and guises – sit back and prepare to be wowed!
What are Crochet Pants?
Crochet pants are pants that are made using crochet techniques. There are countless style choices. You can find crochet pants patterns for classic pants, playful pants, beach coverups, and jammies. They can be form-fitting or loose. 
Why Do People Love Crochet Pants?
Do you wear crochet pants? If so, you know why people love them. If not, here are a few facts about the pants that will have you searching for some crochet pants patterns to work on.
1. Crochet pants are stylish.
2. You do not need to wear a bunch of accessories when wearing crochet pants.
3. There are crochet pants patterns for both summer and winter apparel.
4. You can wear them to the club, work, market, or bed.
5. When you use the right yarn, they will be super soft and comfortable.
23 Pants Crochet Patterns
1. High Waisted Sweat Crochet Pants Pattern by TCDDIY
This piece will keep you looking polished while at your comfiest. Using a larger hook for the pants makes for lightweight sweatpants that can be worn year-round.

The adjustable drawstring is both functional and fashionable. Snuggle up to watch a movie or throw a jacket and your favorite t shirt over it and you're ready for errands or hanging out with friends.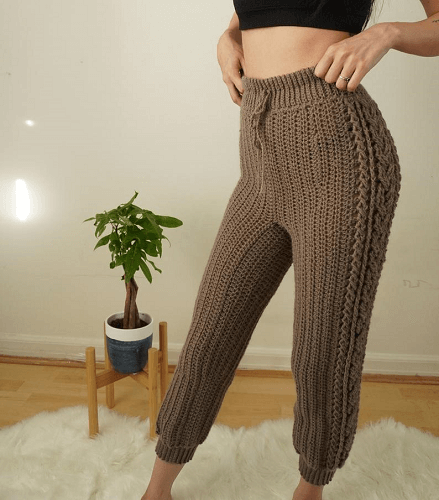 Get the Pattern by TCDDIY here

2. Comfy Crochet Pants Pattern by Heart Hook Home
These amazing pajama pants are worked up in vertical rows. They're so soft, cozy, and the pattern is super easy to follow! Meant to be a bit on the long and flowy side, this pattern includes instructions for "short", "average", or "long" length. The sizes range from adult small to 2/3XL!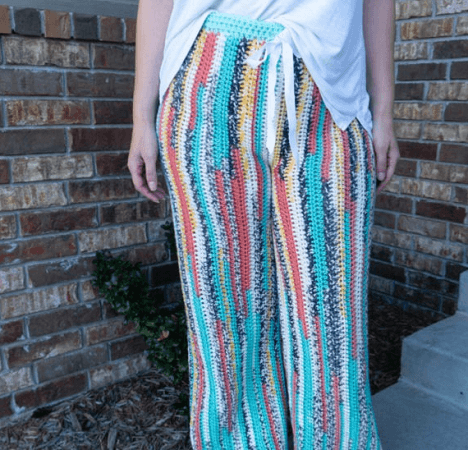 Get the Pattern here

3. Not For Jogging Joggers Pants Crochet Pattern by Knitorious Knits By Tay
These Crochet Not For Jogging Joggers are the perfect cozy pants to complete your at-home, errand running, or casual outfit. Designed for Fall and Winter wear, the joggers are made using the Lemon Peel Stitch, which creates a lightweight, yet warm material.

The waistband and ankle cuffs are designed to look knit for a sleek, polished look, and the functional drawstring feature allows for a sure fit.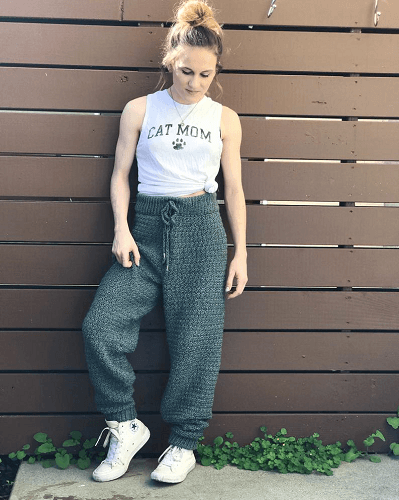 Get the Pattern by Knitorious Knits By Tay here

4. Mermaid Lace Pants Crochet Pattern by The Curly Vine
Hand crochet lace motifs in 3 different designs are linked together to create these one-of-a-kind flare pants. The unique design on the flare of the pants creates a train on the back of each leg which drags gracefully behind you as you walk.
The flares have a thick decorative border with scalloped edges and the waist of the pants is secured with a long sheer ribbon sash.
Get the Pattern by The Curly Vine here

5. Crochet High Waisted Sweats With Pockets Pattern by TCDDIY
These bottoms were made with versatility in mind. Construct a pair of these sweat pants that would be chic to wear while running errands, hanging out with friends, or snuggled up at home watching a good movie or crocheting.

The pockets are a functional addition that's the perfect fit for keys and other small essentials. The pattern is for high-waisted sweat pants, but they can easily be customized to low-rise, capris, or even shorts.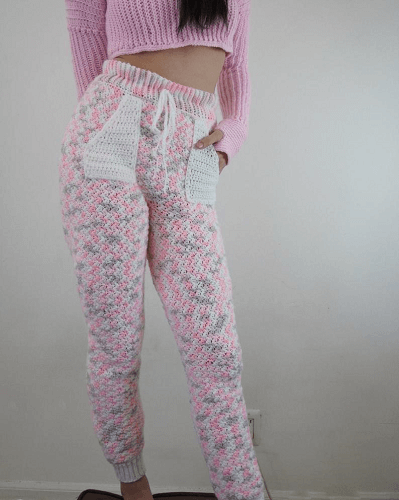 Get the Pattern by TCDDIY here

6. Crochet Cozy Sweatpants Pattern by I Love Tinder Box
In addition to being size versatile, this crochet pants pattern is also yarn versatile – there is no prescribed weight or hook size. Choose your own adventure style!

Want pants with endless drape? Choose a flowy DK weight yarn, want comfy cozy Netflix & crochet sweatpants? Choose a fuzzy worsted or bulky weight yarn! You make the rules!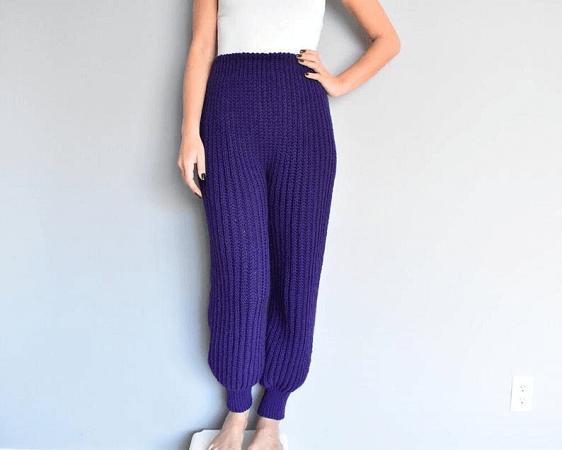 Get the Pattern by I Love Tinder Box here

7. Daphne Straight Crochet Pants Pattern by Mati Denmark
A crochet pattern for wide pants with shell stitches and elastic waist. You can also make these in a shorter version or as hot pants.

Because of the simple construction, you could decide high waisted you want them to be, if you want a wider/smaller waistband (or you could even just add a drawstring to the waist), there are so many options – you could also add a cute edge to the pants or make them striped!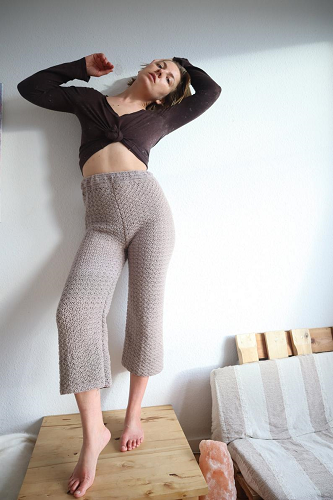 Get the Pattern by Mati Denmark here

8. Crochet Striped Baby Easy Pants Pattern by Mon Petit Violon
These Striped Baby Pants are easy to make and they will keep your baby warm and comfy through the whole cold-weather season! Besides what can be cuter than baby wearing striped trousers?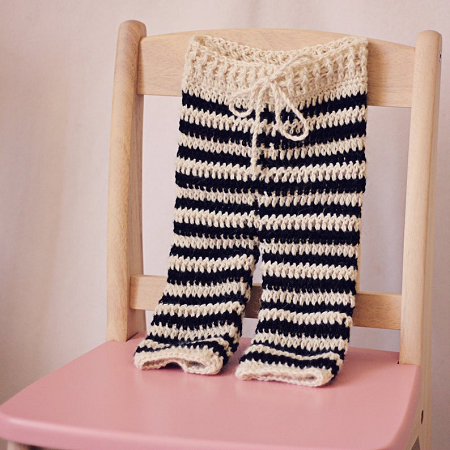 Get the Pattern by Mon Petit Violon here

9. Crochet Velvet Pants Pattern by Knitcro Addict
This pair of Crochet Velvet Pants is a versatile piece that will take you from meeting to the dancefloor in a flash! If you've ever wanted to crochet a pair of pants, but were also too intimidated, this free crochet pants pattern is worth a try.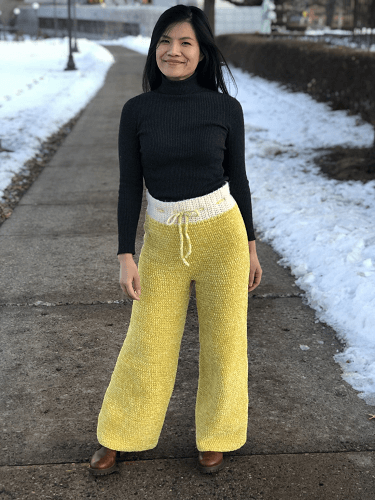 Get the Pattern here

10. Crochet Frog Pants Pattern by Ira Rott Patterns
Meet Pistachio, a funny little frog who likes to be silly and joke with his friends in the pond. He has his adorable smiling face on the bum of these pants. Isn't it cute to see your little one wearing this as pajamas? This frog crochet pants pattern comes in size newborn to 4-year old toddler.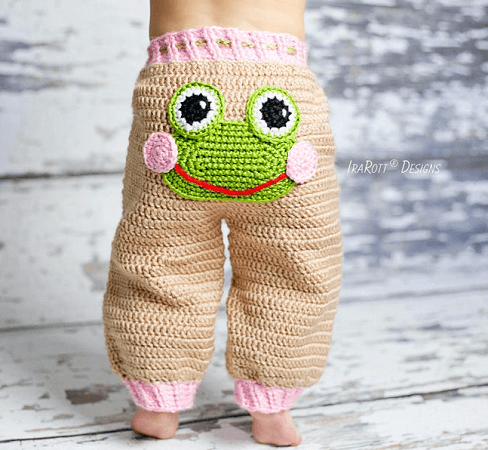 Get the Pattern by Ira Rott Patterns here

11. Baby Free Crochet Pants Pattern by Two Brothers Blankets
Cute little baby clothing is not only fun to put on babies, but it's fun to make too! These crochet pants look so adorable over a onesie, or by themselves!
You can use these pants for a photo shoot, or just to keep your little one warm! The free crochet pants pattern comes with instructions for sizes newborn to 24 months.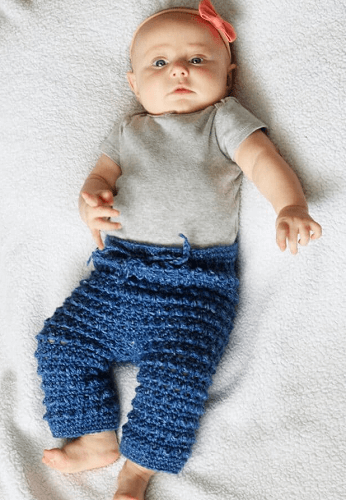 Get the Pattern here

12. Seamless Lace Leggings Crochet Pattern by Mon Petit Violon
What can be better for a baby than seamless pants?! These are made without seams, are extremely comfy and cute!
These leggings can be perfect for summer, and for colder seasons as well. Use light cotton or viscose yarn for light summer pants, or warm wool, alpaca yarns for colder seasons.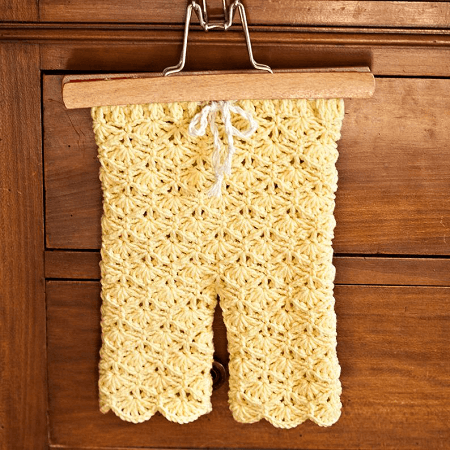 Get the Pattern by Mon Petit Violon here

13. Summer Crochet Pants Pattern by Etty 2504
Go casual this summer in this pair of seashell crocheted pants. This beach cover-up is the perfect accessory for all you beach babes this season. Use it over and over again to keep your summer wardrobe looking trendy and fabulous!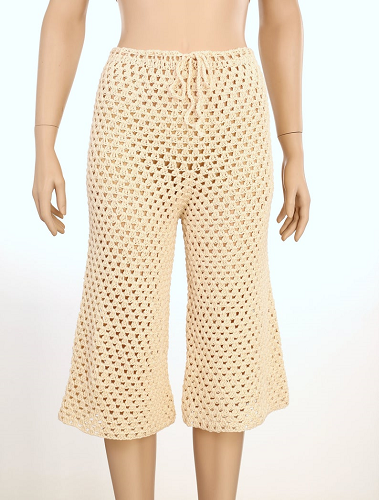 Get the Pattern by Etty 2504 here

14. Summerfest Wrap Crochet Beach Pants Pattern by Counting Crafty Sheep
This pants crochet pattern is designed with the summertime beach lover in mind. Bunch them up and toss them in your beach bag and head out to to your favorite waterside retreat. Great for camping trips, weekends at the lake, hanging out on the boat, or attending your favorite festivals. Walk off the beach, wrap these on, and head right inside.

The wrap style of these pants makes them great for dressing up or dressing down. Create multiple looks by tying them in the front or back. The airy design helps to keep you cool while covered and the cotton material is super absorbent.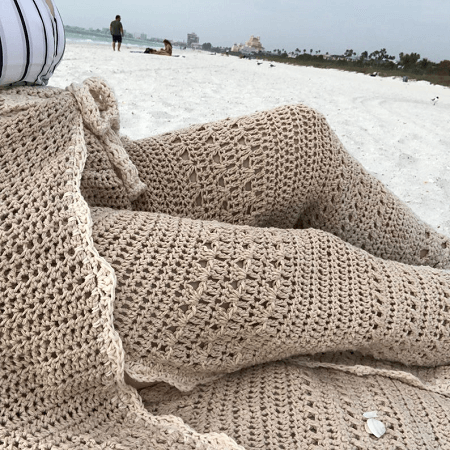 Get the Pattern by Counting Crafty Sheep here

15. Thai Pants Crochet Pattern by By Katerina
The design of these Thai Crochet Pants is pretty simple and even a beginner will be able to make them, with a little bit of patience. You will work 2 identical parts, with a little U shape space on the top (This U shape space will be the space between legs).
The parts will be sew together across this U shape space and then add some strips that will be used to tied the pants around our waist.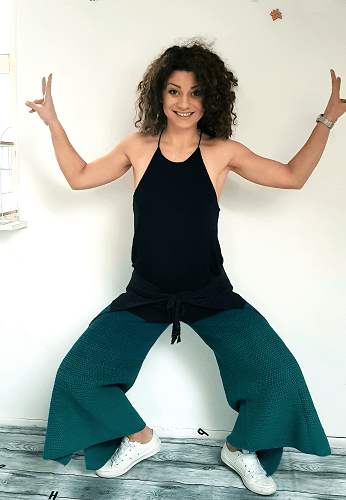 Get the Pattern here
16. Eggpants Parmesyarn Crochet Pants Pattern by LCKCrochetShop
Cute, fun, and whimsical, these crochet jogger pants have 9 different colour changes. Make the pants using bright colours to stand out, or muted colours for a more refined look.
The crochet pants pattern is written in standard American terms. The pattern is suitable for an intermediate level crochet artist. Included are sizes that range from XS/S to 5XL/6XL.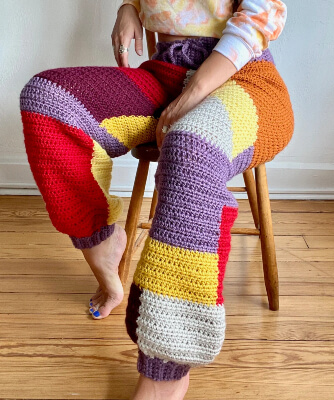 Find the Pattern by LCKCrochetShop Here
17. Retro Crochet Pants Pattern by MayaLunaCorazon
Are you looking for hippie style crochet pants patterns? These pants have a modest style while being airy and cool to wear. Not only can you use the pattern to make pants, but you can make shorts too!
This is an easy-to-follow crochet pants pattern with video tutorials. Included in the download are 2 pdf files. One includes colour photos and notes from all the testers. The other has black and white text. So, you can print only the text instructions and save ink.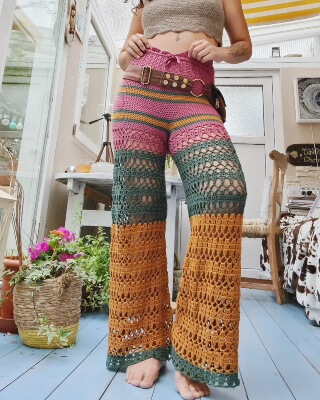 Find the Pattern by MayaLunaCorazon Here
18. Florette Flares Crochet Trousers Pattern by Crochetwithalanna
The Florette flares pants have a multicolour striped design and elastic waistband. Each stripe is a separate colour that uses a different stitch pattern.
This pattern is suitable for advanced beginners. There are detailed steps and helpful pictures throughout. You will need 10 colours of any 4ply fingering weight cotton yarn, elastic, and a 3.5 mm crochet hook.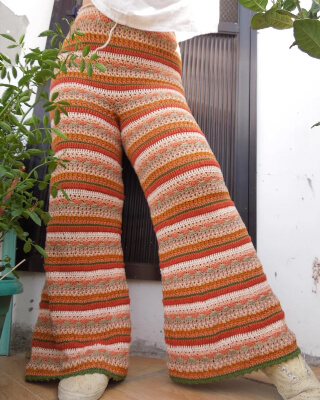 Find the Pattern by Crochetwithalanna Here
19. Burano Crochet Trousers Pattern by TheCrocheting
How much fun are these colourful pants. When you wear them, you will definitely turn heads. The patchwork pants feature a drawstring waist
The crochet pants pattern is written in US crochet terminology. There are detailed instructions for crochet and assembly. Included are instructions for sizes XS, S, M, L, XL and XXL.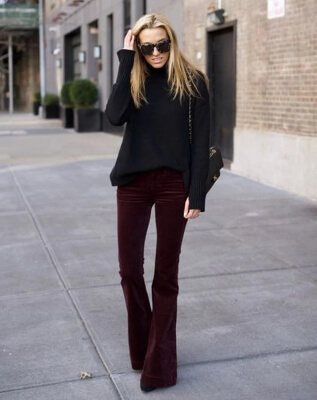 Find the Pattern by TheCrocheting Here
20. Lacy Granny Square Pants Crochet Pattern by MAELI Designs
These lacy crochet pants look stunning in a solid colour as well as a rainbow of colours. You can use this one pattern to make several pairs of pants that will all look different.
This pattern is intended for a confident intermediate to advanced level crocheter. To make the pants, you will need to take body measurements. Since you use your own measurements, this pattern can be used for all body shapes and sizes.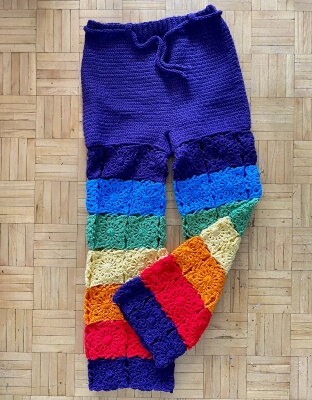 Find the Pattern by MAELIDesignsmm Here
21. Easy High Waisted Crochet Granny Square Pants
The Kaleidoscope Granny Square Pants provide full coverage. They are comfortable enough to wear to bed, yet cute enough to wear out.
Follow along with the free video tutorial to learn how to make these adorable pants. The beginner-friendly pattern can be customised to fit any size.
Find the Pattern by glynns.effects HERE
22. Crochet Skull Pants Pattern by Rynthefriend
These gothic skull pants will make you stand out in a crown. The pants are perfect for everyday wear and Halloween. Make them using black and white, or have fun and make them bright and playful.
This is an intermediate level crochet pattern. It calls for weight 4 yarn. Included are sizes S-XL. There are also instructions for customising the fit.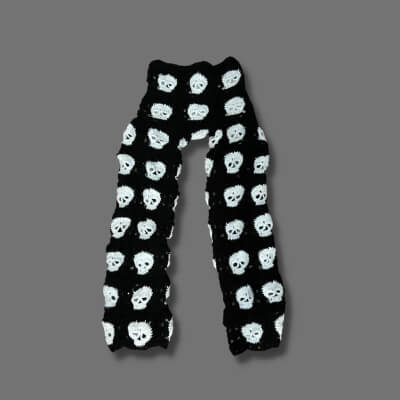 Find the Pattern by Rynthefriend Here
23. Crochet Solar Flares Pattern by savstitchesUS
The unique sunflower design of these flare pants is perfect for your summer and fall wardrobe. Wear them to the park, the beach, or the pumpkin patch.
This crochet pants pattern is made-to-measure. It is a great pattern for confident/advanced beginners. This pattern is written using US terminology. There are step-by-step instructions and pictures.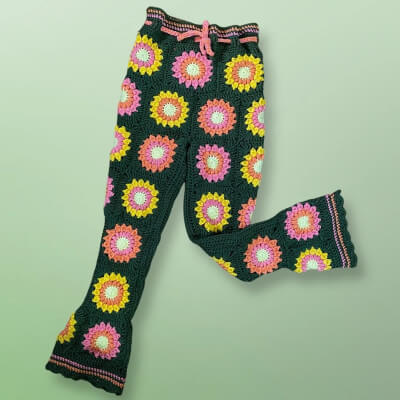 Find the Pattern by savstitchesUS Here
Frequently Asked Questions About Crochet Pants
Are crochet pants comfortable?
Crochet pants can be very comfortable. The comfort of the pants depends on the type of yarn used, the pattern, and the fit. Crochet pants that are made from cotton or bamboo yarn are soft and breathable.
They can be an excellent option for hot weather climates. However, if you use a yarn that is scratchy or if they have an improper fit, the pants can be uncomfortable. Ultimately, the overall comfort of crochet pants will depend on the material used and the person that is wearing them.
How do you make granny square pants?
To make granny square pants, you will first need to gather your materials. These will vary by the pattern. The most common materials required are yarn, a crochet hook, scissors, and a tapestry needle.
After you have gathered your materials, you will make multiple granny squares. Once you have enough squares, you will sew them together. Depending on the pattern, you can use either elastic or a cord for the waistband.
How hard is it to crochet pants?
There are many different patterns for crocheting pants. The difficulty level can range from advanced beginner to advanced. Crochet pants require knowledge of crochet stitches and basic garment construction.
Additionally, creating a pair of crochet pants can be time-consuming and requires patience. If you are making your first pair of crochet pants, it is important to start with a simple pattern. Then you can work your way up to more complex patterns.
What yarn is best for crochet pants?
When choosing yarn for crochet pants, the best options are typically natural fibres. Cotton and bamboo are breathable, soft, and comfortable to wear. Additionally, natural fibres often have a better drape. It is also important to consider the weather and choose a yarn that is appropriate for the season.
Cotton and bamboo yarns are great choices for warm weather. While wool and acrylic yarns are warmer and more suitable for colder temperatures. It is also important to use the yarn intended for the pattern. Using a different type of yarn can affect the final product.
Are crochet pants heavy?
The weight of crochet pants will vary depending on the type of yarn you use, the pattern, the stitches, and the finished size. Crochet pants that are made from cotton or bamboo yarn are lighter than those made from heavier yarns such as wool and alpaca.
Pants that are made with tight stitches will result in a denser, heavier fabric. On the other hand, loose stitches will produce a lighter, more airy fabric. Ultimately, the weight of crochet pants is determined by many different factors.
After journeying to the depths of the web, we can announce it's official – crochet pants are a thing!
With a choice of designs suitable for work, parties, or special occasions, these patterns come in a range of yarn weights for summer and winter wear. And as always, we'd love to see if you make one.
Find the perfect style for you with our collection of Crochet Cover Ups and Crochet Cowl Patterns. Be sure to share pictures of your finished projects on our Facebook Page.

There are many more wonderful crochet clothing patterns you can find here. Crochet sweaters are a classic, of course, but you can also make crochet dresses, crochet shorts, crochet skirts, tops, and other wearables.

So what are you waiting for? Save yourself a trip to the mall by whipping up these crochet pants today!