In light of events taking place around the world these past few years, it's become more and more apparent to many of us that face masks might be an accessory that will be required (or at least encouraged) for a while longer. So, let's make it more fun by making these crochet face mask patterns.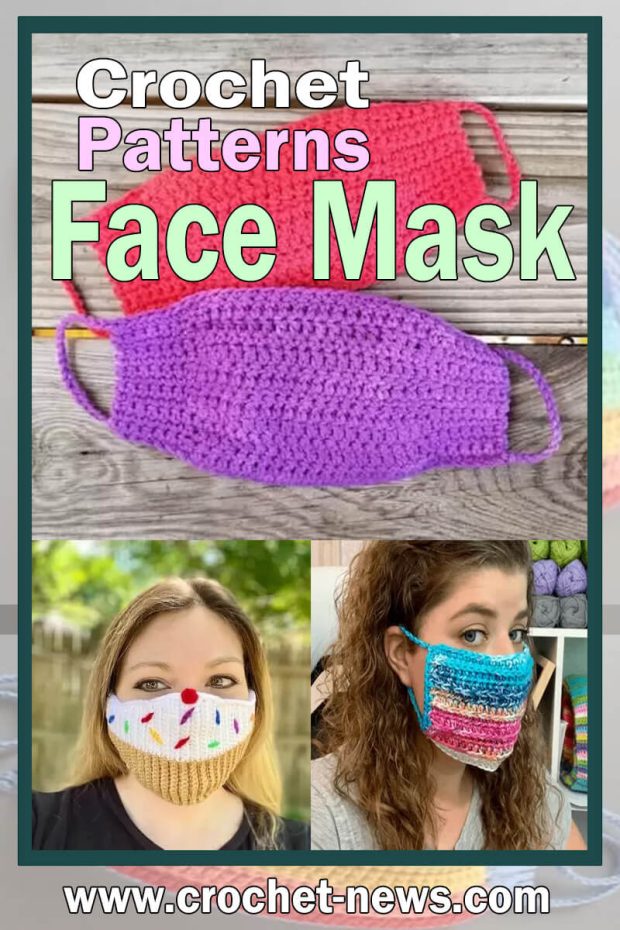 Great thing about these masks is that they can be decorated as simply or as elaborately as you like. Do you want a face mask that looks like a pizza? No problem! Or is it a simple solid mask adorned with flowers that floats your boat? Make them as comfortable and appealing as possible, and have fun with them while we're at it!

Disclaimer: These crocheted masks are not medical masks. If you make these, make sure to add medical filters underneath or linings for added protection.
12 Crochet Face Mask Patterns

1. Crochet Face Mask Patterns by Crafty Kitty Crochet
These face masks are making me hungry! Have fun making your own customizable crochet face mask with a pizza, watermelon, or cupcake design. Who said face masks had to be boring?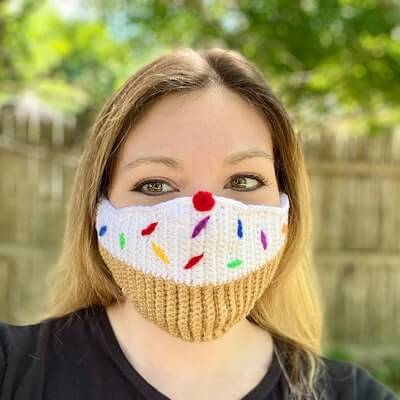 Get the Pattern by Crafty Kitty Crochet here

2. Fabric Lined Adult Crochet Face Mask Pattern by Red Heart
If you don't like fancy-styled face masks with intricate designs, you can make a basic crochet face mask using just simple crochet stitches. You can also add a filter by sewing in one or two layers of fabric in the mask.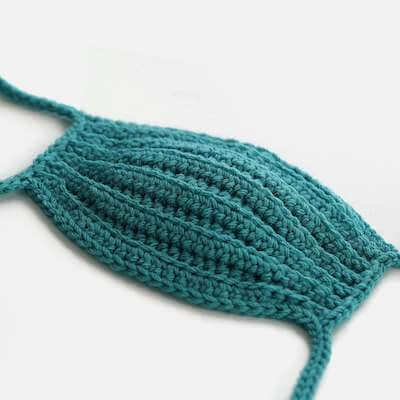 Get the Pattern here

3. Crochet Bohemian Face Mask Pattern by Maya Kuzman
This is probably the most creative and visually appealing face mask pattern on this list. It features a detailed and floral design, giving its overall appearance a unique and bohemian feel. You can add as many little flowers to your mask as you want. This will surely make a statement!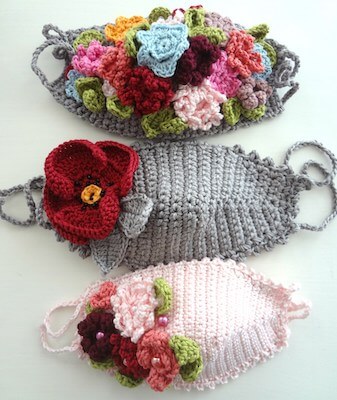 Get the Pattern by Maya Kuzman here

4. Crochet Face Mask With Filter Pattern by Crafting Happiness UK
This crochet face mask is made with cotton yarn, it's lightweight and perfect for hot summer days. It is designed to have an inside pocket so you can insert your filter and change it after every use. Cute and quick to stitch, this face covering is the out-and-about essential you'll actually enjoy wearing.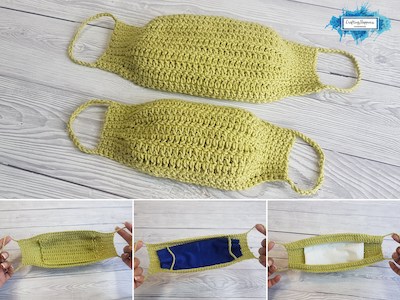 Get the Pattern by Crafting Happiness UK here

5. Halloween Crochet Face Masks by Repeat Crafter Me
These Halloween-themed face masks offer not only a lightweight covering for your face, but also a spectacularly spooky fashion statement! They are fun, fast, DIY masks that are perfect for kids to wear at school, adults to wear at work, etc.
Get the Pattern here

6. Face Mask Cover Up Free Crochet Pattern by Okie Girl Bling N Things
This easy, beginner-friendly face mask cover up pattern will help to brighten up those dull, lifeless medical face masks that many people have to wear. Feel free to make it your own by switching up the color scheme or adding additional embellishments.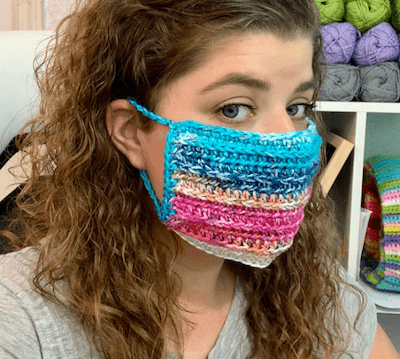 Get the Pattern here

7. Face Mask Crochet Pattern by HCK Crafts
Let's spice up face masks in colorful varieties. This way, masks could be more fashionable and exciting to wear. This pattern includes both versions of the mask: fabric on inside and pocket for tissue or cotton.
Get the Pattern by HCK Crafts here

8. Belle Leopard Face Mask Crochet Pattern by Crafting For Weeks
This fun take on a crochet mask is worked flat and incorporates tapestry crochet techniques. It can be tied around the back of the head or tied in loops to go around the ears. This free crochet face mask pattern shows you how to create a second layer where a filter or medical grade face mask can be inserted for maximum protection.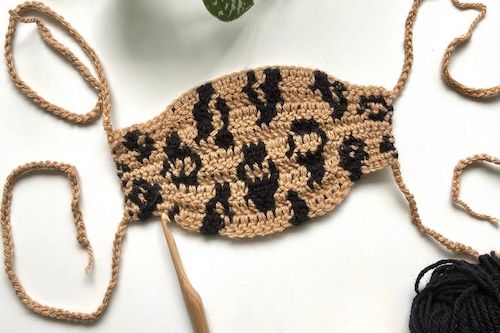 Get the Pattern here

9. Crochet Rainbow Face Mask Pattern by Fast Life Design
Brighten up your day with this Crochet Rainbow Face Mask. Sporting several different sizes, this face mask can be worn in any setting and is particularly striking to look at.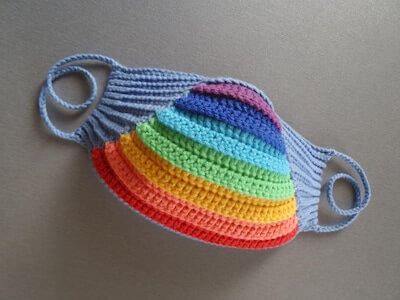 Get the Pattern by Fast Life Design here

10. Crochet Animal Face Mask Pattern by Frants Toys
Face masks don't have to be plain! This easy, basic face mask pattern is perfect for customizing with your own creative touches. Make a bear, a bunny, a tiger, or a pig that will cheer you up in these difficult times!

Kids will also be more inclined to enjoy wearing their face mask if it has an animal character they love.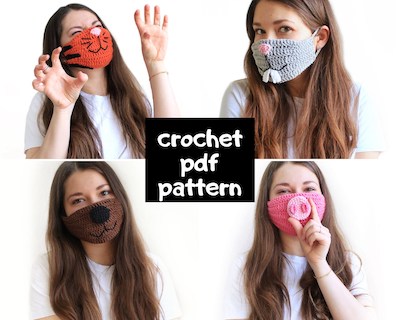 Get the Pattern by Frants Toys here

11. Wonder Woman Free Crochet Face Mask Pattern by Stardust Gold Crochet
Feel empowered while wearing this amazing Wonder Woman Face Mask Cover. This is a simple free crochet face mask pattern using beginner stitches and 100% cotton yarn.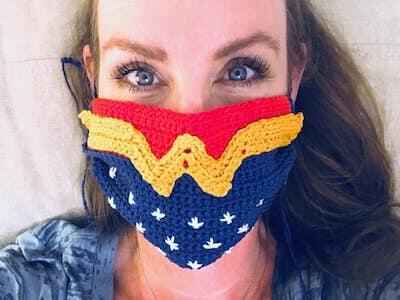 Get the Pattern here

12. Crochet Face Covering Mask Pattern by Fast Life Design
This pattern comes in three different sizes and can be customized to suit your needs. The finished mask also features an ergonomic for and is fully adjustable for your comfort and convenience.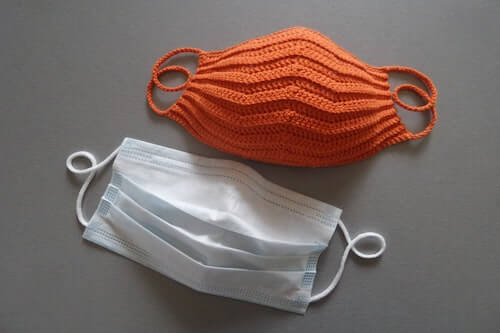 Get the Pattern by Fast Life Design here
Crochet Face Mask Patterns Frequently Asked Questions
Do crochet face masks work?
Crochet face masks are not suitable for medical use. They are not intended to prevent, treat, mitigate, or cure any health problem, including Covid-19.
These masks, on the other hand, will surely discourage you from constantly touching your face and will contain some of the droplets so that you are less likely to distribute them around.
Are crochet masks effective?
They can be as effective as any cloth mask provided a less porous cloth is used as a lining under the crochet. Crocheted output is by its nature full of gaps and spaces, so I would be reluctant to recommend it be used by itself. The fiber also needs to be washable, such as cotton yarn.
What's the best yarn to use for crochet face masks?
The ideal yarn weights for crocheted face masks are weight 3 (light/DK) and weight 4 (medium/worsted weight/Aran). You don't want it to be too thick or too thin, so choose a light or medium weight yarn.
WHICH AMONGST THESE CROCHET FACE MASK PATTERNS IS YOUR FAVORITE?
I love seeing your finished projects! If you're on Facebook, stop over to the Crafting News Facebook page and share a photo! If you can think of someone who might enjoy this list as well, why not give it a share?

Crocheting have grown in popularity since the beginning of the quarantine. So now that everybody has a ton of yarn to work with, here are more crochet projects to sink your teeth into:
Make use of some of the stay at home time, busting your yarn stash, and you will have your very own crochet face masks in no time! Happy crocheting and stay safe, friends!