Eagles are so much more than the national symbol of the United States. They're amazing and ferocious birds of prey that deserve to be appreciated and protected.
If you know someone with a soft spot in their heart for these beautiful birds, you know that you want to make them any of these crochet eagle patterns.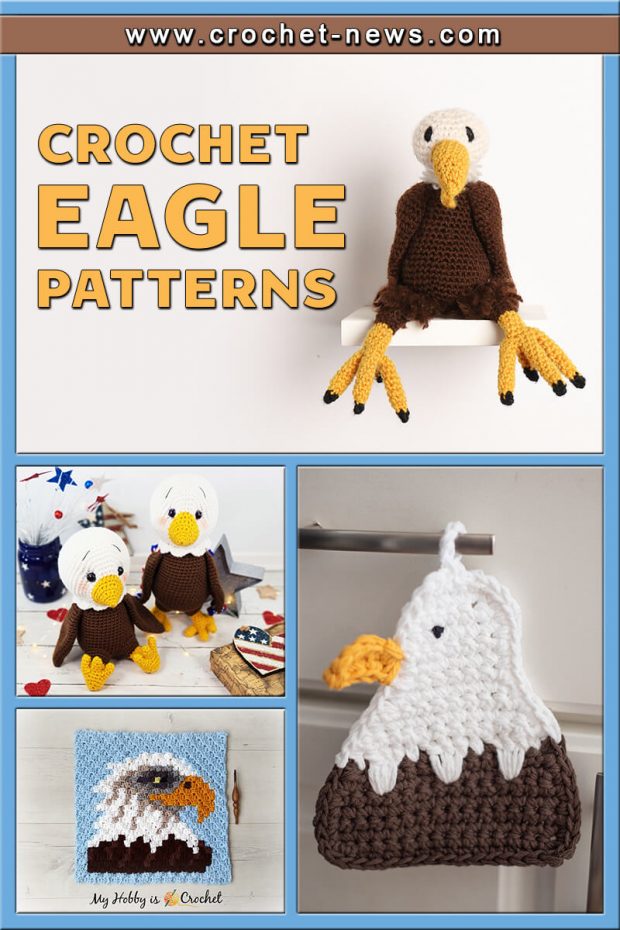 These crochet eagle patterns will open every possibility about how you can add eagles to your home decors, to your style, and also to the life of eagle fans!

1. Potholder Bald Eagle Crochet Pattern by My Fingers Fly
Show off your patriotism in the kitchen with a bald eagle potholder (or hot pad). This easy crochet pattern works up quickly with double strand of cotton yarn.

Makes a great housewarming gift for any veteran or wildlife fan. You can also use a single strand of yarn and a smaller hook to create matching bald eagle coasters. 
Also see: Crochet Potholder Patterns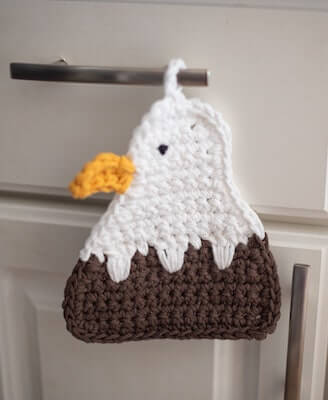 Get the Pattern by My Fingers Fly here

2. Crochet Eagle Pattern by Fluffy Calico Crafts
Spot is a cute bald eagle, and with this pattern, you can quickly whip up a new cuddly friend! This design is durable and has no plastic parts so that he would make an amazing baby shower gift!
Get the Pattern by Fluffy Calico Crafts here

3. Sam, The Bald Eagle Crochet Pattern by Il Dikko
The majestically proud symbol of the United States of America, a very detailed bald eagle crochet pattern will tickle you and others fancy.
Following this pattern, the final size of Sam will be approximately 24 cm long and his wingspan will be 30 cm.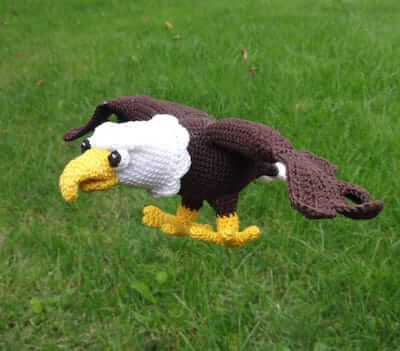 Get the Pattern by Il Dikko here

4. Crochet Amigurumi Eagle Pattern by Sweet Oddity Art
If you want a plush eagle that sits or stands or has possible wings then things just got a lot easier with this crochet amigurumi eagle pattern. He measures 13″(38 cm) tall when using a D hook and weight 4 yarn.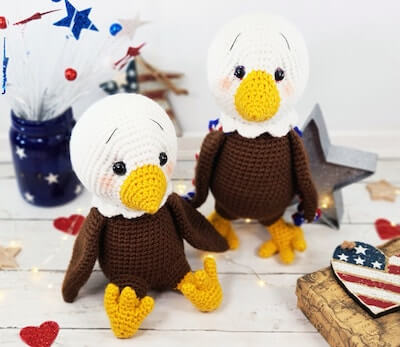 Get the Pattern by Sweet Oddity Art here

5. C2C Square Bald Eagle Crochet Pattern by My Hobby Is Crochet
You can use this Bald Eagle C2C Square on its own for different projects, such as pillow covers, bags, wall hangers, etc.
Or you can use it together with your favorite wildlife corner to corner blocks to make a gorgeous blanket that everyone in the family will love!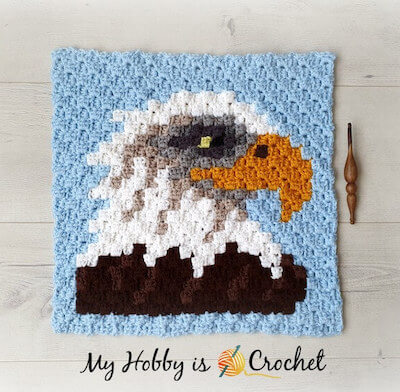 Get the Pattern here

6. Abraham, The Bald Eagle Crochet Pattern by Kerry Lord
Your handmade forest is not complete until Abraham, the bald eagle makes it a permanent place to perch!
This bald eagle is realistic, super cuddly, and a ton of fun. Once he is in your arms, you are going to wonder how you ever survived without such an awesome toy!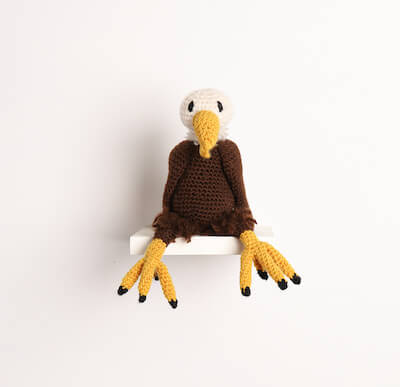 Get the Pattern here

7. American Eagle Crochet Pattern by Gennadi Shop
Add this fun, fluffy American Amigurumi Eagle friend to your child's stuffed animal collection! This is the perfect souvenir and gift for a child in your life!
With his wing-colored like the American Flag, this toy will surely be a great way to commemorate Independence Day!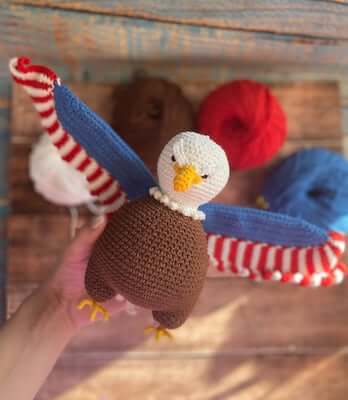 Get the Pattern by Gennadi Shop here

8. Crochet Eagle Hat Pattern by Desert Diamond
This Crochet Eagle Hat is guaranteed to turn heads! Make this hat in all sizes so anyone in the family will be showing their American patriotism.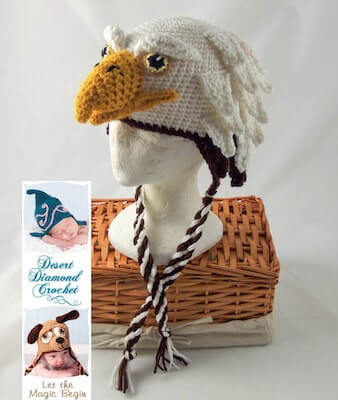 Get the Pattern by Desert Diamond here

9. Crochet Baby Eagle Pattern by My Fingers Fly
Now you can make your own baby eagle stuffed animal. Crochet a couple for a patriotic wreath, make some for the children in your family, or change the color of yarn to craft a different breed of baby bird.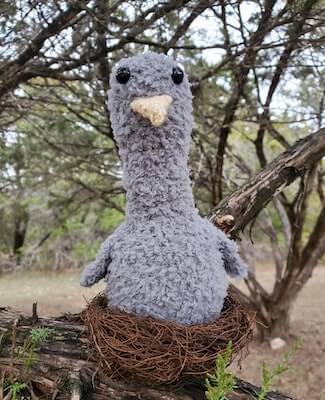 Get the Pattern by My Fingers Fly here

10. Crochet Eagle Applique Pattern by Nella's Cottage
This Crochet Eagle Applique is a great crocheting project for beginner crocheters since it's not as complicated to make as the amigurumi one.

It is easy to make and in no time, you can have a nice-sized flock to adorn bags, blankets, sweaters, hats, and anything else you would like to decorate.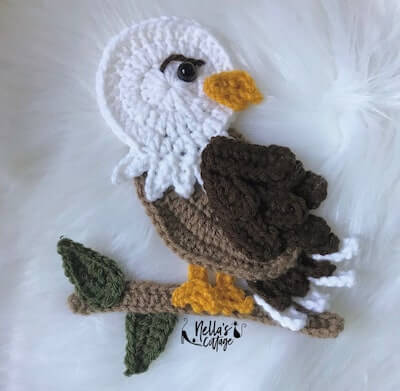 Get the Pattern by Nella's Cottage here
WE ARE SURE THESE CROCHET EAGLE PATTERNS WOULD MAKE FOR AN ENJOYABLE CROCHET EXPERIENCE!
When you have finished your own eagle, please feel free to send along pictures of your creation or post on our Facebook Page for all to enjoy!

For more crochet bird patterns, check out these handy posts for Crochet Cockatoo Patterns, Crochet Parrot Patterns, Crochet Rooster Patterns, Crochet Swan Patterns, Crochet Bat Patterns and more Crochet Bird Patterns here. There's so much more to discover!

So pick up your hook and yarn and bring a soaring eagle into your home with these crochet eagle patterns today!