If you enjoy making your own clothes and want to add an amazing piece to your wardrobe, these crochet duster patterns are a perfect choice. They are stylish and can dress up any outfit. They look amazing with a tank top and a pair of jeans.
And they are also cute with a camisole and a pair of shorts. Since they are often lightweight, they will become your favourite accessory on a cool morning or evening by the fire.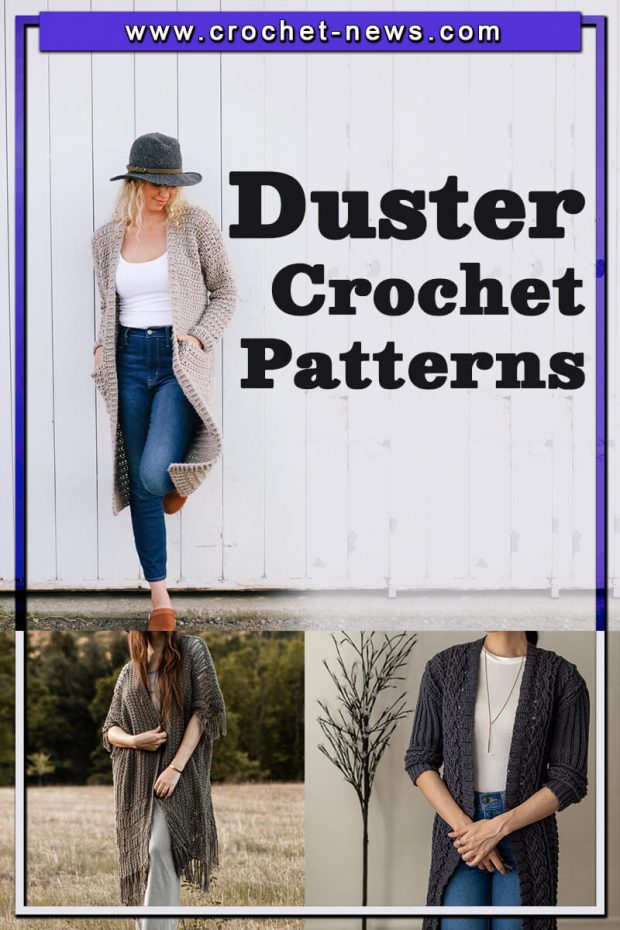 We love dusters and think you will too. There are hundreds of patterns online and we have spent hours finding the 10 best crochet duster patterns for you.
What is a Duster?
Dusters are a type of coat with minimal cuts. They are light and loose-fitting. They are long and often hit below the knee. There are little to know buttons and usually have an open front. Dusters can be alluring and add style with minimal effort.
1. Lightweight Extra Long Duster Crochet Pattern by BreannaAnnHandmade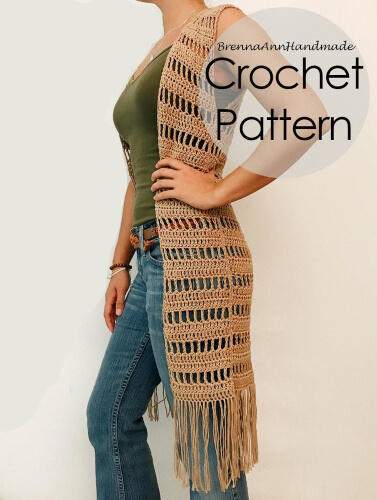 This stylish crochet fringe cardigan duster would be a great addition to your wardrobe. It is perfect for cool mornings and spring days. The loose style would look good paired with a cardigan and a pair of jeans.
The pattern is written as a size extra small – small. Easy altering instructions for decreasing and increasing the size are included.
Get the Pattern by BreannaAnnHandmade HERE
2. Easy First Cardigan Crochet Duster Pattern by MakeAndDoCrew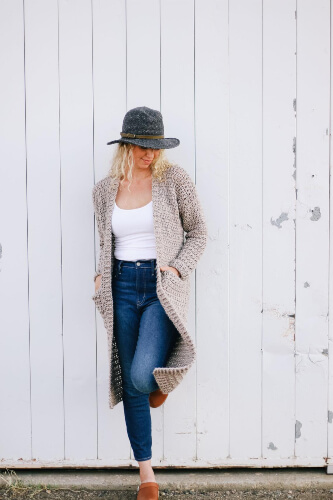 Here is a crochet duster pattern that would be a good pattern if you are new to crocheting. The duster features an open front, long sleeves and deep pockets.
To complete this beginner friendly pattern, you will need to know half double crochet, double crochet, decreasing and post stitches. The pattern includes sizes small – 3x.
Get the Pattern by MakeAndDoCrew HERE
3. Quarry Duster Crochet Pattern by Two of Wands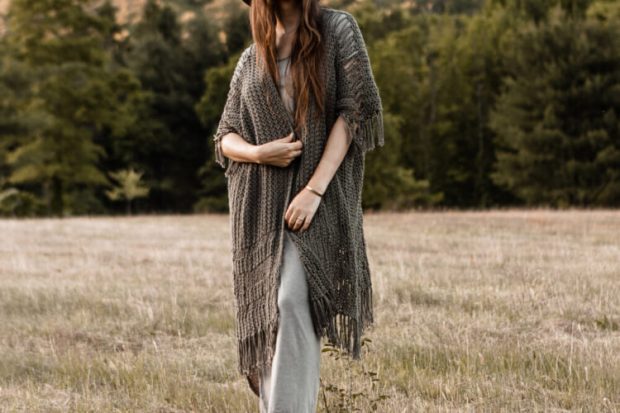 The Quarry Duster is weightless and flowy in nature. By using a large hook, you get a duster that fits loose and drapes neatly without being stiff.
This free crochet duster pattern is incredibly easy and can be completed by a beginner. The only crochet techniques you need to know are half double crochet stitch, chaining and skipping stitches and seaming.
Get the Pattern by Two of Wands HERE
4. Bell Sleeve Lace Free Mandala Crochet Pattern Jacket Duster by MoraleFiber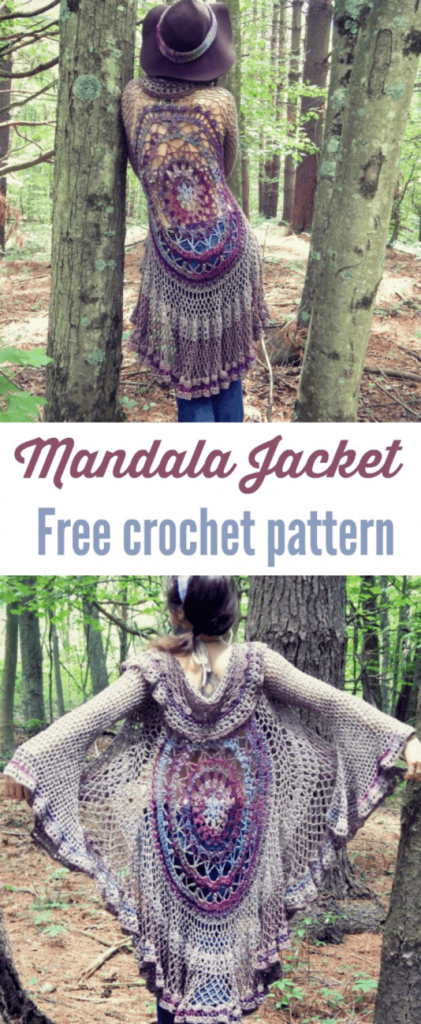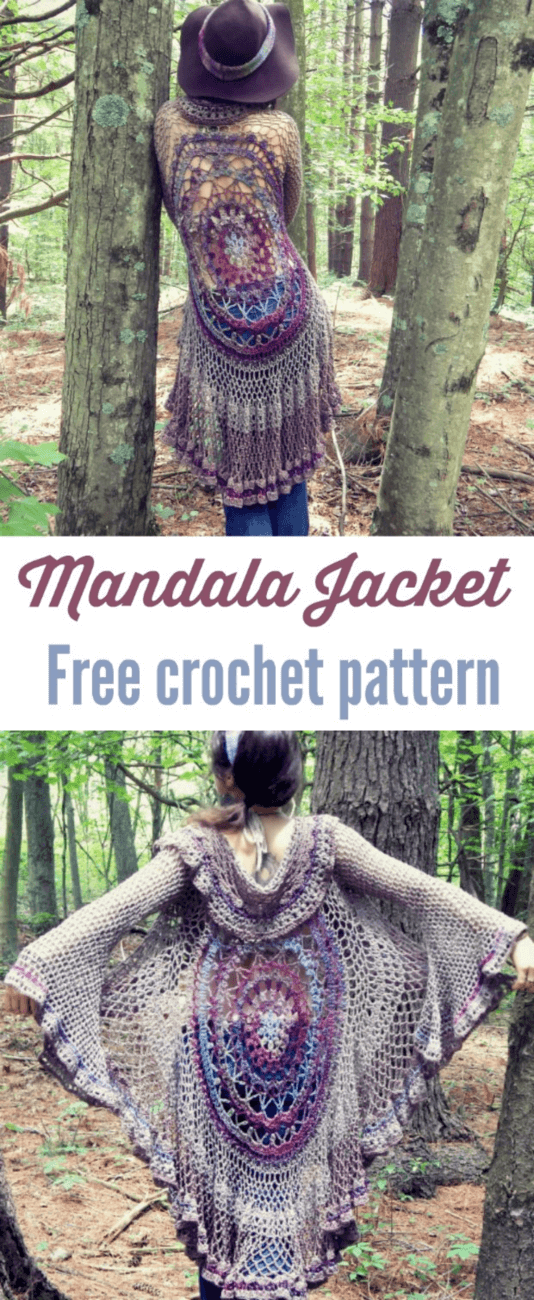 This mandala duster crochet pattern produces a stunning duster with a central mandala design. It is floaty and airy and makes a dramatic statement.
You're going to love the long, flowing sleeves, the gorgeous frills all around the edges, and the open back of this free mandala crochet pattern jacket duster.
Pattern includes written instructions along with detailed photos. It includes instructions for sizes small and large.
Get the Pattern by MoraleFiber HERE
5. Bear Hug Crochet Duster Pattern by SimpleThingsByTia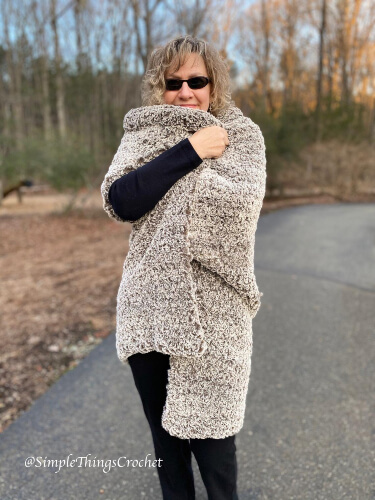 Try this crochet duster pattern if you are looking for a duster that is soft and warm. This Bear Hug Duster is simple to make and super comfortable.
This pattern is one size but can easily be adjusted.
Get the Pattern by SimpleThingsByTia HERE
6. Mandala Cardigan Crochet Pattern by iloveyarneu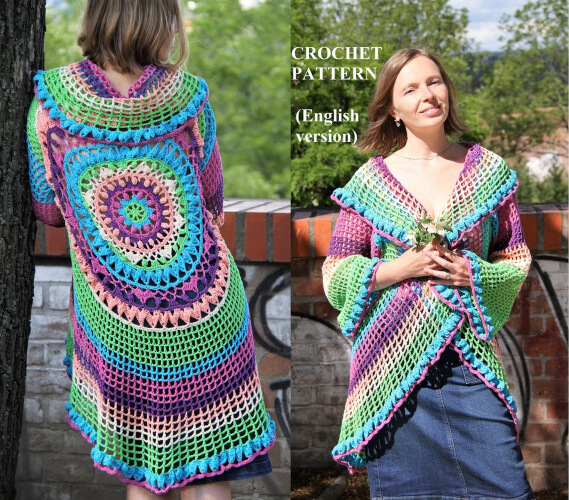 This fun and colourful mandala cardigan crochet pattern is easy to complete. You can bet this beautifully detailed duster will get you a lot of compliments.
The pattern includes written instructions and row-by-row photos. To complete the pattern, you will need to know chain stitch, slip stitch, single crochet, double crochet, treble crochet and popcorn stitch. It includes instructions for sizes S/M, L/XL, and XXL/XXXL.
Get the Pattern by iloveyarneu HERE
7. Verano Longline Cardigan Crochet Duster Pattern by MamaInAStitch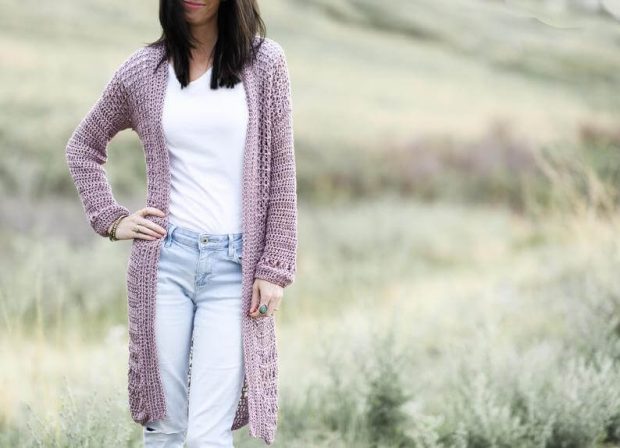 Here is an easy long crocheted duster pattern that can be completed by a beginner. The finished duster is light and ultra-soft.
To complete this pattern, you will need to know basic crochet skills and stitches. The pattern includes sizes XS, S, M, L, XL and XXL.
Get the pattern by MamaInAStitch Here
8. Cable Stitch Cardigan Duster Pattern by TCDDIY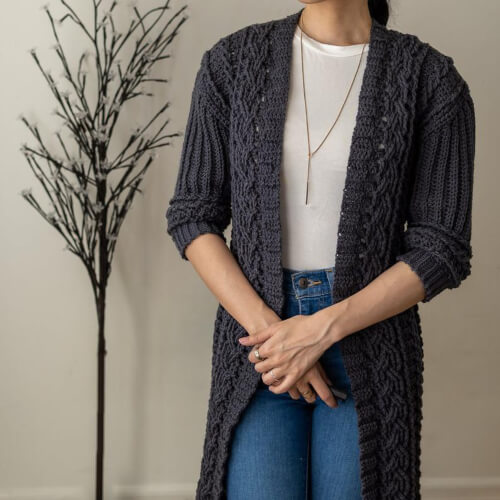 This elegant cable stitch duster cardigan pattern creates a cosy cardigan. It has a side slit that makes it flirty and fun. The duster has 2 different cable stitches and 3 quarter length sleeves.
Our pattern includes step-by-step instructions for each section, a photo pattern and a video tutorial. The pattern is for a size small. If you measure along you can create it in any size.
Get the Pattern by TCDDIY HERE
9. Boho Crochet Duster Cardigan Pattern by Hooked on Homemade Happiness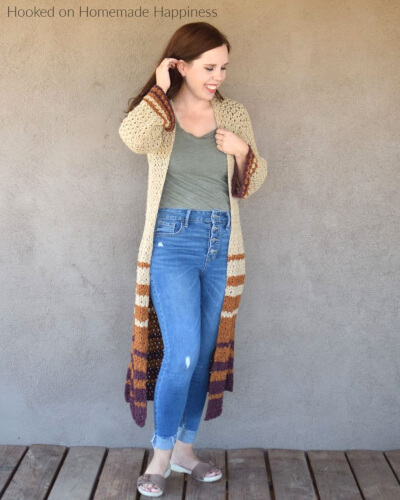 The Boho Duster Cardigan is perfect for fall! It is comfortable and long. The duster flares out at the sleeves and hips.
Even though this duster is long, the pattern can be completed quickly. It uses an offset V stitch which makes this a fast crochet project. The pattern is for a small. The changes for sizes medium, large and extra-large are in parentheses.
Find the Pattern by Hooked on Homemade Happiness HERE
10. Bayberry Crochet Duster Pattern by Black Stone Designs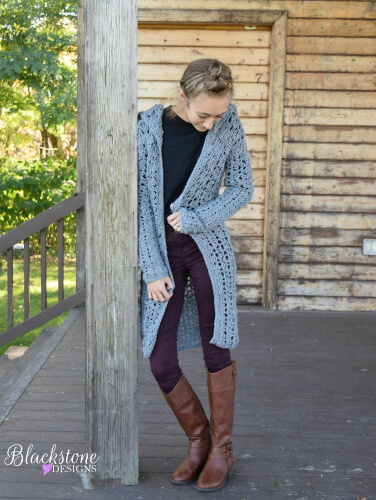 Here is a beautiful open front cardigan crochet duster that is knee-length and has many finishing options.
To complete this crochet duster pattern, you will need an intermediate crochet skill level. The pattern includes many sizes from x-small to 5X Large.
Get the Pattern from By BlackstoneDesigns HERE
Are you as big of a fan of dusters as we are? If so, WHICH crochet duster pattern are you going to make?
Crochet dusters are trendy and comfortable. If you do not have a crochet duster cardigan in your closet, you need to make one right away. The next cool day you will be glad you did.
If you want more crochet clothing patterns, be sure to check our Crochet Corset Patterns, Crochet Camisole Patterns, Crochet Scoodie Patterns, Crochet Pants, and Crochet Cover Up Patterns.
Check out our list of patterns and pick your favourite. There is a large variety of designs that would look amazing with any outfit. And we made sure to include a crochet duster cardigan pattern for every skill level.

Want to see more Crochet Cardigan Patterns? Check out our other cardigan roundups below: