Amongst crocheted cardi projects, a crochet long cardigan is a wonderful, flowing garment that is both practical and fun to wear. Regardless of whether you want to be comfy or look dazzling, you will find a long cardigan right for you!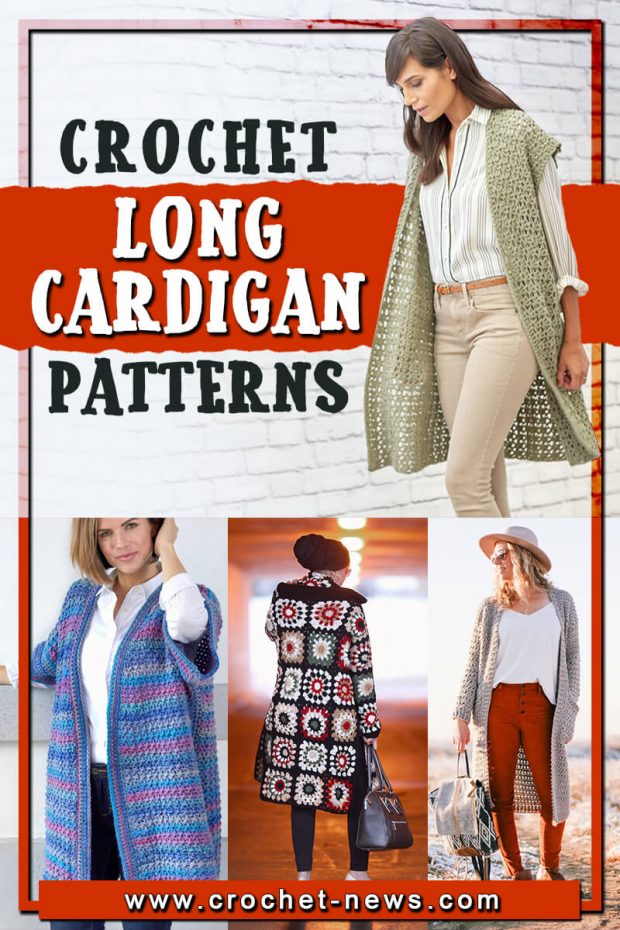 You can style your whole outfit around these versatile pieces, and the best thing about it is that they're made for layering. That's your best friend at ny time, but when the weather is unpredictable, or you're hopping between extremes of temperature, they're your pal for life!

And with so many pattern options to choose from, you're sure to find a style that works for you, a friend, or a family member!
1. Easy Crochet Long Cardigan Pattern by Make And Do Crew
Exaggerated fringe, open stitch work and flatteringly drapey yarn come together to make a very easy carefree long crochet cardigan that's perfect for laying year round.
With very little increasing or decreasing and only two short seams in the entire cardigan, this crochet long cardigan pattern is approachable for confident beginners.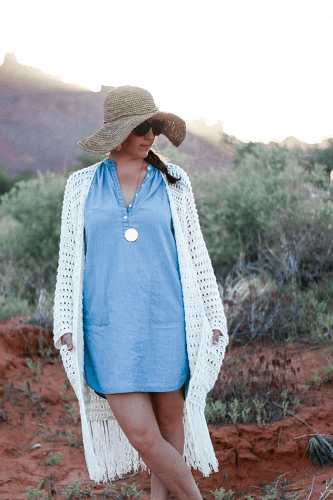 Get the Pattern here

2. Verano Long Crochet Cardigan Pattern by Mama In A Stitch
This Verano Long Crochet Cardigan is lengthy, light, soft, and drapey! You'll crochet a few different stitch patterns to create some beautiful texture and touches of vintage lace.
The best part about this long crochet cardigan is that it's a great sweater for both summer and fall!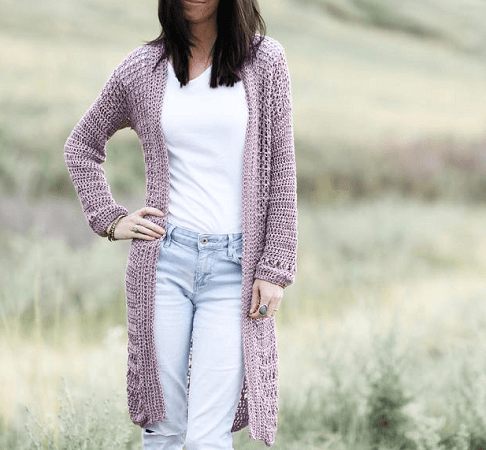 Get the Pattern by Mama In A Stitch here

3. Oversized Crochet Long Cardigan Pattern by MJs Off The Hook Designs
This Oversized Crochet Long Cardigan feels like a warm hug on a chilly day! This long crochet cardigan is 36-38″ long with notes on how to customize the length.

It's worked in one piece from the side across. it's the perfect crochet cardigan to keep you warm and cozy. Basic crochet stitches are used throughout with a simple 2-row repeat.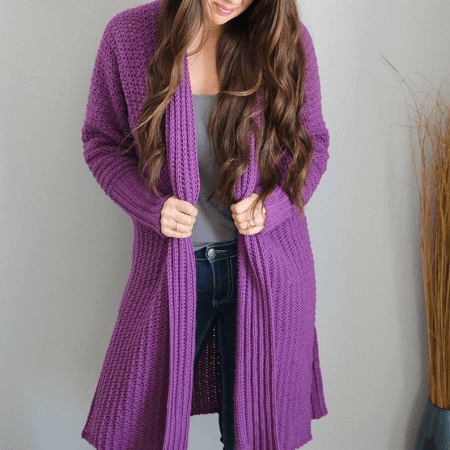 Get the Pattern by MJs Off The Hook Designs here

4. Sage Stitch Crochet Long Cardigan Pattern by Red Heart
It's long and laid back with a hint of sparkle, for this tasteful crochet cardigan. This garment exudes elegance with a sophisticated air of charm that makes it an extraordinary creation.

The subtle shimmer of the brushed yarn allows this modern cardigan to move comfortably from day to evening. Easy to crochet in interesting sage stitch, it's a very wearable addition to your wardrobe.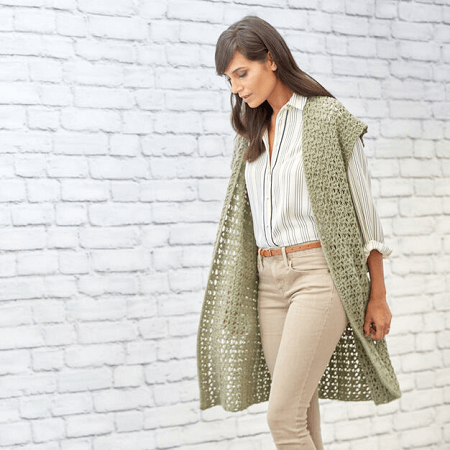 Get the Pattern here

5. Long Crochet Cardigan Duster Pattern by Make And Do Crew
Take refuge in a soft, drapey sweater hug. This Long Crochet Cardigan Duster combines simple stitches and even easier construction for an easy, almost-seamless pattern.

With a trim silhouette and just enough length, this duster will add a punch to even the most basic of outfits.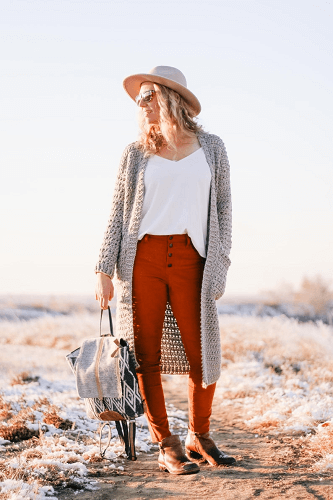 Get the Pattern by Make And Do Crew here

6. Stonewash Pocket Coatigan Crochet Pattern by For The Frills
Is it a coat? Or a cardigan? This Stonewash Pocket Coatigan is chic, minimalist, and wonderfully versatile! This modern crochet long cardigan features tapered sleeves and seamless pockets for a coat-like look (hence the name Coat-igan).

The long length makes this cardigan super easy to pair over jeans, dresses, and leggings and the clean, streamlined look means that this coatigan will effortlessly fit into anyone's wardrobe!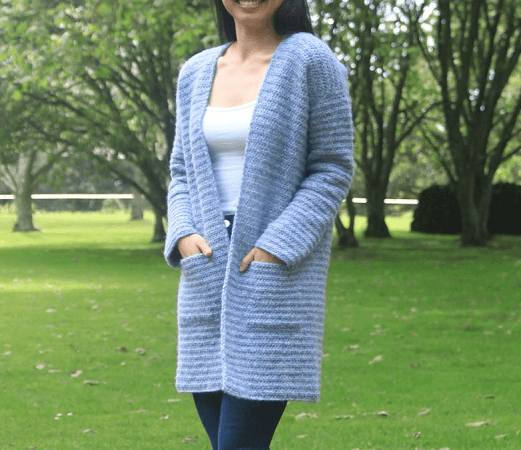 Get the Pattern here

7. Modern Free Crochet Long Cardigan Pattern by Life And Yarn
You will want to wear this Modern Crochet Long Cardigan daily around the house, to run errands, to a casual lunch, holidays, all of it! You will love the simplicity of this long crochet cardigan but also its uniqueness!
This woman's crochet cardigan comes in a range of sizes, including plus size, from XS-5X! You'll see that this long crochet cardigan comes to a point in the back to give it its length and coziness!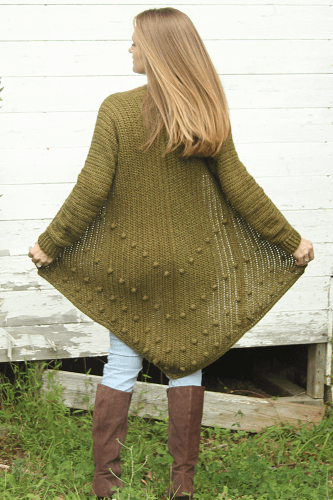 Get the Pattern here

8. Autumn In The Mountains Cardigan Crochet Pattern by Colorado Shire
Cozy, and warm this full length cardigan is the perfect layer for fall. Like fall leaves blowing in the wind, this long and breezy cardigan is like something out of a mystical forest.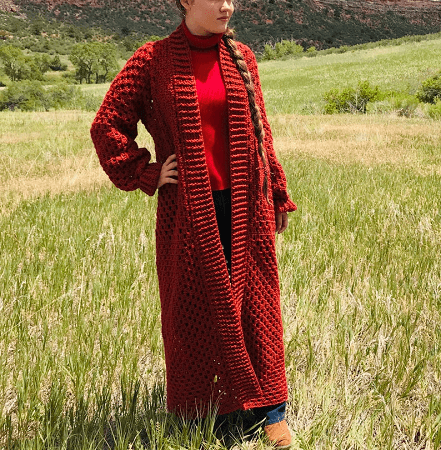 Get the Pattern by Colorado Shire here

9. Duster Long Crochet Cardigan Pattern by TCCDIY
This long crochet cardigan pattern is for an elegant star stitch duster cardigan. Wear this trendy long crochet cardigan for any occasion. The style is fitted, set to flatter any figure. Constructed with 3 quarter length sleeves, and slits it's made with both style and functionality.

Using the star stitch for texture and ribbing adds a unique detail to this modern classic.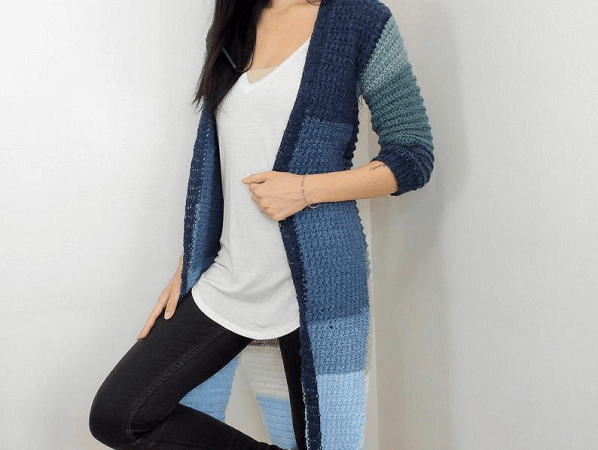 Get the Pattern by TCCDIY here

10. Boho Duster Long Crochet Cardigan Pattern by Hooked On Homemade Happiness
The Boho Duster Long Crochet Cardigan Pattern is just what you need for fall! It's long, comfy, and has a fun flare at the hips and in the sleeves.

Don't let the extra long length of this duster worry you. It's finished up quicker than you might think. This piece uses the Offset V Stitch and not only does it give a pretty and open design, but it made this a fast project. Plus, this stitch is an easy 1 row repeat.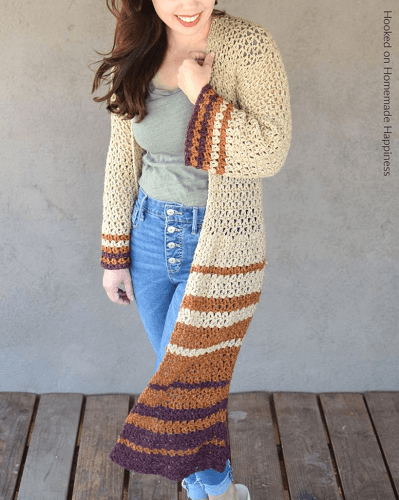 Get the Pattern here

11. World Traveler Crochet Long Cardigan Pattern by Yarnspirations
Throw on this crochet long cardigan to enhance the look of any basic ensemble. Work this project in one piece and watch as an incredible display of color unfolds right in front of you.
It's a great garment you'll appreciate for its comfortable, loose-fitting style.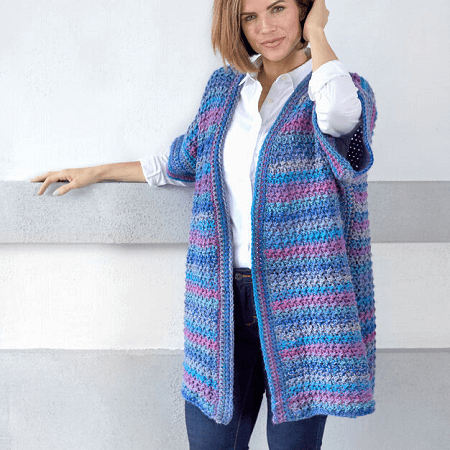 Get the Pattern here

12. Watson Waffle Crochet Long Cardigan Pattern by Lakeside Loops
Crochet this beautifully textured cardigan using the popular waffle stitch! This Watson Waffle Crochet Long Cardigan is a chunky sweater that looks so cozy with its long length, bulky feel, and large pockets. (Find more crochet sweater patterns here).

This long crochet cardigan works up very quickly, is easy to construct, and will look beautiful layered over jeans, leggings, or your favorite lounge wear! You can crochet 16 different sizes from baby to 5XL.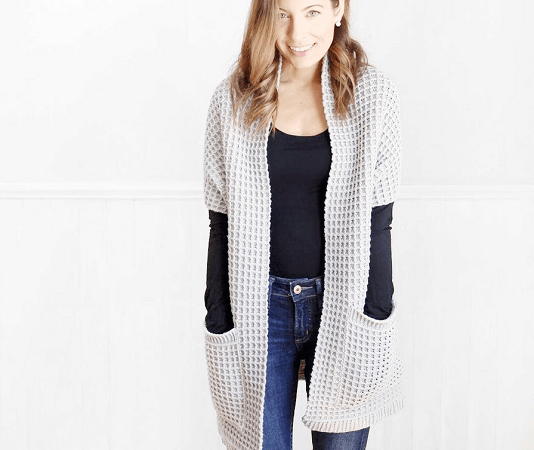 Get the Pattern by Lakeside Loops here

13. Boho Crochet Long Cardigan Pattern by Style Crocheting
If you like boho style this crochet long cardigan is definitely a must-have for you. "Boho Chic" describes a style that includes flowy clothing, vintage and ethnic-inspired accessories, and natural-looking hair and makeup.
This long crochet cardigan is absolutely boho style and It makes you an opportunity to look fashionable and comfy.

Wear this lacy-crochet long cardigan over a long floral dress and belt the whole thing around your waist to pull the outfit together. This pattern can be made in a variety of sizes which makes it the perfect gift for yourself or loved ones.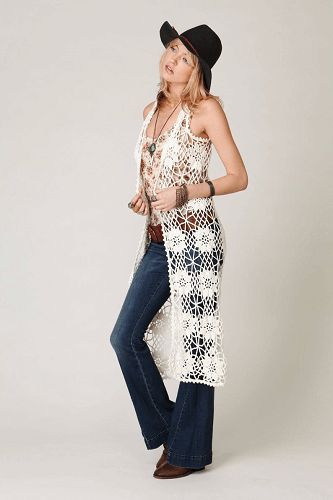 Get the Pattern by Style Crocheting here

14. Rosewood Crochet Long Cardigan Pattern by All About Ami
This Rosewood Crochet Long Cardigan is a relaxed, long, and slouchy cardigan that you can wear every single day! This wardrobe staple is made with lightweight cotton/bamboo yarn that drapes beautifully.
This crochet long cardigan pattern has cozy pockets and a gorgeous collar, and is perfect for beginners since it uses the simple single crochet!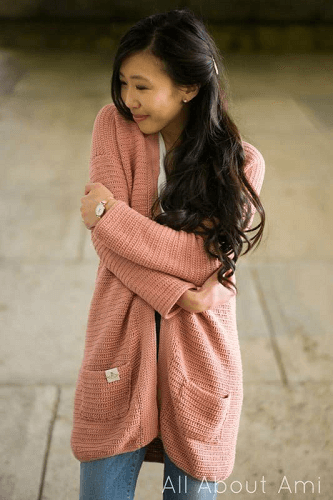 Get the Pattern here

15. Coastal Fog Chunky Cardigan Crochet Pattern by Hopeful Honey
Shield yourself from the brisk winter weather with this Coastal Fog Chunky Cardigan, perfect for layering over any outfit as you enjoy an evening stroll along the beach.

From the boxy silhouette to the simplicity of the design, this snuggly cardigan is a quick weekend pattern that is sure to become a wardrobe staple.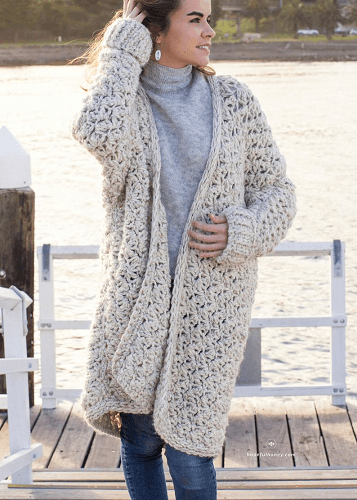 Get the Pattern by Hopeful Honey here

16. Diamond Cardigan Crochet Pattern by Yay For Yarn
This Diamond Cardigan is easier to make than you might think! It's made in one piece from a slightly modified rectangle, so you don't have to worry about any shaping.

This loose-fitting, oversized cardigan features an easy-to-work diamond eyelet stitch pattern, which makes decorative holes in the fabric. The cardigan can be styled many different ways to create stylish outfits for spring, summer, and fall.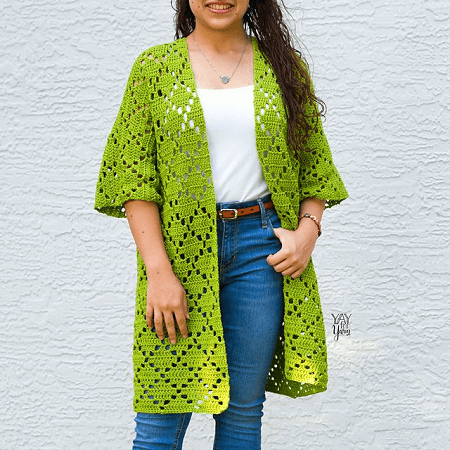 Get the Pattern by Yay For Yarn here

17. Crochet Long Cardigan Granny Square Pattern by Yarnutopia
Crochet long cardigan granny square pattern we think is just extraordinary, and this is one we fell in love with right away. Nothing old-fashioned or dull about granny squares when you can use them to create this amazing long cardigan.
This would surely be a labour of love and take you quite some time to complete, but wow, would it be worth it to step out in this. If you love crochet, then you can show it off with this jacket for sure.

How many people do you think would come up to you in the street and ask about it. I lot we think. Maybe you could take orders!
Crochet Long Cardigan Granny Square Pattern Materials:
–2 Skeins of Red Heart Super Saver Black (744 yards each skein)
–1 Skein of Red Heart Super Saver in Medium Thyme, Aran, Buff, Warm Brown
–1 Skein of Red Heart With Love in Berry Red
-Size H-5.00mm Crochet Hook. (for larger sizes, designer recommends an I-5.50mm Crochet Hook)
-Buttons.
-Yarn Needle
-Scissors
Video Tutorial on how to Crochet Long Cardigan Granny Square Pattern
Designer tips for making a larger size –
My recommendations for larger sizes would be to use a larger crochet hook as well as making more rounds on your granny squares.
Working a repeat of round 6 once or twice should make your squares larger.
You may also make this longer by adding more squares to the length of your cardigan.
Another suggestion would be to add additional rounds around each panel when you single crochet around each piece to give it a larger size/width to accommodate your size.
To determine the fit of the upper arm: You will have to take your upper arm measurement and make sure your squares are made accordingly. ALL SQUARES HAVE TO BE THE SAME SIZE IN THIS ENTIRE PROJECT.
Toss on your new favorite crochet long cardigan to level up your comfiest jeans, leggings, and cords!
Which project will you be casting this season? Let us know by sharing a pic of your finished pieces on our Facebook Page. We would like to see you wrapping around in your new handmade hideaway!

Craving for more? Here are Crochet Cardigan Patterns to give you more ideas. Whether it's long, short, or cropped, you'll find plenty of styles for ladies, men, children, and babies.

So who wants a long, cozy cardigan that you can wear all season long? Make one (or more) crochet long cardigan patterns today!