Feminine, versatile, and cozy, these crochet cocoon cardigan patterns will star in multiple roles this season as work cardigans, or the perfect wraps for your casual evenings or workouts. Whatever the occasion, wrap yourself in big style!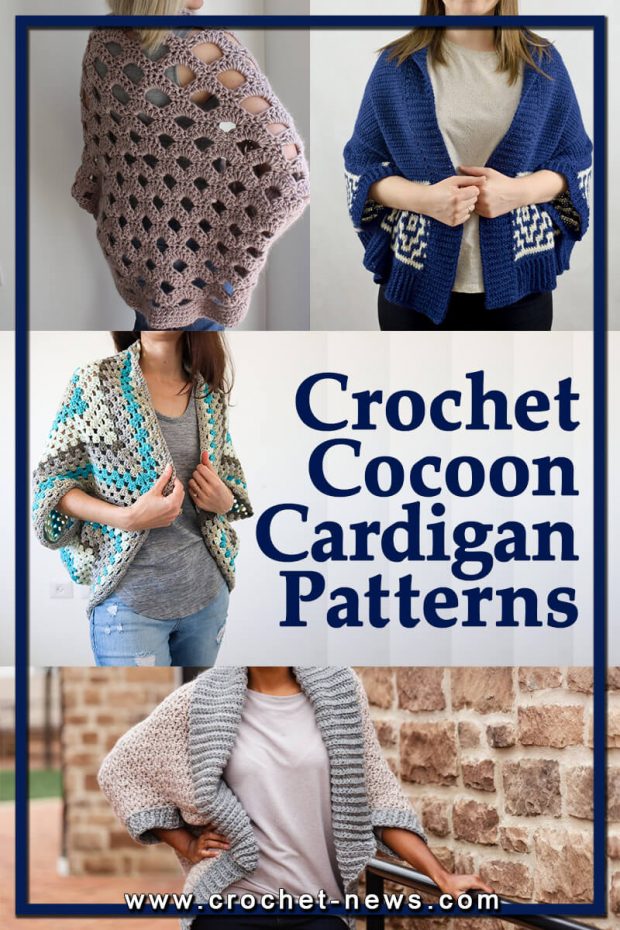 If you are an avid fashion follower and looking for some stylish clothing patterns, then this collection of cocoon cardigans are for you. Not only these are easy to craft, but also work as a trendy addition to your daily attire!

1. Hygge Cocoon Cardigan Free Crochet Pattern by Moogly
This Hygge Cocoon Cardigan is a super simple sweater featuring an easy, over-size fit, and cozy ribbed sleeves. The stitch pattern used in this cardigan creates fantastic drape in this sweater, and its simplicity is perfect for this highly textured yarn.

Because of the oversize fit of the Hygge Cocoon Cardigan, only 2 sizes are needed to fit most adults: Misses and Plus. And the simple construction makes it perfect for beginner garment crocheters!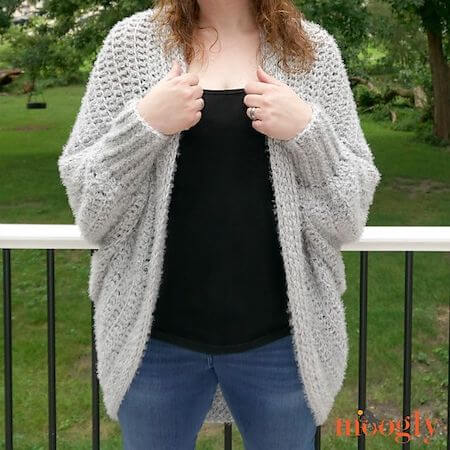 Get the Pattern here

2. Movie Night Cocoon Cardigan Crochet Pattern by Two Of Wands Shop
Whether you're cozying up on the couch or hitting up the local theater, this Movie Night Cocoon Cardigan is the perfect addition to your ensemble. Like the hug of a blanket, this shrug-style cardigan comfortably drapes over your shoulders for that extra bit of warmth.

Work it in a lightweight cotton for summer nights or a chunkier wool for cooler temperatures – this same pattern can be used for multiple weights!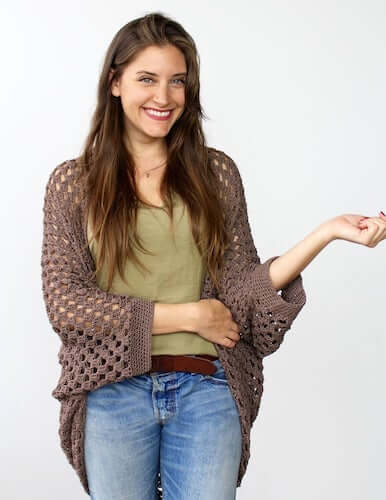 Get the Pattern by Two Of Wands Shop here

3. Fireside Cocoon Cardigan Crochet Pattern by Yarn And Chai
Wrap yourself in comfort with this simple cocoon cardigan pattern! Choose a self-striping yarn or a solid yarn — whatever suits your style. The pattern is written for XS – 5XL.

Whether you're newer to crochet, or you just want a mindless project that will add something beautiful to your wardrobe, give this one a try.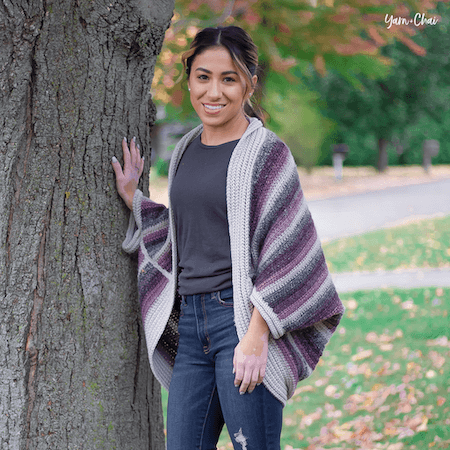 Get the Pattern here

4. Crochet Laxus Cocoon Cardigan Pattern by Joy Of Motion Crochet
This crochet pattern makes a light weight summer cocoon cardigan. It's a super easy crochet pattern and it's designed with the beginner in mind. Haven't crocheted a garment before? No problem! This is super easy and quick too.
This will be your go-to shrug for spring and summer, and it it will keep your shoulders warm on colder days.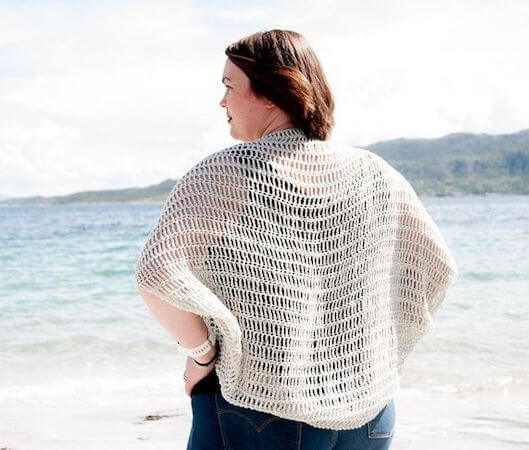 Get the Pattern by Joy Of Motion Crochet here

5. Granny Square Free Crochet Cocoon Cardigan Pattern by The Snugglery Patterns
Did you know you can crochet a shrug from a regular o'll granny square? The pattern will show you how to crochet this continuous granny square motif and how to seam it into a cozy cocoon cardigan.

Beginner-friendly is the name of the game with this cardigan pattern. If you've never crocheted a wearable garment before, this is a great one to start with!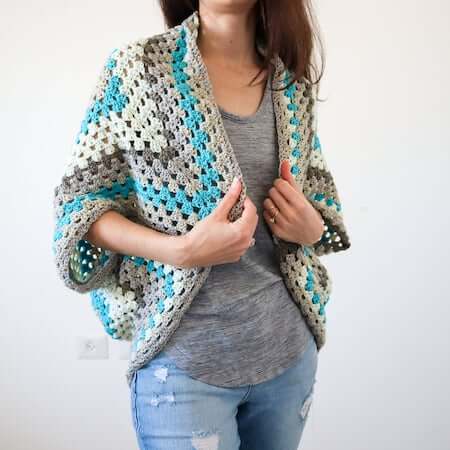 Get the Pattern here

6. Mosaic Cocoon Cardigan Crochet Pattern by My Crochetory
This Mosaic Cocoon Cardigan is crochet in two pieces with minimal sewing to join both pieces together and to create armholes. The crochet mosaic colorwork keeps the crocheting interesting and the ribbing gives the shrug a knit-look.
It works up really quickly! Worked as two flat rectangles, the unique construction of this roomy cardi makes it a quick and fun crochet garment.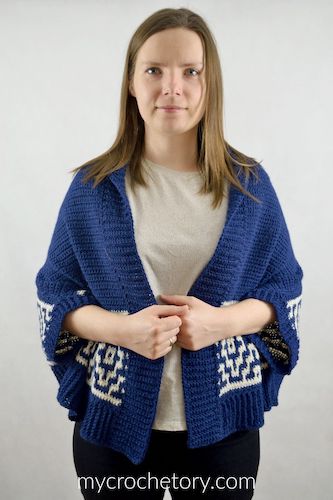 Get the Pattern here

7. Crochet Cocoon Cardigan Sweater Pattern by Dora Does
This sweater is a practical cocoon cardigan which is fun and easy to make using simple stitches and a little colour work (but not so much that the ends will drive you nuts!). Use bright colors as pictured to create a bold look or stick to neutrals or monochrome.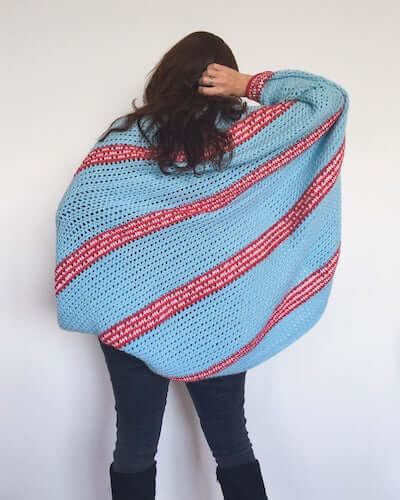 Get the Pattern by Dora Does here

8. Unclouded Crochet Cocoon Cardigan Pattern by E'Claire Makery
Made from a rectangle, this cocoon cardigan is a great project for beginner and expert crocheters alike. It is simple construction, with a focus on customization and details that create a comfy, breathable, and gorgeous finished garment with just a few stitches.

It's called the "Unclouded Cocoon Cardi" because it's light and airy enough for those cloudless summer days and nights, and just feels like the perfect summer layer.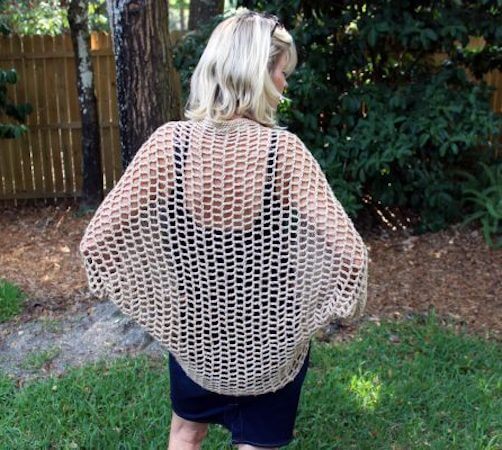 Get the Pattern here

9. Crochet Cocoon Cardigan Pattern by The Pattern Paradise
Don't you love to snuggle up in a big warm blanket and cuddle up o the couch? With this cocoon cardigan, you can do that all the time an in style! The stitch pattern is slightly lacy and textured, but don't let it fool you, it provides plenty of warmth.

The style is oversized and relaxed an it looks great with jeans, leggings and more. the sleeves have a tapered cuff for better structure and design look.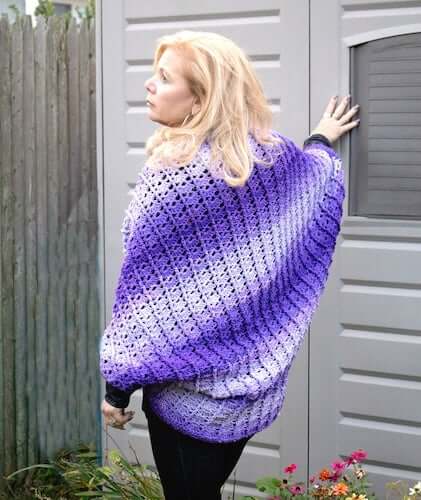 Get the Pattern by The Pattern Paradise here

10. Cocoon Cardigan Free Crochet Pattern by Make And Do Crew
You'd never guess by looking at this sweater that it's made from two simple rectangles! This Cocoon Cardigan Free Crochet Pattern is great for beginners who are looking to expand their skills or advanced crocheters who want a quick, stylish project.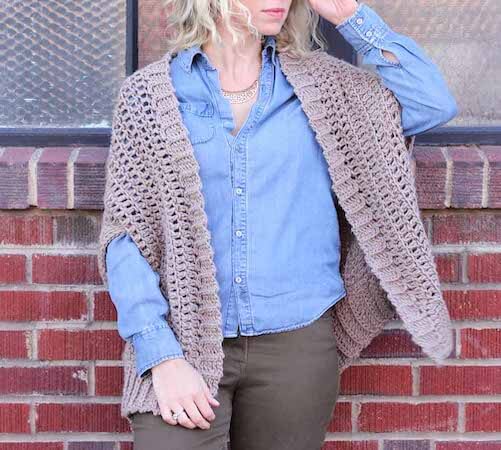 Get the Pattern here

11. Color Block Cocoon Cardigan Crochet Pattern by Moogly
You'll feel like a cozy butterfly inside this Color Block Cocoon! Sized from XS to 5X, this pattern has something for everyone. Easy stitches will satisfy the confident beginner, yet the color block section presents endless creative opportunities.
This is the perfect all-season item for travel around the world or around the block – or lounging around the house!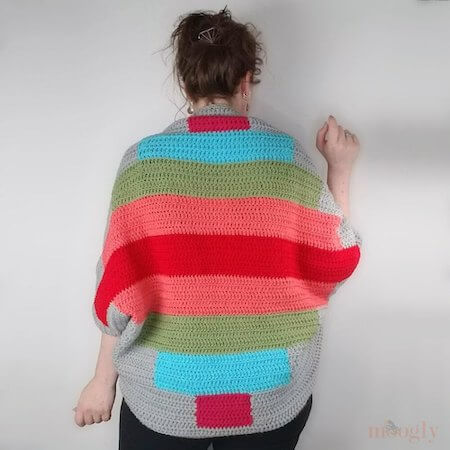 Get the Pattern by Moogly here

12. Veronica Cocoon Cardigan Crochet Pattern by TL Yarn Crafts
Combine addictive textured stitches and basic construction to make the Veronica Cocoon Cardigan, a beginner-friendly crochet blanket sweater. The cluster stitch used in the Veronica Cocoon adds amazing texture while using a large hook gives the fabric drape and lightness.
The overstated collar is made from simple single crochet ribbing and is applied to the opening of the cardigan without any additional sewing. The final step is to add textured cuffs, which bring a polished finish to the arm openings.
Get the Pattern here

13. Crochet Cocoon Cardigan Pattern by Crochet Baby Boutique
This beginner crochet cocoon cardigan is one of the fastest you would ever work. It takes just 7 hours. How cool is that? This is basically just one big rectangle, folded and shaped to form a cardigan.
If you have always been scared of trying clothing patterns, this crochet cardigan is great place to start.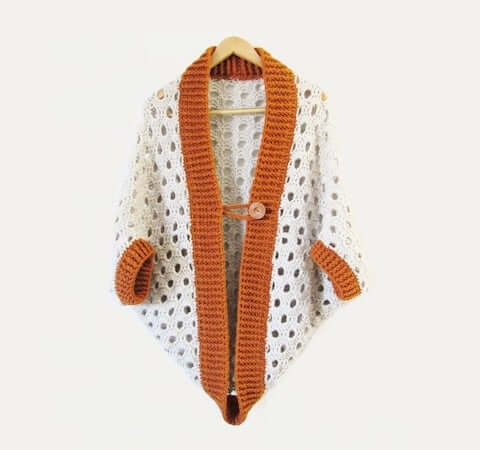 Get the Pattern by Crochet Baby Boutique here

14. Comfy Spring Cocoon Cardigan Crochet Pattern by The Loopy Lamb
This Comfy Spring Cocoon Cardigan is the perfect transitional piece to add to your handmade wardrobe. This is a size-inclusive that is made in one piece and has a one row repeat for the body so it's great for those that like to Netflix and stitch.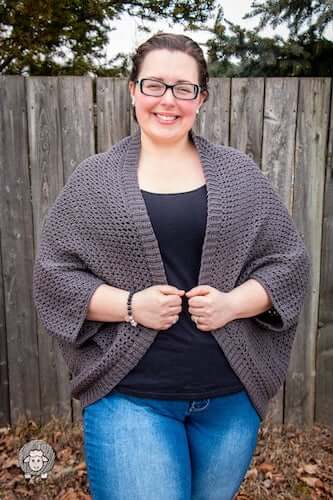 Get the Pattern by The Loopy Lamb here

15. Crochet Pembroke Cocoon Cardigan Pattern by Meghan Makes Do
Looking for a quick and easy crochet cardigan pattern? This Pembroke Cocoon Cardigan is the perfect stash busting project for any beginner garment maker. The simple stitches and construction will have you cuddled up in your new cardigan in no time.
Made with five different colors of yarn, it has the perfect cozy look.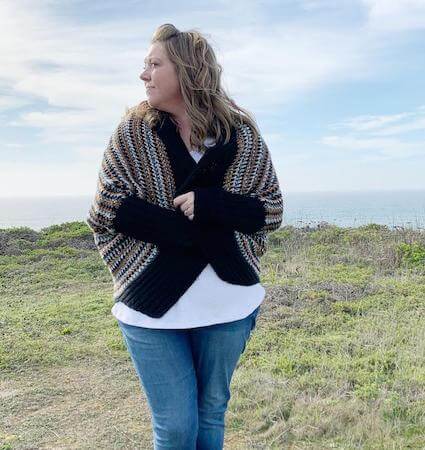 Get the Pattern by Meghan Makes Do here

16. Chunky Shrug Crochet Pattern For A Cocoon-Style Cardigan
If you are one of those who hesitate to wear a cardigan, just because you are afraid to look like "oldies", then worry no more with this Lazy Summer Crochet Cocoon Cardigan Pattern!

Create a new-fashioned cocoon-style cardigan using this very simple chunky shrug crochet pattern! This pattern will give you a modern and well-turned-out style! It is so versatile that you will never want to take it off!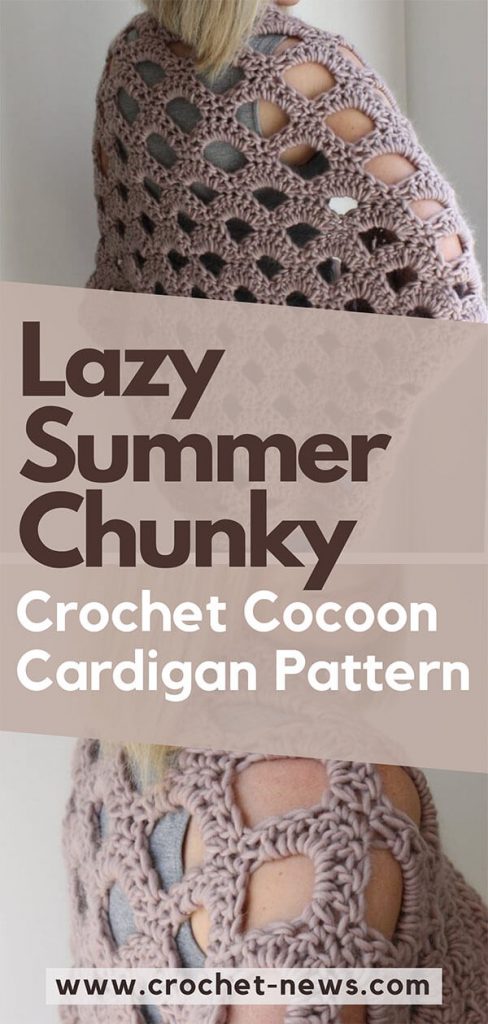 ABOUT THE CHUNKY SHRUG CROCHET PATTERN
This crochet pattern was designed by Claire of KingAndEyeCrochet which is known as the "home of luxurious chunky knits and modern crochet kits." The cocoon-style cardigan is made of chunky wool that is very comfortable for your body.
Claire designed holes that are absolutely easy to work on. These holes are what makes the cardigan look more unique and fabulous. The crochet may seem hard and expensive-looking, but it is actually the opposite!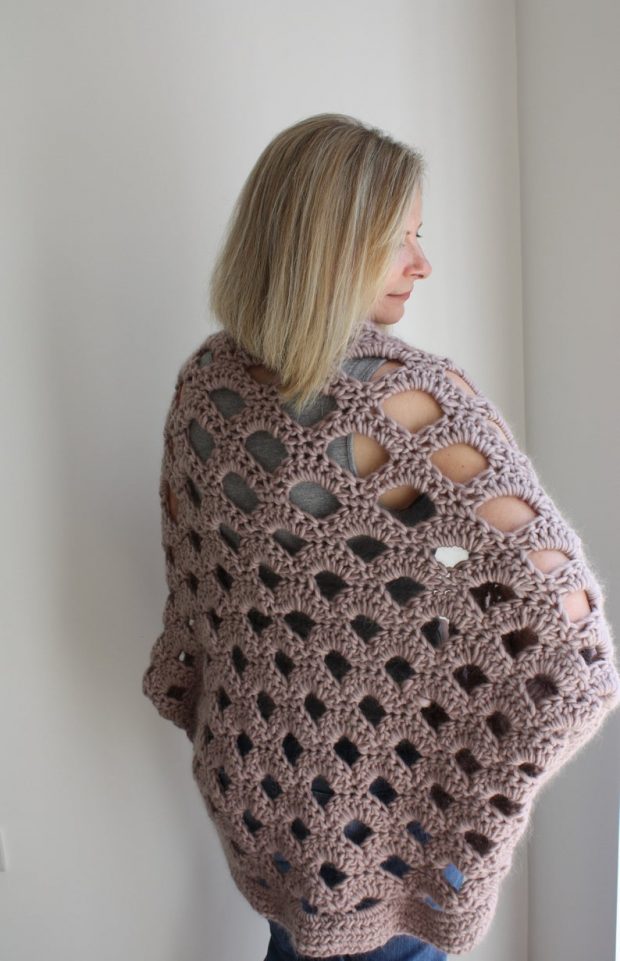 MATERIALS YOU WILL NEED
The following are the only materials to create an elegant cocoon-style cardigan:
A size 6 super bulky yarn – 4 pieces

This pattern used a KingAndEye yarn, 100% luxury merino (800m, 1000g).

US-size N or P Hook (10 millimeters)
Scissors
Tapestry Needle

WHY TRY THIS CHUNKY SHRUG CROCHET PATTERN?
This cocoon-style cardigan is something you can wear every day of the season.
It gives enough warmth for the cold weather, while the stylish holes make the cardigan not too hot for summer, either.
It is not like the typical cardigans out there, because this one is styled entirely "loose"— from its shoulders to its hem. Wearing it will never give you a hassle!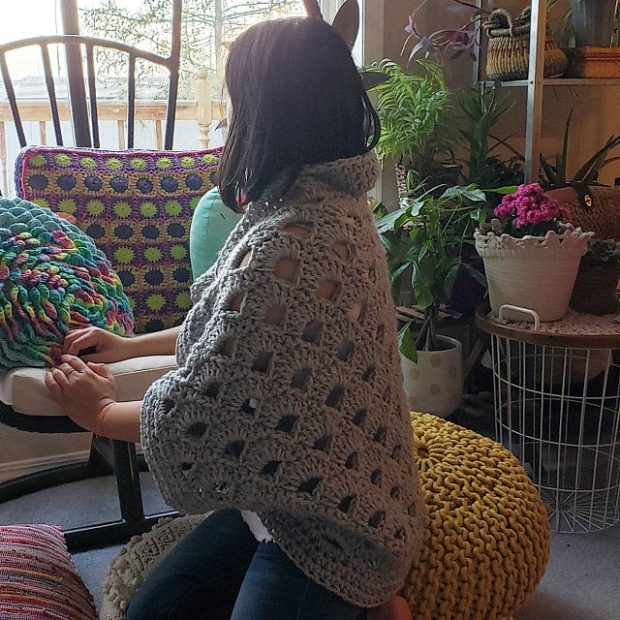 TIME TO SPEND IN MAKING A GRANNY SQUARE COCOON CARDIGAN
Whether you do it while listening to music or watching a television show, you can already have your own cocoon-style cardigan in no more than 24 hours!

You will enjoy and get absorbed with the crocheting you will not notice the time running. Plus, it will excite and motivate you when you see the progress from time to time!

WHO CAN YOU GIVE THIS COCOON-STYLE CARDIGAN TO?
Surprise your friends, aunts, nieces, parents, and grandparents with this modern cardigan for it suits all sizes! It can be made in different colors and can be worn for various occasions.

It is quite perfect as a gift and for your everyday outfit!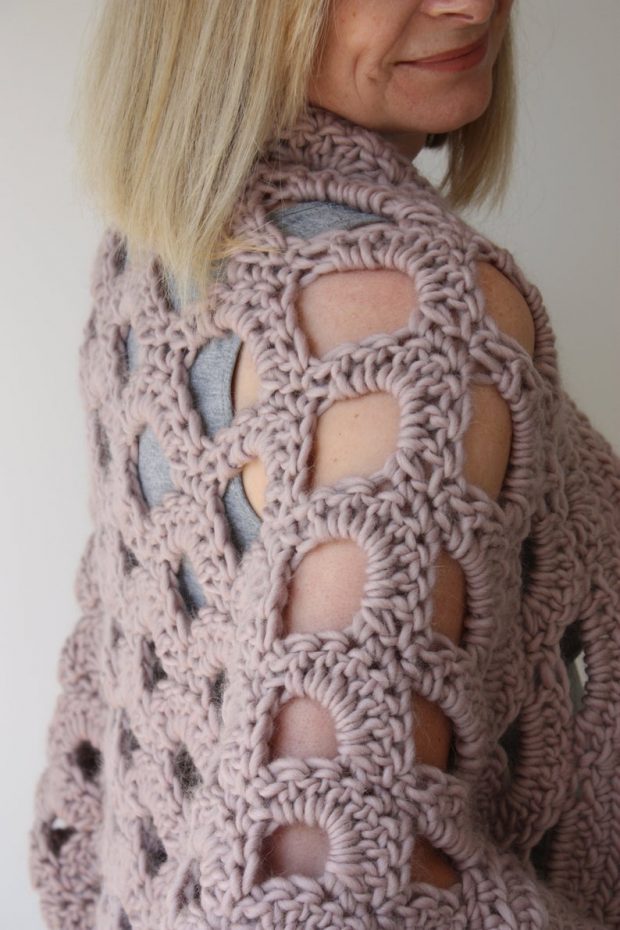 WHAT OUTFITS DOES THIS COCOON-STYLE CARDIGAN SUIT?
Highlight your body curves when you partner this crocheted cardigan with your skinny or high-waisted jeans and sleeveless top.
It will likewise suit your sassy skirts, leggings, and dresses! Perfect drape to appear a little more covered despite the mini skirt.
With this cocoon-style cardigan, you will look like a fashionista whether you pair it with your sandals, sneakers, or high heels.
Catch everyone's attention even in your casual outfit! It can be worn in a variety of styles, and you can think of your own now. There is nothing more fulfilling than wearing the clothes you crocheted yourself.
So, do not forget to share this Lazy Summer Chunky Crochet Cocoon Cardigan Pattern to everyone who wants a cocoon-style cardigan!
CURL UP IN YOUR NEW CROCHET COCOON CARDIGAN PATTERN LIKE A COZY LITTLE CATERPILLAR!
Which project will you be casting this season? Let us know by sharing a pic of your finished pieces on our Facebook Page. We would like to see you wrapping around in your new handmade hideaway!

Craving for more? Here are Crochet Patchwork Cardigan Patterns, Crochet Cardigan Patterns, Crochet Shrug Patterns, Crochet Kimono Patterns, Crochet Jacket Patterns and Crochet Sweater Patterns to give you more ideas. Whether it's long, short, or cropped, you'll find plenty of styles for ladies, men, children, and babies.

I hope these crochet cocoon cardigan patterns bring value to your life! It's so fun making the stuff we wear or even making something for someone else – it's just so special.