If you are one of those who hesitate to wear a cardigan, just because you are afraid to look like "oldies", then worry no more with this Lazy Summer Crochet Cocoon Cardigan Pattern!

CHUNKY SHRUG CROCHET PATTERN FOR A COCOON-STYLE CARDIGAN
Create a new-fashioned cocoon-style cardigan using this very simple chunky shrug crochet pattern! This pattern will give you a modern and well-turned-out style! It is so versatile that you will never want to take it off!

ABOUT THE CHUNKY SHRUG CROCHET PATTERN
This crochet pattern was designed by Claire of KingAndEyeCrochet which is known as the "home of luxurious chunky knits and modern crochet kits."

The cocoon-style cardigan is made of chunky wool that is very comfortable for your body. Claire designed holes that are absolutely easy to work on. These holes are what makes the cardigan look more unique and fabulous.

The crochet may seem hard and expensive-looking, but it is actually the opposite!


MATERIALS YOU WILL NEED
The following are the only materials to create an elegant cocoon-style cardigan:
A size 6 super bulky yarn – 4 pieces

This pattern used a KingAndEye yarn, 100% luxury merino (800m, 1000g).

US-size N or P Hook (10 millimeters)
Scissors
Tapestry Needle

WHY TRY THIS CHUNKY SHRUG CROCHET PATTERN?
This cocoon-style cardigan is something you can wear every day of the season.
It gives enough warmth for the cold weather, while the stylish holes make the cardigan not too hot for summer, either.
It is not like the typical cardigans out there, because this one is styled entirely "loose"— from its shoulders to its hem. Wearing it will never give you a hassle!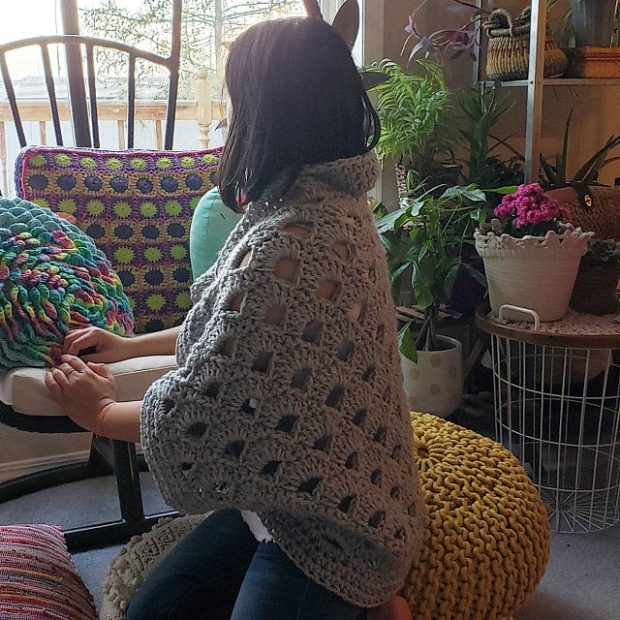 TIME TO SPEND IN MAKING A GRANNY SQUARE COCOON CARDIGAN
Whether you do it while listening to music or watching a television show, you can already have your own cocoon-style cardigan in no more than 24 hours!

You will enjoy and get absorbed with the crocheting you will not notice the time running. Plus, it will excite and motivate you when you see the progress from time to time!

WHO CAN YOU GIVE THIS COCOON-STYLE CARDIGAN TO?
Surprise your friends, aunts, nieces, parents, and grandparents with this modern cardigan for it suits all sizes! It can be made in different colors and can be worn for various occasions.

It is quite perfect as a gift and for your everyday outfit!


WHAT OUTFITS DOES THIS COCOON-STYLE CARDIGAN SUIT?
Highlight your body curves when you partner this crocheted cardigan with your skinny or high-waisted jeans and sleeveless top.
It will likewise suit your sassy skirts, leggings, and dresses! Perfect drape to appear a little more covered despite the mini skirt.
With this cocoon-style cardigan, you will look like a fashionista whether you pair it with your sandals, sneakers, or high heels.
Catch everyone's attention even in your casual outfit! It can be worn in a variety of styles, and you can think of your own now.
There is nothing more fulfilling than wearing the clothes you crocheted yourself. So, do not forget to share this Lazy Summer Chunky Crochet Cocoon Cardigan Pattern to everyone who wants a cocoon-style cardigan!