All things quilted are having a real moment, so let's apply the patchwork aesthetic to our favorite medium—crochet! These crochet patchwork cardigan patterns translate the nostalgic charm of quilting into modern, wearable crochet garments.
These cardigans of many colors are bold outerwear pieces that are sure to turn heads!
21 Fun and Colorful Crochet Patchwork Cardigan Patterns
There is something so classic, yet so playful in a cardigan that's made of little crocheted squares. They are infinitely customizable because modifications can range from the whole cardi in one type of square to each square different, and anything in between.
You can go from order to chaos and back, and define your own style down to the stitch, all while having so much fun!

1. Crochet Patchwork Cardigan Pattern by Make And Do Crew
You'll likely find the construction of this cardigan different from anything you've seen before, but that doesn't mean it's complicated–quite the opposite, in fact!

With endless ways to customize, this is a cardigan you can truly make you own. Add buttons, adjust the length, stick to neutrals or make a rainbow–pattern includes lots of notes on how to crochet exactly the sweater you'll love to wear!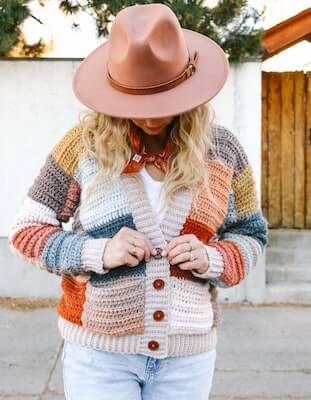 Get the Pattern by Make And Do Crew here

2. Crochet Patchwork Winter Cardigan Pattern by Crochet With Carrie
Learn to crochet this easy, bulky crochet patchwork winter cardigan. Designed with ample amounts of texture, this chunky cardigan is a must have this winter.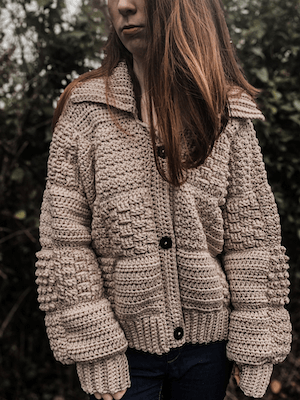 Get the Pattern here

3. Crochet Jilly Cardigan Pattern by Holly Woodward Designs
This Jilly Cardigan is a hip-length, button-up cardigan that is made with the wonderful Join As You Go method. With a gorgeous patchwork color-block granny squares and exaggerated balloon sleeves, this cardigan is going to be your favourite Winter layer!

It's a super mindful make allowing you to play with different colors. Whether you choose a set colour scheme or just raid the stash yarn drawer, it's going to look so beautiful!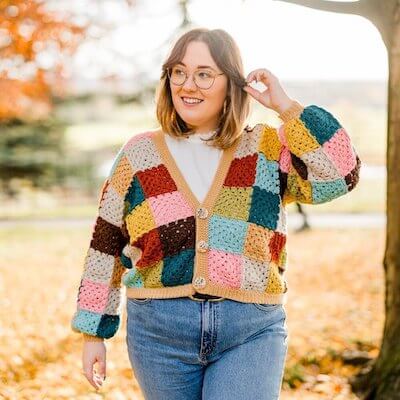 Get the Pattern by Woodward Designs here

4. Crochet Patchwork Cardigan by Yarnspirations
A gorgeous patchwork of color creates this on-trend crochet cardigan that's a welcome addition to your wardrobe. You'll do half double crochet in the 3rd loop, double crochet, single crochet, stripes, short rows and faux ribbing techniques.

It's a laid-back style that's wearable while lounging around the house or when you're out and about. Flattering on a variety of body types, this pattern is offered in a range of sizes.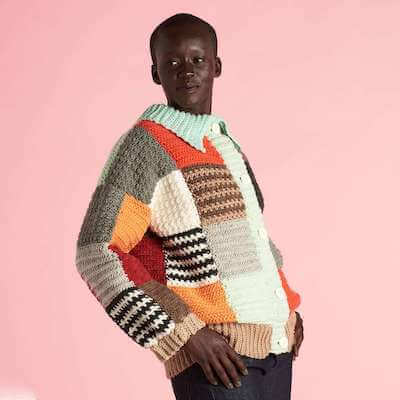 Get the Pattern here

5. Crochet Patchwork Cardigan Pattern by Crochet With Al
Put some cheer on your outfit and crochet this pretty patchwork cardigan. It's a bright and colorful piece that's perfect for a relaxing weekend. It's an easy pattern to crochet if you want to enjooy fun crafting while you binge-watch your favorite TV show.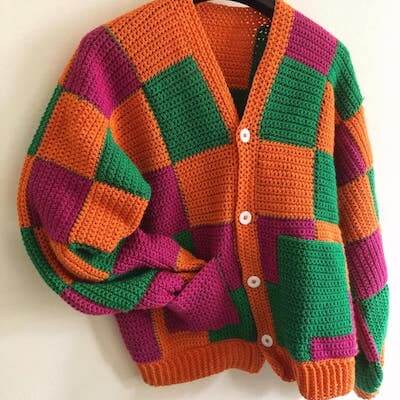 Get the Pattern by Crochet With Al here

6. Eva Cardigan Crochet Pattern by Yarn And Chai
Blocks of color, pockets, and longer length all combined in this pretty Eva cardigan for a warm wearable.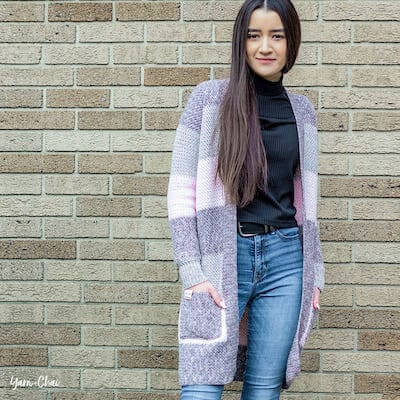 Get the Pattern here

7. Patchwork Cardigan Crochet Pattern by Two Of Wands Shop
Showcasing the seven classic colors of denim jeans, this cardigan poncho is a total showstopper. The patchwork aesthetic comes together to form a comfortable and elegant garment that can be cinched at the waist or left open and loose.
Unexpected detailing comes from pops of golden bobbles on two of the 13 rectangles that shape the piece along with the two-tone tassel belt.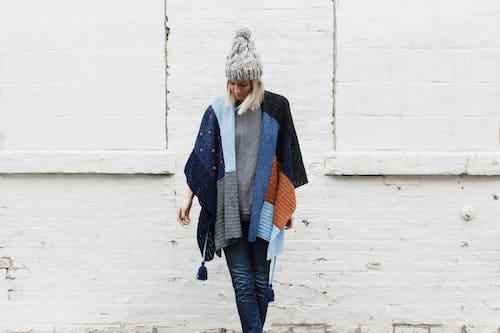 Get the Pattern by Two Of Wands Shop here

8. The Harry Patchwork Cardigan Crochet Pattern by Selina Veronique
I'm sure most of you have seen the Harry Styles patchwork cardigan that has taken the internet by storm! Here's a trendy and very easy to follow recreation of the Harry patchwork iconic cardigan in a pastel version. This is an inclusive pattern which comes in sizes S, M, L, XL, XXL, and XXXL.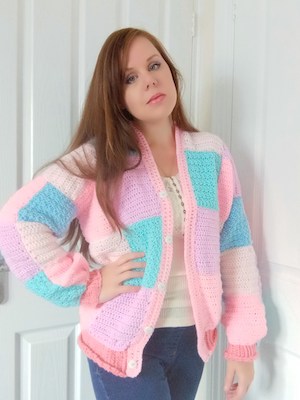 Get the Pattern by Selilna Veronique here

9. Crochet Patchwork Cardi Pattern by TL Yarn Crafts
Say hello to the Patchwork Cardi, the perfect addition to your fall favorites wardrobe. Combine 5 coordinating shades of worsted weight yarn to create this color blocked crochet layering piece that looks great with your closet staples – style with jeans, a long sleeved tee, and loafers, pumps, or booties.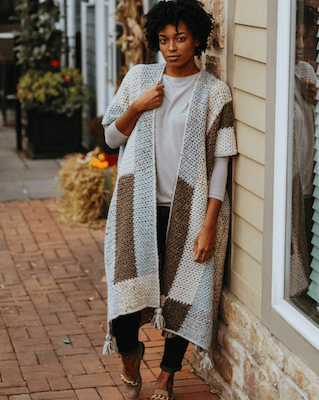 Get the Pattern here

10. Crochet Oversized Patchwork Cardigan Pattern by Make And Do Crew
You'll lean heavily on the ombre self-striping yarn to create a subtle, painterly patchwork effect. Adjust the length, combine a few colors, add buttons—this is a straightforward pattern you can put your mark on using beginner garment-making skills.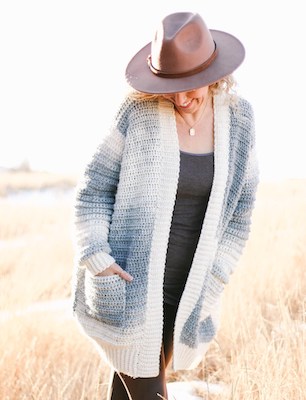 Get the Pattern here

11. Crochet Patchwork Hoodie Cardigan Pattern by Colour Ceilidh Crochet
This crochet patchwork hoodie with a large comfortable fairy-style hood is a relaxed-vibes hooded cardigan made with simple beginner crochet squares and seamed mostly using the existing yarn tails. This easy beginner project is a great yarn stash buster as each square uses only about 7 grams/0.3 oz/23 yards of yarn.

Use random colors and textures to make it more fun and move your squares around as much as you like until you decide on the final combination!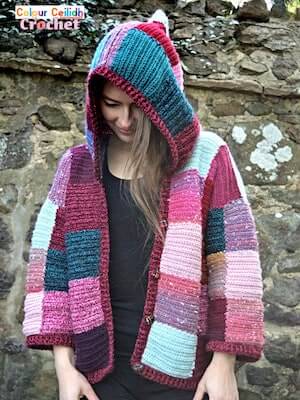 Get the Pattern by Colour Ceilidh Crochet here

12. Crochet Patchwork Cardigan With Embroidery by i'd Knit That Co
This cardigan is easily customizable with different color combinations and embroidery. It is intended to be worn slightly cropped with an oversized fit. It is crocheted flat in panels and seamed together. After seaming, you can embroider designs on the cardigan. Embroidery instructions are included within pattern.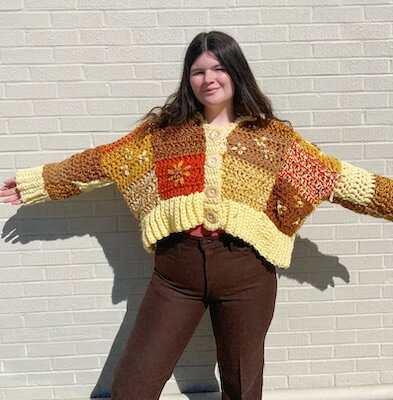 Get the Pattern by I'd Knit That Co here

13. Paisley Cardigan Crochet Pattern by Cactus And Lace Designs
This is a crochet pattern for the Paisley Cardigan, an oversized and airy cardigan that will pair perfectly with all your favorite outfits. It is made up of simple half double crochet, double crochet and puff stitches which adds to the overall unique boho beauty of this design.

From a cozy day on the couch, to a night out on the town, to your everyday wear, this cardigan is truly something that you need in your wardrobe.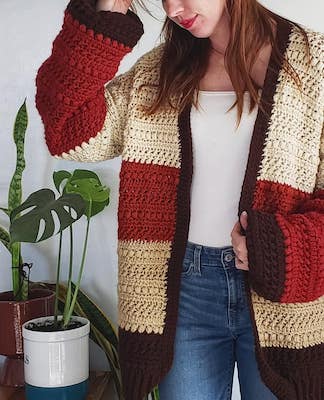 Get the Pattern by Cactus And Lace Designs here

14. The Iconic Patchwork Cardigan Crochet Pattern by Seilina Veronique
You can crochet Harry Styles' colourblock patchwork cardigan with this free pattern! As some of you probably know, this cardigan has gone viral. I have to say, I do understand why! It's so unique and gorgeous. Now, you can make your own crocheted version of the cardigan he made famous!
Get the Pattern here

15. Free Crochet Patchwork Cardigan by Elviona Halim
Be in style with this much easier version of the Harry Styles-inspired cardigan. This simple crochet video tutorial will show you just what to do. The multi-colored patchwork can be your next masterpiece.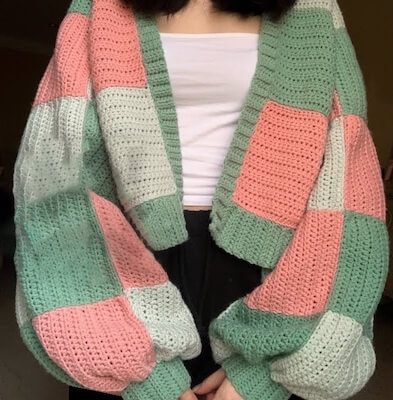 Get the Pattern here

16. Patchwork Bomber Crochet Pattern by A.R Navin
This crochet cardigan is made up of multiple granny squares that are seamed together—unique and custom multi-colored . The finished cardigan is a cropped, relaxed fit with about 8 inches of positive ease with long bell sleeves.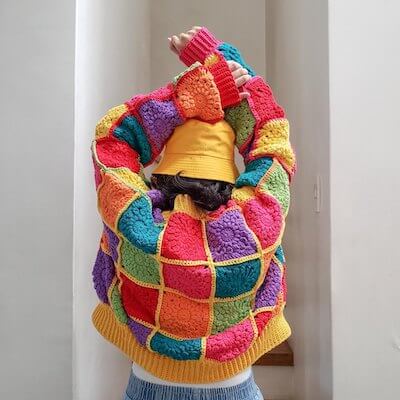 Get the Pattern by A.R Navin here

17. This Of That Cardigan Crochet Pattern by Officially Hooked Shop
This "This or That Cardigan" is a patchwork cardigan that can be made in any color combo to represent you. Pattern is written for a wide range of sizes but the pattern can easily be altered to perfectly fit you.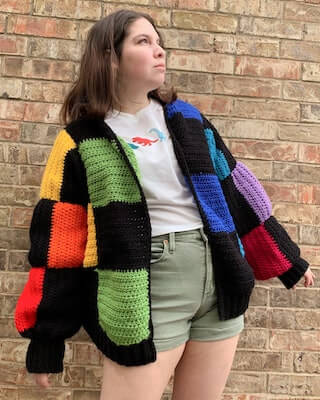 Get the Pattern by Officially Hooked Shop here

18. Tiger Lily Patchwork Cardigan Crochet Pattern by Hunter Mae
Tunisian crochet mock-knit cardigan with join-as-you-go patchwork squares. This pattern is great for an advanced crocheter wanting to dive into a more difficult Tunisian crochet pattern.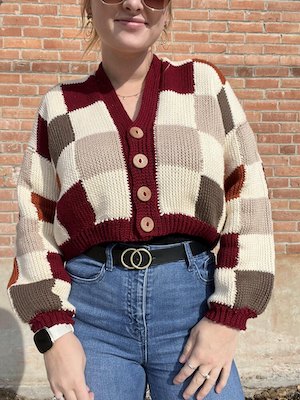 Get the Pattern by Hunter Mae here

19. Crochet Haisley Cardigan Pattern by Stitches By Trudy AU
Are you in need of a super cosy, super stylish, completely unique cardigan to keep you warm this winter? Well, good, because this Haisley Cardigan is waiting!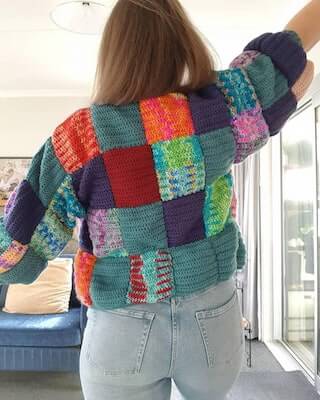 Get the Pattern by Stitches By Trudy AU here

20. Crochet Summer Patchwork Cardigan Pattern by Drops Design
As traditional granny squares never will be outdated, year after year they hold a come back with new, vivid color compositions. A square-based cardigan is an easy way to create something eye-catching and extraordinary for this spring.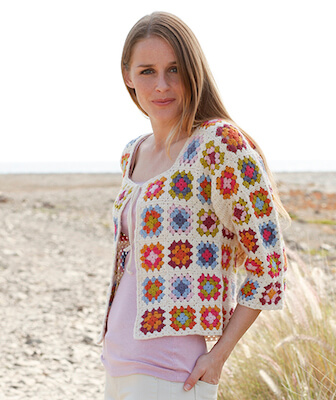 Get the Pattern here

21. Crochet India Cardigan Pattern by You Say I Crochet
Time for funk! I am obessed with all the bold colors used in this pastwork cardigan. I need a pop or color like this one in my life for Spring, undoubtedly. So do you!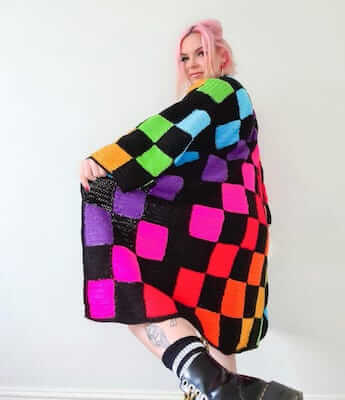 Get the Pattern by You Say I Crochet here
IF YOU'RE DOWN TO CREATE A MULTI-COLOR MASTERPIECE, THIS LIST OF CROCHET PATCHWORK CARDIGAN PATTERNS HAS YOU COVERED.
Which color version are you going to go for? Show us your style and creativity by sharing pictures of your crocheted cardigans on our Facebook Page!
Did you love this collection? Here are some more crochet cardigan and sweater patterns you can whip up next:
What are you waiting for? Whip up a crochet patchwork cardigan of your dreams today! Happy crocheting!