Did you ever dream of becoming a sailor? Or a fisherman? Or something else on a boat? Now you can relive your dreams and make one of these very cute boats yourself with these crochet boat patterns. With just a few skeins of yarn and a couple of minutes or so, you can a create a whole fleet of these little cuddly boats!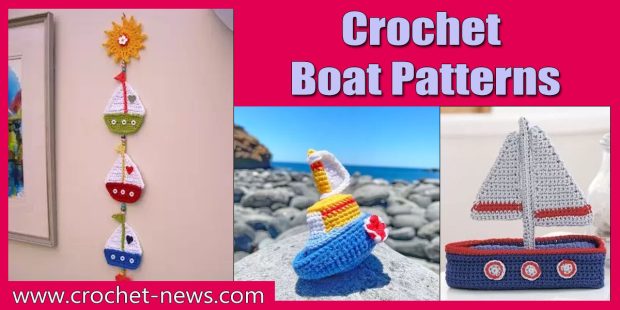 Every little kid will look back in fondness at paper boats they had as a child, so why not create one from yarn? Whether you want to offer a gift to a boat-loving kid or to a sailing enthusiast, they will surely appreciate getting some sailing-themed or boating crocheted items. So, let's check them out!
12 Crochet Boat Patterns

1. Crochet Boat Pattern by Elisa's Crochet
It's whatever floats your boat with this cute little amigurumi! This crochet project requires some sewing skills and made using DK weight yarn and a size 2.25mm crochet hook.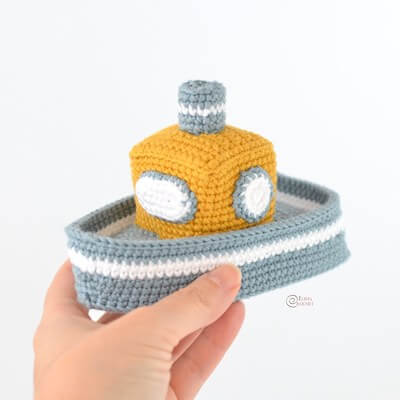 Get the Pattern by Elisa's Crochet here

2. Crochet Boat And Sailboat Pattern by Tatiana Saienko
Here's how to crochet a. boat and a sailboat. You can use these tiny boats as toys, keychains, kids room decor, and even as part of a mobile for the baby's bed.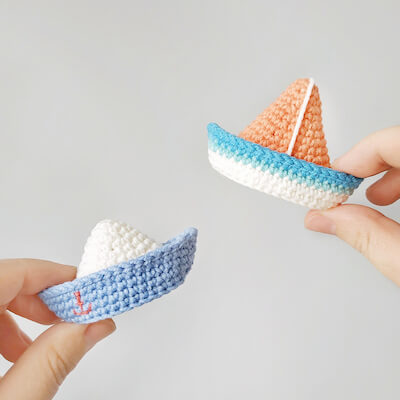 Get the Pattern here

3. Crochet Sailboat Pattern by Crafty Crochet Castle
This crochet sailboat sure makes me think about the sea, beach, sun and a nice summer breeze. At 6.25 inches tall, it's the perfect toy for a little sailor or a nice desk companion.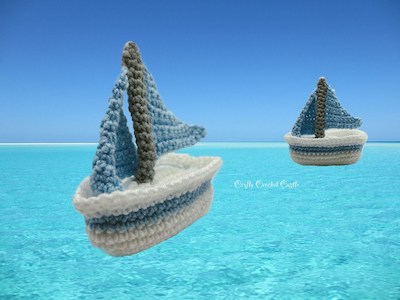 Get the Pattern by Crafty Crochet Castle here

4. Sail Away Crochet Pattern by Bunny Mummy
This super sweet pattern is so simple you will be able make a whole fleet of boats in an afternoon. Perfect for the nautical nursery, you could make a whole garland of them. It's a fantastic way to use up some of your scraps from the stash—mix and match bold nautical colors or try something different.
Get the Pattern here

5. Boat Crochet Pattern by Vliegende Hollander
Stimulate young minds and watch babies imagine great adventures around this cute crocheted boat. It's easy to play with, even for the smallest fingers. Finished with a little anchor, your little one is sure to explore far away places with the help of this plaything.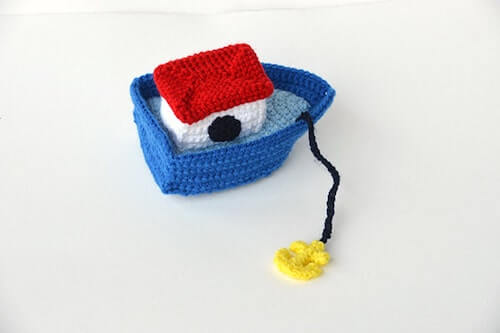 Get the Pattern by Vliegende Hollander here

6. Sailing Boat Crochet Pattern by By Marika
Here's a charming crochet pattern to make a simple sailboat that's perfect for the bathroom. It may not float in water, but it's still a nice piece of decor. You can even add a small rattle inside if you want to turn it into a baby rattle.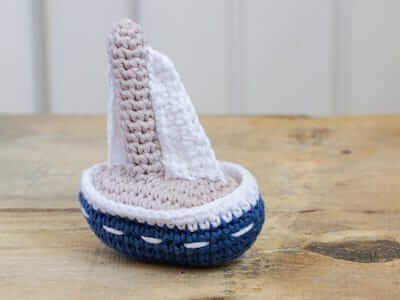 Get the Pattern by By Marika here

7. Crochet Sailing Boat Pattern by The Knitting Network
Take off your shoes, jump on board and let the waves take you away. A sailor's life can call on anyone! This soft sailboat toy is perfect for nursery decor, baby shower gift, or imaginary play.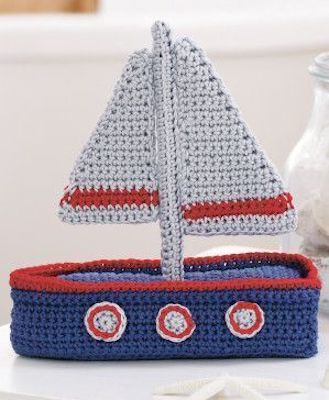 Get the Pattern here

8. Crochet Boat Applique Pattern by Cute Crochet Makes
Crochet this cute boat appliqué for your summer bags, pillows and blankets. The finished size measures approx. 14 x 14cm, making it a nice size for bigger items that can be appliquéd.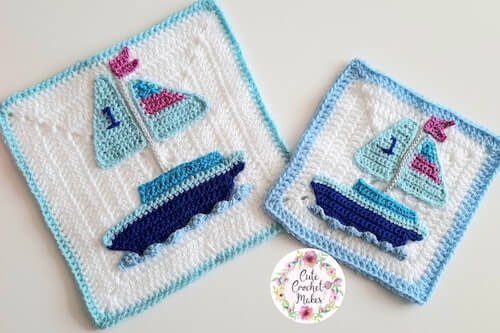 Get the Pattern by Cute Crochet Makes here

9. Crochet Fishing Boat Pattern by Crafty Crochet Castle
Gone fishing with your first crocheted fishing boat toy! This is a beautiful little fishing boat that is great for hours of fun indoors on those rare sunny summer days! It will also make a perfect gift for everyone who loves to fish.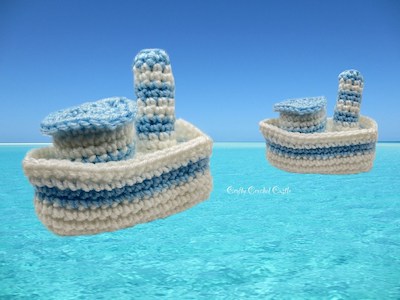 Get the Pattern by Crafty Crochet Castle here

10. Sail Boat Crochet Pattern by Zazoolia
At only 2.95 inches tall, why not make a few sail boats and hang them as a mobile? Just the right size to tuck into a bag, this sail boat makes ideal travelling companion.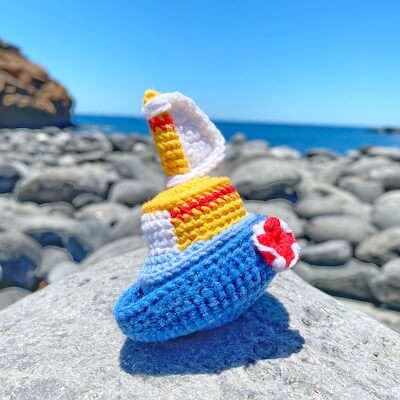 Get the Pattern by Zazoolia here

11. Crochet Tug Boat Pattern by Sally Byrne
This tug boat toy will tug on your heartstrings! It would be a great addition to a child's room, your whimsical or nautical decor, or just to display because it's so cute!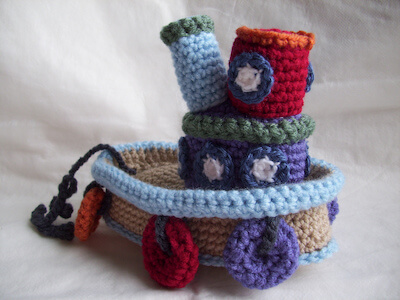 Get the Pattern here

12. Boat Crochet Pattern by Funny Rabbit Toys
Add a touch of the outdoors to a baby's room with these adorable little boats, or use them as keychains. They use just basic stitches, so you're sure to have them whipped up in no time!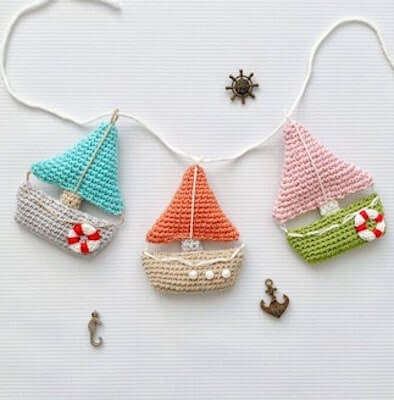 Get the Pattern by Funny Rabbit Toys here
THESE CROCHET BOATS MAY NOT BE ABLE TO FLOAT ON THEIR OWN, YOU CAN STILL ENJOY THEM AS DECORATIVE ITEMS OR TOYS FOR IMAGINATIVE PLAY.
Feel free to customize your crochet boat by adding additional details like face, or personalizing it with embroidery. Let us know how you make yours by sharing your finished crochet items on our Facebook Page. Your creativity is our biggest inspiration!
More crafts ashore! If you love crocheting nautical-themed projects that can bring a touch of the sea and coastal vibes to your home, here are more ideas you can make:
These crochet boats also make great addition to your toy vehicle collection which may include crocheted cars, trains, trucks, and rockets.
Have fun making your favorite crochet boat patterns and the adventures you could have on them!