Ever since the invention of the railway, humans from all corners of the globe have maintained a long-held fascinations with trains. If you're searching for train-themed crochet projects, these crochet trains below will ensure you're on the right track.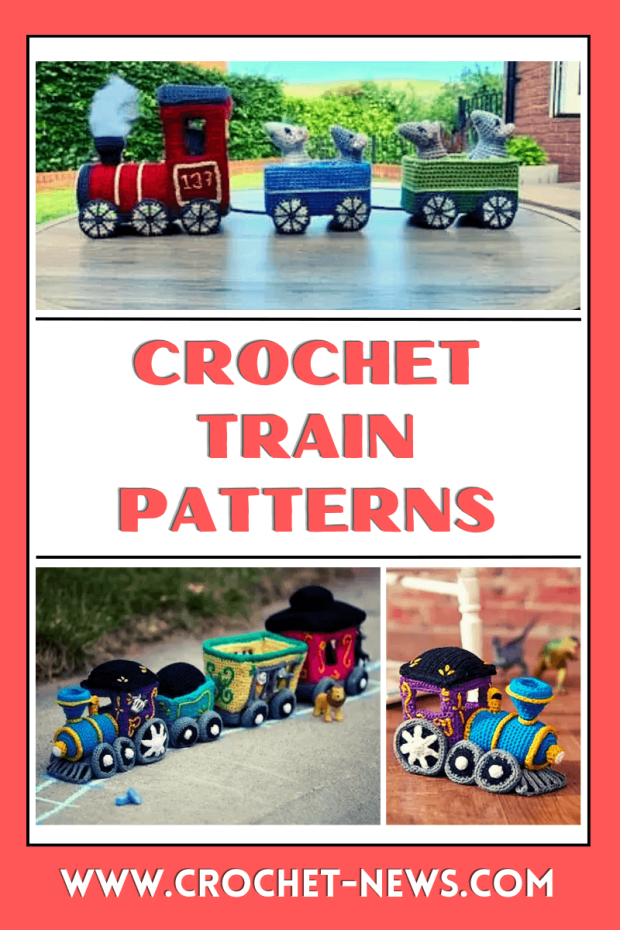 14 Patterns For Crochet Trains
And I mean, what's not to love about trains? Trains go places, they make cool noises, come in all shapes and sizes and best of all, there is always an adventure waiting at the end of the line.
So hitch up one of these patterns and your youngest engineer will never want to get off the ride! Train-themed accessories like hats and blankets to train toys and plushies — these are just a few of the things the train-lover in your life is sure to like!

1. Circus Train Set Crochet Pattern by Interweave
Choo Choo! All aboard the circus train! Crochet your own toy train set complete with Engine, Coal Car, Animal Car and Caboose!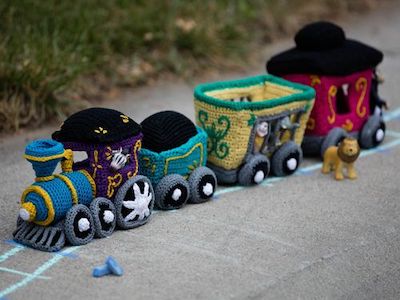 Get the Pattern here

2. Train Amigurumi Crochet Pattern by Critteriffic Crochet
Create a cute little Choo Choo train with this crochet pattern. This design includes two versions of the base!
Choose to make with the textured base as a whimsical bathroom decoration or as a bath toy to help get squeaky clean, or make with the smooth base for a palm sized plush.

When created in worsted weight 4 yarn this creation is even the perfect size to use as a lovely blanket topper featuring your favorite blanket square.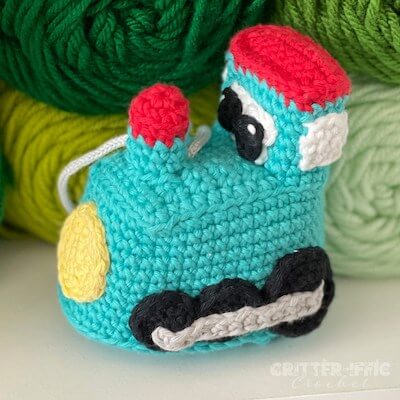 Get the Pattern by Critteriffic Crochet here

3. Amigurumi Crochet Train Pattern by Delicious Crochet
Soft and cuddly, cozy and oh so snug, this plush train toy will inspire one adorable moment after another. Measuring 19 inches long and 6 inches tall (locomotive), it's the perfect size for all those hugs.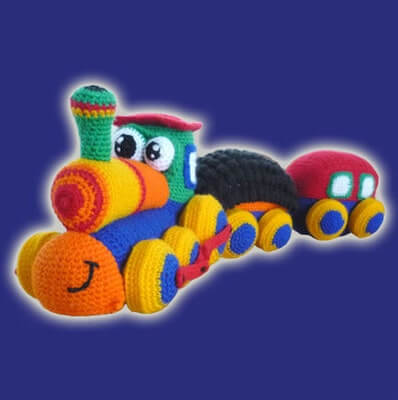 Get the Pattern by Delicious Crochet here

4. Crochet Toy Train Pattern by Crochet Egg Surprise
Fill the carriages with goodies and everyone will be waiting for this train — no station or railway tracks required, as grown-ups will be content with a handy shelf or table and youngsters will enjoy the run of the carpet or a town playmat.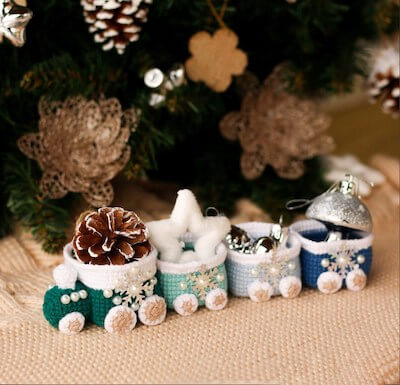 Get the Pattern by Crochet Egg Surprise here

5. Crochet Name Train Pattern by Red Heart
Make any special child a personalized train featuring their name taking center stage! Crochet the engine, then all the letters in his or her name. It's great for helping kids learn letters and how to spell their own name. This keepsake project is a wonderful gift to be treasured forever.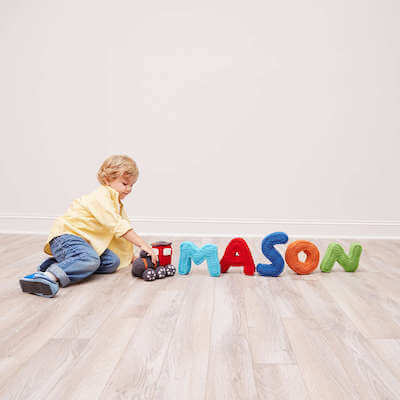 Get the Pattern here

6. Train Filet Crochet Blanket Pattern by Three Loops On The Hook
This Easy Filet Crochet Blanket Pattern creates a beautiful and effective train blanket ready to take any little one on a journey wrapped in love.
The subtle understated rainbow effect of the colors used adds to the overall effect given from the finished blanket but would look equally as wonderful in a single colour throughout.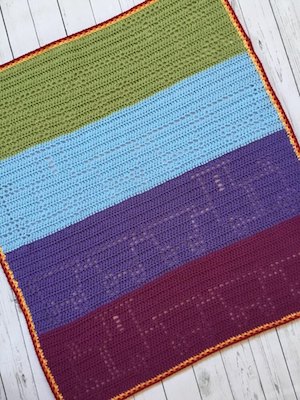 Get the Pattern by Three Loops On The Hook here

7. The Toy Box Express Crochet Pattern by Alyssa V
All aboard the Toy Box Express! This little locomotive, with its car ready to be filled with cargo and passengers, is waiting to leave the station and set off on all sorts of adventures! 

This pattern includes instructions on how to make the engine and the train cars — including the coal car/tender variation (passengers are not included). Also, instructions for two different ways to attach the train cars together.
The detachable couplings use loops and buttons to allow the cars to come apart, while the fixed couplings offers a permanent, child-safe way of joining cars together.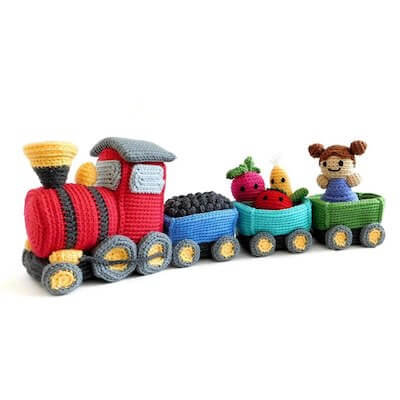 Get the Pattern by Alyssa V here
8. Crochet Train Scarf Pattern by Happy In Red
If you have a little train fan, this is just the perfect handmade gift. This crochet scarf is a quick and fun make. Great novelty scarf, all the kids will want one!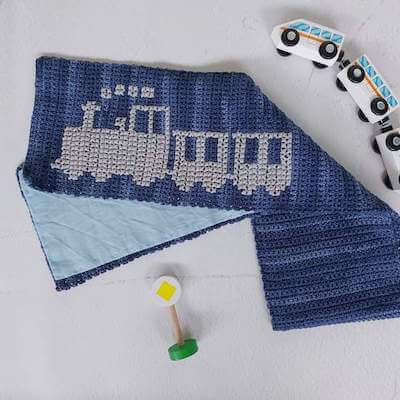 Get the Pattern here

9. Crochet Train Hat Pattern by Joni M
Have a child who loves trains? This is the perfect hat for them! Make the train in their favorite colors and it will become their favorite hat for a Halloween costume or to keep them warm in cold days. The pattern includes instructions for 13 sizes: from Newborn to adult, so all members of the family can join in on the fun!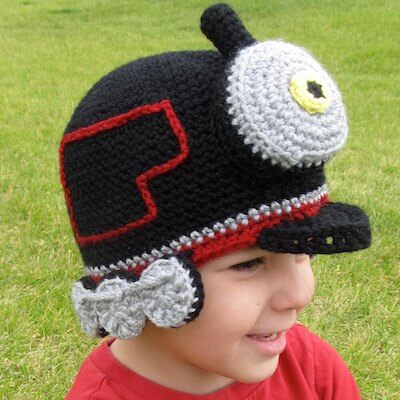 Get the Pattern by Joni M here

10. The Crafty Christmas Train Crochet Pattern by Crafty Genes Indonesia
There's no better time of the year for a train than Christmas, and this Crafty Christmas Train will help you celebrate in style whether it's December or any other month of the year.
The pattern includes everything that is in the picture: a locomotive, wagon, Santa, candy cane, lollypop, Christmas tree, gift boxes, a gingerbread man, a snowman and balls.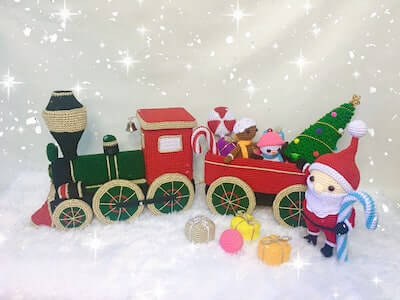 Get the Pattern by Crafty Genes Indonesia here

11. Crochet Train Applique Pattern by Home Artist
Is your child crazy about all things trains? Inspire their imagination with a train appliqué to decorate and personalize their favorite objects like hats, t-shirts, bags, school knap-sacks and lots of other stuff you can think of.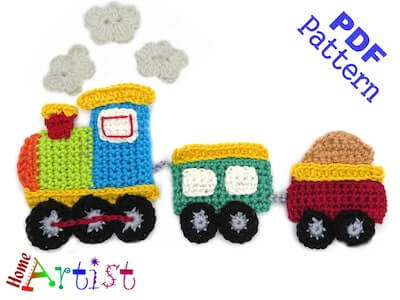 Get the Pattern by Home Artist here

12. Crochet Train Engine Pattern by Megan Kreiner
This decked-out circus train engine comes complete with whistle and cow catcher. Customize it with gold pinstriping to make your locomotive extra special.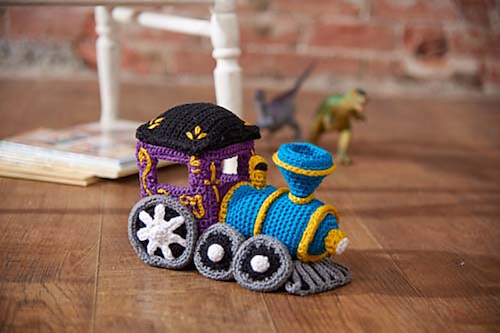 Get the Pattern here

13. Thomas The Train Tank Engine Crochet Pattern by Ami Little Creature
Thomas, the Tank Engine has been a beloved children's cartoon character worldwide since 1945. Revel in the nostalgia of playing with your favorite cartoon train with this Thomas the Train Tank Engine Crochet Pattern.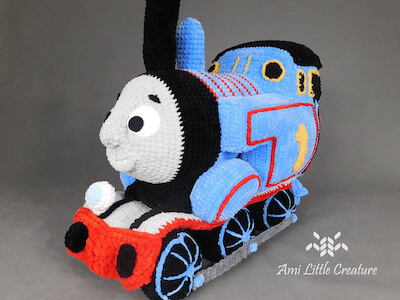 Get the Pattern here

14. Mouse In A Train Crochet Pattern by Lau Loves Crochet
Here's another cute toy for the kids: Mouse in a Train! The pattern includes instructions for the train engine and carriage, the mouse, its hat, jacket, trousers and lantern!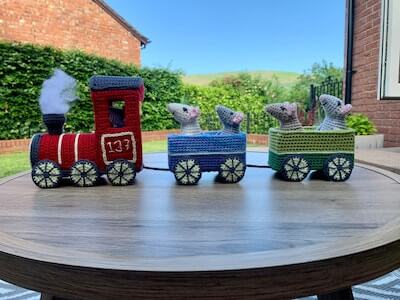 Get the Pattern by Lau Loves Crochet here
OUR LOVE OF TRAINS WILL SURELY LAST A LIFE TIME WITH THESE CROCHET TRAINS PATTERNS.
Stimulate young minds and watch kids imagine great adventures around cute playthings. For more cuddly toys to make, check out our wide collection of crochet toy patterns. You will surely find something to crochet next!

If you enjoyed these patterns and are showing it off to the world, be sure to also share pics on our Facebook Page. We can't wait to see all your creations!
Pack up your crochet kit and join us on a real adventure with these patterns for crochet trains! Happy hooking!