Bored at home and toy stores aren't yet open? No problem, here are 45 crochet toy patterns that you can make at home – fun, frugal, and fantastic!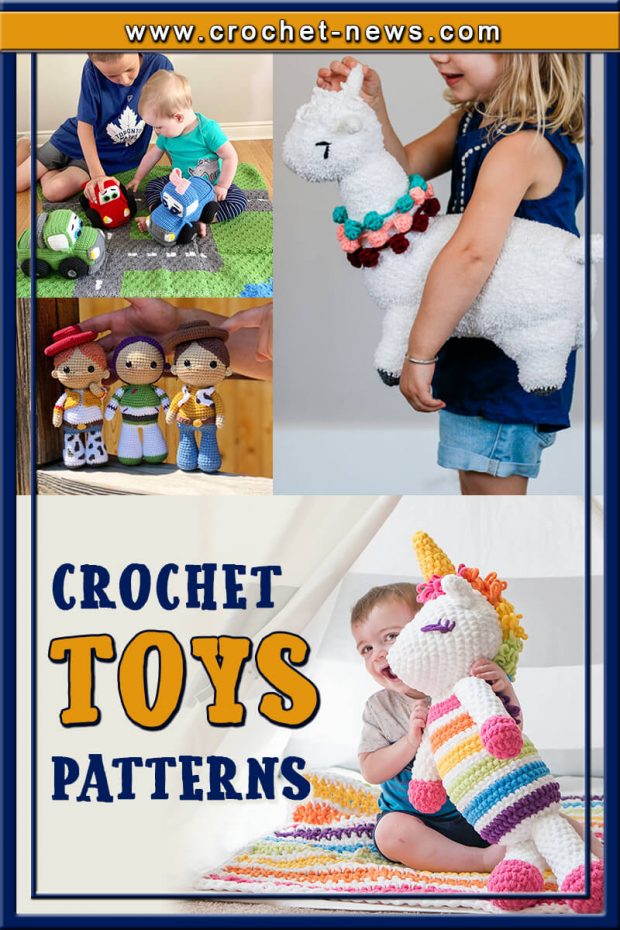 It's been a whirlwind of a year, hasn't it? Well, things are different in each country, but many stores have started opening up slowly. Unfortunately, toy stores aren't deemed essential, although our kids may disagree!

You don't want them glued to screens and you can't take them outside, so what is a poor parent to do? If you can't buy them, make them! With a huge range of patterns available for super cute toys including animals, dolls, food, and so much more!

1. Llama Crochet Toy Pattern by Yarnspirations
t's no proba-llama to bring a smile to someone's face with this cuddly crochet llama toy! Lluna the Llama is worked in single crochet with simple increases and decreases and then seamed together to give her adorable shape.
Make her adorable blanket in your favorite colors to make this a truly unique gift!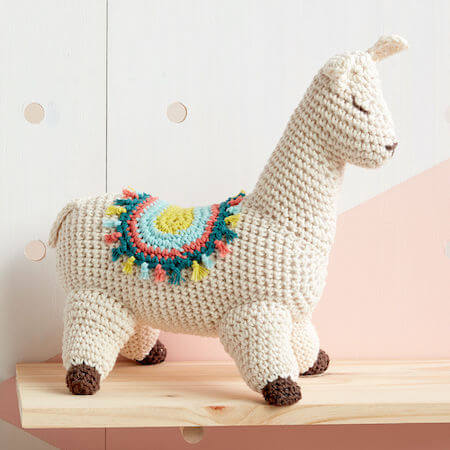 Get the Pattern here

2. Crochet Turtle Amigurumi Toy Pattern by Toysneed
Make your own sweet little turtle in just a few hours! Use your imagination to customize it's colors for endless possibilities! It is perfect make for adults and children alike. A fun and quick pattern to crochet, make yourself a snuggly friend today!
Here are more exciting amigurumi and crochet turtle patterns for you to choose from.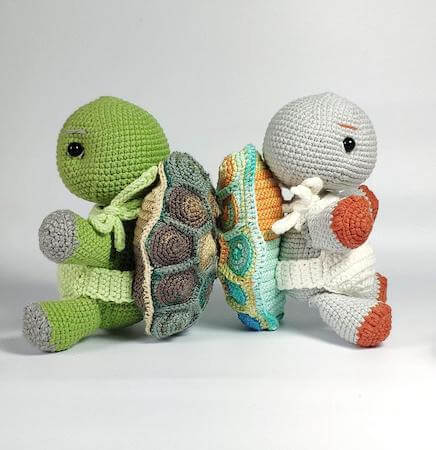 Get the Pattern by Toysneed here

3. Emma And Her Dollhouse Toy Crochet Pattern by Pink Mouse Boutique
Emma is a tiny little girl. She is only an inch and a quarter tall. But don't let the size fool you. She is a brave girl always ready for adventures! Emma comes with her little house.
The tiny house is 2 and 3/4 inches tall and about one and a quarter inches wide. But this little house is full of surprises! The house has four rooms: a bedroom, the bathroom, the closet (with a wardrobe that has 3 outfits and a toy chest with a little bear toy), and finally the kitchen.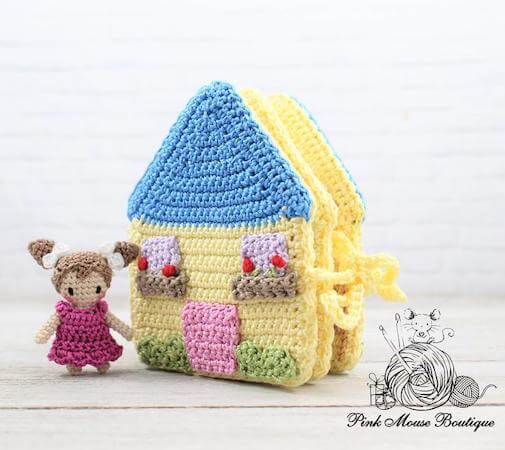 Get the Pattern by Pink Mouse Boutique here

4. Boy And Girl Super Heroes Crochet Pattern by Red Heart
Perfect for fantasy play, these bright, colorful heroes will spark a child's imagination. Embroider"G" for girl and "B" for boy, but you can personalize your toys with any monogram.
Shades come easily, so create your dolls as shown or imagine a new look for these caped crusaders! This free crochet toy pattern is sure to make you the hero with kids, so get started.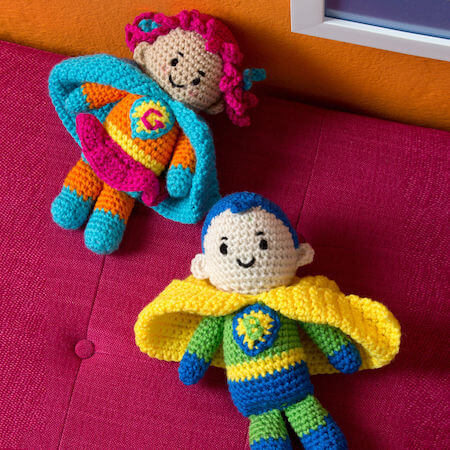 Get the Pattern here

5. Amigurumi Doll Crochet Toy Pattern by My Cro Wonders
Create your own Amigurumi Pumposhka Dolls with this intermediate pattern. The crochet toy patterns includes instructions for the doll bodies, their dresses and shoes that are not removable, and two variants of handbags.
The size of a ready doll is about 30 cm (11.8") tall.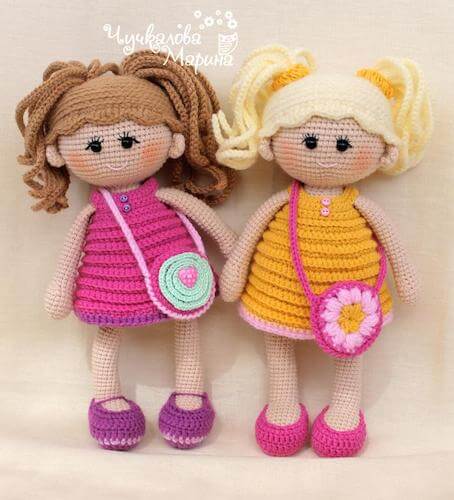 Get the Pattern by My Cro Wonders here

6. Baby Penguin Amigurumi Toy Crochet Pattern by 1 Dog Woof
What's cuter than a baby penguin? Two baby penguins! See how one crochet pattern can make 2 completely different, yet equally adorable penguins just by using different yarns.
This baby penguin amigurumi is a ball of fluff, oozing coziness with his festive red scarf and ready to hand out warm hugs on cold winter days.
Check out these Crochet Penguin Patterns.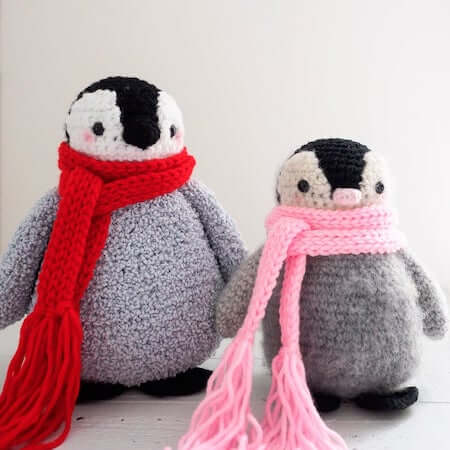 Get the Pattern here

7. Shark Crochet Toy Pattern by Little Green Bear Gifts
These super cute Sharks are a must make and you are going to love making them! He is 13 inches long (when made with the recommended materials). Whip up these adorable sea creatures in a variety of colors and have a perfect desk buddy!

More Amigurumi Shark Crochet Patterns here.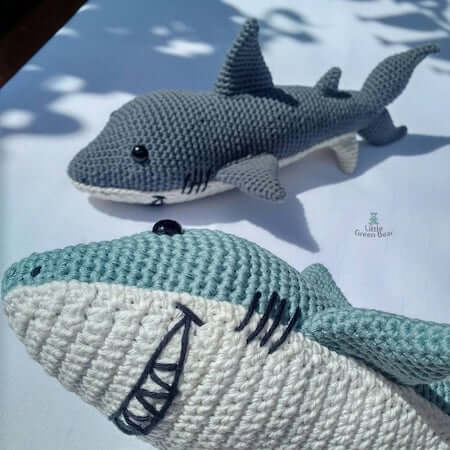 Get the Pattern by Little Green Bear Gifts here

8. Ragdoll Mermaid Toy Free Crochet Pattern by Spin A Yarn
The Ragdoll Mermaid is a unique amigurumi made in the ragdoll-style; separate pieces worked in flat rows and joined together to give it that charming and distinctive 2-D appearance.

If you're looking for a little whimsy in your life, look no further! She is soft and snugly, perfect for cuddling and great yarn busters.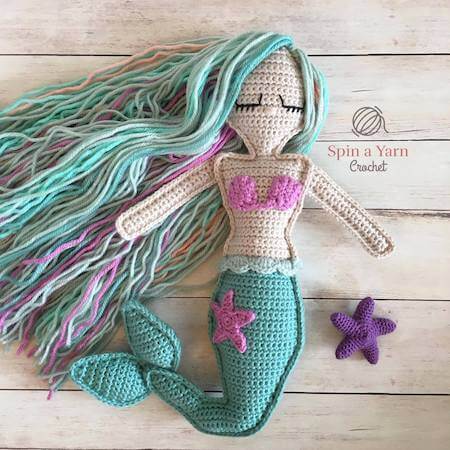 Get the Pattern here

9. Dragon Stacking Toy Crochet Pattern by Zenknit RU
This crochet dragon is made of multiple crocheted rings that are stacked on top of a crochet base. This educational crochet baby toy supports baby's development: increases fine motor skills, cognitive development of spatial relations, and hand-eye coordination.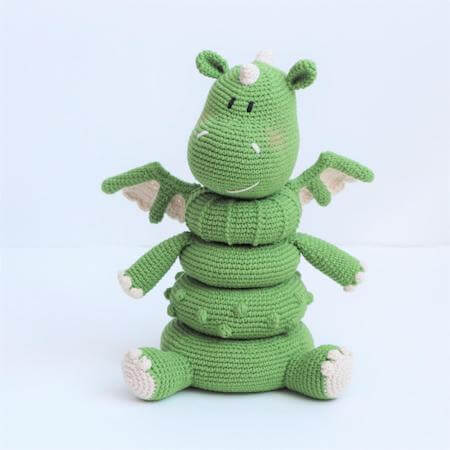 Get the Pattern by Zenknit RU here

10. Huggable Lion Pillow Crochet Pattern by Yarnspirations
This adorable lion goes everywhere with kids. Make a keepsake quality cub in your child's favorite colors and finish a brand new friend with just the right personality. This little guy makes a cheerful buddy who loves hanging around and making kids smile.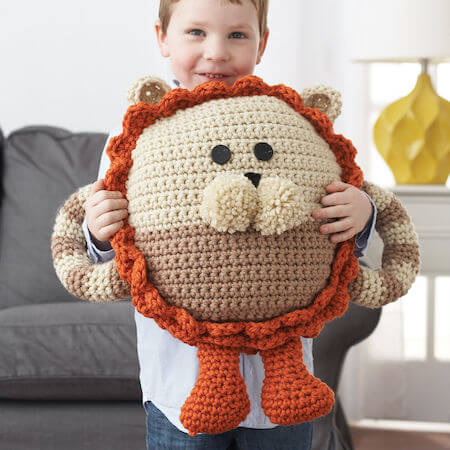 Get the Pattern here

11. Kids Toy Bowling Set Crochet Pattern by Petals To Picots
Little ones will love this adorable crochet bowling set! It is the perfect size for little hands and great for developing hand-eye coordination and spacial awareness.

Perfect for indoors, the crochet bowling pins and ball are plush for quiet and damage free play – no worrying about damage to furniture or woodwork.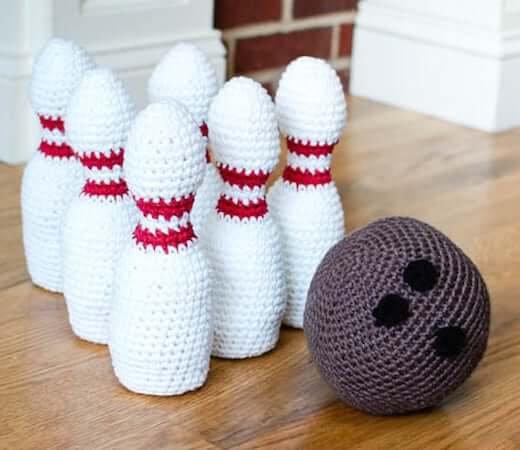 Get the Pattern by Petals To Picots here

12. Teddy Bear Crochet Toy Pattern by Wonder Studio By Yulia
Everyone should have a teddy bear at some stage of our lives. Instead of buying any store-bought ones for your little one, why not use those crochet skills to make a customized teddy bear stitched by you?
You may use any yarn to make this toy, just make sure to use correct hook size with your yarn.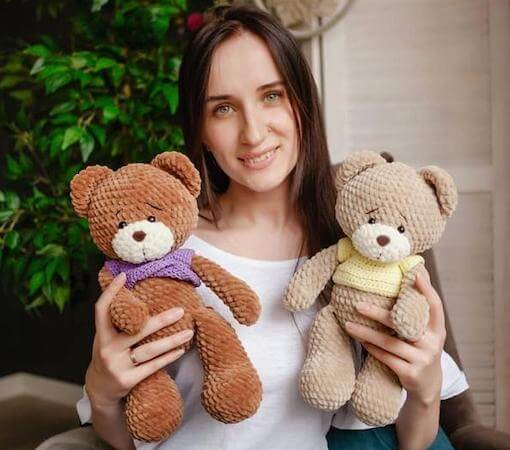 Get the Pattern by Wonder Studio By Yulia here

13. Crochet Panda Pattern by Irene Strange
Isn't she adorable? Little ones will love how soft and squishy this panda's body is, with cub-like stubby arms and legs that look so cute when someone is hugging her!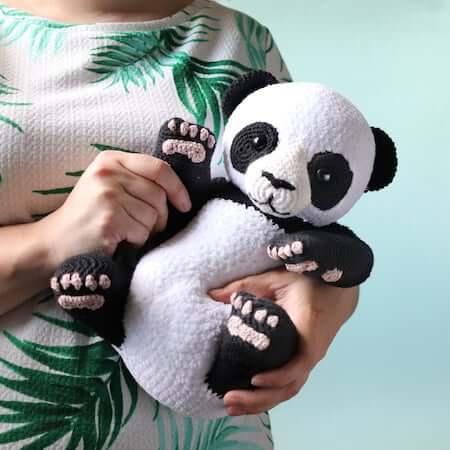 Get the Pattern by Irene Strange here

14. Stuff And Spill Fish Bowl Crochet Pattern by Left In Knots
This project is an adorable, plushy toy that is perfect for babies and toddlers! Featuring a large fishbowl, fish, starfish, and jellyfish, babies will have fun pulling these surprises out of the bowl and stuffing them back in again!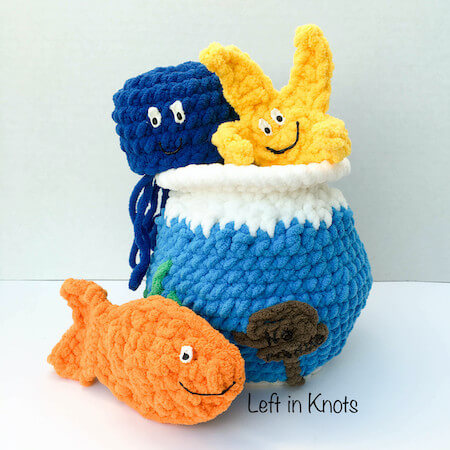 Get the Pattern here

15. Crochet Vroomies Toy Playset Pattern by Holly's Hobbies Ptbo
This Crochet Vroomies Toys Playset Pattern comes complete with the following: Flash the Race Car, Tonk & Tink Truck, and Car & Truck Playmat Backpack. Soft and snuggly, Flash the Race Car and Tonk & Tink Truck are the perfect addition to your favorite car and truck lover's collection (big or small!).

Car & Truck Playmat Backpack works as a perfect mat for your little ones to let their imagination run wild! Use Flash, Tonk or Tink, or any other cars they have in their toy box!

After playing, the mat folds up into a wearable backpack for easy transport and storage.
Get the Pattern by Holly's Hobbies Ptbo here

16. Cuddle Me Elephant Crochet Pattern by Amigurumi Today
This Cuddle Me Elephant just can't wait to be nursed and protected. Decorated with tropical flowers, a soft crochet elephant brings the sparkle into every child's eyes. It can make a cute birthday present!

The pattern will help you to create such a beautiful toy for your loved little one! Your amigurumi elephant will be about 16 cm (6.3″) tall if you use the specified yarn and hook.

Here are crochet elephant patterns for more ideas.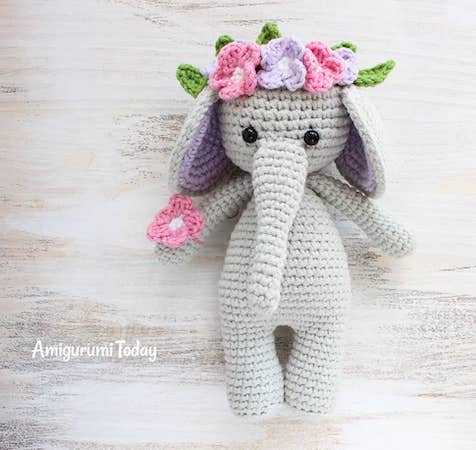 Get the Pattern here

17. Rocket Free Crochet Toy Pattern by Elisa's Crochet
This Rocket Toy Free Crochet Pattern has the instructions to make a fun and colorful rocket that the little space lover in your life will love! It is so soft yet serious, as it is going to carry the small astronaut far into distant space!

It's an excellent idea for a Baby shower gift, a birthday present for a boy, and even to a grown up teen – to all, who dreams of flying into the infinite sky!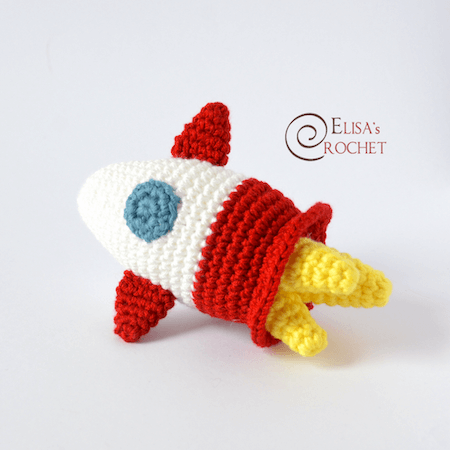 Get the Pattern here

18. Crochet Butterfly Playset Pattern by Lalylala
This Crochet Butterfly Life Cycle Play Set is adorable, but also very educational! Crochet a Butterfly Life Cycle Playset for your child from this pattern – containing an egg, a cocoon, a lovely caterpillar, and her beautiful wing set.
Even a leaf to feed the caterpillar is featured in the pattern.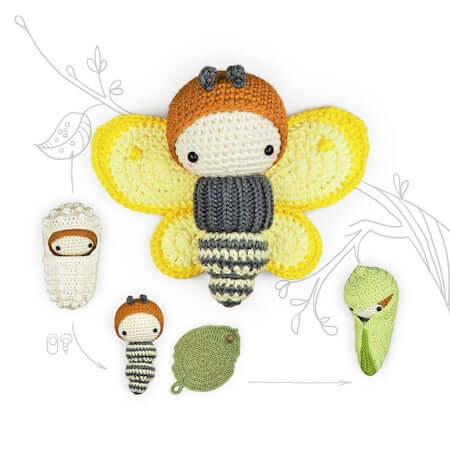 Get the Pattern by Lalylala here

19. Amigurumi Toy Giraffe Crochet Pattern by Chiqui Pork
Please your kids with this innocent crochet amigurumi, the legendary crochet giraffe, would make a pretty cute birthday gift! This would be the most eye-catching toy in the kids' playroom and can make the baby boys and baby girls busy playing for hours!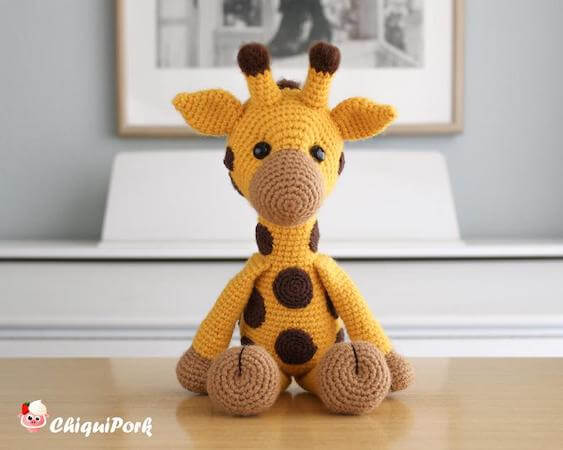 Get the Pattern by Chiqui Pork here

20. Star Ball Crochet Pattern by Look At What I Made
This Crochet Star Ball is based on the traditional Amish puzzle ball and, as such, comes apart into 3 segments or "rings" that have to be assembled to form the ball. Despite how it looks, there are only 3 tiny bits of actual sewing involved in making this ball.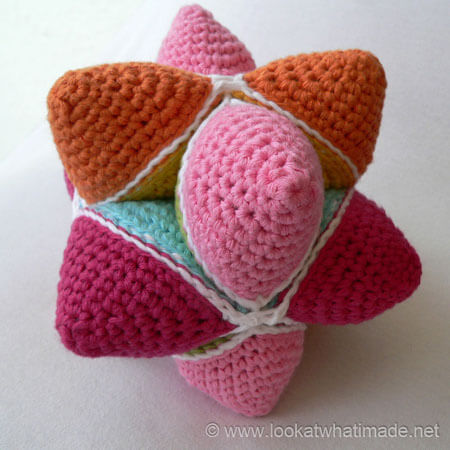 Get the Pattern here

21. Rainbow Fishing Game Free Crochet Pattern by Niccupp Crochet
This Rainbow Fishing Game is a perfect pattern to make for any kid in your life. It's fun and easy to work up using various colors of worsted weight yarn. Kids will have hours of fun playing this cool game!

The fish look so fun and colorful and with a pond that you can carry, who could ask for more? It can be used in a preschool setting or just as a fun game for the family!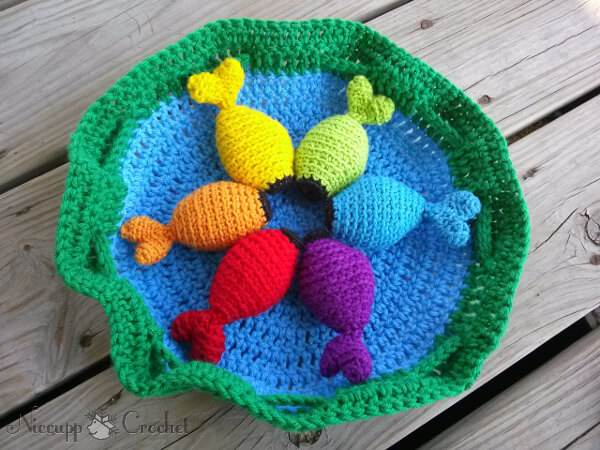 Get the Pattern here

22. Triceratops Dinosaur Crochet Pattern by Spin A Yarn
This pattern is really simple and quick to crochet that for sure you won't stop on a single one as they also make a great last-minute gift. The finished size is just perfect for your little kids to hold with their little hands.
This dinosaur is crocheted in a classic ragdoll style to achieve a unique look.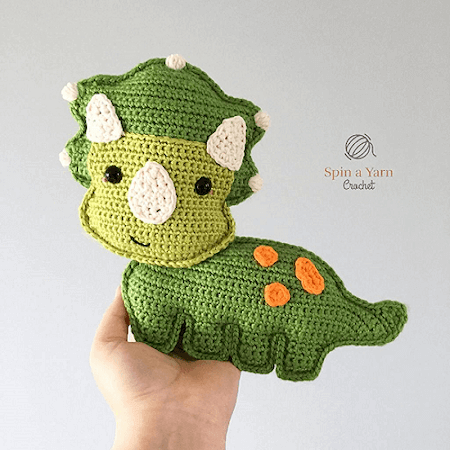 Get the Pattern here

23. Crochet Giraffe Toy Pattern by Kornflake Stew
Willing to get your baby busy to play with toys? Just provide them this cute looking amigurumi giraffe that is a delight to view, soft to touch and perfect to gift. Crocheted in any color of yarn, this giraffe plushie is a nice project in your spare time!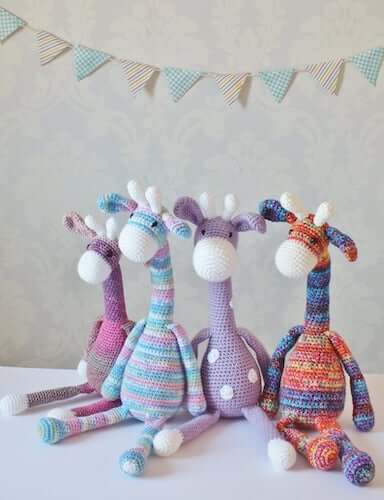 Get the Pattern by Kornflake Stew here

24. Crochet Unicorn Slap Bracelet Pattern by Whistle And Ivy
Looking for a fun crochet toy for the kiddos? This darling crochet unicorn slap bracelet is the answer! Take a regular slap bracelet and add some crochet to make it a treasured toy. Wear in on the wrist or slap it to bike handlebars.
Take this little crochet unicorn bracelet everywhere!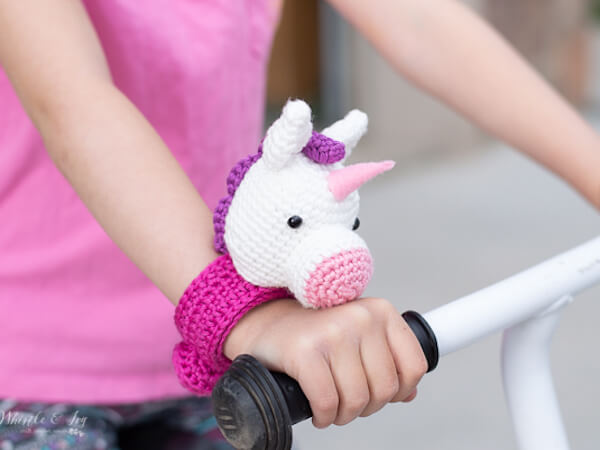 Get the Pattern here

25. Five Green And Speckled Frogs Crochet Pattern by On A Whim By Lynn
Based on the "Five Green and Speckled Frogs" nursery rhyme, this fun activity toy features 5 adorable frogs, a small pond play mat complete with lily pads and bugs. The log opens on one end to store your frogs and mat. So cute and hours of fun!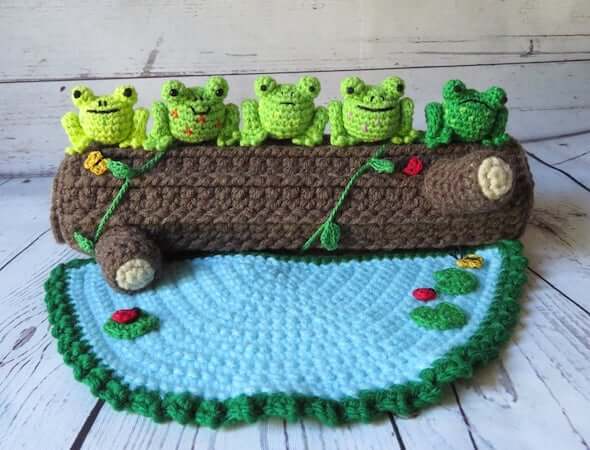 Get the Pattern by On A Whim By Lynn here

26. Owl Toy Crochet Pattern by Daisy Cottage Designs
Kids can snuggle up with this adorable owl toy to use as a pillow or to carry around as a stuffed animal. Their new wisdom-inspiring companion can be worked up in a few hours and is an easy crochet pattern to tackle for the afternoon.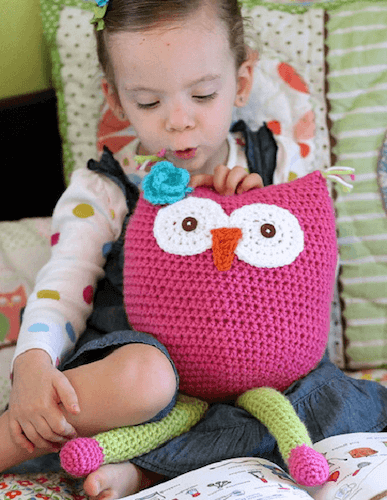 Get the Pattern here

27. Playtime Sandwich Crochet Pattern by Yarnspirations
Have you been invited to a little girl's tea party and need to bring something special? How about this appetizing sandwich you whip-up with the vibrant colors? Imagine the look of delight on her face when she sees the delicious addition to her table of goodies.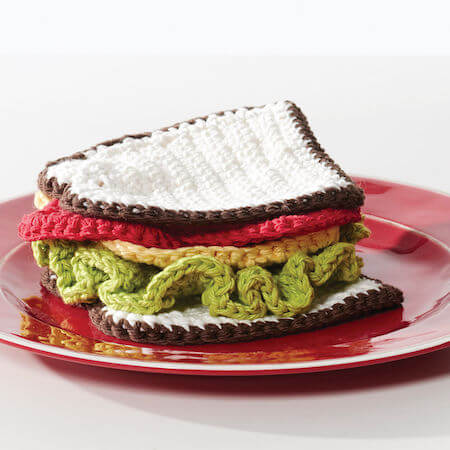 Get the Pattern here
28. Cuddle-Sized Robot Amigurumi Toys Pattern by Storyland Amis
Meet Beep and Boop the Robot Twins! This Robot Amigurumi is the perfect friend for your child, sweet and charming, you can customize it as you like. You definitely won't want to make just one, so thankfully for you, both patterns are included in one!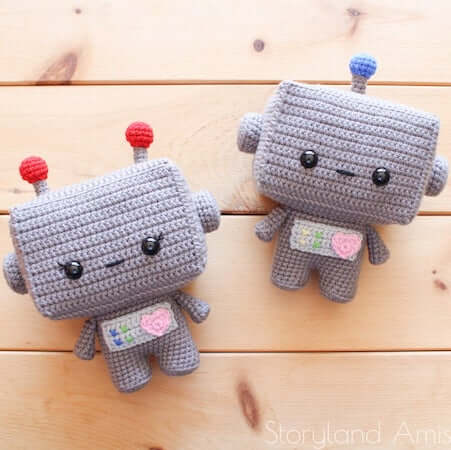 Get the Pattern by Storyland Amis here

29. Safari Play Set Crochet Pattern by Red Heart
Create these fun projects to set the stage for a kid's fantasy safari! These colorful crocheted play items include a Rug, Tiki Hut, Palm Trees, Bush, Off-Road Vehicle and Rowboat with Paddle.
Get the Pattern here

30. Crochet Ninja Soft Toy Pattern by Simply Collectible
You'll be feeling stealthy with this Ninja Crochet Toy Pattern. This adorable pattern features a crochet mask and softie pattern crochet nunchucks. These make adorable gifts and costumes for kids.
Plus, there's the advantage that they're plushie so your little ninja can fight the good fight without broken bones.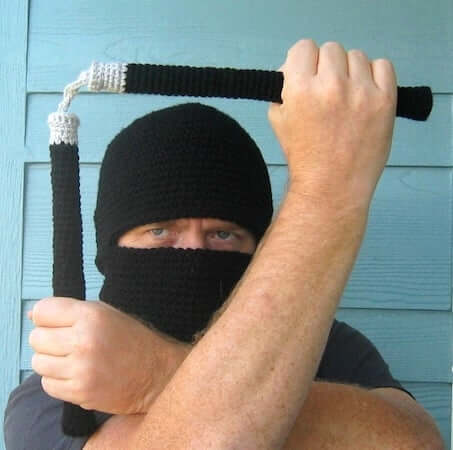 Get the Pattern by Simply Collectible here

31. Crochet Vegetables Toy Pattern by Green Fox Farms Designs
Perhaps you're actually looking to make your own play food so you can use it as teaching tools while your kids learn about the different food groups? This crochet pattern includes instructions for 9 different veggies and a basket too.
These amigurumi vegetables are a fun way for kids to play farmer or chef!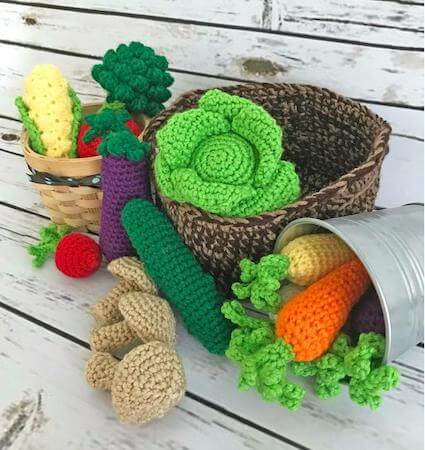 Get the Pattern by Green Fox Farms Designs here

32. Mix And Match Crochet Monster Pattern by Chai Coffee Crochet
Who doesn't love crochet monsters? This pattern allows you or you child to design your own unique crochet monster. The free pattern has detailed step by step instructions for various monster components (body, horns, spikes, arms, and different kinds of eyes and mouths) that you can put together in your own unique design

This pattern allows you to do that in such quick and easy way, that it's even suitable for beginners! The monster body is about 6 inches tall using DK yarn and a 2.75 mm hook but will vary based on your own yarn, hook and gauge.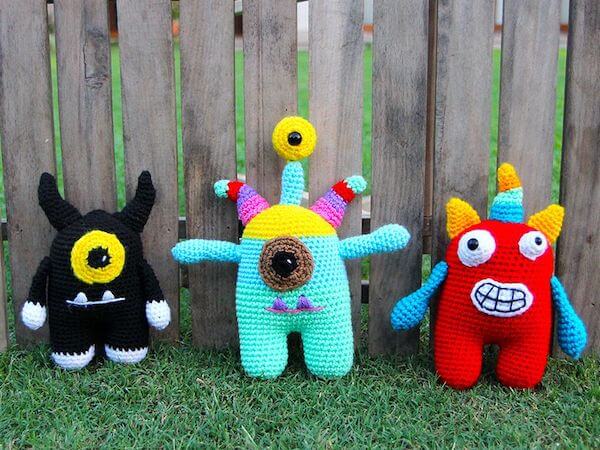 Get the Pattern here

33. Crochet Bunny Stacking Toy Pattern by Gift Shop By Elene
This Crochet Bunny Stacking Toy is not just adorable but can also help the kids to develop coordination and sensory perception through the multi-colored rings they can play with. This innovative design is both educational and recreational.
Colorful yarns and embroidery floss details combine to create this delightful stacking toy. The children in your life will simply adore this bunny toy that is beautiful to look at and fun to play with!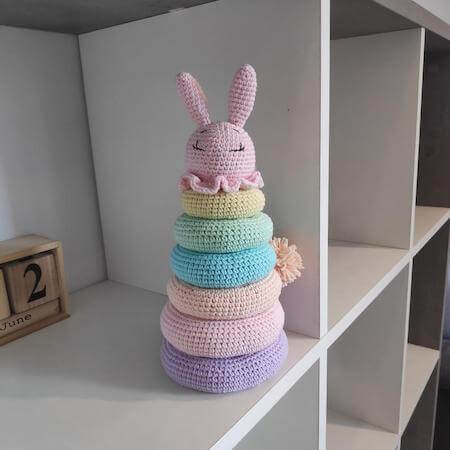 Get the Pattern by Gift Shop by Elene here

34. Lola, The Crochet Plushy Unicorn Pattern by Sewrella
This crochet plushy unicorn is named Lola and she is the snuggliest, cuddliest, most colorful friend ever!Lola is made by simple single crochet stitches and easy amigurumi techniques.
She's ridiculously easy to make, even if it's your first time crocheting amigurumi. If you know how to single crochet and make increases and decreases, you can make your very own Lola!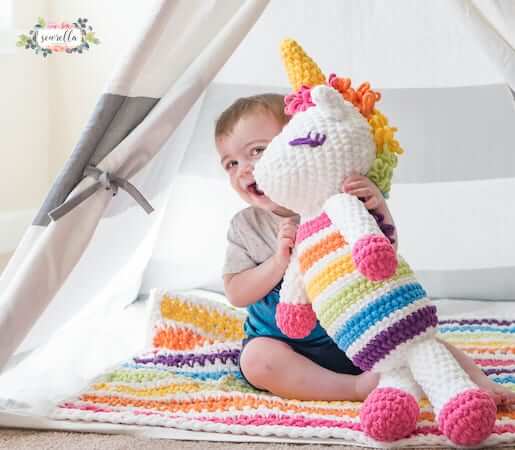 Get the Pattern here

35. Crochet Sock Monkey Toy Pattern by Yarnspirations
Let's monkey around and get an adorable toy underway for your favorite child. Show your originality and craft this handmade plaything in any color you picture. Imagine the looks on kids' faces when they accept this special gift from the heart.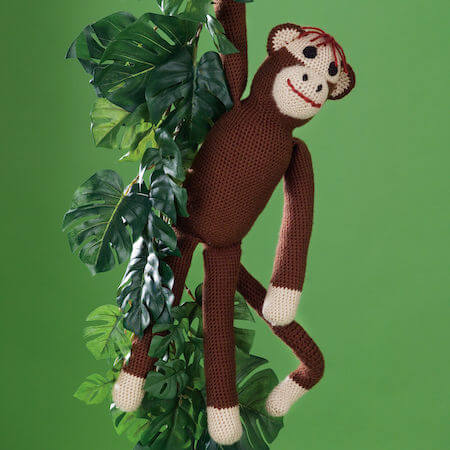 Get the Pattern here

36. The Toy Story Dolls Crochet Pattern by By Knit Toys
These crochet patterns for The Toy Story characters are beyond adorable and you will find Woody, Jessy, and Buzz Lightyear. Standing 18cm tall when finished, these dolls will make the Toy Story fans really happy!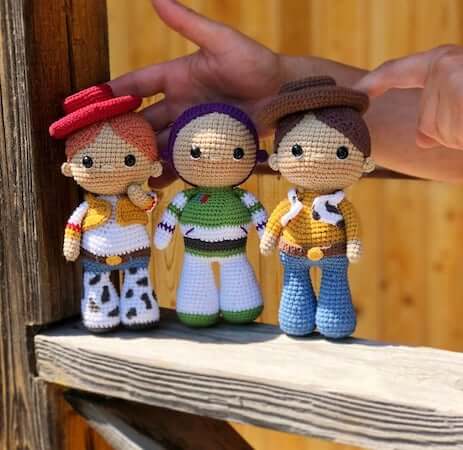 Get the Pattern by By Knit Toys here

37. Orbit, The Dragon Crochet Toy Pattern by Projectarian
Meet Orbit, the baby dragon. She shakes you warmly by the hand with her squidgy little chubby pink paw! Orbit is pleased to meet you – you can tell by the way she puffs stars from her smiling snout!

Although Orbit is an intermediate pattern, don't be scared to try it no matter what your skill level! She will be the perfect companion for your little princess or prince!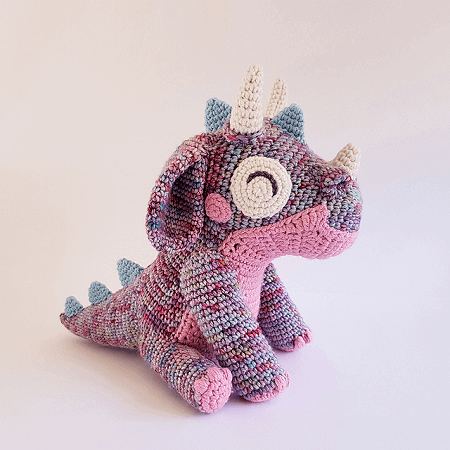 Get the Pattern here

38. Crochet Batman Toy Pattern by Inner Child Crochet
Who doesn't love a hero? At 12″ tall, this little Batman toy is perfect for hugging and playtime and is great for children who love superheroes but are too little for action figures. To complete the pattern you will need intermediate crocheting and basic hand-sewing skills.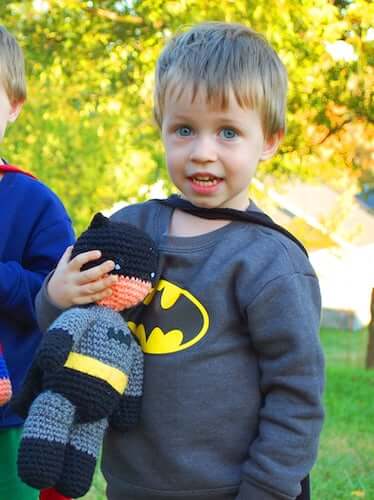 Get the Pattern by Inner Child Crochet here

39. Happy Little Car, Plane, And Truck Crochet Pattern by Red Heart
Stimulate young minds and watch kids imagine great adventures around cute playthings. These crochet toys are soft and cuddly. They're easy to play with, even for the smallest fingers. And when playtime is over, simply toss them into the washing machine to get them clean for a new day of creative fun.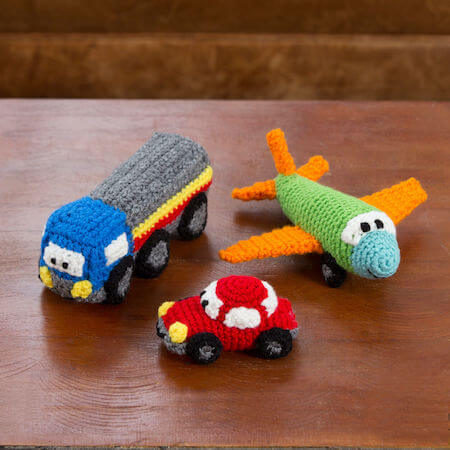 Get the Pattern here

40. Huggable Crochet Alpaca Toy Pattern by Make And Do Crew
Perfect for alpaca (or llama!) lovers of all ages, this super squishy alpaca toy is just the right size to hug. While the fuzzy yarn might be intimidating, it's also extremely forgiving, so you can crochet an adorable alpaca friend without obsessing over stitch counts.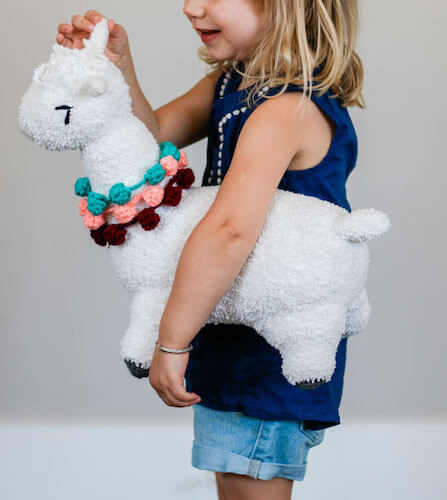 Get the Pattern here

41. Amigurumi Alphabet Letters Crochet Pattern by Amigurumisnl
Crocheting alphabet can be another fun activity while wishing to go smart with your hook. These Amigurumi Alphabet Letters will really rock for educational purposes for kids. Or use these letters to create a personal decor statement in any room space or in the kids' bedroom. These giant stuffed letters will make super comfy pillows too!
Get the Pattern by Amigurumisnl here

42. Crochet Amigurumi Doll Pattern by Workroom Julia Litvin
Every little girl loves a ballerina doll and perhaps even dreams of being one herself one day. Crochet this pretty Crochet Amigurumi Doll to make a perfect gift for your little princess. It will be one of a kind present, you will not find in shops!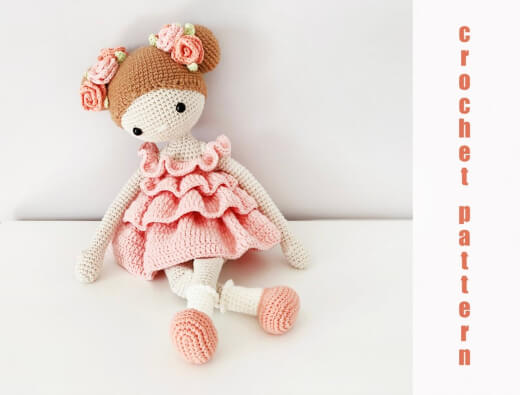 Get the Pattern by Workroom Julia Litvin here

43. Dog Ragdoll Crochet Pattern by Ala Sascha
This Dog Ragdoll is a wonderful toy and sleeping buddy! Even though the body is flat like a lovey, this puppy dog will leave much more room for imagination and be a best friend to toddlers and older children too.

Its finished measurements are approximately 32cm/12.5inch high from head to toe and 17cm/6.5inch wide. This little doggy is a wonderful toy and cuddle buddy to both little boys and girls!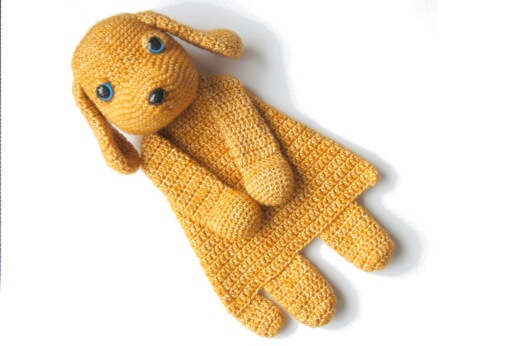 Get the Pattern by Ala Sascha here

44. Rocketship And Alien Crochet Pattern by Red Heart
Catch a rare glimpse of an alien stepping out of its rocket ship. These crochet toys are made using only 1 wheel of yarn. Pattern features crocheting in rounds, single crochet, half double crochet and slip stitch techniques.
Make a set as shown, or explore any 4-color yarn for a unique result. It's an out-of-this-world gift for kids of all ages!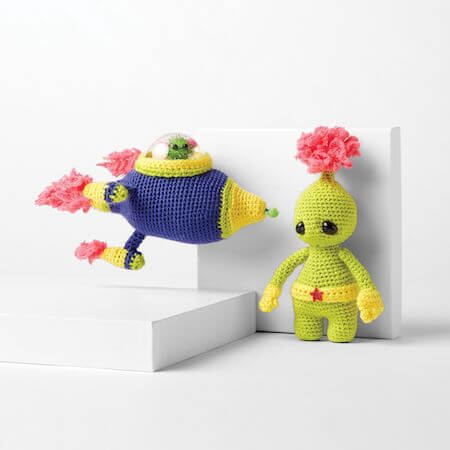 Get the Pattern here

45. Crochet Toy Forest Spirit Amigurumi Pattern
Forest spirits are part of an extensive list of nature deities whose primary task is to preserve all things good in nature. The Forest Spirit crochet toy pattern is a guardian of the forest and is sure to bring you tons of good luck, prosperity, and good health.
Well OK, maybe not, but this amigurumi toy is still worthy of your time and effort.

The crochet toy forest spirit amigurumi is such a beautiful creation and is bound to astound anyone you crochet it for. You don't necessarily have to crochet it for anybody else; you could create one of these for display among your collectibles.
Forest Spirit Amigurumi Materials
Yarn in 5 colors of similar weight
A 2mm or U.K size 14 crochet hook
Fiberfill
Tapestry needle
Sewing needle and thread
Red beads
Dark green embroidery floss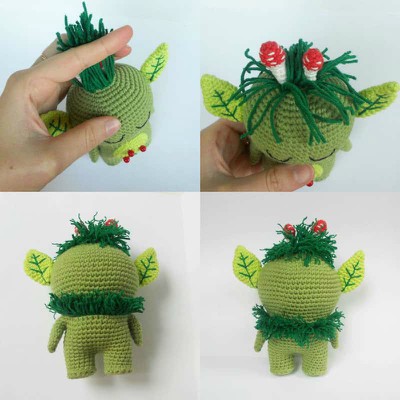 Finished Amigurumi Toy Size
This project is an excellent basic crochet pattern for a fantastic amigurumi toy that you can customize. The finished amigurumi figure stands at about 11 to 12cm tall. What you'll love most about this project is that you can start and finish it in one sitting; it won't take you long to crochet it.
Pick up these supplies and give the crochet toy forest spirit amigurumi a try. The pattern is another free stuffed toy pattern. It can be purchased and afterward downloaded as PDF document.
The PDF file is accompanied by detailed instructions that guide you through every step of the process up until completion. The crocheting skill level needed to take on this forest spirit crochet toy project efficiently is anything between intermediate and advanced level.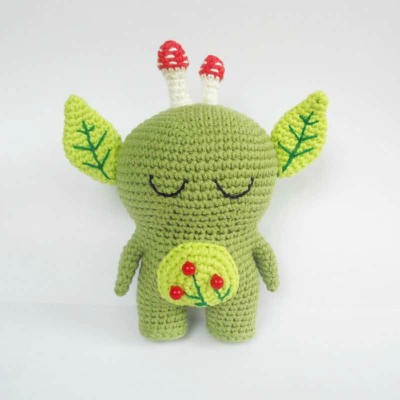 Of Forest Spirits And Mythological Creatures
Do you or your loved ones believe in mythological creatures? I mean the likes of the cyclops, hydra, unicorns, Pegasus, sky spirits and what not. A couple of the mentioned mythological creatures would be a nightmare to have in your house.
The crochet toy forest spirit, on the other hand, is a cute little amigurumi figure that is not scary at all. This crochet toy is embellished with beautiful mushrooms and delicate crochet patterns that make it look amazing. The forest spirit as mentioned is the guardian of the forest and looks after its inhabitants.
The crochet toy will most assuredly bring a charming, colorful atmosphere in your living room. This enchanting crochet toy Forest Spirit Amigurumi makes for an interesting conversational piece, and you can put it on display to the delight and captivation of your guests.
It also makes for a sweet and quirky gift for your nature-loving friends and family.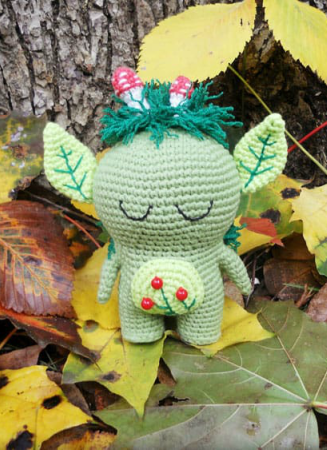 Putting The Amigurumi Forest Spirit Together
The crochet toy's parts are crocheted in a spiral without slip stitches and a chain at the end of every round. The head, arms, body, and legs can be crocheted as a single piece and afterward stuffed using Fiberfill. It is important not to stuff the arms while lightly stuffing the head and the neck.
To be sure that the final finished item looks as you would want it, you should know how to crochet in the round, decrease and increase, work in back loops, half double crochet, and double crochet. With that, there's no way you can go wrong with the crochet toy forest spirit.
I recently crocheted up a couple of these crochet toy forest spirits for my sister's kids. The reception was quite interesting. Both love nature and everything to do with forests and trees. The fact that I mentioned what the forest spirit crochet toys were, made them even more intriguing. The awe I picked up from them was off the charts.
I can sell a convincing story now and then, but the crochet toy is perhaps by most successful yet. Am not sure how that would go with an adult but hey, the amigurumi toy looks great, and that is all that matters. If there ever was a fitting mascot for forest conservation efforts, I bet it would have to be the forest spirit crochet toy.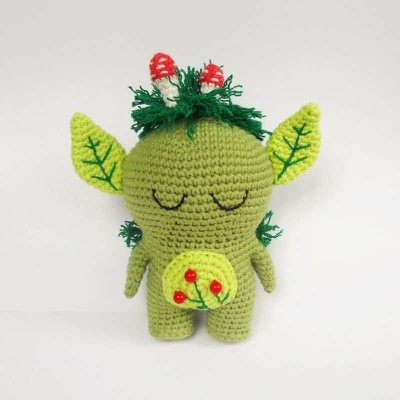 Gather the supplies and get to work on your first and probably not last crochet toys amigurumi. Thank me later when lady luck smiles on you.
Get the Free Forest Spirit Crochet Pattern HERE
MAKE A LOVELY GIFT OR BUILD OUT YOUR TOY BOX WITH THESE BEAUTIFULLY DESIGNED CROCHET TOY PATTERNS!
As always, we love seeing your works! Feel free to post your finished crochet toys on our Facebook Page. Also, if you're looking for other toys or decors to add to your nursery, we have other crochet baby toy patterns, sushi crochet patterns, and fun crochet moustaches you can make!

Not only do these playful crochet toys add to your kids' stash pf fun things to play with, they're also fantastic gift items for birthdays. If your kids are movie fans, then be sure to check our collection of Star Wars, Spider-Man, Batman and Toy Story patterns.

If you've got the skills or are wanting to pick up some new tricks to add to your crochet game, these darling crochet toy patterns are perfect for you. Get started today!