Keep your toes – and your little one's – warm with these crochet Ugg boots!
If you love your Ugg boots, you'll surely love these crochet ugg boots patterns we included in this list!
From a classic looking Ugg boots to an upgraded and modern looking one, we have various crochet ugg boots pattern just for you and your little one.
So ready your yarns and your hooks, and prepare for a day of crochet! Feel free to do your own unique take on the classic Ugg Crochet boots by using your preferred color.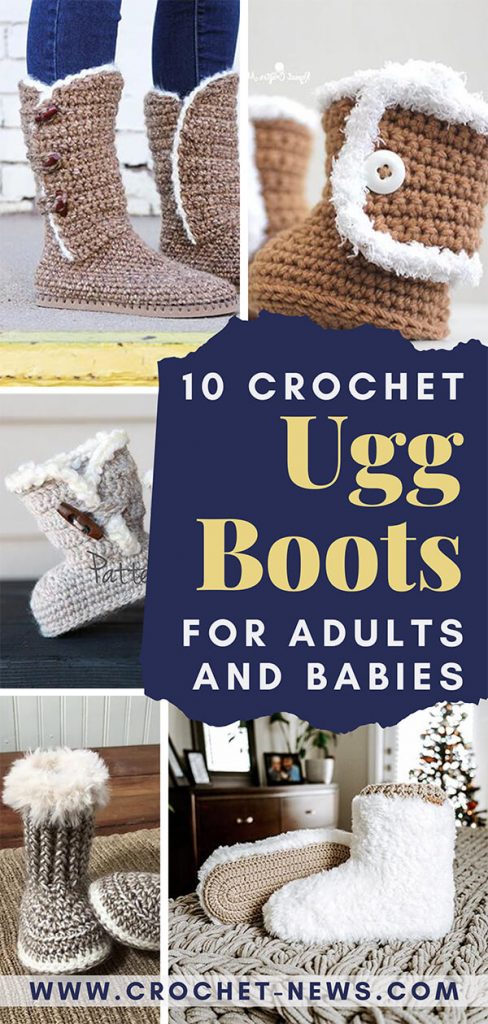 1. Crochet Ugg Boots By Wildcroft
Starting with something simple, we have the Crochet Ugg Boots from Wildcroft. These comfy and cozy ugg crochet boots are made with 880 yards of worsted weight yarn.
We adore the slouch design that works with jeans, leggings, and even skirts. Feel free to use other colors that will work with most of your clothes.
Also, these crochet boots are available in three sizes: small, medium, and large.
2. Crochet Ugg Style Booty By MotherTuckersUpcycle
You'll never have to sacrifice style just to have comfy footwear for your newborn with these Crochet Baby Ugg boots!
Baby Ugg boots are known for their comfy and fuzzy insides. To mirror the fuzziness of the crochet Ugg boots, fuzzy yarns are added to the trimmings of these booties.
Indeed, using a brown yarn captures the iconic crochet Ugg boot's look. However, if you want to add a little more texture to the booties, you can use a brown yarn with a mix of white.
So if you want to keep your newborn comfy and cozy yet stylish, these crochet Ugg baby boots are for you!
3. Bootie Crochet Pattern By PatternMa
If you want a more simple look for your little one's booties check out this Bootie Crochet Pattern by PatternMa.
Although it's not as extra as the previous pattern, you'll still get the comfort and style you want for your baby's booties. It was also able to capture the Ugg boot's shape!
Since it went for a more simple look, this crochet ugg boots pattern is perfect for beginners! It also includes a lot of pictures that you can refer to while working on this piece.
Using a fluffier yarn for the trimmings and adding cylindrical wooden buttons will definitely make it look a lot more appealing.
4. Modern Faux Fur Crochet Ugg Boots By TheCozyKnotCrochet
If you love anything fuzzy, we're sure you won't be able to resist this Modern faux fur crochet Ugg boots by TheCrazyKnotCrochet!
By taking the usual Ugg boots and adding a modern twist to it, these crochet boots were born! Don't you just love how the fuzzy white yarn was able to update the simple look of crochet Ugg boots into something more stylish?
This intermediate-level crochet pattern has sizing instructions for sizes 6 to 11. You are also free to use non-furry yarn if you want.
Get comfy in your cabin while sipping your hot cocoa with this warm and comfy crochet Ugg boots for added coziness!
5. Crochet Baby Uggs Boots Pattern By matildasmeadow
Since momma crocheters barely have extra time in their hands, we included this quick to whip up crochet booties for you! It's the perfect last-minute winter booties for your little one.
Since it uses only simple stitches, you'll be able to create a classic design in no time. Plus, the pattern is really easy to follow and comes with colored photos to guide you throughout the entire process.
Its thick and round soles will definitely keep your baby's little toes feeling warm. In addition to that, it also has a chunky double ribbed cuff that folds over the foot for extra warmth.
Your little one will definitely be stylish and comfy with these crochet Ugg-inspired booties!
6. Baby Winter Booties By HighKlass Creative
Simple and classic designs will never go out of style just like this Ugg boots-inspired baby winter booties.
Made with brown Peaches and Creme cotton yarn, these newborn booties are so simple and easy to make. Plus, you don't even know to know any special stitches since it uses simple stitches only.
Since these crochet ugg boots pattern are on the simpler side, Highklass Creative decided to add some fluffiness to its trimming. The added Bernat Pipsqueak fluffy yarn took this crochet Ugg boots to the next level!
7. Breckenridge Boots with Flip Flop Soles By Make & Do Crew
Transform your ordinary flip flops into an Ugg style indoor slippers or outdoor crochet shoes with these Breckenridge Boots with Flip flop soles!
To achieve the Ugg boots look, you can use the Lion Brand Wool-Ease Thick and Quick Bonus Bundle yarn in Toffee. This super bulky yarn has the warmth of wool perfect for the cold weather.
Aside from the Wool-Ease yarn, you'll also have to use the Lion Brand Homespun Thick and Quick Yarn in Dove for a more snug fit. Line your boots with this yarn for additional warmth and to capture the sheepskin lining of the Ugg boots.
Indeed, these boots are so comfortable to use, you can wear them anywhere – even outdoors! So as you say goodbye to summer, turn your flip flops into an ugg style sweater boots by working on this pattern!
8. Crochet Ugg Style Booties By Repeat Crafter Me
With your Ugg boots, you may have been able to survive the coldness of winter. But how about your little ones?
Let your little one experience the coziness and softness of Ugg boots with this crochet ugg style booties! They are so soft and cozy, your baby will probably never want to remove them.
We are in love with the overlapping flaps of these booties. They definitely added the much-needed detail to this simple pattern.
As if the overlapping flaps are not enough, they even used white Bernat Pipsqueak fluffy yarn for an added fluff! Even the white buttons add a nice touch to this lovely crochet Ugg booties.
So if you're looking for an easy to make project that will look good, plus feel comfy, on your little ones, check out this crochet ugg boots pattern!
9. Crochet Ugg Boots Pattern By OnWillowLane
If you're looking for crochet Ugg boots that look really similar to the Ugg boots, this pattern is for you!
These crochet Ugg boots were able to capture the classic chestnut color of the Uggs. Even the seams are crocheted to look similar to the classic Uggs.
To make it sturdy, these crochet boots are made with two soles: a yarn sole and a rubber sole. If you don't have any idea on how to make the soles, do not worry!
They included all the instructions from crocheting the boots to making the soles.
So if you're looking for warm and cozy crochet boots that you can use with your jeans or your leggings, we recommend working this pattern.
10. Crochet Slipper Pattern By PatternMa 
Looking for extra warm crochet Ugg boots for winter? We got you covered!
These Ugg boots inspired crochet slippers have twice the sole of regular boots for durability and extra warmth. You can use bulky yarns or double the yarn strands to achieve the thick look.
Aside from being comfy, these ugg crochet boots also look stylish. Those closure buttons sure look lovely!
To make it easier for beginners to work on this pattern, they included pictures to help them understand how to work on the crochet Ugg boots.
Plus, other customers can attest that the pattern is so easy to follow.
So if you're looking for a lovely pattern that will fit sizes 5 to 12, this one's for you!
Share Your Crochet Ugg Boots With Us! 
We're excited to know which Ugg-inspired crochet boots are you planning to make? Don't forget to work on your little one's crochet Ugg boots too!
Let us know how your ugg boots crochet turn out by posting your final work on our Facebook Page. The whole community is excited to see which pattern you decided to work on!
Looking to spice up your boots? We have a list of ladies crochet boot patterns and crochet boot cuff patterns you can work on!
We hope you'll enjoy this year's winter with these crochet Ugg boots!