Who doesn't love all the intricate stained glass windows? For those of us who do, these gorgeous stained glass crochet patterns are just everything.
Big or small, a bit of stained glass around the house and your wardrobe can be quite the striking addition! And who knew you could create something of this magnitude all on your own.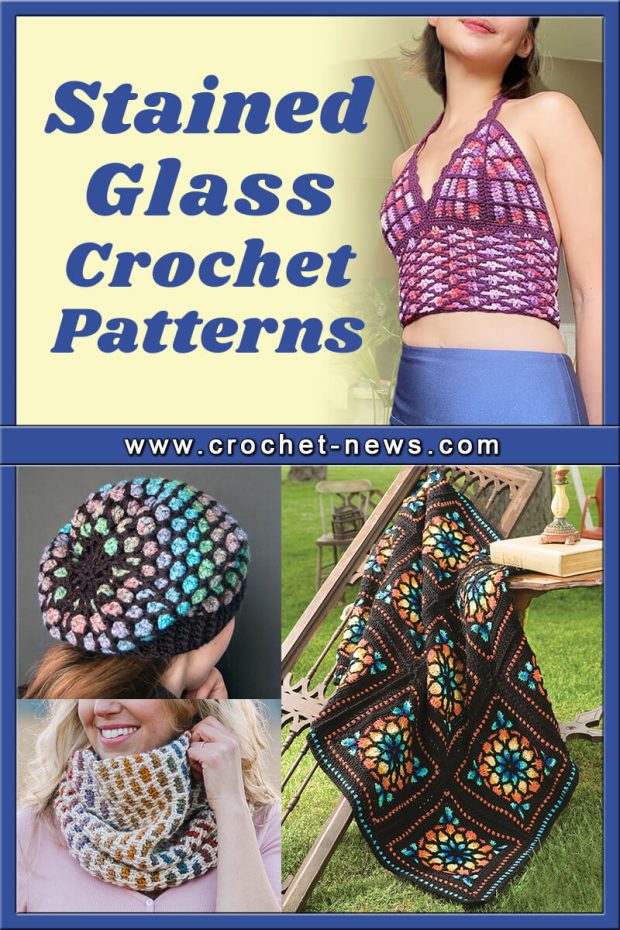 Stained Glass crochet is not a completed concept or a special technique. We call some crochet projects "stained glass" because they remind of stained glass windows.

If trying to design something in stained glass crochet has been on your to-do list for a long time, today's the chance to do so! Whether it's a blanket, area rug or different kind of wearables, crocheted "stained glass" is just beautiful, as you will see below.

1. Crochet Stained Glass Granny Square Pattern by Lilla Bjorn Crochet
Stained glass crochet pattern is a great stash buster. Choose enough amount of solid color, add leftovers and a new unique blanket or a pillow will grow in no time.
This project is perfect for variegated yarn, too. Make several squares and join them into a pillow cover, or a blanket. Or even make a bag!
Read our article on How To Join Granny Squares here.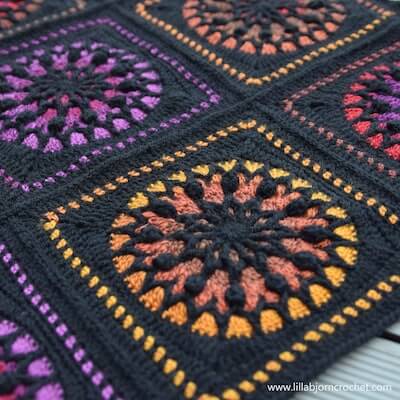 Get the Pattern by Lilla Bjorn Crochet here

2. Crochet Stained Glass Triangle Wrap Pattern by Hooked On Homemade Happiness
This Crochet Stained Glass Triangle Wrap Pattern is a beginner level shawl. The only stitches needed are double crochet and chain stitch! You will love how those two simple stitches can create such a pretty design.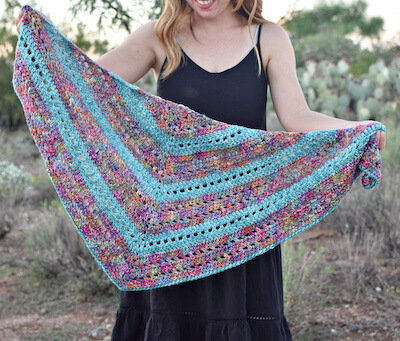 Get the Pattern here

3. Stained Glass Crochet Cowl Pattern by Make & Do Crew
Self-striping yarn and a simple variation on the Tunisian simple stitch come together easily to create a sophisticated-looking unisex cowl.

Despite the appearance of complicated colorwork, you'll be left with only a couple tails to weave in at the end. This stained glass crochet pattern is perfect for advanced beginner Tunisian crocheters who are interested in adding the technique of post stitches to their toolkits.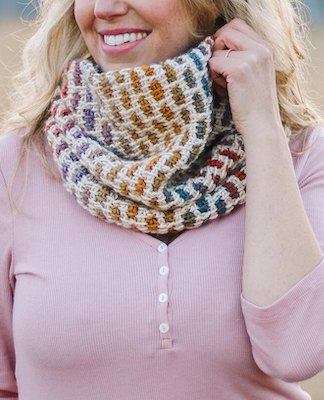 Get the Pattern here

4. Stained Fingerless Gloves Crochet Pattern by Krazy Kabbage
These elegant gloves feature the millstone stitch giving them the appearance of a stained glass window. The soft colors of variegated yarn give a beautiful feminine feel while the stormy grey divides to give a striking modern look.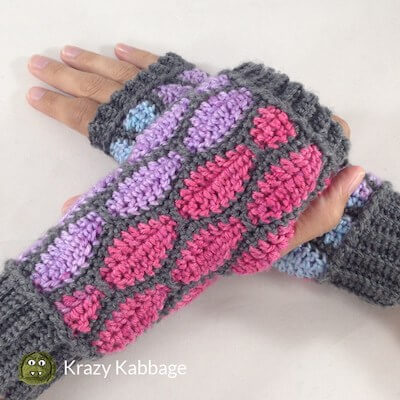 Get the Pattern by Krazy Kabbage here

5. Afghan Crochet Stained Glass Pattern by Red Heart
This Round Stained Glass Afghan is an easy crochet afghan to make and will look great draped over your bed. The stunning pattern truly resembles a stained glass window, just like one you would see at church.
If you've never made a round crochet afghan before, this is a great pattern to start with.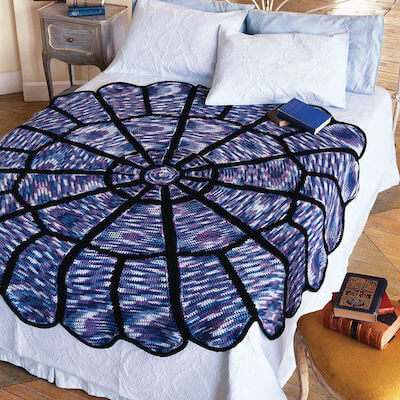 Get the Pattern here

6. Stained Glass Square Crochet Pattern by Dragon Bird Creations
If you want your stained glass square to vibrate with juicy colors, create a cocktail of bright shades, and mix warm and cold tones together. The touch of black yarn will complete your vision and add a sophisticated vibe to the whole design.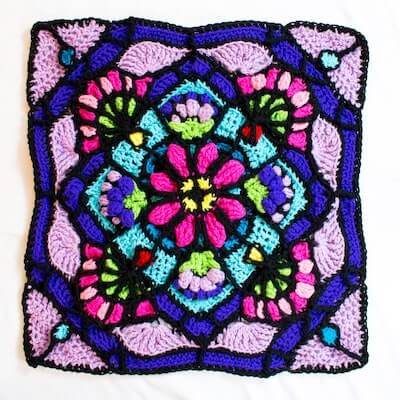 Get the Pattern by Dragon Bird Creations here

7. Moroccan Midnight Slouch Hat Crochet Pattern by Moogly Blog
This Moroccan Midnight Slouch Hat is a fantastic, fun, and sparkly, with a gorgeous stained glass effect that combines two different yarns to wonderful effect!

Two colors of yarn and V stitches make this stained glass slouch really stand out from the crowd. This hat is worked up from the brim and there's also a matching cowl pattern if you want to make a special set for yourself or for a gift.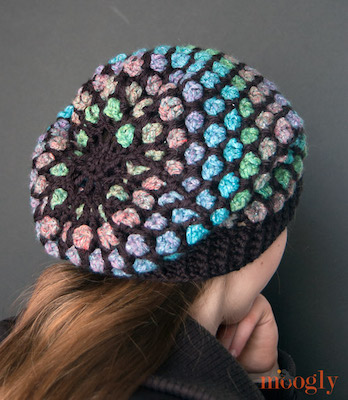 Get the Pattern here

8. Stained Glass Wash Cloth Crochet Pattern by Nicole Riley
Learn to make this vibrant stained glass washcloth using the mosaic crochet technique. Considering this pattern is easy and quickly made and looks amazing, you can easily crochet this washcloth as a gift or for a gift basket for someone special, regardless of the occasion or the time of the year.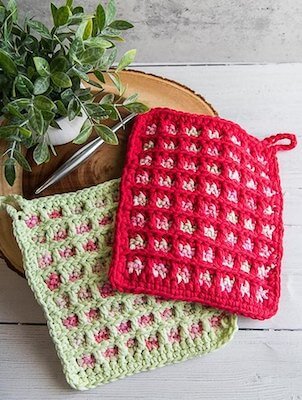 Get the Pattern by Nicole Riley here

9. Stained Glass Scarf Crochet Pattern by Sharon Silverman
This scarf looks like stained glass with its bright colors and black background. It is simple to make, with contrasting color yarn woven through a crocheted mesh framework. Go for the rainbow look, but you could choose from 1-6 colors to weave.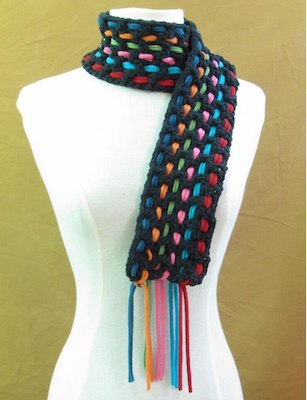 Get the Pattern by Sharon Silverman here

10. Stained Glass Mandala Potholder Crochet Pattern by Tatsiana Kupryianchyk
If you've been dreaming to design a stained glass mandala, here's your chance! This double layered mandala potholder is crocheted in overlay crochet technique with elements of tapestry crochet.

When not used in the kitchen it can be hung on a wall. And if you don't crochet a bottom part for this potholder it can serve as a decoration for a table or a nice appliqué for your old (or new) pillow cover.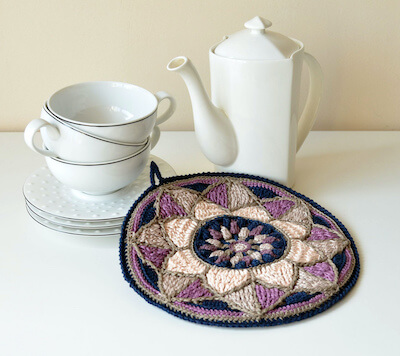 Get the Pattern here

11. Stained Glass Rug Crochet Pattern by Interweave
Crochet color-changing yarn around a piping cord and into a round motif that offers multiple modular configurations. This colorful stained glass rug is a great introduction to padded crochet, often used in Irish crochet.
More Crochet Rug Patterns and Crochet Bath Mat Patterns here.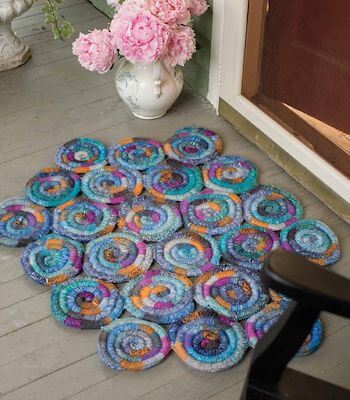 Get the Pattern here

12. Stained Glass Afghan Crochet Pattern by Annie's Catalog
Inspired by the beauty of stained glass, this afghan crochet pattern is so striking, you won't be able to decide whether to use it to keep warm or display to hang it on your wall! The finished size of this crochet pattern is approximately 45″ x 60″.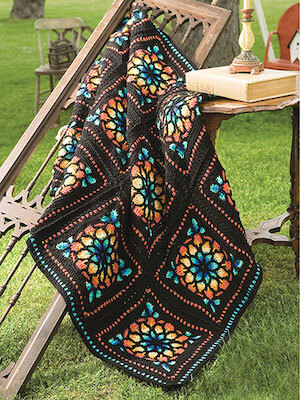 Get the Pattern here

13. Stained Glass Wonder Blanket Crochet Pattern by Lilla Bjorn Crochet
This blanket was designed to imitate a magic look of stained glass windows. Stained Glass Wonder blanket consists of octagon mandalas made in overlay crochet with joining motifs filled in between (small squares, side triangles and corner triangles).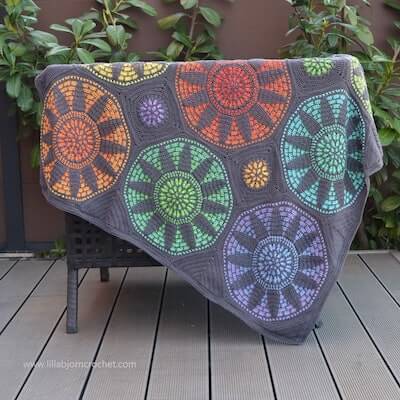 Get the Pattern by Lilla Bjorn Crochet here

14. Stained Glass Crochet Pattern by Sixel Home
This pattern uses the overlay mosaic crochet technique. The design is inspired by stained glass and can be made using 2 or 3 colors. Another great pattern for using variegated and hand-dyed yarn.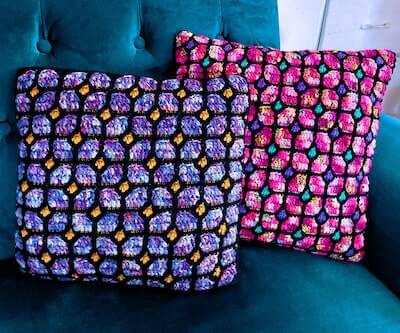 Get the Pattern by Sixel Home here

15. Stained Glass Top Crochet Pattern by Fully Hooked PH
Are you looking for a challenge to level up your crochet game? If you're up for some wearable art, here's a pattern for you to try! Inspired by gothic arch stained glass windows, this crochet pattern makes use of those special hand-dyed yarn you have 1 skein of.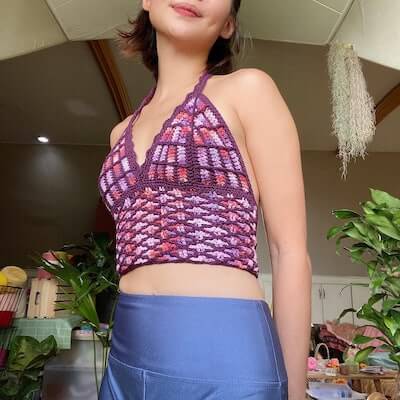 Get the Pattern by Fully Hooked PH here
PULL OUT THE REST OF YOUR YARN COLORS AND CHOOSE YOUR FAVORITE STAINED GLASS CROCHET PATTERNS TO MAKE.
Are you ready for more crochet stash busters? A great way to use them up is to choose small projects like washcloths, storage baskets, and bags. You could also choose larger projects like striped, rainbow blankets and granny striped patterns. It's time to bust that stash!

Be sure to share your makes on our Facebook Page so we and all the designers in this incredible roundup can see your fantastic projects!
It's time to dive into that yarn stash and get hooking a timeless classic with these stained glass crochet patterns!