Good old granny stripe! Who doesn't love it? This well-known technique is versatile and has a truly timeless look to it. You can conjure up all sorts of things with it because it's all in the details (and colors!). Below are 15 granny stripe crochet patterns to fully appreciate the vast range of possibilities that the beautiful granny stripe stitch brings!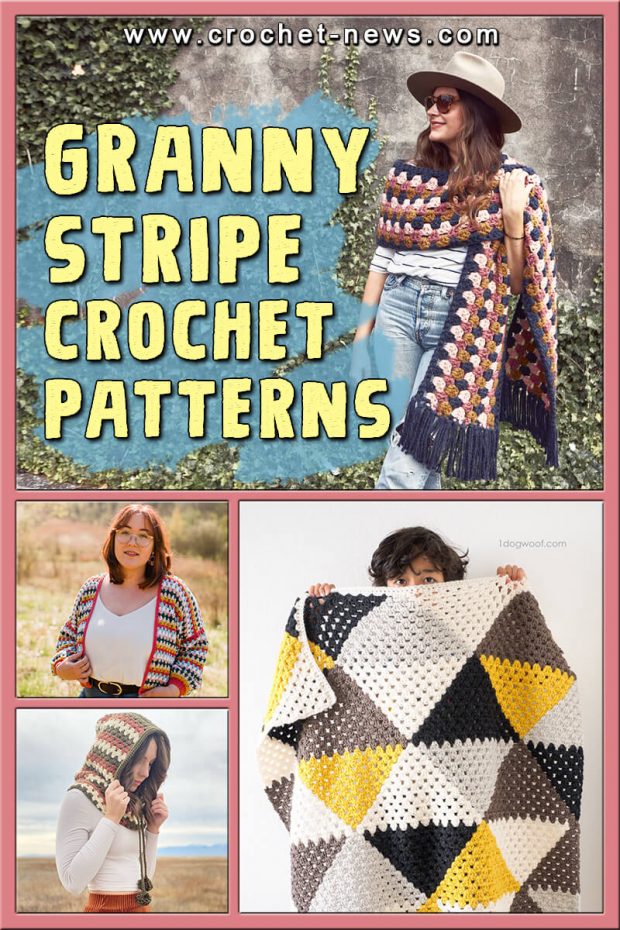 Do you like the look of granny squares but don't like having to attach them together to get a finished piece? The granny stripe crochet stitch will look familiar if you've played around with a granny square, which is worked in the round but shares some aesthetic similarities.
15 Crochet Granny Stripe Patterns
The projects below are great if you want a stash-buster – you can make every stripe a different color or even every row. It's time to get stripy!

1. Shawl Free Granny Stripe Crochet Pattern by Annie Design Crochet
This is a large cozy shawl that uses clashing rows of color to create a stunning accessory to wear all year round. Using rhythmic stripes to modernize the granny crochet stitch, the resulting piece is light, super warm and can be worn around the shoulders as a shawl or around the neck as a triangle scarf. Add tassels for a finishing touch!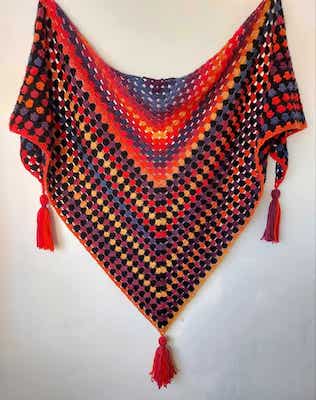 Get the Pattern here

2. Granny Stripe Crochet Cowl Pattern by Evelyn And Peter
Stay cozy with this hooded cowl this winter! The granny stripes give it a retro feel on a trendy accessory! It's worked in one large pice for easy assembly. Customize your colors to fit your look!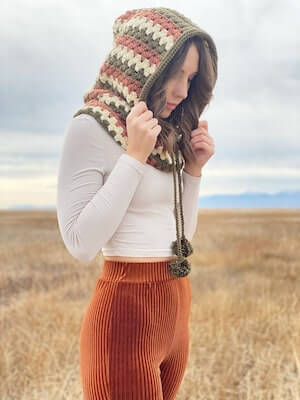 Get the Pattern by Evelyn And Peter here

3. Baby Blanket Free Granny Stripe Crochet Pattern by Yarnspirations
This crochet baby blanket features the simple double crochet granny stitch, worked in wide bands of color. This supple blanket is stitched lengthwise with double crochet and chain spaces only.

A relaxing 2-row repeat makes the pattern easy to memorize, too. Customize your version using any colors that enhance baby's world. It's machine washable and dryable, so a favorite option for mom and dad!
A huge collection of Crochet Baby Blanket Patterns here.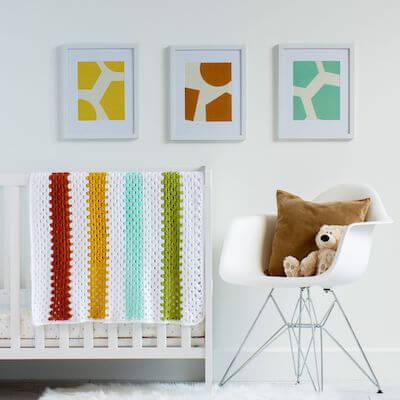 Get the Pattern here

4. Granny Stripe Crochet Scarf Pattern by Two Of Wands Shop
Conquer the chilliest of temps and bundle up with this bold super scarf, or simply drape it over the shoulders as an extra layer. Easy, quick, and repetitive granny clusters become addicting in this design as you watch the colors pop with each contrasting row.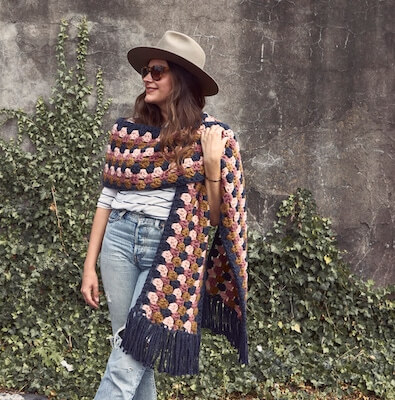 Get the Pattern by Two Of Wands Shop here

5. Tree Skirt Granny Stripe Crochet Pattern by Jessie At Home
Tree skirts just add that little extra something to your tree decorations. This skirt takes the traditional granny square stitch and makes it a trio of holiday colors. Give yourself the perfect base for your Christmas presents to nestle on this year.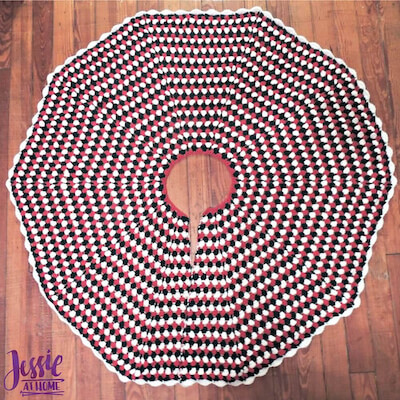 Get the Pattern here

6. Granny Go Round Jumper Crochet Pattern by Iron Lamb
This Granny Go Round Jumper is top down, seamless and fun! Worked in the classic granny stitch and available in 8 sizes with easily customisable sleeve and body length. It features a four color stripe pattern, but any number of colours are possible or feel free to stash bust!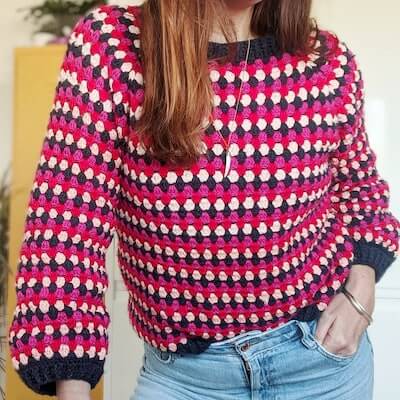 Get the Pattern by Iron Lamb here

7. Granny Stripes Crochet Socks Pattern by Simone Francis
Made up of the classic granny treble stitch combo we all know and love, these socks are both fun and fast to make, plus as all those stripes of DK yarn mean it's also a great project for using all those lea-over bits of yarn in your stash! Worked from the toe up, this cozy pair of socks can easily be adjusted for a good fit!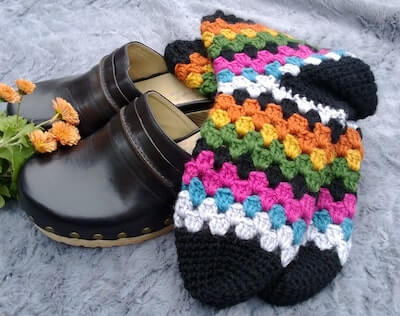 Get the Pattern by Simone Francis here

8. Gertie Cardigan Crochet Pattern by Holly Woodward Designs
Gertie is a super summery, drop-shoulder cardigan made almost entirely from the classic granny stripe stitch. It's a really easy pattern, made from simple shapes that are seamed at the end to form the cardigan – suitable for both beginners or more experienced makers who want a relaxing summer project!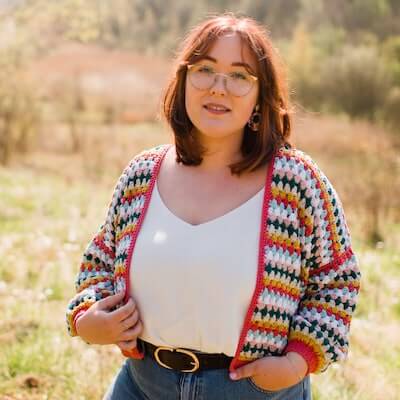 Get the Pattern by Holly Woodward Designs here

9. Top Free Granny Stripe Crochet Pattern by Burdgundy And Blush
Here's a lightweight, sleeveless T shirt pattern to add to your spring summer wardrobe in sizes XS to 5X. The shaping is minimal, so it's easily adjustable to make it in the exact size or length you want.

If you haven't made a garment before, this is an easy crochet summer pattern that you'll pick up after a few rows, and the front and back are almost identical.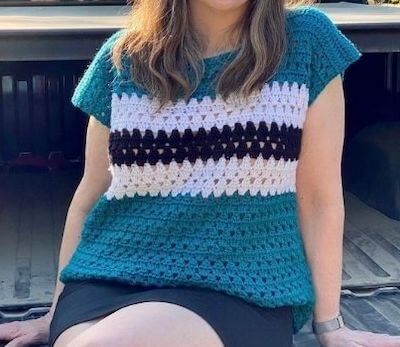 Get the Pattern here

10. Granny Stripes Hat Crochet Pattern by Edie Eckman
Crochet cheerful rounds of granny-square style stripes with this free crochet pattern. It's quick and easy enough for advanced beginners.

Stash bust to your heart's delight! Worked in rounds from the top down, choose your colors as you go. Make it a wild riot of bright colors, or use more sedate analogous colors.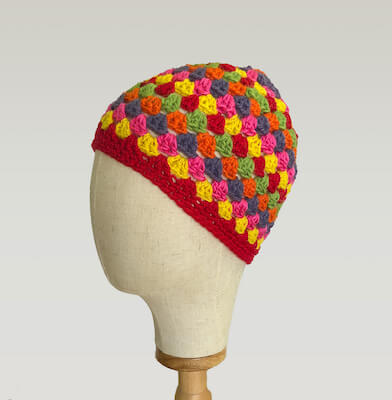 Get the Pattern here

11. Iris Poncho Crochet Pattern by Parsley And Paisley
This Iris Poncho is a pull-over garment designed to keep you warm. She has a cosy turtleneck and tassels at the bottom to complete the poncho.

The poncho is made out of granny stripes. Alternating the stripes more frequently will make for a delicate design, whilst alternating the stripes less frequently will make for a bolder design.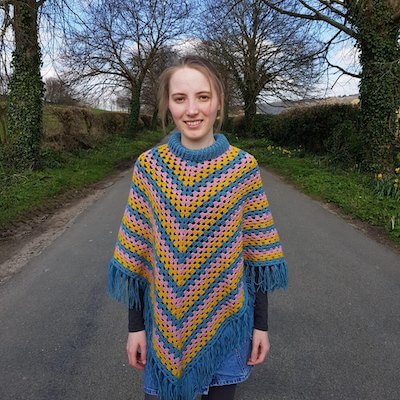 Get the Pattern by Parsley And Paisley here

12. Love Triangles Granny Stripe Crochet Blanket Pattern by One Dog Woof
This Love Triangles Blanket Features a bold geometric design, and can be made in infinite color combinations to suit any child or family. Anchor the design with a bright color and support it with matching neutrals. The blanket uses a basic granny stripe stitch concept for a light and airy feel.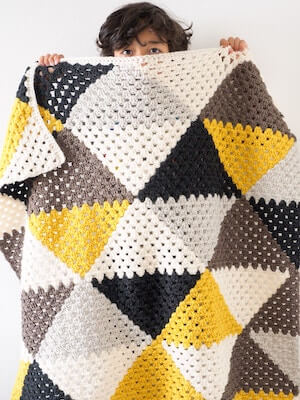 13. Granny Stripe Bucket Hat Crochet Pattern by Be Ewenique Boutique
Here's a simple crochet bucket hat that starts as a colorful mandala and works into granny stripes down the sides. A cotton yarn or cotton blend would make a great beach hat for the summer.
Also see: Crochet Bucket Hat Patterns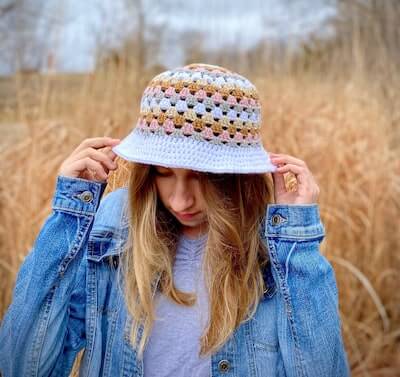 Get the Pattern by Be Ewenique Boutique here

14. Granny Stripe Squared Crochet Pattern by Felted Button
Put some granny stripes inside a granny square and what do you get? Granny stripes squared! The two fabulous granny styles come together in one simple square.

Mix up your color combinations with your own flair and make it 'just perfect' for that special project. Can be used for afghans and baby blankies, scarves and bags, potholders or buntings. Use your imagination and bust that stash!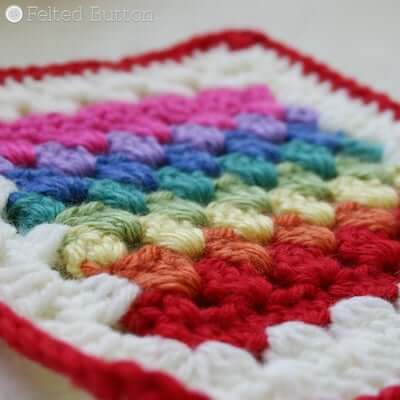 Get the Pattern here

15. Crochet Granny Striped Floor Cushion Pattern by Yarnspirations
Use two colors of blanket yarn to create a plush, large floor cushion with a fun, wavy stripe design. The jumbo weight yarn makes the stitches pop. Crochet two identical squares for the front and back, then join them with a single crochet edging for a clean finish.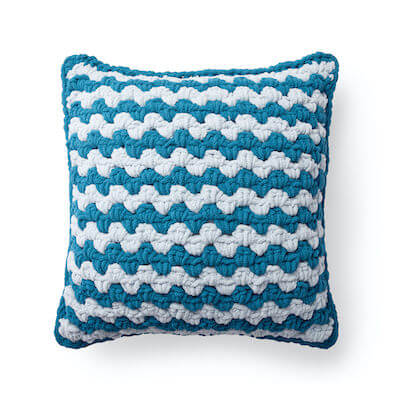 Get the Pattern here
DON'T YOU LOVE THESE GRANNY STRIPE CROCHET PATTERNS?
Trying out different color palettes is a real game changer for this simple stitch. Be sure to share your versions on our Facebook Page!
Talking about stitches—our growing website and library of crochet patterns has some projects that might interest you, too. Are you a fan of unique granny squares? Then you're going to love our blog posts, Crochet Square Patterns!

Happy crocheting with these granny stripe crochet patterns. We hope you let your creativity soar with your own color combinations!