When the spring season approaches, we prepare for the warmer weather and the lighter garments. If you're in the process of putting away your bulky yarn then you're on the right track because we have some beautiful lightweight crochet cowl patterns to share with you.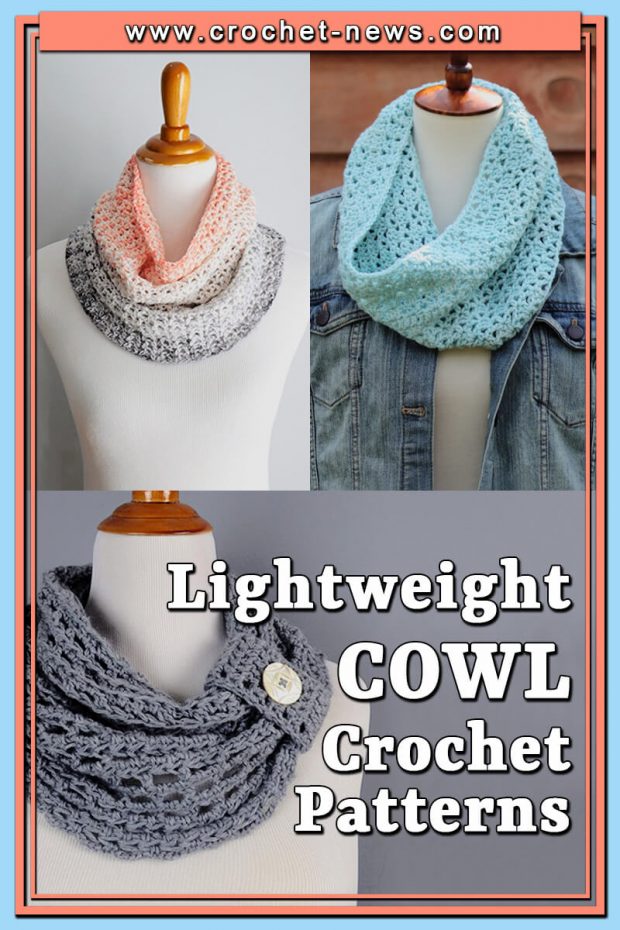 You're not going to want to wear a huge cowl when it's warm out. On those days, you'll be looking for a lightweight ones that serves more for decoration than function.
These lightweight crochet cowl patterns are openwork designs that add that elegant handmade touch to your spring and summer outfits. Have fun making the different designs!

1. Lightweight Crochet Cowl Pattern by Desert Blossom Crafts
Get ready for fall with this gorgeous cowl, reminiscent of the colorful leaves of autumn. The stitch pattern is relatively easy, incorporating clusters to create the falling leaves effect.
Since this cowl is lightweight, fingering weight is the perfect yarn to use (and guess what? It only calls for one skein!).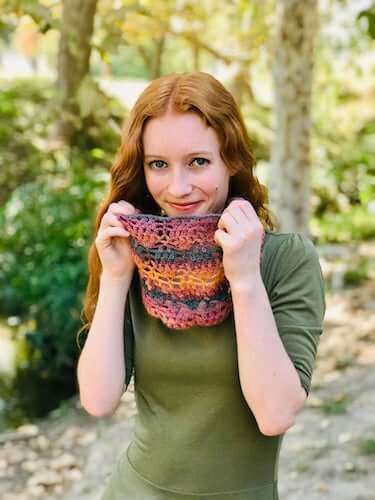 Get the Pattern by Desert Blossom Crafts here

2. Clear Water Cowl Crochet Pattern by Rich Textures Crochet
This Clear Water Cowl is a great crochet accessory that you can wear with a variety of outfits! It's easy design that is worked in a fingering weight yarn. It is a simple design featuring only a couple of stitches.
You will be well familiar with the half double crochet stitch, and the crossed double crochet stitch, although intimidating at first is really quite simple once you get the hang of it.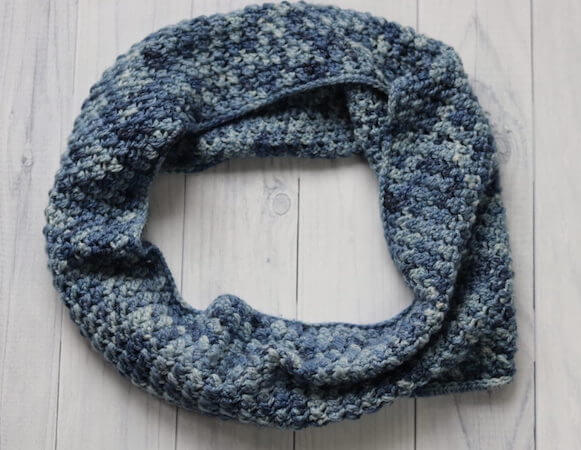 Get the Pattern here

3. Crochet Sunny Lace Cowl Pattern by My Crochetory
Light and airy, a great beginner lace crochet project that is simple to memorize and quick to finish. Treat yourself to a bit of luxury with an elegant crochet Sunny Lace Cowl.
Made with one hank of yarn, it makes a great gift for your loved ones. As simple to crochet, as it is to wear. It's great crochet design for your first laceweight project.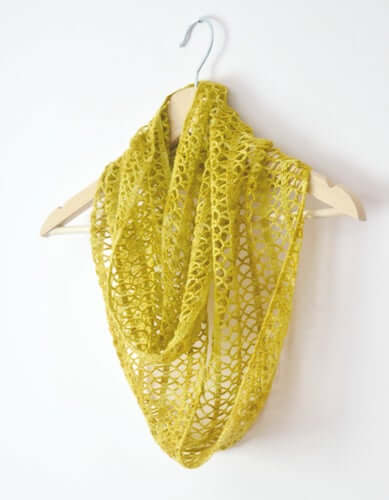 Get the Pattern by My Crochetory here

4. Coco Lightweight Crochet Cowl Pattern by Stitching Together
Soft, works up quickly, fun stitches – those are just a few of the highlights of this lightweight crochet cowl. It's the kind of project you'll be happy to make more than one of.

A wonderful lightweight crochet cowl perfect for those cool fall days. You'll love the softness and drape of the finished cowl as well as the easy yet fun stitches as you work it up.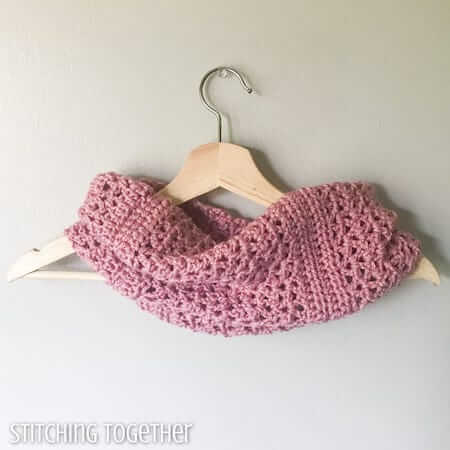 Get the Pattern here

5. Crochet Whisper Cowl Pattern by Speckless
This Whisper Cowl has an incredible drape and lightness – great as a summer cowl or for layering. Soft, airy, and subtly textured with a bit of asymmetry. The stitches are easy, but the technique makes this a great project for the intermediate crocheter.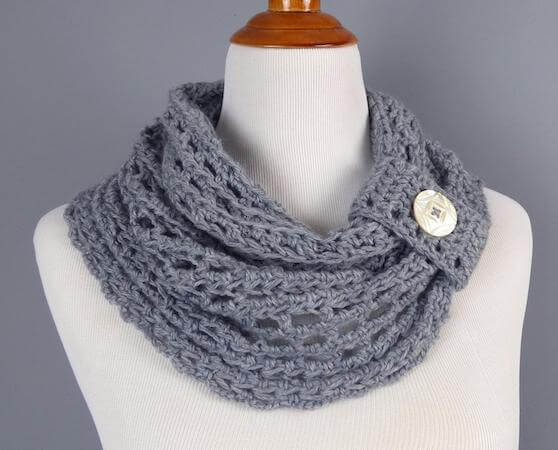 Get the Pattern by Speckless here

6. Lia Cowl Free Crochet Pattern by Christa Co Design
This Lia Cowl features an easy crochet lace pattern is a lightweight and beautiful. The lovely lacework is crocheted with simple stitches and an easy to remember repeat. This cowl is a one skein crochet cowl that will compliment your warm weather wardrobe.

Want to make your cowl longer? Or maybe you prefer a skinnier look. The pattern notes include how to make adjustments to your liking.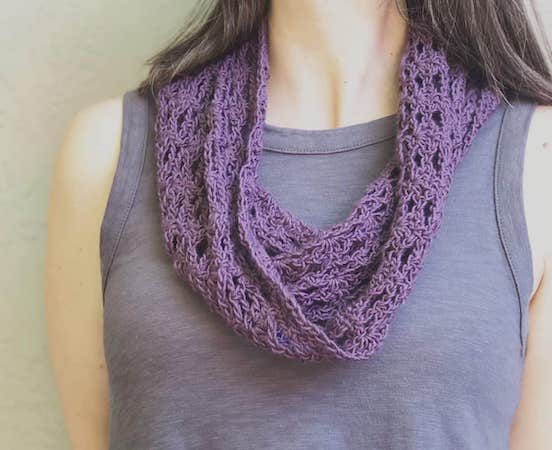 Get the Pattern here

7. Copenhagen Cowl Free Crochet Pattern by Fiber Flux
This Copenhagen Cowl is a perfectly luxurious cowl in every way. Crocheted in a beautiful, yet easy and relaxing v-stitch in gorgeous and buttery soft sock yarn, it is both fabulous to make and wear!

Subtle gradients of coral, gray, and cream allows the yarn to do all of the color changing for you. This amazing cowl is truly a special treat for that extra special lightweight yarn you've been saving!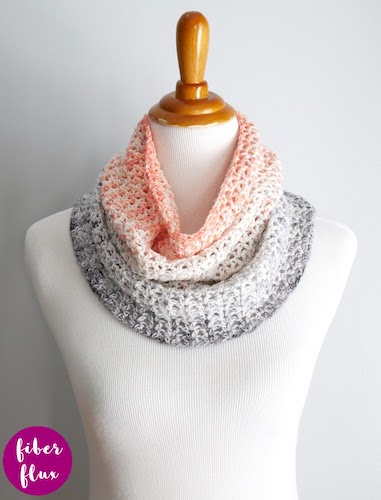 Get the Pattern here

8. Crochet Fringe Cowl Pattern by Danni's Designs Crafts
Super soft and beautiful cowl, the triangle shape is flattering for any body type, and just about any outfit! It is a nice lightweight cowl so it would be great for fall and spring weather.
This crochet cowl stands out in a nice neutral shade for everyday wear, but you can really make a statement with a bold shade.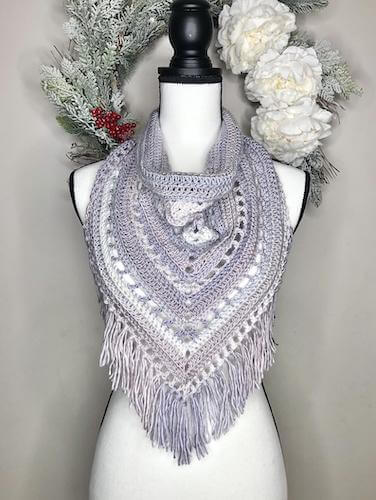 Get the Pattern by Danni's Designs Crafts here

9. Ashland Cowl Crochet Pattern by The Unraveled Mitten
One skein of DK weight yarn and simple stitches are combined in this easy, lightweight crochet cowl pattern. The lacy crochet stitches make this cowl feel feminine and elegant.
You could use a light worsted weight yarn for this owl, but just keep in mind your finished project will come out a little bigger.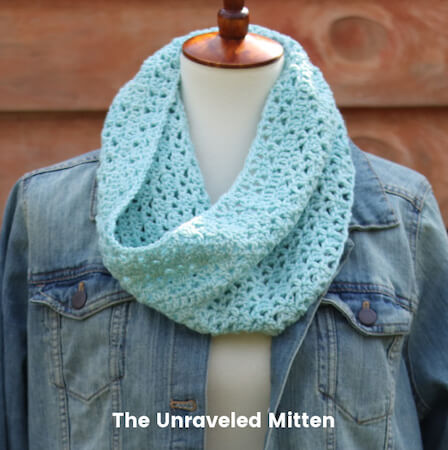 Get the Pattern here

10. Lightweight Travel Crochet Cowl Pattern by Sew Happy Creative
Do you love traveling but hate the chilly air in transit? Yes, you can always bring a thick scarf but it takes a lot of space! You should definitely try making this lightweight travel crochet cowl pattern!
This cowl will fit in your bag, you will even forget it's there!
Find out how to make your very own lightweight travel crochet cowl by reading through this article.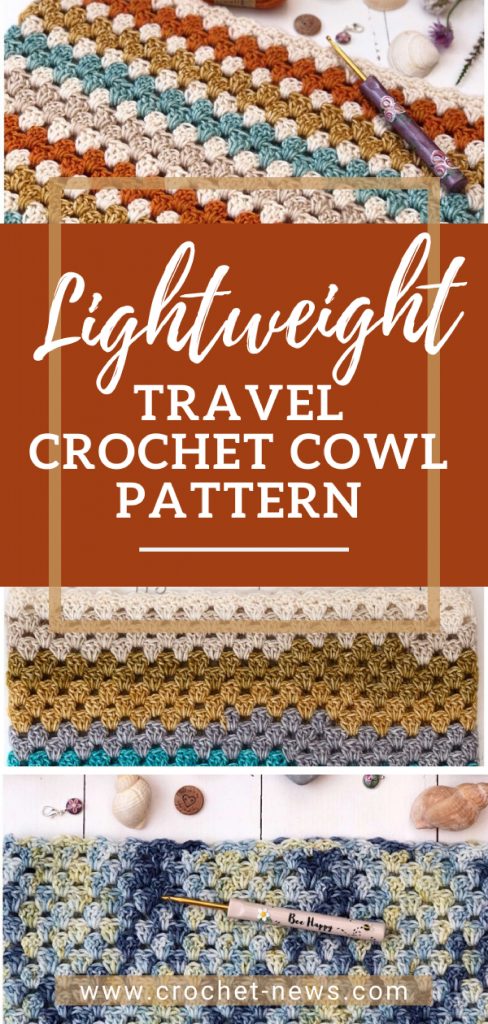 Essential Travel Cowl Crochet Pattern
If you're always cold, part of you travel essentials is a jacket. But as a frequent traveller, you want your travel essentials to fit in a single bag. Good thing there's this Lightweight Travel Crochet Cowl Pattern made by SewHappyCreative that you can make to replace your jacket!
Is your bag not big enough? You can wear it instead! It's not as bulky as your ordinary winter cowl so it's comfy to wear even if it's not that cold.
The weather tends to be moody, it can change in an instant. That's why you always have to be prepared.
Too hot outside and need something to protect you from the sun, use this cowl as shade! When it gets too cold, this cowl will keep you warm.
About the Yarn
To make this crochet cowl handy, a lightweight travel yarn should be used. This Scheepjes stonewashed yarn is perfect for this project.
Made out of cotton, it's not too thick perfect for different types of weather. With this cowl, staying by the sea and feeling the breeze won't make you feel cold. Uncomfortable and cold airplane rides will be a thing of the past!
This yarn is available in lots of colors and creates different textures. Have a lot of scrap yarns? Make one in stripes using different colors.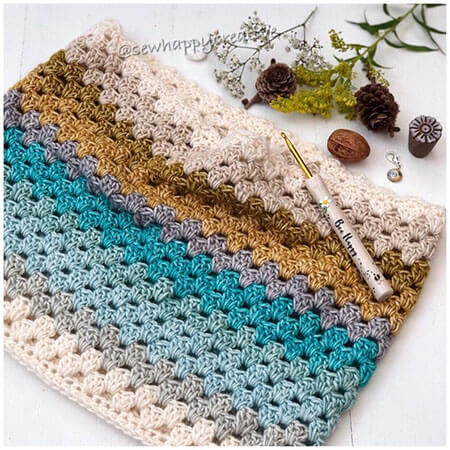 About the Pattern
This crochet cowl pattern is available in two colors! One inspired with the breeze and calm waves of the sea, and the other from the colors of your walks under the autumn leaves. 
Although this pattern is for intermediate crocheters, it comes with photo tutorials to guide you in making the crochet cowl. Worked in rounds, there's no sewing together required.
To add more details to the cowl, you can add narrow shell edging to the border.
Skill Level
Intermediate
Materials Needed
Any dk cotton – Scheepjes Stonewashed & Riverwashed dk
Stitch markers
4mm hook
Wool needle
Scissors
Finished size
By The Sea cowl: 10" (26cm) high by 13.25" (34cm) wide.
Along The Shore: 10.25" (27cm) high by 13.25"(34cm) wide
Stitches Used
Foundation double crochet ( US foundation sc)
double crochet (US sc)
half treble (US half dc)
treble (US dc )
chain and double crochet (US sc)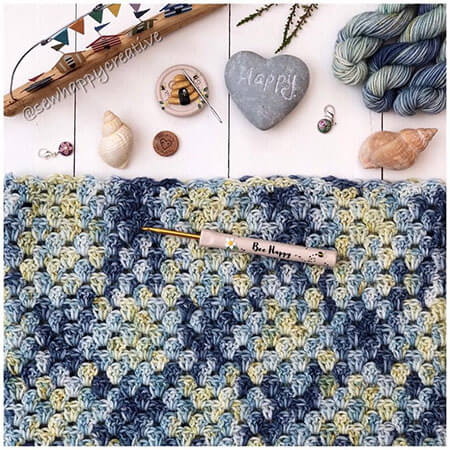 An easy to make intermediate crochet cowl pattern for everyday use!
No more uncomfortable travels because of the ever changing weather with this crochet cowl inside your travel essentials bag!
Looking for other items to bring to your travels? Check out more here: Pleated Crochet Cardigan Pattern, Simple Mens Cowl Crochet Pattern, other Crochet Cardigan Patterns.
Are you ready to have more comfortable travels this year? Ready your yarns and hooks and work on this lightweight travel crochet cowl pattern!


Bonus – Free Mermaid Cowl Crochet Pattern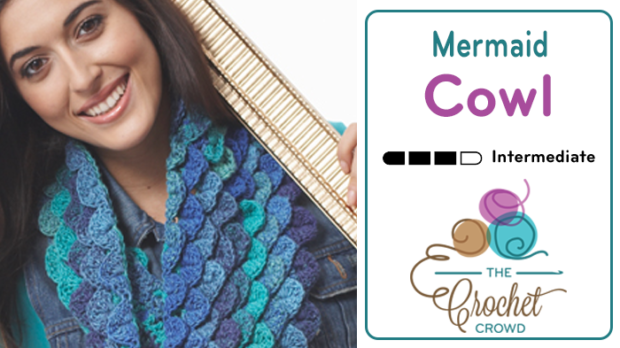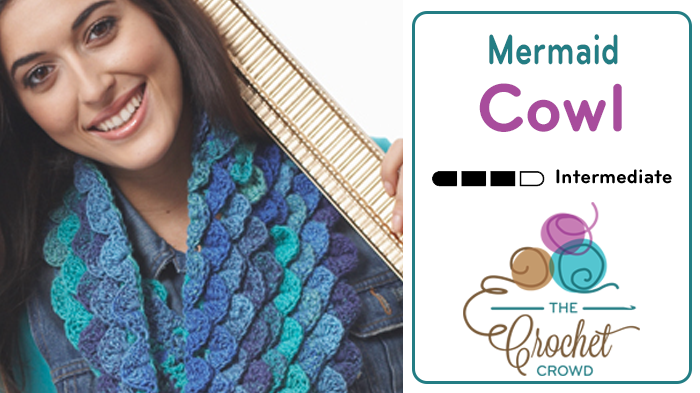 This mermaid cowl crochet pattern includes a video tutorial. The original pattern published a few years back featured Bernat Mosaic, a slowly transitioning yarn. Today, it is discontinued but there are thousands of us that have this particular yarn in our yarn collections at home. Or there are many others you can try.
We suggest those scrumptous new Caron Cakes currently only available at Michaels. Again, these have been so popular that at the time of writing, you might find them in short supply, but keep looking because we hear there is a huge new batch in production and making it's way to the stores soon.
The mermaid cowl crochets in a continuous circle. To help you. One round is a base round where the scales from the next round sit onto it. The next round is the scale round.
How to crochet the Mermaid Cowl – video
Materials
To do this cowl, you will need three balls of Bernat Super Value or about 630 yards of yarn. Colour in picture was the discontinued Bernat Mosaic – Colour is Spectrum.
Size H or 5 mm Crochet Hook.
Written pattern instructions for the Mermaid Cowl
More Crochet Cowl Patterns Here
NO MATTER YOUR STYLE, YOU ARE SURE TO FIND ONE OR TEN LIGHTWEIGHT CROCHET COWL PATTERN THAT YOU'LL WANT FOR YOUR SPRING WARDROBE!
Before you slide into your new yarn cocoon, please post your finished works on our Facebook Page. And if you like making your own accessories, you might also like our collection of crochet scarf, shawls, cape, and more crochet clothing patterns we have on our site. Your to-crochet list is about to get really long!

When you need to make something with just the right impact to complete an outfit or a little wrap for the beach, you can count on this list of lightweight crochet cowl patterns!