Chilly evenings on my couch will be more enjoyable with these lapghan crochet patterns. Whenever I want to snuggle up to read a book or add a pop of color to my couch, nothing beats a stylish, cozy lapghan. These lapghans are here to save my day whenever I need just the right amount of cover—a small, person-sized blanket. Now, you can too!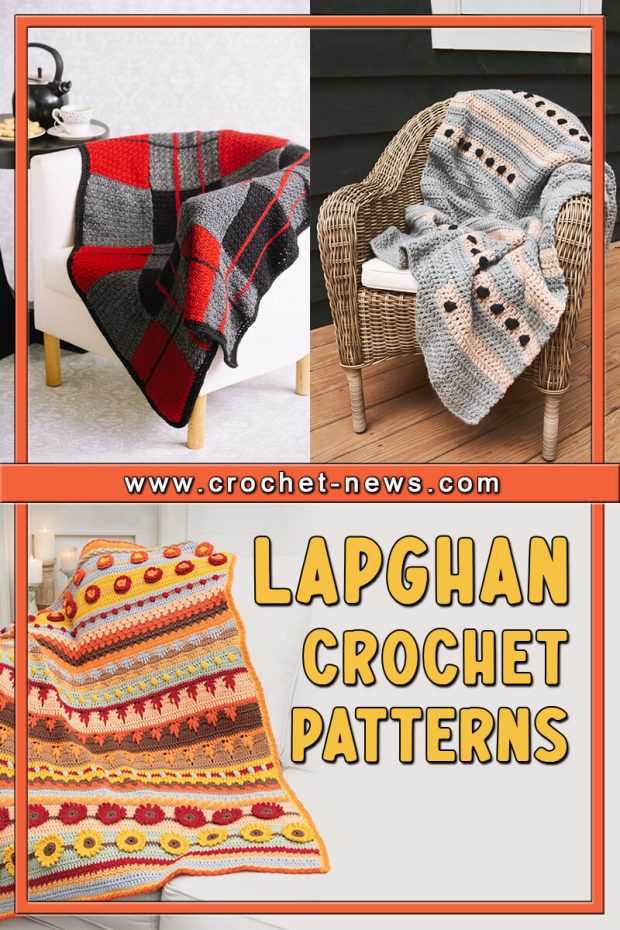 Lapghans are also very simple and quick to make. Because they're smaller than the average afghan, I don't mind making them a little more attractive. It's my favorite project for experimenting with a new stitch because I won't have to keep it up for very long if I don't like it.

They're also fantastic for traveling! I'm thinking of making one for my next plane or car ride. With a lovely lapghan draped over our legs, well feel infinitely more at ease!

1. Crochet Lattice Lapghan Pattern by Red Heart
Alternate between single crochet rows and more challenging rows using crossed treble and double treble crochet stitches to create the pretty lattice pattern on this crochet lapghan. I like to keep things neutral like the version below, but you can choose other shades to show off your handiwork. This is sure to bring comfort to you or a loved one!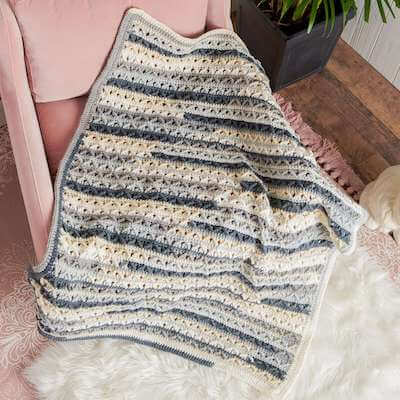 Get the Pattern here

2. Caprock Canyon Crochet Lapghan Pattern by Stitching Together
Sometimes I just need a throw that's enough to cover my legs and keep me cozy. This Caprock Canyon Lapghan is the perfect small throw or lap blanket for such an occasion. Without the fringe, it works great for those in wheelchairs and with the fringe, it looks great anywhere!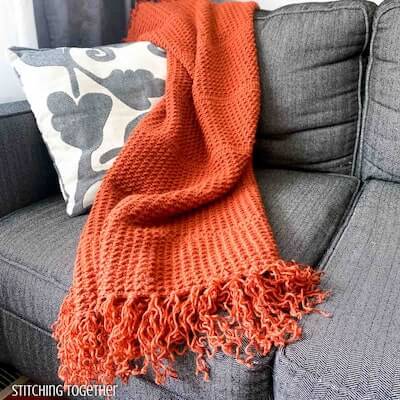 Get the Pattern by Stitching Together here

3. Crochet Quiet Ripple Lapghan Pattern by Only As Brave
Crochet this simple, two row repeat, ripple lapghan which is just the right size for keeping warm while curled up on the sofa. This pattern uses a chunky yarn to make a warm but lightweight lapghan. The use of one colour throughout the project makes for a modern look with a hint of retro vintage.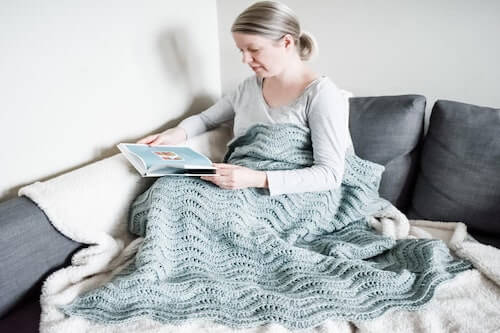 Get the Pattern by Only As Brave here

4. Easy Lapghan Blanket Crochet Pattern by Beaded Wire
This lap blanket is not as large as an afghan, it is made to fit comfortably across the lap and legs without being too bulky or heavy. The blanket in the picture is 40 inches long by 30 inches wide but it is an easy pattern to adapt to any size. It's a wonderful gift for someone who is ill or in recovery or just enjoys a good snuggle.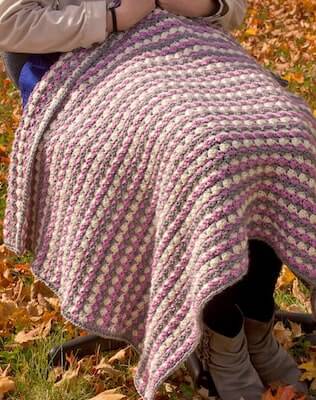 Get the Pattern by Beaded Wire here

5. Rhapsody Sampler Free Crochet Lapghan Pattern by Annie's Catalog
Change it up a bit with this eye-catching, fall theme Rhapsody Sampler Lapghan! You'll use at least six different stitches to create an effusive expression of fall bursting with texture and seasonal colors.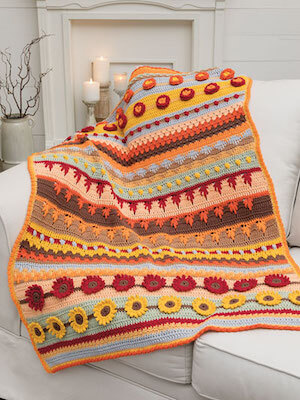 Get the Pattern here

6. Dot To Dot Lapghan Crochet Pattern by Two Of Wands
This geometric crochet lapghan can serve as a small blanket for the couch or the car, and it can also function as a decorative rug. High contrast streams of bobbles accent a simple base of double crochet to bring a modern aesthetic to this easy project. I am obsessed with the uneven striping and lines of bobbles in this blanket!

Although this piece is really meant for the home, I saw so many wearable blankets on the runway this season, and I can definitely see myself sporting this over a sweater while social distance dining outdoors as the temps start to drop!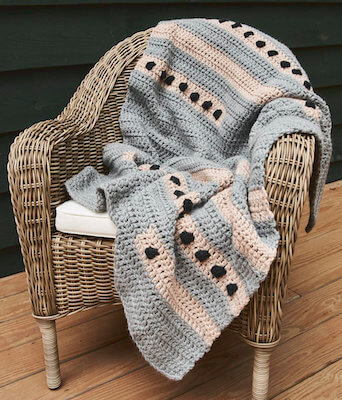 Get the Pattern here

7. Winter Jewels Lapghan Crochet Pattern by Crochet Cloudberry
Think of sparkling jewels spilled upon fresh winter snow. That was the inspiration behind this Winter Jewel Lapghan which uses bright colors set off against cream and white, and a combination of textured crochet stitches to allow them to appearing like jewellery settings.

This pattern bundle contains all four granny square patterns that are used in the Winter Jewels crochet blanket and also the instructions for joining them and the border to make this intricate crochet throw.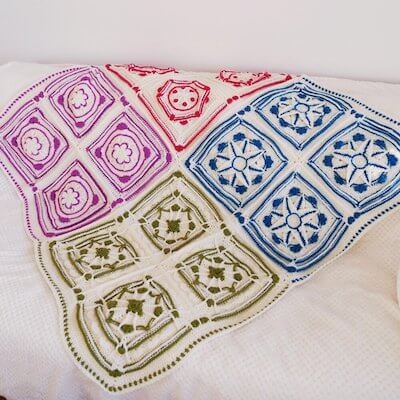 Get the Pattern by Crochet Cloudberry here

8. Lineage Lapghan Crochet Pattern by Make & Do Crew
This free Crochet Basket Weave Blanket Pattern is blooming with texture and makes a perfect lap blanket. This pattern combines everything I love in a good crochet project–lots of gorgeous texture, a high squish-factor and a new skill that's easy to master, the basketweave stitch.

This crochet basket weave blanket has some good weight to it, making it really soothing to snuggle under. I think it would make a great baby play mat, as well.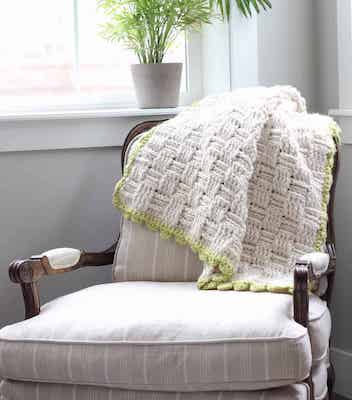 Get the Pattern here

9. Lara's Lapghan Blanket Crochet Pattern by The Loopy Stitch Shop
This Lara's Lapghan Crochet Pattern is a perfect stash-buster project. One square measures 5 inches and is a simple, repetitive pattern. With the ease of joining each square as you go, it makes even the larger of blankets or throws feel a little bit quicker.

However, I think it's the border that makes this pattern pop. The use of different stitches and texture work well together to give it that finishing touch.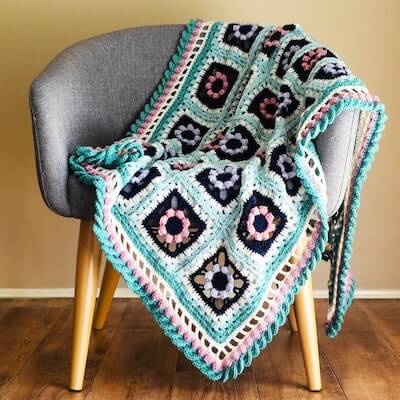 Get the Pattern by The Loopy Stitch Shop here

10. Spring Rain Free Crochet Lapghan Pattern by Moogly
Spring weather has its ups and downs, but there's something about a warm Spring Rain, and the way the bright spots of color seem to shine. And that's what inspired this Spring Rain Lapghan! This is a great size for cozying up in your favorite chair, or for babies and toddlers, or for use with a wheelchair.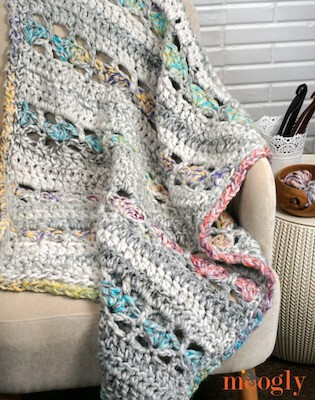 Get the Pattern here

11. Harvest Fields Throw Crochet Pattern by Holland Designs
This Harvest Fields Throw is a gorgeous textured marvel! Worked in rounds and measuring approx. 54" wide, it is the perfect lapghan size and looks beautiful draped over a chair or couch. If worked in a lighter weight yarn, this would also make a beautiful baby blanket for a sweet little girl.
Get the Pattern by Holland Designs here

12. Scotty Easy Crochet Lapghan Pattern by I Like Crochet
This rich and bold lapghan is surprisingly easy to make and is a great project to work on while on the go. The beautiful texture created with alternating stitches in the squares sets off the striping that's layered on top while the simple clean lines in the edging focus the attention on the vibrant colors in the plaid.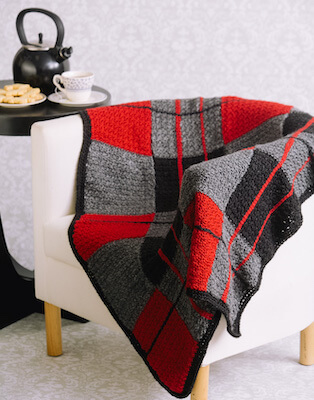 Get the Pattern here
Lapghan Crochet Patterns Frequently Asked Questions
What is a Lapghan?
A lapghan is simply an afghan that is large enough to wrap around your lap or throw over your shoulders. Some people call them "lap blankets." Lapghans are about half the size of an afghan. They are popular to use in nursing homes or just to throw across your legs and keep warm in the winter.
What size should a crochet Lapghan be?
Since it only covers the lap area, this blanket is typically smaller than throw blankets, although the style and size may vary. In addition, some lapghans are made for a specific purpose. That entails that they have different measurements and sizes to tailor-fit to the person's needs.
What size are crocheted lap blankets?
A lap blanket is primarily used to cover the lap. These are typically 36″ x 48″ in size and only large enough to accommodate wheelchairs. Lap blankets should be small enough that they do not touch the floor when a person sits down, or they will be rolled over by the wheelchair.
How to select your yarn for crochet lap blankets?
The size and thickness of your blanket, as well as your crocheting ability, can all influence your yarn selection. Choose a yarn with a smooth texture, a light color (so you can see your stitches clearly), and worsted (medium) weight if you're just starting out. A lap blanket will require 3-4 skeins of yarn. For a larger blanket, multiply that figure by two.
How long does it take to crochet a lapghan?
The answer is determined by a variety of factors, including the pattern's difficulty and your crochet speed. A lap blanket usually takes more than 15 hours to make. Most crocheters can complete one in a matter of months. It is, however, also determined by the amount of time you have available to devote to the project!

I HOPE THAT THIS LIST OF LAPGHAN CROCHET PATTERNS HAS HELPED YOU FIND THE PERFECT PATTERN FOR YOUR NEXT PROJECT.
Be sure to share pictures of your finished lapghans with us on Facebook. I can't wait to see them!
I am kinda digging this blanket thing, so here's more crochet blanket patterns for me and you to enjoy:
Whatever the season, the comfiness of a lapghan is unmatched…most of the time. So, choose your favorite lapghan crochet pattern and let's get started today!