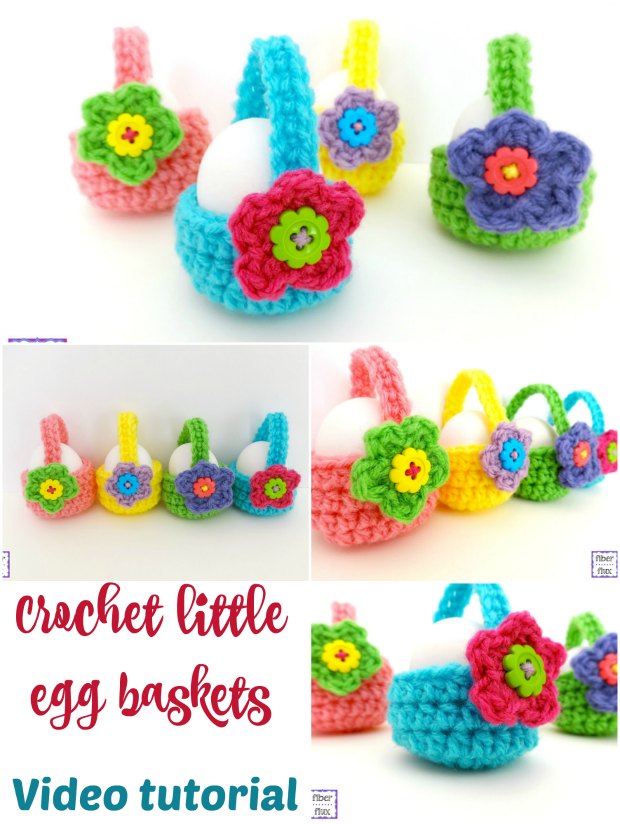 Crochet Egg Basket Fantastic Easter Gifts
Easter is around the corner, you have everything set out for the family to celebrate together. What you now need is just the crochet piece to commemorate the season. Sort of carry the mood and let everyone else know that its Easter and I think I found just the right pattern. This crochet egg basket pattern will bring joy to the whole family. It is perfect for the family Easter egg hunt.
The creations are both so adorable and useful and everyone is bound to love them and you for making them. They are so easy to make once you start you won't stop, so a fair warning this pattern may become a little addictive.
So what exactly do you need to get started on the crochet egg basket pattern?
Crochet Egg Basket Materials
Worsted Weight Yarn (Yarn shown is Red Heart Super Saver in "Spring Green" "Turquoise" "Perfect Pink" "Shocking Pink" "Lavender" "Orchid" "Bright Yellow")
H (5.0 mm) crochet hook
Tapestry Needle
Scissors
Buttons – these ones are cute
Crochet Egg Basket Size
Height – 3 inches tall
Width of base – 2 inches wide
As I stated earlier the crochet egg basket pattern is easy and simple to make. The tutorial video explains in clear detail how to execute the whole project. With basic skills in crocheting, you can be well on your way to churning out marvelous pieces. No technical skills are required here.
A crochet beginner would have a field day with this pattern. If you follow the tutorial video's directions, I doubt you will worry about messing up at any stage.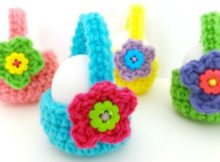 You Can Make The Most Exciting Out There Designs
You can do anything that you absolutely want with the design of this pattern. There are no restrictions on the colors so feel free to make whatever type of colored basket that you fancy. In fact, the more baskets the merrier it will be.
You can make a dozen of these egg baskets in all the colors of the rainbow and each one will look stunning. You could even go a bit crazy and mix up the colors in one. Try adding some bling to one or two by using rind stones or some nice bead work to complement your lovely crocheting. Whatever you imagine you can do with these crochet egg baskets you can. The only limits here are in your mind.
There are also a million ways to use the crochet egg basket pattern. Give some over to the kids for the Easter egg hunt they absolutely glee with joy when they see them. Now, just sit back and watch them run all over trying to fill up their baskets.
The crochet egg baskets also make great decorative pieces for the house. Especially, during Easter; lay some out at your Easter party and they will set the mood. I guarantee they will be the talk of the party and so will you.
You can also use them to store little knick knacks around the home and they are crochet egg basket pattern is expandable. Meaning you can make it bigger to accommodate more stuff.
So if you wanted something fun for this eater then I think you have found it. So what are you waiting for? Go get the crochet egg basket pattern now.
Video Of How To Crochet Egg Baskets