Easter is nearly here, and so is the Easter bunny! Fluffy tails, long ears, and those twitchy little noses are just irresistible, aren't they? Let's celebrate the festive season with some cute crochet Easter bunny patterns and crochet chocolate bunny patterns!

Even if you don't celebrate Easter, you're sure to know that the Easter bunny is to Easter what Santa is to Christmas! The Easter bunny is an important part of Easter celebrations, along with Easter eggs and other icons of spring.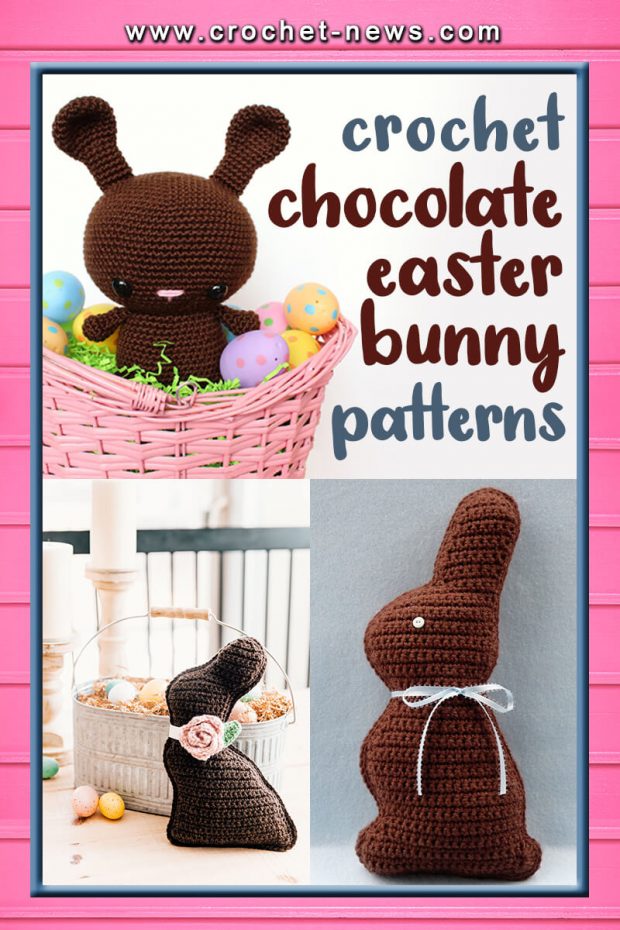 The Easter bunny is getting ready to hop up to your house—and I have just the thing to add a little magical fun to your Easter 2023 celebration. Check out these adorable ideas that all feature Easter bunnies in one way or another. Hippity, hop to it, peeps!
21 Crochet Easter Bunny Patterns & Crochet Chocolate Bunny Patterns

1. Crochet Chocolate Easter Bunny Pattern by Sewrella
This crochet chocolate bunny can be used as Easter decor, a spring tabletop piece, or a kid's gift! She is so versatile and will be loved by many! She's cute and squishy, and just the right size for all ages.

The best part is that she can be worked up and finished in a day! If you have a few hours to dedicate to making, this will be your go-to project for spring. She has a nice way of blending in with all kinds of home decor, or fitting in just right to your little niece's stuffie collection.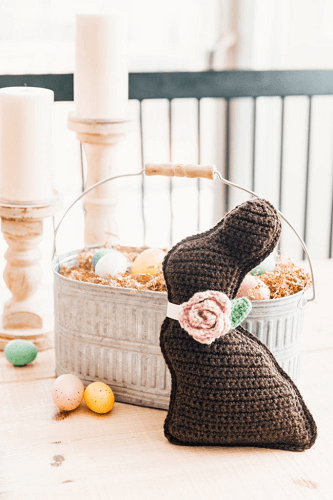 Get the Pattern here

2. Mini Chocolate Bunny And Carrot Crochet Pattern by Amanda Lynn Crochet
This pattern is for the little "Chocolate" Bunny & the Little Carrot! It's a pretty simple pattern and would make a great project for beginners!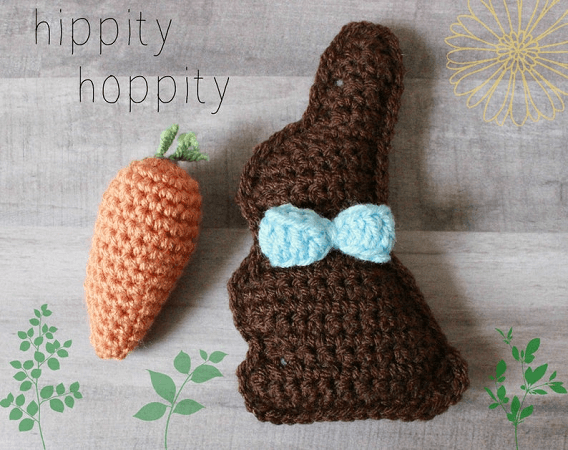 Get the Pattern by Amanda Lynn Crochet here

3. Mocha, The Chocolate Bunny Crochet Pattern by Storyland Amis
Meet Mocha the Bunny! Mocha loves Spring and playing in the fresh grass and flowers is her favorite thing to do! She loves lilies most of all and her favorite foods are chocolate and carrots! Mocha is ready to be your friend and hop her way into your heart!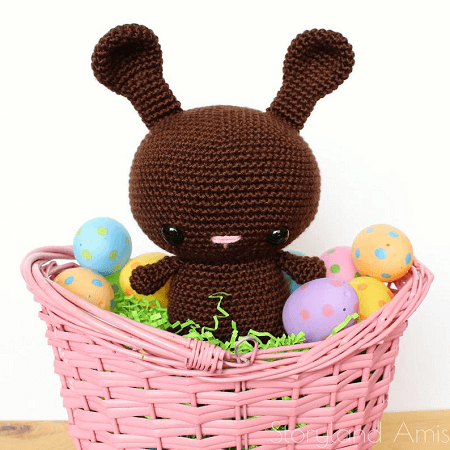 Get the Pattern by Storyland Amis here


4. Crochet Easter Bunny Pattern – Crochet Chocolate Bunny by Whiskers And Wool
One thing I absolutely love about the Easter holidays are the chocolate bunnies. I admit that I am a bit of a chocolate addict, but Easter is one of those holidays where I get to eat all the chocolate I want without anyone questioning me.
So by default, chocolate bunnies are my favorite. Imagine my delight when I stumbled on the crochet Easter bunny pattern on Etsy. The bunnies almost look good enough to eat; it was all I could do not to scoff them down when I made my own crochet Easter bunnies.
And with Easter just on the horizon, the crochet Easter bunny pattern was a golden find. Now I have something special to mark Easter with. Dare I say something absolutely delicious to the eyes?
Crochet Easter Bunny Pattern Materials
150 yards of worsted weight yarn in any color you wish your bunny to be
A size H (5.00) crochet hook
3/8' button for the eyes
Fiberfill
Stuffing
Ribbon in any color you want. (preferably in the same color as the bunny)
The pattern is meant for beginners to the intermediate level although from my experience I found the bunny quite easy to make. The crochet Easter bunny pattern has very extensive documentation.
The PDF's and tutorials are also presented in simple English that is easy to follow, this coupled with the detailed illustrations and pictures make the pattern very easy to pick up even for a beginner. It's not complicated at all.
The bunny is made by crocheting two separate bunny shapes and then stitching them together. After that, you add the stuffing and viola you have your very own crochet Easter bunny.
Crochet Easter Bunny Hunt – Without The Melted Chocolates
There are a million of things to do with the crochet Easter bunny pattern this Easter. Instead of your usual Easter egg hunt how about you try to put a few crochet Easter bunnies around for the kids to find.
You could make some in different colors and lay them out around the house as decorative pieces for the season. Try giving a few crochet Easter bunnies to your friends and family to commemorate the season. They will be a symbol of the love that you have them and one that they will absolutely adore.
Hold an Easter barbecue at your house and use the Easter bunnies to set the ambience. They will give the children something to play with and are bound to be the talk pieces for the adults. Either way, the crochet Easter bunnies will serve a million and one purposes this Easter holiday.
So to taper off, the crochet Easter bunny pattern is an absolute must-have for the Easter Season. They are not only fun and easy to make, but they are also stunning to look at, A feast for the eyes and the soul. And with the number of ways that you can make use of them you would be mad not to get the crochet Easter bunny pattern.
So what are you waiting for? Hop on over to Etsy and get yourself this amazing pattern.
Get Crochet Easter Bunny Pattern Here

5. Chocolate Easter Bunny Mini Plush Crochet Pattern by Twinkie Chan
You can use these Easter Bunny Mini Plushies as hair clips, brooches, ornaments, cupcake toppers, or just fun little Easter Basket-stuffers. You can make chocolate bunnies of all different sizes depending on the yarn you want to use. Wrap them up in a little bit of cellophane and ribbon for a cute presentation!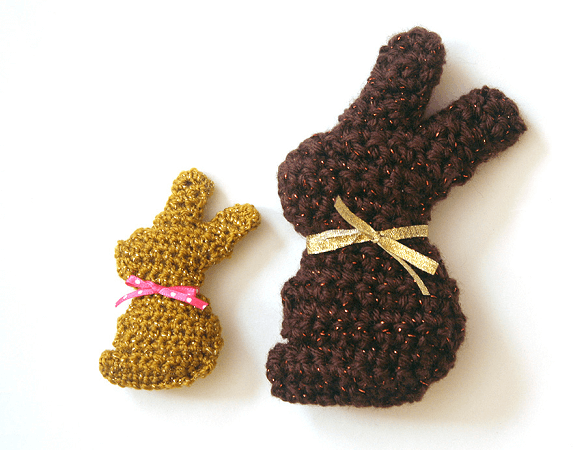 Get the Pattern here

6. Chocolate Easter Bunny Crochet Pattern by Claudia Lowman
This bunny can become a family tradition and familiar "friend" as an addition to children's Easter baskets or in Easter decor for years to come. Because of its longevity and durability, it is a good idea to crochet the bunny using acrylic yarn so that it can be machine washed.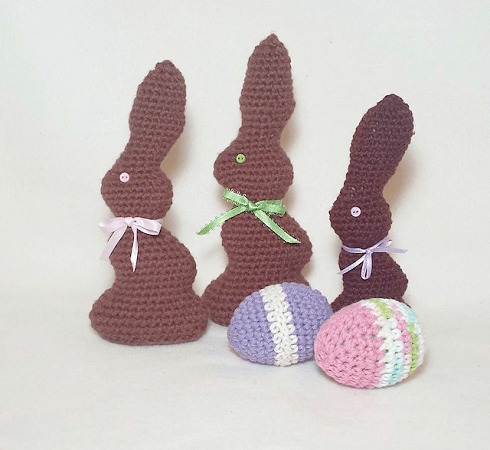 Get the Pattern here

7. Spring Easter Bunny Crochet Pattern by Lilleliis
This amigurumi bunny is inspired by spring, blooming flowers, bunnies and Easter eggs. All of these sweet things are put together in one design! What makes it special is the decorations — the grass on the bottom, and flowers on the body.
Get the Pattern by Lilleliis here

8. Crochet Easter Bunny Garland Pattern by The Knotted Nest Shop
This fast and easy Easter Bunny crochet pattern would make the perfect Easter basket gift! You could string several together to use for Easter decoration or for nursery decor year round!

Each bunny only uses about 30-40 yards of worsted weight yarn so this is a great use for scrap yarn. I can't resist traditional Easter pastel colors, but I think these bunnies would look so cute in neutrals like creams and browns as well!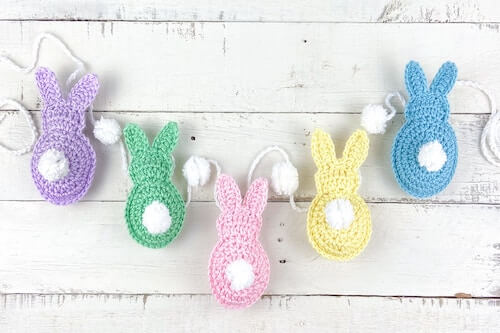 Get the Pattern by The Knotted Nest Shop here

9. Crochet Easter Bunnies Pattern by Yarn Plaza
These Easter bunnies are in different colors and sizes, making playful additions to your décor. With this crochet pattern, you can make cute bunnies to display on your Easter brunch table. They are sure to bring a smile to all who see them this Easter!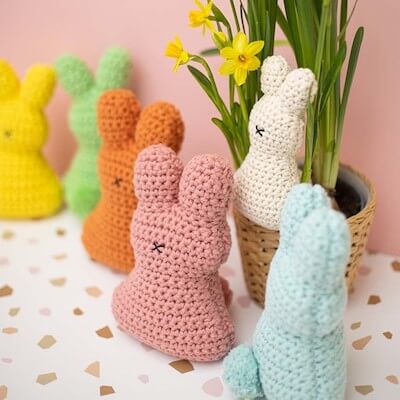 Get the Pattern here

10. Easter Bunny Crochet Socks Pattern by Sarah L
Hop on down to the Easter egg hunt with these cute Easter Bunny Crochet Socks! These socks are the perfect introduction to both working with colors and charts in crochet and basic sock making. They're are great for any time of year with a cute bunny motif being suitable all year-round.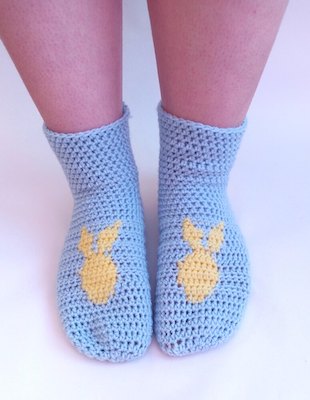 Get the Pattern by Sarah L here

11. Crochet Easter Bunny Goody Bag Pattern by My Fingers Fly
Crochet an Easter Bunny Goody Bag for your child's basket and fill it with treats. Make several in Easter colors for basket fillers, hostess gifts, or teacher gifts. Each bunny bag takes less than an ounce of worsted yarn, so it's a great stash buster!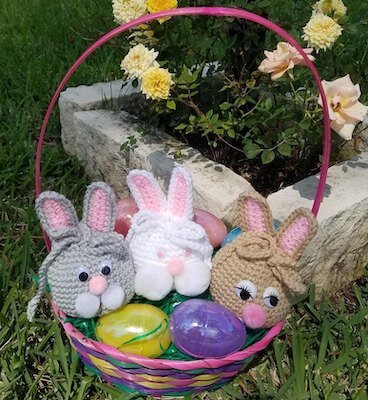 Get the Pattern by My Fingers Fly here

12. Easter Bunny Egg Crochet Pattern by Amigurumi Today
Surprise everyone at your Easter brunch with cute bunny eggs that you can make using this crochet pattern. Your biggest challenge when crocheting these absolutely adorable bunnies is stopping yourself from making too many!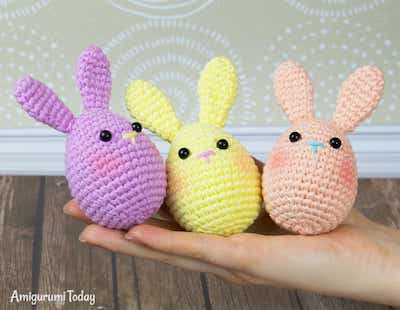 Get the Pattern here

13. Easter Bunny Tea Cozy Crochet Pattern by Million Bells
I just had to include this Easter Bunny Tea Cozy to keep your tea nice and toasty while adding a little a spring pizzazz to your Easter table. Tea breaks are a must during all that egg hunting!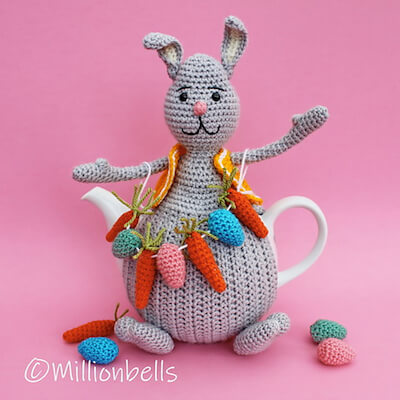 Get the Pattern here

14. Sunny, The Big Easter Bunny Crochet Pattern by Ira Rott Patterns
You will enjoy cuddles with a big bunny like Sunny! This pattern includes instructions for Easter eggs as well, so you can use up all your colorful yarn scraps.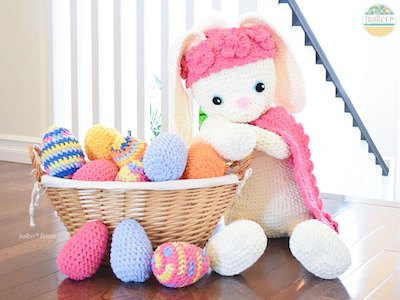 Get the Pattern by Ira Rott Patterns here

15. Sunday, The Easter Bunny Crochet Pattern by Lemon Yarn
Meet Sunday, the Easter Bunny. She is a cute little bunny that loves everything about Spring. Every year around Easter time, Sunday picks up its little backpack and fills it with chocolate eggs. Do you want Sunday to join you for Easter?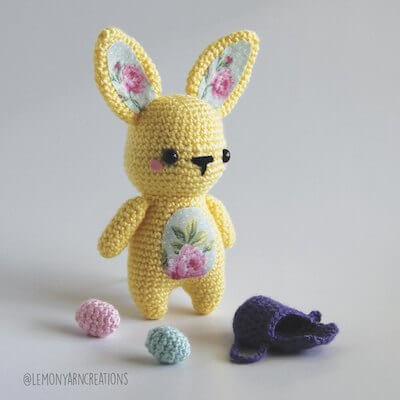 Get the Pattern by Lemon Yarn here

16. Crochet Easter Bunny Basket Pattern by Yarnspirations
This easy crochet basket features a cheerful rabbit with perky ears and a friendly disposition! The pattern is worked in single crochet with simple shaping techniques.

Chain-stitched whiskers, applied nose, and safety eyes create a whimsical face that brings fun and frolic to the Easter celebration. It's sturdy enough to carry all the eggs for the big hunt, so start a new tradition that the family can enjoy year after year.
Also see: Crochet Easter Basket Patterns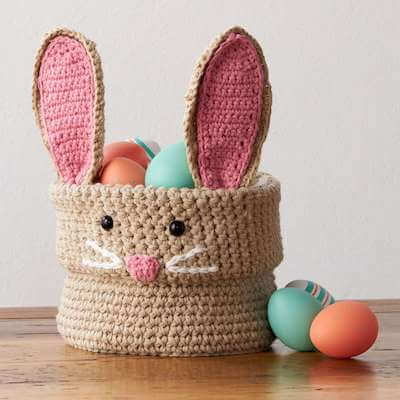 Get the Pattern here

17. Crochet Heart Easter Bunny Pattern by Golden Lucy Crafts
Here's another perfect addition for your Easter and Spring crochet to-do-list! This Heart Easter Bunny Appliqué is made in the shape of a heart and can be used for so many projects. Stitch it onto hats, blankets, Easter baskets, and more!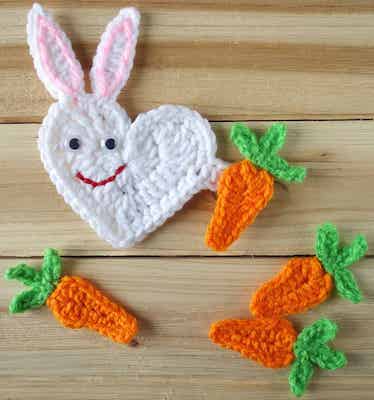 Get the Pattern here

18. Crochet Easter Bunny Gnome Pattern by Mufficorn
I'm having a lot of fun with gnomes right now! With Easter right around the corner, I think it would be fun to make an Easter Bunny Gnome as a decoration.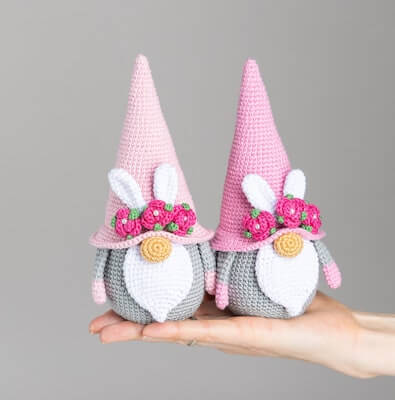 Get the Pattern by Mufficorn here

19. Crochet Easter Bunny Wall Hanging Pattern by Sarah Ruane
Add a little spring color to your walls with this cute and cheerful Easter Bunny Wall Hanging! This intarsia crochet pattern would make a perfect Easter DIY project!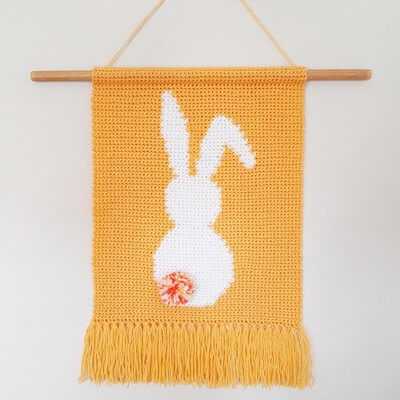 Get the Pattern by Sarah Ruane here

20. Crochet Easter Mini Bunny Bag Pattern by Left In Knots
This sweet Crochet Easter Mini Bunny Bag is the perfect size for your preschoolers to collect their eggs in, or it would also be a super cute alternative to an Easter basket. This easy crochet bag is embellished with a few simple accents to make a sweet Easter Bunny bag perfect for any skill level!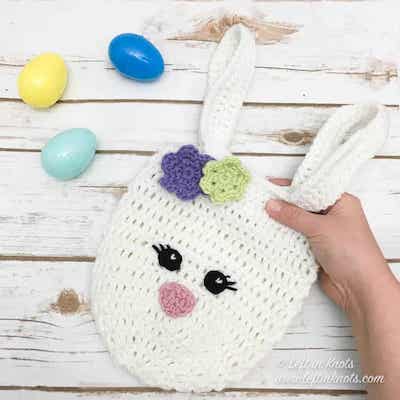 Get the Pattern here

21. Free Crochet Easter Bunny Pattern by Sir Purl Grey
I can't get enough of Amigurumi bunnies, and this one comes with his own juicy carrot! This beginner-friendly pattern can be made using the color of your choice.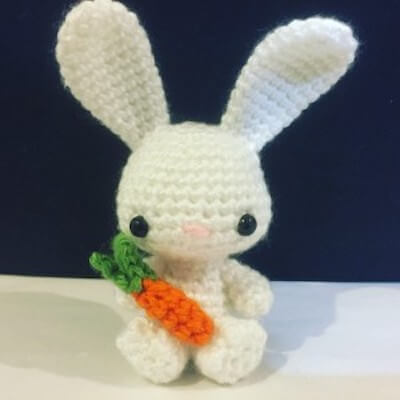 Get the Pattern here
MAKING SOME OF THESE CROCHET EASTER BUNNY AND CROCHET CHOCOLATE BUNNY PATTERNS IS A GREAT WAY TO JUMP START ON THE HOLIDAY!
Be warned though, these Easter bunnies are addictive! You won't be able to crochet just one! When you're done, we'd love to see your finished projects. Post your works on our Facebook Page to show off your stitches! For more Easter patterns, don't miss our 10 Crochet Cross Patterns.
Whether it's Easter or not, bunnies are a much-loved creature that we can celebrate all-year-round. From their fluffy tails to those adorably long ears, what's not to love about this animal? Here are 45 Crochet Bunny Patterns to help you grow your bunny collection.

So to taper off, these crochet Easter bunny and crochet chocolate bunny patterns are an absolute must-have for the season! Happy making!