These Crochet Chocolate Easter Bunny Patterns are crocheted versions of a traditional chocolate Easter bunny—but these are calorie and guilt-free. Just think, not only are these bunnies calorie-free, but they're a gift that will last forever!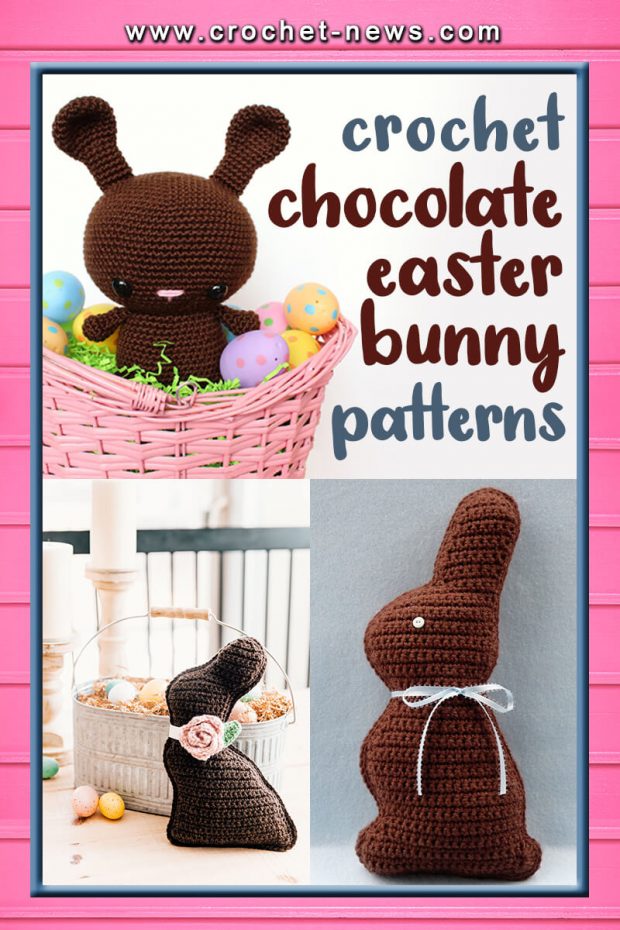 What is Easter without a chocolate bunny rabbit? These are the perfect alternative to giving out some sweet treats on Easter. Crocheted with your favorite brand of brown yarn. these bunnies might lack a shiny chocolate coating, but they still make adorable Easter basket stuffer!

1. Crochet Chocolate Easter Bunny Pattern by Sewrella
This crochet chocolate bunny can be used as Easter decor, a spring tabletop piece, or a kid's gift! She is so versatile and will be loved by many! She's cute and squishy, and just the right size for all ages.

The best part is that she can be worked up and finished in a day! If you have a few hours to dedicate to making, this will be your go-to project for spring. She has a nice way of blending in with all kinds of home decor, or fitting in just right to your little niece's stuffie collection.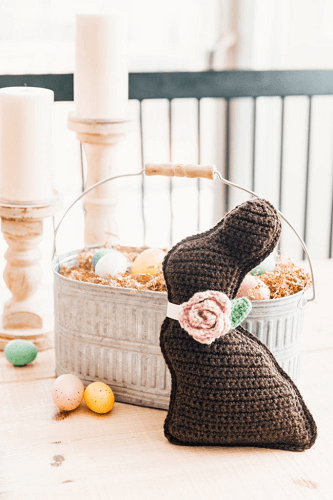 Get the Pattern here

2. Mini Chocolate Bunny And Carrot Crochet Pattern by Amanda Lynn Crochet
This pattern is for the little "Chocolate" Bunny & the Little Carrot! It's a pretty simple pattern and would make a great project for beginners!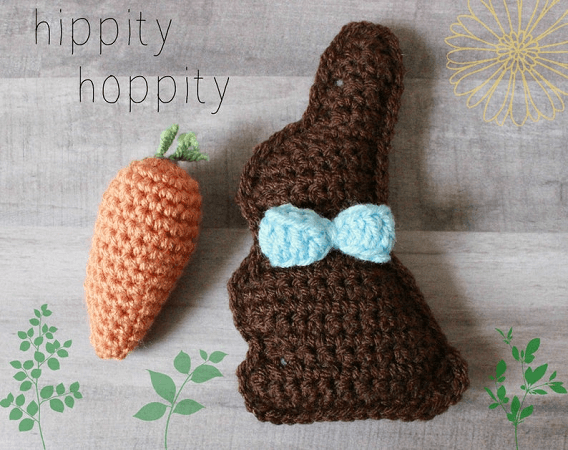 Get the Pattern by Amanda Lynn Crochet here

3. Mocha, The Chocolate Bunny Crochet Pattern by Storyland Amis
Meet Mocha the Bunny! Mocha loves Spring and playing in the fresh grass and flowers is her favorite thing to do! She loves lilies most of all and her favorite foods are chocolate and carrots! Mocha is ready to be your friend and hop her way into your heart!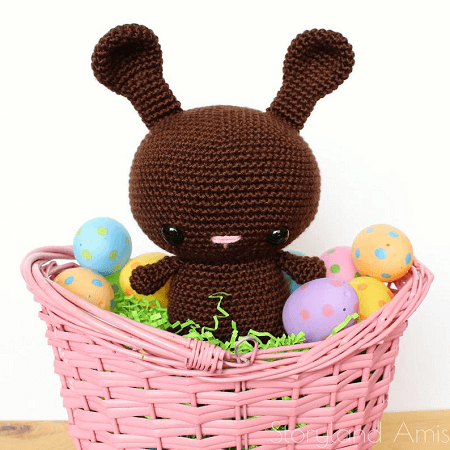 Get the Pattern by Storyland Amis here


4. Crochet Easter Bunny Pattern – Crochet Chocolate Bunny by Whiskers And Wool
One thing I absolutely love about the Easter holidays are the chocolate bunnies. I admit that I am a bit of a chocolate addict, but Easter is one of those holidays where I get to eat all the chocolate I want without anyone questioning me.
So by default, chocolate bunnies are my favorite. Imagine my delight when I stumbled on the crochet Easter bunny pattern on Etsy. The bunnies almost look good enough to eat; it was all I could do not to scoff them down when I made my own crochet Easter bunnies.
And with Easter just on the horizon, the crochet Easter bunny pattern was a golden find. Now I have something special to mark Easter with. Dare I say something absolutely delicious to the eyes?
Crochet Easter Bunny Pattern Materials
150 yards of worsted weight yarn in any color you wish your bunny to be
A size H (5.00) crochet hook
3/8' button for the eyes
Fiberfill
Stuffing
Ribbon in any color you want. (preferably in the same color as the bunny)
The pattern is meant for beginners to the intermediate level although from my experience I found the bunny quite easy to make. The crochet Easter bunny pattern has very extensive documentation.
The PDF's and tutorials are also presented in simple English that is easy to follow, this coupled with the detailed illustrations and pictures make the pattern very easy to pick up even for a beginner. It's not complicated at all.
The bunny is made by crocheting two separate bunny shapes and then stitching them together. After that, you add the stuffing and viola you have your very own crochet Easter bunny.
Crochet Easter Bunny Hunt – Without The Melted Chocolates
There are a million of things to do with the crochet Easter bunny pattern this Easter. Instead of your usual Easter egg hunt how about you try to put a few crochet Easter bunnies around for the kids to find.
You could make some in different colors and lay them out around the house as decorative pieces for the season. Try giving a few crochet Easter bunnies to your friends and family to commemorate the season. They will be a symbol of the love that you have them and one that they will absolutely adore.
Hold an Easter barbecue at your house and use the Easter bunnies to set the ambience. They will give the children something to play with and are bound to be the talk pieces for the adults. Either way, the crochet Easter bunnies will serve a million and one purposes this Easter holiday.
So to taper off, the crochet Easter bunny pattern is an absolute must-have for the Easter Season. They are not only fun and easy to make, but they are also stunning to look at, A feast for the eyes and the soul. And with the number of ways that you can make use of them you would be mad not to get the crochet Easter bunny pattern.
So what are you waiting for? Hop on over to Etsy and get yourself this amazing pattern.
Get Crochet Easter Bunny Pattern Here

5. Chocolate Easter Bunny Mini Plush Crochet Pattern by Twinkie Chan
You can use these Easter Bunny Mini Plushies as hair clips, brooches, ornaments, cupcake toppers, or just fun little Easter Basket-stuffers. You can make chocolate bunnies of all different sizes depending on the yarn you want to use. Wrap them up in a little bit of cellophane and ribbon for a cute presentation!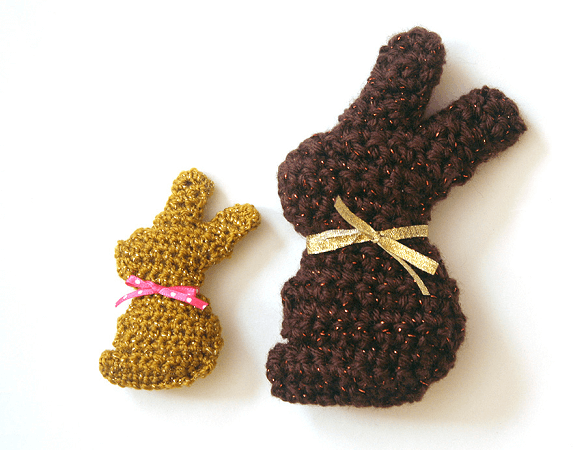 Get the Pattern here

6. Chocolate Easter Bunny Crochet Pattern by Claudia Lowman
This bunny can become a family tradition and familiar "friend" as an addition to children's Easter baskets or in Easter decor for years to come. Because of its longevity and durability, it is a good idea to crochet the bunny using acrylic yarn so that it can be machine washed.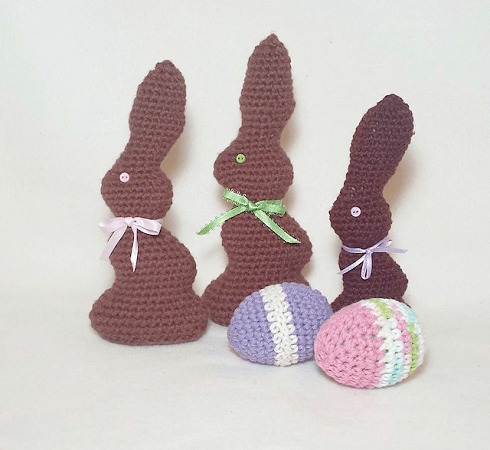 Get the Pattern here
Whatever the need, these crochet chocolate bunny patterns are fun projects for any occasion!
Be warned though, these chocolate bunnies are addictive! You won't be able to crochet just one! When you're done, we'd love to see your finished projects. Post your works on our Facebook Page to show off your stitches! For more Easter patterns, don't miss our 10 Crochet Cross Patterns.
Whether it's Easter or not, bunnies are a much-loved creature that we can celebrate all-year-round. From their fluffy tails to those adorably long ears, what's not to love about this animal? Here are 45 Crochet Bunny Patterns to help you grow your bunny collection.

So to taper off, these crochet chocolate bunny patterns are an absolute must-have for the Easter Season! Happy making!