Have you hopped aboard the crochet gnome trend yet? Well, now's your chance! These simple and super adorable crochet Christmas gnome patterns are festive, fun, and really easy to make! Fill your house and your Christmas with some of these awesome patterns.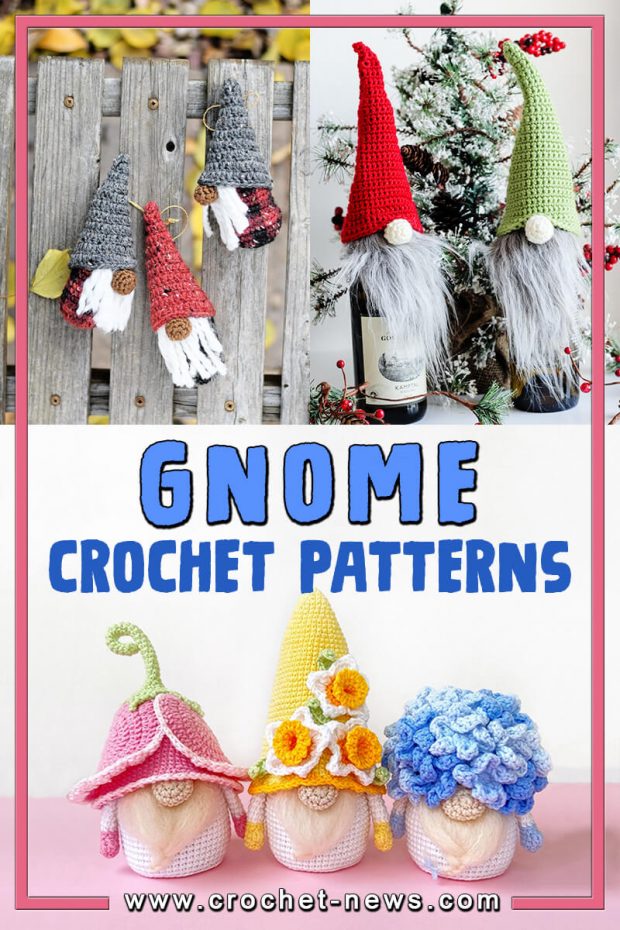 These gnomes look so cute with long caps, a long-bearded face, and by covering their face with half of their hats. Everybody is obsessed with gnomes and it's easy to see why. They are so cute and very easy to make and as an added bonus, you can make them for all seasons of the year!

1. Crochet Gnome Family Pattern by Red Heart
Crochet the little gnome family for your Christmas tree, and then enjoy them all through the year. These charming wee folks are fun for child play or to keep all ages company.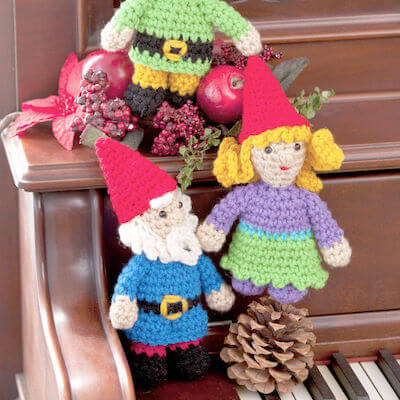 Get the Pattern here

2. Christmas Crochet Gnome Pattern by Han Jan Crochet
The festive season isn't complete without these little crochet gnomes to watch over and join in the fun with you. The cute Christmas crochet gnome pattern is super simple, beginner friendly and great for yarn stash busting. Add a little button nose and a fluffy beard and you're done!

Go for a traditional Scandi Christmas crochet Santa or jazz them up and make them unique for this years Elf on the Shelf, the choice is yours!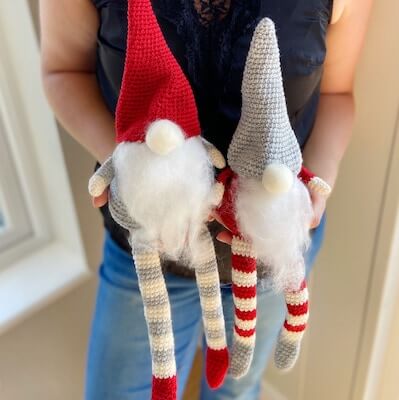 Get the Pattern by Han Jan Crochet here

3. Crochet Gnome Pattern by Happy Dolls Handmade
So how cute are these tiny fellows? Just look at their tangled white beards! Make a whole squad of the gnomes, leave some of them for yourself and send the rest to your friends and family in order to spread the Christmas spirit everywhere.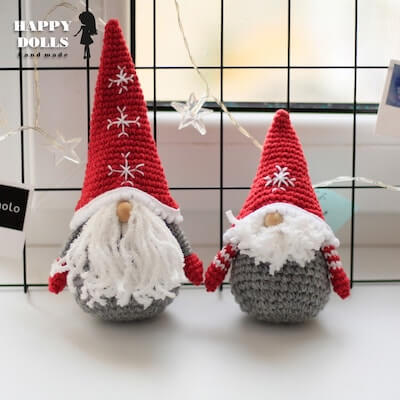 Get the Pattern by Happy Dolls Handmade here

4. Crochet Gnome Ornament Pattern by Winding Road Crochet
Need another adorable ornament for your Christmas tree? Here is a quick and easy crochet gnome ornament. Just a little Scandinavian charm for your Christmas decor. This gnome would also make a nice 'child' gnome, if you are working on a gnome family.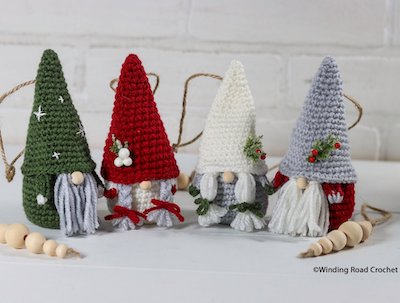 Get the Pattern here

5. Herbert, The Gnome Crochet Pattern by Annie's Craft Store
Say hello to Herbert the Gnome! Herbert is complete with the signature traits of gnomes –a long white beard and bulbous nose! He will easily warms up the looks of any space where he is placed and is a great piece to complete your whimsical décor!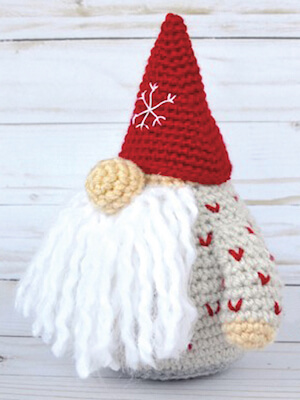 Get the Pattern here

6. Crochet Gnome Towel Topper Patten by Nana's Crafty Home
This Gnome Towel Topper is so fun and just plain adorable! These toppers work up quickly with scrap amounts of yarn. Perfect for gift giving, craft shows or to Gnome up your own home!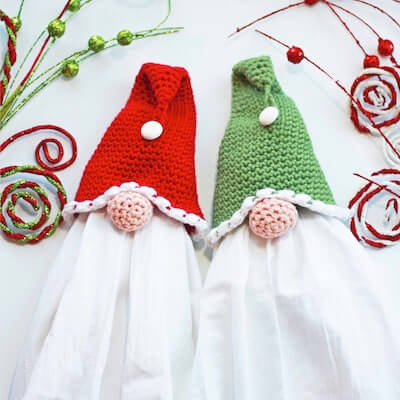 Get the Pattern by Nana's Crafty Home here

7. Amigurumi Gnome Crochet Pattern by Craft Passion
Unlike most gnomes that have long beards, Chief Clover, the Christmas gnome is a clean and tidy gentleman with a face full of short beards! This adorable Scandinavian Santa gnome is here to keep you and your family and friends safe during this holiday.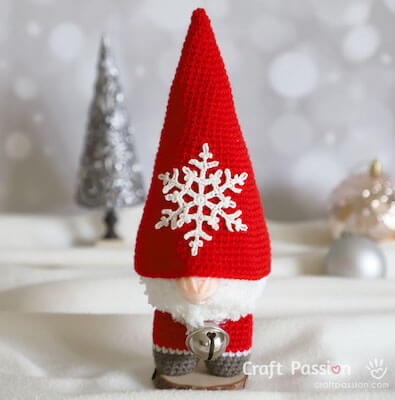 Get the Pattern here

8. Easy Crochet Gnome Pattern by Amelia Makes
The pattern for this gnome includes just a few easy pieces: the beard, the body(which is done in two colors) and the hat. The body portion is worked from the bottom up, and then the hat is stitched on after it is done and both pieces are stuffed.
Finished, the gnome stands about 9" high. Obviously good for a toy or a small accent pillow, this gnome can also be used as a part of your holiday decor.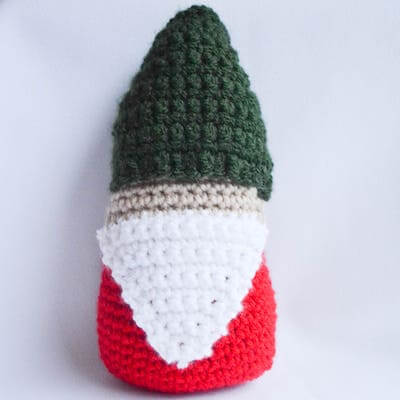 Get the Pattern here

9. Candle Gnome Crochet Pattern by Patterns By Steph
Gnomes and candlelight – that's gonna make for a cozy home, especially in the darker part of the year.
But in summer, too, these little Gnomes will be very pleased if you allow them to make your home even prettier.

The colors are up to you. Whether in classic christmas green and red tones, or neutral in grays – just let your imagination flow.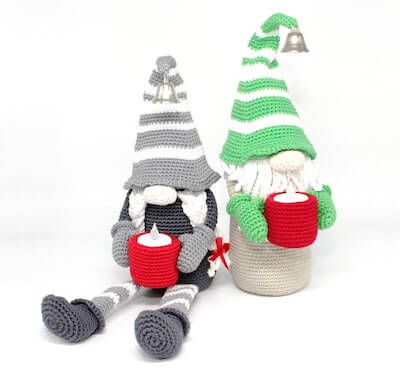 Get the Pattern by Patterns By Steph here

10. Quick Gnome Candy Ornaments Crochet Pattern by Moogly
These adorable and modern Gnome Candy Ornaments make cute table and tree ornaments and Advent Calendars, as well as great stocking stuffers and gift toppers! Made in two simple pieces, each Gnome or Elf holds a delicious surprise.
Get the Pattern here

11. Large Sleepy Time Crochet Gnome Pattern by Jen Hayes Creations
Get ready to fall in love with Henry, the Large Sleepy Time Crochet Gnome! Besides being absolutely adorable, this oversized crochet gnome works up quickly for its generous size by using blanket yarn.

He is stuffed with five pounds of Poly-fil making him oh so squishable and irresistible. If you're a gnome lover like me or know someone who is, get ready to impress!
Get the Pattern here

12. Two Gnomes Crochet Pattern by Firefly Crochets
This is set of 3 easy crochet patterns: Bunny Gnome, Carrot Gnome and a Carrot. These gnomes are quick and simple to crochet and they look really cute. They're equally as great for decor as they are for gifts for the little ones!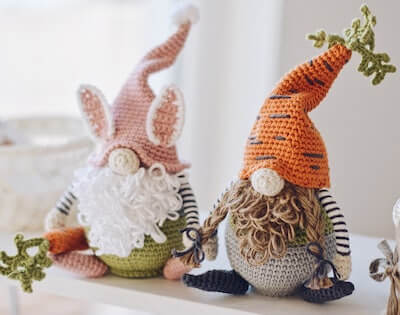 Get the Pattern by Firefly Crochets here

13. Filet Crochet Gnome Blanket Pattern by Owl B Hooked
Looking for a quick and easy crochet blanket pattern design that is also enjoyable and relaxing to work up? This simple but unique filet crochet pattern makes for an adorable 1st birthday or baby shower gift. Or make it larger for yourself, your couch, a friend or a loved one!

These slouchy hat gnomes are perfect as Christmas gnomes or garden gnomes just choose your blanket colors accordingly!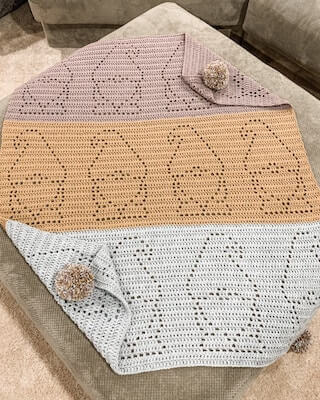 Get the Pattern by Owl B Hooked here

14. Free Christmas Gnome Crochet Pattern by Gathered
If you're after a quick Christmas crochet pattern that you can use as an ornament, stocking filler, or just as decoration in your cosy Christmas space, then how about hooking up these free Christmas gnome crochet patterns!

This free crochet gnome pattern is easy to hook up, and you can enjoy mixing and matching the pompoms and yarns to make each crochet gnome unique, working both plain and stripy hats to suit your taste.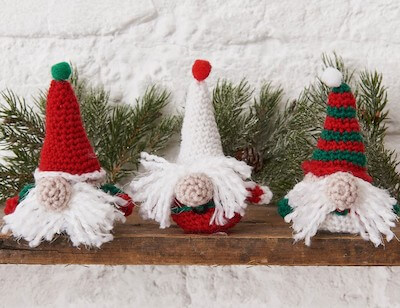 Get the Pattern here

15. Free Crochet Gnome Ornament Pattern by Whistle And Ivy
These cute crochet gnome ornaments feature simple construction and festive crochet plaid color work. Make them with tweed yarn for an extra rustic feel. Perfect to adorn your own tree or to make as an ornament gift exchange!
Get the Pattern here

16. Crochet Heart Gnome Pattern by Golden Lucy Crafts
This Crochet Heart Gnome will make a cute ornament for your Christmas tree or can be used to embellish a handmade Christmas card. You can also crochet a bunch of them and make a Gnome Christmas garland!
Get the Pattern by Golden Lucy Crafts here

17. Gnome Basket Crochet Pattern by Annie's Catalog
It's a basket disguised as a gnome! Put this charming Gnome Basket in the middle of the table and let it hold coasters or salt and pepper shakers or whatever you want.
Made from single, double and half-double crochets, the gnome measures 7 inches" and 15″ tall including the cute pointy hat.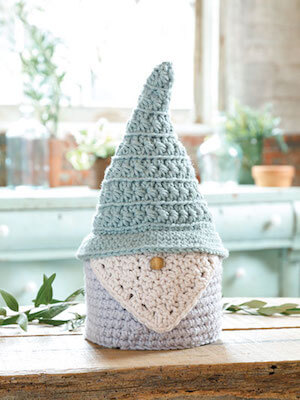 Get the Pattern here

18. Gnome For The Holidays Crochet Wall Hanging Pattern by Repeat Crafter Me
Most of us are home this holiday season and there is no better way to make spirits bright than with some fun, festive and cute décor like this adorable Crochet Christmas Gnome Wall Hanging!

You will crochet this as a graphgan so it's very easy to carry your yarn and see your stitches. But you could also use this design and use the Corner-to-Corner method to crochet this piece into something larger like a blanket.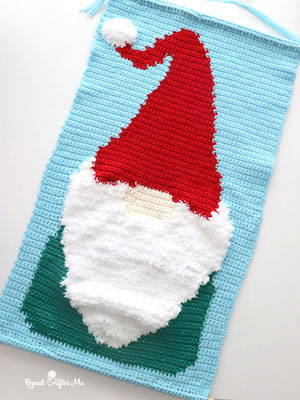 Get the Pattern here

19. Epic Crochet Wizard Gnome Pattern by Winding Road Crochet
This crochet wizard gnome is ready to start an epic adventure with you. He is intended to be a Halloween Gnome but he is great for anyone who loves to read epic adventures, plays D&D, or is a fan of a certain grey wizard in a certain trilogy.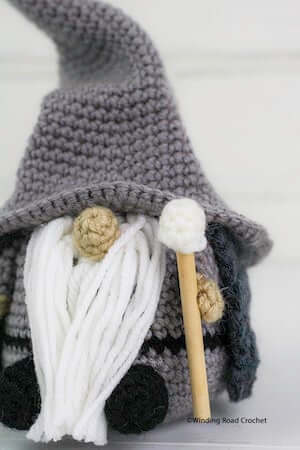 Get the Pattern here

20. Crochet Christmas Tree Gnome Pattern by Pam Pino Store
This fun pattern can be followed to create a gnome that appears to have a Christmas tree as a hat. Measuring 20cm once finished, this is a small but lovely amigurumi ornament that can either be given as a gift or used to decorate your home.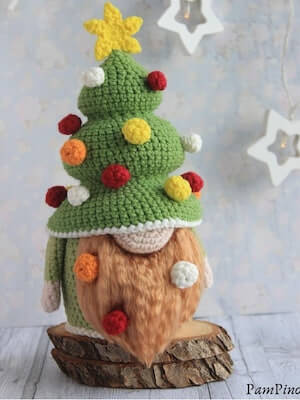 Get the Pattern by Pam Pino Store here

21. Gnome Wine Bottle Topper Crochet Pattern by Nana's Crafty Home
These little guys would be a great way to present a bottle of wine or Champagne for a party or as a gift – everyone is going to love them. This pattern works up absolutely so quickly – made from a small crochet triangle with the ends folded and crocheted together.

The nose is crocheted separately, sewn to the inside of the hat and then sew a small section of faux fur to the inside of the hat. Easy, peasy – you could make several of these in a night! Perfect for all of your yarn scraps, too!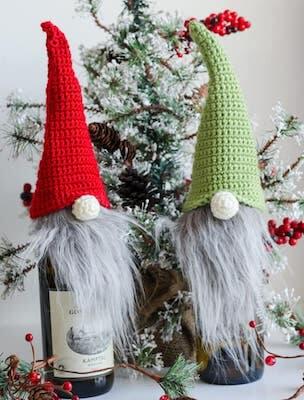 Get the Pattern here

22. Crochet Christmas Gnome Pattern by The Loopy Lamb
Get holiday ready with this adorable and easy Crochet Gnome Christmas Tree Ornament that has two different versions to make. Version 1 uses faux fur yarn for the beard of the gnome and Version 2 uses a faux fur pom pom. Both versions are quick, easy and accessible for beginners.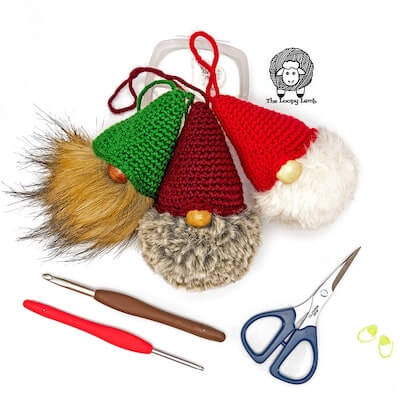 Get the Pattern by The Loopy Lamb here

23. Crocheting Gnome Crochet Pattern by Winding Road Crochet
Finally a gnome for us. Here is the crocheting gnome free crochet pattern. This gnome is so adorable with its little hook and baby blanket. This is your crocheting gnome so make her(or him) unique.

Change the colors of her outfit to match your favorite outfit. Make the blanket any color you like and the surface slip stitch on the hat can be a great way to use up leftover yarn you have hanging around. You can change her skin tone too and change the color of her braids.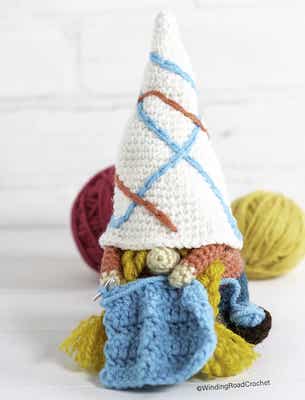 Get the Pattern here

24. Holiday Gnome Treat Bag Crochet Pattern by Miss Mary MAC Designs
This sweet gnome will hold all your sweet treasures! Learn to crochet one or one hundred of them and build a gnome gift bag army!
It is called a Holiday gnome, but we know gnomes are great for all seasons as they are great at protecting gardens and homes. He would be perfect to make and gift whenever you please.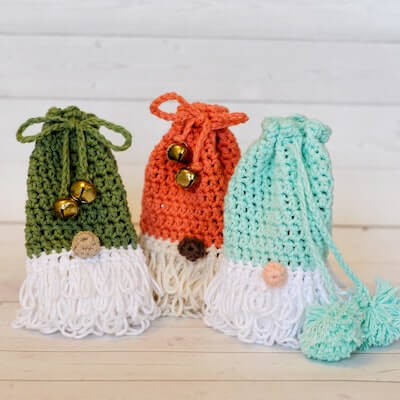 Get the Pattern by Miss Mary MAC Designs here

25. Crochet Spring Flower Gnomes Pattern by Happy Dolls Handmade
Gnomes just in the winter or around Christmas? Of course not! These crochet spring flower gnomes love the spring and summer. This pattern includes instructions to make a daffodil gnome, a tulip gnome and a hydrangea gnome.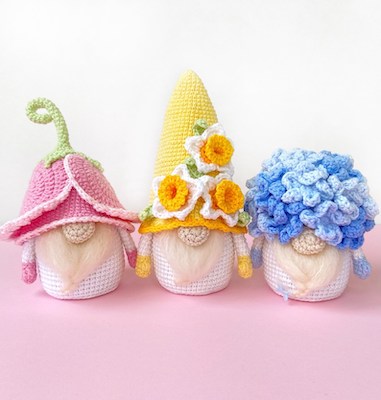 Get the Pattern by Happy Dolls Handmade here
PICK YOUR FAVORITE CROCHET GNOME PATTERNS AND HOOK INTO THEM!
When you're done, be sure to also share your crocheted gnomes with us on our Facebook Page. We'd love to see them!

If you fancy hooking up some more festive characters, you might also like our fabulous Crochet Elf Patterns, Crochet Santa Patterns, Crochet Angel Patterns, Crochet Snowman Patterns, Crochet Reindeer Patterns, Crochet Frozen Patterns and Crochet Gingerbread Man Patterns.

Whether for Christmas season or not, these crochet gnome patterns are too cute to pass on!