These easy crochet Easter Egg patterns are super adorable and will look great with your Easter decor.

Easter is just around the corner and eggs have a very important place in these Festivities. Beautiful colors everywhere, kids hunting for the eggs. Such a beautiful day isn't it?
Let us make Easter more colorful and cuter with these Crochet Egg Patterns that you can get your hook into or some Easter Bunny patterns to hop into.

Most of the patterns are quick and easy, perfect for a crochet beginner, or a last-minute Easter gift!
Choose your fave and get going!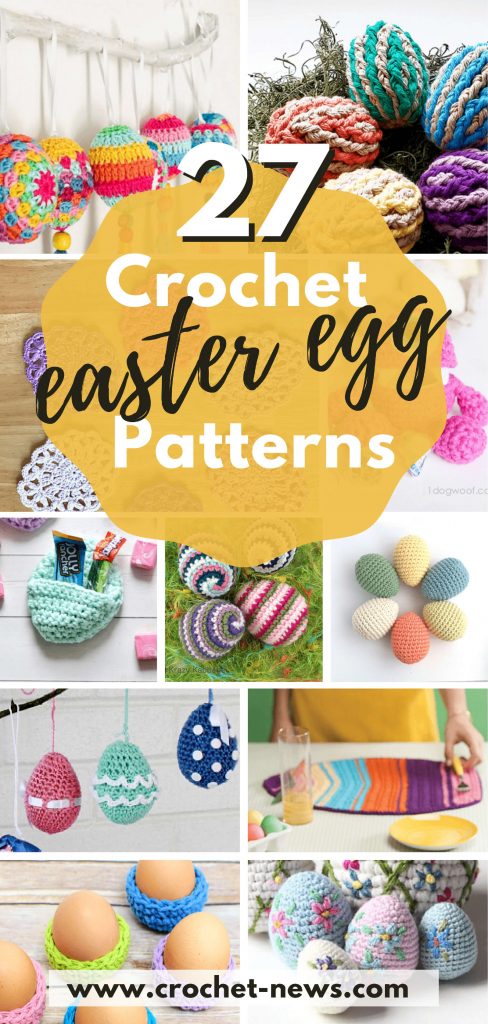 1. Easter Eggs Cozies Crochet Pattern by Teal And Finch
This sweet egg cozy is sure to brighten any spring table. Use several together as a centerpiece or place one at each guest's plate at Easter brunch. There are two finishing options.
One is a wrap that can be removed, great for decorating hard-boiled eggs. The other option is to wrap the egg completely, perfect if you have wooden eggs.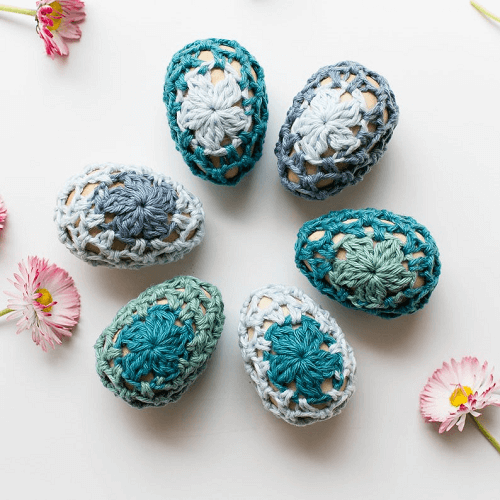 Get the Pattern by Teal And Finch here
2. Little Monster Easter Egg Crochet Pattern by One Dog Woof
Use this monster Easter egg crochet pattern to make a cute little friend to hold a small toy or your Easter treats! The monster's mouth opens right where the plastic egg does so that you can still reach in between its teeth to get to the prize inside.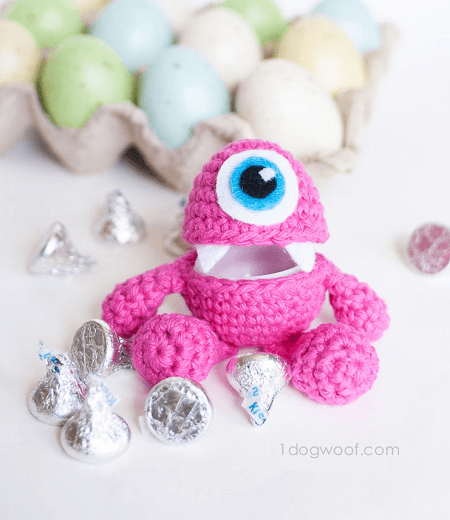 Get the Pattern here
3. Emojis Easter Egg Crochet Pattern by Golden Lucy Crafts
These crochet Easter Egg Emojis are perfect for your Spring crochet project! You can use them to decorate your home, you can attach them to a string and make an Easter Garland, or, if you make them from cotton yarn, you can use them as coasters.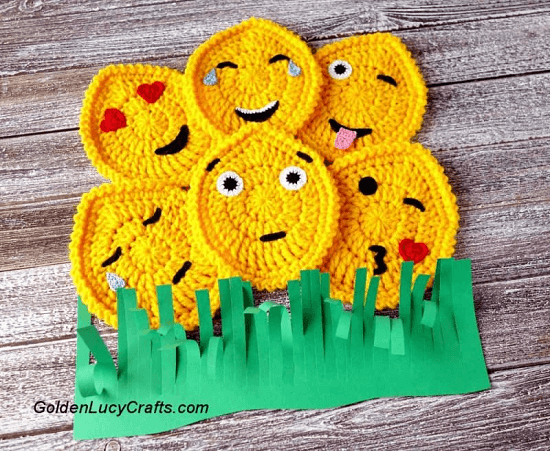 Get the Pattern here

4. Easter Eggs Crochet Pattern by Maggie's Crochet
Make the decorations for an Easter tree this holiday using these elegant Easter Eggs Crochet Pattern. The pattern makes a variety of eggs for a custom tree that will catch your eye.
Some of the options for eggs include Daisy, Daffodil, Double Eyelet, Violet, Ruffled, Stripes and Polka Dot.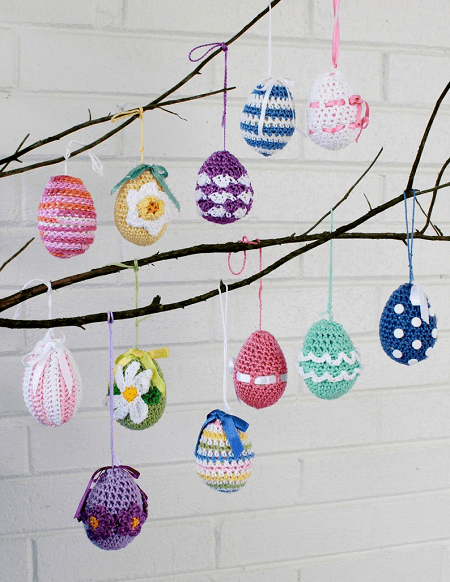 Get the Pattern by Maggie's Crochet here
5. Crochet Easter Egg Patterns by Kristi Tullus
Make yourself some colorful Easter eggs to decorate your house, go egg hunting with your toddlers or make a colorful basketful to give as a gift. Or use a white or brown yarn for more realistic-looking play food.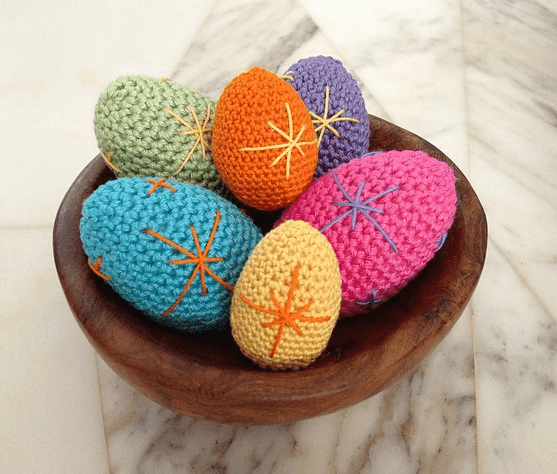 Get the Pattern here
6. Crochet Amigurumi Easter Eggs Pattern by Zeens And Roger
Decorating the egg is relatively quick and easy. Just go through the bottom of each egg and then made french knots for the flower centers and a few chain stitches for petals and leaves.
This is a straightforward, easy pattern and a great way to use up those scraps!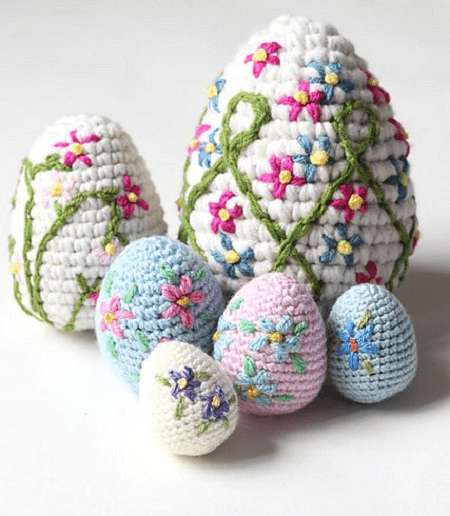 Get the Pattern here
7. Boho Crochet Easter EggPattern by Elealinda Design
Make your own colorful Easter decoration – take the pattern and give these plastic eggs a colored dress. There are three different versions that you can choose from. Making tassels and pendants for your eggs are also described in the pattern.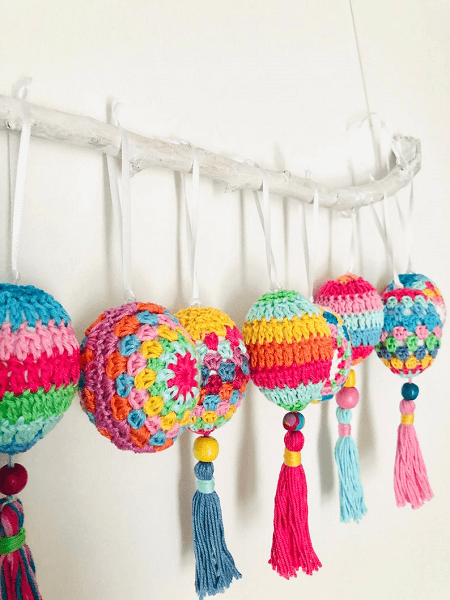 Get the Pattern by Elealinda Design here

8. Surprise Bag Crochet Easter Egg Pattern by Miss Mary Mac Designs
These Cotton Easter Eggs are perfect for the tiniest of egg hunters because the treats are much easier to get to without having to pull that hard plastic apart and are definitely a great zero waste alternative to the plastic eggs as well!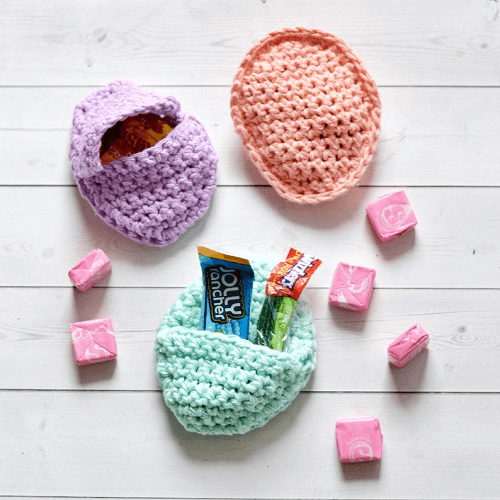 Get the Pattern by Miss Maru Mac Designs here

9. Crochet Easter Egg Garland by Skip To My Lou
This crochet Easter egg garland is a pretty way to decorate for Easter. The colored Easter eggs work together very quickly. This is a perfect way to use up extra scraps of yarn and decorate your home at the same time!
Get the Pattern here

10. Granny Square Crochet Easter Eggs by Sparkles Of Sunshine
Do you love making granny squares? Why not try making a granny square egg this Easter. These Granny Crochet Easter Eggs work up really fast and will look so cute in your Easter basket.
Choose your favorite colors and start hooking because this is one Easter crochet pattern you don't want to skip.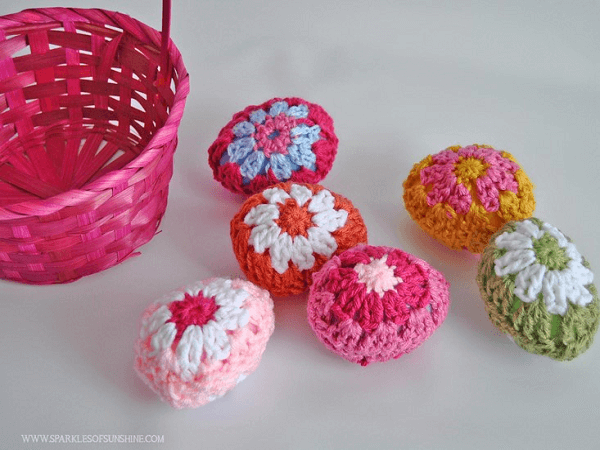 Get the Pattern here

11. Giant Easter Egg Crochet Pattern by What Jade Made Designs
This fun and quick crochet pattern makes for the perfect spring project. This is worked in the round, starting in the bottom of the egg and working up and around a styrofoam egg form.
These giant Easter eggs only take a few hours to complete and make a great weekend project.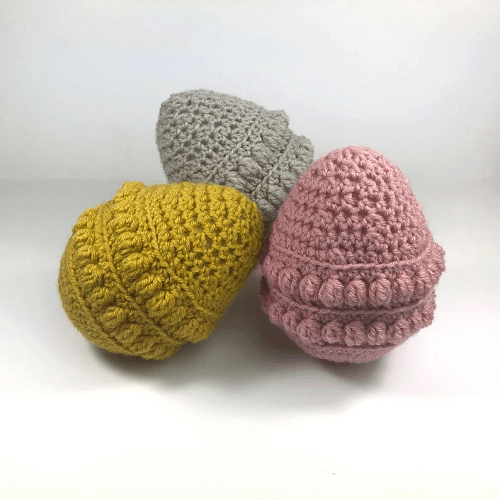 Get the Pattern by What Jade Made Designs here

12. Crochet Spiral Easter Eggs by Krazy Kabbage
These Crochet Easter Eggs are easy to crochet, and they can be used year after year for your Easter home decor. The options are endless when it comes to this free crochet Easter egg pattern because there are so many variations you can create using the same basic pattern.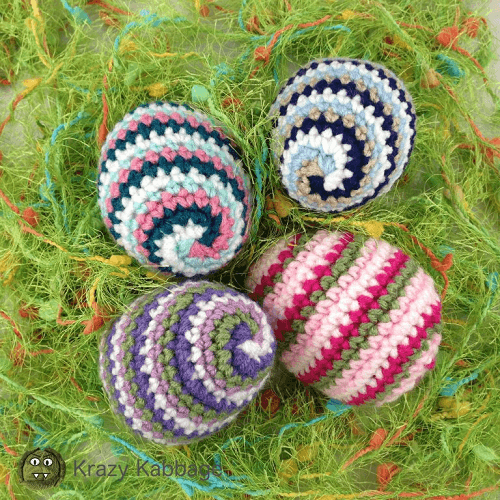 Get the Pattern here

13. Crochet Easter Egg Pillow Pattern by Seacliffe Cottage
If you're looking for a fun and unique Easter crochet pattern to use as home decor then make this cute Easter egg pillow. Use pastel colors for the holiday or any color you wish.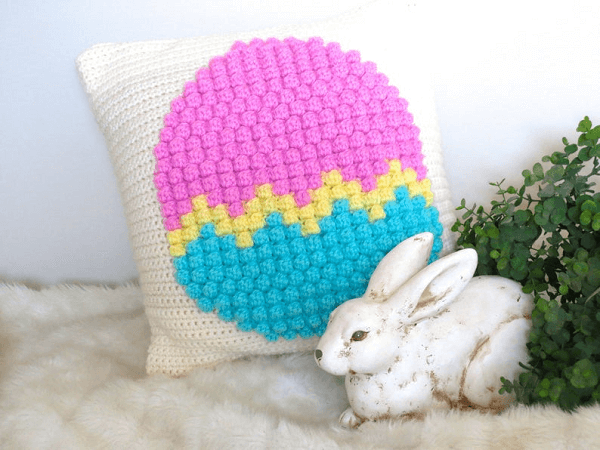 Get the Pattern by Seacliffe Cottage here

14. Crochet Easter Egg Covers Pattern by Creative Shop By Alla
Dress up your Easter eggs in a lovely outfit of sorts by following this detailed Easter crochet pattern. These Simply Pretty Crochet Egg Covers would look beautiful in a variety of colors!
If you're tired of boring looking Easter eggs, try crocheting your own design with this pattern.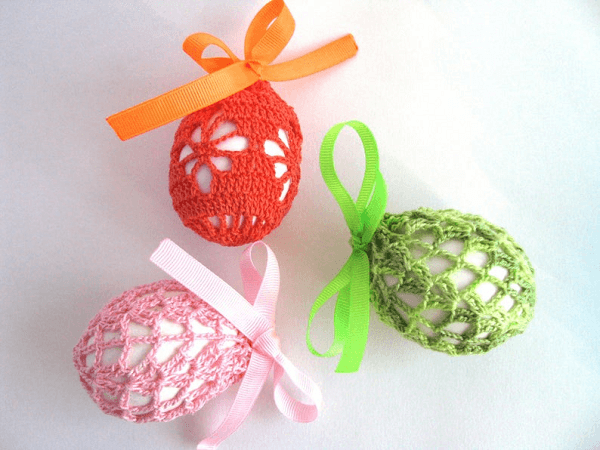 Get the Pattern by Creative Shop By Alla here

15. Ribbed Easter Eggs Crochet Pattern by Knitter Knotter
Colored eggs are a staple of the season and this easy crocheted Easter egg pattern will help you stitch up a bunch to adorn your holiday table or hide for the kids. Whip some up in no time with only the basics of crochet so even if you're just learning you'll be just fine.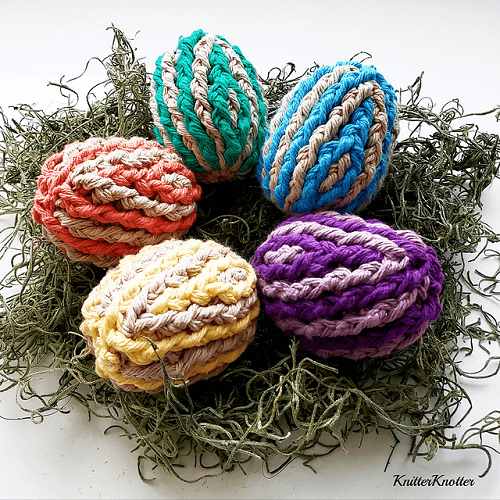 Get the Pattern here

16. Crochet Easter Eggs Lace Wrap Pattern by Petals To Picots
These pretty lace egg wraps will be your new favorite way of decorating eggs. They are a quick, no-mess way of creating charming Easter decor and best of all you can use them, again and again, every year.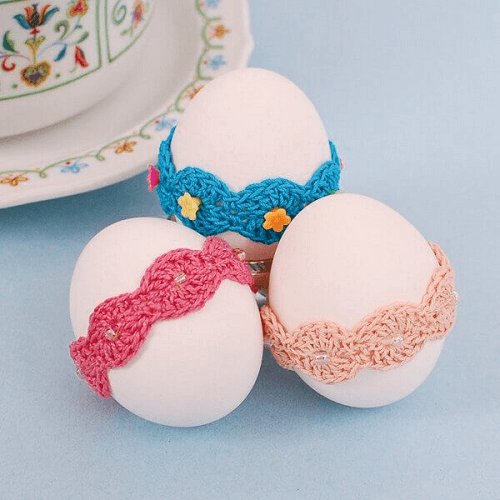 Get the Pattern here

17. Crochet Easter Eggs by Zicca Handmade Crochet
If you want to tackle something a little bit more difficult but well worth the effort, give these crochet Easter eggs a try. They are made with thread using basic crochet stitches.

These thread crochet eggs make great ornaments, table decor, and Easter basket fillers, offering a vintage nod to the season.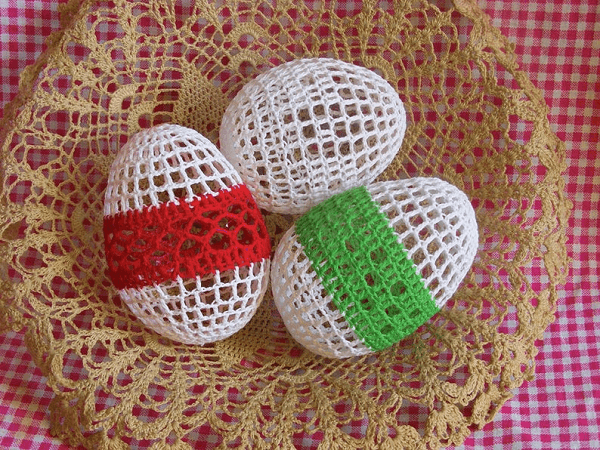 Get the Pattern by Zicca Handmade Crochet here

18. Crochet Striped Easter Eggs Pattern by Zoom Yummy
These crocheted Easter eggs are great if you are vegan, want something non-perishable that your kids can enjoy all year long, or like to create a pretty decor. Grab some colorful or subtle pastel yarns and work up these eggs.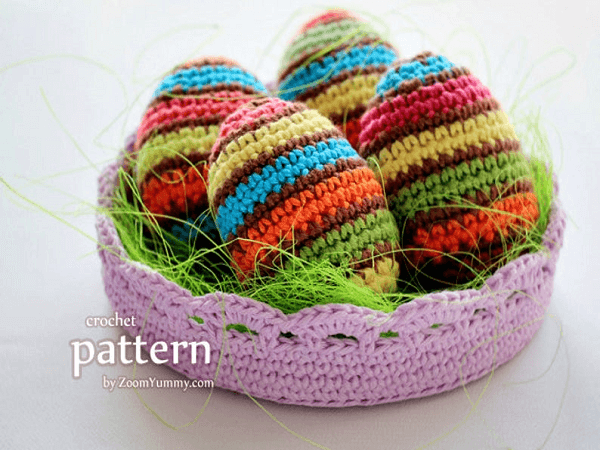 Get the Pattern by Zoom Yummy here


19. Crochet Easter Egg Hunt Pattern by Little Conkers
Decorating your homes with different colors of eggs hoping for the Easter bunny to show up, participating in an Easter egg hunting challenge, and design-your-own Easter eggs are just some of the exciting and fun things to do during Easter.
These activities definitely bring back the good old times for us adults and new memories to cherish for the kids!

ABOUT THE PATTERN
The egg crochet pattern by Clare of LittleConkers makes a great introduction to 3-D crocheting and amigurumi toys. The easter egg pattern is also suitable for beginners which means that you don't have to be an expert to make your very own Easter egg crochet decorations.
This pattern is also perfect for people who are fond of making hand-crafted items. They can make one for themselves and give them as a present for their loved ones as well. This pattern will surely enhance their skills in crocheting 3-D pieces.

MATERIALS FOR THE EGG DECOR
Yarn – Double knitting yarn with a light worsted weight in category 3
Hook – an E-4 or 3.5 millimeter
stuffing material
yarn needle
scissors
EASTER EGG SIZES
If you're aiming for a more realistic sized egg, use the exact yarn stated in the materials to create a 5.5 centimeter or 2¼ inches long egg. An egg of this size will need about 16 meters of 17 yards of yarn.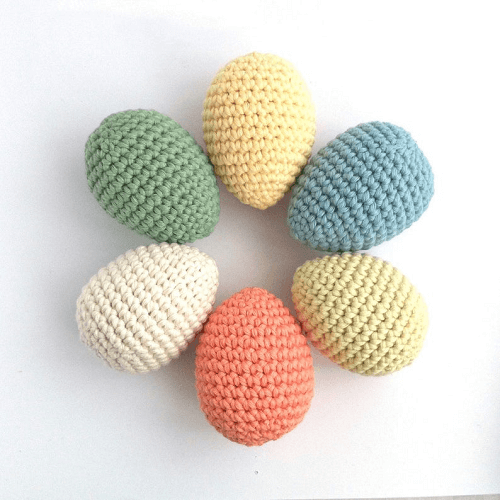 Get the Pattern by Little Conkers here

20. Crochet Easter Egg Afghan Pattern by Loving Hands Crochet
Embrace all of the colors of Easter eggs to create a beautiful crochet blanket. This blanket is terrific for babies and children, especially in pastel colors. Crochet the blanket with darker colors for use throughout the year by anyone in the home.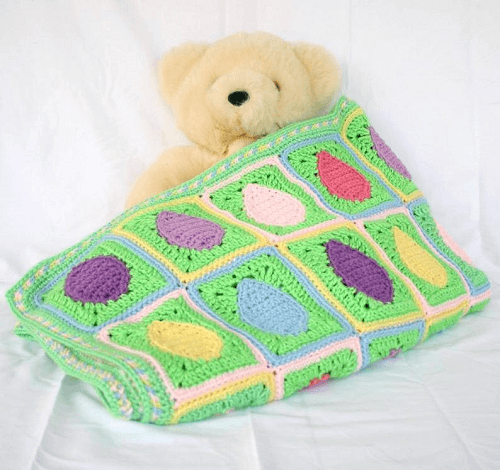 Get the Pattern by Loving Hands Crochet here


21. Crochet Easter Egg Basket Pattern by Whistle And Ivy
This adorable crochet egg basket features colored eggs on the outside and is perfect for little hands searching for treats and eggs. Make one for everyone! It's a simple beginner crochet pattern that creates a sturdy, durable, reusable crochet Easter basket.
Also see: Crochet Easter Basket Patterns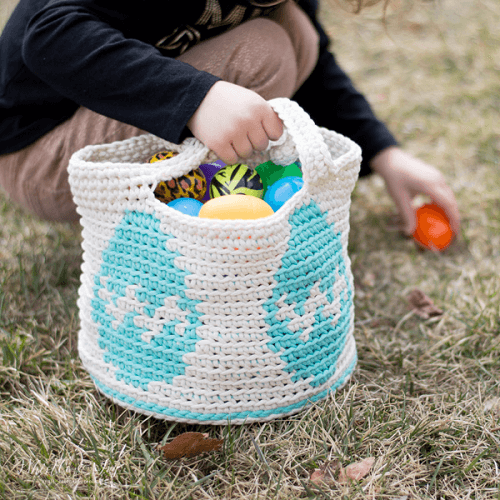 Get this crochet egg basket here

22. Free Crochet Easter Egg Pattern by The Painted Hinge
This is a quick-and-easy egg crochet pattern to whip up a bunch of eggs when you need Easter or Spring Solstice decorations in a hurry. You can work them up in one color or several. They are great stash busters! And I really like that they have a "yolk."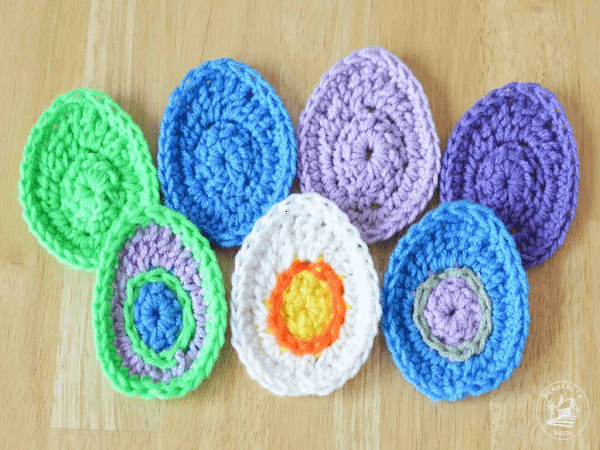 Get the Pattern here

23. Easter Egg Placemats Crochet Pattern by Linda Permann
When it comes to colors, the more the merrier! Set the table with these quick-to-work placemats, the perfect way to combine bits and pieces of your stash.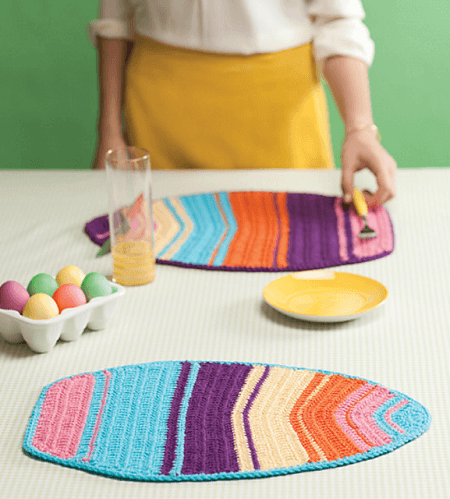 Get the Pattern here

24. Coasters Free Crochet Easter Egg Pattern by Elle Muskett
These beautiful Easter Egg coasters are a great gift if you're looking for a last-minute make this Easter.

Make just 1 or make a full set of 6 (or more!) for the perfect adornment for your Easter table, or string them together and hang them from your fireplace or windows as some lovely Easter-themed bunting.

Check out more cool crochet coaster patterns here.
Get the Pattern here

25. Tulip Easter Egg Crochet Pattern by Ekte Lykke
So simple, modern and sleek! These eggs are perfect for an understated yet decorative look. Who can't resist the gorgeous tulip details? You will want these eggs in every color!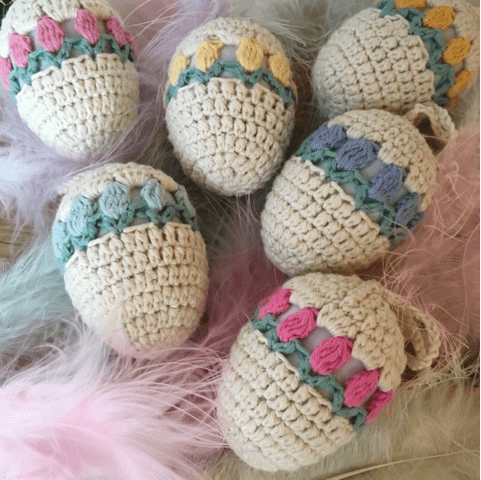 Get the Pattern here

26. Easter Egg Cozy Crochet Pattern by Petals To Picots
This Easter egg cozy crochet pattern is a super cute way to show off your Easter eggs. They work up so quickly that you can easily make a bunch. And since you only need a small amount of yarn per cozy, they make a great scrap buster project too!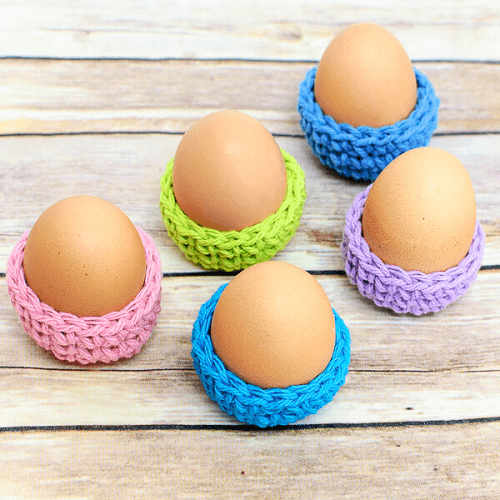 Get the Pattern here

27. Free Crochet Easter Egg Pattern by In The Yarn Garden
Instead of making full-sized amigurumi Easter eggs, you can crochet little ornament eggs instead. These are perfect for dressing up your DIY Easter tree with bright colors.
Get the Pattern here


How To Crochet Egg Basket Video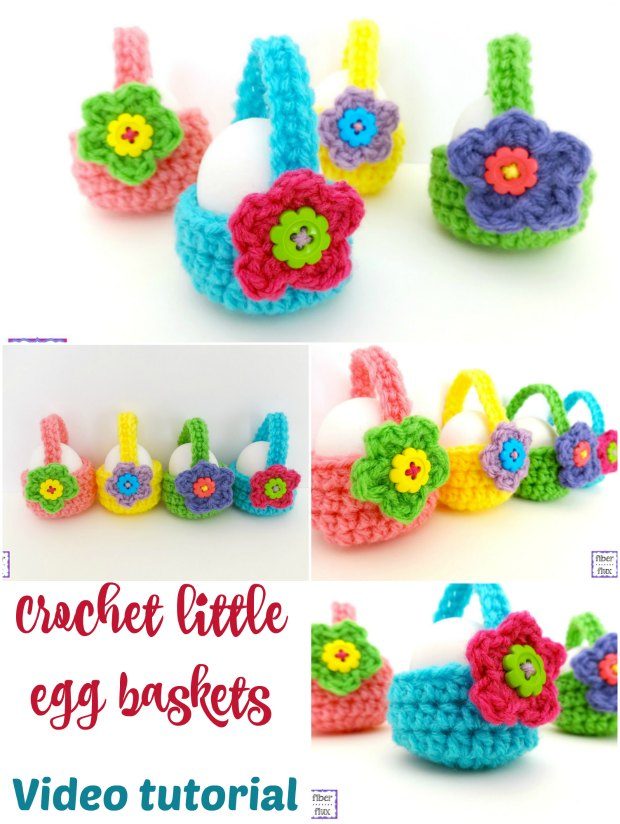 Crochet Egg Basket Materials
Worsted Weight Yarn (Yarn shown is Red Heart Super Saver in "Spring Green" "Turquoise" "Perfect Pink" "Shocking Pink" "Lavender" "Orchid" "Bright Yellow")
H (5.0 mm) crochet hook
Tapestry Needle
Scissors
Buttons – these ones are cute
Crochet Egg Basket Size
Height – 3 inches tall
Width of base – 2 inches wide
As I stated earlier the crochet egg basket pattern is easy and simple to make. The tutorial video explains in clear detail how to execute the whole project. With basic skills in crocheting, you can be well on your way to churning out marvelous pieces.
Make this Easter more colorful with your own Crochet Easter Egg creations!
It would be very nice to see your creations. Please share a photo of your finished Easter eggs to our Facebook Page.
Want to try some other Easter Goodies? Check out these ideas: Crochet Easter Basket Patterns, Cross Crochet Patterns, Crochet Bunny Amigurumi Pattern and Crochet Chick Amigurumi Pattern. Or you may head over to our Crochet section if you'd like to see more patterns for your Easter Party.
With all these Crochet Easter Egg Patterns above, Easter will be extra special this year with a bit of added crochet beauty!