No matter what the season, there are many perfect free crochet scarf patterns to top off your outfit. Whether you're a beginner or just enjoy fast and easy projects that are great for every season, scarves are meant for you.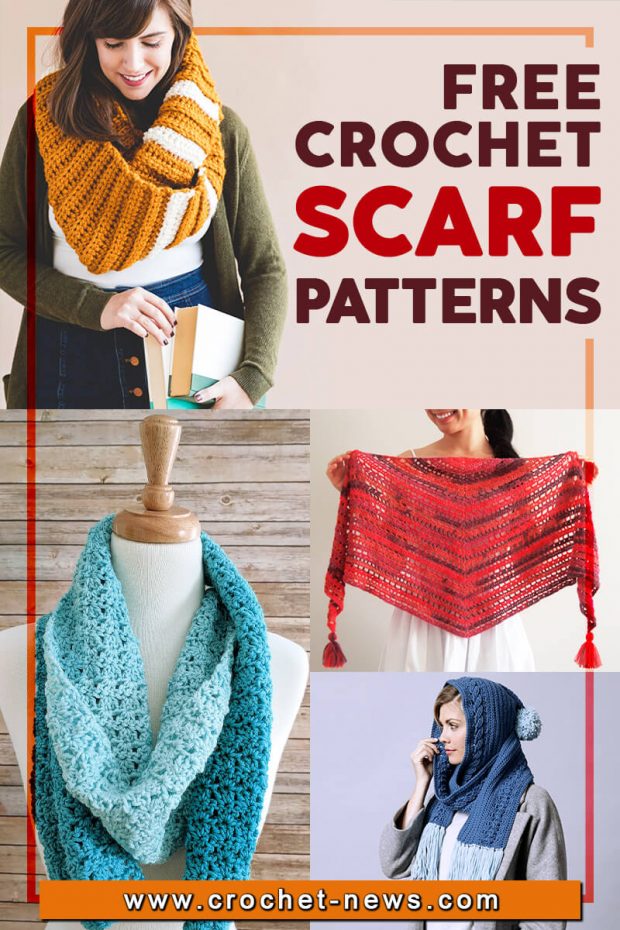 Whether you're seeking a scarf that's warm or a scarf that's rich in color to act as a striking accent, the right one is out there — you just need to find it!

Below you'll find patterns for every season, in colorful, lacy, chunky, and unique ones. Discover you're next favorite project, and then have fun customizing it to suit your personal taste.

1. Not Just For Granny Scarf Free Crochet Pattern by The Unraveled Mitten
This Not Just For Granny Rectangle Scarf is pretty easy once you get going, and being that this is a once skein project, it will just fly off your hook.

Bright, beautiful colors make this scarf a fun pattern to wear not only on a dreary cold winter day, but also during the springtime.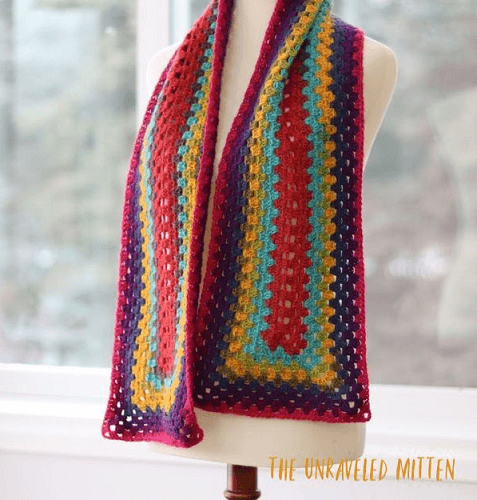 Get the Pattern here

2. Green Meadows Free Crochet Scarf Pattern by Just Be Crafty
This Green Meadows Crochet Scarf Pattern features Red Heart Super Saver Ombre Yarn. The subtle monochromatic color change gives the piece a beautiful and unique look!

The end result is a beautiful lacy texture that makes for a warm yet breezy piece which is perfect for the transition from Winter to Spring!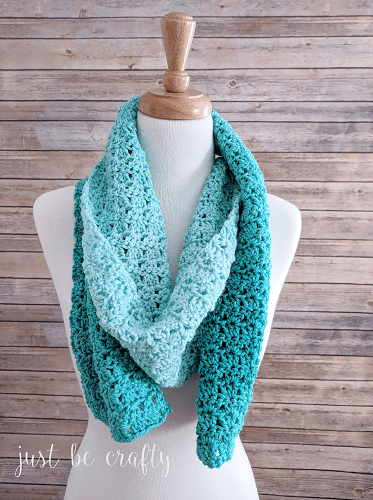 Get the Pattern here

3. Tweedy Pocket Scarf Free Crochet Pattern by The Loopy Lamb
This Tweedy Pocket Scarf is a beginner-friendly crochet pocket scarf pattern that uses a simple one row repeat to create a really pretty texture.

The pattern is easily adjustable to any width or length and you can make the pockets as shallow or as deep as you'd like.

The pattern when made as written, will create a scarf that is 72″ in length. This length was used so the scarf can wrap around your neck once to keep you warm while keeping the pockets at a comfortable position to put your hands in.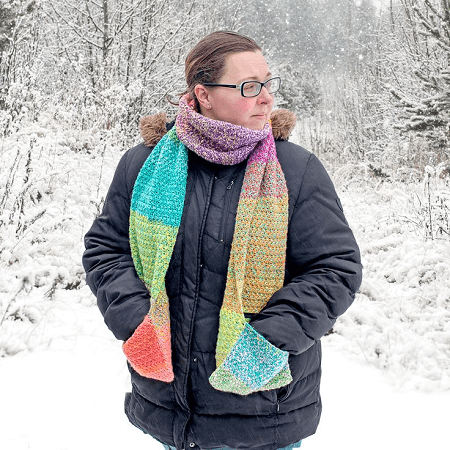 Get the Pattern here

4. Easy Crochet Scarf Free Pattern by The For The Frills
It's bright, colorful, versatile, and the perfect Mother's Day gift! This Easy Crochet Scarf Pattern is super easy as it's made entirely of chains and double crochet. Once you get a hang of the repeats it's a breeze to stitch up!

You will love this scarf because it can easily be extended into a shawl so it's great for spring or autumn. The instructions for the added tassels are also included in the pattern but you can finish off this scarf any way you like!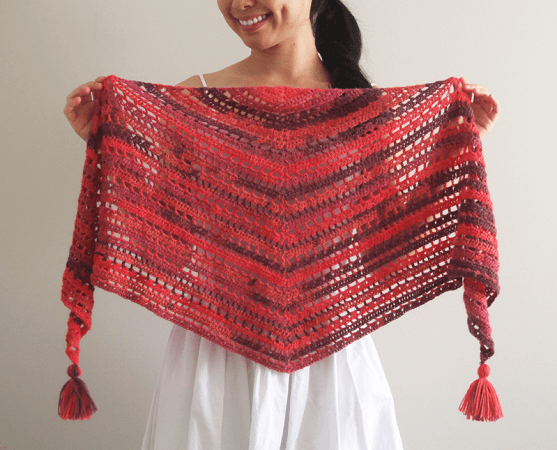 Get the Pattern here

5. Chevron Crochet Scarf Pattern by Petals To Picots
Chevron is so hot right now, so why not bring it into your crochet fashions too! This Chevron Crochet Scarf Pattern is perfect for everyone on your list –a perfect unisex scarf pattern that is also great for all ages!

Its casual design is perfect for blue jeans but looks just as nice when dressed up too!

This pattern is so quick and fun and can be easily customized to any length you'd like. Add fringe or leave the edges straight – it is totally up to you!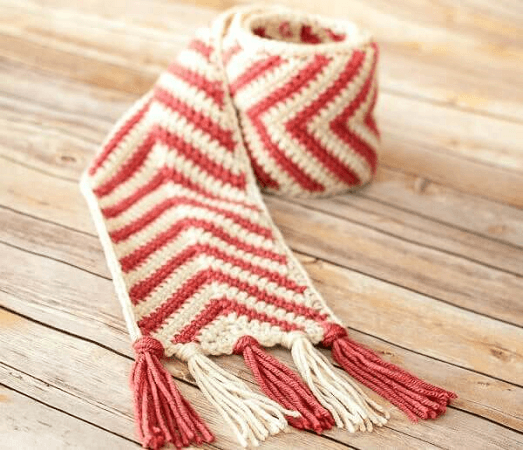 Get the Pattern here

6. Crochet Unicorn Scarf Mandala Free Pattern by Easy Crochet
This fun, colorful Crochet Unicorn Scarf Mandala is fun to make and super easy to crochet. The best part is the simple repeat which makes it a quick couple of days project.

This scarf is not really a unicorn but the yarn used will remind you so much of one. You have to agree with that!

It is worked in a simple stitch repeat to create a fun ripple like design and its perfect for anyone who loves bright fun colors and of course Unicorns!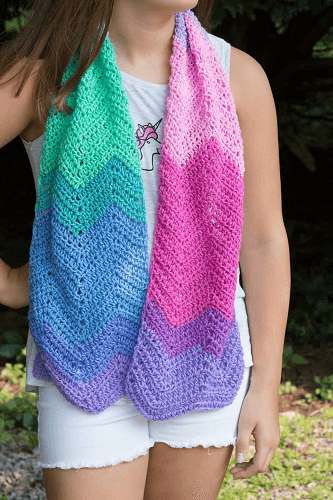 Get the Pattern here

7. Diamond Wave Free Crochet Scarf Pattern by The Crochet Crowd
This free crochet pattern designed by The Crochet Crowd is beautiful and soft when worked up with Bernat Velvet. With its mosaic inspired design, this scarf is sure to be a statement piece in your winter wardrobe.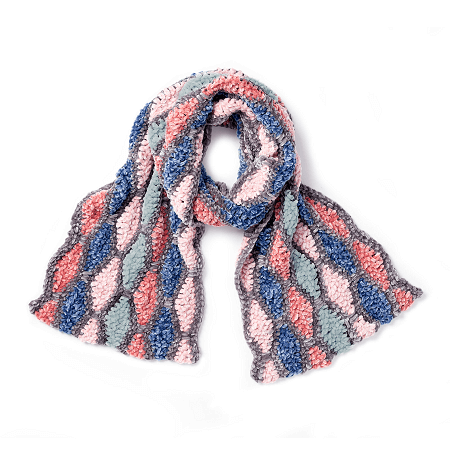 Get the Pattern here

8. Crochet Bobble Scarf Free Crochet Pattern by Yarnspirations
When the days are cool, count on the warmth of this textured crochet scarf to keep you cozy and looking great.

Cleverly designed in Red Heart Heat Wave, a yarn that warms up when exposed to sunlight, it's perfectly suited to this project.

Beautifully designed, the scarf features a solid base with bold, variegated bobbles that are created in half double crochet. Finished with a playful fringe, this super-cute scarf is as fun to make as it is to show off!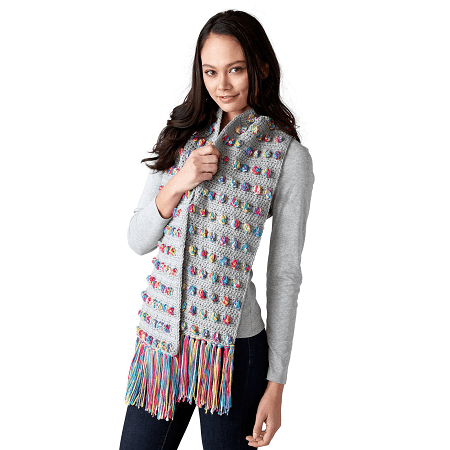 Get the Pattern here

9. Moss Fringe Scarf Free Crochet Pattern by All About Ami
This Moss Fringe Scarf is a stunning statement scarf that works up quickly using the moss/granite stitch. This scarf has a gorgeous fringe and is incredibly warm using 100% wool!

You can leave the fringes off or sew both ends and make a cozy infinity scarf. Either way, it is lovely and versatile — sure to keep you warm all winter long!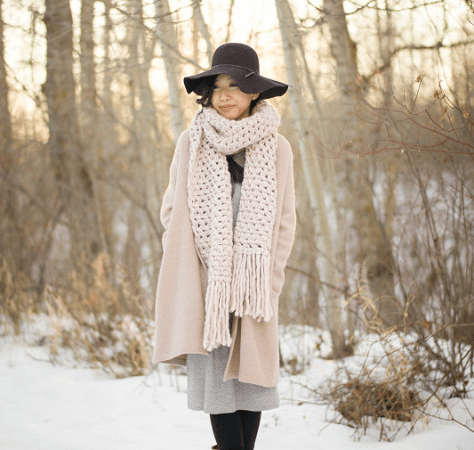 Get the Pattern here

10. Windowpane Plaid Scarf Free Crochet Pattern by Persia Lou
This stylish Windowpane Plaid Scarf Free Crochet Pattern is much easier to crochet than it looks! It's easy to get a plaid look with this easy crochet scarf pattern using a fun and simple woven crochet technique.

You only need to know how to chain and double crochet to make this scarf, so it is a great beginner project — plus the finished scarf looks great!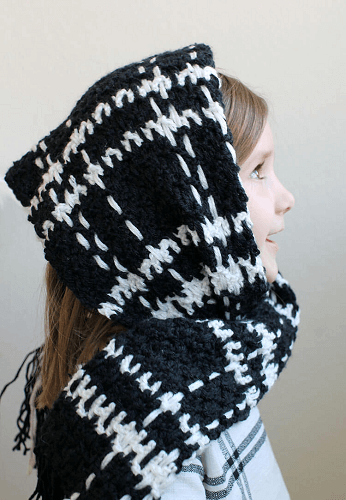 Get the Pattern here

11. Candy Kisses Triangle Scarf Free Crochet Pattern by Nana's Crafty Home
An easy, beautiful, and lacy triangle scarf free crochet pattern featuring a simple two-row repeat and gorgeous open stitches.

This Candy Kisses Triangle Scarf works up quickly and makes perfect gifts or just to treat yourself to a lovely scarf. The perfect light touch to any outfit!

This is an easy and repetitive pattern but with a lot of appeals! So pretty, frilly, and feminine! The edging is just about the easiest edging you could ever do — just single crochet and chains!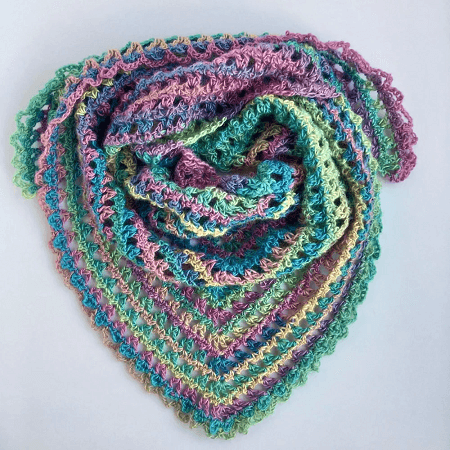 Get the Pattern here

12. La Vie en Rose Ladies Scarf Free Crochet Pattern by Kirsten Holloway Designs
This La Vie en Rose Ladies Scarf is simple and easy to crochet, the texture is subtle, but gorgeous, and the special touches (crab stitched edging, and tassels) really bring this piece to the next level!

Anyone from beginner to experienced crocheter will be able to make this beautiful ladies scarf, and if rose is not your thing, it will look just as fetching in neutrals as it will in bright, eye-catching colors.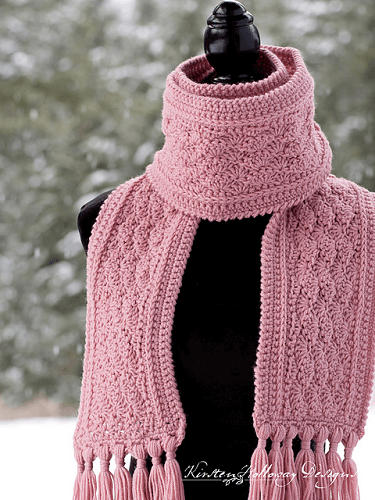 Get the Pattern here

13. Bonfire Crochet Scarf Free Pattern by Mama In A Stitch
This Bonfire Crochet Scarf Free Pattern is super easy as it's worked by alternating single crochet stitches with chain stitches. It's easy enough for a new crocheter to do, yet it looks complicated and almost appears to be knit.

Inspired by the smoky plumes of a bonfire, this scarf is both beautiful and functional. Whether you wear it on cool summer nights or blustery winter days, this piece is sure to keep you warm and on-trend.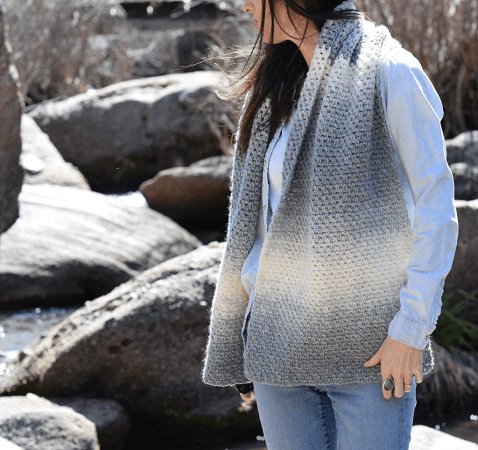 Get the Pattern here

14. Honey Bird Triangle Scarf Crochet Pattern by Hopeful Honey
Whether it's worn draped over the shoulders as a shawl or wrapped around the neck for extra warmth, this Honey Bird Triangle Scarf is sure to keep you toasty while you sip on a warm spiced pumpkin latte.

With picot detailing along the border and swishy tassels to add a touch of intrigue, this scarf radiates contemporary sophistication!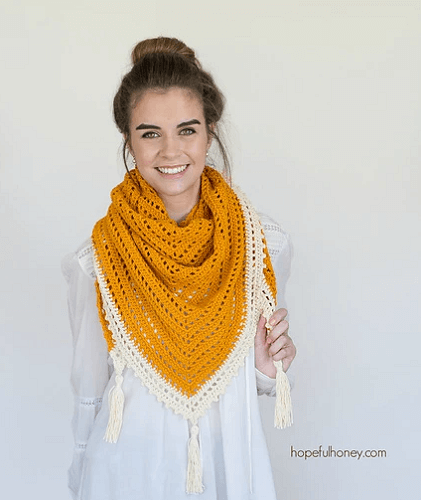 Get the Pattern here

15. Weave And Spin Free Crochet Scarf Pattern by Fiddle Knits
This Weave and Spin Free Crochet Scarf Pattern combines the texture of openwork crochet stitches with a basic weave. Using the jumbo yarn for the weaving allows the finished piece to have all the warmth this yarn offers without adding extra bulk.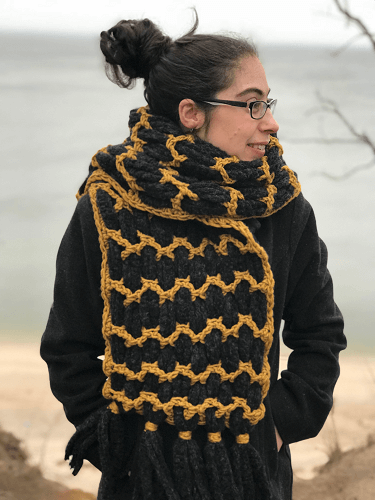 Get the Pattern here

16. Crochet Griddle Stitch Scarf Crochet Pattern by Easy Crochet
The griddle stitch is a great beginner-friendly crochet stitch that looks great worked up into a scarf!

It's an easy combination of stitches that uses double crochets and single crochets to create a beautifully textured design. This lovely scarf gives you a great bumpy look without being too chunky!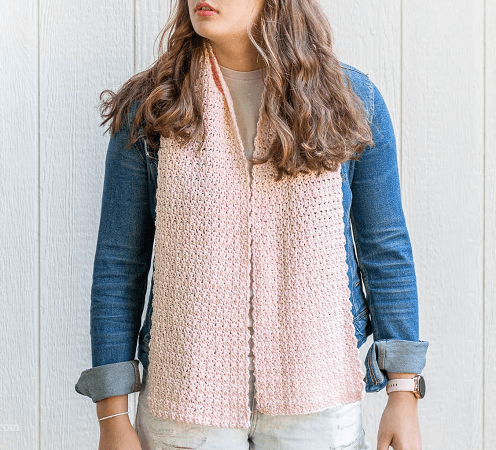 Get the Pattern here

17. Sleigh Ride Hooded Infinity Scarf Crochet Pattern by String With Style
Most cowls and scarves aren't tall enough to reach up over your head and keep both your ears and head warm while they are still around your neck.

This Sleigh Ride Hooded Infinity Scarf has enough length to stay rippled and comfy around your neck and also reach up over your head.

If you take it down it is a lovely bulky cowl. The stitch pattern repeat is only a few rows making it easy to memorize so you can work it up mindlessly.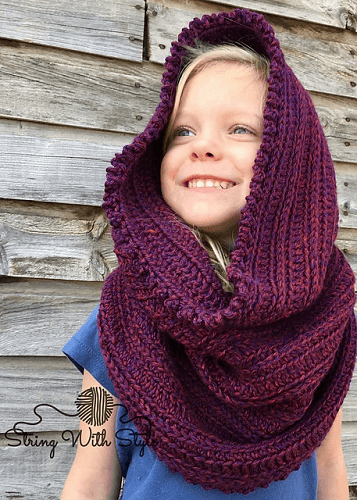 Get the Pattern here

18. Rosebridge Plaid Blanket Scarf Free Crochet Pattern by Two Of Wands
This Rosebridge Plaid Blanket Scarf transforms basic stripes into dramatic plaid with a simple weaving technique.

This elegant wrap requires only beginner level skills and can be worked up in any color combo to create a beautiful, special fabric. Wear it draped over your shoulders, wrapped like a shawl, or bundled like a scarf for three different looks!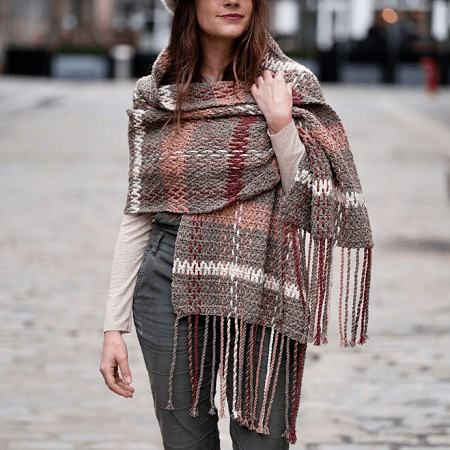 Get the Pattern here

19. Curly Sue Free Crochet Scarf Pattern by Stitch In Progress
This Curly Sue Crochet Scarf is simply a dream to work up and it is so simple, even a beginner can get these great results!

Even though it looks complex, this is also a great beginner crochet scarf pattern. You can use whatever yarn you have on hand and adapt the pattern.

The yarn itself helps to create a striping effect. You can achieve this by using different colors of yarn too. Either way, this is a gorgeous look!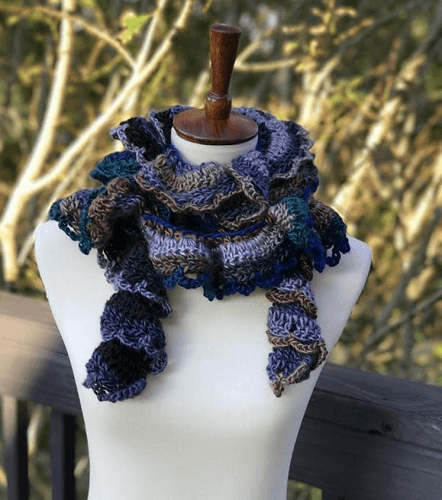 Get the Pattern here

20. Hooded Cable Crochet Scarf Free Pattern by Yarnspirations
Make a cozy Hooded Cable Crochet Scarf for winter. A crochet cable design runs along one side of the scarf and hood, and a contrasting fringe and pompom add a fun flair.

This crochet hooded scarf has two great features as being extra warm with an additional hood that is part of the middle. Elegant, textured, yet simple.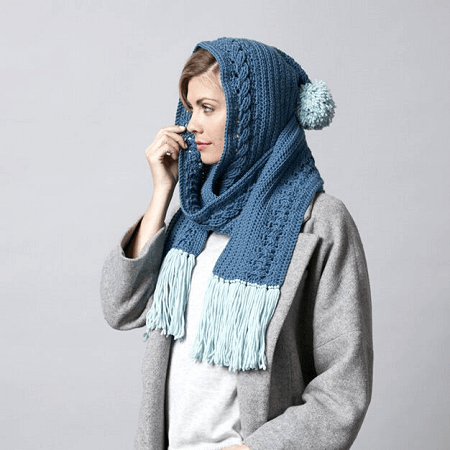 Get the Pattern here

21. Woodland Hooded Scarf Free Crochet Pattern by Winding Road Crochet
When winter hits, you need more than a crochet hat to keep you warm. Sometimes you need a crochet hat, scarf, and mittens to keep the cold at bay. This Woodland Hooded Scarf Crochet Pattern will give you all of that in just one project.

This hooded scarf has beautiful ribbing along the edges and warm pockets for your hands. It is even made with one of my favorite beginner-friendly stitches, the moss stitch.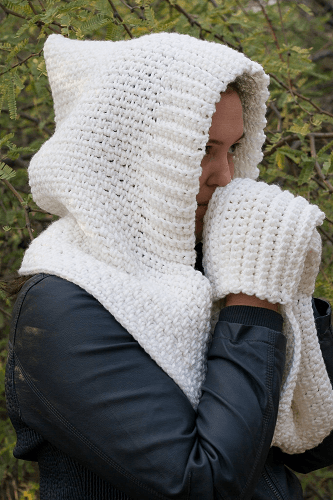 Get the Pattern here

22. Brushland Tunisian Crochet Scarf Free Pattern by Make And Do Crew
This reversible Brushland Tunisian Crochet Scarf uses basic skills to create a triangle wrap that's light and flowy, while still maintaining a serious cozy factor. It doesn't have to be intimidating!

Wear it with the traditional Tunisian Simple Stitch side out for a richly woven look or flip it around for a cascade of modern stripes. The pattern is easily modified to use yarn from your stash or to make a scarf of a different size.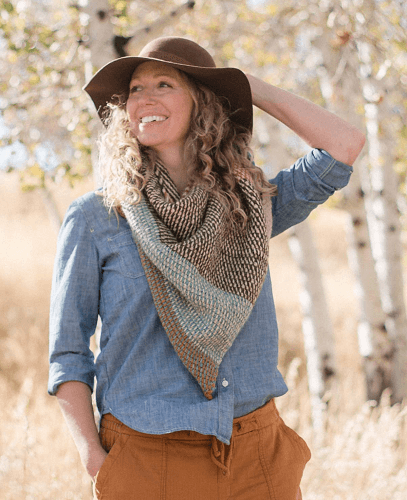 Get the Pattern here

23. Skinny Summer Scarf Free Crochet Pattern by Christa Co Design
This Skinny Summer Scarf Crochet Pattern is lightweight and lacy. It's just perfect for any time of year. Crocheted simply, with double crochets and uses just one skein of cotton yarn, it will be your new favorite piece.

When you crochet a scarf from cotton yarn it allows for a more breathable-warm weather friendly scarf. Bonus, this scarf is made in crochet mesh, which works up super fast.

Wrap it once for a stylish summer scarf or wrap it a couple times for those brisk fall mornings.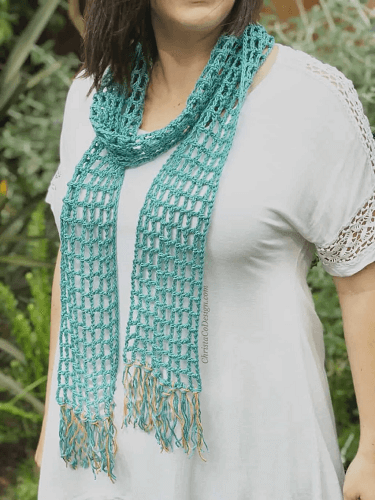 Get the Pattern here

24. Easy Crochet Men Scarf Free Pattern by Jenny And Teddy
Want to crochet a classic winter scarf for a special guy? This Easy Crochet Men Scarf Free Pattern makes a great, unisex scarf which will look great on a guy or gal.

Using the herringbone half double crochet stitch, you can whip up a textured scarf that's fairly selender for those guys who don't like a lot of bulk around their necks.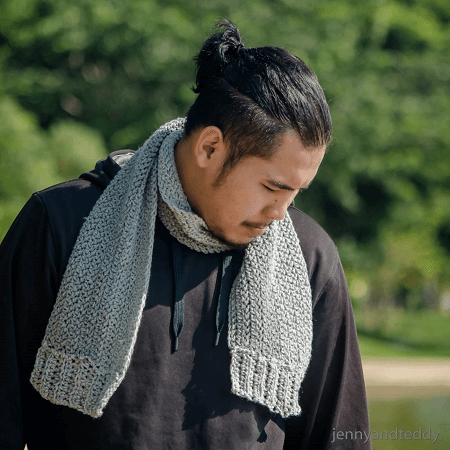 Get the Pattern here

25. University Scarf Free Crochet Pattern by Sewrella
With easy stripes and bulky weight yarn, this University Scarf is the perfect last-minute handmade gift idea you need for the holidays.

If you make this scarf pattern for anyone attending university, try matching yarn choices to a school color – or carry out this idea for an Alumni.

This is a beginner textured scarf with easy, limitless customization. One stitch and a few stripes are all you need to make this quick accessory. You'll be able to crank these out in a jiffy!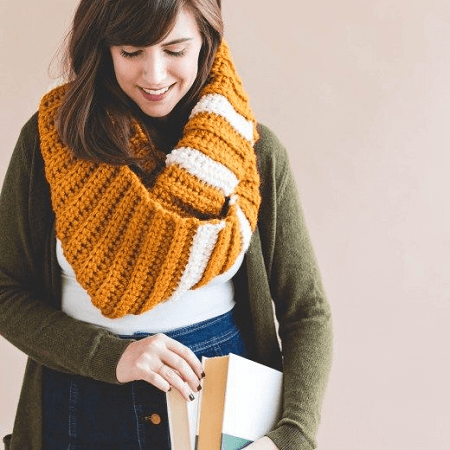 Get the Pattern here

26. Puff And Lace Crochet Triangle Scarf Free Pattern by Make And Do Crew
Wrap yourself in delicate winter lace with this surprisingly simple Puff And Lace Crochet Triangle Scarf Pattern.

A combination of basic puff stitches and double crochets makes for a romantic stitch pattern that is quite easy to memorize after a few rows.

And this pattern is super easy to modify the size! Because the lace and puff stitch repeat is the same each row, you can just continue crocheting the pattern until you have a triangle scarf or lace shawl that you like the size of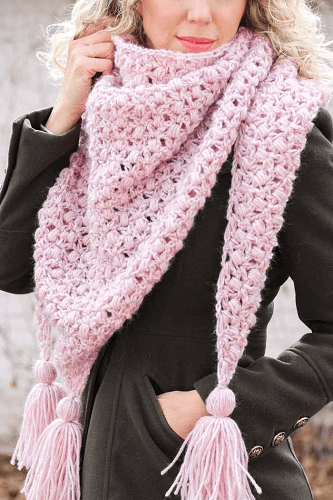 Get the Pattern here

27. Multicolored Crochet Scarf Pattern by Stitching Together
This Multicolored Crochet Scarf is a super easy pattern using the moss stitch and is incredibly enjoyable to work up. Once completed, you'll love the fun colors, large size, and cozy warmth!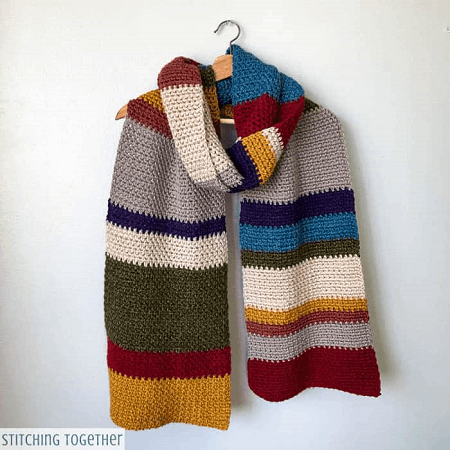 Get the Pattern here
Choose between these free crochet scarf patterns and get to work on a project you can be proud of.
And that's it! All that is left is to enjoy these crochet scarf free patterns. Put them on, take a few moments to pose in front of the mirror and admire your handiwork, and then wear it out on your next date, family dinner, work get-together, or to the grocery store! You look great and so does your scarf.

For each of the scarves that you make, please share the progress pictures to our Facebook Page, we'd love to see what color you crocheted your scarves in.

And if you really appreciate warmth (as much as we do), we have a lot more crochet patterns for scarves, cowls, and shawls. You should try them out too!

For now, get your hooks busy with your favorite free crochet scarf patterns — go wild and add your personal touch!