He's been sighted! It's a wintery season full of white snowfalls and whiter yeti monsters – browse through my top picks of the cutest crochet yeti patterns around. Do you know someone who is fascinated by yeti? This list is sure to delight!
We are firm fans of all things mystical and magical, so we've been jazzing up our desks with only the most awesome creatures: from unicorns to mermaids and dragons. The world is full of the unexpected and unexplained, and today, yetis have the spotlight! They exist! The yetis are real! Well, you've got to crochet them first!
10 Crochet Yeti Patterns

1. Crochet Yeti Amigurumi Doll Pattern by Elisa's Crochet
Despite his large, massive body, the long and sharp horns, this Yeti is anything but scary! His smile is contagious and his long arms are made for big and long hugs!
Get the Pattern by Elisa's Crochet here

2. Shaun, The Yeti Crochet Pattern by Carolyne Brodie
Shaun, the Yeti is an adorable snow ape that's anything but abominable. This squishy snowman is all ready for the snowstorm with his scarf and skateboard! Measuring 19″ tall, he's a great snuggle companion!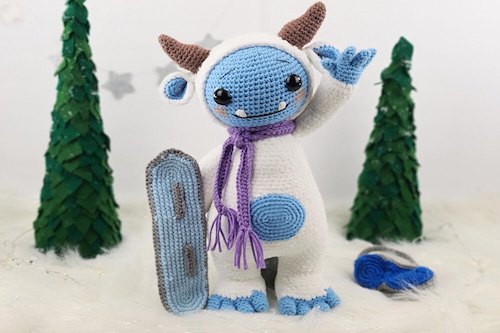 Get the Pattern by Carolyne Brodie here

3. Boo, The Yeti Crochet Pattern by DIY Fluffies
Track down a legendary cutie with Boo, the Yeti. From the shaggy white fur to the large, sharp teeth, this amigurumi toy is 100% yeti approved.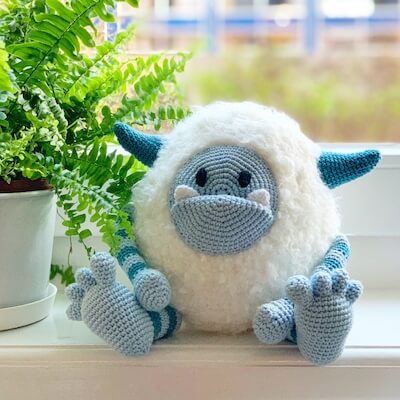 Get the Pattern by DIY Fluffies here

4. Eustace the Yeti and Boris the Bigfoot Crochet Pattern by Moji-Moji Design
This pattern is made to look like Bigfoot, that is the crypto ape-man that roams the norther wilderness. They're cuter, fluffier version of the original, with a big body, long arms, and prominent feet.

The pattern easily swaps out to be blue and white for a Yeti, or any other color you like for a fun monster of your own creation.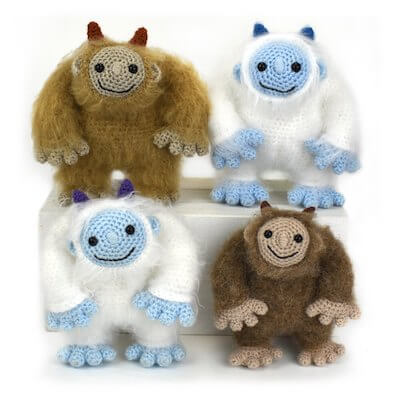 Get the Pattern by Moji-Moji Design here

5. Crochet Yeti Baby Outfit Pattern by Truly Luxe Crochet
As eager as people are to catch a glimpse of the yeti, they will be even more delighted when they see your baby dressed up in this amazing Crochet Yeti Baby Outfit! This outfit is cute for any little one as a costume or photography prop.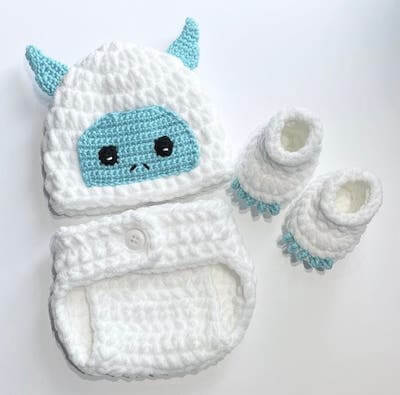 Get the Pattern by Truly Luxe Crochet here

6. Joe, The Yeti Amigurumi Crochet Pattern by Lulu Loop Amigurumi Patterns
Joe is a friendly Yeti, who lives in the Himalayas, Christmas is his favorite time because he decorates his cave with colored lights and invites other Yetis to the celebration.

At just 4 inches tall, this adorable amigurumi yeti would make such a cute stocking stuffer to crochet for Christmas!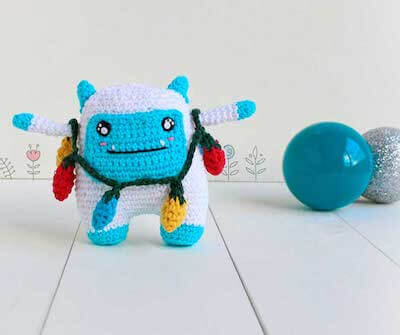 Get the Pattern here

7. Crochet Yeti Pattern by Koki Amigurumi
Here's a fun fuzzy winter friend who long arms make for the perfect cuddling companion. With a lovable embroidered smile, he will make any young children light up with joy!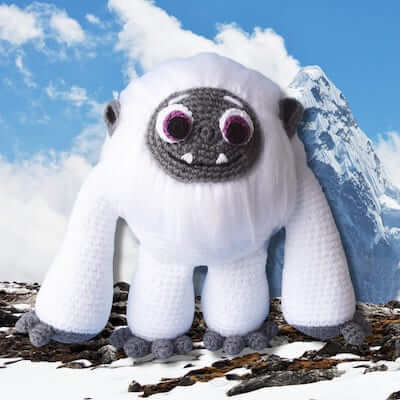 Get the Pattern by Koki Amigurumi here

8. Amigurumi Crochet Yeti Pattern by Blue Rabbit Toys
There's just something about a little abominable snowman that melts even the iciest of hearts, and this 3.9 inches tall yeti is no exception. This yeti is nothing but adorable and friendly! Shaped like a little snowball, he makes the perfect winter sidekick.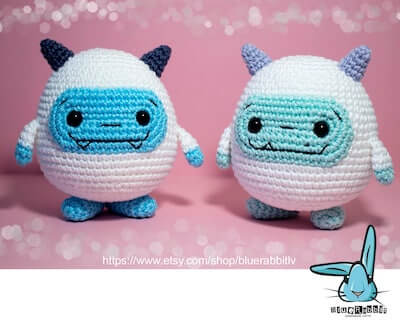 Get the Pattern by Blue Rabbit Toys here

9. Yeti And Bigfoot Amigurumi Pattern by Lucy Collin
Straight from the forests of the Pacific Northwest, we've been able to track down a pattern for the illusive Sasquatch or Yeti, depending on your yarn colors.

With this pattern, you can make a cute and cuddly Yeti or Bigfoot, in two different sizes. The little ones are around 6″ tall (standing), and the big ones are about 9″ tall.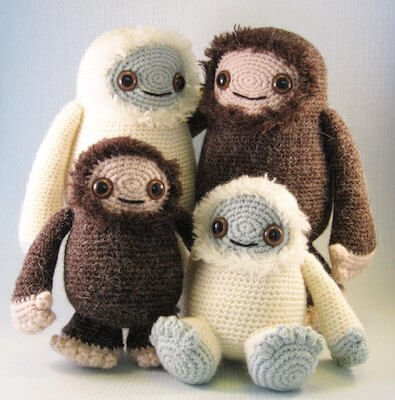 Get the Pattern by Lucy Collin here

10. Crochet Yeti Pattern by 3am Grace Designs
This yeti, with her bright, rosy cheeks is too cuddly to hide away as mysterious monster. Crochet this cute character to give her a happy home and put her cuddliness to good use. She could double as a pillow!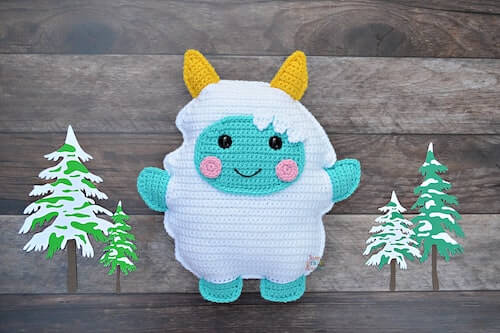 Get the Pattern by 3am Grace Designs here
YOU'RE SURE TO IMPRESS YOUR FRIENDS AND FAMILY WITH THESE CROCHET YETIS TO SHOW.
Share them with us, too! Post a picture of your crocheted yetis on our Facebook Page. Make them in white and blue, or in different colors for a fun monster of your own creation.

For more lovable creatures to make, check out these posts:
Who says yetis can't be cute? With this crochet yeti patterns, you can unlock a new world of creature in all of yeti's 'scaryadorable' glory. Happy crocheting, friends!