Dino-obsessed children and adults of all ages will be enthralled by any new prehistoric toy or display item. Explore this list of crochet triceratops to find amazing dinosaur toys, blankets, or a faux taxidermy Triceratops to add some foliage to your home.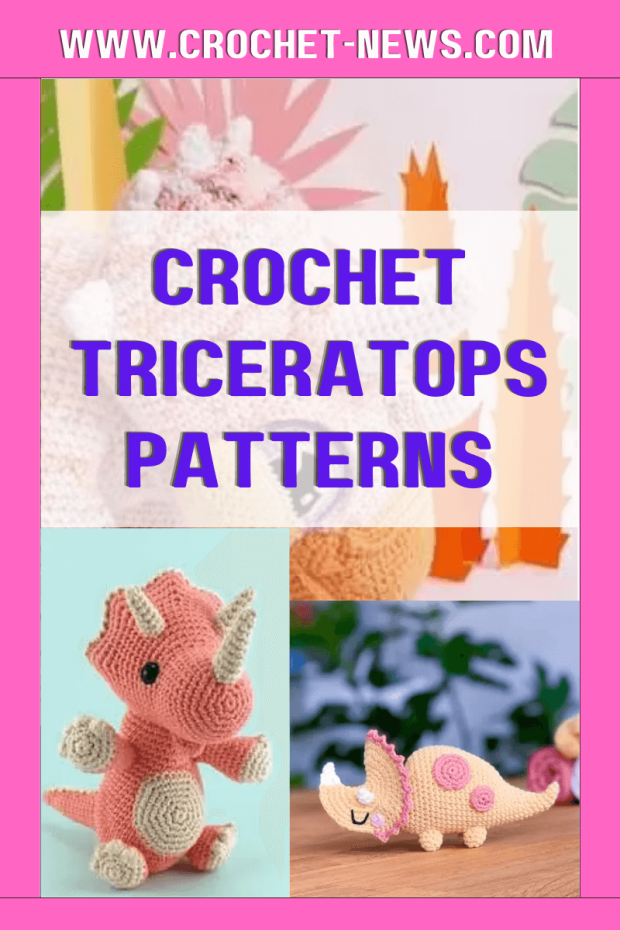 The triceratops has always been a favorite dinosaur for children and adults. This dinosaur was one of the largest and most impressive ceratopsian (dinosaurs that had a frill on their heads and ate plants, bushes and trees) dinosaurs. If you or someone you know loves Triceratops in particular, bring them back to life with your next crochet project!
15 Crochet Triceratops Patterns

1. Free Amigurumi Triceratops Crochet Pattern by Amigurumi Today
Take a darling step into the wild world of dinosaurs with this cute amigurumi triceratops! Featuring lovely colors as well as exquisite details like spiked and horns, this amigurumi triceratops is a perfect addition to any dinosaur lovers collection.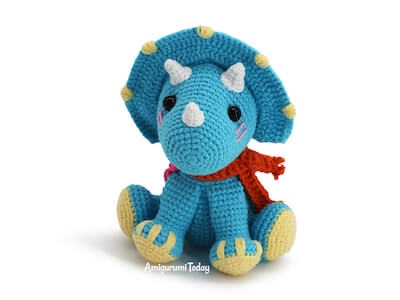 Get the Pattern here

2. Plod, The African Flower Triceratops by Heidi Bears
African flowers are a traditional floral pattern that are used to create soft toys and stuffed animals. Plod the triceratops is a wonderful example of what you can do with this interesting craft.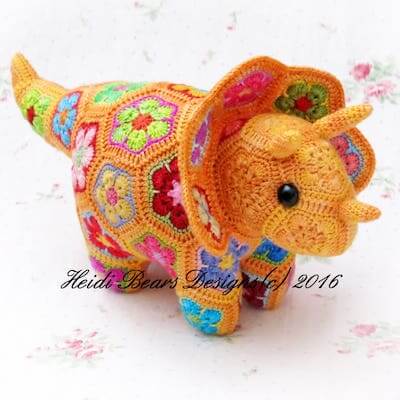 Get the Pattern by Heidi Bears here

3. Crochet Triceratops Security Blanket Pattern by I Cute Creations
What can protect you from terrors and nightmares better than a mighty triceratops? This dinosaur security blanket is decorated with a beautiful triceratops head and arms, designed to give your baby something to grab on to.

The pattern works up quickly, and is relatively easy to follow — although basic crochet knowledge is a necessity. The finished blanket is cute, quirky, and perfect for babies.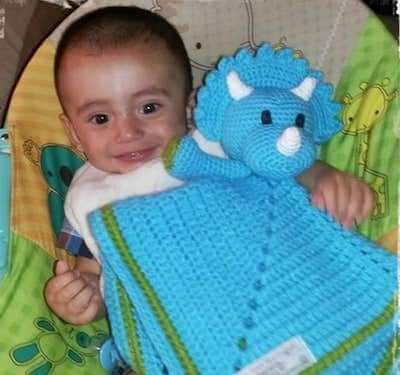 Get the Pattern by I Cute Creations here

4. Crochet Faux Taxidermy Triceratops Pattern by Yarnspirations
Decorate your child's space with this Crochet Faux Taxidermy Triceratops. This fun project is great for practicing single crochet, working in the round, and surface slip stitch techniques. Make it in your child's favorite colors, or choose shades to match their bedroom or playroom.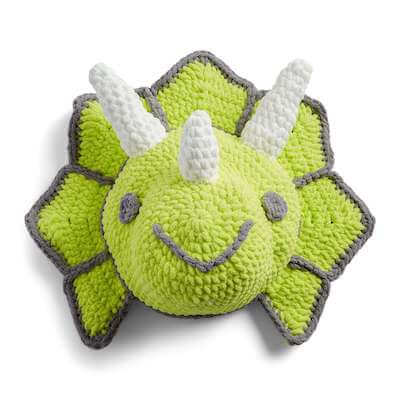 Get the Pattern here

5. Peaches, The Triceratops Amigurumi Pattern by Irene Strange
Travel back in time to the land of the dinosaurs with the cute Peaches, the Triceratops! When worked up in DK weight cotton and 3mm hook, Peaches makes a nice pocket-size dinosaur friend. Work her up in a chunky yarn for an extra huggable version.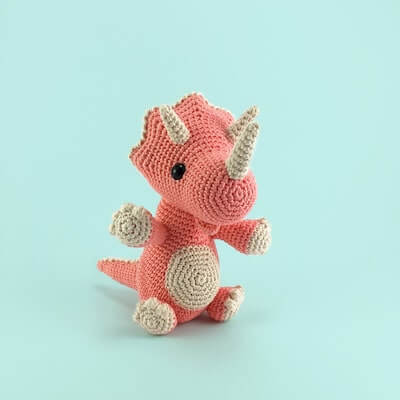 Get the Pattern by Irene Strange here

6. Crochet Triceratops Pattern by Nella's Cottage
How is this little triceratops appliqué? You can use it to make so many fun things — from blankets, hats, sweaters, backpacks, and so on! Feel free to make a bunch of these cuties and use as many colors as you can!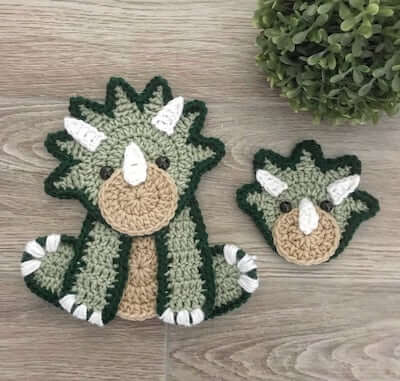 Get the Pattern by Bella's Cottage here

7. Mini Triceratops Amigurumi Pattern by Louie's Loops
There's just something about making a large creature appear small that's ridiculously adorable. Case in point – these terrifically tiny triceratops! You can try the pattern with a thicker yarn and a larger hook if you'd like to attempt to make a larger size.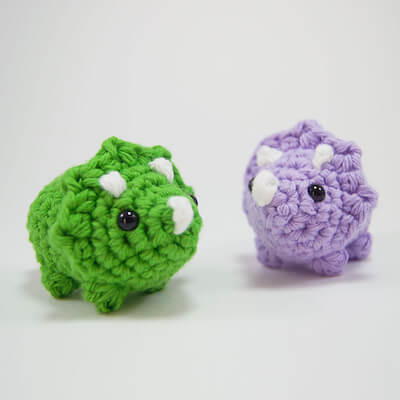 Get the Pattern here

8. Tanner, The Triceratops Crochet Pattern by Nicole Chase
He's cute, friendly, and he can stand on his own two feet! Tanner comes in a lovely aquamarine blue, with some simple choice embroidery and a lovely face. This is a good pattern for a beginner, and he's big enough to cuddle!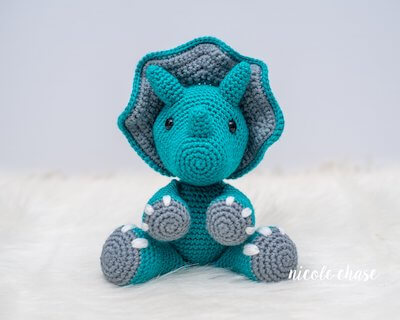 Get the Pattern here

9. Tops, The Triceratops Blanket Crochet Pattern by Ira Rott Patterns
Tops, the Triceratops Blanket will make bedtime full of lasting memories any child will enjoy! This crochet dinosaur blanket pattern could be easily adapted for that special girl in your life, just by switching the colors and possibly adding a bow or flower to her head.
Check out this Crochet Dinosaur Blanket Patterns for more.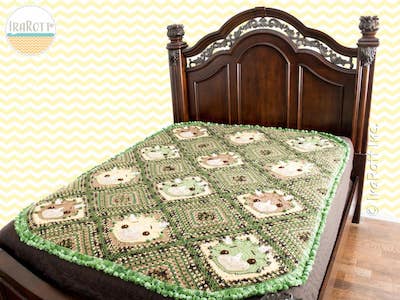 Get the Pattern by Ira Rott Patterns here

10. Gravity, The Triceratops Amigurumi Pattern by Projectarian
With mighty horns, Gravity, the Triceratops Amigurumi will surely be an eye-catching, thoughtful gift to give. This plush toy measures out to be 30 cm long, making it the perfect size to cuddle up with and double as an adventure buddy.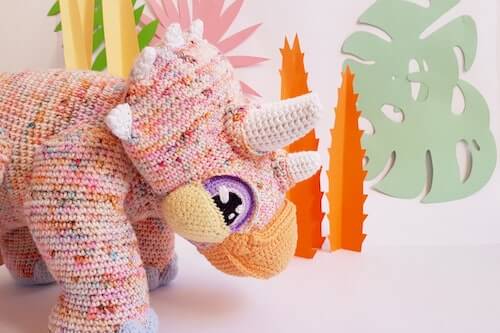 Get the Pattern by Projectarian here

11. Crochet Triceratops Dinosaur Pattern by Mevv San
Never one to back down from a challenge, this Triceratops amigurumi will hold his ground, even when faced with the fiercest T-Rex! The lifelike shape of this ceratopsian will spark the imagination and promote hours of make-believe play. Squeezably soft but still sturdy enough to stand on his own, this dinosaur is an engaging playmate!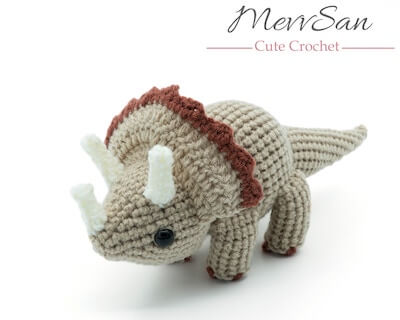 Get the Pattern by Mevv San here

12. Free Crochet Triceratops Dinosaur by Halime Ozel
I love the silhouette of this one and I think that the color choices are spot on. The original free crochet triceratops pattern calls for fingering weight yarn, but you could always opt for a thicker yarn and a larger hook as long as you don't mind a bigger dino.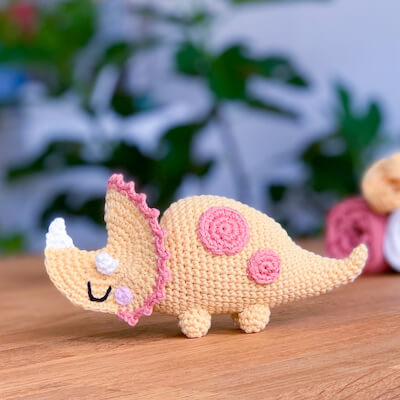 Get the Pattern here

13. Crochet Triple Triceratops Pattern by Mama Made Minis
The perfect accessory for the dinosaur dreamers, this triceratops plush is sure to make your little one roar with delight. Designed with little hands in mind — Triple's body is unstuffed to feel like a hybrid between a blanket lovey and a stuffed toy.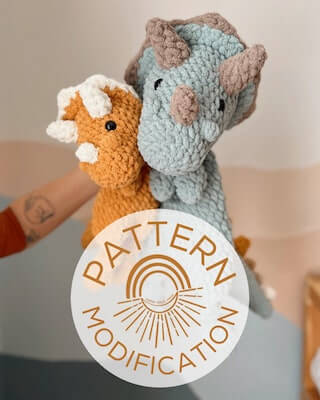 Get the Pattern by Mama Made Minis here

14. Cera, The Triceratops Bib Crochet Pattern by Pia Thadani
Meet Cera, the friendly triceratops bib, who is much more than just cute! With 3 soft layers of brightly colored, cotton acrylic yarn, she's sure to add some fun to mealtimes, while helping to keep baby's clothes clean.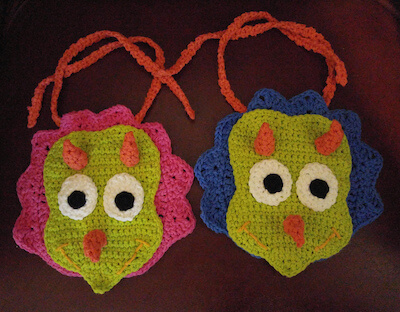 Get the Pattern here

15. Crochet Tabitha, The Triceratops Pattern by Sweet Oddity Art
This is Tabitha, the Triceratops, measuring roughly 16″ tall when using a D hook. This pattern includes detailed instructions that are easy to follow if you know the basic stitches and techniques used to make amigurumi. Mix and match colors to change his look.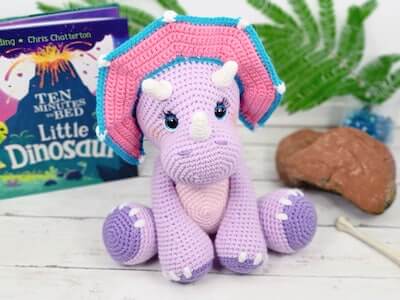 Get the Pattern by Sweet Oddity Art here
Crochet Triceratops Frequently Asked Questions
What is Amigurumi?
Amigurumi is a combination of two Japanese words: "ami" and "nuigurumi." Both words come together to form amigurumi, which means knitted or crocheted stuffed toy.
Can beginners do crochet Triceratops?
Absolutely! Amigurumi can be a wonderful project for those just beginning their crochet journey! To make most beginner-level amigurumi patterns, you'll need to know a handful of simple crochet stitches, like single crochet, increases, and decreases. You also need to know how to sew pieces together and embroider facial features to bring your amigurumi Triceratops to life.
What others supplies do you need for amigurumi Triceratops?
Amigurumi dinosaurs, like all crochet projects, require yarn and a crochet hook. You'll also need a yarn needle and scissors. Stitch markers, embroidery thread (for details), polyester filling (stuffing), and safety eyes are also frequently required for amigurumi projects.
What's the best yarn for making amigurumi Triceratops?
The majority of amigurumi patterns recommend using cotton yarn in either DK or worsted weight. Cotton yarn is simple to work with and adds great stitch definition to your projects! Amigurumis can also be made with worsted-weight acrylic or bulky-weight chenille yarns.
WITH DIFFERENT CROCHET TRICERATOPS PATTERNS TO CHOOSE FROM, THERE IS NO EXCUSE NOT TO GET CROCHETING.
Check out these crochet dinosaur patterns for a fun collection of more prehistoric pals. Be sure to share your projects with me on our Facebook Page. I'd love to see your cute dinosaurs when you're finished!
Have you ever wanted to go on adventures with a unicorn or a dragon? Have you ever wanted to hold a Rhino, a penguin, or a crocodile? Have you ever wanted to see a phoenix? Let those dreams come true by crocheting them, as well!
Make your favorite crochet Triceratops pattern today! Let the crocheting — and the roaring — begin!