There's something so comforting about brewing a pot of tea and cracking open a packet of biscuits, especially if said treats are displayed on a fancy plate. Even teapots feel the cold in the winter months though, so keep yours warm with these 20 Crochet Tea Cosy Patterns!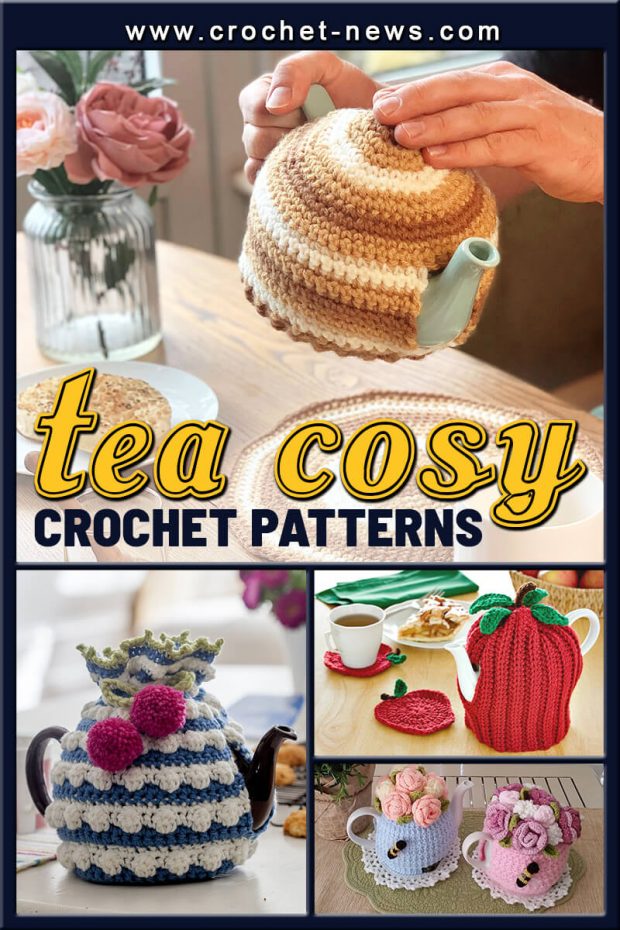 If you love tea or know a special tea drinker, you can make a tea cozy to help keep that favorite beverage nice and hot. Tea cozies, once the standard home economics project, are still a popular and practical gift to make.
Create one in your favorite color to coordinate with your kitchen. Depending on how you choose to embellish your design, tea cozies can be elegant or whimsical.

1. Crochet Popcorn Tea Cozy Pattern by Yarnspirations
Make this fun tea cozy with popcorn stitches and wide stripes for a eye-catching look. Crochet in the shades intended, or explore the breadth of your own imagination when choosing the tones. When completed as shown, it's a popular and on-trend color combination you'll love.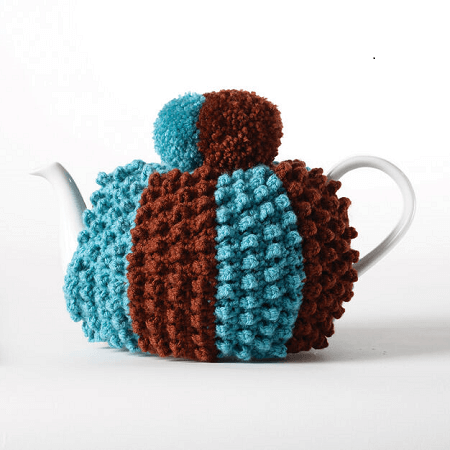 Get the Pattern here

2. Bobble Tea Cosy Crochet Pattern by Nicki Trench
With bold colored stripes and pretty yarn pom poms, this tea cosy is both funky and vintage in style, and we think it will brighten up any kitchen! This is a really cute tea cosy – the pattern is a Bobble stitch worked in stripes, with an added touch of bright pink from the pompoms.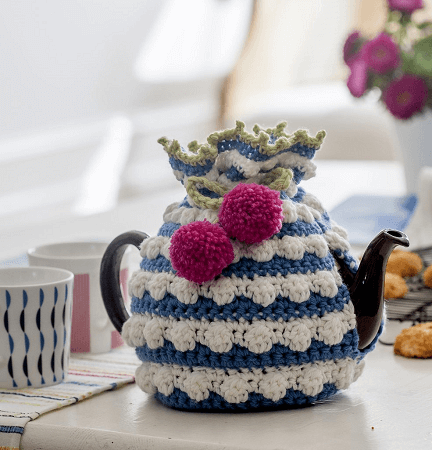 Get the Pattern here

3. Granny Style Crochet Tea Cosy Pattern by Ruth Maddock
This Granny Style Tea Cosy Crochet Pattern can be worked in two sizes and only uses oddments of yarn. This crochet pattern is easy to work and makes up very quickly – great for a last minute presents. Make it to go with your color scheme.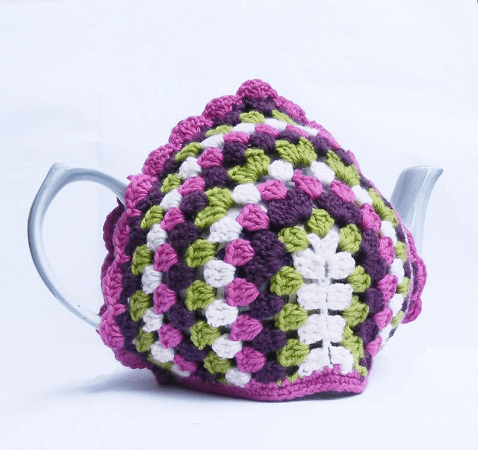 Get the Pattern by Ruth Maddock here

4. Chicken Tea Cosy Crochet Pattern by Million Bells
Your special brew of Spring tea will taste so much better, with a Chicken Tea Cosy like this on your kitchen table! There will be an opening under the handle to cover your teapot easily, with a snap button closure. The main part of the cosy is worked in rows, other parts are worked in continuous rounds, amigurumi style.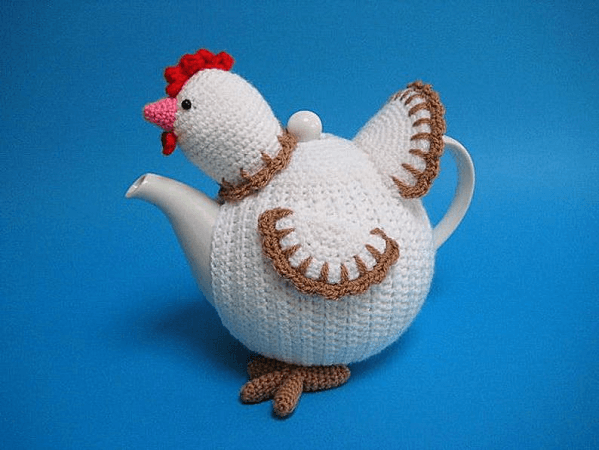 Get the Pattern by Million Bells here

5. Teapot Cosy Crochet Pattern by Cosy Rosie UK
This quick and easy Crochet Teapot Cosy Pattern will bring vibrancy into any teatime while it keeps your brew toasty to the last drip! The pattern is designed with crochet beginners and uses only basic crochet stitches.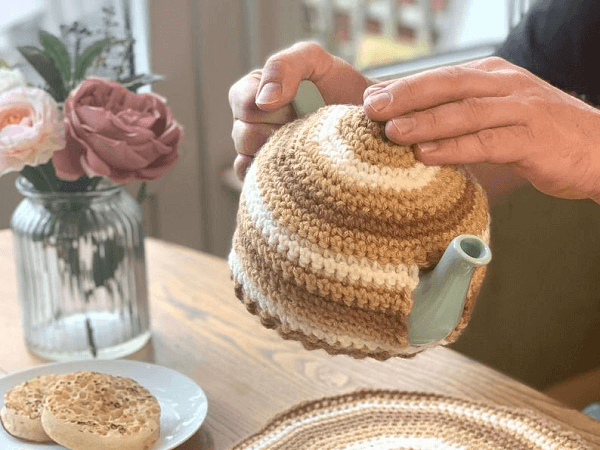 Get the Pattern by Cosy Rosie UK here

6. Pineapple Tea Cozy Crochet Pattern by Anzis Wood
Love funky and whimsy looks? Crochet this colorful and fun Pineapple Tea Cozy! Such an idea is gorgeous for summer – pineapples are truly summer fruits that add a fun touch to the decor.

The pattern is very straightforward once you have mastered the crocodile stitch so suitable for very adventurous beginners and intermediate crocheters. This cute, kitsch design will add a tropical flair to your breakfast table or afternoon tea.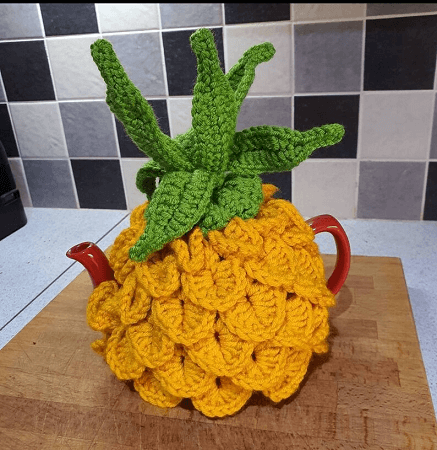 Get the Pattern by Anzis Wood here

7. Owl Crochet Tea Cosy Pattern by Yarnspirations
Using a series of double crochets, create this adorable owl tea cozy – complete with tufted ears! Shape a creative piece in any hues that spark your imagination or try it as shown. The pattern comes in 2 different owly shade combos for your complete crocheting enjoyment.
Get the Pattern here

8. Tea Time Cozy Crochet Pattern by Knot Sew Cute
Crochet a little sweater for your teapot! Besides being decorative and adding a touch of traditional flair to your home, a tea cozy is a very practical way to keep your tea warm during infusing and serving. The finished tea cozy measures 20.25 cm (8") wide and 19 cm (7½") long and will fit a standard sized teapot.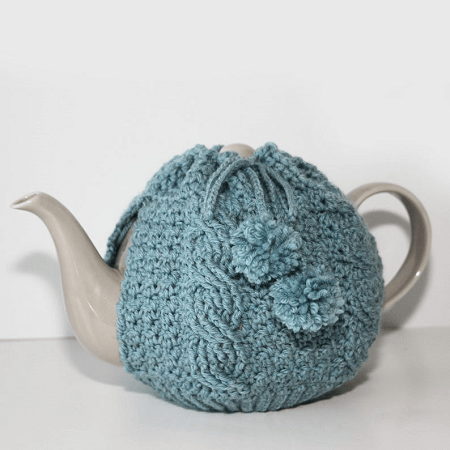 Get the Pattern by Knot Sew Cute here

9. Joyful Teapot Cozy Crochet Pattern by Yarnutopia
Holiday entertaining is right around the corner. Add a special touch to your table setting with this Joyful Teapot Cozy! The word "Joy" is added to the teapot, but you can add any word. It's very simple to chain and sew it onto the cozy.

You don't have to use holly leaves and berries as your embellishments either. Have fun with it and get creative by adding flowers, leaves, or other appliqués to make your teapot cozy personal.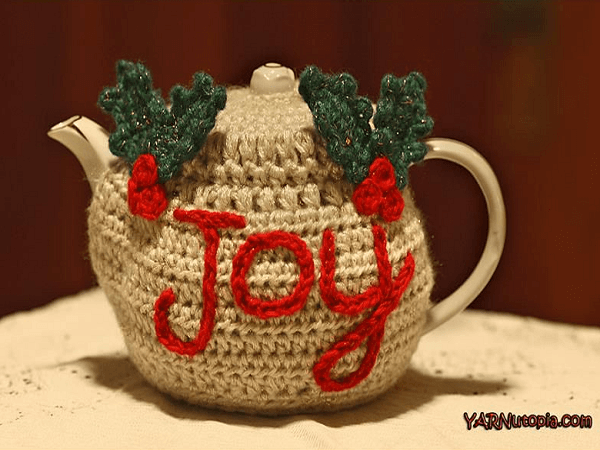 Get the Pattern here

10. Pom Pom Tea Cosy Crochet Pattern by Clare Blowers Crochet
A simple, stylish tea cosy that would grace any table. Make in colors to match your decor or in just one color. A large pom pom adds the finishing touch! This is a really simple crochet pattern that is perfect for any beginner.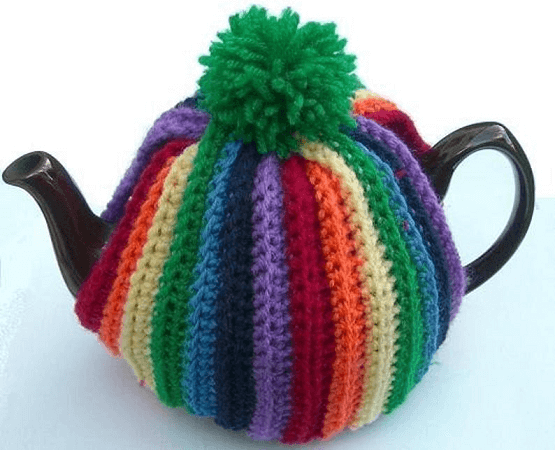 Get the Pattern by Clare Blowers Crochet here

11. Ripple Crochet Tea Cozy Pattern by Justjen Knits & Stitches
This colorful cozy is crocheted using a zigzag (ripple stitch) pattern. It is available in two different sizes to adjust for the size of the teapot that you have. You'll need 8ply/DK yarn, oddments of each color, 4mm (G) crochet hook and some cute buttons.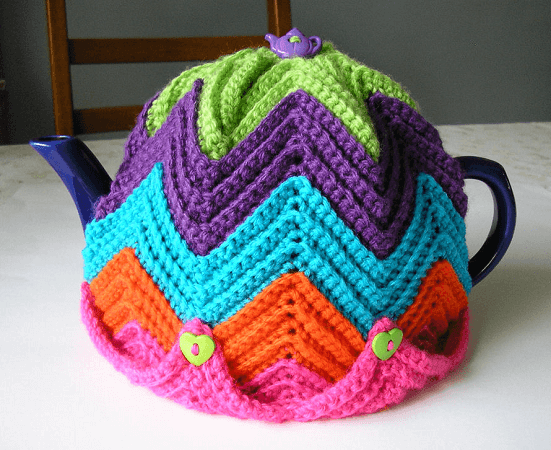 Get the Pattern here

12. Simply Sweet Teapot Cozy Crochet Pattern by Sweet Bee Crochet
This Simply Sweet Teapot Cozy is worked up best with worsted weight cotton yarn (gauge is not important). Included with this pattern are instructions on how to create 3 different versions so that you can customize it to your preference!
Versions include: working with 1 solid color, stripes, and adding tiny flower motifs. The flower motif pattern is also included.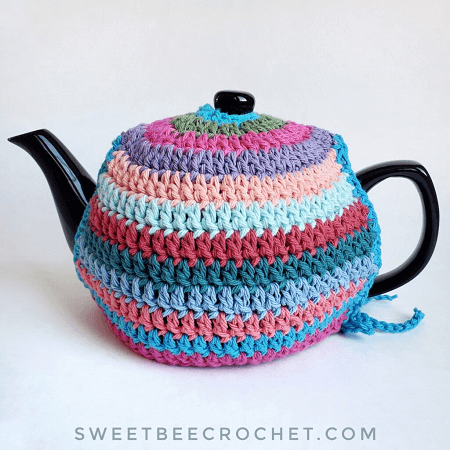 Get the Pattern here

13. Rose Garden Bouquet Tea Cosy Crochet Pattern by T Bee Cosy Designs
You can almost smell the rose perfume coming out of this Rose Garden Bouquet Tea Cosy! You will learn to make an open and a closed rose, carnations, leaves and honey bees. Not only make it for yourself, but what a lovely birthday or special gift to someone, especially if they have everything or you have run out of idea what to give!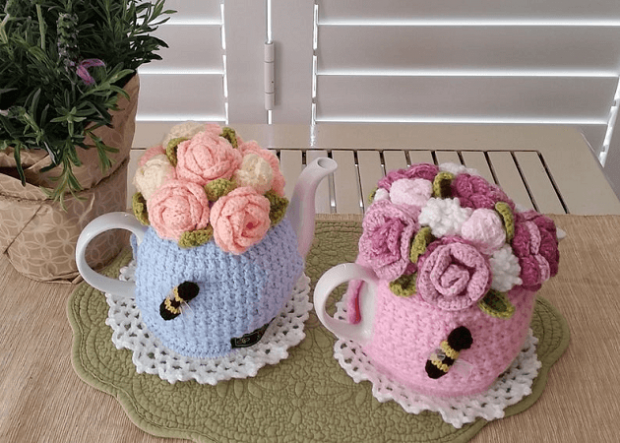 Get the Pattern by T Bee Cosy Designs here

14. Roses Tea Cozy Crochet Pattern by Why Didn't Anyone Tell Me
This tea cozy is embellished with large three-dimensional crochet roses. It is a beautiful, feminine decoration for the home that adds a lot of romance to any table. This statement piece is the perfect project for gift making.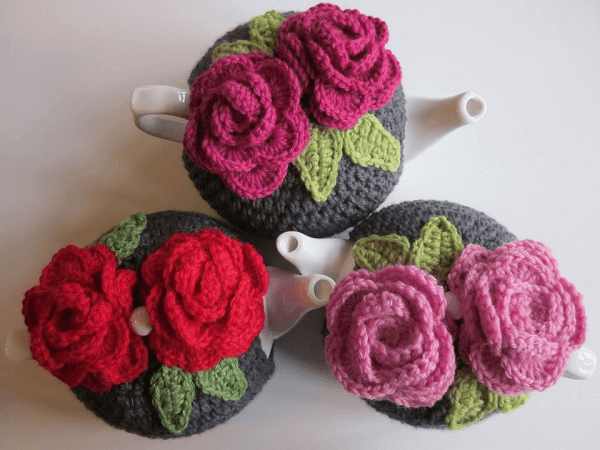 Get the Pattern here

15. Blooming Flower Tea Cozy Crochet Pattern by Crafty Kitty Crochet
Tea time just got a little fancier! This tea cozy is fun and easy to make. It's made up of just two very easy blocks of single crochet/single crochet decrease, then sewn together and accented with the flower motif.
It's sure to please anyone who loves drinking tea and wants to dress up their favorite teapot!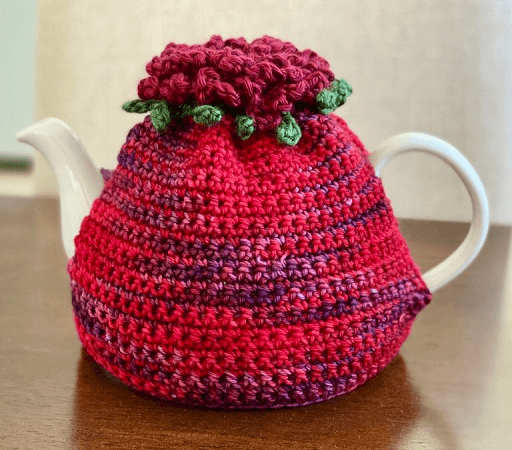 Get the Pattern here

16. Straightforward Free Crochet Tea Cosy Patterns by The Adventures Of The Gingerbread Lady
Not everyone's tastes are as bright and colorful or intricate as some! That certainly won't mean there isn't a tea cozy pattern out there for you. Try your hand at a bit of striping just like the picture shown if you want to jazz things up a bit without getting too complicated!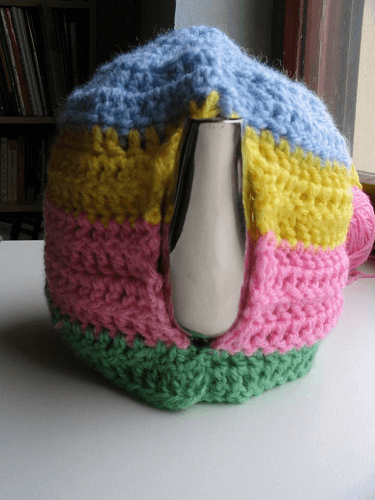 Get the Pattern here

17. Apple Crochet Tea Cosy Pattern by Crochet Magazine
Crochet these darling Apple Tea Cozy and coasters! They will surely make you smile as they add a bit of whimsy to your kitchen. Classical, fun, and functional; this crochet apple tea cozy is just the right thing to serve up with your morning or afternoon cup of tea! Embellished with crochet apple leaves, it fits a standard teapot.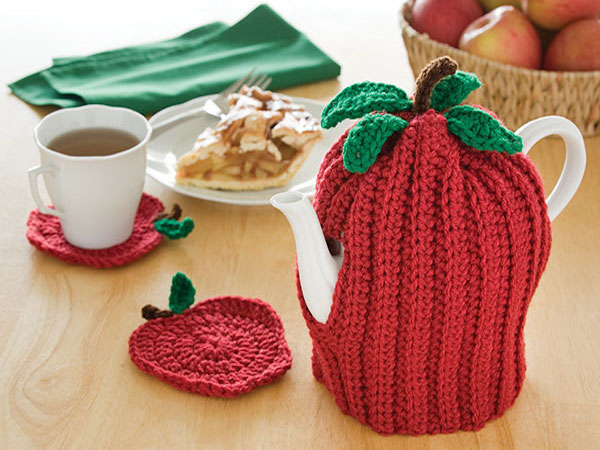 Get the Pattern here

18. Two Strand Crochet Tea Pot Cosy Pattern by Clare Blowers Crochet
This is a traditional drawstring tea cosy, worked in pure cotton with two strands together. It's a simple crocheted tea cosy, looks cute and rather modern – no old-fashioned appliqués, no vintage patterns or lace trim.
Go for some neutral color for a more modern look or a bold one to add a splash of color.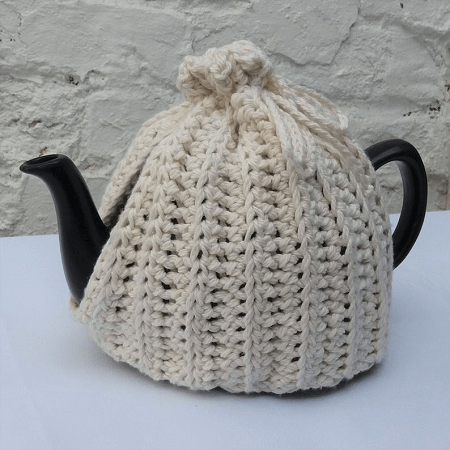 Get the Pattern by Clare Blowers Crochet here

19. Hibiscus Crochet Tea Cosy Pattern by Yarnspirations
Crochet a joyful, rainbow tea cozy with hibiscus flower embellishment. The vibrant colors will brighten your day and the striking design will give you that much needed morning (and afternoon!) boost!
The pattern includes instructions on how to make this tea cozy in two sizes to fit either a four-cup or a six-cup teapot.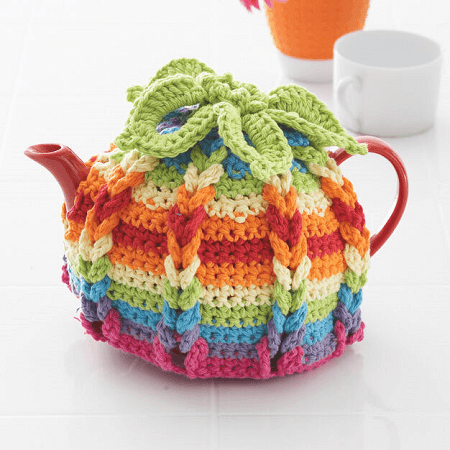 Get the Pattern here

20. Crochet Tea Cosy Fairy House Pattern by Emi Harrington Designs
This tea pot cosy fairy house Ooh the cute-ness made us instantly reach for the hook and go sorting through the yarn scraps to make this. This looks complicated but actually is just made from simple shapes, easy stitches, and a bulky yarn so it crochets up really quickly.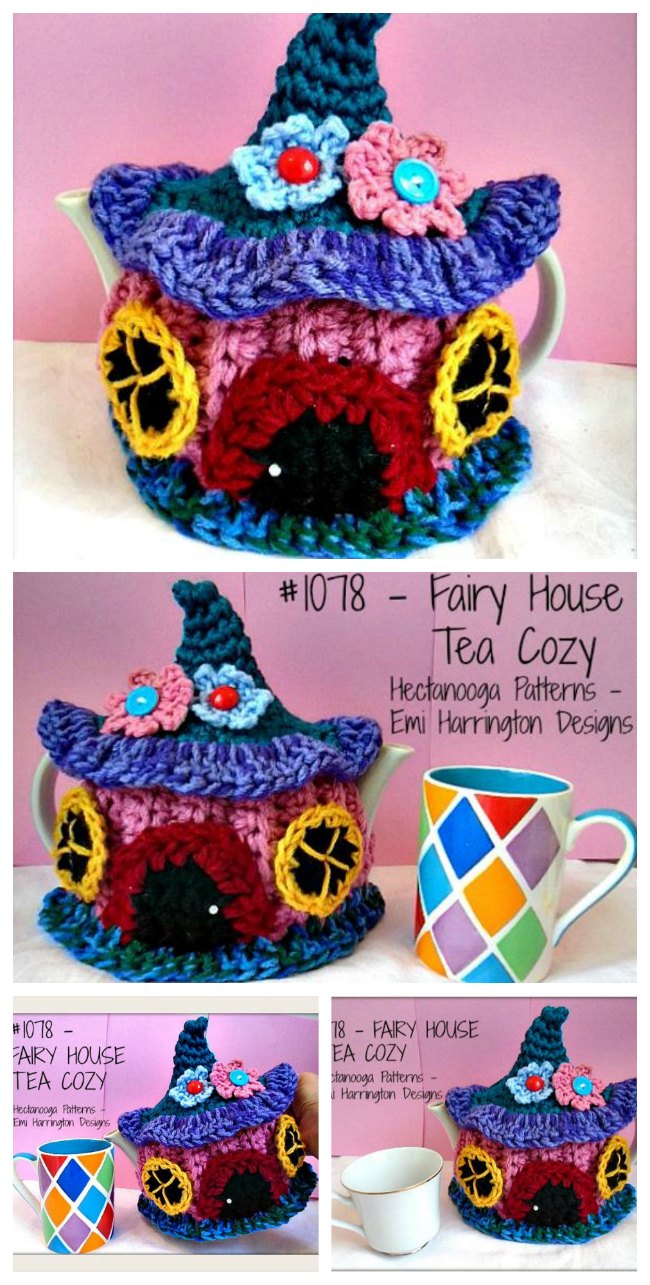 We've yet to try this one but the designer says it can be made in about an hour.
Not a big tea drinker? Instructions provided for how to make this any size you need so perhaps you could just use it for a novelty hat! Or make a base and stuff it for the kids to play with, or how about a toilet paper cover? Lots of ideas even if you don't have a tea pot.
YOU WILL NEED:
Worsted weight yarn in your choice of colors
4.5 mm crochet hook (US G6)
yarn needle
a button or bead for a door knob
Tea Pot Cosy Crochet Stitches:
chain stitch
single crochet
double crochet
half-double crochet
Make this cozy in about one hour! Download the free pattern below –>
Tea time is a little more enjoyable when you have a fabulous crochet tea cosy handy to keep the pot warm while you sip.
Are you going to make these cozies, perhaps in some other color combinations? We'd love to see your work. Please post some pics on our Facebook Page!

How about a crochet kitchen towel, dish scrubber or pot holders to help you cook, clean, and decorate your kitchen? Whether it's for cleaning, drying dishes, polishing fine china, or drying your hands, there is a type of kitchen towel that is right for the job. Check them out!

We hope you've found a crochet tea cosy pattern here today that inspired you – or at least made you smile! Thank you for reading!