With summer right on our doorsteps, it's time to change up your wardrobe, and for a lot of us, that means scrambling over to the shops to buy a new pair of sandals.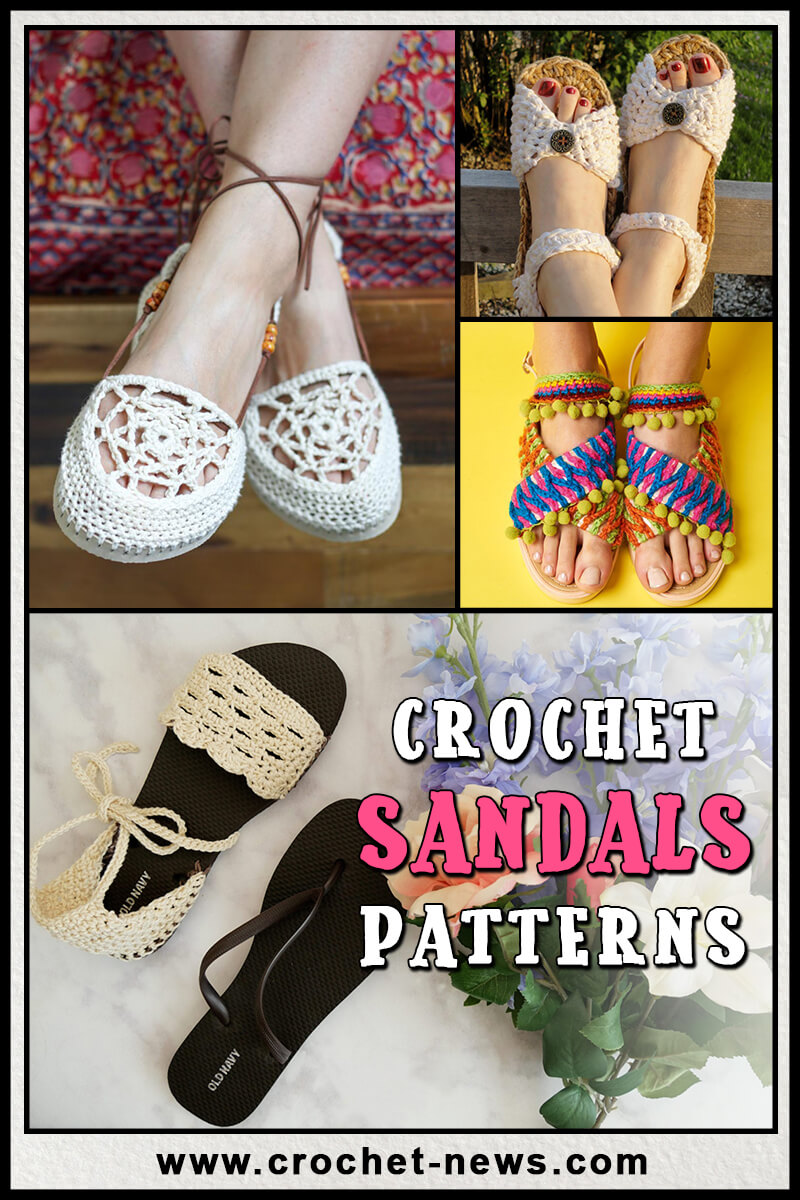 Shoe stores give us an overwhelming amount of choices of sandals, but that doesn't mean it's not worth making them yourself.
With these stylish crochet sandals patterns, you won't have to worry about it! They look great and won't break the bank, what more could you ask for?
1. Crochet Boho Sandals Pattern by Magic 4 Kids
This Crochet Boho Sandals with jute rope soles is a quick project and, in the same time, a wonderful summer accessory.
The pattern offers you an anatomic shape for the sandals and you could decorate them in so many ways like felted flowers, leaves, and some buttons.
Get the Pattern by Magic 4 Kids here
2. Free Embellished Crochet Sandals Pattern by Gathered
Neon brights and pompoms – who could resist these Embellished Crochet Sandals? Fancy giving that old pair of sandals a new lease of life?
With just a few clever tricks and some overlapping crochet chains you can transform some old footwear into some fab embellished crochet sandals – perfect for the festival season!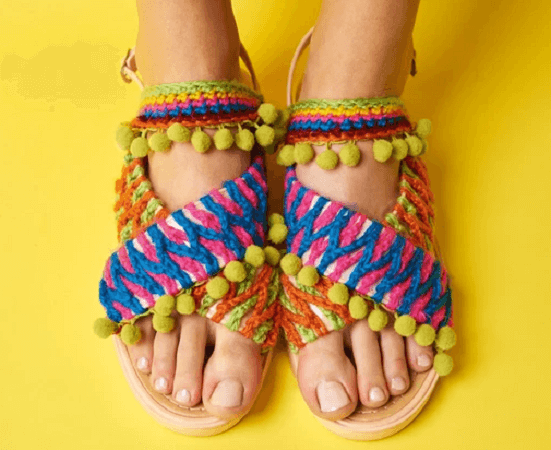 Get the Pattern here
3. Crochet Slingback Sandals Pattern by Mamachee
Crochet a fun pair of Slingback Slippers Sandals for yourself, a friend, or to sell! The pattern includes directions for a little bow as well includes the following sizes: bonus child size (12-13) and woman sizes 3-12.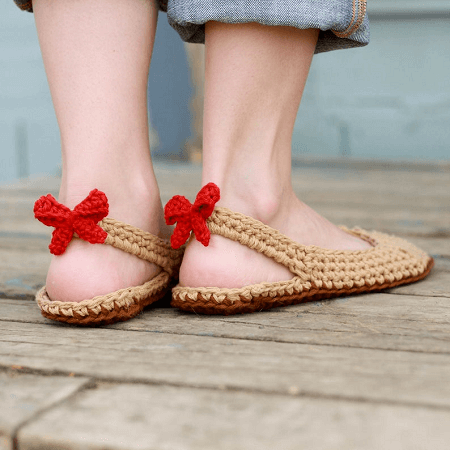 Get the Pattern by Mamachee here
4. Women's Crochet Flip Flops Pattern by Whistle And Ivy
These Women's Crochet Flip-Flops are very comfortable summer sandals. They are made with stretchy, comfy t-shirt yarn and feature a thick felt sole, so they are perfect for wearing around the house or to lounge outside on your patio.

Enjoy this free crochet pattern and make yourself some women's crochet flip-flops this season!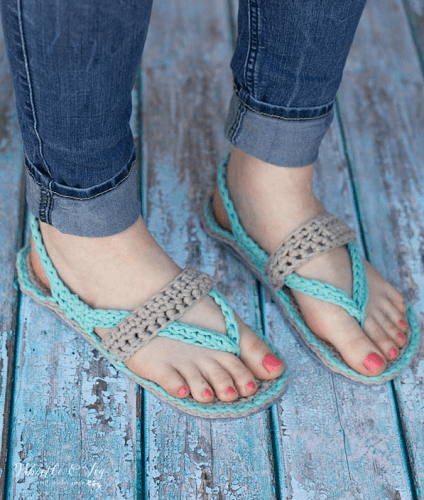 Get the Pattern here
5. Sand Flower Sandals Crochet Pattern by Bonita Patterns
This Sand Flower Sandals Crochet Pattern is an easy way for you to create durable handmade crocheted shoes that will wow everyone and will hold up to real life wear and tear.
The pattern includes sizes 6 through 11 for adults.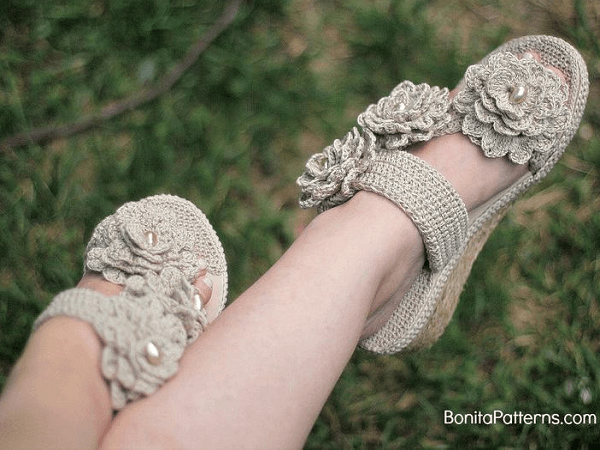 Get the Pattern by Bonita Patterns here
6. Dream Catcher Crochet Sandals Pattern by Make And Do Crew
It only takes a few hours, an inexpensive pair of flip flops, and less than a skein of yarn to upgrade your summer footwear with these bohemian crochet sandals with flip flop soles!

There's not a lot to these Dream Catcher Sandals, so they work up really quickly and the only skills you need are single crochet, double crochet, slip stitching, and working in the round.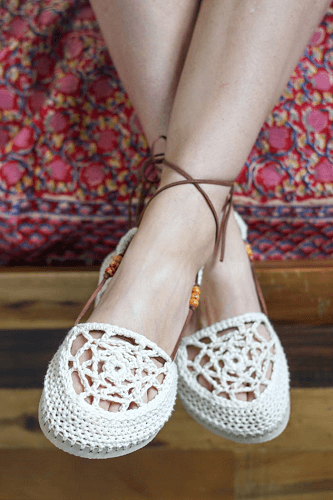 Get the Pattern here
7. Butterfly Flip Flops Crochet Pattern by My Fingers Fly
Summer is almost here, and you're going to want a pair of these Butterfly Flip Flops! Easy crochet pattern is made with a pair of plastic flip flops and cotton yarn. So easy, you can make a few pairs in one evening.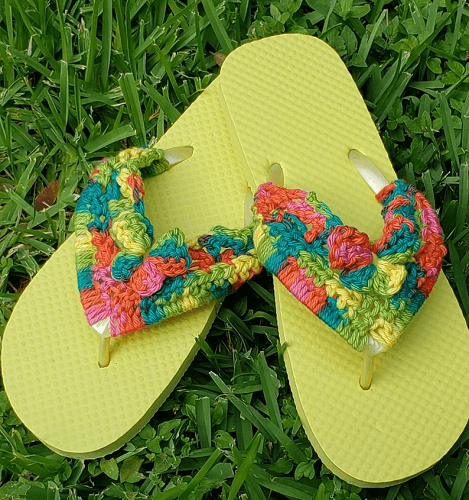 Get the Pattern by My Fingers Fly here
8. Bloom Flip Flops Crochet Pattern by Miss Neriss
Learn how to turn cheap foam flip-flops into fab crochet sandals! Follow the pattern and make yourself cute new flip flops in just a few minutes. New to crochet? This project is a great, quick starting point!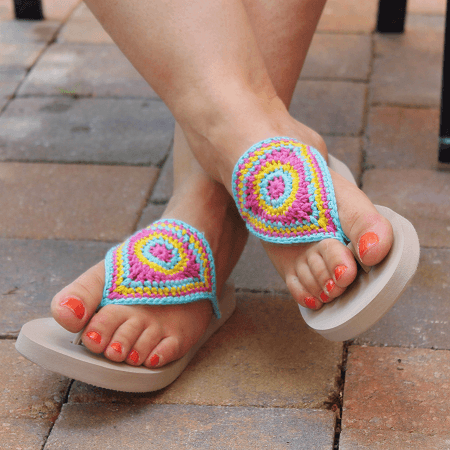 Get the Pattern here
9. Crochet Flip Flops Pattern by Mamachee
Crochet yourself a fun pair of summer flip flops for around the house or for outside! Instructions are given for how to make a jute soled flip flop for outdoor use. These would make a great gift and make them to sell.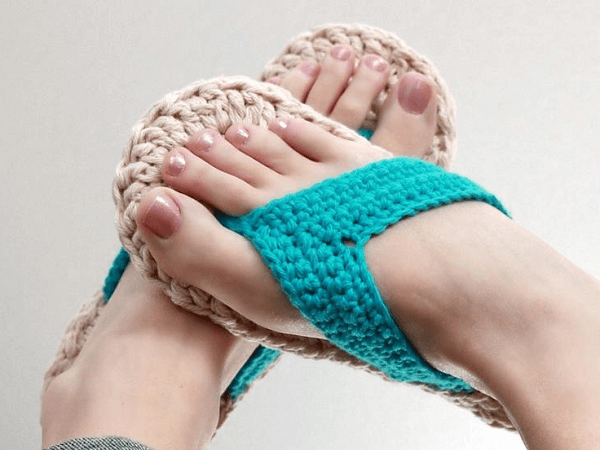 Get the Pattern by Mamachee here
10. Crochet Sandals Pattern by Hooked Homemade Happy
We've all seen the super cheap rubber flip flops around. Let's jazz them up a bit with this Crochet Sandals Pattern! You will be in love with how they turned out and how comfortable they are to wear.

You will be able to make these pretty quick and they won't use much yarn at all. It would be a great stash busting project by making a few pairs in different colors!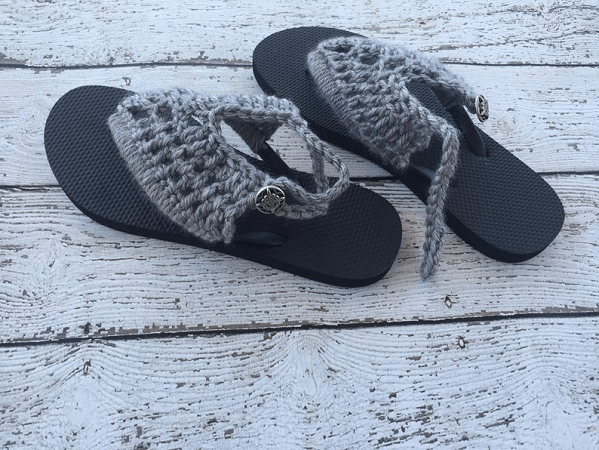 Get the Pattern by Hooked Homemade Happy here
11. Crochet Strappy Sandals Pattern by Whistle And Ivy
Needing some slippers in the summer? These Crochet Strappy Sandals are perfect for wearing around the house during the warmer months. Be sure to add some non-slip to the bottom!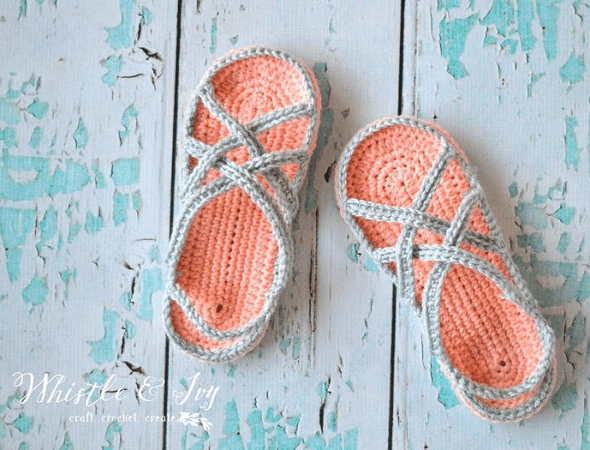 Get the Pattern by Whistle And Ivy here
12. Granny Triangle Crochet Sandals Pattern by Christa Co Design
Add a unique crochet granny triangle to a basic pair of plastic sandals with this easy tutorial. Crochet around the straps in cotton yarn for an even more comfortable Summer sandal.

This is a great beginner pattern if you're new to crochet. It's a basic granny triangle attached with single crochet stitches to a pair of flip flops. Easy peasy for everyone!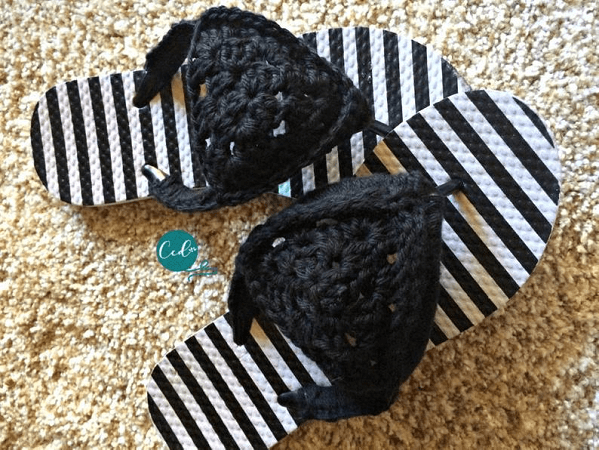 Get the Pattern by Christa Co Design here
13. Crochet Summer Sandals Pattern by Yarn Blossom Boutique
This pattern includes detailed instructions and photos to make a pair of Indoor/Outdoor Flip Flops in four different women's sizes and in two different styles!

Plus, you can make them for indoor use only and wear them as slippers or follow the instructions for crocheting a jute sole and wear these beautiful flip flops outside!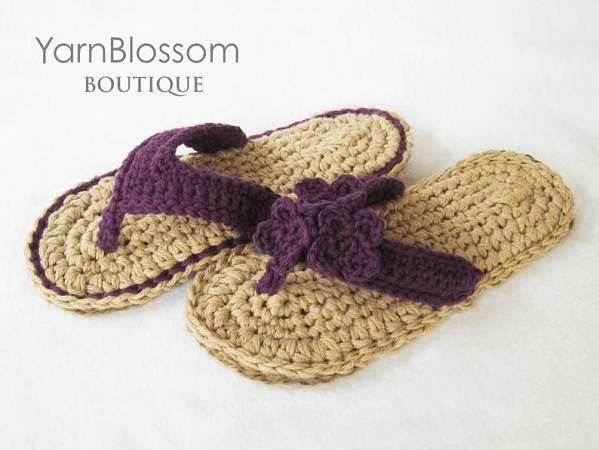 Get the Pattern by Yarn Blossom Boutique here
14. Summer Sandals Crochet Pattern by On Willow Lane
Are you excited for summer? Prepare for all the traveling you'll be doing by making this pair! These sexy Summer Sandals are finished with two-button closure with a decorative button top.
These can be made with cotton yarn or worsted. Add the optional sole for outdoor wear.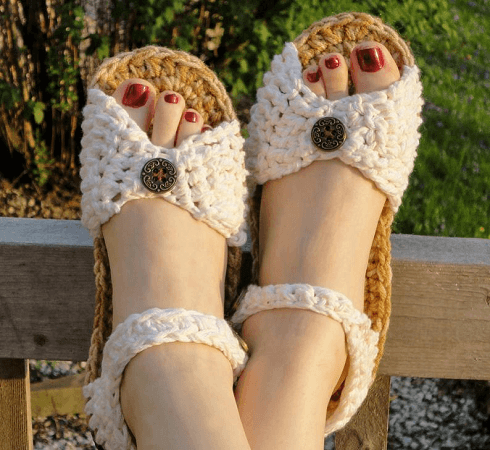 Get the Pattern by On Willow Lane here
15. Peekaboo Picot Flip Flops Crochet Pattern by Cre8tion Crochet
Dress up your summer wear with these Peekaboo Picot Flip Flops Crochet Pattern. Turn any basic pair of thongs into fashionable sandals perfecr for any occassion.

Grab your crochet hooks along with some light yarn and a pair of flip flops and be done in less than an hour. They will make leisurely strolls more lively and cheery!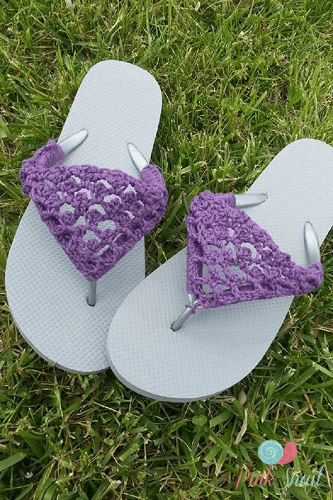 Get the Pattern here
16. Ocean City Flip Flops Crochet Pattern by Knit And Crochet Evr Aft
Get ready for the warmer weather with these super comfy Crochet Ocean City Flip Flops! You have two options for construction.
Either use a strong glue to stiffen the double sole so you can wear them around the house.

Or, make one sole and glue that to a pair of old flip flops (with the original straps removed) to wear outside. Either way, they will be way more comfortable than those hard plastic straps you're used to.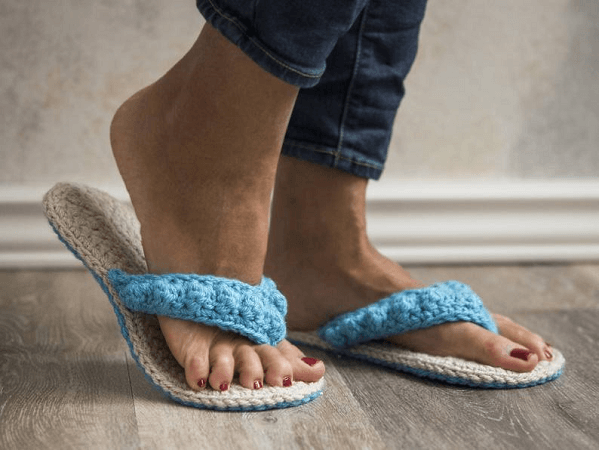 Get the Pattern by Knit And Crochet Evr Aft here
17. Crochet Espadrilles With Flip Flop Soles Pattern by Make And Do Crew
Hey beach babe! Learn how to make Crochet Espadrilles with Flip Flop Soles in this free pattern and tutorial. These sandals are perfect for the pier, the beach or your rich uncle's yacht!

You can really customize the vibe of these sandals depending on the color of yarn and ribbon you choose.

These crochet espadrilles with flip flop soles are quite straightforward and work up super quickly because, let's be honest, there's just not that much crocheting to do. This means you can make a pair in every color!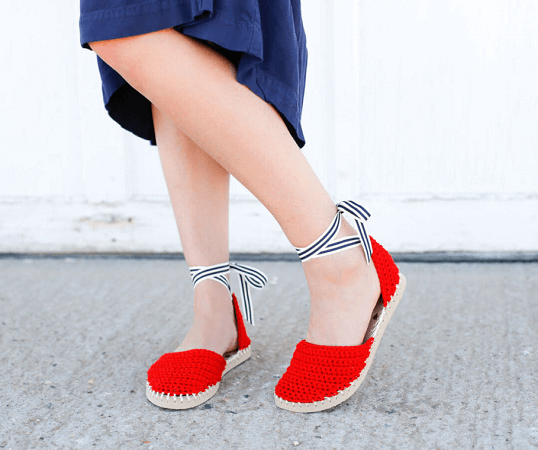 Get the Pattern here
18. Boho Crochet Sandals Pattern By MakabakaFootwear
Since it's almost summer already, have you planned where you'll be heading next? Why not go somewhere you can walk around and enjoy the view?
Of course you always want to be comfortable whenever you travel, that's why this Boho Crochet Sandals Pattern is perfect for you!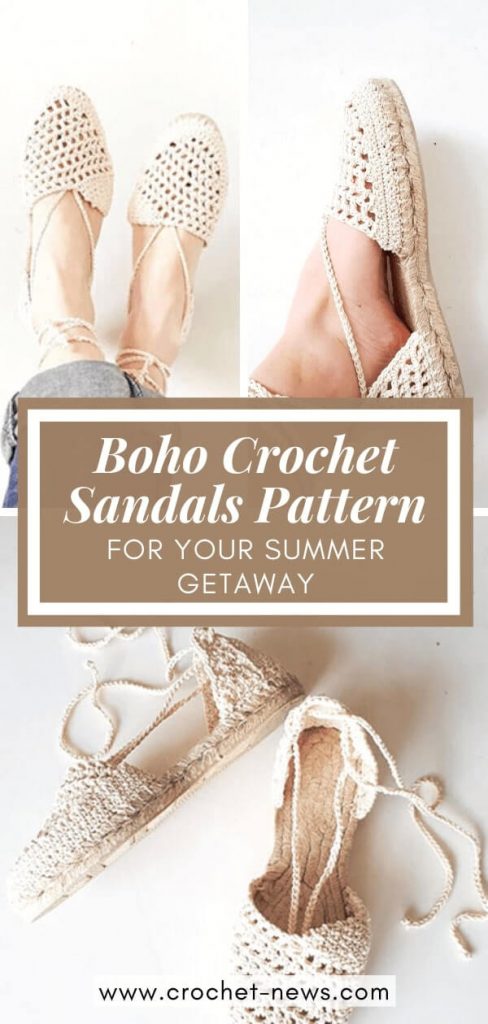 This boho sandals pattern is a little different from other patterns we feature on this site. Instead of using yarns, this pattern recommends using cotton or linen cord.
If you use cotton cord, it is advised to use soft cotton yarn in crocheting the edges so it will be easier to work on the heel part.
These materials are also available in different colors but it would be great to stick with the white or natural colors, just so it will work well with all of your summer outfits.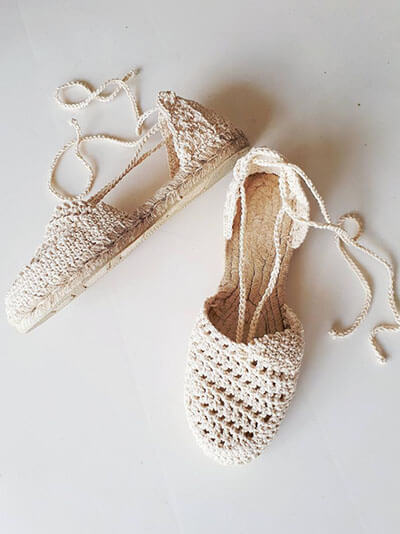 Get the Pattern by MakabaFootwear here
19. Crochet Sandals With Flip Flop Soles by Sewrella
These crochet sandals made using flip flop soles are the perfect thing for the warm weather months! These shoes work up easily and quickly in two pieces, the heel and the toe.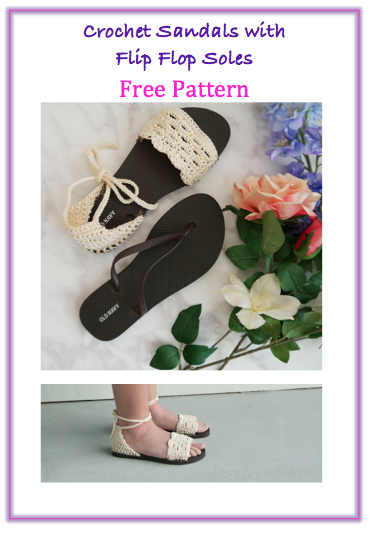 The best part is that you can change the band width and color to suit the style that you are looking for.
Block out some time for these beauties and crochet your way into summer!
Skill level: Beginner
Materials Needed:
Flip flops (1 size smaller than your regular size is recommended)
Lion Brand 24/7 Cotton, pictured in Ecru and Au Lait
Crochet hooks in sizes 3.25mm and 2 mm
Sharp tool for poking holes in the sole, a skewer works great
Tapestry needle
Sharp Scissors

20. Free Crochet Flip Flop Pattern by Bethany of Whistle and Joy
Look how this free pattern will change your boring flip flops into a boho style one without actually buying expensive materials to make it so!
Crochet Flip Flop Pattern
Indeed, this design is more fashionable than ordinary flip flops. In fact, it is a perfect match during the summer. Wear your crochet cool summer top, beneath it, is your swimsuit, and lastly, this Free Crochet Flip Flop.

You can also use it during your out of town vacation, especially if your activity has something to do with a lot of walking to enjoy the view. For sure, it would never disappoint the fashionista in you!

About the Crochet Flip Flop Pattern
Bethany of Whistle and Joy made this free crochet sandals pattern. The instructions are well-written in English (US) that whether you are skilled or not to in crochet crocheting, it is still easy for you to understand.
The best part here is that you can use this to recycle your used flip flops. And since it is an additional design, it will not take so much of your time.
Maybe you can also design your relatives' crochet flip flops because of its easy-to-follow instructions?
Materials needed to make this crochet flip flops
These are the recommended materials, but if you cannot afford them, do not hesitate to use other stuff that is available in your house:
G hook
Cotton yarn – this type of yarn is easier to wash that even if it gets wet accidentally, you can clean it right away
Flip flops – for lesser expenses, it is much better if the flip flops are already used
Darning needle
Hot glue


Crochet stitches you need to know
You don't need to be an advanced crocheter to accomplish this project as the stitches used are fairly simple. If you don't know how to crochet a given stitch, we have a tutorial ready for you.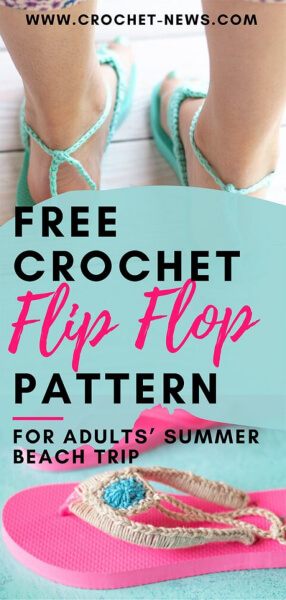 Add a touch of creativity to your crochet sandals!
These patterns can be customized, so feel free to adapt the colors and designs to your liking! Don't forget to share your finished projects on our Facebook Page. We always love seeing your works!

If you love making fancy foot flair, you might also enjoy our collection of patterns for Barefoot Sandals, Shoes, Slippers, Socks, and Leg Warmers!
All these patterns will surely open a whole bag of treats for you to crochet the best warm, cozy, and stylish footwear of your life!
Now go and start looking for flip flops or make yourself a new pair of sandals with these crochet sandals patterns!