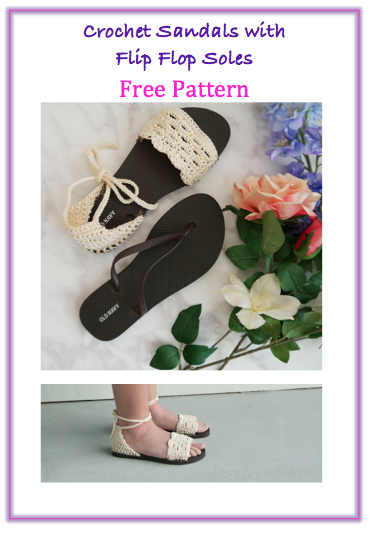 1. Crochet Sandals With Flip Flop Soles by Sewrella
Beautiful Crochet Sandals with Flip Flop Soles. With summer right on our doorsteps it's time to change up your wardrobe, and for a lot of us, that means scrambling over to the shops to buy a new pair of summer shoes.
With these stylish crochet sandals you won't have to worry about it! They look great and won't break the bank, what more could you ask for!
For these crochet sandals we will use a pair of flip flops as the base and build them up from there.
The best part is that you can change the band width and color to suit the style that you are looking for.
Block out some time for these beauties and crochet your way into summer!
Skill level: Beginner
Materials Needed:
Flip flops (1 size smaller than your regular size is recommended)
Lion Brand 24/7 Cotton, pictured in Ecru and Au Lait
Crochet hooks in sizes 3.25mm and 2 mm
Sharp tool for poking holes in the sole, a skewer works great
Tapestry needle
Sharp Scissors

2. Free Crochet Flip Flop Pattern by Bethany of Whistle and Joy
Look how this free pattern will change your boring flip flops into a boho style one without actually buying expensive materials to make it so!
Crochet Flip Flop Pattern
Indeed, this design is more fashionable than ordinary flip flops. In fact, it is a perfect match during the summer. Wear your crochet cool summer top, beneath it, is your swimsuit, and lastly, this Free Crochet Flip Flop.

You can also use it during your out of town vacation, especially if your activity has something to do with a lot of walking to enjoy the view. For sure, it would never disappoint the fashionista in you!

About the Crochet Flip Flop Pattern
Bethany of Whistle and Joy made this free crochet sandals pattern. The instructions are well-written in English (US) that whether you are skilled or not to in crochet crocheting, it is still easy for you to understand.
The best part here is that you can use this to recycle your used flip flops. And since it is an additional design, it will not take so much of your time.
Maybe you can also design your relatives' crochet flip flops because of its easy-to-follow instructions?
Materials needed to make this crochet flip flops
These are the recommended materials, but if you cannot afford them, do not hesitate to use other stuff that is available in your house:
G hook
Cotton yarn – this type of yarn is easier to wash that even if it gets wet accidentally, you can clean it right away
Flip flops – for lesser expenses, it is much better if the flip flops are already used
Darning needle
Hot glue


Crochet stitches you need to know
You don't need to be an advanced crocheter to accomplish this project as the stitches used are fairly simple. If you don't know how to crochet a given stitch, we have a tutorial ready for you.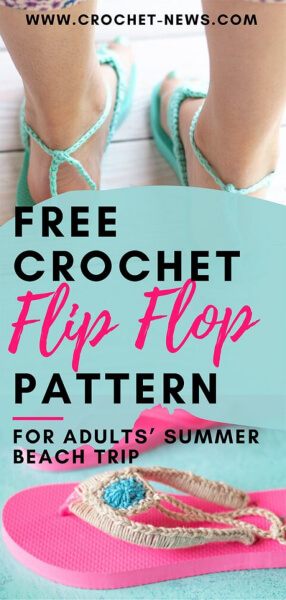 Add a touch of creativity to your crochet sandals!
For a better design, consider adding colorful beads in the middle of the small box design on your crochet sandals. Using a color scheme of yarn will also make your project more stylish.
Once your done, you can share with us your finished product on our Crochet News Facebook page.
Now go and start looking for flip flops you can recycle to make these fun crochet sandals.