Make your kitchen happy with these 27 Crochet Potholder Patterns. These potholders add a tactile feel to your kitchen goods, while still contributing something entirely useful.

Potholder, trivet, hot pad… whatever you call them, they are a staple in any home. Why not use your yarn skills to add some handmade flair to your kitchen?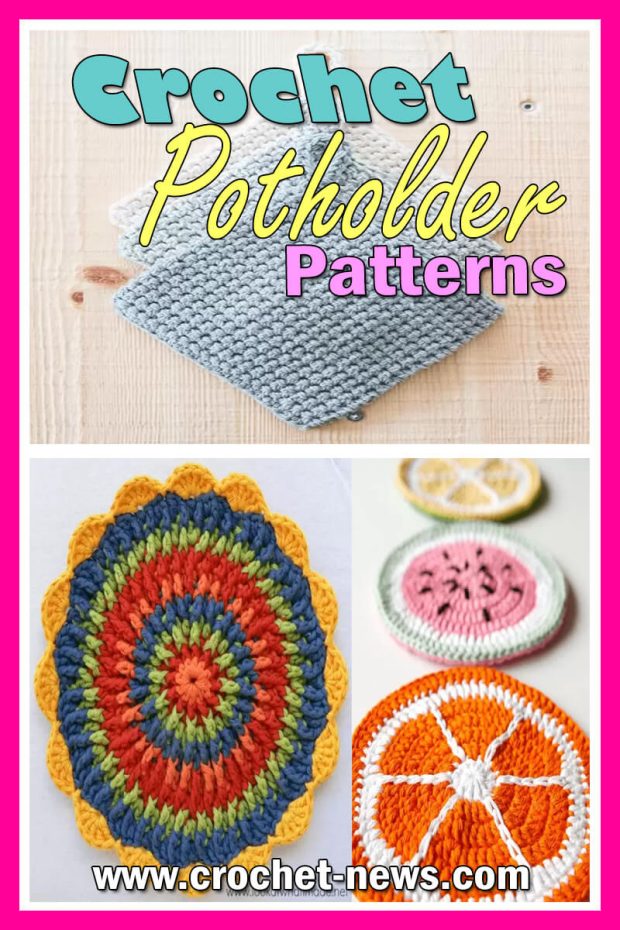 Crochet any one of the potholder patterns below and jazz up your kitchen drawers today! Boring potholders begone!

1. Crochet Double Thick Potholders Pattern by Sewrella
The most versatile, necessary kitchen pattern to add to your library. a simple textured stitch makes these potholders thick and durable – with a simpler version of an i cord loop for hanging within reach.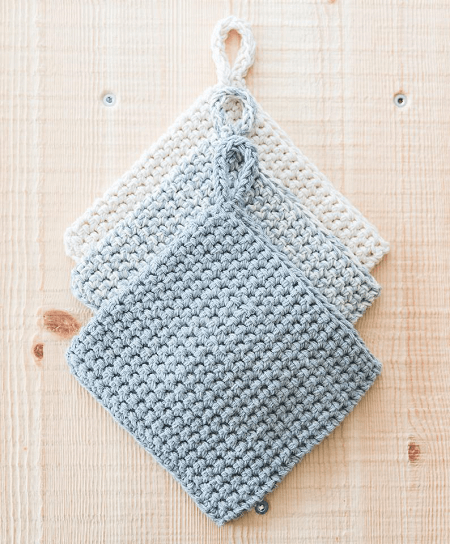 Get the Pattern by Sewrella here

2. Front Post Frenzy Crochet Potholder Pattern by Look What I Made
Practice your front post stitches with this Front Post Frenzy Potholder. Learn how to make this simple and captivating front post frenzy crocheted potholder for your kitchen. The resulting potholder is dense and textured and would work equally well as a trivet.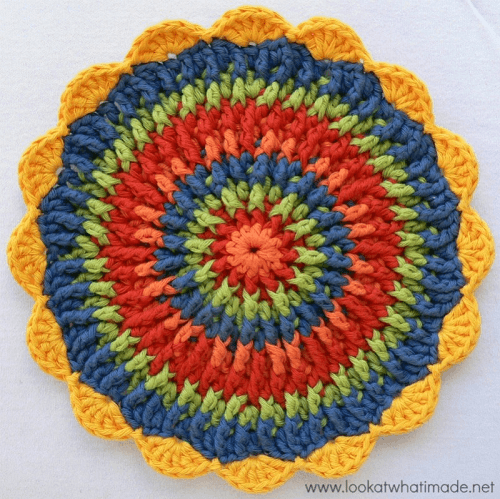 Get the Pattern here

3. Farmhouse Blossom Potholder Crochet Pattern by Karla's Making It
Make this easy, double-thick Farmhouse Blossom Trivet / Potholder which makes a great housewarming gift, hostess gift, or darling addition to your own kitchen. It measures 10 inches across and is a beautiful way to protect your counters.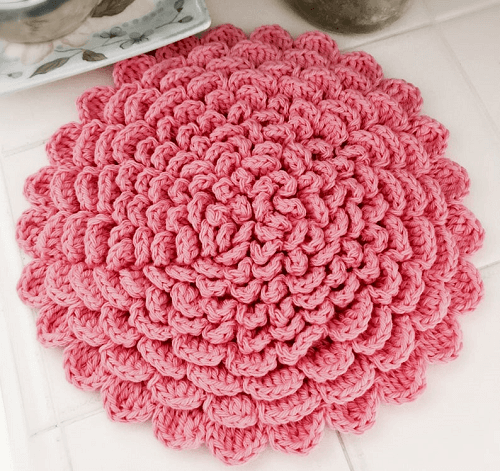 Get the Pattern by Karla's Making It here

4. Crochet Pot Holders Pattern by Petals To Picots
The pattern will give you instructions to make one small and one large potholders. You will love the simple and classic design of these potholders that you can also use in between your nonstick pots and pans to protect them from getting scratched up!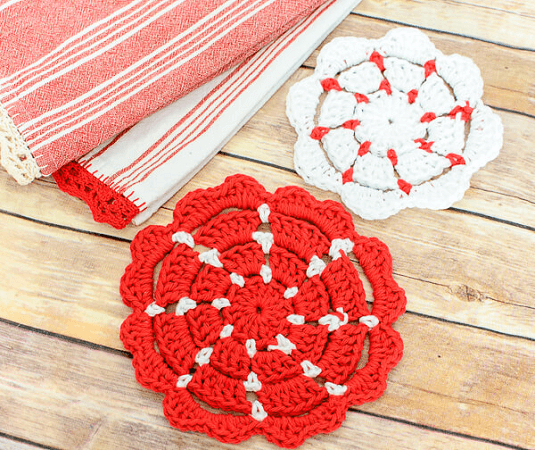 Get the Pattern here

5. Crochet Sunflower Potholder Pattern by Torreya Treasures
This sunflower potholder will bring brightness and sunshine to your kitchen. Use for serving or give as a gift. This will be very enjoyable decor to make and it will add something fresh to anyone's home.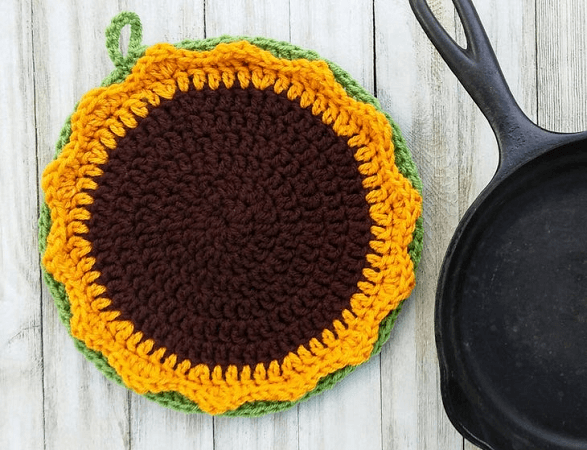 Get the Pattern by Torreya Treasures here

6. Bobble Heart Potholder Crochet Pattern by You Should Craft
Crochet this adorable, double-layered heart potholder using the bobble stitch and bright, cotton yarn. The bobbles add texture and create a thicker potholder to protect your counter or table, while the bright colors jazz up your kitchen and brighten your day!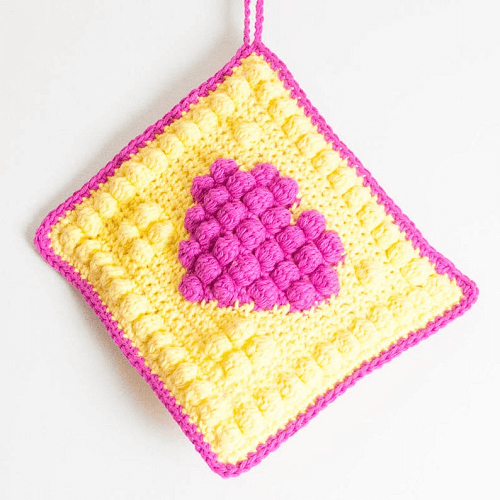 Get the Pattern by You Should Craft here

7. Crochet Granny Hexagon Potholder Pattern by Crochet For You
Looking for a classic way to dress up your kitchen? Then the Crochet Granny Hexagon Potholder is just the crochet potholder pattern you need.

These beginner-friendly crochet granny hexagon potholders are super easy and fun to make. You can have more freedom to play with colors and you can learn how to crochet granny hexagon in any size.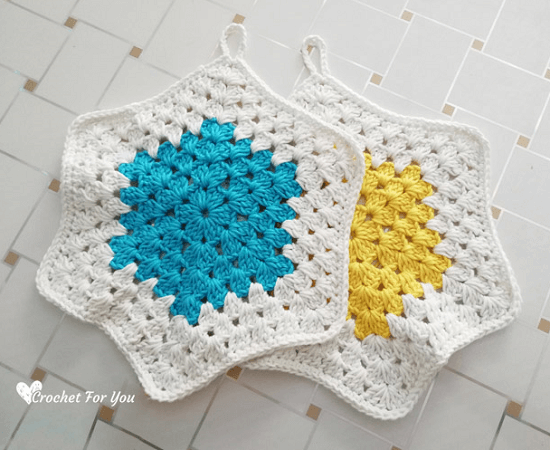 Get the Pattern here

8. Chevron Potholder Crochet Pattern by Whiskers And Wool
This potholder is made using worsted weight cotton yarn, and has front and back pieces stitched together for double thickness. The chevron design is stitched into this potholder front piece by following a color chart and changing colors.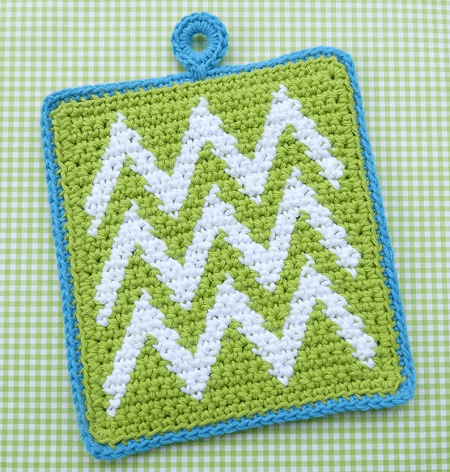 Get the Pattern by Whiskers And Wool here

9. Round Mandala Pot Holder Crochet Pattern by Lilla Bjorn Crochet
This round mandala pot holder is a great way of brightening up your boring pot holders. They would be a very dressy table centerpiece. It's a fun and useful project to make. They will also make for a great last minute hostess gift.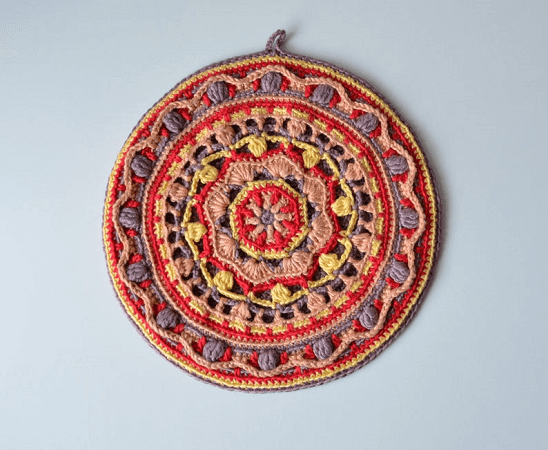 Get the Pattern by Lilla Bjorn Crochet here

10. Simple Granny Square Potholder Crochet Pattern by Knit Purl Hook
This is a super detailed tutorial with step by step photos on how to make a straight granny square, join them as you go and make a border around it to get a simple granny square potholder. Its a great tutorial that can be used to make a granny square blanket of any size as well.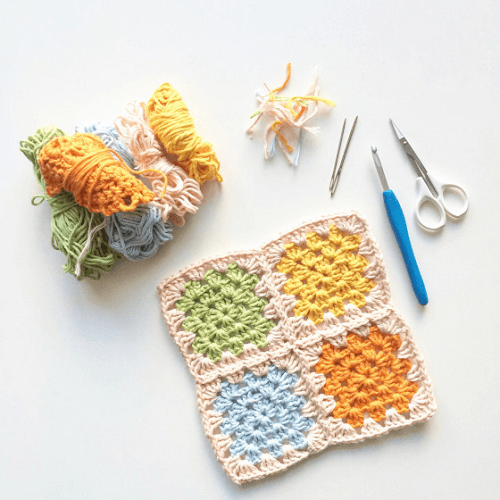 Get the Pattern here

11. Flower Burst Potholder Crochet Pattern by Creative Crochet Workshop
Make this flower burst potholder that can be converted into place-mats; doilies or a stunning table centerpiece! If you're sick of traditional potholder patterns, try this crochet pattern to spice up your collection.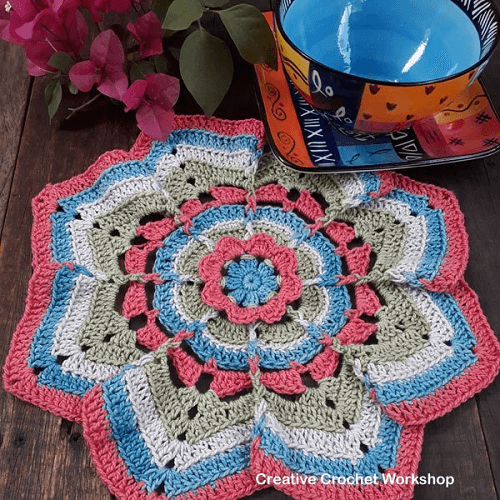 Get the Pattern here

12. Crochet Cat Potholder Pattern by Crochet 365 Knit Too
This fun and cute potholder is great for decorating your kitchen space. This work up quite fast and are really lots of fun to make. Switch up the colors to match any kitchen decor. A great project for a fun kitchen!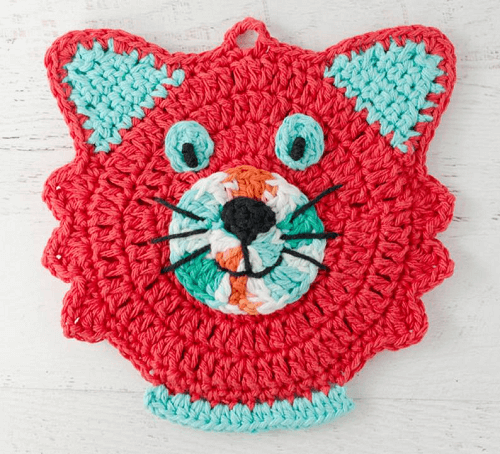 Get the Pattern by Crochet 365 Knit Too here

13. Smocked Potholder Crochet Pattern by All My Styles
A new twist on an old idea – smocked crochet. You are going to love this amazing design! It is a beautiful pattern, but surprisingly simple to make. It is very soft and thick, crocheted in a double thickness.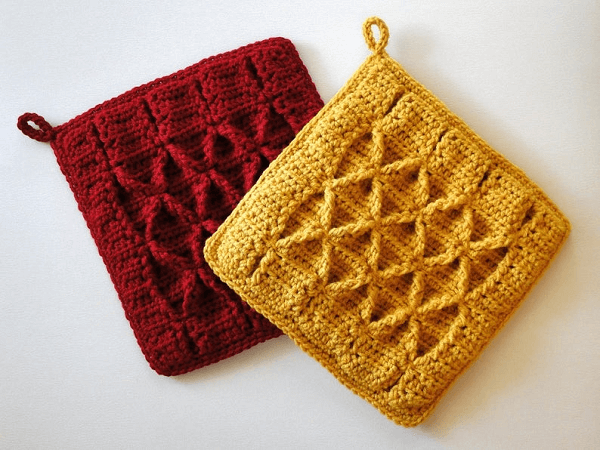 Get the Pattern by All My Styles here

14. Crochet Spikes And Stripes Potholder Pattern by Highland Hickory Dsgns
This Spikes and Stripes Potholder is an adorable accessory for your kitchen that is also functional. The double thickness keeps the heat away from your hands while still looking decorative.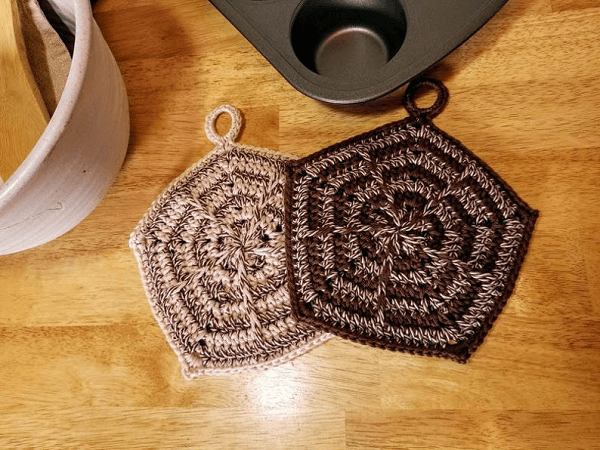 Get the Pattern by Highland Hickory Dsgns here

15. Crochet Tutti Frutti Potholder Pattern by Wink
With these bang-on-trend tutti-frutti beauties, you'll never look at a plain old potholder in the same way again. Add some pretty fruity potholders for your summer kitchen.

You can vary the colors to get different fruits; for example, use the lemon pattern with green yarn for a lime potholder.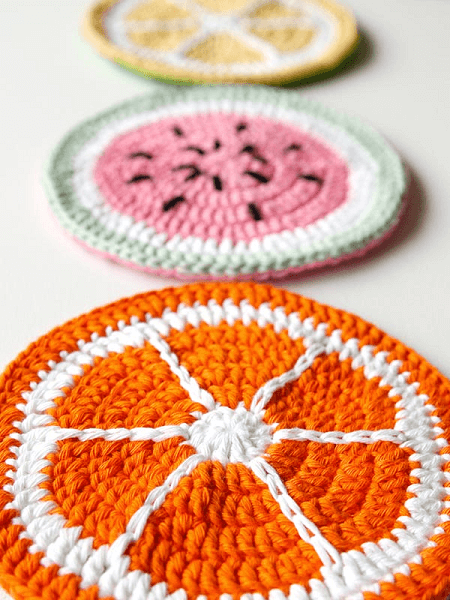 Get the Pattern here

16. Fish Pot Holder Crochet Pattern by Suzi's Crochet Cafe
Whimsical fish design to add a fun flavor to any kitchen. They are great for the lake homes or avid fisherman. These fishes can also be used as trivets, to keep hot dishes off tables or to wash dishes. They make great gifts and work up fast!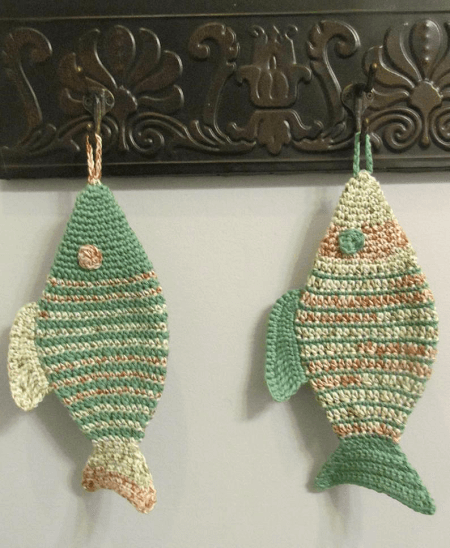 Get the Pattern by Suzi's Crochet Cafe here

17. Crochet Sweet Treats Potholders Pattern by Gourmet Crochet
Frosted cupcakes, sugar cookie, a slice of cake and dish of ice cream—all made into cute-as-a-button crocheted potholders. Create these confections for the cook in 100% cotton yarn for washability. Perfect to make for gifts or just for the sheer fun of it!

Why Bake? Crochet these 10+ Delicious Crochet Cupcake Patterns Here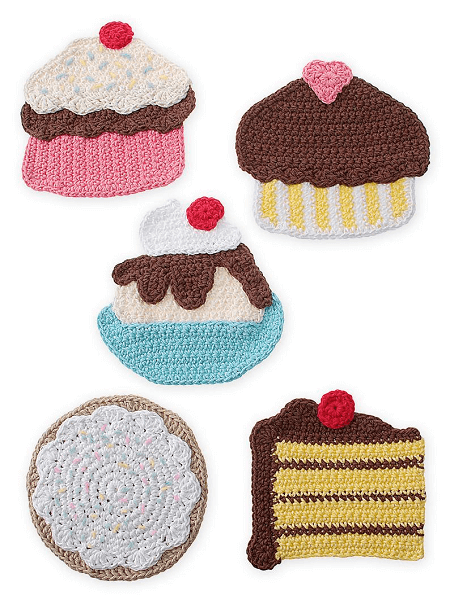 Get the Pattern by Gourmet Crochet here

18. Ribbed Potholder Crochet Pattern by Yarn And Chai
The simple ribbing design gives it a sleek, modern look, and it's sure to be a beautiful addition to your kitchen. My favorite feature of these potholders is the double layer of thickness, achieved by working them in the round.

It's a simple way to protect your hands and furniture, and it gives the potholders a thick, professional-looking finish.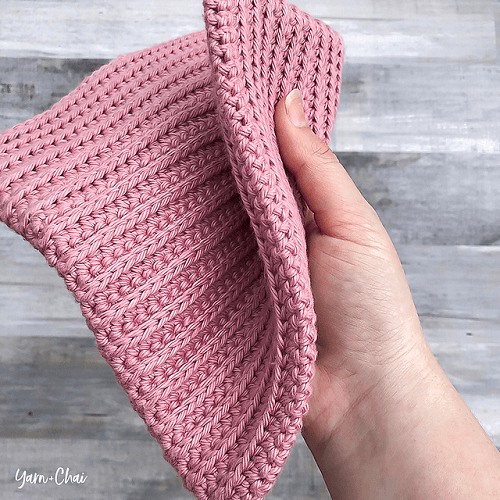 Get the Pattern here

19. Stripes Potholder Crochet Pattern by Pop Crochet 01
Keep your kitchen bright and cheery with some pop of color. Protect surfaces and hands from heat while adding a touch of hand-crocheted charm and color to your kitchen with these crocheted cotton potholders.

Give it a cool modern look that would give a nice subtle contemporary pop of color to your kitchen decor.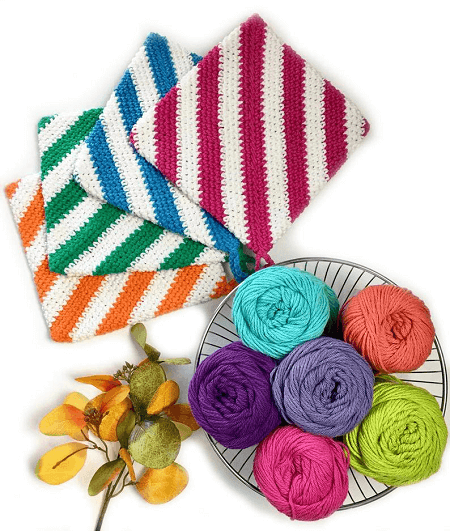 Get the Pattern by Pop Crochet 01 here

20. Daisy Potholders Crochet Pattern by Yarnspirations
Shape the bright and sunny daisy accent on this easy potholder. This potholder pattern keep spirits bright, using the colors that most inspire your creative spirit.

No matter what's on the stovetop for dinner tonight, your potholder is ready to give you a hand!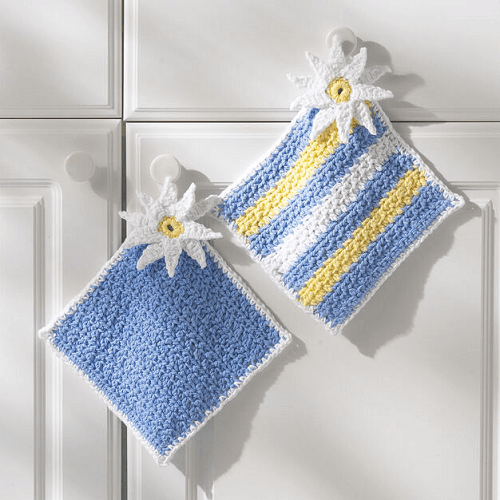 Get the Pattern here

21. Crochet Chicken Potholder Pattern by Bago Day Crochet
What could be cuter in a country kitchen then a whole flock of these babies? They work up really quickly, and can also double as a scrubby for washing pots and pans. If you like you can make red, orange and white yellow chickens too.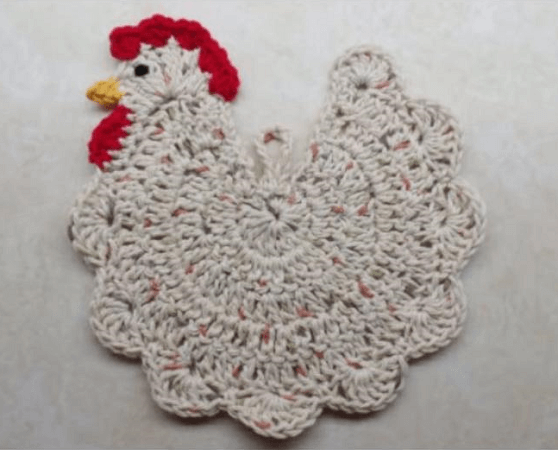 Get the Pattern by Bago Day Crochet here

22. Crochet Squares Potholder Pattern by Aterg Crochet
Although we love the bright colors used for this crochet pattern, feel free to customize this Colored Squares Potholder to match your kitchen decor. The pattern is the base, the fun part for you to choose some lovely colors.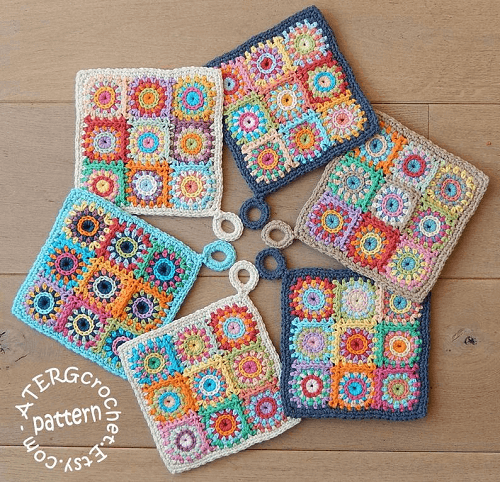 Get the Pattern by Aterg Crochet here

23. Crochet Heart Potholder Pattern by Crochet For You
This Crochet Heart Potholder is an easy and fun little crochet project you can make in less than an hour. The pattern begins from the bottom and works in rounds so when the color change to make pink and white stripes you can carry up the yarn from inside when needs.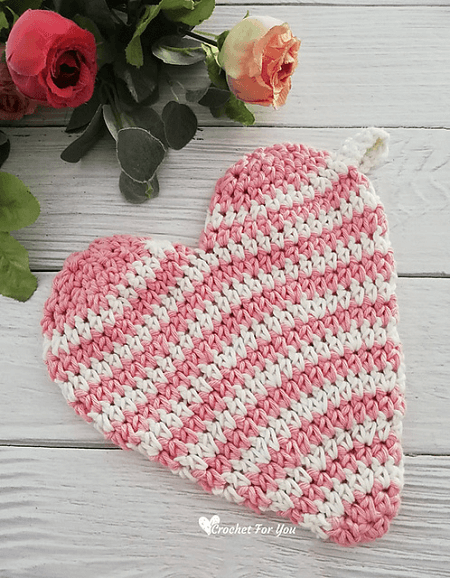 Get the Pattern here

24. Pot Holder Diner Trio Crochet Pattern by Yarnspirations
Featuring classic diner treats, these crocheted pot holders will be the talk of the breakfast table! This trio of toast, coffee, and pie is the perfect breakfast combination. This makes a great gift for your loved ones, friends, teachers and especially those who love to cook.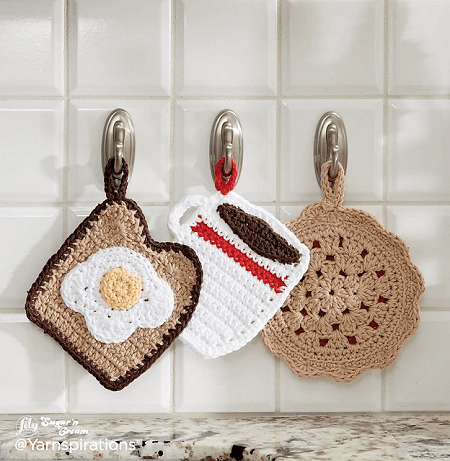 Get the Pattern here

25. Crochet Shell Stitch Potholder Pattern by Craftdrawer Crafts
An Old-fashioned Crochet Shell Stitch Potholder to hang in a kitchen for decoration or to use to set hot items on. Made in a colorful round circle using two different colors and a hanger on top to hang the potholder from a hook or magnet.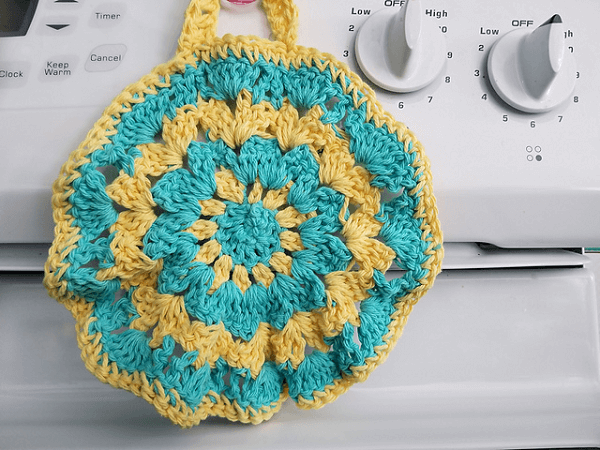 Get the Pattern here

26. Woven Potholder Crochet Pattern by Petals To Picots
This Woven Potholder Crochet Pattern can be worked up in so many different color themes, you can try a two color look or use a bunch of different colors. The important thing is that your yarn is cotton because acrylic could melt if you put something hot on it.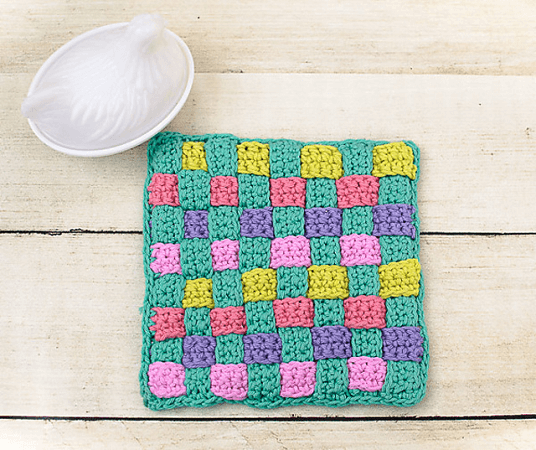 Get the Pattern here

27. Crochet Pot Holder Pattern by Yarnspirations
This crochet pot holder is a small project that creates a beautiful graphic motif, incorporating variegated and solid shades to add color to your kitchen. This free pattern is a small project that's easy to gift to a hostess who loves bold and graphic motifs.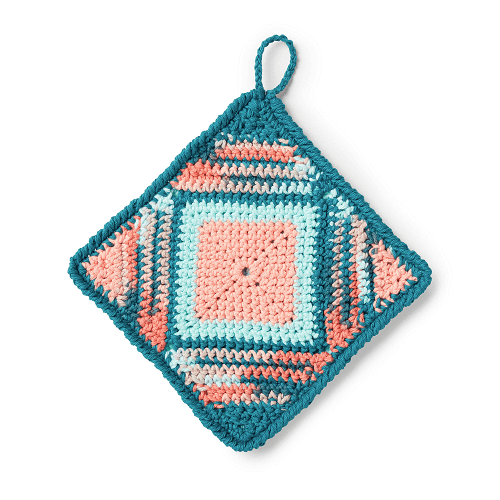 Get the Pattern here

28. Free Crochet Flower Pot Holder Vintage Pattern
Crochet flower pot holder is a vintage pattern and absolutely scrumptious! This pretty pattern is for a vintage-style flower pot holder, but I'd hate to get these dirty in the kitchen with spills or hot pots!
How about using them as generously sized coasters or just as pretty doilies on your table. One might also be a beautiful embellishment on the side of a bag, or even on the back of a jacket.
That's one of the reasons we love to crochet so much. It's so versatile and adaptable. Wow, wouldn't these look gorgeous added to a plain blanket too?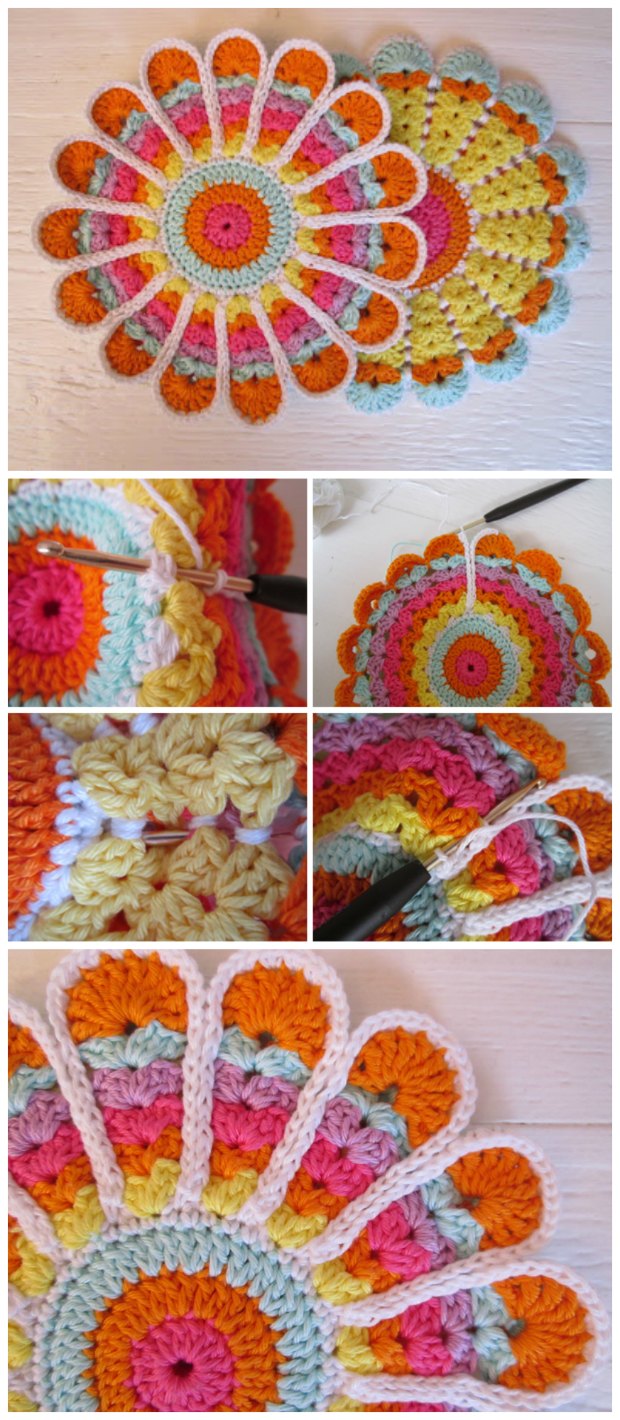 Get the pattern Here

29. Free Crochet Bobble Heart Pot Holder
Crochet Bobble Heart Pot Holder will definitely bring some heat to the kitchen. Let this bright and bubbly potholder sizzle its way into your kitchen!

The bobble heart will protect your hands from the heat of the pot, and bonus…you'll look great while cooking too.

Use the added hook to hang your new trendy potholder on your kitchen cabinet, but a word of caution, once you show this beauty off everyone will be asking you for one.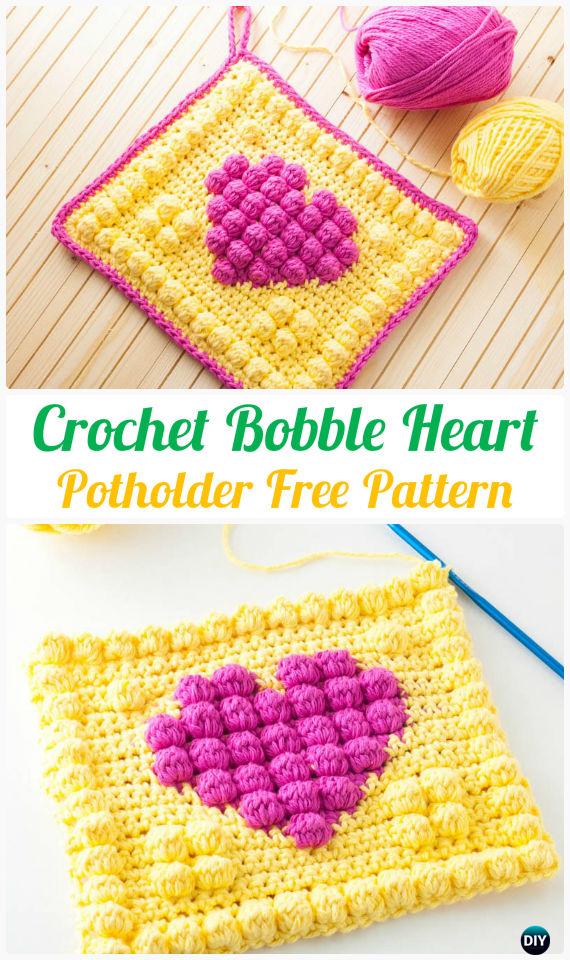 Skill Level: Intermediate
Supplies:
H-5.0mm and I-5.5mm crochet hooks
2 colors of worsted weight cotton yarn (colors pictured Sugar'n Cream in Hot Pink and Sunshine
Scissors
Tapestry Needle

Get the Free Pattern Here

You will love how new potholders can spruce up your kitchen!
Are you going to make these potholders, perhaps in some other color combinations? We'd love to see your work. Please post some pics on our Facebook Page!
Your kitchen accessories can add excitement to your cooking environment. So be sure to also check out all of our patterns for Scrubbies, Dishcloths, and Coasters, as well.
Get out the hooks and learn how to make this kitchen essential by making every one of these Crochet Potholder Patterns!