Despite being a renowned recluse, the platypus is one of Australia's most recognized animals. With water-resistant fur, this semi-aquatic creature loves to frolic and play in the freshwater rivers and creeks it calls home. What an icon! Celebrate these peculiar animals with some crochet platypus patterns!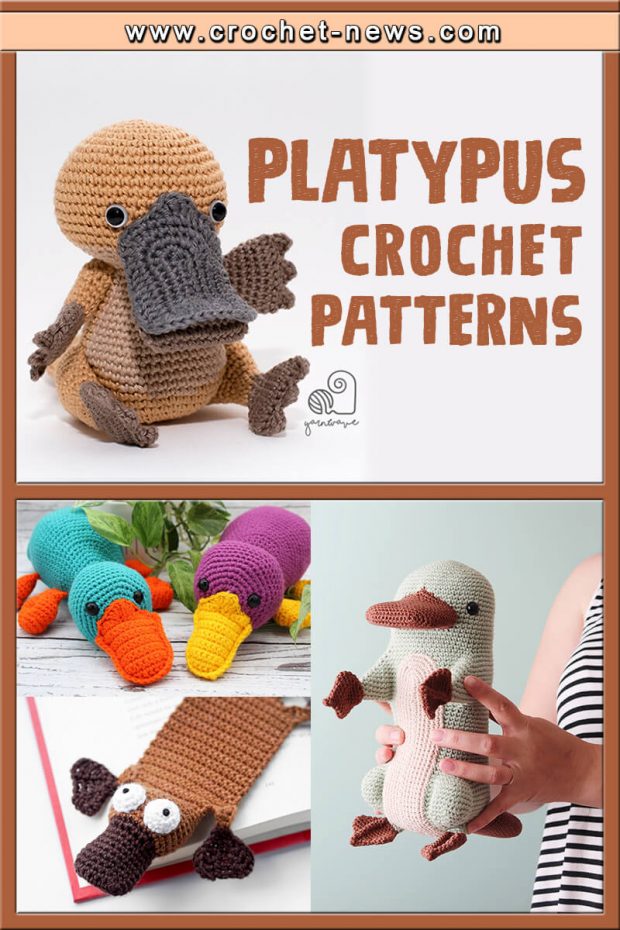 You like beaks, but not birds? Check! You find webbed toes fascinating, but don't like reptiles? Check! You like mammals, but you want your dream mammal to ay eggs instead of giving birth to children like the rest of the mammal world? Check!
If you're bored of bunnies and had enough of elephants, it's time we started celebrating – and crocheting – some of life's more unusual creatures! Think a platypus can't be adorable? Think again!

1. Free Crochet Platypus Pattern by Supergurumi
Despite its various physical characteristics, this small platypus is quick and easy to crochet. This crochet platypus is crocheted with chain stitches and single crochet stitches in spiral rounds and in rows and is easy to crochet.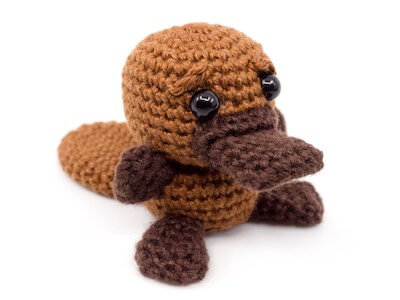 Get the Pattern here

2. Crochet Perry the Platypus Pattern by Irene Strange
Say hello to Mr. Perry, the Platypus, he's a real gentleman! This is a most unusual creature, with a duck-like bill and a beaver-like tail. And in his amigurumi form, Perry is always ready for a hug!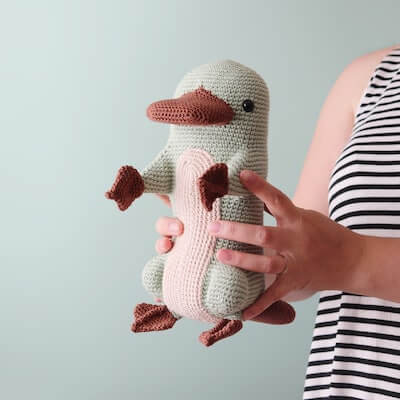 Get the Pattern by Irene Strange here

3. Chubby Bubby Platypus Crochet Pattern by Handmade By Hamond
Say hello to the Chubby Bubby Platypus, the cutest and sweetest little guy around! He's the perfect "huggable" size and extra squishy for all the love he'll exchange.
Get the Pattern by Handmade By Hamond here

4. Crochet Platypus Potholder Pattern by Patalappumania
This cute little egg-laying mammal will protect your hands when handling hot dishes.
You may also want to check these Crochet Potholder Patterns.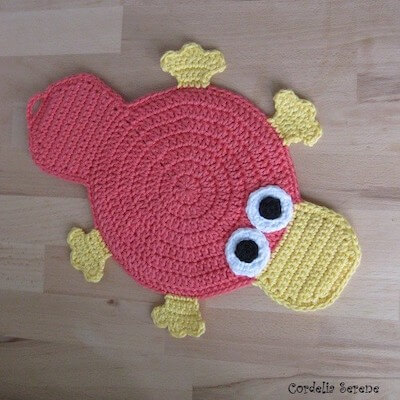 Get the Pattern here

5. Crochet Platypus Pattern by Mohu Store
This quick and easy project only takes about an hour to make, and is great for using up leftover yarn in your stash. Your own handmade platypus can be used as a little gift, decoration, or cute desk accessory.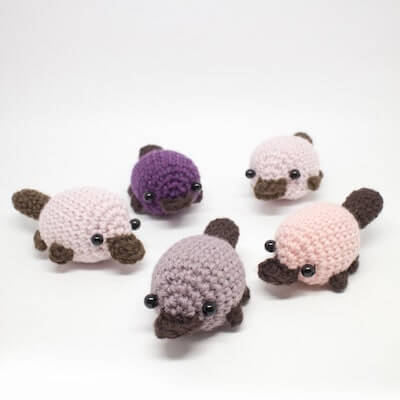 Get the Pattern by Mohu Store here

6. Crochet Platypus Pattern by Hooked In A Flash
Everyone needs a platypus! This fuzzy little creation measures roughly 18″ long and 5″ tall. It is an easy and quick pattern to make up so you can get to snuggling your new buddy in no time flat.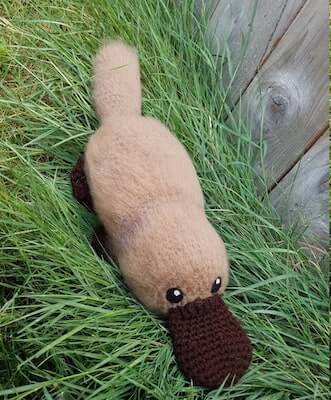 Get the Pattern by Hooked In A Flash here

7. Amigurumi Platypus Crochet Pattern by T Crews Designs
This cutie works up quickly with your favorite worsted weight yarn, basic crochet stitches and a size F (3.75 mm) crochet hook. You will need to know how to crochet in the round to finish your project.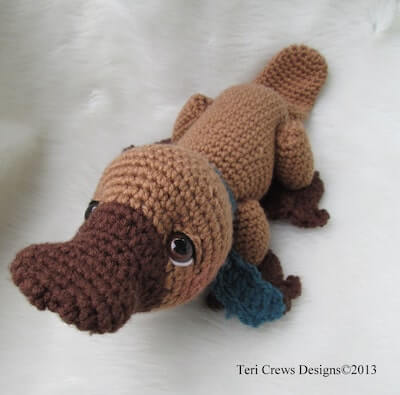 Get the Pattern by T Crews Designs here

8. Crochet Platypus Bookmark Pattern by Supergurumi Shop
The Platypus, the wildest evolutionary cocktail that nature has ever produced. If you also want to have your own little platypus to enjoy the wild wonders of evolution every day, then you can crochet this platypus yourself. Make a platypus bookmark for your most interesting reads!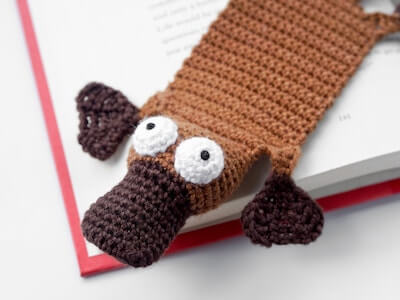 Get the Pattern by Supergurumi Shop here

9. Paul, The Platypus Crochet Pattern by Yarn Wave Shop
There's something about duck-billed platypus' – they just put a smile on our faces! This super fun design almost looks like he's reaching out for a cuddle too!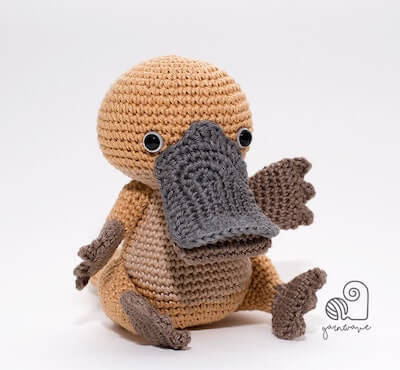 Get the Pattern by Yarn Wave Shop here

10. Patty, The Free Crochet Platypus Pattern by Knot Too Shabby
Meet Patty the Platypus. The sweetest, goofiest, little platypus friend you could ever ask for. She uses up small amounts of yarn, making her a perfect start buster.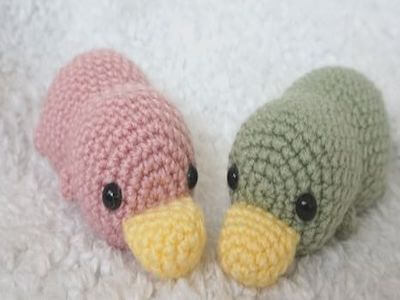 Get the Pattern here
TIME FOR RARE CROCHET ANIMAL PATTERN LIKE THESE CROCHET PLATYPUS PATTERNS FOR THOSE OF YOUR WHO LIKE SOMETHING A LITLE DIFFERENT!
When you complete one, please post it on our Facebook Page. We love seeing your work!
Here at Crochet News, our whole team is made up of animal lovers, and if they're crochet animals, then we love them even more!
With so many crochet animal patterns we have on our site, you'll surely find the perfect pattern for you!

Whether you're crazy about cats, dotty for dogs, obsessed with otters or addicted to llamas – you'll find all sorts of crochet animals to hook up!

So, if you're an animal lover and enjoy making different kinds of animals with your own hands, then these cute crochet platypus patterns are something you will adore! Get crocheting!