The mesh stitch in crochet is fantastic for adding a lacy touch to your projects. It is a wonderful technique for making market bags, shawls, scarves, stockings, and more.
It is a simple stitch perfect for beginners. There are a variety of mesh stitches, each creates its own unique texture and pattern. These stitch variations give you the ability to create a wide range of products.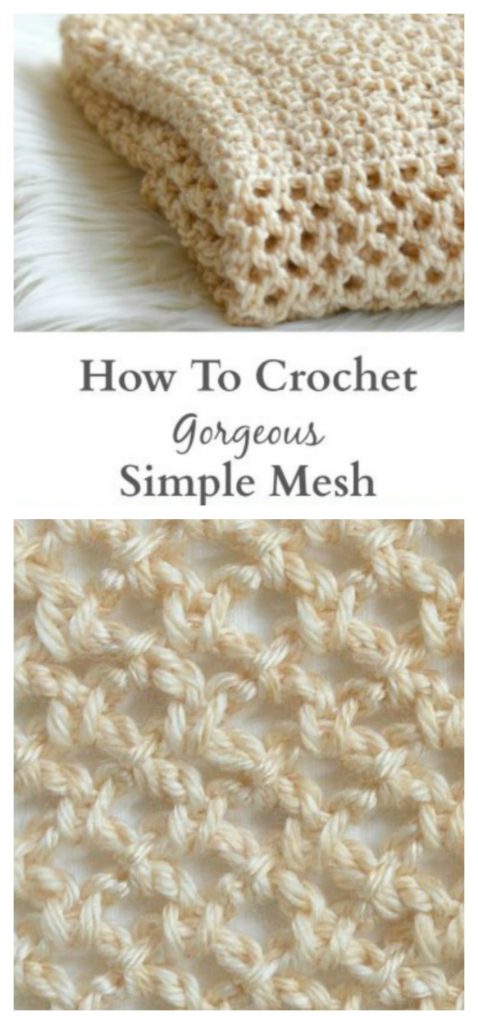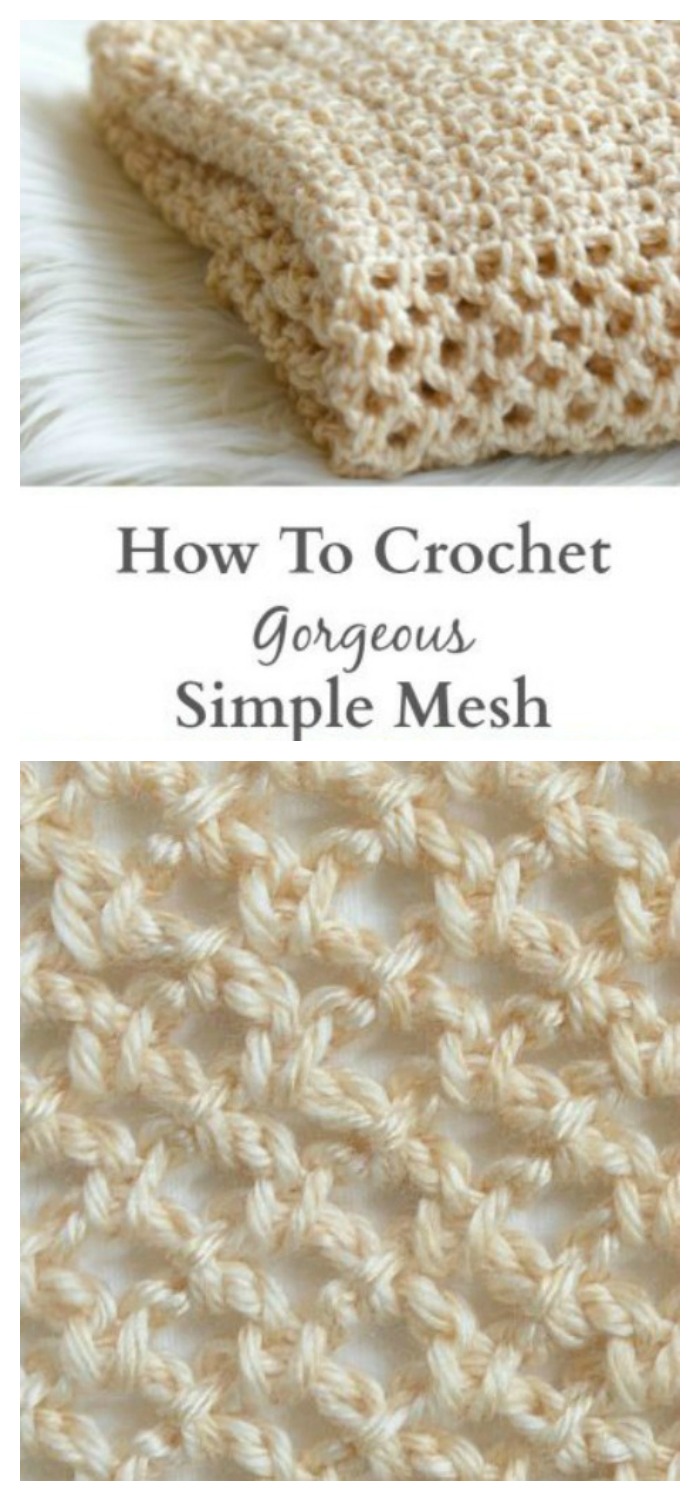 What is the Crochet Mesh Stitch?
The crochet mesh stitch is a crochet technique that creates a lightweight, airy fabric with a mesh-like appearance. This crochet mesh stitch has regularly spaced holes, that give fabric a delicate look. It is a versatile stitch that can be used for a wide range of projects.
What Types of Projects Use the Crochet Mesh Stitch?
The crochet mesh stitch can be used to create a wide variety of projects. Some of these include:
Shawls
Cover-ups
Beach Bags
Totes Bags
Home Decor
Scarves
Cowls
and More
Are Crochet Mesh Stitch, Crochet Diamond Mesh Stitch, and Fishnet Crochet Stitch the Same?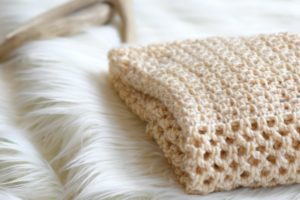 Does crochet mesh stitch, crochet diamond mesh stitch, and fishnet crochet stitch all refer to the same technique? These stitches are all a type of mesh stitch. However, their subtle differences create different textures.
Crochet Mesh Stitch:
The crochet mesh stitch is a versatile, openwork technique that creates regularly spaced holes.
Crochet Diamond Mesh Stitch
The crochet diamond mesh stitch is a variation of the basic mesh stitch. When creating the diamond mesh stitch, you are making diagonal, diamond-shaped holes.
Fishnet Crochet Stitch
The Fishnet crochet stitch is another type of crochet mesh stitch. It resembles the look of fishnet stockings, with larger holes.
12 Crochet Mesh Stitch Patterns
Below is a collection of 12 crochet mesh stitch patterns. I have included both free and paid options. The patterns include a variety of mesh stitch techniques.
1. Netted Mesh Cap Crochet Pattern by MoraleFiber
This stylish netted mesh cap is perfect for adding a touch of cute hippie style to your wardrobe. The hat is perfect for the light and breezy days of summer and fall.
Included are two sizes, small and large. The small hat is designed for those with less hair. The large hat can accommodate a lot of hair. The crochet mesh stitch pattern also includes details for an optional button and strap decoration.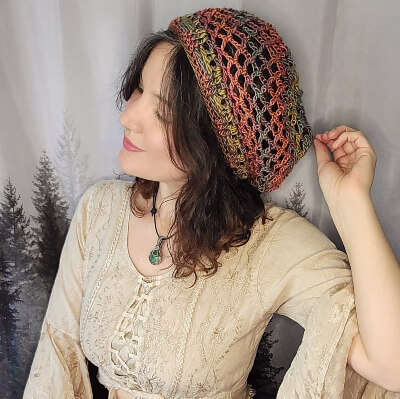 Find the Pattern by MoraleFiber Here
2. Thigh High Stockings Fishnet Crochet Stitch Pattern by RavenMageCraft
Step out in style wearing these fashionable thigh high crochet fishnet stockings. They are great for adding a sassy touch to your wardrobe.
This user-friendly crochet fishnet tights pattern is size-inclusive. There are sizing instructions, so you can get the perfect fit. The designer has also included a private link to a partial video tutorial for extra guidance.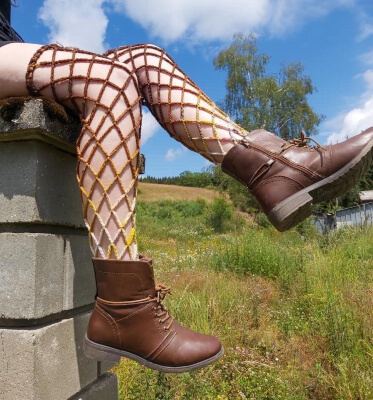 Find the Pattern by RavenMageCraft Here
3. Mesh Stitch Crochet Market Bag Pattern by Craft Passion
This free crochet mesh stitch pattern provides you with three size options. The large market bag is perfect for larger grocery hauls. The medium size is ideal for quick shopping trips. Additionally, the small bag is just the right size for carrying your lunch.
The pattern is designed with beginners in mind. There are detailed instructions and step-by-step photos.
More of this market bag patterns here.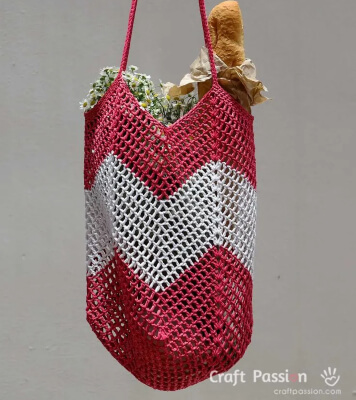 Find the Pattern by Craft Passion Here
4. Crochet Mesh Stitch Sweater Pattern by CrazyCoolCrochetUS
Here is a wonderful pattern to make a crochet mesh top that is comfortable and stylish. You can pair it with a tank top during the hot months or layer it with a long sleeve tee shirt when it is cold.
Ideal for beginners, this crochet pattern includes easy-to-follow instructions and plenty of photos. It includes instructions for sizes small to 2XL.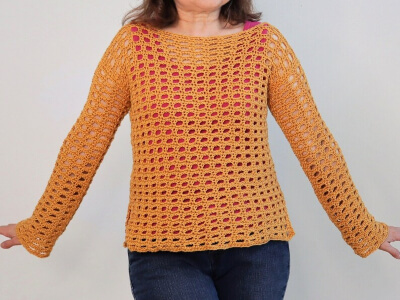 Find the Pattern by CrazyCoolCrochetUS Here
5. Fishnet Bolero Crochet Pattern by MoonlightMoodStore
This stunning crochet top features long, wide crochet fishnet sleeves. The finished product boasts a chic and fashionable appearance that will definitely turn heads.
The crochet fishnet shirt tutorial provides detailed instructions, numerous photos, and video explanations. The top fits sizes XS to XL.
Find the Pattern by MoonlightMoodStore Here
6. Crochet Mesh Flare Pants Pattern by CitrusCollective
Make a statement with these Crochet Mesh Flare Pants. The pants have a sexy bell-bottom look, perfect for various occasions, from festivals and beachwear to parties and music concerts.
This crochet mesh stitch pattern provides a customizable fit, making it suitable for all sizes. The pattern provides easy-to-follow instructions.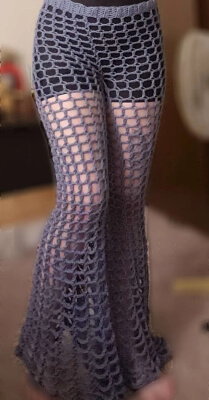 Find the Pattern by CitrusCollective Here
7. Crochet Simple Mesh Top Pattern by IWillCrochet
Create a stylish and alluring sweater with the Mesh is More Top pattern. The top features long sleeves and a backless design. This crochet mesh stitch pattern is perfect for those looking to make a trendy, eye-catching fashion statement.
The Mesh is More Top pattern is ideal for intermediate beginners. It is made with sport-weight or DK yarn. To complete the pattern, you will need to be able to take accurate body measurements before beginning.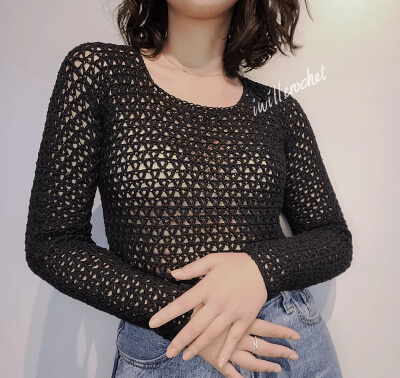 Find the Pattern by IWillCrochet Here
8. Square Mesh Crop Top with Sleeves Pattern by Lisa Auch Crochet
Elevate your summer wardrobe with the Square Mesh Crop Top with Sleeves. This top has a fashionable and airy look that is perfect for warm weather.
The free crochet mesh stitch pattern comes in sizes small, medium, large, and extra-large. You simply add an extra 8 chain stitches for each size. So, the pattern is easily customizable.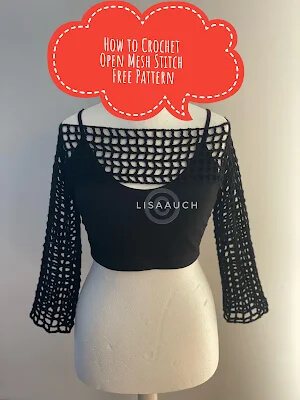 Find the Pattern by Lisa Auch Crochet Here
9. Eazy Breezy Mesh Crochet Pattern by Sunflowerandcrochet
You can make six unique pieces using this versatile crochet mesh stitch pattern. Choose from a sweater, top, shrug, cardigan, sleeveless cardigan, or a dress.
The crochet patterns are easy to follow and work up quickly, making them beginner-friendly.
You can use any weight yarn you prefer.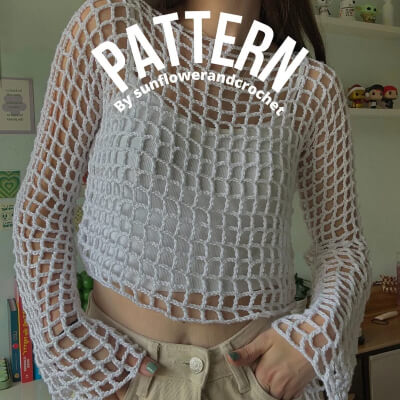 Find the Pattern by Sunflowerandcrochet Here
10. Flores Shawl Mesh Crochet Stitch Pattern by MyCrochetory
The elegant Flores Shawl combines two distinct stitch styles to create an eye-catching design. One side of the row is worked in double crochet stitches, while the other side is in the mesh stitch.
It has a wingspan of approximately 71.65 inches (182 cm) and a center depth of 32.68 inches (83 cm). You can customize the size by adjusting the pattern repeats. This project is suitable for adventurous beginners.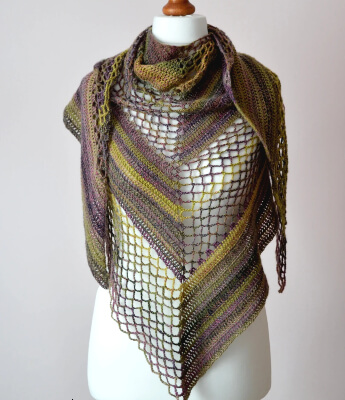 Find the Pattern by MyCrochetory Here
11. Crochet Romantic Mesh Shawl Pattern by SelinaVeronique
This beautiful shawl is elegant and feminine. The body features an graceful arched mesh stitch with a delicate shell stitch border.
The Romantic Mesh Crochet Shawl is easy to make and suitable for beginners. It follows a simple one-row repeat. This shawl is worked from the top down, forming the V shape. The pattern works up quickly and can be completed in a single weekend.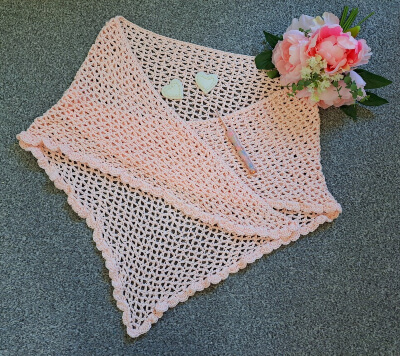 Find the Pattern by SelinaVeronique Here
12. Diamond Mesh Scarf Pattern by Numei
Are you looking for a stylish scarf that is lightweight and airy? The Diamond Mesh Scarf will add a touch of elegance to any outfit.
This free crochet mesh stitch scarf pattern is easy to complete. When completed, it will measure approximately 46 inches long x 4.5 inches wide.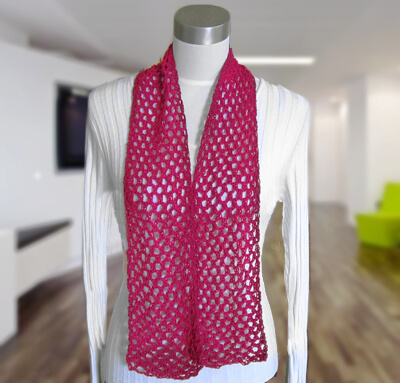 Find the Pattern by Numei Here
Frequently Asked Questions About the Crochet Mesh Stitch
What is the crochet mesh stitch?
The crochet mesh stitch is a technique that creates a fabric that has a net or mesh like appearance. Depending on the stitch pattern, it can create little holes or large holes.
Is the crochet mesh stitch suitable for beginners?
Yes, beginners can learn the crochet mesh stitch. However, it is important to start with easier crochet techniques first. Once you understand the basics of crochet, you can try the crochet mesh stitch.
Can I use the mesh stitch to make warm items like scarves and blankets?
The mesh stitch is not generally used when making warm items. The stitch is best for making items like lightweight shawls or summer tops because it creates holes that lets air pass through.
Does the crochet mesh stitch look like netting?
Yes, the crochet mesh stitch can be used to create a fabric that looks like netting or lace. It is often used to make projects such as lacy scarves and lightweight shawls.
Does the crochet mesh stitch require less yarn?
The crochet mesh stitch does use less yarn than standard projects. This is because it creates holes in the fabric. So, you can make bigger projects without needing as much yarn.
The crochet mesh stitch is perfect for creating airy and lacy projects that have an elegant feel.
The crochet mesh stitch has a delicate, openwork appearance that is suitable for a wide range of projects. It is a wonderful choice for making light and breezy summer tops and elegant shawls. The crochet mesh stitch offers endless possibilities for adding interest and beauty to your creations.
Here's more crochet stitch tutorials:
We have picked out an extremely simple pattern to follow, so even our beginners will have this one mastered in no time at all.