If you want to make a clear fashion statement, or are simply attached by the dubious side of fashion, you should definitely take a look at the following crochet helmet patterns. From medieval knights helms to warm hats with beards—be it Halloween or birthday, or any fancy costume occasion—these quirky ideas can come in handy.
The creative side of a crocheter has no boundaries. It is only up to a person how much they want to explore and try new ideas. With that in mind, I've dug up some fun and totally crazy hat and helmet ideas that'll make your day.
20 Crochet Helmet Patterns

1. Crochet Roman Helmet Pattern by Joyce Overheul
Now you can make your very own sweet Roman or Spartan style crochet helmet, with this easy to follow crochet pattern. The pattern described how you can make this hat yourself in a wimp, it's way more easy than it looks. This helmet has cheek plates on the side, and a large red mohawk on top.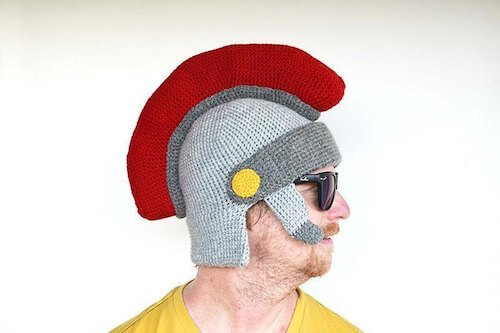 Get the Pattern by Joyce Overhaul here

2. Crochet Warrior Baby Helmets Pattern by Yarnspirations
Here's a quirky hat to crochet for all mothers out there with a sense of humor and a fun energy. Babies everywhere will look adorable in this warrior-style helmet from medieval times!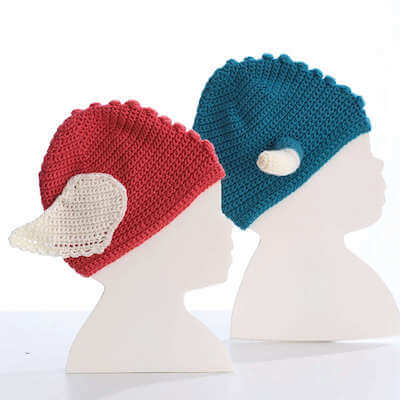 Get the Pattern here

3. Crochet Knight's Helmet With Detachable Visor Pattern by Scorching Scales
This Knight's Helmet with detachable visor will undoubtedly draw wistful stares and praises from both history buffs and people who aren't interested in medieval times. It's a hat worth showing off, with its long comb, snug visor, and evenly finished edges!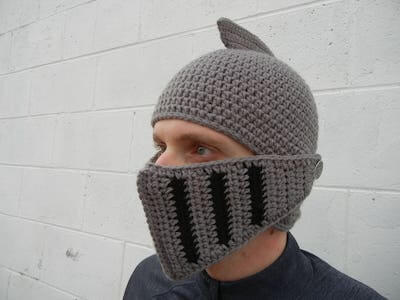 Get the Pattern by Scorching Scales here

4. Crochet Football Helmet Pattern by Heartspun By Wendy
Are you ready for some football? This great Crochet Football Helmet Pattern includes all sizes from infant through adult so the whole tram can play!
Also see our compilation of crochet sports patterns for avid sports fans to choose from.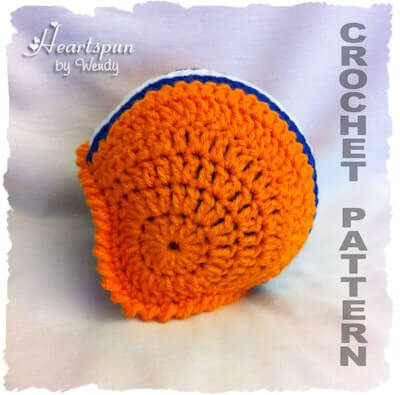 Get the Pattern by Heartspun By Wendy here

5. Crochet Viking Helmet With Beard by Hats By Kami
This Viking Helmet is perfect for Halloween, autumn chill, and winter frost! Made with worsted weight yarn, it's comfortable, warm, and totally unique. People are sure to get a giggle when you wear this! The beard attaches with buttons sewn inside the helmet and is adjustable.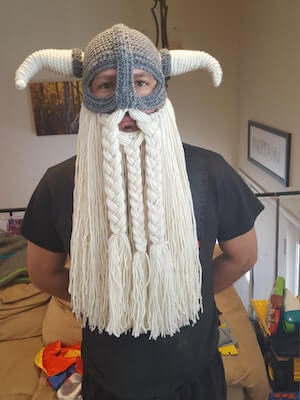 Get the Pattern by Hats By Kami here

6. Crochet Darth Vader Helmet Pattern by My Little Chapina
Look just like the Empire's top dog next time the temperature drops by staying warm using this Darth Vader Helmet.

This wonderful hat is a great idea for a DIY fancy dress or even just to wear casually! Made using a single skein of yarn, this crochet helmet even comes with a detachable mask! The size can be easily adjusted by changing the hook size to accommodate a smaller or larger head.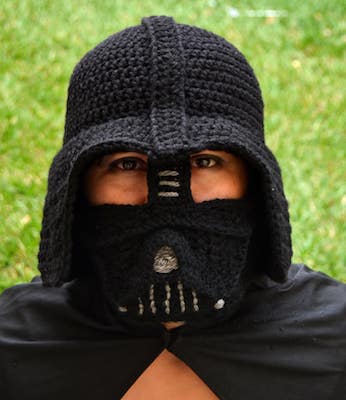 Get the Pattern by My Little Chapina here

7. Crochet Hockey Helmet Pattern by Stitch 11
This adorable helmet is designed to fit a child that's 12 months and older. It's perfect for hockey day or for every day warmth and fun.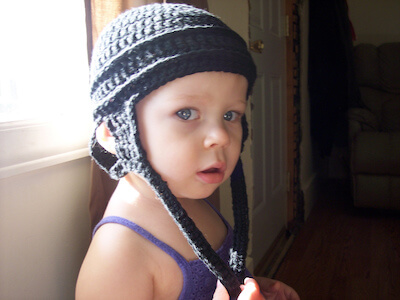 Get the Pattern here

8. Crochet Pith Helmet Pattern by Red Heart
Take this safari inspired pith helmet on your next adventure: whether you're running an archaeological dig in your backyard or dressing up for trick-or-treating!
Get the Pattern here

9. Crochet Viking Helmet Pattern by Vliegende Hollander
This helmet is every Viking's dream. It's the perfect way to achieve total comfort while you relax around the fire, enjoy some mead, and get ready for the next battle! This headwear is nice and comfy and an easy accessory for that heroic Viking attire.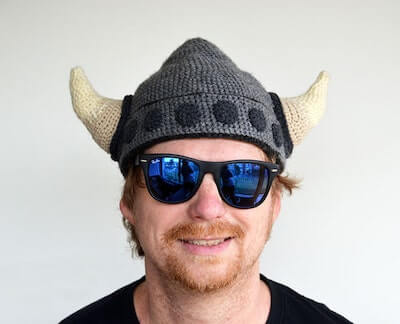 Get the Pattern by Vliegende Hollander here

10. Crochet Astronaut Helmet Pattern by Repeat Crafter Me
If you are going to walk in space, you need the proper gear. This crocheted astronaut helmet probably won't help you survive a space walk, but it will help you with the look like you are. This novelty hat is great for dressing up for a space-themed party of Halloween.

The pattern is "one size fits all" although you could add on more rounds to make bigger.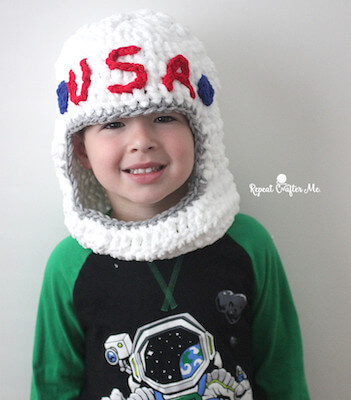 Get the Pattern here

11. Crochet Knight Helmet Pattern by Bri Abby HMA
In all of medieval society, none are more often spoken of than the knights of the round table. Complete your knight in shining armor with this Crochet Knight Helmet.

Use it to keep warm during the cold months, or transform it into a cool knight costume. The mask is removable, but it may also be sewn in place, making it ideal for babies or small children.The knight helmet comes in a girl and boy pattern so everyone can join in on the fun.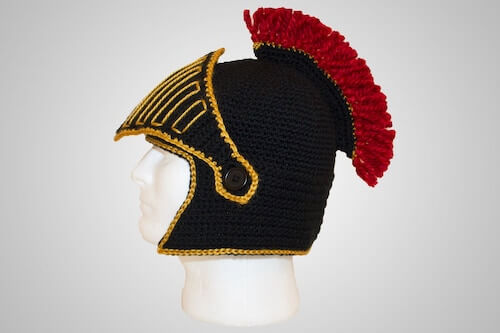 Get the Pattern by Bri Abby HMA here

12. Crochet Medieval Helmet For Cats Pattern by Oona Patterns Etc
A knight in shining armor. A medieval warrior. Your small pet will look fierce and powerful wearing this! The pattern fits all average size cats, small dogs, and other small animals. It fits over the pet's ears and there is a visor in the front, but it doesn't pull down.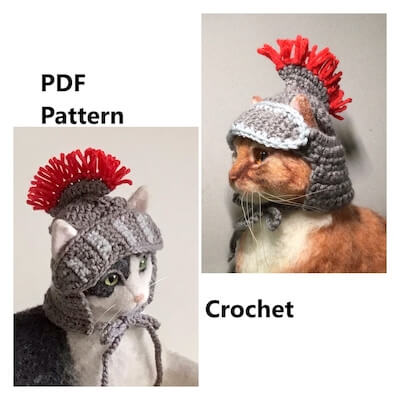 Get the Pattern by Oona Patterns Etc here

13. Knight In Shining Armor Hat Crochet Pattern by Yarnutopia
Look down right chivalrous while staying warm with this crocheted knight helmet hat. With thick armor made with worsted weight yarn and functional moving visor, this knight helmet is sure to land you a damsel or two. You'll feel just like a real knight, minus the whole noble birth thing.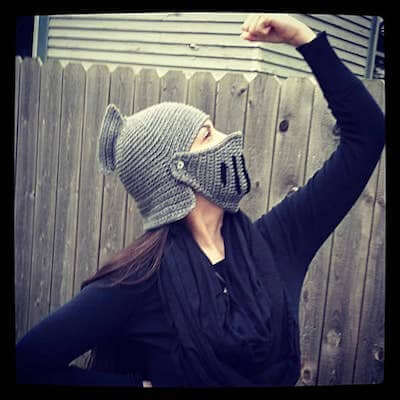 Get the Pattern here

14. Crochet Optimus Prime Helmet Pattern by Kirsten D
Prepare for simultaneous battle against the Decepticons and cold weather with the help from this Optimus Prime inspired crochet helmet. The helmet guises your noggin and makes you look like the great Autobot leader, enabling you to roll out even in the coldest of days.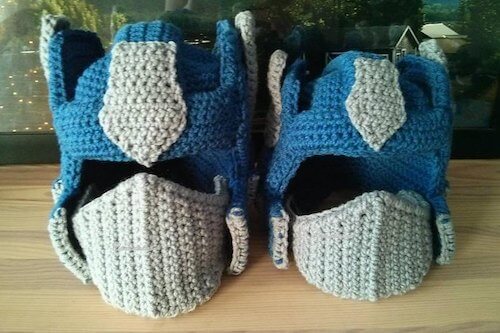 Get the Pattern by Kirsten D here

15. Crochet Dragonborn Helmet Pattern by The Twisted Hatter
Unleash the Dragonborn warrior within this Crochet Dragonborn Helmet Pattern. Based on the iconic helmet commonly found in the video game, this highly detailed crocheted helmet is absolute must have for The Elder Scrolls: Skyrim fans.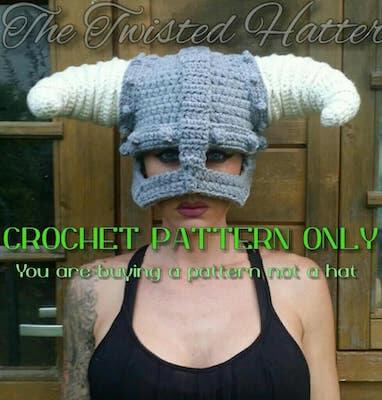 Get the Pattern by The Twisted Hatter here

16. Crochet Skyrim Viking Helmet Pattern by Creative Excess
Becoming Dovahkiin is as easy as slipping on this Crochet Skyrim Viking Helmet. This awesome piece of apparel disguises your mere mortal self with a mighty Dragonborn helmet that will also keep you warm during the merciless winter nights!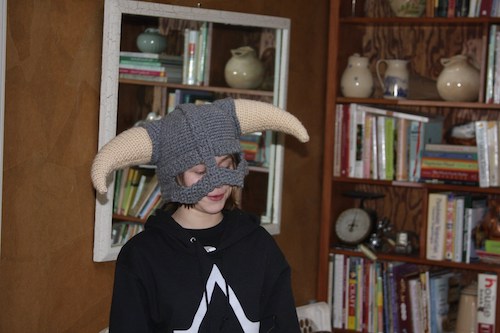 Get the Pattern by Creative Excess here

17. Crochet Gimli Inspired Helmet Pattern by R Crafty Creations
Transform yourself into Middle Earth's fiercest dwarf warrior with this Gimli Inspired Helmet. It covers your entire head with a combat helmet and a fire red beard – making it perfect for cosplay or just staying warm in the winter months.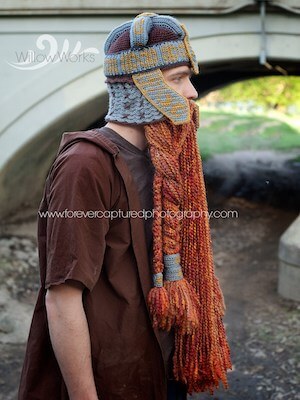 Get the Pattern by R Crafty Creations here

18. Crochet Mega Man Helmet Pattern by Knot Bad Ami
Look just like your favorite android superhero by staying warm with this Crochet Mega Man Helmet. This geeky garment is crocheted from thick yarn to resemble Mega Man's iconic blue helmet – right down to the sides and top accents.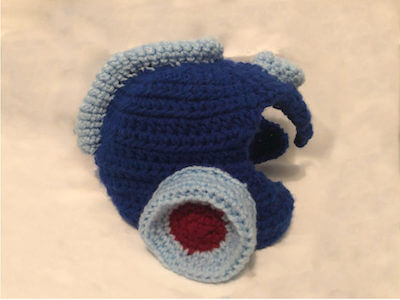 Get the Pattern here

19. Crochet Lael Viking Hat Pattern by Mamachee
Keep your tiny barbarian warm while looking adorable in this lovely baby viking hat. This cute crocheted garment is made in the likeliness of a classic viking helmet – complete with two tiny horns – and accents around the rim.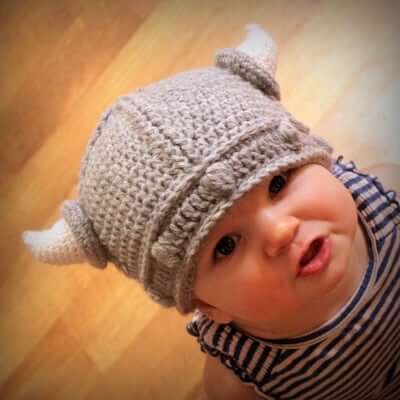 Get the Pattern by Mamachee here

20. Crochet Firefighter Helmet Pattern by Micah Makes
Can you feel the heat? Of course not, it's freezing outside! But your little firefighter isn't feeling the cold either, thanks to this adorable Crochet Firefighter Helmet.

The design includes post texture, a shaped brim and a shield that can be personalized. The appliqué shield can be customized to your firefighter's specifications.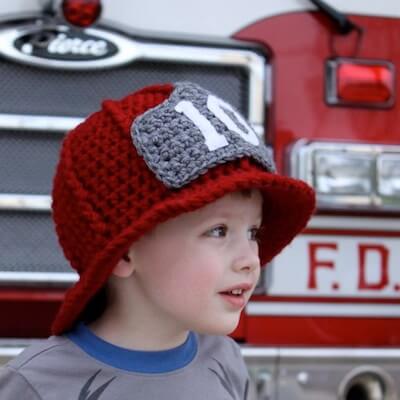 Get the Pattern by Micah Makes here
THESE CROCHET HELMET PATTERNS ARE SURE TO PUT SMILES ON EVERYONE'S FACES!
We'd love to see your creations, so make sure to share them with us on Facebook. And as far as insane things that I've crocheted go, these patterns below are also some of my favorites:
So join the fun and enjoy making these crochet helmet patterns today!